About Us
The Numismatic Bibliomania Society is a non-profit organization devoted to the study and enjoyment of numismatic literature. For more information please see our web site at coinbooks.org
Subscriptions
Those wishing to become new E-Sylum subscribers (or wishing to Unsubscribe) can go to the following web page link
Membership
There is a membership application available on the web site Membership Application
To join, print the application and return it with your check to the address printed on the application. Membership is only $20 to addresses in the U.S., $25 for First Class mail, and $30 elsewhere. For those without web access, write to:
David M. Sundman, Treasurer
Numismatic Bibliomania Society
P. O. Box 82 Littleton, NH 03561
Asylum
For Asylum mailing address changes and other membership questions, contact David at this email address: dsundman@LittletonCoin.com
Submissions
To submit items for publication in The E-Sylum, just Reply to this message, or write to the Editor at this address: whomren@gmail.com
BUY THE BOOK BEFORE THE COIN
Sale Calendar
New subscribers this week include: Carlos G. Vertanessian. Welcome aboard! We now have 1,881 subscribers.
This week we open with notes from literature dealers Sklow, Lake, Brown and Fanning, one new book and one review. Next up is news from the Newman Numismatic Portal project and a new numismatist biography from John Lupia.
Other topics include Presidential Campaign Medals, the Coins of the Golden West set, counterfeit California fractional gold, U.S. Trade Dollars, Johns Hopkins medals and Moreau de St. Méry's American Journey.
To learn more about the Orpheus medal, Palembang coins, George Thomas McCombe, Jr., Gustav Kobbé, Albion Cox, M.E. Hart, Serovpe Alishan, the Yocum dollar, 19th century New Jersey banknotes, and Artificial Limb medals, read on. Have a great week, everyone!
Wayne Homren
Editor, The E-Sylum


David Sklow sends this reminder of his upcoming Mail Bid Sale # 26. Get your bids in! -Editor
Numismatic Literature Mail Bid Sale # 26 closes in just two short weeks, Saturday October 10th at 8PM Mountain Time. Be sure to send your bids in early so you won't miss anything you really wanted.
Bidding is via Email, Telephone, Fax and USPS. The catalog is always available to view or download at our web site.
David Sklow - Fine Numismatic Books
P.O. Box 6321
Colorado Springs, CO 80934
Phone:719-302-5686
Fax: 719-302-4933
Email: numismaticbooks@aol.com
Website: Finenumismaticbooks.com
Fred Lake forwarded this announcement of his upcoming 123rd mail bid sale. Thanks. Happy bidding, everyone! -Editor
Lake Books is announcing that its 123rd mail-bid sale of numismatic literature is now available for viewing on their web site at http://www.lakebooks.com/current.html in either MS Word or PDF. The 481-lot sale closes on Tuesday, October 27, 2015 at 5:00 PM (EDT) and features selections from the libraries of John Tidwell and Dr. David E. Litrenta and has many fine reference books in not only United States coinage, but also Ancient and Foreign material. You will also note the excellent bindings such as a "one-of-a-kind" rendition of the first ten volumes of the John Reich Collectors Society "Journal" in red leather. A scarce group of four Early American convention sales with added photographic plates will also generate much interest. Bidders will also find wonderfully bound books in the fields of Paper Money, Tokens and Medals, and Exonumia. Bids may be placed via email, telephone, US Mail, or fax until the closing time.
Good luck with your bidding ! Fred
Lake Books
6822 22nd Ave N
St. Petersburg, FL 33710-3918
727-343-8055 fax: 727-381-6822
Numismatic literature dealer Bryce Brown is planning mail bid auctions for next year. He sent this announcement. Thanks, and good luck! -Editor
BRYCE BROWN NUMISMATIC LITERATURE is seeking consignments of numismatic literature for three mail bid auctions scheduled for 2016. To discuss details, or to simply join our mailing list, contact Bryce at numismatics@att.net
David Fanning of Kolbe & Fanning Booksellers writes:
To read the earlier E-Sylum article, see:
KOLBE & FANNING NEED COPIES OF SALE 139 (www.coinbooks.org/esylum_v18n37a03.html)
Author Frank Robinson forwarded this press release about his new book on the coins of Palembang. Thanks. -Editor
At last there is a comprehensive catalog of the coins of Palembang.
This sultanate on the Island of Sumatra (Dutch East Indies, today's Indonesia) issued coins until 1821; nearly all lead-tin, uniface, mostly inscribed in Arabic. Previous references gave them only sketchy (and inaccurate) coverage, with two nineteenth century works each illustrating fewer than 30 varieties.
Now Frank S. Robinson has compiled a little book, with background information, properly cataloging 291 distinct numbered varieties, all with clear enlarged photographs, plus rarity ratings on a ten-point scale. The work is the culmination of a project intensively analyzing 35,000 Palembang coins.
Copies can be purchased from Robinson for just $4.99 postpaid (foreign $6.50; Paypal or credit cards add 50c). Contact him at Box 8600, Albany, NY 12208; 518-482-2639; frank@fsrcoin.com; website www.fsrcoin.com.
Robinson, a former New York State administrative law judge, is a longtime dealer in ancient and world coins, and author of seven previous books including Confessions of a Numismatic Fanatic, and The Case for Rational Optimism.
Dennis Tucker of Whitman Publishing writes:
The U.S. Treasury recently announced that a woman will replace Alexander Hamilton on the $10 bill in 2020. A woman—Martha Washington—last appeared on American paper money more than a century ago. Meanwhile, a new book, "The 100 Greatest Women on Coins" (Whitman Publishing, $29.95), showcases coins with female faces, starting with a bust of Athena on a silver tetradrachm of Athens (454-404 B.C.). The earliest coins usually represented goddesses. More recent subjects include Helen Keller, who appeared on a special Alabama state quarter. For the new $10 bill, the book's author, Ron Guth, would choose Harriet Tubman. "She actually risked her life to help end slavery," he says. "I like the idea of honoring a doer."
..and here's an excerpt from the piece on Money Museums. -Editor
Every city has its beloved art museums, venerable historical societies and treasured libraries. But how many towns offer multiple exhibits for folks who want to gawk at money? There's no place like New York.
Those with more refined sensibilities may not understand, but some of us just love money, period. My favorite possession may be my giant bowl of coins. It's far more beautiful and interesting than anything it could buy.
Happily, for the cash obsessed, there are several local spots where one can see a lot more dough than what's in one's wallet, starting with the Museum of American Finance, a 26-year-old institution largely funded by Wall Street firms and wealthy donors.
A trip to the museum, housed in a lovely old bank building on Wall Street, starts with a big currency exhibit—three walls plastered with cash! Dedicated to American moolah, the display even includes a beaver pelt and a 2007 ViVOpay 4500 credit card reader.
For coin buffs, there's the American Numismatic Society on Varick Street, also in lower Manhattan. The Society maintains an internationally known collection of more than 800,000 coins and medals, and a library of 100,000-plus holdings, including the Whitman Encyclopedia of Mexican Money Volume II, copies of Money Trend dating to 1971 and the promotional brochure "Disneyland Minnie Money is here."
The Society's current exhibit includes a display of iron African tribal currency in the shape of, among other items, a life-size spear and a hoe. Imagine stabbing enemies and planting turnips with your money.
To read the complete articles, see:
Golden Girls: Women on Coins (www.wsj.com/articles/golden-girls-women-on-coins-1443107227)
Follow the Money—to a Museum in NYC (www.wsj.com/articles/follow-the-moneyto-a-museum-in-nyc-1443175200)
Gawain O'Connor submitted this review of a book he recently discovered which should hold interest for anyone curious about the use of coins and money in early America. Thanks! -Editor
Between my office and the nearest coffee house is a bookstore where they often place books on the sidewalk for free (easy to get, or cheap on Amazon, etc.) I have often succumbed to the temptation to carry some home to read. I finally got around to one I picked up about a year ago - Moreau de St. Méry's American Journey 1793-1798, translated and edited by Kenneth Roberts and Anna M. Roberts, Doubleday and Company, Inc., Garden City, NY, 1947.
Médéric Louis Élie Moreau de Saint-Méry (1750–1819), a Creole colonist born in Martinique, was best known for his publications on that island as well as Saint Domingue. During his stay in the United States he was a bookseller and printer and the first to sell condoms. His diary includes prices for everyday items and a brief description of the Philadelphia mint in 1795:
But what I found most fascinating was the translator's (Anna M. Roberts) footnote on that page:
I had never heard that etymology before – shinplaster = dog money. Is it attested in any coin books?
There are some other gems in the book. C4 members might like this one:
Here are prices for the principal things:
and so on… [starting p. 157]
I wasn't aware of this book, and it seems like a marvelous find for numismatists. Of course, there are untold documents and accounts available in archives and elsewhere that may never have been consulted by numismatic researchers, or at least not reviewed by anyone in decades. All are worth a fresh look. Many thanks to Gawain for bringing this to our attention. -Editor
Project Coordinator Len Augsburger submitted this report on the latest efforts in digitization by the Newman Numismatic Portal project at Washington University in St. Louis. Thanks! -Editor
Newman Numismatic Portal Scans 14,000 Pages in August
The Newman Numismatic Portal (NNP) continues to digitize numismatic literature and has processed 367 documents to date. These documents are available at https://archive.org/details/newmannumismatic.
The latest addition is a group of 50 U.S. Mint Reports loaned by Bill Burd, which brings the total on the Portal to over a hundred Mint Reports. Paul Hybert has loaned an early report for the year 1804 [image of front cover shown here] that will be posted shortly.
Also available is a substantial collection of Heath Counterfeit Detectors (the basis for Eric Newman's 1991 article on the subject), in addition to a number of mid-19th century bank note reporters. The Portal is currently organizing material from Eric Newman's personal archives and will be making some exciting announcements in the near future.
In addition, several specialty clubs have granted permission to scan and present their back journals, and announcements will be made as these come online. As reported in The E-Sylum on September 6, 2015, the Gobrecht Journal is one such publication already available through NNP.
While scanned material is currently stored and hosted on Internet Archive (archive.org link above), the Portal itself will be open in 2016 and will incorporate additional numismatic content already in electronic form. Individuals or organizations willing to share content with NNP should contact Len Augsburger, NNP Project Coordinator, at leonard.augsburger@wustl.edu.
Dave Ginsburg adds:
Thanks, Dave. The Internet Archive has been digitizing content for decades now, and the state of the art has definitely improved. We also knew there would be value in gathering content under a single access point. Things should get even easier once the main web site development is fully complete, adding features such as full-text search, grouping, tagging and a menu-based organization to provide an orderly view into each area and sub-area of the site. The Internet Archive portion of NNP is the back-end document "warehouse"; the web site will be the front-end "retail store" where users will probably do most of their shopping for numismatic information. -Editor
To read the earlier E-Sylum article, see:
GOBRECHT JOURNALS #1-120 NOW ONLINE (www.coinbooks.org/esylum_v18n36a11.html)
George Thomas McCombe, Jr. (1856-19??), was born at Lockport, New York, on May 1, 1856, the son of George McCombe (1806?-1881), an architect, carpenter and builder, and Mary Ann McCombe (-1881). He was educated at Lockport High School. He had two brothers William E. Mc Combe, cashier at the National Exchange Bank, Lockport, New York, and Frederick J. Mc Combe, a wholesale grocer at Denver, Colorado.
There are many pieces of mail between George T. McCombe and the Chapman Brothers. This article uses a few of them in order to illustrate salient points for his biographical sketch.
From a letter mailed to the Chapman Brothers on his office stationery we know he worked at the National Exchange Bank at Lockport in the 1880's gaining him access to a wide variety of coins he handpicked at face value to build up stock as a coin dealer. According to his biographical sketch published in 1897 he entered the National Exchange Bank at Lockport at an early age serving four years as a clerk and eight as bookkeeper. Afterwards he was the paying and receiving teller at Niagara County National Bank, Lockport, N. Y., serving in that capacity for another eight years. Sometime later he travelled to Europe, Asia, Africa, Egypt, Syria, the Holy Land, and around America, returning home in 1892.
ABOVE: Letter sent by McCombe on his own letterhead and business envelope to the Chapman Brothers to purchase coins postmarked October 29, 8 P. M., 1881, Lockport, New York. He had illustrated printed business envelopes showing the Bust Type introduced in 1796 found on the half-dime, dime, quarter, half-dollar, and dollar, but the design of the reverse device is closer to that of 1794-1795 Flowing Hair Type coinage. Courtesy of the Lupia Numismatic Library, Special Collection, The Chapman Family Archive.
In a notice published by Ed Frossard in the March 1881 issue of Numisma we read :
In the September and November 1881 issues of Numisma he ran two ads on the front page. The first advertising "Monthly Catalogues, giving buying and selling prices, free." Here we find his previous marketing strategy of 10 cents an issue is now changed to a free monthly catalogue. The second advertisement claims to pay the highest prices to collectors wishing to sell their duplicates in U. S. dollars, halves, quarters, dimes, half dimes, and cents.
His earliest known address is 79 Walnut Street, Lockport, Niagara County, New York. He moved in 1883 to 51 Main Street, Lockport, NY. In 1898, his address is 367 High Street, Lockport, N.Y.
His interest as a coin dealer seems to have faded about 1884 when he took up an interest in the hay industry while still very active as a banker. Eventually he resigns his banking career in 1892 devoting himself to the hay industry and as a business entrepreneur. His coin dealership most probable lasted from 1880 to 1884, but continued buying coins as a private collector.
A notice published in the New York Times reported that his house was robbed on September 2, 1888, described as one of the wealthiest homes in Lockport, the capital of Niagara County, not far from Lake Ontario and the Canadian border.
McCombe seems to fade out of sight, and so far the date of his death has not been discovered.
Any further information on McCombe would be appreciated. Does an obituary exist somewhere? -Editor
To read the complete article, see:
George Thomas McCombe, Jr. (https://sites.google.com/site/numismaticmallcom/encyclopedic-dictionary-of-numismatic-biographies/mccombe-george-t)
Dick Johnson submitted these thoughts on the utility of obituaries in numismatic research. Thanks! -Editor
There are three times in a person's life that their name appears "in the paper" -- when they are born, when they marry, and when they die. Death notices, obituaries, are important. That fact came to mind when I read the article in last week's E-Sylum where editor Wayne Homren mentioned obituaries use in numismatics.
When I was most active researching biographies of prominent – and not so prominent – artists of coins and medals. I recognized this is a special field of research. I took a course in genealogy at the local community college to learn how to do biographical research.
The members of the class, mostly grandmothers searching their own family history, were so enthralled with this activity they didn't want to stop when the course ended. Myself as well. We formed a genealogy club to meet every month.
We had speakers, went on field trips, and exchanged tips among club members. I learned a lot. I learned sources, reference works, and how best to work in archives. I learned how to verify and cite the data uncovered in this research.
This was ideal for my researching biographies of engravers, diesinkers and sculptors, the artists who created coins and medals. I also learned how important individual obituaries were.
The New York Times was useful for more famous artists and there is a two-volume index to all obituaries in this newspaper for 150 years. But for artists who never reached that level of fame I had to search local newspapers.
Newspapers and City Directories were the most useful for my pursuit. Here is where I encountered microfilm where both sources are preserved. If you don't like staring at a microfilm screen for hours at a time you can't be a researcher.
I learned that obits in early newspapers were little more than the name of the deceased, with a few lines of type. They lacked the career data I was seeking. I was fortunate when an obit listed the year the deceased was born.
The date of their death, however, was more important as it fixed the end of an artist's working life. Any coin or medal issued after that date was either a restrike or reissue. I gathered as much biographical data I felt was important to an artist's connection to his coin and medal creations.
It is this data that has been brought together and now published in book form as Who's Who Among American Medallists. Medallists here means all forms of die-struck numismatic items. Most all American artists of coins made medals as well. The technology is the same, except medals don't have a denotation.
Even with the most arduous research I wasn't able to learn as much as I wanted for all 4,137 artists listed in the book. It does underscore, however, the importance of obituaries as Wayne Homren mentioned last week.
To read the earlier E-Sylum article, see:
THE DYING ART OF THE OBITUARY (www.coinbooks.org/esylum_v18n38a18.html)
The Eagle As a Denomination
Steve D'Ippolito writes:
Steve's correct. The Eagle was indeed the official name of the denomination. And I don't know what to make of the bullion "Eagles", either. There should be an asterisk after that one. Marketers are much for being sticklers for the appropriate legal designations. -Editor
To read the earlier E-Sylum article, see:
ANSWERS: DENOMINATIONS NAMED AFTER PEOPLE (www.coinbooks.org/esylum_v18n38a10.html)
Puppets in Numismatics
Bill Rosenblum writes:
I had a feeling puppet governments would get drawn into this. It didn't take long! -Editor
To read the earlier E-Sylum article, see:
SOME RECENT COIN DESIGNS: SEPTEMBER 20, 2015 : Ukraine Coin on Ivan Karpenko-Karyi (www.coinbooks.org/esylum_v18n38a27.html)
More on the Mayoralty of London Medal

Jeff Starck of Coin World writes:
To read the earlier E-Sylum article, see:
SELECTIONS FROM THE RICHARD COOPER COLLECTION SALE : Lot 429: Mayoralty of the City of London, 700th Anniversary Medal (www.coinbooks.org/esylum_v18n37a32.html)
Query: Information on L V Larsen Sought
David Pickup writes:
Can anyone help? Who was L V Larsen? Was he prominent in U.S. numismatic circles? -Editor
New Haven Colony Historical Society
Jonque Mayle writes:
To read the earlier E-Sylum article, see:
QUERY: ARTIST NICHOLAS GEVELOT INFORMATION SOUGHT (www.coinbooks.org/esylum_v18n38a13.html)
Nummis Nova dinner September 2015

Gene Brandenburg forwarded this photo he took of the September 2015 Nummis Nova dinner at Clyde's of Tyson's Corner. It was a cozy room with nice artwork on the walls. We really enjoyed it. That's Jon Radel and Julian Leidman at the left. Others facing the camera from left to right are Howard's guest Hung Vinh Nguyen, Eric Schena, Dave Schenkman (obscured), Chris Neuzil, Joe Levine and Roger Burdette.
To read the earlier E-Sylum article, see:
WAYNE'S NUMISMATIC DIARY: SEPTEMBER 13, 2015 (www.coinbooks.org/esylum_v18n37a23.html)
Dave Hirt writes:
To read the complete article, see:
PRESIDENTIAL CAMPAIGN MEDALS
To read the complete Wikipedia article, see:
Gustav Kobbé (https://en.wikipedia.org/wiki/Gustav_Kobb%C3%A9)
Silver has been in the shadows of another precious metal, gold. Silver often does not get the credit it deserves. The legends of Silver, however, treasures are just as intriguing as those of Gold. The Ozark Mountains in Arkansas have whopping stories about silver dollar coins.
The Legend States that Europeans-The Spanish- were traveling up the Mississippi and its' tributaries. They were search for precious stones. Close to the source of the White River in Stone County they found Indians working Silver Mines. They bargained with the Indians. Apparently the Indians had much more silver than they let on to the Spaniards. To hide the silver, they made ingots and stashed them. Ingots are made by pouring molten silver into musket barrels. The Ingots were placed in caves in the area, so one day they could return for them. Then never returned.
Another version claims that the Spanish had built a fort on the Junction of the White River and Stone County in the 17th century, where they had begun to mine silver. Many were attacked and killed. The survivors sealed the cave with stones and never returned. Then, in 1809, Chickasaw Indians discovered the cave while seeking Shelter from a storm. They found the walls to be pure silver. In classic story of greed, the Chickasaws were also attacked Mexican Gold Hunters. They sealed the cave again, hoping to return, but they were struck by Black Rot and never returned.
Ten years later, In the 1820s the Yoacham family settled in the Galena area of Stone County. When they found the silver they cut the ingots into slices and stamped them with the name 'Yoacham' and hence the name Yocum Silver Dollars. Yoacham silver dollars were said to have been worth more than the U.S. government silver dollars of the time.
Marvin E. Tong, the Director of the Ralph Foster Museum, doubts the truth to this legends. But he has ideas about how the legend began. Tong says the Yoacham family settle in Galena from Hungary. In Hungary there was a Bishop Yoacham who had become a saint and had a coin minted in his honor. The name of this coin was the Yoacham "Stald". Mrs. Kathleen Van Buskir who claims to be related to the Yoachams, says their ancestry origin is Welsh.
Tong also gives evidence that the natural geological setting of the Ozarks is not naturally prone to produce a gainful amount of silver. The Missouri Geological Survey and Water Resources of Rolla, Missouri Minerals has concluded that Gravel is the only extractable stone. In the early days Galena Mineral was found on the surface of the ground, and this might have been mistaken for "fool's silver".
Mike Brittain, who has ancestors who were homesteaded in the Ozarks, showed copies of a diary excerpt with a map which he claimed a friend had made while doing research at the National Archive in Washington D.C. On the map is a carving, a cave and a small Spanish fort which Mike said he had found the foundation stones of but never found the carving. The end of the diary is dramatic. The man had found a mine or cave with silver and was chased by Indians.
This legend of the Yocum silver has grown bigger with each telling. Unfortunately the damning of the white river has placed most of the communities of the Ozark ancestors under water. Perhaps that is the reason why no one has yet to have discovered even one silver dollar. It might be time to call in the divers.
To read the complete article, see:
The Legend of the Elusive Yocum Silver Dollar (www.the-newshub.com/arts-and-culture/the-legend-of-the-elusive-yocum-silver-dollar)
Mike Locke and Dan Owens write:
Here's part one. We broke it up because it's just too long for a single article. But I think readers will find it interesting, and perhaps someone can help. -Editor
Will The Real M.E. Hart Please Stand Up?
Mike Locke and Dan Owens research paper, compiled by Dan Owens.
Between the pages of history surrounding the world renowned Panama Pacific International Exposition held in San Francisco in 1915, the identity of M.E. Hart was lost to the collecting world. Hart is best known in numismatic circles for marketing Coins of the Golden West and selling official souvenirs from the Exposition, circa 1915-1916. Hart's business address was 560 Powell street site of the Chesterfield Apartments in San Francisco.
The Hart set consisted of 36 varieties of 10 K gold tokens and was available for the asking price of $20. In a tribute to the spirit of Alaska, some of the pieces were stamped with images of miners while others bore parka covered Eskimo heads. The series also contained a number of tokens stamped with Indian heads covered in a feathered headdress. A couple of the California variety imprinted tokens came with the head of Minerva and the word Eureka on the obverse. Pieces representing Washington, Oregon, Montana and Idaho, rounded out the set.
Some time ago, I received an e-mail from California small gold and token authority, Mike Locke asking me to join him in the quest to find the proprietor or proprietors of the M.E. Hart Co. After a thorough search of all the contemporary San Francisco City directories revealed no Hart listed at 560 Powell street, we had no clue if Hart was a man or a woman, or simply a fictitious business name.
We then turned our attention to the Panama Pacific International Exposition. We located an article entitled Numismatics at the Panama Pacific International Exposition which appeared in the April 1916 issue of B. Max Mehl's Numismatic Monthly. A subsequent follow-up with librarian David Hill at the American Numismatic Society revealed that this article contained no useful clues to Hart's identity.
However, Locke thumbed through some of his scattered issues of Mehl's Coin Circular and discovered that in 1922, the well-known numismatist and coin dealer, had offered one of Hart's cased sets for sale for $25.
Mehl did not express any knowledge of M.E. Hart, nor did he note the M.E. Hart label on the back of the set. Mehl's apparent lack of knowledge regarding Hart only deepened the mystery surrounding his or her identity since he had attended the 1915 Panama Pacific Exposition and American Numismatic Association convention in San Francisco and apparently immersed himself in everything of a numismatic nature.
Thus we decided to cast a wide net into a sea of potential suspects with or without the last name of Hart. Following all available leads, four candidates would eventually emerge from the shadows of history.
Candidate No. 1
Farran Zerbe was the former American Numismatic Association president and the head of the Panama Pacific International Expo Souvenir Coin and Medal Department. According to the October 1916, issue of The Bricklayer, Mason and Plasterer, Zerbe had reportedly sold the remainder of the Panama Pacific one dollar commemorative gold coins to the M.E. Hart Co., which the Hart Co. resold as original items or jewelry pieces mounted on charms, stickpins and brooch pins. Zerbe would later advertise in the December 1919, edition of The Numismatist that he had fifty one dollar Panama Pacific commemorative coins available to exchange for one fifty dollar Panama Pacific commemorative coin.
Zerbe had also purchased the remaining stock of the Panama Pacific silver half dollar commemorative coins. Thus it was his modus operandi to exhibit similar behavior to that of the M.E. Hart Co.
In 1904, when Zerbe was in charge of the souvenir coin department at the Louisiana Purchase Exposition in St. Louis, gold jewelry mounts were supplied when requested allowing the official souvenir gold dollars to be used as charms, stickpins or brooch pins. This also seem to mimic the M.E. Hart Co. business practices.
I then asked Locke if he had ever seen Zerbe make a contemporary acknowledgement of the Coins of the Golden West set. He stated that he had and sent me an e-mail with a transcribed article entitled The Government's Attention to "Gold Charms" which appeared in the August 1919, edition of The Numismatist.
In this piece, Zerbe had addressed the concerns and crackdown by the U.S. Government over the sale of gold tokens or charms and the misuse of them by vendors who preyed on tourists exchanging a stamped dollars worth of tokens for a dollars worth of U.S. currency. In reality most tokens contained only 40% or less of their face value.
He then made a note to defend the quality of the Coins of the Golden West set with the following:
"While mostly made stamped as of "California", there have been many made naming other localities. Several series have an Alaska stamp, and the production of one maker that has been marketed as a set under the name "Coins of the Golden West," said to be the best die work and composition quality of any marketed in recent years, contains thirty-six varieties, with stampings not only for California and Alaska, but also for Washington, Oregon, Montana and Idaho..."
Was the preceding statement a weak attempt by Zerbe to justify his past sales?
Candidate No. 2
The second candidate was put forward by William Hyder in an excellent article entitled Mary E. Hart and M.E. Hart's Coins Of The Golden West. Hart was a California and Alaska based journalist, miner, editor, woman's right activist, lecturer for the Pacific Coast Steamship Co. and the so-called first lady of Alaska.
She was the Special Agent, Department of the Interior for Education, Art and Woman's Work, in charge of the Alaska exhibit at the Alaska Yukon Pacific Exposition held in Seattle in 1909. Through a series of newspaper and bulletin articles spread out over several years, we were able to glean some insight into Mrs. Hart's personality and character.
On August 1st of 1909, the Seattle Sunday Times, published an article that she wrote entitled Alaska Gold Camps Bow To Fair Women. Mary opened her piece with the following quote, "They talk about a woman's sphere, as though it had a limit. There's not a happening on earth that bears a feather's weight of worth, without a woman in it."
Mrs. Hart took her role as a journalist very seriously. In 1911, she lost two years worth of text when her unpublished manuscript A Handbook of Alaska, was destroyed by water damage in the pile up of the steamship Spokane in Seymour Narrows. According to the July 21st, 1911 Daily Alaska Dispatch, Hart was the last woman to leave the vessel.
In 1914, she told a writer in her home state of Missouri, that she once had an assignment for an article about the "Reindeer Queen" Sinrock Mary.
To complete her work, Mrs. Hart rode forty miles in an open boat made of walrus hide. Her guides were natives who had just traded pelts for whisky and were in her words "liquor crazy". After landing, a dog sled ride of fifteen miles was required to bring her to the native village. She was quoted as saying, "I got my story, but I felt it was a pretty close call."
Also in 1914, when she was vice-president of the Pacific Coast Women's Press Association, she spoke on being "A Woman Journalist in the Far North."
The Alaska editor, as a rule is not the proverbial "poor man," and his subscriptions are never paid in potatoes, pumpkins and other garden truck, as is sometimes the experience of the country editor in "the states." On the contrary, in the early days, I have often seen subscriptions paid in gold dust, and the Alaska editor has a chance to "be in on the ground floor," in every new strike, and secure good holdings along with the best of the experienced "sourdough miner," because they trust him, and are not averse to letting him in on a good thing when new "pay dirt" is struck.
There is something about the spirit of the North that inspires the artist, poet, and the writer of fiction...I too have felt this inspiration, and the longing to return to the quiet and the peace-the "Great White Silence" of our Arctic winter.
Hart also represented the Alaska Cruise Club at the 1915 Panama Pacific International Exposition in San Francisco. She traveled through-out Alaska gathering materials for the display and received a gold medal from the Expo for putting together and hosting the Pacific Mail Steamship Co.'s Alaska Cruise Club exhibit. Mary proudly represented Alaska at a women's suffrage rally held at the Expo.
In a newspaper article that went national dated San Francisco July 15th, 1915, Mrs. Hart when asked what are the chances for women in Alaska? responded by stating "Why, bless your heart-yes! Lots of chances to win independence as well as contentment, if they have health and a moderate amount of grit."
She continued, "Grit, faith and self-confidence they must have," she told the reporter, slipping a fur parka over a resplendent reception gown which instantly transformed her from the urbane woman of soft conventions to the "Sourdough" of many hazardous adventures.
"I went to Alaska years ago just as many women are now going- seeking adventure and to earn a living," she resumed. "I worked with my hands beside the men, mining. For three seasons I panned gold at Anvil, wielding a pick and shovel and washing gravel.
"My husband who was then too sick to work and I had a lay on a good claim. I saved $18 a day by doing the work of a mine foreman and cook at the same time, since I would have had to pay out that much for a boss and a cook. I must add caution to the other requisites for success in tackling pioneer tasks in the northland. Lack of it nearly cost me my life.
"In taking out gold bearing gravel, I had disregarded the warning of old miners never to dig under the heavy overhanging of slate and surface rock. Many a 'chekako' had lost his life in such a manner.
"I saw a glint of raw gold, and burrowed in my excitement like a Malamute dog. Suddenly I heard warning cries, and sprawled backward just in time to escape burial under an avalanche of loosened shale. As it was, I was covered to the neck in rock and earth, so that it took the miners some time to release me."
Although her initials and last name match the gold token dealer, and she was clearly at the Panama Pacific International Expo, we have thus far failed to link her to 560 Powell street. Her home base outside of Alaska was Corte Madera, California and during her visits to San Francisco she stayed at the Cruise Club's headquarters located within the Union Square Hotel.
See next week's issue for Part Two. -Editor
A few helpful tips can make sure you never get fooled by these sometimes deceptive fantasy pieces.
California Fractional Gold is an interesting and historically significant series that includes more than 500 varieties. During the California Gold Rush there was a shortage of small change and beginning in 1852 several jewelers privately minted gold quarters, half dollars, and dollars. The San Francisco Mint opened on April 3, 1854 and within a few years enough small change had been issued to eliminate the necessity for these minuscule gold tokens.
Those struck from 1852 to 1857 are termed "Period One" issues and are believed to have actually circulated, while the "Period Two" strikes from 1858 to 1882 were struck as souvenirs of the Gold Rush by local jewelers. NGC grades Period One and Two issues, as well as 15 Period Three varieties (mostly struck in the early 1900s), but modern replicas are very common and routinely submitted. A few helpful tips can make sure you never get fooled by these sometimes deceptive fantasy pieces.
ll California Fractional Gold from Periods One and Two are denominated. Usually they will have the word DOLLAR (with a fraction if a quarter or half dollar), but there are also some that are denominated in cents. Occasionally you will see the word DOLLAR abbreviated as DOL, DOLL, or even DOLA. Although the Coinage Act of April 22, 1864 made it illegal to privately mint coinage, the law was not enforced by the Secret Service until 1883 and thus jewelers were still able to denominate their souvenir tokens. The tokens struck in 1883 and later almost always do not have a denomination (in order to comply with the law) and instead might say "1/2 CAL GOLD" or "1/2 CALIFORNIA GOLD CHARM".
Many of the 20th century tokens feature a design that does not resemble either circulating United States coinage (many of the Period One and Two issues were designed to blend in). For example, some have a bear on the reverse and others have a crudely engraved portrait of an Indian or Liberty. Most of these are made of gilt base metals although a few are struck on low fineness gold planchets. While a handful of these, such as Hart's "Coins of the Golden West" are quite collectible, the vast majority have little numismatic value.
Perhaps the best defense against imitation California Fractional Gold would be a copy of Walter Breen and Ronald J. Gillio's California Pioneer Fractional Gold (Second Edition, 2003).
To read the complete article, see:
Counterfeit Coins Detection: California Fractional Gold (www.coinweek.com/education/coin-grading/ngc/counterfeit-coins-detection-california-fractional-gold/)
David Finkelstein submitted this article on Albion Cox's Surety Bond. Thanks! These bonds are an interesting sidelight and view into the workings of the early U.S. Mint. -Editor
The general belief, without any supporting evidence, has long been that Charles Gilchrist (a Philadelphia merchant) posted the surety bond for Albion Cox (the first Assayer of the Mint). The earliest printed statement that I have located that names Gilchrist as Cox's surety is on page 90 of Frank Stewart's 1924 publication entitled "History of the First United States Mint: Its People and Its Operations":
I can now confirm that Charles Gilchrist did in fact post Albion Cox's surety bond. Cox's surety bond has been found, stored among Treasury Department documents for the last 221 years. It is presented in this article for the first time ever.
The Mint & Coinage Act of April 2, 1792 required the Assayer to be bound to the United States of America and to post a surety bond of $10,000.00. This sum was too large for Cox, as he was unable to obtain someone to guarantee his bond. This issue was one of the impediments to converting silver and gold bullion into coins during 1793 and most of 1794. Without the bond in place, Cox was unable to assay silver and gold bullion, and the value of a bullion deposit, in United States money, could not be determined.
On December 30, 1793, Secretary of State Thomas Jefferson wrote a two page letter to President Washington identifying issues with The Mint & Coinage Act that prevented the Mint from accepting bullion deposits, and striking silver and gold coins. Per the first sentence, Jefferson's letter was based on information provided by Director of the Mint David Rittenhouse:
"I am informed, by the Director of the Mint, that an impediment has arisen to the coinage of the precious Metals, which it is my Duty to lay before you".
Jefferson's letter also included the following passages:
Note that in 11 letters written by Thomas Jefferson, he referred to the Assayer 6 times as Albion Coxe and 5 times as Albion Cox. We now know, per the surety bond, that he was in fact Albion Cox, and not Albion Coxe.
On December 31, 1793, President Washington forwarded Jefferson's letter to Congress. On February 18, 1794 the Senate passed a bill entitled "an act in alteration of the act establishing a mint and regulating the coins of the United States" or The Alteration of the Mint Act. The bill was approved by the House of Representatives on February 25th and signed into law by President Washington on March 3, 1794. Per Section 2 of The Alteration of the Mint Act, the Assayer's surety bond was reduced from $10,000.00 to $1,000.00:
Due to the vigilance of David Rittenhouse, Albion Cox's surety bond was posted on April 10, 1794 by Charles Gilchrist. Note that a surety bond was and still is a contract between a minimum of three parties:
1. the principal - the party who will perform a contractual obligation (Albion Cox),
2. the obligee - the party who is the recipient of the contractual obligation (the United States of America), and
3. the surety – the party who assures to the obligee that the principal can perform the contractual obligation (Charles Gilchrist).
If the principal (Cox) was unable to perform his duties, the obligee (the United States of America) could have sued the surety (Gilchrist) for damages up to the full amount of the bond.
For more information on Albion Cox, please read Nancy Oliver's & Richard Kelly's excellent article entitled "The Life of Albion Cox" that was published in the September, 2013 issue of The Numismatist.
This week at the International Numismatic Congress in Taormina, I gave a presentation about the US Trade Dollar, a silver coin that was minted between 1873 and 1878 expressly to facilitate trade with East Asia.
Its purpose was rather transparently expressed in the coin's design, which features the figure of liberty seated upon a bounty of trade goods facing west to the ocean with an olive branch in hand. The reverse clearly delimits the national origin of the trade dollar in legend and symbolism, but more interestingly includes a precise description of its silver content: 420 GRAINS, 900 FINE. Quick math shows that it contained 378 grains of pure silver, which was more than the 371 ¼ grains of the 'standard' Seated Liberty dollar. This change was made to give the US trade dollar more appeal in the Chinese market, where Spanish dollars minted in the Americas and, after independence in 1821, Mexican dollars were the primary circulating medium. These had a silver content measuring between 374 and 377 grains, which meant that the new US trade dollar had a more silver and bullion value.
What the new US trade dollar lacked of course was both recognition and trust. Spanish dollars had been circulating through Asia in volume since the 17th century, and the shroffs who weighed and assayed foreign silver for Chinese merchant house were rightly skeptical of new coins. Still, by 1876 some 12 million US trade dollars had been exported, and the large number of extant 'chopmarked' coins, which were struck with punches bearing Chinese characters that indicated their acceptance by merchants, attested to their successful introduction internationally.
The fatal flaw that doomed the US trade dollar was not its ability to circulate abroad, but an unfortunate provision inserted into the Coinage Act of 1873 that allowed the trade dollars, which were intended for export, to circulate domestically as "legal tender at their nominal value for any amount not exceeding $5 in payment (Sec. 15)." Exactly how this stipulation was worked into the legislation has been much debated, but the practical effect was that when the price of silver declined, it became profitable for bullion dealers to have their silver coined into trade dollars. The new dollars were not exported, but passed domestically at their face value or at a nominal discount. When the coinage law was passed in 1873, the 378 grains of silver in the coin was worth $1.05 in gold, but by 1876 it had declined to .83¢. With the bullion value less than the stated or legal tender value that was the medium of exchange, trade dollars flooded into domestic circulation. In response, the coin was actually demonetized by an act of Congress in July 1876.
Despite the fact that it was now demonetized, the trade dollar continued to circulate domestically, alongside a restored 'standard' or Morgan dollar that was authorized by the Bland-Allison Act of 1878. At this point, the United States thus had two silver dollars in circulation, one with 371 ¼ of silver and a Liberty Head on its obverse that was legal tender, and the Seated Liberty trade dollar with 378 grains of silver that was not. The mints continued to manufacture trade dollars only with the assurance that the coins would be exported abroad, but controls were so lax, and the potential profits so easy, that many of the 20 million coins minted after it was demonetized made their way into domestic circulation anyways. The coinage of the trade dollar was finally discontinued in 1878, but the damage was done. Because it was not legal tender the trade dollar was in effect simply bullion and it circulated at a severe discount. It was not able to deposited at banks, nor was it accepted by many merchants. The problem was that many unscrupulous businesses continued to pay them out to unwary or unsophisticated employees and customers at face value, which the receiver was never able to get when they tried to spend them.
To read the complete article, see:
A TRADE DOLLAR SONG AND CHORUS, 1883 (www.anspocketchange.org/a-trade-dollar-song-and-chorus-1883/)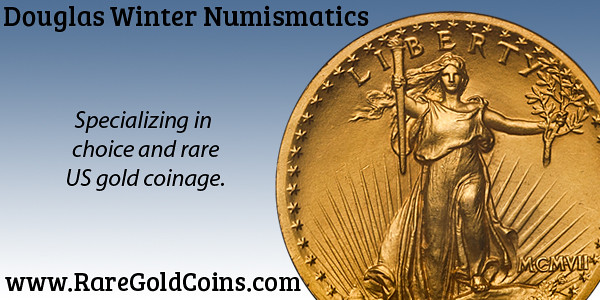 Bill Groom writes:
Knowing my affinity for counterstamped coins that are often telling of early American times, a dealer friend of mine had long ago set aside a pair of coins that had come his way in an estate purchase. He knew that, when I next paid him a visit, I'd be seeking such pieces for my collection. Eventually, he proudly handed me the pair of 1876 Liberty Seated Quarters pictured below. Although in near mint state condition, they were both holed and bore but simple initials. Nothing special, it seemed ….
Attractive and curious as this pair of coins was, counterstamps that offer something of a story line are typically what I seek. Then, my friend produced the envelope in which these came. Upon it was simply scrawled in pencil, "These coins rested upon our dear Mother's eyes." Now, there's a story of sorts! There's no telling just who these siblings, A.P. and M.P., were, and their dear Mother's name will thus forever remain a mystery. It's clear that these two, newly minted coins were neatly holed to be used as keepsakes; likely, prepared and punch marked as such by a jeweler. This may have been done either before or following the family wake. In addition to being lifelong keepsakes for the children, these two coins experienced more immediate use in keeping the decedent's eyes shut during viewing. Nowadays, the eyelids are reportedly glued shut. Pleasant thought, huh? Personally, I'd prefer the old way, coins!
In contemplating this practical but somewhat macabre use of coins, I seemed to recall, in my mind's eye, that there was some mythical purpose behind the practice. Sure enough, my memory intact and laptop at hand, I quickly found the explanation. The ancient Greeks believed that, when somebody died, their soul had to cross the River Styx which connected the Earth to the Underworld, the land of the dead. The ferryman, Charon, charged two silver coins (note that the two quarters are silver) to transport souls into the Underworld. So it was that the placement of two silver coins upon the eyes of a deceased person became steeped in tradition.
In the words of the immortal Paul Harvey, "Now you have the rest of the story." Hopefully, a paper copy of this humble article will accompany this pair of coins when they find their next owner. Then, it will be his/her responsibility to keep the story afloat. In the meantime, these coins will be laid-to-rest in a coffin-like coin box and tucked into the mausoleum that I simply call a safe.
R. I. P.
Thanks. An interesting pair of coins, and such a shame that they were separated from the woman's family. With Bill's help their story can now be handed down to future collectors. I think we've only discussed this coins-on-the-eyelids topic a couple times before. -Editor
To read the earlier story article, see:
THE COINS FROM LINCOLN'S EYES (www.coinbooks.org/esylum_v08n47a25.html)
Here's a link to a Chicago Historical Society page showing an image of the coins reportedly placed on Lincoln's eyes. -Editor
To read the complete article, see:
www.chicagohistory.org/wetwithblood/return/petersen3.htm
Jeff Burke submitted this article about a recent talk by David Gladfelter at the New Jersey Numismatic Society. Thanks! And thanks are also due David Gladfelter for sharing these images. -Editor
"Numismatic Scholar David Gladfelter Speaks at September Meeting of the New Jersey Numismatic Society"
(Note: Special thanks to NJNS members Dave Ginsburg and Dave Bailey for providing me with this information about our speaker).
David Gladfelter was our guest speaker last Monday evening on the topic of Michael Bean's sets of reproduction proofs of early New Jersey bank notes. Mike made the repros directly from the original engraved copper printing plates, using sepia ink and heavy card stock so that these modern repros will not be confused with the rare original notes and contemporaneous counterfeits.
Ray Williams, former President of the Colonial Coin Collectors Club (C4), introduced the speaker. Gladfelter gave an engaging presentation on his project to acquire and print proofs from several early 19th century New Jersey banknote plates. Gladfelter purchased two of the plates during a Stacks-Bowers auction. Thanks to Ray's technological expertise, images of the notes were projected onto a screen for all to see the beautiful vignettes and other striking features. David displayed reproduction proof sheets and an actual copper plate used to print the banknotes! Society members had the opportunity to come forward and examine the copper plate.
David is particularly knowledgeable about the Colonial and Obsolete banknote eras. Among his numerous accolades, he was inducted into the Civil War Token Society Hall of Fame in 2009 (along with long-time NJNS member Ray Williams and others). Gladfelter was a contributor to The Copper Coinage of the State of New Jersey, published in 2004 by the American Numismatic Society.

Genuine note from plate position B, issued by the Trenton Banking Co. in 1807
In 2013, David had 25 sets of reproduction proof sheets made from five original intaglio copper plates by Michael G. Bean, a retired plate printer for the Bureau of Engraving and Printing. Two of the plates were engraved for the Trenton Banking Company prior to 1810. Two plates were engraved for the six State Banks (at Camden, Trenton, New Brunswick, Elizabeth, Newark and Morristown), following authorizing legislation in 1812. The final plate was engraved for the Morris County Bank circa 1836.
The 25 sets of reproduction proof sheets will be donated to various educational and state historical organizations. The NJNS was founded in 1933. This meeting, our 917th, was held at the Madison Township Public Library.

Printing plate and reproduction sheet
David Gladfelter adds:
In a blog article this week, cataloguer John Kraljevich discusses the upcoming sale of Part II of the Pogue collection. -Editor
Our second offering of coins from the D. Brent Pogue Collection is a diverse one, a harmony of chords that are both familiar and exotic, arranged together to play a tune that could only emerge from a cabinet of this exquisite quality. The Capped Bust half dollar series is among the most beloved among all United States coins. John Reich's design is familiar to all American coin collectors, readily collected and fairly commonplace in circulated grades. The specimens included here share their iconic design, their pleasing heft, and their silvery hue with coins that can be found in thousands of collections, large and small. Coined with the same dies, struck on the same presses, the D. Brent Pogue Capped Bust half dollars, familiar though they may be, are a world apart. Collected with a connoisseur's taste, each represents the very finest specimen that could be found. In the case of the legendary 1817/4 half dollar, a rarity most collectors would walk a mile to even see, most numismatists could not dream of owning any specimen, let alone one of this quality.
The silver dollars included in the second installment of the Pogue Collection strum the same tune. The story of the 1794 dollar is well known, even though specimens are only found in advanced collections. Numismatists cherish history, and perhaps no coin better embodies American history that the first dollar struck at the United States Mint. From humble beginnings, a mighty dollar-based economy grew. The 1794 dollar, the symbol of those beginnings, is an artifact of global interest. The D. Brent Pogue specimen, however, is shrouded in romance and mystique unlike any other 1794 dollar in existence. David Tripp has advanced the story of the Lord St. Oswald Collection with logic and facts, giving the most romantic story in American numismatics a name and a face. Tripp's research, never before published, should ensure a place for this catalogue on the shelf of every numismatist.
For decades, the numismatic world has awaited the offering of the gold coins from the D. Brent Pogue Collection. The old tenor quarter eagles, each a rarity in any grade, represent perhaps the finest quality group ever assembled, anchored by the extraordinary Parmelee-Mills-Clapp-Eliasberg 1821 quarter eagle. Magnificent quality Classic Head quarter eagles follow, including one very special example from each of the Southern mints. The early half eagles from 1795 to 1807 represent the heart of the collection, coins of extraordinary quality, encompassing every date in the series and most major varieties. It took 35 years to bring these 22 coins together, a project that would not have been possible but for the fortunate appearance of the Garrett and Eliasberg collections at auction in our lifetime. After building relationships with well-known dealers, other fine half eagles were coaxed from the shadows, puzzle pieces that enabled the formation of a cabinet that future collectors may never be able to surpass. The early eagles appear to be a simple series, struck over the course of 9 years. The inclusion of several major varieties ratchets the level of difficulty up an order of magnitude. Few collectors have ever attempted such a feat, regardless of grade. The Pogue Collection challenge was not just to find these coins, but to find them in the absolute best quality. Most numismatists have seen a 1795 eagle, offered at a major convention or depicted in an auction catalogue. Unless you were at the 1980 Garrett sale, you have never seen one that glows like the Pogue specimen. Its level of quality is absolutely foreign to most collectors. So too, as it turns out, is its provenance.
The word quality may appear in this catalogue more than any other noun, so it deserves an explanatory note. Quality does not always find itself in perfect alignment with grade. Today's grading system is a construct of William Sheldon's experiments in defining the relationship between quality and price. It is a numerical shorthand way of expressing quality that is not the same as quality itself. Quality encompasses multitudes: surface quality, striking sharpness, level of (or, the case of most D. Brent Pogue coins, absence of) wear, color, originality, aesthetic appeal and more. Some might add provenance, the history of a coin since it was first appreciated as something more than a medium of exchange. The historic provenances attached to many of the D. Brent Pogue coins are stamps of approval from connoisseurs most of us never knew, but whose names are legendary. Collectors like Parmelee, Woodin, Earle, Clapp, Boyd, Garrett, Eliasberg, Norweb, and Pittman were renowned among their contemporaries for their eye for quality. The attitude of selectivity they employed when building their cabinets continues to inform collectors today. In the present, there is no better lesson on quality than taking the opportunity to study the coins of the D. Brent Pogue Collection hands-on at lot viewing.
Coins struck at the first United States Mint were produced under circumstances that made a perfect product an unlikely accident, not an expectation. Coins that approached perfection the day they were minted were unusual. Coins of that era that have remained nearly perfect are a miracle. Yet, the D. Brent Pogue Collection is full of coins of that calibre, to the exclusion of nearly all others. Satisfying oneself with only coins whose level of quality approaches perfection is not the easiest path to building a cabinet. It's slow-going, requiring patience and the willpower to pass on coins some other collectors would do anything to own. Most numismatists collect because they enjoy buying coins, not because they enjoy resisting that temptation. Bringing powerful resources -- financial, interpersonal, and mental -- to bear over the course of decades, D. Brent Pogue has been able to gather what will stand as one of the ultimate collections of United States coins ever assembled. The hard part, finding all these wonderful coins and bringing them to one place, has been done for prospective bidders. The tasks of research and description accomplished by myself and the Stacks' Bowers Galleries team, with impressive levels of assistance from a wide range of numismatists, were done out of a love of these coins and an appreciation of their place in numismatic history. Now that the coins have been brought together, and each has been meticulously described, buying them becomes the easy part.
To read the complete article, see:
The D. Brent Pogue Collection Part II, An Appreciation (www.stacksbowers.com/NewsMedia/Blogs/TabId/780/
ArtMID/2678/ArticleID/65374/The-D-Brent-Pogue
-Collection-Part-II-An-Appreciation.aspx)
Nick Graver writes:
A favorite piece in my collection is a European image, probably from Italy or Paris, circa 1848. It is the portrait of an Armenian antiques dealer and collector Serovpe Alishan, twin brother of Gevond Alishan, a most prominent Armenian priest in the Mekhitarist Congregation of the Armenian Catholic Church, based on Saint Lazar Island in Venice. I attended the Mekhitarist fathers' primary and secondary school in Buenos Aires—quiet a few years back! It was a most striking surprise to find this daguerreotype of an Armenian, related to this congregation, in my hometown. Just the fact that it was an Armenian was rarity enough, but that he is also related to the Mekhitarist Congregation and school, where my great uncle was also a priest, is amazing.
The daguerreotype came with a handwritten poem by Father Alishan and contained a most inspiring message of hope, dedicated to his twin brother, the sitter, on their fiftieth birthday. The poem was written in ancient Armenian so I could not manage to read it, and sought help from the schoolmaster—another Mekhitarist father—after I purchased it.
Along with the daguerreotype were some of the archeological and antique pieces that are shown in the portrait. A few of them I was able to purchase along with the image. You can see a collection of coins, on top of a Chinese Go game; a Persian fez-style hat; and some Egyptian figures. Also a Greek "tanagra" head can be seen lying on the table. Serovpe is holding a metal lion's head—which I was able to purchase—and in his lower hand a Greek "tears-holder," used in ancient Greece to collect the tears of a person in grief, and thus measure his pain. The lion might represent the strength or courage to overcome pain, represented by the Greek container. His elevated gaze and posture are most inspiring.
So, of my collection, this is the undisputed masterpiece! I trust other members will agree it's a unique occupational portrait of a fellow collector, and antiquarian, of a most unusual nationality.
Very interesting! Carlos also made this close-up image of the photo, showing the coin trays. -Editor
Many thanks to Carlos and Nick for making this rare early image available to us. So - what do numismatists have to say about this? Was Serovpe Alishan known as a dealer outside his home country? Did he publish? Are there any known articles, price lists or auctions associated with him? Any important coins whose pedigree includes his name? Anything the community can provide will be appreciated, and perhaps provide material for a future article profiling him in more detail. Below is the complete caption for the photo and contact information for Carlos. -Editor
"Artist Unknown. Serovpe Alishan. Armenian Antiquarian." Circa 1850. Sixth plate daguerreotype. Europe.Collection of Carlos G. Vertanessian, Buenos Aires, Argentina. daguerrotipia@gmail.com"
"ORPHEUS", (1899). Obverse type of CGI: 3-100C; Maier 223. 114mm (4.5") Bronze Marie-Alexandre Lucien Coudray, Sc. (Paris Mint) Uniface. A lovely Uncirculated example! Obverse bust of Orpheus with long wavy tresses to half left, grasping a lyre in his left hand
Orpheus was a Thracian poet and musician, son of Apollo and Caliope. When his wife Eurydice died, he descended to Hades, and so pleased Pluto by his music that the god allowed him to lead her back to earth on the condition that he should not look behind him. However, he looked back, and Eurydice vanished among the shades. One of the classics of Art-Nouveau, the obverse was used as a cover design for Mark Jones' The Art of the Medal. This medal, with a golden bronze finish and a modern royal blue Monnaie De Paris box, is undoubtedly a relatively modern production. However, its extra large size makes it particularly desirable. $175.00
It's only partly numismatic, but Russ Sears of Baltimore is presenting an exhibit and talk about Johns Hopkins related artifacts, and Included is a showcase of medals. Here's the press release, and images of some of the medals. -Editor
For anyone interested in Johns Hopkins history, the Clifton Mansion in Clifton Park will be the place to be on Saturday, October 3, 2015. Baltimore historical artifacts collectors Russ and Jane Sears will exhibit important artifacts related to Johns Hopkins including:
1850's Baltimore and Ohio Railroad ledger signed by Johns Hopkins when he received interest on his stock holdings.
Early 1860's Baltimore and Ohio Railroad ledger showing stock purchases and sales, some for Johns Hopkins.
The 1875 Baltimore and Ohio Railroad ledger for transfer of stock ownership when the executors of the will of Johns Hopkins signed over 14,636 shares of B&O stock to the Johns Hopkins University creating the endowment whose interest funded the university and hospital in the early years , without which there would probably not be the Johns Hopkins organizations we know today.
An 1886 letter signed by future president Woodrow Wilson requesting his diploma be sent to him. He received his PhD at Hopkins in 1886.
A letter signed by founding Hopkins president Daniel Coit Gilman.
A medallic portrait of Daniel Coit Gilman designed by Hans Schuler.
And more.
The program is scheduled from 1 to 3 and will include talks about Johns Hopkins history. It will be a trip worth taking.
For additional information about the exhibit, call Russ Sears at 410-668-8538.
William H. Welch Plaquette, 1910: Victor D. Brenner medal presented by his friends at a dinner at the Hotel Belvedere in Baltimore. Larger versions were given to the Johns Hopkins University and the Medical and Chirurgical Faculty of Maryland. A smaller piece in gold was presented to Dr. Welch, the 1909 president of the AMA and a founder and first Dean of the Johns Hopkins School of Medicine, who was called the "Dean of American Medicine". The plaque was available to friends at the dinner. Presidential lot 416, June 13, 2009.

Johns Hopkins Hospital 50th anniversary medal designed by Hans Schuler.
Daniel Coit Gilman 1907 plaque, 4 by 4 5/8", featuring the founding president of Johns Hopkins University and Hospital. Its purpose is not known, but A. Vernon Taylor in his ANA article/pamphlet, The Medallic Art of Baltimore Sculptors Hans Schuler & Hans C. Schuler, thought the piece to be unique. Although very rare, it is not unique.
Marco Islander Lou Stickles is very proud man.
He has just been awarded the National Defense Medal by the United Daughters of the Confederacy (UDC), which was established in 1894 and is the oldest patriotic lineage organization in the country.
Stickles received the medal because he is an honorably discharged veteran and because he can trace his lineage, by blood, back to the War Between the States. The certificate and the congratulatory letter that accompanies this medal thanks Stickles for his service during the Vietnam conflict, describing it as a reflection of "the true southern spirit of his Confederate ancestry."
"This is a big deal. It's basically for veterans," says Stickles. In fact, he is one of only three people in the State of Florida who have received this medal. He is already a member of the Sons of Confederate Veterans and, in fact, can trace his lineage even farther back, on both sides of his family, to the Revolutionary war, making him eligible for membership in the Sons of the American Revolution.
Stickles grew up in Virginia immersed in history. "I grew up where the tales where told," said Stickles.
"We could get in our car and be in Williamsburg or Jamestown in a matter of minutes." His father was career military and often deployed unable to take his family. Stickles spent a lot of time with his grandparents and their contemporaries hearing stories of from the past.
"A lot of people would not listen to them. But I sat there and realized how fortunate I was compared to so many people elsewhere," Stickles claims. "You read about it. You hear about it. But there's nothing like an eyewitness to bring history to life."
Stickles credits a chance encounter with a perfect stranger for his strong interest in history. His family was stationed in Princeton, New Jersey; his father working at the Institute for Advanced Technology. With his mother looking from the kitchen window, Stickles, a third grader, decided to go outside and check out what was considered unusual bug activity at the time — Princeton had just been invaded by the 17-year locust.
An old man approached and asked what he was doing. After an impromptu science lesson too long to go into here, the man left him with some sage advice: always study the past in order to predict what will happen in the future.
"I have never forgotten his words," said Stickles. "It's a lesson that has guided the rest of my life … and sparked my interest in listening to people's stories and studying what happened in history."
It's hard to think of better advice than that. -Editor
To read the complete article, see:
Marco historian gets rare medal (www.marcoislandflorida.com/story/home/2015/09/22/marco-historian-gets-rare-medal/72621494/)
For more information on medals of the Daughters of the Confederacy, see:
www.hqudc.org/medals/
A West Palm Beach counterfeiting case turned out to be ab inside job - an secret Service employee had been stealing and spending counterfeit notes. -Editor
When U.S. Secret Service agents started investigating reports someone was going on shopping sprees with counterfeit $100 bills at Macy's stores in Palm Beach County last year, they never imagined the culprit was one of their colleagues.
Cynthia LaCroix, 51, former office administrator for the Secret Service's West Palm Beach branch, eventually admitted she had been stealing forged bills that were supposed to be burned or shredded. Though the agency is best known for protecting the president and other dignitaries, it also investigates financial crimes, fraud and counterfeiting.
Earlier this year, LaCroix pleaded guilty to possessing counterfeit notes and lying to federal investigators when they questioned her.
Authorities said LaCroix spent the phony money at local malls and pocketed authentic change. Federal prosecutors recommended she serve 12 months in federal prison.
But Friday, LaCroix's previously clean record and her tragic motive convinced U.S. District Judge Kenneth Marra to sentence her to six months of house arrest and two years of probation. He said imprisonment was unnecessary.
Sobbing as she apologized profusely in federal court in West Palm Beach on Friday afternoon, LaCroix said she stole the money so she could help her son, who struggled with drug addiction for years before dying from a drug overdose. She is now raising his two young children.
"I made really bad choices," LaCroix told the judge. "I know that saying sorry is not enough … but I did not do it for myself."
She said she has been devastated and humbled by the loss of her son, the loss of her job, and the fact she will likely lose her government pension after 30 years of service.
La Croix initially told agents she had been taking counterfeit money for a few months but later admitted she had been taking counterfeit notes from the agency since 2010, prosecutors wrote.
"One can only imagine how much counterfeit the defendant passed in the four years before she was discovered," Assistant U.S. Attorney Alexandra Chase wrote in court records.
I don't know what the procedures are in every Secret Service office, but that's one office procedure that has to change. The notes ought to be immediately inventoried and defaced and/or cut up before going into a burn bag for destruction. -Editor
To read the complete article, see:
Ex-U.S. Secret Service worker sentenced for stealing phony notes from agency www.sun-sentinel.com/local/palm-beach/fl-secret-service-counterfeit-20150925-story.html)
Here are a few lots that caught my eye in the upcoming Stack's Bowers Rarities Sale (October 1, 2015). -Editor
Lot 3: United States Diplomatic Medal

"1776" (1792) United States Diplomatic Medal. Original. Bronze. 67 mm. By Augustin Dupre. Julian CM-15. Specimen-55 (PCGS). Secure Holder.
Original ferrous loop intact. One of the rarest and most important of all American medals, with just four specimens known to exist, of which this may be the finest. Conceived in 1790 by Thomas Jefferson, struck in Paris in 1792 from dies by Augustin Dupre, the Diplomatic Medal emerged from the very earliest days of the Republic and its nascent foreign policy. Since the end of the Civil War, collectors have had the opportunity to acquire a specimen of this rarity at public auction just four times, in 1882, 1981, 1990, and 2004. This example has never before been offered in a major American auction.
The obverse depicts the first version of the Great Seal of the United States ever executed in medallic form, correctly showing the olive branch of peace at dexter (eagle's right) and the arrows of war at sinister (eagle's left, viewer's right). The eagle holds a banner inscribed with the national motto E PLURIBUS UNUM in his beak and an escutcheon or shield is displayed on his breast. A glory of 13 stars is atop the obverse, and the legend THE UNITED STATES OF AMERICA surrounds the arms at the periphery. On the reverse, an allegory of America, in her common guise as a Native American princess, holds a cornucopia or horn of plenty and gestures to bundles and a hogshead beside an anchor. She is approached by Mercury as Commerce, holding his caduceus. A ship representing Atlantic commerce and interactions with Europe is in his background. The legend TO PEACE AND COMMERCE is appropriate to the scene; the date July 4, 1776 is rendered in Roman numerals in the exergue.
Approved by George Washington, influenced by John Adams and William Temple (grandson of Benjamin) Franklin, and brought to fruition by Augustin Dupre, the United States Diplomatic medal was the pet project of Thomas Jefferson.
To read the complete lot description, see:
"1776" (1792) United States Diplomatic Medal. Original. Bronze. (www.stacksbowers.com/BrowseAuctions/LotDetail/tabid/227/
Lot/3/AuctionID/6133/Default.aspx)
Lot 31: 1874-S Liberty Seated Quarter

1874-S Liberty Seated Quarter. Arrows. Briggs 3-A. MS-66+ (PCGS). CAC.
An exemplary Gem quarter dollar. The broadly sweeping cartwheel luster supports pale champagne-gold that deepens slightly at the rims, especially on the reverse. The strike is bold and sharp throughout with just a touch of lightness to one or two obverse stars. The eye appeal is superb, and the reverse appears nearly matte-like under low magnification. This specimen will definitely be a highlight in its next steward's cabinet.
In 1873 the weights of dimes, quarters and half dollars were adjusted upward by a tiny fraction, from 6.22 to 6.25 grams in the case of the quarter dollar denomination. This uptick in weight amounted to just .03 grams, a tiny figure that made very little difference to the "average Joe" in America. Today's numismatists appreciate the associated design change of 1873 to 1874, however, and the Arrows coinage of those dates is eagerly sought by type collectors and quarter specialists alike. Branch mint issues, such as the 1874-S offered here, are the most popular with advanced collectors.
To read the complete lot description, see:
1874-S Liberty Seated Quarter. Arrows. Briggs 3-A. (www.stacksbowers.com/BrowseAuctions/LotDetail/tabid/227/
AuctionID/6133/Lot/31/Default.aspx)
Lot 45: 1799/8 Draped Bust Silver Dollar

1799/8 Draped Bust Silver Dollar. BB-141, B-3. Rarity-3. 15-Star Reverse. MS-64 (PCGS).
This incredible silver dollar is one of the finest known examples of the popular BB-141 die variety. The luster is simply outstanding for a silver dollar of this type, the texture vibrant and satiny over both sides. The strike is no less impressive with uniformly bold borders framing devices that are sharply struck over all but a few isolated features. Indeed, the overall definition is as strong and complete as one could realistically expect in a Draped Bust dollar of any date or variety. Brilliant and highly attractive, this coin would be the centerpiece of a fine early dollar set. Exquisite!
BB-141 is one of the most popular and eagerly sought die marriages among 1799-dated silver dollars, combining as it does an overdate obverse die with a reverse die readily recognizable as having a blundered arc star pattern. On the obverse, the final digit 9 in the date has been punched over an 8, remnants of the underdigit quite bold and readily evident even without the aid of a loupe. The reverse exhibits 15 stars above the eagle as opposed to the normal 13, although the additional two stars can be difficult to discern for the uninitiated. They protrude from the first and final clouds, which were enlarged by the engraver to cover most of the extra stars when he realized his blunder. BB-141 is not a major rarity in an absolute sense -- it is actually a fairly plentiful die marriage by 1799 dollar standards -- but in MS-64, as here, the variety is an important condition rarity.
To read the complete lot description, see:
1799/8 Draped Bust Silver Dollar. BB-141, B-3. (www.stacksbowers.com/BrowseAuctions/LotDetail/tabid/227/
AuctionID/6133/Lot/45/Default.aspx)
Lot 91: Original 1859 Silver Proof Set with Case.

This is one of the most exciting and intriguing offerings in this sale. The late 1850s are an important time in the history of both the United States Mint and the numismatic hobby in this country. Coin collecting in the United States experienced its first major upsurge in popularity toward the end of that decade and, in order to take advantage of increased public interest in numismatics, Mint Director James Ross Snowden began the widespread marketing and sale of Proof coinage in 1858. Yearly mintages of Proof coins reached previously unheard of levels, and beginning in 1859 the Mint recorded the number of Proofs struck for the various silver and gold denominations.
According to federal records, the original Proof mintage for each of the six silver denominations current in 1859 is 800 pieces. Despite the increased popularity of numismatics as a hobby at that time, such an output proved to be overly optimistic in light of actual demand. It is likely that no more than 450 of the Proof 1859 silver dollars struck actually sold to contemporary collectors and other interested parties, and the total distribution for the smaller silver denominations was certainly far less. The Mint disposed of the unsold examples by placing them into circulation. The original mintage figures, therefore, are a poor indicator of the actual rarity of survivors in today' market, and each of the Proof silver issues from 1859 are considerably rarer than an 800-piece production run would suggest.
Most Proof 1859 silver coins were acquired individually, and this is especially true for the silver dollar. Given its large size and impressive appearance, the silver dollar was particularly popular with collectors seeking only a single Proof coin of the date. Even so, the Mint did prepare and distribute a small number of minor and silver coin Proof sets in 1859 (along with an even more limited number of complete Proof sets that also included the gold coins). Writing in the 1989 edition of Walter Breen's Encyclopedia of United States and Colonial Proof Coins: 1722-1989, the author states, "The number of such sets made is unknown as yet, though evidently of the order of 60-70 -- perhaps slightly more than 1858, certainly less than 100." Breen further states that most such sets were promptly broken up and, apart from the ex Hesslein offering in a June 1923 auction, all existing sets of which he was aware had been assembled from individual coins in more recent years. Indeed, we know of very few original 1859 Proof sets. The silver coins in Pittman's complete 1859 Proof set from the cent through double eagle (Akers, October 1997, lot 834) constituted an original set, although he acquired the accompanying gold coins individually. The six coins that comprise the present offering are of uniform Choice Proof quality with virtually identical toning and, as such, certainly also represent an original set -- one of very few to have survived intact to the present day.
This 1859 Proof set of silver coins seems to represent the way they were distributed, as a group, without minor coins or gold coins. Mint practices varied at the time, and certain cases were made with more denominations. Such encasements were obtained from private manufacturers. Mid-19th century Proof sets in contemporary cases are exceedingly rare.
To read the complete lot description, see:
Original 1859 Silver Proof Set with Case (www.stacksbowers.com/BrowseAuctions/LotDetail/tabid/227/
AuctionID/6133/Lot/91/Default.aspx)
Lot 102: 1848 Liberty Quarter Eagle. CAL.

1848 Liberty Quarter Eagle. CAL. AU-58 (NGC).
Offered is a sharp and inviting example of this classic rarity with a significant link to the California Gold Rush. Evenly toned in light honey-gold, both sides exhibit a soft satin texture to the devices and modest semi-reflectivity in the fields. This lovely near-Mint survivor is crisply impressed with virtually full definition to all design elements.
In 1848 some 230 or so ounces of gold bullion from the recently discovered California gold fields was sent to Secretary of War William L. Marcy by Colonel R.B. Mason, acting military governor of California. Marcy turned the bullion over to the Mint, where it was used to strike some 1,389 quarter eagles. In order to denote the origin of the gold used for this special limited mintage, the letters CAL. were punched into the upper reverse field above the eagle's head on all the specimens struck. This distinguishing feature marks the 1848 CAL. quarter eagle as our nation's first commemorative issue, produced 44 years prior to the 1892 Columbian Exposition half dollar.
Given the popularity of the California Gold Rush era with numismatists and other collectors, the 1848 CAL. has long enjoyed strong demand. Indeed, the acquisition of an 1848 CAL. quarter eagle is a defining moment in the formation of any collection. Survivors are scarce, and appearances on the open market are rare, so much so that even the offering of a lower grade example represents an important opportunity. Sharply defined and nearly in the Mint State category, the present coin would serve as a centerpiece in even the finest cabinet.
To read the complete lot description, see:
1848 Liberty Quarter Eagle. CAL. (www.stacksbowers.com/BrowseAuctions/LotDetail/tabid/227/
AuctionID/6133/Lot/102/Default.aspx)
Here are some items that caught my eye in the Holabird Americana 'Million Dollar Auction' September 25 - October 4, 2015. -Editor
Lot 5099: Tonopah, Nevada - $10, 1929

One of the highlights of this auction is this note! With just two Type 1 $10s confirmed, when will you get a chance to acquire another $10? The other $10 in the census happens to be serial number 1 in Unc. So, if you want a small size Tonopah $10 and you can't afford a serial number 1, this note is your chance! Facsimile signatures of Arthur G. Raycraft, cashier and John G. Kirchen, president. Condition: Fine. Serial Number: 184. Nevada First National Bank Of Tonopah History: Chartered in February of 1907 with a capital $100,000. During its twenty-five years of being a bank, they only issued $47,400 in small size notes. When the bank was voluntary liquidated on September 2, 1932 and by September 13, 1932 $18,860 was still outstanding.
The banks first president, Malcolm Macdonald install the telephone and telegraph system through-out Southern Nevada, bringing even the remotest camps and mines into instant communication with the outside world. The last cashier of the bank, Arthur G. Raycraft was known as Nevada's "Father of Wireless". Raycraft started experimenting with radio communication as early as 1909. In February 1911, Raycraft developed a news service for the Tonopah Daily Bonanza that provided them with news from around the world. It is claimed that this was the first newspaper news service in the state of Nevada. By 1919, Raycraft developed a system that allowed communication with all of the mining camps near Tonopah and in 1920 he formed the Nevada Wireless Telegraph and Telephone Company. And interesting fact about this bank it that it is the only national bank in the state to use the world "Nevada" as part of their name during the note issuing period. Tonopah Nevada HWAC# 32235
To read the complete lot description, see:
Tonopah, Nevada - $10, 1929 (http://bid.holabirdamericana.com/Tonopah-Nevada-10-1929-Type-1
-Nevada-First-National-Bank-Of-Charter-8530-Fr-1802-1_i23262708)
Lot 5310: B. Max Mehl Promissory Notes

Three promissory notes from 1956/7 signed by legendary Texas coin dealer B. Max Mehl to the Fort Worth National Bank in the amounts of $10,000 and $25,000 (2). Mehl ran his first coin ad in The Numismatist in 1903, and by 1924 he was spending $50,000 a year for advertising. His "Star Coin Book" gave the American people prices he would pay for coins and millions were introduced to coin collecting. His mail order business grew to such a success, more than half the mail coming to the city of Fort Worth went to his office at 1204 W. Magnolia Street. His flamboyant marketing caused some to call him the P.T. Barnum of numismatics. Texas HWAC# 28124
To read the complete lot description, see:
B. Max Mehl Promissory Notes (http://bid.holabirdamericana.com/B-Max-Mehl-Promissory-Notes_i23262926)
Lot 5364: Silver Cal State Agricultural Society Medal

Classic older style Cal State Ag medal. 1 3/4" diameter. silver (unmarked sterling?). Allegorical vignettes of California on obverse, including mining. No engraver or maker initials. Awarded to "Robert Reed, Best artificial limbs". Satin finish, possibly from cleaning. holed, repaired. California 1878 HWAC# 31746
Who could resist a "Best Artificial Limbs" medal? -Editor
To read the complete lot description, see:
Silver Cal State Agricultural Society Medal (http://bid.holabirdamericana.com/Silver-Cal-State-
Agricultural-Society-Medal_i23262982)
Lot 5366: Silver Cal State Agricultural Society Medal

Classic older style Cal State Ag medal. 1 3/4" diameter. silver (unmarked sterling?). Allegorical vignettes of California on obverse, including mining. No engraver or maker initials. Awarded to "F. Foster & Co. for best display of bound account books". Lightly wiped, mirror finish, but not as good as 31741. couple minor edge dings. California 1883 HWAC# 31742
Here's one for the bibliophile: Best Bound Account Books -Editor
To read the complete lot description, see:
Silver Cal State Agricultural Society Medal (http://bid.holabirdamericana.com/Silver-Cal-State
-Agricultural-Society-Medal_i23262984)
Lot 5372a: Counterfeit Coins

1889 Morgan dollar, 1892 Barber quarter, both base metal counterfeits. HWAC# 28544
To read the complete lot description, see:
Counterfeit Coins (http://bid.holabirdamericana.com/Counterfeit-Coins_i23262978)
Lot 5471: Bank of California Duplicate of Exchange

Rare! Has 20 cent and 4 cent California adhesive revenue stamps with tied cancels. Also has 2 cent orange US IR adhesive revenue. Exchange No. 9366 issued August 5th, 1869 for $333.33 to James G. Weld. Signed by Thomas Brown. Red font and vignette upper right with allegorical figures. 4.25"x 8.75" with folds and creases. San Francisco California 1869 HWAC# 28648
To read the complete lot description, see:
Bank of California Duplicate of Exchange w/ rare CA revenue stamps (http://bid.holabirdamericana.com/Bank-of-California-Duplicate
-of-Exchange-w-rare-CA-revenue-stamps_i23263089)
Lot 5533: US Mint Photographs

Lot of 2: rare photos of the US Mint work force, and of the inside work room and workers. Both are faded and starting to yellow with age. Images are approx. 6.5" x 5" and 5" x 4" respectively. Rare. San Francisco California 1913 HWAC# 28437
To read the complete lot description, see:
US Mint Photographs (http://bid.holabirdamericana.com/US-Mint-Photographs_i23263152)
.
Their ranks have numbered special agents, bomb-disposal technicians, unarmed police officers and a ten-year-old girl confronted by a man-eating cougar.
More recently, they have included Lisa Potts, the Wolverhampton teacher who used her body to shield her pupils from a machete attack, and Jim Beaton, the royal protection officer who was shot foiling a kidnap attempt on Princess Anne.
One day, perhaps, someone will manage to tot up the lives saved by this exclusive club. The figure certainly runs into the thousands, if not tens of thousands
But no one was counting yesterday as the current membership enjoyed an historic reunion for the 75th anniversary of our two highest decorations for civilian gallantry, the George Cross and the George Medal.
'It's humbling to be with this lot. Some of their stories are incredible,' said Matthew Croucher GC. Most would say the same of Mr Croucher, a Royal Marines reservist who threw himself on a booby-trapped device in a Taliban bomb factory in 2008 and lived to tell the tale. But like everyone else, he had no wish to dwell on his own heroics yesterday. This was an occasion to salute the courage of others.
It was in September 1940, as Britain endured the Blitz, that King George VI sought recognition for extraordinary heroism on his doorstep. Bravery on the battlefield could be rewarded with decorations such as the Victoria Cross.
But how to recognise great courage elsewhere? The result was the George Cross and the George Medal.
Most of the 162 GCs and 2,000 GMs granted over the subsequent 75 years were awarded in wartime, many posthumously. The memory and courage of all of them live on through those who proudly wear King George's creations to this day. And yesterday morning, for the first time, all surviving GCs and GMs gathered in London to mark the 75th anniversary.
First port of call was the Mall and a wreath-laying at the statue of George VI. Thence, to the Royal Hospital Chelsea for a service of commemoration, an official photograph, a curry lunch and commemorative medallions dispensed by the Duke of Kent.
'It's funny, but this is the first time I've worn my medal in public,' said Lisa Potts, who received her GM from the Queen in 1997, before meeting the only other woman among the 43 recipients on parade yesterday. Margaret Purves GC was just 14 when she dived into the sea near Cardiff in November 1949 to save two Scouts from drowning.
To read the complete article, see:
Every one a hero: Side by side, all the living George Cross and Medal winners at a ceremony to mark the 75th anniversary of the honour (www.dailymail.co.uk/news/article-3248267/Every-one-hero-living-George-Cross-Medal-winners-ceremony-mark-75th-anniversary-honour.html)
To read the complete article (and watch the video), see:
The Art of the Marbler (http://boingboing.net/2015/09/21/the-art-of-the-marbler.html)
Your editor freely admits he never heard the term "pince-nez" until he read the Sherlock Holmes Canon. The term "spectacles" was the wording I had always heard used to describe this style of eyewear.
President Franklin Delano Roosevelt was often pictured in pince-nez, but only the 2014 Presidential dollar coins clearly showing him wearing them.
When the U.S. Mint issued the 2013 dollar coin for President Teddy Roosevelt, you have to look closely to see him wearing the pince-nez. Later in the year, the mint offered a set featuring the coin with a silver version of their Teddy Roosevelt medal that was designed by Charles E. Barber (obverse, designer of the Barber dime, quarters and half dollars) and George T. Morgan (reverse, designer of the Morgan dollar) after Roosevelt's second inauguration. This was highly unusual as none of the U.S. Mint's previous presidential medals had ever been struck in any metal other than bronze.
Woodrow Wilson's 2013 Presidential dollar coin features him wearing his pince-nez, but this 1920 medal to commemorate the opening of the United States Mint in Manila, Philippines is much more interesting. Medals were struck in bronze, silver and gold to commemorate the event. The Manila Mint building was destroyed during the liberation of the Philippines in early 1945.
Earlier this year, Ireland issued a silver 15 Euro coin honoring the poet, William B. Yeats. From 1980 thru 1992, Yeats (wearing glasses) was featured on Ireland's £20 banknotes. A few months back, we discussed the 2012 10 Euro coin that Ireland struck to honor William's brother, Jack, who did the parody Chubblock Holmes.
OK, so who can send images of numismatic items where someone's wearing a Monacle? (Now that I can pronounce). Is there a Col. Klink silver round out there? -Editor
To read the complete article, see:
Famous People Wearing Pince-Nez On Numismatic Items (http://fourthgarrideb.com/2015/09/famous-people-wearing-pince-nez-on-numismatic-items/)
A hoard of silver coins dating back to Roman times has been found in a village near Norwich, it has been revealed.
A metal detector enthusiast unearthed the 26 silver coins, which were issued between 154BC and AD37.
The precise location of the discovery is not being revealed in a bid to deter illegal treasure hunters.
Norwich Castle Museum expert Adrian Marsden said more coins could still be hidden at the site, where two previous hoards have been found. He said about 100 other coins dating from the same period had been discovered in the area in two batches unearthed in September 2012 and August 2013.
The most recent find was made in the autumn of 2014.
Mr Marsden said these coins were "probably the property of a soldier, or at least a Roman citizen, soon after the invasion of Britain". He estimated them to have been worth about six months of salary for a Roman soldier.
To read the complete article, see:
Hoard of silver Roman coins unearthed near Norwich (www.bbc.com/news/uk-england-norfolk-34134329)
About two years ago NGC Ancients shared the discovery of a new type of silver denarius of Hadrian, who ruled the Roman Empire from 117 to 138 A.D. That coin had been submitted for grading and we were pleased to have reported its discovery. We now may share another discovery denarius – this one being a new variant for the Roman Emperor Nerva, who ruled briefly from 96 to 98 A.D.
This particular coin, struck in 96, would easily slide beneath the radar because its obverse inscription and portrait type are well-attested, as are its reverse design and reverse inscription. However, this particular coin features an unknown combination of reverse type and inscription.
The reverse shows the seated figure of Fortuna, the Roman personification of good fortune and prosperity. Known to the Greeks as Tyche, she was among the most familiar and beloved of all Roman divinities, and one very commonly encountered on the coinage of Nerva.
The two usual variants of Nerva's denarii depicting Fortuna are:
FORTVNA AVGVST, Fortuna standing, holding a ship's rudder and a cornucopia.
FORTVNA P.R., Fortuna seated, holding two grain ears and a scepter.
On this coin we encounter the inscription of the former, and the design of the latter, which until now does not appear to have been noted and which can only have been an engraving miscalculation.
Many scholars have suggested that in the production of Roman Imperial coin dies the inscriptions were cut by engravers best described as technicians, whereas the central designs were engraved by artists. If this was the case, it would seem that a die with the inscription for one type was assigned improperly and was engraved with the inappropriate design.
In establishing the fact that this type appears to be unpublished we conferred with specialists, including Curtis Clay and Dr. Bernhard Woytek, the head of the 'Documenta Antiqua' division of the Institute for the Study of Ancient Culture at the Austrian Academy of Sciences. The office he heads is a research unit devoted to numismatics, epigraphy, papyrology and ancient law. He also lectures in numismatics and monetary history at the University of Vienna, Austria.
Dr. Woytek already has authored the now-standard work on the coinage of the Emperor Trajan (A.D. 98-117) and is currently revising the part of The Roman Imperial Coinage (the most important academic catalog for coins of the Roman Empire) that covers the reigns of Nerva and Trajan. Dr. Woytek confirms that this reverse combination is new and undocumented, though he notes that when he includes it in the revised volume of RIC it would be categorized as variant of known types rather than as a wholly new type.
Both this denarius of Nerva and the earlier 'discovery' denarius of Hadrian illustrate how previously undocumented ancient coins are bound to turn up with some frequency, even though since the 15th-century scholars have dedicated themselves to compiling the most complete catalogs possible.
To read the complete article, see:
Ancient Coins – Another New Roman Coin Type Discovered by NGC Ancients (http://www.coinweek.com/education/coin-grading/ngc/ancient-coins-another-new-roman-coin-type-discovered-by-ngc-ancients/)
Based on dealers', mints' and central Banks' news mails, ultra-modern numismatist Pabitra Saha reports on the latest coin designs. Here are some that caught my eye this week. -Editor
2015 Russian Year of Literature Coin

Gotta include this for the bibliophiles. -Editor
2016 Austria 25 Euro Niobium bimetallic Coin on 'Time'

I like this one - it's a clever design with a unified theme for both obverse and reverse. -Editor
2015 Czech 10000 Koruna coin on Jan Hus

Unusual but interesting design for the 600th anniversary of the burning at the stake of Jan Hus. I like it. -Editor
Marking the 425th anniversary of the first, full Hungarian translation of the Bible, the Magyar Nemzeti Bank issues a HUF 50,000 and a HUF 5,000 gold commemorative coin as well as a HUF 2,000 copper-alloy commemorative coin.
The coin was designed by Andrea Horváth and features the Calvinist Church of Vizsoly on the front and the initial "V" in the style of the Vizsoly Bible on the back.
In July 1590, printing of the first Hungarian translation of the Bible by Gáspár Károlyi was completed in the town of Vizsoly. This work, referred to both as the Vizsoly Bible after the place of printing and the Károlyi (or Károli) Bible after the Calvinist pastor who oversaw the translation, is an invaluable treasure of Hungarian Christianity, language, theology and culture. It is the oldest complete Hungarian translation of the Bible still used today, and until 1975 it was considered to be the single definitive, complete Hungarian text.
One key element of the Reformation was that the word of God be accessible and readable to all peoples and all levels of society. It was no coincidence that the first complete Hungarian translation of the Bible was prepared under the influence of Calvinist beliefs. While there had been other translations prior to Károli's work, only fragments of these remain or they have disappeared completely (their existence is proven by other documents).
In 1586, Károli began translating the texts of the Bible from Greek into Hungarian. Based on the uniform grammar and style used in the New Testament, it is likely that Károli himself translated this section, and he also wrote summaries of the chapters. Károli also played a partial role in translating parts of the Old Testament into Hungarian, and in addition to correcting the texts. He also was the editor, annotator, typesetter and preface writer.
The printing of the Bible started on 18 February 1589, under the supervision of printer Bálint Mantskovit(s), using paper from Cracow. After nearly one and a half years, the work was completed on 20 July 1590, with some 800 copies printed. The printing was supported by Sigismund Rákóczi, to whose estates Vizsoly belonged (and later Prince of Transylvania) and who was dedicated to seeing the Bible published in Hungarian.
Today, there are only 54 remaining original copies of the Károli Bible, which has 2,412 pages, weighs 6 kg and consists of 3 parts. Complete copies are only found in Bratislava, Budapest, Cluj-Napoca, Copenhagen and Vizsoly. The first revision (printing and grammatical errors, rephrasing, typographical changes) was carried out by Albert Szenczi Molnár, who had been Károli's assistant. Up until 1940, 268 dated editions and 25 undated editions were printed. In 1981, a replica edition of 28,000 copies was issued.
The translation of the Bible into Hungarian forged a link to the universal culture of Western Europe. While the language quality did not stand out compared to the ecclesiastic literature of the period, it did have a significant impact on Hungarian literature and language, the linguistic standards developing at that time and the stock of vocabulary and phrases.
The basic religious work is one of the most important elements of Hungarian culture. Since January 2015 it is classified as a Hungaricum, representing one of Hungary's outstanding intellectual works.
To read the complete article, see:
Coin celebrates anniversary of first Hungarian bible translation (http://coinsweekly.com/en/News/4?&id=3668)
Workers were busy testing and mixing printing inks while two production lines were running at full speed.
They were equipped with walkie-talkie but were caught unaware when police suddenly broke in.
This is what police officers saw when they raided a major secret counterfeiting banknote site hidden in a metal and plastic factory in Boluo county of Huizhou in eastern part of Guangdong province on early morning of Sept 17.
The small workshop, which was installed with sound insulating equipment, stretched over 60 square meters. A small door about 130 centimeters high and less than 1 meter wide was found behind filing cabinets in an office of the factory.
Huang Shouying, director of economic crime investigation bureau under Guangdong provincial department of public security, recalled busting the biggest fake banknote production case in the Chinese mainland since 1949 on Thursday.
Police seized fake banknotes with a total face value of more than 210 million yuan ($33.07 million) after raiding two production bases in Huizhou and in other five Guangdong cities and Sichuan province on Sept 17, Huang told a press conference on Thursday.
A total of 29 suspects, including the gang leaders, have been detained and four printing machines, many films and related equipment and semi-finished products have been seized after the raids on the two counterfeiting bases in Huizhou.
He said the crackdown has dealt a heavy blow to the banknote counterfeiting operation in Guangdong province which borders Hong Kong and Macao special administrative regions.
Gao Weidong, deputy director of Huizhou city bureau of public security bureau, said more than 400 police officers took part in the special operation in Huizhou on Sept 17.
To read the complete article, see:
Guangdong busts major counterfeit banknote factories (http://usa.chinadaily.com.cn/china/2015-09/25/content_21978608.htm)
Crow Wing County Sheriff Todd Dahl announces that his offices have recently received numerous reports of counterfeit money being passed throughout Crow Wing County. The money is reported to be the type that is used in motion pictures.
Dahl said, "The money appears real at first glance. However upon closer examination, it is obvious that it is not. Wording on the bill is different along with the pictures on the bill."
Businesses are encouraged to closely examine the bills to be sure they are real.
To read the complete article, see:
"Motion Picture Use Only" counterfeit money being used in Crow Wing County (www.brainerddispatch.com/news/crime/3843958-motion-picture-use-only-counterfeit-money-being-used-crow-wing-county)
Sunken treasure has been discovered submerged near a port by divers conducting a harbour clean-up.
Everything that shines in this story is gold, as the divers hauled up nearly 900 coins during the project.
The 99 Crew Dive Team had been cleaning up the waters near a wharf in Wellington Harbour, New Zealand, when they discovered the treasure trove, Stuff.co.nz reported.
Dive organiser Rob Wilson said of the 868 coins discovered and retrieved, some were apparently of value.
However, no valuation of the coins were given.
Responding to comments on the story, one person - who appeared to be a member of the dive team -said any items of value would be sold and proceeds used to cover the clean-up job, which the divers paid for out of their own pocket.
To read the complete article, see:
Divers who were conducting a clean up of trash dumped in a New Zealand harbour are shocked to discover sunken treasure - including 868 gold coins (www.dailymail.co.uk/news/article-3250851/Unexpected-SUNKEN-TREASURE-divers-including-868-coins.html)