About Us
The Numismatic Bibliomania Society is a non-profit organization devoted to the study and enjoyment of numismatic literature. For more information please see our web site at coinbooks.org
Subscriptions
Those wishing to become new E-Sylum subscribers (or wishing to Unsubscribe) can go to the following web page link
Membership
There is a membership application available on the web site Membership Application
To join, print the application and return it with your check to the address printed on the application. Membership is only $20 to addresses in the U.S., $25 for First Class mail, and $30 elsewhere. For those without web access, write to:
Terry White, Treasurer
Numismatic Bibliomania Society
P. O. Box 39 Hilliard, OH 43026-1278s
Asylum
For Asylum mailing address changes and other membership questions, contact Terry at this email address: terrywhite5475@yahoo.com
Submissions
To submit items for publication in The E-Sylum, just Reply to this message, or write to the Editor at this address: whomren@gmail.com
BUY THE BOOK BEFORE THE COIN
New subscribers this week include: Donald Hill and Christopher Baker. Welcome aboard! We now have 1,891 subscribers.
This week we open with a profile of the new NBS Treasurer, notes from numismatic booksellers Fred Lake, Kolbe & Fanning, and David Sklow, three new books and one review.
Other topics include Jason Phipps's Memorandum Book for Bank Bills, dealer Scott Semans, a 1794 cent, early U.S. silver dollars, a Guinea slave trade medal, an engraved presentation Civil War New Orleans dollar, the Distinguished Conduct Medal, new Zimbabwe Bond coins, and the Seymour medal.
To learn more about Terry White, Stewart Westdal, Maurizio Fumagalli, U.S. Mint canvas coin bags, Chinese contemporary forgeries, the Antoniniani of Claudius Gothicus, a coin captured by Jeff Davis at the New Orleans mint, Henry Morris' bookseller tokens, and Sultan Abdülmecid, read on. Have a great week, everyone!
Wayne Homren
Editor, The E-Sylum


David Sundman did a yeoman's job as NBS Treasurer for many years. When it became time for him to move on, he and NBS President Marc Ricard put a lot of effort into the search for his replacement. Member Terry White has stepped up to the plate and assumed the Treasurer's mantle. Here's some information on his background. -Editor
Terry writes:
To become an NBS member, see:
http://www.coinbooks.org/about/membership.html


Fred Lake forwarded this note about his latest and next numismatic literature sales. Thanks. -Editor
The prices realized for Lake Book's 123rd mail-bid sale of numismatic literature is now available for viewing on our web site at http://www.lakebooks.com/current.html Bidding was very strong with better than average prices obtained on lots that were concentrated on Greek and Roman coinage, early American Coppers, auction lots that featured special presentations to noted numismatists, and books that touched on how our coinage is produced and the metals that are used. Our next sale will be held on January 26, 2016 and will feature duplicate selections from the library of Stack's / Bowers.
Lake Books
6822 22nd Ave N
St. Petersburg, FL 33710-3918
727-343-8055 fax: 727-381-6822
David Fanning forwarded this reminder of the upcoming Kolbe & Fanning numismatic literature sale. Thanks. Get your bids in, everyone - the sale closes Saturday! -Editor
Kolbe & Fanning's latest sale will be taking place this Saturday, November 7, beginning at 12:00 noon eastern time. Featuring selections from the library of Stephen Epstein, among other properties, the sale features numismatic literature from around the world.
Some highlights from the sale include:
Lot 18: Byzantine Coins at Dumbarton Oaks, Volumes One through Three
Lot 41: Cooper's The Art and Craft of Coinmaking
Lot 171: Price on Alexander and Philip Arrhidaeus
Lot 191: Richard Sainthill's very rare 1857 Numismatic and Other Crumbs
Lot 303: the S.H. Chapman catalogue of the David S. Wilson sale with plates
Lot 304: a plated copy of the 1910 Lambert sale (also by S.H. Chapman)
Lot 323: Julius Guttag's set of the Elder Monthly
Lot 364: an original set of Loubat, with 1880 plates, inscribed by the author
Lot 427: the ultra-deluxe edition of the J.R. Frankenfield collection, bound in full water buffalo skin
Lot 436: a very nice complete set of the Red Book.

Lots 18 and 41

Lots 171 and 191

Lots 303 and 304

Lots 323 and 364

Lots 427 and 436
The sale has been posted to Kolbe & Fanning's custom online bidding platform at auction.numislit.com, where every lot is illustrated in color and where absentee bids can be placed at any time prior to the sale. The live sale will be conducted on the auction.numislit.com site. Printed copies of the catalogue mailed a few weeks ago to customers on our mailing list. A PDF of the printed version has been posted on the main Kolbe & Fanning website at numislit.com for anyone wishing to download the sale or search by keywords.
As a reminder, bidders may participate in this sale in a variety of ways. Please feel free to send us your bids in the regular mail or send us an e-mail. Give us a call or send us a fax. For those who prefer the experience of live bidding, please check out our live bidding platform at auction.numislit.com. Register in advance of the sale and browse the lots at your leisure: all lots are illustrated in the online catalogue. Absentee bids can be placed in advance, allowing participants to not worry about remembering the sale or finding themselves unexpectedly occupied on the day of the sale. Bids will be reduced as competition dictates and the privacy of your maximum bids is maintained. Please contact David Fanning at df@numislit.com with any questions.
Thanking you in advance for your bids,
Kolbe & Fanning
For other highlights of the sale, see:
KOLBE & FANNING'S SALE 140 CLOSES NOVEMBER 7, 2015 (www.coinbooks.org/esylum_v18n40a04.html)
Dear Fellow Book Collectors,
I will be closing my numismatic literature auction business as soon as settlement has been made with all bidders and consignors from my October 10th auction sale. I have accepted the position as Library Manager for the American Numismatic Association, and need to focus all my efforts on that new responsibility. It has been my pleasure to have dealt with so many wonderful people over the years in the auction business, and I want to extend a heartfelt thank you to all those that bid in and consigned to my twenty-six auction sales. I would like to give a very special thank you to the big guy in Ohio, Myron Xenos; without his support and great library I would not have been able to return to the business in 2008.
I will be reaching out to all consignors in the next few weeks for disposition of their consigned materials. I hope many of you will be willing to donate your unsold items to the ANA Library. I also hope many of you will stay in contact with me at the ANA [719-482-9821, sklow@money.org] and take advantage of the vast resources the American Numismatic Association Library offers its members.
The numismatic literature dealer field has been shrinking over the past few decades, and I sincerely hope everyone will support the small group that still operates to benefit the hobby: Kolbe & Fanning; Charles Davis; Fred Lake; and newcomer Bryce Brown.
Thank you all for all your support!
David
David Sklow - Fine Numismatic Books
719-302-5686
numismaticbooks@aol.com
We all wish the best of luck to Dave in his position at the ANA. He's perfect for the job, and we'll miss him in the numismatic literature business. -Editor
Here's the announcement from Künker of a new catalog of the medals of the Reformation. -Editor
Künker publishes the annotated inventory catalog of coins and medals of the Luther Memorials Foundation of Saxony-Anhalt relating to the history of the Reformation
Under the title 'Reformatio in Nummis', auction house Künker published a two-volume catalogue written by Klaus-Peter Brozatus and edited by Rainer Opitz. Spanning 1,276 pages, this volume presents the most comprehensive numismatic work ever published on the topic of the Reformation.
In his work, Klaus-Peter Brozatus lists more than 1,700 numismatic objects of the collection of coins and medals of the Luther Memorials Foundation of Saxony-Anhalt relating to the history of the Reformation.
Established in 1997, the foundation not only maintains and manages the Luther House, the world's largest Reformation museum, but also takes care of three more houses in the city of Eisleben closely connected to Luther's biography, as well as the Melanchthon House in the city of Wittenberg.
Part of the inventories of these memorial sites are several numismatic collections, which the author began publishing in 1998. Now, 17 years later, the results are being released and the two part volume contains the most comprehensive work on Reformation numismatics ever to be produced.
The first part of the catalogue pays attention to personal medals from Agricola to Zwingli. Luther himself, the focus of this study, is represented by an astonishing 364 objects. The second part assembles numismatic objects commemorating various events relating to Luther. Here, contemporary medals, for example commemorating the presentation of the Augsburg Confession, find their place, as do modern art medals celebrating the 500th jubilee of the Reformation. Additionally, the catalogue also contains a small collection of badges of honor.
The catalogues provide illustrations for every medal, sometimes even enlarged. Great importance was attached to the descriptions of all the objects, which are both thorough and interpretative. The author meticulously notes all inscriptions and even offers translations when deemed necessary.
It goes without saying that the reader also finds all numismatic specifications (material, diameter, weight etc.) as well as literature quotations. Providing the reader with numerous expertly written commentary, the author went through great lengths illuminating the historical-theological and numismatic background of the objects. Last but not least, an index of people and places, supplemented by a register of medalists and die cutters, tops the catalogues off.
Initiated and funded by the auction house Künker, 'Reformatio in nummis' presents yet another research project in the field of numismatics relating to the Reformation. It truly bears testimony to the excellent collaboration between researchers, collectors, and museums. The first fruits of this collaboration could already be witnessed in 2014, when a numismatic exhibit carrying the very same title was put up at the Wartburg castle. By attracting more than 350,000 visitors each year, the Wartburg castle surely provided a marvelous platform for numismatics.
The book may be ordered for 118 euros plus postage at the Künker Online Shop / Numismatic Literature, by phone at +49 541 962020 or by email at service@kuenker.de. Please note that the book, due to its considerable weight, will be charged a higher postage, in particular for international shipping. Postage within the territory of Germany amounts to 9.50 euros; when delivered to the U.S. the postage will be 51 euros. (subject to change).
Book information:
Reformatio in Nummis, Volume I, Annotierter Bestandskatalog der reformationsgeschichtlichen Münz- und Medaillensammlung der Stiftung Luthergedenkstätten in Sachsen-Anhalt. Edited by Rainer Opitz and written by Klaus-Peter Brozatus. Osnabrück 2015, Numismatischer Verlag Fritz Rudolf Künker GmbH & Co. KG. Two-volume hardcover edition in a slipcase, 1,276 pages. ISBN 978-3-941357-04-4. 118 euros + postage.
For more information, or to order, see:
Annotierter Bestandskatalog der reformationsgeschichtlichen Münz- (www.kuenker.de/en/shop/stueck/90295)
Bagchee Books in India announced the publication of a new book on the coins of British India. -Editor
Standard Catalogue of Coins of British India is a comprehensive catalogue of currency coins of Greater India from 1835 to 1947. The book catalogues silver and baser metal coins of British rulers from William IV to George VI.
All the coins are chronologically catalogued from 1 Rupee to lower denominations. Each denomination is profusely illustrated with mint identifiers; obverse and reverse types, and is followed by the Catalogue listing with details like year, metal, initials, mint, mint marks, diameter, obverse and reverse varieties, mintage and remarks. The book catalogues as many as 1,458 coins with about 1,000 illustrations.
Authors (s): Gev Kias (Author) , Dilip Rajgor (Author)
Format: Hardcover
ISBN-13: 9788189752189
Pages: viii+212p.,
Pub. date: 26.10.2015, 1st. ed.
Publisher: Rajgors
Language (s): English
Bagchee ID: BB97157
List price: US $ 165,00
Bagchee price: US $ 148,50
As noted in previous articles, other web sites like PrintsAsia.com may be able to offer better deals in the U.S. for books published in India. -Editor
For more information, or to order, see:
Standard Catalogue of Coins of British India 1835 to 1947 Currency Issues (www.bagchee.com/books/BB97157/standard-catalogue-of-
coins-of-british-india-1835-to-1947-currency-issues)
Another new book announced by Bagchee is on coins of the Sikhs. -Editor
Of all the coins of the Sikh, the coins of Amritsar mint are the most intriguing. Amritsar was never a mint town before the Sikhs started minting coins with the mint name Amritsar. In view of the vast variety of these coins this book is dedicated to the coins of Amritsar mint. It deals with the gradual evolution of the coins from their initial uncomplicated form to coins reflecting the splendid artistry of the calligraphers at that time. This book is at the same time a catalogue and a research document. Instead of sketches, this book illustrates actual images of the coin even the symbols have been derived directly from the images of actual coin.
Authors (s): Gurprit Singh (Author)
Format: Hardcover
ISBN-13: 9789351966029
Pages: ix+228p., Illustrations; Colour; Map; 29cm.
Pub. date: 01.10.2015, 1st. ed.
Publisher: The Nanakshahi Trust
Language (s): English
Bagchee ID: BB96492
List price: US $ 141,00
Bagchee price: US $ 126,90
For more information, or to order, see:
Coins of the Sikhs: Sri Amritsar Jiyo (www.bagchee.com/books/BB96492/coins-of-the
-sikhs-sri-amritsar-jiyo)
What the RIC is for Imperial coins, the RPC is for coins from the Roman Provincial cities and corporations. Do I have to go on writing? Perhaps I should because many collectors may not be aware of the fact that the Roman monetary system was not that straightforward as one might be inclined to believe when making the first steps as a collector. It is true, the denarius was circulating everywhere in the Roman Empire, but there was any number of local currency in use as well, featuring a wide range of subjects which makes every present-day numismatist rejoice.
However, there is one problem: keeping track of all those coins was a hard thing to do – indeed 'was', for under the rule of Nerva, Trajan and Hadrian, this situation was already a matter of the past. Now, every coinage minted in the Roman provinces during that period of time is documented in Volume III of the RPC.
Responsible for this weighty catalog are two doyens of numismatics: Michel Amandry, former head of the Cabinet des Médailles of the Bibliothèque nationale in Paris, and Andrew Burnett, former Deputy Director of the British Museum. A greater reputation on such a limited space is hard to imagine. It does not need special mentioning that the work and the research results of countless colleagues – above all, Jerome Mairat – also had a considerable influence on this magisterial volume. This makes the catalog weighty in more than one regard. Its content will become the pivotal element of future study. Given that the two parts span 1,368 pages and 356 plates, even the most solid bookshelve will be stretched to its limits when it has to support all released RPC volumes.
The weight corresponds to the material that has been accessed: 50,000 coins, divided into nearly 6,500 catalog entries – these numbers alone make everybody who has tried to prepare a catalog once, freeze with respect. When considering the diligence with which the coinage of every single city is presented, one starts brooding over the effort put in this RPC.
Let us single out only one example – not arbitrarily for the reviewer still harbors a special fondness for Pergamon… Well then, Pergamon. No, you won't find Pergamon under the heading Mysia as you are accustomed to in the auction sale catalogs. The RPC reflects Roman conditions. The cities of the Province of Asia, therefore, are dealt with in one chapter, divided according to the different conventus (=court district). In terms of administration, Pergamon worked closely with cities which, in accord with good old Head – and our modern auction sale catalogs –, were located on the island of Lesbos and Chios, and in areas which we know as Lydia and Aeolis. And this makes perfect sense, as becomes evident by a look at the location of the court district on the map. The fact that this cataloguing, following ancient reality, can reveal a whole new range of connections becomes clear for everybody to see!
All those who find this rather complicated benefit from an index where every city is listed separately. Speaking of indices: spanning a good 100 pages, they almost make a book of their own! Everything you desire of an index is provided: cities, rulers, inscriptions, names and titles, types, countermarks; anyone who has ever written an index knows very well how much effort it takes. And anyone who uses books not just for decoration knows how essential a comprehensive index actually is.
To read the complete article, see:
Long awaited, finally released: the new RPC (http://coinsweekly.com/en/News/4?&id=3726)
Here's some more information from the publisher's web site (Spink). -Editor
Roman Provincial Coinage III; Nerva, Trajan and Hadrian (AD 96-138) 2 volumes, Hardback in slipcase, 1368 pages, 356 black & white plates and 5 black & white maps.
This volume presents for the first time an authoritative and systematic account of the coins minted in the Roman provinces during the period from the accession of Nerva in AD 96 to the death of Hadrian in AD 138 and includes the three reigns of Nerva (AD 96-98), Trajan (AD 98-117) and Hadrian (AD 117-138).
The book gives a complete picture of the material, thereby not only meeting the needs of numismatists but also providing an essential reference for historians, archaeologists and other students of the Roman empire. The introductory essays are followed by indexes and an illustration of every major issue listed.
The book catalogues over 50,000 coins classified into 7,000 main varieties from the world's principle collections, including the British Museum and Bibliotheque nationale de France. These were minted at 300 cities located throughout the eastern part of the Roman Empire, from Appollonia in Albania to Trapezus in Turkey and from Tomi in Romania to Alexandria in Egypt. The catalogue includes the extensive coinages made by the cities of the Roman province of Asia and the complex coinage from Alexandria in Egypt.
For more information, or to order, see:
Roman Provincial Coinage III; Nerva, Trajan and Hadrian (AD 96-138) (www.spinkbooks.com/product.php?xProd=533)
This seems to be a day book of a citizen, not a business that routinely handled bills (otherwise the entries would have been many orders of magnitude larger).
He kept track of the issuing bank, the serial, the date, and the names of the officers (as best he could describe them; in any event his spelling was less than academic as he usually misspelled New Hampshire, for example). -
This was in an era in which counterfeits were common and sometimes came back to "bite" the person who passed them out, sometimes landing in court. I can only presume that Jason was protecting himself against future questions. -
He did handle some notes, as did everyone, of the Farmers Exchange Bank of Gloucester, RI, and the Hillsborough Bank of Amherst, NH, both of which were LATER found to be fraudulent.

RI, Gloucester-Farmers Exchange Bank $1 1806

NH, Amherst-Hillsborough Bank $3 1806
To read the earlier E-Sylum article, see:
JASON PHIPPS'S MEMORANDUM BOOK FOR BANK BILLS (www.coinbooks.org/esylum_v18n43a06.html)
Removing Price Stickers From Books
Regarding removing price stickers from books, web site visitor Ruth Haynes Lee writes:
To read the earlier E-Sylum article, see:
ANSWERS: REMOVING PRICE STICKERS FROM BOOKS (www.coinbooks.org/esylum_v11n25a14.html)
Coins and Stamp Department Photos Sought
Dave Lange writes:
Great idea! Can anyone help? -Editor
Were Green & Russell Selling 1761 Coronation Medals?
Regarding the medals Green & Russell had for sale in 1762, Paul Bosco writes:
To read the earlier E-Sylum article, see:
GREEN & RUSSELL, COLONIAL BOSTON MEDAL DEALERS (www.coinbooks.org/esylum_v18n43a13.html)
An Early U.S. Mint Canvas Coin Bag

Paul Kluth writes:
Interesting. Anyone have a clue? What is the earliest known mint bag to still exist? -Editor
To read an earlier E-Sylum article on a related topic, see:
QUERY: MARKINGS ON U.S. MINT COIN BAGS (www.coinbooks.org/esylum_v14n41a14.html)
Query: The Disbursement of the Dewitt Smith Collection
Saul Teichman writes:
To read the earlier E-Sylum article, see:
THE AMAZING COLLECTION OF DEWITT S. SMITH (www.coinbooks.org/esylum_v18n43a15.html)
Query: The National Oceanic and Philatelic Society
A reader noticed a reference to the National Oceanic and Philatelic Society in artist Joel Iskowitz' biography. I asked Joel about it and he writes:
So it's actually the NOAA (National Oceanic and Atmospheric Administration) Space Philatelic Society. Does anyone recall this organization? Online searches are still coming up empty. Just curious... -Editor
To read the earlier E-Sylum article, see:
COIN DESIGNER JOEL ISKOWITZ TO SPEAK AT NYC SHOW (www.coinbooks.org/esylum_v18n40a20.html)
More on the H. R. C. Clock Token

Regarding the H. R. C. token, Larry Dziubek writes:
To read the earlier E-Sylum article, see:
QUERY: H.R.C. CLOCK TOKEN INFORMATION SOUGHT (www.coinbooks.org/esylum_v18n43a23.html)
Thursday, November 5
3 p.m. Beat the Gold Standard: Stump Q. David Bowers for Valuable Prizes
Friday, November 6
11 a.m. C4 – Colonial Currency, with Ray Williams
12 noon Newman Numismatic Portal presentation
12 – 2 p.m. C4 – Attribution Session: Fugio Coppers
2 p.m. C4 – "Numismatics of Dutch New York," with Erik Goldstein
Saturday, November 7
10 a.m. C4 – "A Whirlwind Tour of Coins and Tokens that were Used in Early America," with Will Nipper
2 p.m. "Ancient Coins for Beginners," with Mike Markowitz
For the complete show calendar, see:
http://expo.whitman.com/baltimore-winter-expo/schedule/
To view some of the latest publications digitized by the Newman Numismatic Portal, see:
https://archive.org/details/newmannumismatic?&sort=-date
Ken Aring and Ken Spindler submitted the following information about longtime researcher Stewart Westdal, who passed away last month. Thanks. -Editor
Accomplished and versatile numismatic researcher Stewart John Westdal passed away at his home in San Diego, CA on 9/28/2015, at age 77, after a prolonged illness. He was born in North Dakota in 1938 and grew up there. He met his future wife, Bobbie, at George Washington University in Washington, D.C. He graduated in 1962, majoring in history, with a focus on ancient and medieval eras. Stewart spent 4 years in the Army, including 2 years in Germany, then he and his wife moved to San Diego, where he earned a teaching credential and a master's degree.
From 1970-1974 he ran a small coin shop in downtown San Diego. After working 20 years with university and government education programs, in 1993 he joined Ponterio & Associates auction house, where he wrote essays for catalogues and catalogued an almost unlimited range of coins, paper money, medals, tokens, and awards and decorations. He was relied upon heavily for ancient, medieval, Islamic, Indian, and Asian material. Stewart was always in a jovial mood. He finally retired in 2009.
Stewart's contributions to the Standard Catalogs of both coins and paper money were acknowledged in those volumes for many years, and he is still cited in some of the latest editions. He was largely responsible for the Iceland section of Standard Catalog of World Paper Money. In 1975 Stewart founded the Ancient Numismatic Society of San Diego, and remained an active member until his illness. He was a long-term member the International Bank Note Society and founded its Southern California Chapter in 2008.
Stewart's personal numismatic interests included Byzantine coins, especially unusual denominations, and the medals and decorations of church orders. He and his wife traveled the world widely, including a visit to Iceland in 1999, where he established a valuable contact with a bank employee who was a collector, who continued to correspond with him to assist him with his research. Stewart was proud of his Icelandic heritage and was writing a book on Icelandic paper money when he became ill. He was also very interested in books about the history behind the coins. Some of his interest in Chinese material was sparked by a trip to western China.
The breadth of Stewart's interests is shown by this list of his publications:
Dictionary of Roman Coin Inscriptions, Sanford Durst, 1982. (Earlier editions were published under the title A Guidebook for the Identification of Roman Coin Inscriptions, 1971, 1973, 1977.)
A Cross-reference Index to V. I. Petrov's Catalog des Monnaies Russes, self-published, 1980.
"The Badges of the Equestrian Order of the Holy Sepulchre of Jerusalem" Journal of the Orders and Medals Society of America, 1998. http://www.omsa.org/files/jomsa_arch/Splits/1998/251229_JOMSA_Vol49_6_34.pdf
"Emperor Pu-Yi (Hsuan-t'ung): From Emperor to Prisoner to Citizen to Emperor to Prisoner to Citizen") http://www.cdot.org/links/emperor_pu_yi.htm (originally for Ponterio & Associates, 2001)
A funeral Mass was held on Oct. 16 at Our Mother of Confidence Catholic Church in San Diego. In lieu of flowers, a donation in memory of Stewart Westdal to support Alzheimer's disease research at UCSD, Attn: Beth Green, 9500 Gilman Dr., La Jolla, CA 92093, would be appreciated.
(Information assembled by Ken Aring and Ken Spindler)
Howard Daniel submitted the following about a friend who recently passed away, dealer Maurizio Fumagalli of Laos. Thanks. -Editor
Maurizio Fumagalli emailed me on August 7, 2015 that he had to leave Vientiane for his home in Italy because he had been diagnosed with liver cancer. I immediately replied with his favorite curse word, which was appropriate with him. On August 16, I sent him another email asking him about his situation. I never received a reply from him. A couple of months later, I received an email from Sanida Luangrath, who is the daughter of Mrs. Paboukham Luangrath, that he had passed on August 14. I said his favorite curse word. As we used to say during the Vietnam War to someone who has passed, I also said "See you on the other side."
I had given him the nickname of Mau after we first met in Vientiane in 2002 and we quickly hit it off with our mutual like for gallows humor. If he was not away guiding tourists, mostly Italians, around the country, we would have lunch and dinner every day I was in Vientiane. Sometimes I would ride on the back of his motorcycle and other times when I wanted a safer method of transport, I walked because most of the places we ate at were less than 4-6 blocks from the Lao Plaza Hotel, where I have always stayed. Mau and I rarely discussed numismatics and philatelics during our meals but talked about the food, family and friends.

Howard Daniel and Maurizio Fumagalli
My wife, Phung, met Mau for the first time only two years ago at the Paboukham & Sons shop. After a few moments, she told us we acted like brothers. We walked down the street to his favorite Lao restaurant in an old French villa. We told him to order and we thus ate a large meal of excellent food. During the meal, Phung discovered several Lao dishes that she continues to order when we are eating in Lao restaurants.
I also learned from Sanida that he was born on October 19, 1958 and passed away in his hometown of Commune di Monza, north of Milan. Before moving from Italy to Thailand in 1995, he worked in the printing industry and collected Thai and Lao stamps. In Thailand, he sold Thai and Lao stamps. In 1998, Mau moved to Vientiane in the Lao PDR, and specialized in selling Lao stamps. Later, he added Lao coins and paper money to his business. Besides selling from the http://paboukham.comlu.com website, he also put his detailed knowledge of Lao numismatics and philatelics on it, and it is still there. He also regularly contributed to my catalogs and articles.
He also sold pieces in the Paboukham & Sons shop in Vientiane at 328, Samsentai Road, which was just to the left and across the street from the Lao Plaza Hotel. Their mailing address is P.O. Box 9685, Vientiane, LA-01000, Lao PDR, and their telephone number is 856-2121-9556. Besides regional numismatic and philatelic pieces for sale, they also sell postcards, books and a few souvenir items. Inside, you will find Mr. Daly and Mrs Pa (Paboukham Luamgrath), a very friendly and helpful couple who have assisted me in accomplishing many tasks. I am sure Mau would want his former customers and friends to continue doing business with them.
"EDMOND MILNE, Goldsmith and Jeweller, At the Sign of the Crown and 3 Pearls, next Door to the Corner of Market street, in Second-street, PHILADELPHIA; Begs Leave to inform the Public that he has just Imported in the last Vessel from LONDON, . . . . gold, silver and silver gilt Mason's Medals . . . ."
Pennsylvania Journal, Thursday, December 8 & 15, 1763 and November 8, 1764, Maryland Gazette, Thursday, May 24, 1764; Pennsylvania Gazette, Thursday, January 3, 1765.
English Masonic medals struck or cast in precious metals were imported and sold by jewelers at their shops as part of the regular retail trade or at times in auction sales. Milne was not known to have sold his work or imported stock through the auction forum, but rather seems to have been a retailer. As a goldsmith he also made medals as was the custom then as now.
During his period of history it was fairly common for engravers, goldsmiths and silversmith to advertise they made medals or more specifically "Mason Medals" as he did in the Maryland Gazette, March 16, 1763. His logo "The Crown and 3 Pearls" was painted on a wooden sign suspended from metal brackets above his shop's door on Second Street, next door to "The Indian King". Two engravings of this logo are known and were frequently published in his advertisements.
Edmond (or variant) Edmund Milne (1724-1822), was a goldsmith and early Philadelphia numismatic dealer.[2] He succeeded Charles J. Dutens in the winter of 1757, as a silversmith at Philadelphia.[3] His earliest known advertisement was published, December 22, 1757, Pennsylvania Gazette, where he announces that after having worked for Charles J. Dutens Jewelry Shop, next to the Indian King on Market Street, for the past two years, i.e., from 1755 to 1757, he now succeeds him running his own shop independently as a medallist and jeweler. Milne, at the age of twenty-one was an independent goldsmith.
He is best known as the silversmith who was employed by General George Washington. In 1776, Washington commissioned him to make a silver-hilted sword to be presented to his secretary Lt. Col. Joseph Reed. In 1777, he made from sixteen silver Dollars given him by Gen. George Washington a dozen coin-silver camp cups for him.
There is little research published on him and a few scattered notices regarding real estate and reimbursements for land surveys and so forth, which he sold at auction March 16, 1785 advertised in the Freeman Journal.
The 1793 Philadelphia Septennial Census lists him as a gentleman, rather than a goldsmith or jeweler, since he retired six years earlier in February 1787. His daughter Eliza married John Russell, the famous printer at Boston on April 17, 1793. In August 1795, he opened a shoe store at 34 Arch Street corner of 3d Street, named Edmund Milne & Co. His wife Elizabeth died at Philadelphia on January 13, 1796.
In the 1810 U. S. Census he appears to be living with his son Richard Milne at Philadelphia.
He died at age 98 in Northern Liberties on February 4, 1822. He is buried in the 2d Baptist Cemetery
To read the complete article, see:
MILNE, EDMOND (https://sites.google.com/site/numismaticmallcom/encyclopedic-dictionary-of-numismatic-biographies/milne-edmond)
CG: First, do you collect anything yourself? What got you interested in this area of coin collecting?
SS: As a kid I collected mainly circulation series of US coins including silver dollars, then as the family would vacation in Canada or Mexico I added these. In my late teens my father began travelling overseas and bringing back a wider range of coins, so I added one-per-country, copper "crowns" and examples of different coinage metals. When I started buying and selling coins around 16, I set these aside and began building research-oriented collections of mainly Asian series. So: Kutch, Nepal, Netherlands East Indies & pre-colonial Malay/Indonesian, Haiti, Tibetan gaden tangka, modern Middle-eastern nations (to 1980), calligraphy variations of common Chinese, primarily Song through Qing, "official" Chinese charms, British India by type, India temple tokens. I tend to sell them when a good catalog comes out and I no longer need actual coins for reference, so most of these are not current interests.
CG: How long have you been a numismatic book dealer? What made you want to focus on Asian numismatics?
SS: I was already focusing on Asian coins by the mid-70s and began selling a few books be-cause information on these series was so hard to find. Looking at old price lists, I see one of my early offerings was the Kann catalog which I sold retail at $25, and $18 to dealers.
CG: How did you get into the numismatic book business? Few people focus on this area, can someone (still) make a living at it?
SS: In the 1970s I could get bulk unpicked coins of many Asian series and I loved searching for varieties. But I would have to use space in my own price lists to publish the information on how to distinguish them, so when a good book came along – usually from someone I al-ready knew as a supplier or customer - I tried to get it into my customers' hands. Given the space a book stock absorbed, the extra work in packing, and low profit margins, I never saw books as a profit center, but as a way of increasing coin sales. The market has changed quite a bit since then but there are still a few dealers out there making a living solely from numismatic books. You have to deal in the whole range, including U.S. and Mediterranean ancients, antiquarian and in-print, and sell both retail and by auction. Nobody can handle just Asian, or just European series books; the undergirding of such a business still has to be the coins or banknotes themselves. Amazon, eBay, and huge increases in postal rates have impacted my own book business and I am gradually phasing it out. My website listings are evolving from sales offers to a bibliography.
CG: Are there any 'must-have' books on Chinese numismatics (regardless of the focus)?
SS: There are really two parallel series of works, those for Chinese readers and those for Western (English) readers. The series is also divided into traditional categories, such as Ancients, modern copper, modern silver, and various sidelights including tokens and chop-marks, each with its own standard works in each language. There are good references in each series, but no standards, which is why my coin listings generally have two to four catalog references in the descriptions.
CG: Is there anything else of interest you would like to mention that I haven't asked in a question above?
SS: One observation that gets back to my own collecting, is that when I start in on a series with no catalog, I need a numeric reference, if only to organize my own collection or stock; so I have to invent one. For chopmarks, I took the inventory of my first big collection purchase (can't now recall whose), which of course was in alphabetical order by country of base coin, added types I thought likely to turn up with chops, and threw in gaps between countries. So if collectors who keep old envelopes wonder what "CC-V116a" or the like means, it's my made-up stock code for a particular base coin with chops.
I'd like to recommend Chinese contemporary (circulating) forgeries as a collecting subject. After all, chopmarked coins exist only in the context of such forgeries, though more so of Spanish series than Chinese. As with chopmarks, Chinese collectors disdain them, and they are inexpensive. Such sidelight pieces make a collection distinctive and, along with mint errors, can shed light on economic conditions and minting practices of the period. Some are amusing in their own right, and the best of them are challenging to distinguish from genuine coins. I've put a few of these up on zeno, along with pieces I'm genuinely unsure of. Anyone can collect straight stuff, it just takes money, but it's the sidelights that have always delighted and challenged me as a collector and a dealer.
For more information on the Chopmark Collectors Club, see:
http://chopmarks.org
Reports of the death of bookstores were premature. Dick Johnson submitted these thoughts on their recent resurgence. Great news - thanks! -Editor
Isn't one of your greatest pleasures in life perusing bookshops? It is mine. I look back on the many bookshops I have visited in my last 65 years. What fond memories spring into mind. Surprise! These pleasures may continue well into the future. Bookshops are not dying out.
That was not the prediction six years ago. E=books were supposed to eliminate print books and the institutions which sold them. Like television was predicted to kill radio. And FM was cited to kill AM. But not all predictions come true. Thank goodness.
The New York Times reported recently "The digital apocalypse never arrived." The American Booksellers Association (ABA) revealed that in 2010 there were 1,410 bookstores. Today there are 2,227. That's encouraging despite Borders closing most of their outlets from a peak of 659 stores. Retail is a tough business.
Those 2,227 book stores are ABA members, some selling both new and second hand books, although used book dealer have their own society, the Antiquarian Booksellers Association of America (ABAA) with another 450 members, not all of whom have stores.. I like to browse both new and second hand book stores.
In every city I have lived in (10 in 65 years) I searched for the book stores and fondly remember those in Washington DC, St. Louis and Kansas City. Also those in other cities in travels and visits. In Kansas City I had a boyhood friend, Terry Cassidy, who was a coin collector. His father was a part time book dealer in economics. He bought the stock of the city's largest bookstore, Cramer's, that went out of business. They held numerous sales in an attempt to empty the store, then moved the remainders to a warehouse. Terry got all the coin books ahead of me.
In New Haven at a coin convention John J. Ford gathered two friends and invited me to come along. We traveled by taxi to the home of W.C. Sanders an early specialist in numismatic books. His basement was filled with shelves and shelves, all bearing a wide variety of numismatic literature. We all came away with an armload of books after the most pleasant evening browsing.
Also near New Haven was the famous Book Barn, actually several buildings on what was once a farm. Thousands of books, if not in the millions. All fairly well organized. I always assumed these came from Yale professors who recycled their libraries. But I learned not to go there in the dead of winter, the barn was not heated, Nor in the heat of summer.
Oh I could go on about favorite bookshops old and new. Recently I let the dealers come to me in local book fairs. Forty to fifty dealers in a local high school gym provided a delightful morning's chore. I stopped attending the ABAA fairs in New York City when I worked there. They could not bring the quantity of books I wanted to search for numismatic gems.
It's good to learn that bookstores are coming back. More dealers in the business. News Flash: Fellow Nutmeger (that's a resident of Connecticut for those of you in Rio Linda) Bryce Brown is going full ahead in his numismatic book business, stepping up from the casual sales he has held in the past. He visited me recently and I gave him a couple boxes of books. A library is like a bush, you have to prune it occasionally.
This week Good Wife said the most delightful words to this ol' book lover: "Let's go the Barnes & Noble, I want to get a gift card for grandson's birthday." We did, and I found a gem. I didn't order it when it was first announced, but couldn't resist when I saw it. I bought Dave Bowers Red Book on Civil War Cents. I don't collect these but the book is a great read with terrific color illustrations. I had to have it.
Sometimes you have to see it to buy it. Keep the stores open book dealers. Don't worry about e-books. A lot of us still want the original to read, to feel the paper, to turn the pages, to write in the margins (and sometimes have the author sign it).
I love a good bookstore. Always have, always will. Even if it doesn't have numismatic titles (one can always hope). The serendipity factor is huge - one never really knows what might be found, whether the store specializes in new or used books. So poke around. You just might find a gem you never knew you wanted. -Editor
Carrier bags might cost 5p from a shop, but one with a coin stuck at the bottom of it ended up being worth a little bit more.
For the coin was one of the earliest American cents in existence, and sold for a staggering £11,224 when it went up for auction in Dorset, England.
The 1794 coin was discovered by auctioneer Timothy Medhurst when he was asked to check on a plastic bag full of coins. It was left at the bottom and he nearly missed it.
He found it, and auctioned it at Duke's in Dorset, selling it in the end for 1.7 million times its original face value.
The single cent, known to this day as a 'penny' even in the US, dates from the first few years of the United States as a country, and if it had been paid as part of an early American's wages then, it would be worth on $41 now, or £26. As a 221-year-old coin, however, it's worth 430 times that now.
"The market for American coins is at an all-time high, with some examples fetching record prices," said Mr Medhurst. "This particular cent dated 1794 was found in a plastic bag amongst other somewhat valueless coins. This shows that there are still many treasures to be discovered even in the most unlikely of places!" he added.
Does anyone know who the buyer was? Or the Sheldon variety? Did the coin end up in a collection back here across the Atlantic? -Editor
To read the complete article, see:
US 1794 'penny' coin found in plastic bag in Dorset sells for 1.7 MILLION times more than a cent (www.westerndailypress.co.uk/1794-penny-coin-plastic-bag-sells
-1-7-MILLION/story-28064756-detail/story.html)
Dave Perkins forwarded this press release about his recent purchase, with Andy Lustig, of the Warren Miller collection of early U.S. dollars. Thanks. -Editor

1796 B6 BB64
W. David Perkins and Andy Lustig are excited to announce that they have purchased the extensive Miller early U.S. silver dollar collection and will begin offering it for sale. The coins will be available for viewing and sale at the upcoming Whitman Baltimore Show Wednesday through Saturday, November 4-7, 2015 at Table 818 (The table is listed under Perkins, W. David, Numismatist).
Background and the Collection
Imagine collecting the early United States Silver Dollars 1794-1803 for over 30 years, and being the first and only person to complete a set of the business strike early dollars by die marriage with every Bolender (B) and Bower's Borckardt (BB) number. Warren Miller accomplished this feat approximately a decade ago, completing the set by die marriage in 2005. From 2005 to the present, selected coins were upgraded and die states were added. Miller branched out and added errors, including numerous double and triple struck early dollars. Today the collection consists of over 160 early dollars in total.
The collection was started in 1983 with the purchase of three different dates of Draped Bust, Heraldic Eagle Dollars from a local coin shop. On the next visit to the shop, Miller was given a copy of the Bolender book on early dollars 1794-1803 and as they say, the "rest is history!" Miller went on to acquire all of the 118 known die marriages over the next 22 years. Perkins was able to purchase the Unique 1795 B-19, BB-19 Dollar from the grandson of Frank M. Stirling, and sold it to Miller, enabling Miller to complete the die variety set in 2005. In the last year, two new die marriages have been discovered bringing the number of total known business strike die marriages to 120.

1800 B11 AMERICAI Wide Date Low 8 Ex. Carter, Jr.
All of the coins are graded by PCGS, and the set overall averages "Almost Uncirculated" in grade, with specimens ranging from Good (a Double Struck Flowing Hair Dollar) to MS63. The majority of the coins are graded in the XF-AU range of, with many unique die marriages, Finest Known and Condition Census Specimens, Plate Coins, and Late Die States. Many of these coins resided at one time in the great collections of the past – Atwater, Eliasberg, Stickney, Earle, Amon Carter, Bolender, Ostheimer, Frank Stirling, K. P. Austin, W. G. Baldenhofer, Spies, Reiver, James Matthews, and others. PCGS photos are available for all but a few of the coins in the collection.
The Miller Collection has been listed as the #1 Collection in the JRCS Census for many years. The "Date and Major Type" portion of the Miller Collection was the top collection in the PCGS Registry for early dollars for 2014 and 2015, the only two years it was listed. You can find it under EARLY DOLLARS WITH MAJOR VARIETIES AND SILVER PLUG, CIRCULATION STRIKES (1794-1803), or click on the following link: http://www.pcgs.com/setregistry/composite.aspx?c=123
For additional information, please contact Dave Perkins at wdperki@attglobal.net or cell phone 303-902-5366.
I've been meaning to highlight a few lots in the upcoming Kolbe & Fanning Sale 140. Time to quit procrastinating, since the sale is this week. -Editor
Lot 314: Curtis Numismatic Lottery Scheme

Curtis, John K. TO NUMISMATISTS IN PARTICULAR! AND TO EVERYBODY IN GENERAL! THE GREATEST CHANCE EVER OFFERED TO OBTAIN RARE AND VALUABLE COINS AND MEDALS, AT THE VERY LOW SUM OF ONE DOLLAR EACH. New York: James Huggins, Printer, (1861). Handbill [23.5. by 15 cm], printed on one side. Just a trifle foxed. Mounted on black board and framed. Near fine. $400
Ex J.N.T. Levick, found in a specially printed personal copy of his famous 1865 coin sale. Attinelli page 87: "(A lottery scheme) describing coins. Printed on a single sheet, about 6x9 inches." Curtis laments "the present dull state of trade" and "intends selling off his ENTIRE valuable collection of rare and fine American and Foreign Coins and Medals, in Gold, Silver, Copper and Bronze, at the unprecedented low price of One Dollar each, indiscriminately..." Valued from 1¢ to $75.00, the coins and medals were to be packed and sealed in unmarked boxes, and Curtis promised "on the 11th day of February, 1861, to dispose of them, in the above manner, until all are sold."
After describing many of the highlights (for example "American Dollars, from 1795 to 1860, including 1836, 1838, 1852 and 1858 Proofs, but no 1804"), Curtis concludes: "The above is no humbug, but a real Bona Fide Sale to dispose of his very rare and valuable stock." Quite rare; only the second example we recall ever having encountered. Ex Stack Family Library (Kolbe Sale 111, lot 55). Ex Stephen Epstein Library.
Numismatic ephemera is one of my favorite areas of numismatic literature. These little flyers served a purpose in their day, yet were not meant to be saved, and practically no one did, making them rare as hen's teeth today. But there can be much to be learned from these ephemeral messengers, and they are great survivors of a bygone era. -Editor
Lot 339: The First Cincinnati Coin Auction

Hubbard, S.G. [auctioneer]. GREAT SALE OF OLD COINS, TOKENS AND COIN CASE, AT AUCTION! (Cincinnati), March 18, (1863). Broadside [78.5 by 63 cm / 31 by 24 inches], professionally framed [frame dimensions are 88.5 by 70.5 cm / 35 by 28 inches]. 682 lots. Printed label adding year inserted at base. Most of the fold marks and separations noticed in earlier cataloguing of this item were addressed when it was professionally framed. Near fine with minor restoration. $2500
Ex Harry W. Bass, Jr. library (Kolbe Bass Part Four sale, lot 331); later sold in Kolbe's 100th sale as lot 322. Attinelli page 28 (Adams R-7). Not in the 1994–95 Champa library sales, the 1971 Fuld library sales nor, to our knowledge, any catalogue in the modern era until two examples turned up in the Harry W. Bass, Jr. library. The first was sold in Bass Part Two (June 5, 1999, lot 341). This comparable copy graced the stair entryway to Harry W. Bass, Jr.'s superb numismatic library adjoining his home in Dallas (the frame has been replaced) and was sold in the fourth Bass library sale.
Beyond these two examples, we know of only one other, the copy permanently impounded in the American Numismatic Society Library. Nearly 300 lots of "the finest, rarest and more desirable bronze and copper tokens of England, struck during the last decade of the 18th century" were featured in the sale, which was among the very first in this country to feature Conder tokens. Beyond a handful of ancient and foreign coins and tokens, the remainder of the sale is devoted American numismatic items, including political medalets, colonials, large cents and half cents, store cards and tokens, several coin sale catalogues, etc. Perhaps the ultimate wall decoration for the historically inclined American coin collector or numismatic bibliophile. Ex Stephen Epstein library.
This looked familiar. Above my desk I have a framed copy of a later Hubbard broadside, one for a November 9th, 1866 auction of "Coins, Books, &C." Great decoration for a numismatic library. -Editor
Lot 362: 1863 Leeds & Co.
Broadside
Leeds & Co., Henry H. CATALOGUE OF RARE COINS, MEDALS AND TOKENS. (New York), December 24, 1863. Broadside [46 by 18.5 cm]. Lots 101–217. Several folds. Remnants of materials taped to back with one small tear repaired with archival mending tape. Stamp of modern owner at top. Very good or better. $300
Attinelli page 34 (Adams R-7). Rare. The items sold were the property of Attinelli and proceeds totaled $44.17. The sale followed a largely non–numismatic one held on the same day, accounting for the lot numbering. Ex Stephen Epstein library.
For more information, or to bid, see:
www.numislit.com










Years ago I helped start the program for kids at the Pennsylvania Association of Numismatists coin shows in Pittsburgh. PAN has not only continued the tradition, but raised it to a whole new level thanks to Sam Deep, Bob Stakeley and a host of other local volunteers. Pat McBride forwarded these photos from last weekend's show. Thanks! -Editor
Wow! If the numismatic hobby is dying on the vine you can't tell that to Pittsburgh. What a strong cadre of youngsters! But wait - there's more! -Editor
Pat McBride adds:
For more information on PAN, see:
http://pancoins.org/
The antoninianus was a new domination of silver coin that was introduced amidst the financial crises that gripped the Roman Empire in the early third century. Over the course of time it was debased until it was mostly bronze. As you can see by the mixed patinas of the eight antoniniani issued under the authority of Claudius at the top of this post, the metal content varied.
The common obverse features a radiate bust of the Emperor and Roman Imperial Coinage lists dozens of reverse types. The example above (RIC 168) was minted in Mediolanum (Milan) and its reverse features Spes, the personification of hope, holding a flower.
To read the complete article, see:
EIGHT ANTONINIANI OF CLAUDIUS GOTHICUS, 268-270 CE (www.anspocketchange.org/eight-antoniniani-of-claudius-gothicus-268-270-ce/)
John Lupia forwarded this article about a coin find in Denmark. Thanks. -Editor
A Danish amateur archaeologist has made a stunning find on the island of Omø just off the coast of southern Zealand.
The discovery – which consists of rare silver treasure dating back to the Viking era – was made when Robert Hemming Poulsen paid a work trip to Omø to lay fibre optic cables. He brought his metal detector along and hunted for buried treasure after work.
"A treasure like this is found once every 10-15 years," said Hugo Hvid Sørensen, a curator from Museum Vestsjælland, where the treasure is now on display. "It contains many items and is extremely well kept because it has been buried in sandy earth."
Poulsen made the original find back in September, after which Museum Vestsjælland was authorised by the culture authority Kulturstyrelsen to handle the excavation of the site, which was completed yesterday.
Sørensen contended that the find was important as it will enlighten experts about one of Denmark's earliest periods.
"It's very rare to have found so many Harald Blåtand [Harald Bluetooth] coins – one of the earliest coins of that era," said Sørensen.
To read the complete articles, see:
Silver Viking-Era Coins Unearthed in Denmark (http://archaeology.org/news/3837-151028-harald-bluetooth-coins)
Amateur archaeologist finds Viking treasure on Danish island (http://cphpost.dk/news/amateur-archaeologist-finds-viking-treasure-on-danish-island.html)
At the beginning of the year 1681, the small expedition reached the Guinean coast. They were welcomed by native tradesmen with great friendliness. This was due to the fact that the lucrative slave trade was strictly separated into two different businesses: Native traders took captives in the mainland and sold them to Western tradesmen, who in turn took responsibility for the transport over the Atlantic, on the coast. Accordingly, it was in the interest of those native traders that as many different buyers as possible were in competition with each other and thus kept up the prices. Against this background, Brandenburg was nothing but a new customer and welcomed with open arms.
Of course the competition, the Dutch trading company, showed a very different reaction. An aggressive exchange of letters between the company and the elector ensued, in which the Dutch insisted that trade with Guinea remain their sole right. And when the elector argued with that, they did not hesitate long but captured one of the two ships sailing along the Guinean coast under the Brandenburg flag.
The other ship was more fortunate. It returned home with 100 pounds of gold and 10,000 pounds of ivory as well as a contract with three local rulers on board. The contract obliged Brandenburg to build a fort as a trading post. The locals were willing to support the construction and asked for a Brandenburg flag to show off their alliance visible for other traders. This treaty led to the founding of Fort Groß Friedrichsburg and of the Brandenburg African Company.
The gold that the expedition had brought back was minted into medals on behalf of Frederick William. Their obverse shows a ship – probably the returned Morian – accompanied by a Latin circumscription (in translation): Under the guidance of God and the auspices of his Highness the Elector of Brandenburg. The reverse is dedicated to the real matter of the expedition: We see a slave against a coastal landscape, offering grains of gold and ivory tusks on a large platter. Several trade ships are visible in the background. The circumscription reads (in translation): The voyage to the coasts of Guinea fortunately embarked on in the year 1681.
On behalf of the elector, the medal continued to be minted in Emden, the home port of the Brandenburg African Company, later on. And the Deo Duce – under the guidance of God – is also repeated on the later Guinea ducats, minted at the Berlin mint.
To read the complete article, see:
Slave trade, gold, and sugar: The Elector of Brandenburg as entrepreneur (http://coinsweekly.com/en/Slave-trade-gold-and-sugar-The-Elector-of-Brandenburg-as-entrepreneur/8?&id=551&type=a)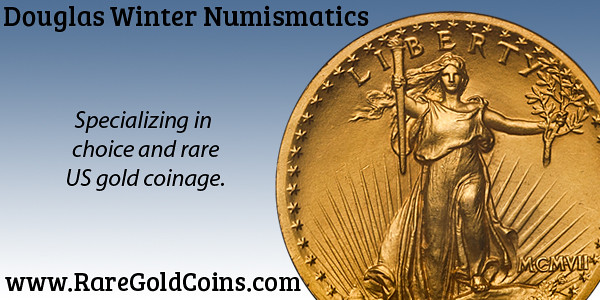 Kerry Wetterstom of Classical Numismatic Group writes:
Here's the lot description. -Editor
UNITED STATES. AR Dollar (38mm, 26.01 g, 6h). Engraved presentation piece to Major Wm. C. Shaw, 38th Indiana Volunteers. Dated 1859. Liberty seated right, holding pileus on rod and shield at her side; thirteen stars around; 1859 (date) below / UNITED STATES OF AMERICA ONE DOL. around, This coin/was captured by/Jeff Davis at the/New Orleans mint 1861/Presented to/Major Wm. C. Shaw./38th Ind. Vet. Vol. Infy./by Mack in eight lines. Fine, toned. Apparently used by Major Shaw as a pocket piece.
Major Shaw is mentioned in "A Hoosier Regiment in Dixie: A History of the Thirty-Eighth Indiana Volunteer Infantry Regiment," by Arville L. Funk (1978), where it is noted that "Major William C. Shaw, who had originally fled Kentucky in order to enlist in the Union Army, settled in New Albany, [Indiana]..."
Neat item. Interesting. I don't think I've ever read anything about this coin or one like it. I've certainly never seen one. Do our readers have more information or thoughts on this? Thanks. -Editor
To read the complete article, see:
Fascinating U.S. Civil War Era Engraved Presentation Silver Dollar (http://cngcoins.com/Coin.aspx?CoinID=299318)
Bob Neale offers this solution:
I think that first image is a "grate", as in "fireplace grate". Here's Dave's reading. -Editor
A great announcement to the public. All parents must understand that we have on have always a stock of silver and copper tipped boots & shoes. You can not but be impressed when we guarantee that one pair will last two times longer than shoes not metal tipped. An offer is extended to all. "Try our handsome genteel & durable tipped boots & shoes for boys and girls. Parents you can save in (inn) one year enough to purchase your own boots & shoes. All this will be explained at J. Pels & Son, Dealers in all kinds of Boots and Shoes, Baltimore, MD.
Dave adds:
Rebus #3: American Shoe Company, Baltimore, MD

To read the earlier E-Sylum articles, see:
REBUS PUZZLE: FORDHAM'S, MONTROSE, PA (www.coinbooks.org/esylum_v18n42a27.html)
MORE REBUS PUZZLES : Rebus #2: J. Pels & Son, Baltimore. MD (www.coinbooks.org/esylum_v18n43a17.html)

















Army top brass refused to award George West a posthumous Victoria Cross after he died while rescuing a wounded boy during the Boer War
It was the sort of exceptional bravery in the face of enemy fire which should have merited the highest honour.
But when George West was recommended for a posthumous Victoria Cross after dying trying to rescue a wounded comrade during the Boer War, the Army's top brass refused point blank.
Although nobody questioned West's valour, it was his secret past which rendered him ineligible.
For West was still classed by the British Army as a deserter.
Just a few years earlier he had fled Dartmouth Naval College after being rejected for an officer's commission because his parents 'lacked financial status.'
Instead, following his death, West was awarded the less prestigious Distinguished Conduct Medal (DCM), the second highest honour in the British Army for the non-officer classes.
West's remarkable story has only now emerged, 114 years later, after his descendants decided to put the medal up for sale.
The young man is thought to be the only British deserter subsequently recommended for a Victoria Cross.
West had been a brilliant naval rating at Dartmouth Naval College but dropped out and went Absent Without Leave, apparently angry at being made a victim of class snobbery over his family's straightened circumstances.
He assumed an alias and fled Britain, starting a new life in South Africa where he worked in the country's diamond mines.
But when the Second Boer War broke out between Britain and the Dutch-South African Boers in 1899, West, still answered the call of duty. By now in his early 20s, he joined the British Cape Town Highlanders as a private under the assumed name of John Moore.
To read the complete article, see:
The brave deserter refused Victoria Cross after mounting rescue of comrade (www.telegraph.co.uk/history/11963116/The-brave-deserter-refused-Victoria-Cross-after-mounting-rescue-of-comrade.html)
We may all be a little tired of gold Nobel Prize medals crossing the auction block by now, but these are just such important (and gorgeous) medals that I can't resist. Heritage Auctions is offering this example. -Editor
Francis Peyton Rous: Nobel Prize Medal, Diploma, and Related Materials. In 1966 Peyton Rous won the Nobel Prize for Medicine for his pioneering work that resulted in one of most seminal discoveries in medical research in the twentieth century, the relationship of viruses to cancer. Dr. Rous shared this honor equally with Charles Brenton Huggins, a specialist in prostate cancer who showed that hormone therapy could be used to control the spread of certain cancers.
The medal, designed by Swedish artist Erik Lindberg, measures 6.5 cm in diameter (approximately 2.5") and weighs 204.0 grams. Struck in 23 carat gold, the obverse features a side portrait of Alfred Nobel with the dates of his birth and death in Roman numerals. The reverse, the design of which is unique to the medal for Physiology or Medicine, "represents the Genius of Medicine holding an open book in her lap, collecting the water pouring out from a rock in order to quench a sick girl's thirst." (www.nobelprize.org, accessed July 27, 2015)
An inscription appears above the figures, reading: "INVENTAS VITAM JUVAT EXCOLUISSE PER ARTES." Taken from the sixth song, verse 663, of Virgil's Aeneid, it is translated as, "inventions enhance life which is beautified through art." The lower section of the medal bears a second inscription, "REG. UNIVERSITAS MED. CHIR. CAROL," the Karolinska Institutet. The Nobel Assembly at the Karolinska Institutet, one of the most esteemed medical universities in Europe, is responsible for choosing the laureates for the award for Physiology or Medicine.
Dr. Rous' name is engraved in a plate below the figures along with the year of the prize, 1966, presented in Roman numerals: "Peyton Rous / MCMLXVI." The medal is housed in an elegant, yet simple, maroon leather case with "P. Rous" giltstamped on the lid, surrounded by a decorative gilt border featuring four gilt fleur-de-lis in the corners. When open, the inside lips of both the top and bottom feature a giltstamped border. The medal rests securely in a fitted box of yellow velvet with satin lined top.
Accompanying the Nobel medal is the second piece of the prize, the Nobel diploma. Comprised of two printed pages, measuring 9.5" x 14" (when closed), written entirely in Swedish, Stockholm, December 10, 1966. The diploma features a gold embossed facsimile of the obverse of the medal on the first page, below which appears the quote (translated from Swedish), "To those who have conferred the greatest benefit on mankind," taken from Alfred Nobel's will.
The name "Peyton Rous" appears in gilt on the second page directly above the explanation why he has been selected to receive such a prestigious award. The diploma bears three signatures at the end, presumably members of the Nobel Foundation. Mounted in a red leather portfolio, Dr. Rous' initials appear on the front cover in gilt, surrounded by a decorative gilt border, which is also found on the rear cover. The pages of the diploma are very lightly toned around the edges. The entire diploma is housed in an olive green cloth hard case lined in brown suede with "P R" giltstamped on the front.
To read the complete lot description, see:
Francis Peyton Rous: Nobel Prize Medal, Diploma, and Related Materials (http://historical.ha.com/itm/miscellaneous/ephemera/francis-peyton-rous-nobel-prize-medal-diploma-and-related-materials/a/6149-49210.s)
Dan Freidus writes:
Thanks! I wasn't aware of this. Our own George Frederick Kolbe, Numismatic Bookseller was one of the token issuers in this book. -Editor
In 1989, Henry Morris, director of Bird & Bull Press, produced and published the book Trade Tokens of British and American Booksellers & Bookmakers. The book was accompanied by a heavy die-cut board folder containing eleven different copper tokens minted by individual booksellers & bookmakers especially for this book. The Graphic Arts Collection and Numismatics Collection have jointly acquired the dies and proofs used in the production of the these bookseller tokens.
Morris's original dies, medals, and proofs are housed in a mahogany box with a token inset on the top cover, along with a metal plate inscribed "Original Dies for Bookseller's Tokens, Bird & Bull Press."
The participants whose tokens are included here are: Bird & Bull Press, The Book Press, Dawson's Book Shop, Detering Book Gallery, Enterprise Books, Joseph J. Felcone, Kater-Crafts Bookbinders, George Frederick Kolbe/Fine Numismatic Books, G.T. Mandl (English papermakers), Iris Nevins (marbler), and Oak Knoll Books.
The tokens (with nine duplicates), along with a rough flan, were made under the supervision of Meyer Katz at the Unity Mint in Ambler, PA, from dies engraved by Kenneth Douglas at the Green Duck Co., in Olive Branch, MS. The set of 11 tool-steel dies (22 pieces), now coated with a protective lacquer, cost Morris $9800 in 1988, which he considered a bargain.

Dies and lead proofs
George Kolbe adds:
To read the complete article, see:
Tokens for Booksellers and Bookmakers (https://graphicarts.princeton.edu/2015/09/26/booksellers-and-bookmakers-tokens/)
Issued in 1849 upon the order of Ottoman Sultan Abdülmecid, a never before seen 5th emission was discovered at an Ankara-based collection house. Necati Doğan, the author and researcher who owns the banknote, said in a statement that banknotes were first issued at the time of the Ottoman Empire in the 1840s. During the term of Sultan Abdülmecid, these were first hand-written and then circulated.
Doğan said that they were also used as debt notes or treasury bills. The first emission banknotes issued by Sultan Abdülmecid were handwritten, while the others that circulated after 1841 were printed. Doğan said that some Ottoman-era banknotes were not seen in public including this 500 kurush. He added it to his special collection a while ago. He stated that there are some banknote moulds for rare banknotes kept in the printing house, yet it was the first time that a banknote of 500 kurush from the 5th emission has been revealed.
Details about the banknote were previously recorded at the General Directorate of Prime Ministerial State Archives. A tughra (calligraphic signature) of Ottoman Sultan Abdülmecid is seen on it. The seal of the then Economy Minister Hüseyin Hüsnü was put on the backside. The banknote is thinner compared to present banknotes.
To read the complete article, see:
Rare Ottoman-era banknote discovered at collection house (www.dailysabah.com/history/2015/10/27/rare-ottoman-era-banknote-discovered-at-collection-house)
Here is the (lengthy) press release with images for the December 14th, 2015 Numismatica Genevensis Auction 9 of ancient coins. Some real beauties here. -Editor
December 14th, 2015
Numismatica Genevensis SA, Geneva
Auction 9: The Joint Collection of Baron Lorne Thyssen-Bornemisza & Dr Thomas S. Kaplan
Masterpieces of Greek Coinage at NGSA
75 masterworks of Greek numismatic art will cross the auction block at Numismatica Genevensis SA on December 14th, 2015. The proceeds of this sale featuring the joint collection of Baron Lorne Thyssen-Bornemisza & Dr Thomas S. Kaplan will be donated to the Recanati-Kaplan Foundation and the Cogito Scholarship Foundation.
Thirty-five Years of Friendship is the title of the auction, which will be held by Numismatica Genevensis SA at the Hotel Beau-Rivage in Geneva on December 14th, 2015. This very special sale presents "only" 75 lots. Nevertheless, every single piece bears testimony to the deep friendship of two men, which they had fostered since they were young. Baron Lorne Thyssen-Bornemisza and Dr Thomas S. Kaplan went to the same school. Both had a profound interest in history and politics. Since their school days, they have been hotly debating issues of global politics.
Together they assembled the collection of Greek coins now sold by Numismatica Genevensis. Joining best taste and enthusiasm they were able to create one of the most outstanding collections the market has seen in the last decades.
As expected, the Auction "35 Years of Friendship" presents the finest of ancient numismatics one can think about. The quality of this collection becomes evident by taking a closer look at those specimens, which seem to be rather familiar on the first sight, but which never have been seen in such a perfect condition.
Let's take Lot 59 as an example. We all have seen staters from Caunos. On the obverse, it depicts Iris, winged messenger of the gods. Holding a snake-entwined staff and a wreath in her hands, she is rapidly progressing to the left. The reverse is of austere simplicity: It shows a conical baitylos, a cult stone that constituted the heart of many Archaic cults in Asia Minor. As we said before, this coin type is not rare at all. But look at the perfection with which the die cutter has captured the figure on the coin! How delicately and yet meticulously he has modelled the divine body through the folds of the drapery! How much artistic skill becomes apparent in the tiniest details, as evidenced by the fine toes of the back foot! All together this is truly unparalleled.
The same applies to a tetradrachm of the Carian dynast Pixodaros. Strictly speaking, this coin type is not rare, too. So far, however, not a single specimen of this coin type has been known to exist, whose obverse, struck in high-relief and featuring the facing portrait of Apollo, does not exhibit any traces of wear.
Therefore, it does not come as a surprise that a large number of the coins from this collection have been chosen as cover coins of major auction sales of the past.
We are left with nothing more than to emphasize that this auction sale features not just exceptionally fine coins but also great rarities. We would like to name only a few: the triple shekel from Cartagena with a portrait that is quite likely to represent no one else than Hannibal (five specimens known to exist, of which two are currently housed in museums), a 8 litra piece from Syracuse, which seems to have been issued during the siege of the city by the Romans (two specimens known to exist), a tetradrachm from the First Region of Macedonia which the Romans had divided (eight specimens known to exist), a unique tetradrachm from Chalcis on Euboea from the BDC Collection, and an Archaic tetradrachm from Eretria (third specimen known to exist).
It hardly needs special mentioning that the collection also features all the highlights from Greek numismatics. Let us single out only a few examples: a tetradrachm from Catane with the facing portrait of Apollo, a Syracusan decadrachm signed by Kimon, a gold stater from Panticapaeum, and a tetradrachm from Rhodes featuring a facing portrait of Apollo.
The proceeds of the sale go to the Recanati-Kaplan Foundation as well as the Cogito Scholarship Foundation.
Founded by Dr Thomas S. Kaplan and his wife, the Recanati-Kaplan Foundation focuses on the exploration and the preservation of the fauna, with a special emphasis placed on large cats and snakes. It is concerned with medical and social issues, and engages in the education of economic and political leaders in regards to their knowledge about national and international politics. What is more, the foundation supports the Hebrew Charter School Center, a community which teaches U.S. American pupils modern Hebrew.
The Cogito Scholarship Foundation, on the other hand, pursues a different goal. The future of young Arab people is a matter of great personal concern to Baron Lorne Thyssen-Bornemisza. He is co-founder of a foundation which intends to ensure talented pupils from disadvantaged families of the Near East and North Africa access to a pre-university education in the best schools worldwide.
The catalog can be viewed on the internet at www.ngsa.ch. Printed copies may be ordered at Numismatica Genevensis SA, Rond-Point de Plainpalais 1, CH-1205 Genève, phone +41 / 22 / 320 46 40, email info@ngsa.ch.
Lot 1: Qart Hadasht or Carthago Nova (Hispania). Triple shekel, ca. 221-210/09 BC. Head of Melqart-Hercules (or Hannibal?) l. Rv. African elephant r. CNH 12. Ex NGSA 5 (2008), 161. One of only five specimens known to exist. Good very fine. Estimate: 100,000,- SFr. 31.1 mm
Lot 5: Temesa (Bruttium). Stater, ca. 450 BC. Tripod, flanked by greaves l. and r. Rv. Corinthian helmet r. Basel 234 (same die). Ex LHS 102 (2008), 54, as well as Leu 86 (2003), 263. The finest specimen of this emission known to exist. Extremely fine. Estimate: 25,000,- SFr. 19.1 mm
Lot 8: Camarina (Sicily). Tetradrachm, ca. 410 BC. Athena driving galloping quadriga left, flying Nike approaching from r. and placing a wreath on Athena's head. Rv. head of bearded Herakles l. Westermark-Jenkins 151 (same die). Ex NAC 48 (2008), 26, as well as NAC 9 (1996), 139. The finest coin from Camarina ever to be struck. Good extremely fine. Estimate: 100,000,- SFr. 27.5 mm
Lot 13: Naxos (Sicily). Drachm, ca. 450 BC. Head of Dionysus with ivy wreath r. Rv. nude Silenus, holding cantharus, reclining l. Cahn 56, 40 (this specimen). Ex Virzi Coll., ex Ars Classica 17 (1934), 175, ex Kunstfreund Coll., Bank Leu & MMAG (1974), 96, as well as Leu 45 (1988), 49. Very rare, particularly in this grade. Good extremely fine. Estimate: 100,000,- SFr. 19 mm
Lot 17: Syracuse (Sicily). Decadrachm, 405-400 BC of Kimon. Galloping quadriga r., flying Nike from l., to place a wreath on the charioteer's head. Rv. head of Arethusa l., wearing sphendone signed KI; four dolphins around. Jongkees 7 (this specimen). Ex Hirsch 32 (1912), 312. Douplicate from the Berlin Coin Cabinet, separated out in the late 1930s or early 1940s. Ex Dr J. H. Judd Coll., Bank Leu 15 (1976), 118, as well as Leu 71 (1997), 80. Extremely fine. Estimate: 150,000,- SFr. 33.7 mm
Lot 21: Syracuse (Sicily). 8 litra, ca. 212. Female head l., torch behind. Rv. quadriga l., scepter in chariot. Hitherto only published in auctions. Ex Giessener Münzhandlung 60 (1992), 74, ex Moretti Coll., NAC 25 (2003), 125, as well as NGSA 5 (2008), 57. One of two specimens known to exist. Probably the last emission of the free city of Syracuse. Good extremely fine. Estimate: 50,000,- SFr. 20.5 mm
Lot 30: Panticapaeum (Taurian Chersonesos). Stater, ca. 340-330 BC. Head of a satyr with ivy wreath l. Rv. cornute griffin l., holding spear in his mouth. Gulbenkian 585-586. Ex R. Abecassis Coll., acquired by Spink in 1968, ex J. Abecassis Coll., Leu 81 (2001), 124, as well as NGSA 4 (2006), 84. Good extremely fine. Estimate: 200,000,- SFr. 20 mm
Lot 32: Cardia(?), Miltiades II (Thracian Chersonesos). Tetradrachm, ca. 495-494. Lion r., head turned back. Rv. head of Athena with Attic helmet l. Traité I, 1798, pl. 57, 15 (same die). Ex Triton 8 (2005), 247. Ex L. R. Stack Collection, Stack's (2008), 2162. Extremely rare. Probably the best specimen of this emission known to exist. Good very fine. Estimate: 30,000,- SFr. 24 mm
Lot 42: First Region of Macedonia. Tetradrachm, ca. 168 BC, Amphipolis. Head of bearded Zeus with ivy wreath r. Rv. Artemis Tauropolis reclining on bull l. Kraay-Morkholm Essays p. 237, 213 (this specimen). Ex Sitochoro / Larissa hoard from 1968 (IGCH 237), ex Leu 22 (1979), 84, ex Leu 50 (1990), 125, as well as NGSA 5 (2008), 79. Only eight specimens of this emission known to exist. Extremely fine. Estimate: 200,000,- SFr. 29.5 mm
Lot 46: Chalcis (Euboea). Tetradrachm, ca. 170 BC. Veiled head of Hera r. Rv. Hera driving quadriga with horses walking r. BCD Euboia 235 (this specimen). Ex BCD Coll., Numismatik Lanz 111 (2002), 235, as well as Nomos 1 (2009), 64. Unique. Extremely fine. Estimate: 75,000,- SFr. 31.3 mm
Lot 47: Eretria (Euboea). Tetradrachm, ca. 525-500 BC. Bull standing l., head turned back to scratch his nose with his foot. Rv. incuse square with octopus. Cahn, Monnaies Grecques Archaiques (Basel 1947), 14 (this specimen). Ex A. Rousopoulos Coll., J. Hirsch 13 (1905), 1896. Ex C. S. Bement Coll., Naville 6 (1923), 1069, ex J. W. Garrett Coll. and John Hopkins University, Bank Leu and NFA (1984), 213, ex BCD Coll., Numismatik Lanz 111 (2002), 306, as well as Nomos Fixed Price List 2008, 306. Third and best graded specimen of this type (the other two are currently owned by museums). Good very fine. Estimate: 150,000,- SFr. 35 mm
Lot 59: Caunos (Caria). Stater, ca. 410-390 BC. Winged Iris kneel-running l., holding wreath and kerykeion. Rv. baitylos. K. Konuk, Essays Price 112b (this specimen). Ex Leu 48 (1989), 239, as well as NAC 48 (2008), 98. Good extremely fine. Estimate: 100,000,- SFr. 25.5 mm
Lot 61: Pixodaros, Satrap of Caria, ca. 341/0-336/5 BC. Tetradrachm. Facing laureate head of Apollo. Rv. Zeus Labraundos r. with long scepter and double axe. Pixodaros 7-8 var. (these dies not listed). Ex Triton 12 (2009), 325. Probably the best specimen of this emission known to exist. Good extremely fine. Estimate: 50,000,- SFr. 25.8 mm
Lot 68: Pnytagoras, Ruler of Salamis, 351/0-332/1 BC (Cyprus). Stater. Head of Aphrodite l. Rv. head of Aphrodite l. BMC 26. Ex Gorny & Mosch 121 (2003), 207, as well as NGSA 4 (2006), 103. Extremely fine. Estimate: 50,000,- SFr. 17.3 mm
For more information, see:
www.ngsa.ch
In another example of "quick" government action, on Oct. 29 the Federal Register published a notice that the Mint was suspending its 104-year-old coin exchange program for six months.
The news first broke last March that recycling firms were using Chinese counterfeits to take advantage of the program, which redeemed bent and partial coins.
Among the allegations published six months ago on www.nj.com was that the Mint had redeemed more mutilated half dollars from Chinese sources than have ever been minted in the history of the United States.
I guess that would be a tip-off that something is wrong.
The Mint will use the six months to "assess the security of the program and develop additional safeguards, as necessary, to ensure the integrity of United States coinage."
ChinaDaily.com said, "In a March 20 District Court filing by the U.S. Attorney's Office in New Jersey, the government is seeking the forfeiture of $5.46 million in proceeds seized from three US-based companies involved in sending damaged coins to the Mint for payment."
So much for the commonly held belief that counterfeiting coins is not worth the bother.
The sum of $5.46 million, even divided three ways as was alleged, amounts to some serious money.
Apparently federal officials suspected something was wrong as long ago as 2009, according to both articles, when the U.S. Customs and Border Protection noticed an increase in the amount of mutilated coins coming through the Port of Los Angeles.
To read the complete article, see:
Mint stops cashing in counterfeits (www.numismaticnews.net/buzz/mint-stops-cashing-in-counterfeits?et_mid=794944&rid=238176646)
To read the original notice in the Federal Register, see:
Suspension of Coin Exchange by United States Mint (www.federalregister.gov/articles/2015/10/29/2015-27487/suspension-of-coin-exchange-by-united-states-mint)
To read the earlier E-Sylum article, see:
RECYCLERS DEFRAUD U.S. MINT WITH CHINESE COUNTERFEIT COINS (www.coinbooks.org/esylum_v18n13a13.html)
Here's some more background on the U.S. Mint Coin Redemption case from the Courthouse News Service. -Editor
Chinese scrap metal importers must face claims that they sent counterfeit mutilated coins to the United States Mint for over a decade, reaping over $47 million in legitimate currency in return, a federal judge ruled.
On March 20, 2015, the federal government filed a two-count complaint for civil forfeiture of property against America Naha Inc., Kei Yi Loung aka Kenneth "Kenny" Loung, Chien Chieng Loung, Harry Kenneth Loung, Lisa Marie Loung, and Mary Robin Loung.
The amended complaint alleges that in June 2014, the defendants sent the Mint a large shipment of mutilated coins to be melted down and converted into new currency in Iowa and Illinois foundries, via the Mint's Mutilated Coin Redemption Program.
Under the program, once coins are melted down, the Mint sends either a check or wire transfer to the redeemer, the government says. But since each mutilated coin's metallic content is worth less than its face value, the program operates at a loss, according to the feds.
America Naha and the Loungs intended to dupe the government by sending it coins that contained elements "not found in genuine United States coins" and "insufficient amounts of certain types of metals typically found in United States coins," the complaint states.
Indeed, the coins were mutilated "in a uniform manner," the government claims.
The government nonetheless claimed it owed America Naha and the Loungs over $5.45 million, and acquired a seizure warrant on Sept. 4, 2014, in New Jersey federal court.
It now seeks to seize the intercepted funds, as well as the Dallas warehouse of one of Loung's companies, Phoenix 10212 LLC, bought for nearly $1.1 million in 2009, and a 2014 Black Porsche Cayman Coupe, which Loung bought for $81,000 in 2013.
The government alleges that Loung has already received $6.4 million in payments from the Mint through the coin program, in three separate transactions wired from New Jersey.
A week after receiving the first payment, Loung allegedly wired nearly $745,000 to Phoenix's account and had the firm pay off his mortgage for the Dallas warehouse in full.
Loung bought the Porsche just nine days after receiving the second wire, the feds say.
America Naha and the Loungs moved to dismiss or sever the claims against the property.
But U.S. District Judge Jose Linares in Newark denied the motion Oct. 20.
"The amended complaint alleges that the moving claimants were involved in a systematic scheme to defraud the Mint for as much as 10 years for over $47 million," the unpublished ruling states. "It lays out convincing evidence that rationally leads to the conclusion that most, if not all, mutilated coin imports from China were counterfeit for the past 15 years, including government-led chemical and statistical analyses, as well as on-site inspections of scrap metal yards."
The feds also sufficiently alleged that Loung used the Mint money to buy the Dallas warehouse and Porsche, the judge ruled, noting the quick turnaround.
To read the complete article, see:
Chinese Importers Must Face Fake Coin Claims (www.courthousenews.com/2015/10/30/chinese-importers-must-face-fake-coin-claims.htm)
The Bangko Sentral ng Pilipinas (BSP) said yesterday said the proposed new generation coins would feature the electromagnetic signature (EMS) to guard against tampering and counterfeiting activities.
BSP Deputy Governor Diwa Guinigundo said the central bank's Numismatic Committee has already completed a study on the various security features, design, and dimensions of the new generation coins.
"We will be finalizing all our recommendations for the approval by the Monetary Board. As provided by the BSP charter we will also be going to Malacañang for the presidential approval of the proposed design, security features, dimensions of the new generation coins," he said.
To strengthen the security features of the new coins, Guinigundo explained the proposed coins would feature the EMS technology as high value coins are used in vending machines or payment for different services.
"We are also concerned about the so-called integrity of our coins. We must guard against possible tampering and issuance of counterfeit coins so we are introducing the so-called EMS that will allow the vending machines to reject counterfeits," he said.
To read the complete article, see:
New coins to feature EMS technology – BSP (www.philstar.com/business/2015/10/30/1516253/new-coins-feature-ems-technology-bsp)
We've been following for some time the currency troubles of Zimbabwe, first with their hyperinflation and more recently with the "Bond Coins" introduced to alleviate the shortage of small change in commerce. Now changing exchange rates are causing new troubles. Here's an article passed along by Pabitra Saha. Thanks. -Editor
Zimbabwe could be forced to mint hundreds of millions worth of bond coins to meet the demand for smaller denominations and end the current change crisis, a Reserve Bank of Zimbabwe (RBZ) official has said.
The economy's demand for lower denominations is estimated at as much as US$447 million, based on official money supply statistics.
Already, Zimbabwe has US$20 million worth of bond coins in circulation.
Asked to give the amount of coins sufficient to meet the country's change needs, an senior official at the central bank said: "It's not easy to determine the amount of coins we need because the economy has undergone a fundamental structural change over the past 15 years, but under normal circumstances, small denominations would be between 5 and 10% of money in circulation."
Prior to December 2014, Zimbabweans suffered a change crisis that forced many citizens to accept sweets or other items as change.
At best, consumers were given tokens that were equivalent to money but only accepted at the issuing outlet.
This was a result of lack of coins as the country struggled to import adequate change after adopting a multiple currency regime in 2009.
Although the multiple currency system had been dominated by the US dollar, the South African rand coins topped smaller denominations as the US coins are heavy and expensive to import considering too the distance between Zimbabwe and the USA.
The Reserve Bank of Zimbabwe is on record saying shipping the US coins from the USA can cost Zimbabwe millions of US dollars which will make the production and importation price above the real value of the coin.
Naturally, the economy resolved to use South African rand coins.
However, the South African rand coins were not enough to meet demand, with change problems being witnessed more in areas that are further from the Zimbabwe and South African border.
To fix the problem, RBZ governor John Mangudya, introduced bond coins in December 2014 that were to be distributed through normal banking channels in denominations of 1c, 5c, 10c and 25c, while the 50c coin was to be later introduced in March 2015.
The value of the bond coins is at par with the US cents.
The value of bond coins is guaranteed by a fifty million dollar bond facility hence the term bond coins.
The bond coins were at first treated with some suspicion, firstly in terms of their ability to store value versus the foreign currencies given the reputation left by the Zimbabwean dollar during the hyperinflation era and as a way in which government was attempting to smuggle back a defunct local currency.
A few months later, retailers and informal business preferred the bond coins to South African rands mainly because their value is equal to the US dollar.
The new change system has however been disrupted, due to continued devaluation of the South African rand against the US dollar.
Pabitra Saha adds:
To read the complete article, see:
Central bank mulls more bond coins (www.theindependent.co.zw/2015/10/30/central-bank-mulls-more-bond-coins/)
In the found-while-looking-for-other-things department is this medal related to the sport of baseball, given at most annually by the Society for American Baseball Research (SABR). -Editor
The Idea for the Award

In the last year of Dr. Harold Seymour's life, two important men realized that he deserved national recognition for his achievements. They were Thomas R. Heitz, director of the National Baseball Library in Cooperstown, and Lloyd Johnson, director of the Society for American Baseball Research. "Dr. Seymour," said Tom Heitz in July of 1992, "is without question the prototype and ultimate role model for baseball history practitioners."
Formal Proposal
The award (said the proposal) was to be named in honor of Dr. Harold and Dorothy Seymour, "whose lifetime contributions to baseball's historical scholarship are unparalleled." A bronze medallion would be struck, with a suitable baseball design, to be awarded annually "in order to encourage baseball historians, both professional and amateur, to attain the highest standards of historical scholarship, as exemplified by the published works of Dr. Harold Seymour, and to honor those whose works reflect these standards." Recipients of the medal would be honored at annual SABR meetings and invited to make a special presentation of their work.
The proposal established rules for a book's consideration. Recipients should demonstrate exceptional scholarship, superior writing skills, and the full range of conceptual, theoretical, investigative, and analytical skills employed by accomplished historians. Those who had broken new research ground would be preferred. Recipients need not be trained historians, but their work must reflect "baseball historical scholarship and analysis."
SABR accepted this proposal.
Preparation of the Medallion
As Tom Heitz had predicted, it took a year for the proposal to move into the phase of preparing the medallion itself. Morris Eckhouse, President of SABR in 1993, enlisted the talents of Cleveland illustrator Jeff Suntala, who was also a SABR member, to design the medal. I was asked to send photos of both of us in profile, answer questions about Seymour's life and participation in the game, and comment on the artist's initial sketches. After I approved the final design, Morris Eckhouse assigned the preparation of the medal to the Emblem & Badge Company of Providence, Rhode Island.
To read the complete articles, see:
The Seymour Medal (http://sabr.org/about/seymour-medal)
SABR and The Seymour Medal: How Did it Happen? (www.drharoldseymour.com/index.php/winners)
Here are a few items that caught my eye in the November 20, 2015 sale from Early American History Auctions. -Editor
Lot 147: 1773 Colonial Virginia James River Bank Form

JOHN BLAIR & PEYTON RANDOLPH. Randolph was Speaker of the Virginia House of Burgesses, Chairman of the Virginia Conventions, Governor of Virginia and served as the President of the Continental Congress. JOHN BLAIR was one of the Founding Fathers of the United States of America. He was a Delegate from Virginia, and one of the Signers of the Constitution of the United States.
Fr. VA-69. Virginia. April 1, 1773. Manuscript Date. James River Bank Form. Signed by both "Peyton Randolph" and "John Blair."
To read the complete lot description, see:
1773 Colonial Virginia James River Bank Form Signed by President of the Continental Congress "Peyton Randolph" & Founding Father "John Blair" ONLY 500 PRINTED ! (www.earlyamerican.com/Auctions/ClientPages/lots.item.php?auction=30&lot=147)
Lot 171: 1775. Eight Shillings. New-York Water Works

City of New York. August 2, 1775. Eight Shillings. "New-York Water Works" Issue. Gem Crisp Uncirculated.
Fr. NY-175. A superb, bright and fresh red and black printed note having fabulous broad margins and excellent centering. The image of a new Water Pump vignette shown on the reverse.
Great condition note, and I really like the image of the water pump. -Editor
To read the complete lot description, see:
Colorful August 2, 1775 New York Eight Shillings Note (www.earlyamerican.com/Auctions/ClientPages/lots.item.php?auction=30&lot=171)
Lot 197: 1778 South Carolina 20 Shillings

South Carolina. April 10, 1778. Twenty Shillings. "Horse" vignette. Edge & internal damage, stained. PMG net graded Choice Fine-15.
Fr. SC-151. A rare whole and complete 20 Shillings with the popular "Horse" vignette. This is a higher denomination on this April 10, 1778 Revolutionary War South Carolina paper money issue. This note is well centered with four full margins and has a bold sharp "Horse" vignette. Very Rare
To read the complete lot description, see:
April 10, 1778 20s "Horse" Vignette South Carolina Rarity (www.earlyamerican.com/Auctions/ClientPages/lots.item.php?auction=30&lot=197)
Lot 247: Broadsheet of Rare U.S. Coins, A.M. Smith

c. 1881 Broadsheet Illustration of Rare U.S. Coins, Published by A.M. Smith, Philadelphia, Choice Very Fine.
First we have seen of this very impressive and simply wonderful, circa 1881 Broadsheet Price Guide of Rare U.S. Coins, measuring approximately 12" x 19", printed front and back. Well printed in sharp black upon clean, wove period paper and lightly quarterfolded. There are more than 100 large illustrations of rare early American Coins and Medals featured on this historic Broadsheet. It was published by A.M. Smith, Philadelphia.
Heading reads, "These are a few of the Illustrations of Rare and Valuable Coins for which a high premium is paid. Description, market value, and full history of these and many more (also illustrated) can be found in our work on Coins and their History."
We date this Broadsheet to "1881" as there is an illustration of an 1881-Dated James A. Garfield Presidential Medal at lower left on its reverse side. What an outstanding display this would make for any American Coin and Medal collector! First we have seen and offered
Great item of U.S. numismatic ephemera. -Editor
To read the complete lot description, see:
c 1881 Broadsheet of Rare U.S. Coins, A.M. Smith, Phila. (www.earlyamerican.com/Auctions/ClientPages/lots.item.php?auction=30&lot=247)
For Pete Smith's Award-Winning Exhibit on A.M. Smith, see:
The Challenging literature of A. M. Smith (www.coinbooks.org/about/exhibit_amsmith.html)
Based on dealers', mints' and central Banks' news mails, ultra-modern numismatist Pabitra Saha reports on the latest coin designs. Here are some that caught my eye recently. -Editor
Hungary 2000 Forint - Miksa Roth

This coin honors Miksa Roth, Founder of Hungary's central bank. The obverse seems rather flat, but I think it's a nice design. And I appreciate the unusual perspective of architecture on the reverse. My neck hurts from looking up. But I like it! -Editor
Turkey 2015 20 Turk Lirasi

This coin in Turkey's city series honors Nevsehir Ankara. I like the rocky landscapes and architecture. Well done, I think. And I have a soft spot for coins and medals featuring hot air balloons. I took a ride in one once, and had a blast. Highly recommended. -Editor
Ukraine 5 Hryven 2015 Pidhirtsi Castle

Another architectural design, in classic style. This one's even more impressive when enlarged - click on the obverse to see a larger version in our Flickr archive. I like it. -Editor
India 2015 -Indo African Summit

> Um, what the heck IS this mess? Superimposed maps? I'm totally lost on this one. -Editor
Otha Anders saved his first penny more than 45 years ago when he found it on the ground.
The coin reminded him to pray and give thanks.
"I became convinced that spotting a lost or dropped penny was an additional God-given incentive reminding me to always be thankful," said Anders, 73. "There have been days where I failed to pray and more often than not, a lost or dropped penny would show up to remind me."
Fifteen five-gallon plastic water jugs and half a million pennies later, Anders on Tuesday deposited $5,136.14 into his account to go toward a recent dental bill.
He cashed in the coins to the Ruston Origin Bank, in Ruston, La. After that first coin, Anders said his penny pile began to grow and he ultimately stopped spending pennies and always made sure whenever he made a purchase, his change contained at least three to four pennies.
Bank Vice President Jennie Cole said it was not a typical day at the bank when Anders had his collection of pennies rolled in on a dolly, but Anders is a longtime customer who they wanted to help.
Anders said he has truly enjoyed looking at his penny collection to the extent that in the 1970s, when the U.S. government offered a $25 bonus for every $100 worth of pennies turned in, he refused to cash in his collection.
Five of Anders' closest friends and family helped him and bank employees load the coins from the back of a pickup truck into the company's coin room.
During the five-hour process of counting the pennies, the plastic jugs were hacked open with an ax and hammer.
The pennies were then poured into the coin machine with small plastic buckets.
Anders sat next to the machine watching his collection go down the counter and the bank workers come in to the change the coin bag every 20 minutes, since the coin machine bags need to be changed after every $50.
To read the complete article, see:
Man cashes in pennies he's been saving for 45 years (www.usatoday.com/story/news/nation-now/2015/10/28/man-cashes-pennies-hes-been-saving-45-years/74727160/)
It's money he's after. But the old banknotes the artist is hunting will hardly buy a cup of tea, even if they were legal tender.
Zwe Yan Naing's third solo exhibition, Portraits of Revolutionary, is to go on display at Yangon's 7th Joint Bar, from October 31 to November 6, and will showcase seven of his latest works.
One of the country's leading artists, Zwe Yan Naing has held many exhibitions abroad as well as the two he has staged here. He depicts well-known political figures using 20th-century banknotes and postage stamps.
"To our ancestors K1 was to be treasured. But now, it's just a joke. If we don't make an effort to preserve them, these old banknotes will disappear, along with our memories of older generations. I'm trying to preserve history in the form of art because I believe art never dies, and neither does history," he said.
Since 2010, Zwe Yan Naing has been portraying revolutionary heroes on canvas using the K25 (1972), K35 (1986), K75 (1987) and K90 (1987) notes he has painstakingly collected, all now worth nothing because of demonetising in the past.
Pre-eminent among those images is that of General Aung San. His other works include luminaries like U Thant, Aung San Suu Kyi, songwriter and singer Htoo Aein Thinn and many others.
"Old banknotes are not easy to find," said the artist in a recent interview. "I get them mostly from antique dealers in Bogyoke Aung San Market and sometimes from collectors. They charge me about K50,000 per 100 notes, sometimes more. Old stamps are even harder to find."
Before 2008 Zwe Yan Naing was banned from exhibiting his work as his creations depicted political figures such as Aung San Suu Kyi, which were not allowed at the time. But even now that censorship has ended, the artist continues to feel anxiety over his work. "I want to continue to create unrestricted art. But I worry that with this banknote art I'm making a high-risk investment – I could be censored at any time."
To read the complete article, see:
Revolutionary artist gets a run for his money (www.mmtimes.com/index.php/lifestyle/17275-revolutionary-artist-gets-a-run-for-his-money.html)
While the Halloween holiday is usually marked by transactions conducted in bite-sized chocolates by pint-sized superheroes, it seems that now there is a currency that will stand up to whatever creepy characters roam the streets. No, it's not a pumpkin-spice silver dollar or a "Thriller" buffalo nickel. It's even better.
Zombucks are the "Currency of the Apocalypse," an undead collection that features "10 historical figures and coin designs [fallen] victim to the zombie apocalypse." Provided as an exclusive series from Provident Metals, Zombucks have been released to help purchasers "prepare for the apocalypse and fight the bite…!"
There's the Zombucks "Dying Eagle," a representation of the late-1850s Flying Eagle cent. There's the Zombucks "Starving Liberty," the "Feast Dollar," the "Murk Diem," and perhaps my favorite of all, the "American Zombuff." All of the coins are in limited mintage and take inspiration from well-known, historical coin designs like the Buffalo nickel, the Walking Liberty, the Morgan Dollar, and more. Sales began in 2013 with the first design, the "Walker," and have recently concluded with the final design, "The Saint," inspired by the Double Eagle gold coin sculpted by Augustus Saint Gaudens. Each bullion round is struck with 1 oz. of .999 fine silver or copper.
As long as we're in a fantasy land, we might as well have a time machine and market products dated into the future - 2017, 2018, and 2019. -Editor
To read the complete article, see:
Happy Halloween: A Look at the "Currency of the Apocalypse" (http://news.coinupdate.com/happy-halloween-a-look-at-the-currency-of-the-apocalypse/)
To visit the Provident Metals Zombucks site, see:
www.zombucks.com
To read the earlier E-Sylum article, see:
STARVING LIBERTY ZOMBUCKS (www.coinbooks.org/esylum_v18n20a20.html)
"NumiStorica.com was created to provide free entertainment and education for coin clubs and advanced numismatists, and I have just added a show on 'Santa Claus on Obsolete Notes' in time for the Holiday Season" noted numismatic story-teller Bob Korver.
Four new 'slide shows' for coin club presentations and advanced numismatists have just been posted. "The new shows are broken into smaller "PDF" files for posting, but anyone — or any club — who contacts me can obtain a disk with the complete QuickTime movie version, a complete PDF version, or the original Apple Keynote version.
"YES, VIRGINIA, There Is Very Definitely A SANTA CLAUS IN NUMISMATICS" (30 minutes) explores the Santa vignettes found on the Obsolete Notes of the Durand Collection. The place of these images in the standardization of the Santa persona — a 19th century American phenomena — is detailed, as well as a short history of what is now the world's favorite religious and secular Winter Holiday.
"CERES, Goddess of Agriculture: From Roman Coins to American Obsolete Currency!" (50 minutes) covers a wide range of numismatics — some two centuries. I look at Roman coins for attributes that distinguish Ceres, and then search for these symbols on American Obsolete notes. Do these notes depict Ceres? Pioneer Woman? Both? Includes a civilized discussion on the symbolic role of bared breasts in art, both for real women and real goddesses. This is two slide shows in one; the question arises how many women is 'Ceres'?
"LIFE IMITATING ART (Or Something Very Much Like That!)" (15 minutes) is only modestly numismatic, but it touches on a key concept in our hobby. We say that Numismatic Art reflects the values of its producing society. But what happens when Life is based on artistic fantasy? Reader feedback will be critical on this topic. And maybe it will change the way you look at some of the world around you. Certainly Disney Dollars.
"Major George Armistead & America's Star-Spangled Banner" (20 minutes) recently won a First Place Award from the North Texas Business Council for the Arts. This presentation is about genealogy and teaching family history to a new generation. It helps to have family connections to the original Star-Spangled Banner and to the Spot/Spoot tokens; but every family has ties that can make the past vibrant, and numismatics can be an important part of that process.
These four new presentations join the previous three that helped the NumiStorica.com website win the coveted "Best Non-Commercial Website of 2015" award from the Numismatic Literary Guild at the Chicago ANA (for which I am incredibly appreciative).
To visit the web site, see:
www.numistorica.com
Eest Roc Wite Cotes thought their medical spelling knowledge would get them through. 2 Bee or Not 2 Bee came prepared with glittery antennae. The ElizaBEEThans went all out in costume, hoisting on wigs and poofy skirts as good luck charms. Spellaby Street offered bookies — book-themed cookies — along with their immaculately spelled answers.

And the Independent Spellers — that's three journalists from this esteemed publication, including me — missed delirium. Oops.

These squads lined up to compete in the fourth annual New Haven Reads Spelling Bee, the literacy-based organization's largest annual fundraiser.

Located at the Yale School of Management and presented by Higher One CARES, this year's competition drew its largest audience yet this past Friday night, featuring 46 "swarms" of three spellers and raising $30,000. That money will support New Haven Reads' literacy programs, which currently serve 450 students out of three sites across the city.

The bee's festivities — and its participants — celebrated that joy of literacy and learning throughout the evening, honoring the organization's 400 tutors by lending to words like numismatic and isosceles a sense of complete fun, as even woefully incorrect spellers giggled themselves off the stage at the end of each round.

"I couldn't make it last year, and this year when I got the email I signed up" said Ellen Schowalter, member of the winning Spelltaculars — who buzzed through anencephalic all the way to numismatic, the final word that clinched the victory — with her mother and husband. "It was fun. I didn't expect to actually go all the way, but it was fun. If the dates work, I'd love to do it again next year."

To read the complete article, see:
Spelltaculars Win With "Numismatic" (/www.newhavenindependent.org/index.php/archives
/entry/a_spelltacular_night/)

This week's Featured Web Page is actually a commercial site for an e-book on Office of Price Administration (OPA) tokens.