About Us
The Numismatic Bibliomania Society is a non-profit organization devoted to the study and enjoyment of numismatic literature. For more information please see our web site at coinbooks.org
Subscriptions
Those wishing to become new E-Sylum subscribers (or wishing to Unsubscribe) can go to the following web page link
Membership
There is a membership application available on the web site Membership Application
To join, print the application and return it with your check to the address printed on the application. Membership is only $20 to addresses in the U.S., $25 for First Class mail, and $30 elsewhere. For those without web access, write to:
Terry White, Treasurer
Numismatic Bibliomania Society
P. O. Box 39 Hilliard, OH 43026-1278s
Asylum
For Asylum mailing address changes and other membership questions, contact Terry at this email address: terrywhite5475@yahoo.com
Submissions
To submit items for publication in The E-Sylum, just Reply to this message, or write to the Editor at this address: whomren@gmail.com
BUY THE BOOK BEFORE THE COIN
Sale Calendar
New subscribers this week include: Jeff S. Rader, J. D. Jameson and William Holly. Welcome aboard! We now have 1,907 subscribers.
This week we open with word about the latest Asylum issue, a new digital offering from the Newman Numismatic Portal, two literature auctions, three new books and two reviews.
Other topics include Albert Pick, Evelyn Mishkin, Randolph Laughlin, the 1991 ANA banquet photo, the Peale Report, Zerbe's Lesher Dollars, Haym Salomon medals, Hawaii notes, banknote processing in China, and Motion Picture money.
To learn more about the C4 Newsletter, the Pogue Collection hardbound catalogs, Islamic coin values, retired admirals, the mummy's tattoo, the Contamin die engraving pantograph, the Yosemite National Park Medal, Naramore's Banknote Detector, And the $41 million couch, read on. Have a great week, everyone!
Wayne Homren
Editor, The E-Sylum


The editor of our print journal, David Yoon, sends this report on the latest issue. Thanks! -Editor
Another issue of The Asylum is at the printers. Here are the contents:
Editor's Introduction
Joel J. Orosz, "Ford, Farrell, and G. Frederick: A Cautionary Tale Advocating Assumption Avoidance"
Paul Withers, "Researching and Writing a New Catalogue of Anglo-Gallic Coins"
David F. Fanning, "Off the Shelf: John Allan's 1839 'On Coins and Medals'"
Joel J. Orosz, "Numismatic Bibliomania Society Annual Meeting 2015"
Elizabeth Hahn Benge, "Numismatic Bibliomania Society Symposium 2015"
NBS Treasurer Terry White adds:
To join NBS or renew your annual membership, see:
http://www.coinbooks.org/about/membership.html
Len Augsburger is the Project Coordinator for the Newman Numismatic Portal. He submitted the following note about the latest U.S. numismatic periodical to be made available through the portal. -Editor
The Newman Portal is pleased to announce the online availability of the C4 Newsletter, for the period 1993-2011. The Colonial Coin Collectors Club was launched at the 1993 Baltimore ANA and Editor pro tem Michael Hodder produced the first newsletter, distributed to the extent of 100 copies, several days later. Since that time, the C4 Newsletter has presented an enticing mix of numismatic substance and social appeal. The most recent issues are in full color and ably managed by Editor Syd Martin and Assistant Editor Will Nipper. The Newman Portal wishes to thank President Jim Rosen and the C4 board for sharing this material with the wider numismatic community.
To view the C4 Newsletters on Internet Archive, see:
https://archive.org/details/newmannumismatic?and%5B%5D=C4+Newsletter&sort=-date
David Fanning forwarded this note about the catalog for the firm's January 2016 New York Book Auction. Thanks. -Editor
The catalogue for Kolbe & Fanning's 2016 New York Book Auction has been posted to the firm's online bidding platform at auction.numislit.com. Every lot is illustrated in color and absentee bids can be placed at any time prior to the sale. Live online bidding will be available during the sale itself through the same platform.
Printed copies of the catalogue have been mailed to active customers on our mailing list. A PDF of the printed version is also available on the main Kolbe & Fanning website at numislit.com for anyone wishing to download the sale or search by keywords.
This year's New York Book Auction features remarkable rarities and important works from around the world. With the celebrated RBW Library on Roman Republican coins serving as its foundation, the sale's offerings span the numismatic spectrum.
As a reminder, bidders may participate in this sale in a variety of ways. Please feel free to send us your bids via post or send us an e-mail. Give us a call or shoot us a fax. For those who prefer the experience of live bidding, please check out the live bidding platform at auction.numislit.com. Register in advance of the sale and browse the lots at your leisure: all lots are illustrated in the online catalogue. Absentee bids can be placed in advance, so you don't have to worry about remembering the sale or finding yourself unexpectedly occupied on the day of the sale. Bids will be reduced as competition dictates and the privacy of your maximum bids is maintained. Please contact David Fanning at df@numislit.com with any questions.
Thanking you in advance for your bids,
Kolbe & Fanning
To read the earlier E-Sylum articles, see:
KOLBE & FANNING 2016 NEW YORK BOOK AUCTION ANNOUNCED (www.coinbooks.org/esylum_v18n48a02.html)
KOLBE & FANNING 2016 NEW YORK BOOK AUCTION HIGHLIGHTS (www.coinbooks.org/esylum_v18n49a03.html)
Last week Kerry Wetterstrom pointed out a sale of numismatic literature in VAuctions sale #318. I reached out to the seller Triskeles for lot images and here they are, thanks to John C. Lavender. The sale closes December 15, 2015. -Editor

Lot 595

Lot 618

Lot 681

Lots 670 and 691
For more information, or to bid, see:
Sale 318 Triskeles Auctions Books & Publications (www.vauctions.com/APViewInCat.asp?ID=18)
To read the earlier E-Sylum article, see:
NUMISMATIC LITERATURE IN VAUCTIONS SALE #318 (www.coinbooks.org/esylum_v18n49a04.html)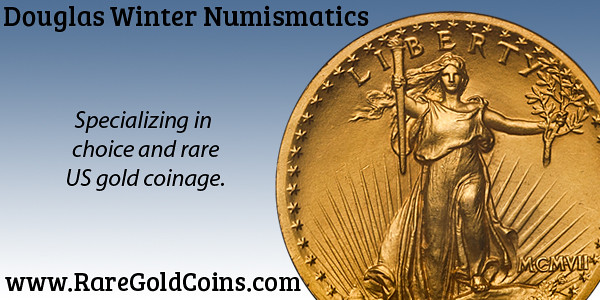 Jim Halperin of Heritage Auctions has officially announced the publication of the new biography of America's numismatic elder statesman, Eric Newman. The announcement was made on Halperin's Facebook page. -Editor
The cover art hasn't been finalized, but Len Augsburger shared the above photo of Eric and his wife Evelyn at home, taken in the 1960s Stay tuned for more information on the book. -Editor
To read the complete article, see:
www.facebook.com/james.halperin
Stack's Bowers is offering special deluxe hardbound versions of the Pogue sale catalogs. What a wonderful set this will be! -Editor
You are invited to subscribe to one of the most important sets of books ever to be published in American numismatics: special deluxe hardbound volumes of the D. Brent Pogue Collection: Masterpieces of United States Coinage. Volume 1 is now available, bound in dark navy leather with gold foil enhancement and with prices realized.
The set of catalogs cover in depth American copper, silver, and gold coinage from the first year of the Philadelphia Mint's operation, 1792, into the late 1830s as well as some rarities and specialized later series. Each contains highly readable text combined with much research information not available from any other single source. Your cost is only $150 for a single catalog. Limit: one copy per buyer and subject to availability.
You are further invited to subscribe to the full suite of five catalogs and receive a special 20% discount on each issue. You will be billed for each one as they come available. In this way you will be assured of receiving each volume as it is published. As a special bonus, a custom box will be made to house the set and will be sent with our compliments.
We look forward to your order, and you can look forward to some of the finest, most informative, and deluxe volumes ever published in the field of American numismatics.
For more information, or to order see:
Masterpieces of United States Coinage Part I (www.stacksbowers.com/SBGDirect/BuyCoins/PD/tabid/236/
ProductID/927073/Default.aspx)
Carol Bastable writes:
Numismatics in fiction is a great sideline with many titles available for the interested reader. Below is the book description from Amazon. -Editor
Alex Dunn owned one of the most valuable collections of hobo nickels in the world, and it appears somebody killed him for it. Now Roy Ballard and Mia Madison are hired by the insurance company to track the collection down, which means they might reveal the identity of the killer in the course of their investigation. But the more they dig, the more suspects they uncover, including Dunn's children, his ex-wife, and a buxom masseuse who takes a hands-off approach to the services she offers.
Length: 260 pages
Author Ben Rehder writes:
Hobo Nickels have quite a following, and prices have risen steadily in the years since I was first introduced to them. It wouldn't make sense for the motive to be money however, since each carved nickel is virtually unique. There can be no legitimate aftermarket for a stolen collection, since nearly every individual coin can be confidently attributed. Great premise for a book, though. It's nice to see this numismatic sideline getting more mainstream exposure. -Editor
For more information, or to order, see:
If I Had A Nickel (Roy Ballard Mysteries Book 3) (www.amazon.com/gp/product/B018F1SOG2/)
Tim Wilkes, Islamic Coins & Their Values. Volume 1: The Mediaeval Period. Spink, London, 2015. 285 pages, coloured illustrations. Hardcover, 14,5 x 22,3 cm. 978-1-907-427-49-7. GBP 40.
Collectors who assemble Islamic coins face many challenges. The often calligraphically beautifully designed specimens usually do not reveal very much to the user if he or she does not possess a basic knowledge of the Arabic language at least. Not least because of this the West witnesses only so few collectors of those intriguing coins. Dealers, on the other hand, can no longer afford the luxury to forego Islamic coins. They repeatedly face the problem of having to catalog the coins in a reasonably accurate way. So far, they used to check with the, nowadays rather outdated book "The World of Islam", written by Mitchinger. Now, Tim Wilkes has published a new catalog. Lavishly illustrated, it gives the current prices for 2999 coin types in the grading "very fine".
First of all, do not expect too much of this book. It is what the Swiss call "sec", an outright consistently dry basic list of Islamic coins. Chronologically, it focuses on the Middle Ages, on the period between the 7th and the 16th century. Arranged partly according to dynasties, partly to geographical units, the different denominations are presented here, classified according to ruler. Number, name of ruler, and denomination are stated. That's it. Nothing else.
In most cases an illustration is provided, as well as an assessment in US dollars for every single number, except for extremely rare pieces. You will find brief historico-numismatic introductions and – highly convenient – the relevant specialist literature, if existing.
We must not forget that this is the first edition of a catalog which, thanks to the increasing interest in the Islamic world, will be reprinted again and again in the years to come. It is a very useful tool, which, certainly and very soon, nobody would like to do without anymore. The numbering "Volume 1" points to a follow-up, dealing with the modern era, which the author is currently working on. He attends many coin fairs. Therefore, talk to him about the information you would like to see included. I for one would wish for an Arabic alphabet and a schematic drawing for the large series – the Abbasids, for example – which can tell me where to find which information on the coin.
But this is only one of many possible suggestions. First of all, it is an achievement in itself that this catalog makes it easier to identify Islamic coins.
To read the complete article, see:
Price guide for Islamic coins (www.coinsweekly.com/en/News/4?&id=3806)
To order the book at Spink, see Islamic Coins and their Values, Volume 1: The Mediaeval Period by Wilkes, T. (www.spinkbooks.com/product.php?xProd=541&xSec=47)
Victoria Cross medals, Britain's highest military honor, are popular with both collectors and the general public. A new book compiles the stories of winners of the medal from World War I. -Editor
In this commemorative year, a new book has been published which offers a definitive illustrated history of those who were awarded Britain's highest military accolade for valour during the Great War.
Victoria Cross Heroes of World War One, by Robert Hamilton, tells the inspiring, moving and humbling stories of all 627 VC recipients – including double-VC winner Captain Noel Chavasse – and features more than 2,000 rare and unseen photographs.
This is a fantastic book – prepare for many of the stories to bring a tear to your eye. It has something for everyone from the history buff to those who just love a good read.
To read the complete article, see:
Book Review – Victoria Cross Heroes of World War One by Robert Hamilton (www.pressandjournal.co.uk/fp/lifestyle/books-reviews/769019/book-review-victoria-cross-heroes-world-war-one-robert-hamilton/)
Is anyone familiar with this book? It has an economic perspective, but might provide some useful background and context for numismatists. -Editor
To read the complete article, see:
The Making of National Money: Territorial Currencies in Historical Perspective (https://books.google.com/books?id=gJX1buNKHj0C)
There are only some few German numismatists who are known to a world-wide numismatic community. One of those is Albert Pick, the founder of notaphily. He has not only written seminal books about the history of paper money, but also a catalog that became famous to such an extent that, nowadays, you just need the Pick number in order to know exactly which banknote is meant.
The reason for the incredible fame of Albert Pick is both, his phenomenal expertise and the fact that most of his books were translated into English almost immediately. To Pick, this was important. And he had good reason for that. In the 1970s, he was one of a handful of Germans who spoke pretty good English. He had learned it during the year he had spent in the US, as a POW, a prisoner of war after the German defeat in World War II.
Pick lacked any bitterness that he was forced to spend a whole year of his life in captivity. He liked to speak the language of those who had offered him "their hospitality". To him, the end of the war was the beginning of a new life. Albert Pick must have had many good experiences during that year. It was his desire to give his "hosts" something in return, something he possessed in abundance: numismatic knowledge. With this man, who died on November 21, 2015, CoinsWeekly honors a numismatist who has built numismatic bridges to a country he had fought with a weapon in his hands when he was young.
Here's the full text of the article on Pick. -Editor
There are only a few who are so closely connected with a sub-discipline of numismatics as Albert Pick. Up to the present day, paper money collectors throughout the world state the Pick numbers to make sure that are properly understood when referring to a specific bank note. In doing this, they honor this pioneer and collector who has not only written books on the subject of collecting but assembled one of the most important collections of paper money himself.
Born on May 15, 1922, in Cologne, Albert Pick is said to have been only eight years old when he started collecting paper money. In 1930, he got two emergency bank notes for one pfennig. That was a small amount of capital well-invested. As an interest, it brought him a lifelong interest in history and far away countries. First, however, he shared the fate of many Germans. From the school desk he was sent to the front, and became a prisoner of war after WWII. Albert Pick lived in the United States of America for one year where he acquired his outstanding English skills for which he was often praised by his American friends.
After returning, Albert Pick studied German studies, philosophy, and history. Until 1964, he headed the Kölner Universitätsverlag as managing director. And during that time he collected. He collected to an extent that it is hard to imagine nowadays, and that was more or less due to the fact that the collecting area he was interested in, bank notes, had not even come into existence at that time.
180,000 bank notes were assembled by Albert Pick: a huge collection that far exceeded the means of one individual in terms of storage, documentation and conservation. For this reason, he gave the assemblage to the Bavarian Mortgages and Exchange Bank in 1964. At the same time, the bank appointed him curator of his own collection, thus providing Pick with the opportunity to continue purchasing. 300,000 bank notes currently form part of the collection which, in 2003, was incorporated into the HBV Stiftung Geldscheinsammlung which closely collaborates with the Staatliche Münzsammlung München.
In addition to his duties as a curator, Albert Pick made use of the vast amount of material available to him. Accessing it, he wrote many seminal books on the subject of paper money. Published in 1964, his ground-breaking book "Papiergeld" (Paper Money) provided the first historical overview of this specialist field. In 1970, his paper money catalog "Europa seit 1900" (Europe since 1900) was released.
Indeed pioneering was Pick's decision the following year, to have this work translated into English. That made both his person and his book internationally known. Published in 1975, his "Standard Catalog of World Paper Money" was the hour of birth of the Pick number system which is used down to the present day.
Right from the start, Albert Pick focused on internationality. That is why he belongs to the few German numismatists which are widely known with American collectors as well. The young soldier of the past, who used to fight on behalf of a criminal regime, seized the opportunity to embark on a peaceful mission and build a bridge between German and American collectors.
On November 21, 2015, Albert Pick died in a nursing home at the age of 93. With him, we lose a numismatic legend.
To read the complete article, see:
Albert Pick (1922-2015) (www.coinsweekly.com/en/News/4?&id=3801)
To read the earlier E-Sylum article, see:
WORLD PAPER MONEY AUTHOR ALBERT PICK PASSES AT 93 (www.coinbooks.org/esylum_v18n48a10.html)
Susan Trask

The Civil War Token Society lost a great asset in October. She entered our group quietly in December 2013. With no fanfare, a wonderful sense of humor, and a creative talent that amazed us all, she began laying out SC3 with John Ostendorf. Before long she was forging lasting friendships with many in the CWTS. What our general membership may not know is how instrumental she was in getting SC3 over the finish line, how she contributed to the production of the CWTJournal (every edition since I took over as editor), and the 7 months of work she did with Mark Glazer, Steve Hayden, Dave Bowers and me on the 6th Edition of Patriotic Civil War Tokens.
Evelyn was humble and somewhat shy about her talents. She had a way of bringing out the genius in her associates and was quick to give them the credit that really was due her.
This past August in Chicago at the NLG awards, SC3 garnered the top award. Since she was not able to attend ANA, Evelyn made me promise to share the outcome of the awards with her. So very late that evening I sent her a photo of John Ostendorf holding the plaque for their publication. She texted how she was shedding tears of joy at John's accolades. At the same time we were all toasting Evelyn's beautiful work. Little did any of us know at the time that she would only be with us for such a short while.
She left us with no more fanfare than when she entered. Graciously she asked to have her illness kept quiet as she believed she would beat it. She knew she would be around to finish all her numismatic projects. Somehow I know she will be here with me to carry Patriotic 6th Edition over the finish line. That's just the kind of friend she is.
Dave Bowers
If prompted I could write a book about Evelyn. She lived in Santa Barbara, California, and I lived in Beverly Hills, two hours away. We became close friends and confidants, sharing our concerns with each other, often by late-night telephone calls that lasted an hour or two. Her maiden name had been Evelyn Rose Castino, and she sought to get an ERC license plate. Sorry, but that was taken. "Why don't you make it a bit French, as ERCQUE," I suggested. She did. And I called her that for the rest of her life unless others were around, at which time she was "Evelyn."
Fast forward to a few years ago. She was a skilled writer and editor, and, as it turned out researcher and graphic artist. She was looking for a new horizon for her talents. At any given time I am usually immersed in researching several books and finalizing one or two. "I have just the project for you!" I exclaimed. I was finishing A Guide Book of Disc Music Boxes, a comprehensive (600 to 800 pages) study of this field, which at the turn of the 20th century was a prominent worldwide industry. I put her in touch with Terry Smythe of the Automatic Musical Instrument Collectors Association (AMICA), the intended publisher. She jumped in to work with Terry and also to help me with esoteric research, such as visiting the factory building that once housed the Symphonion Music Box Company and reporting what she learned. I was impressed!
Stack's Bowers Galleries was working on various books that also involved research and editing, including one on Liberty Head double eagles 1850-1907 and two on the D. Brent Pogue Collection, not to overlook some work on auction catalogs from our Wolfeboro, New Hampshire office. I put her in touch with Christine Karstedt who was organizing multiple projects. Chris and Evelyn became close friends.
Wait, there's more!
At the Civil War Token Society John Ostendorf was at the end of five or six years' of research for United States Civil War Store Cards, third edition (the second edition was ancient, having been published in 1975). Evelyn jumped in with Susan Trask, who was supervising much of the scheduling, and with John. Within a year the book, illustrated with thousands of pictures and 664 pages in length, was a reality! Then came the next project: Patriotic Civil War Tokens, sixth edition. Susan rounded up pictures and information, and Evelyn did the editing and graphics. As of early August this year it was perhaps half finished. Then came Evelyn's surprise diagnosis of sarcoma. Nine weeks later she was no longer with us.
We all cried. Not often in life does someone pass away and leave such a group of close friends and associates who loved her dearly and a family that did likewise. Her memory will live on—in the books she has done, in the hearts of her friends, and, tangibly in the present memorial edition of the Civil War Token Journal. Thank you, Evelyn, for having passed our way and enriching our lives.
John Ostendorf
Evelyn was a true joy to work with. She was so talented and smart. When you look at how beautiful SC3 turned out, it was due to her talents. It's hard to believe she wasn't a numismatist because she anticipated what a numismatist would want when laying out the book. Her attention to detail was amazing, but what I will miss most was her sense of humor. Laying out a book like SC3 can be a long and tedious process. Evelyn kept it light and would occasionally throw me an intentional "goofball" error just to make sure I was paying attention and to give us both a much needed laugh. I will always look back at our work together fondly and I will always think of Evelyn whenever I look at SC3 and how beautifully it turned out thanks to her talents. I already miss you Evelyn.
Dennis Tucker
By the time I finally met Evelyn in person in May 2013, she was something of a numismatic celebrity. She and her daughter Shaina accompanied me and Dave on a research trip to the Philadelphia Mint and then to Washington to meet with various Treasury and Smithsonian officials and to tour the Bureau of Engraving and Printing. Ostensibly Evelyn's roles would be as note-taker and as backup photographer (with Shaina our main photographer). Of course she brought so much more to the undertaking. That's what you always got with Evelyn.
In Philadelphia we were meeting with Mint officers, production managers, line workers, and artists, studying processes, observing new technology, and generally absorbing huge amounts of information. It was the same in Washington. And Evelyn was right in the thick of it: asking very savvy questions; taking incredibly detailed notes; offering fresh and unique insights. Our "note-taker" was a crucial member of the group!
Beyond the professional side of our trip, Evelyn was just fun to travel with. That four-day jaunt was filled with as much laughter, good conversation, and all-around camaraderie as you could imagine. After the trip our emails and phone calls continued as we both worked on the Token and Medal Society shell-card book and other projects. Every once in a while, out of the blue, Evelyn would make an inside joke from Philly or D.C.—usually involving either "hokey ice cream" or the phrase "retired admiral"—you had to be there!—and it would give me a laugh.

May 15, 2013: Dennis Tucker, Shaina Mishkin, and Dave Bowers
with the belle of the ball, Evelyn Mishkin (relaxing on a
$41 million couch of new $100 bills at the BEP).
Dave Bowers adds:
For more information on the Store Card book, see:
U.S. Civil War Store Cards 1861-1865 (https://signature-book.com/New4Books/G6873%20Ostendorf%20web%20page.htm)
For more information on the Civil War Token Society, or to order the book, see:
www.cwtsociety.com
Randolph Laughlin (1875-1933), was born on March 21, 1875, to Ella "Nellie" Haynes (1853-), and Judge Henry David Laughlin (1848-1931), both natives of Kentucky. His parents were divorced in 1900. He was an attorney in St. Louis beginning in 1897. He was also an ancient coin collector, who, over the years purchased many fine gold, silver and bronze Greek and Roman coins from the Chapman brothers.
On June 21, 1898, he married an English woman named Marie Highley (1875-) and they had a son Robert Randolph Laughlin. In the summer of 1899 he invented the sport "Archery-Golf" where one shoots an arrow to a mound and golfs there.
In 1910, he loaned his Greek and Roman coin collection to the St. Louis City Art Museum. In 1911, he with his father Judge Henry David Laughlin and Robert H. H. Hern, all of St. Louis were to share $1 Million fee for winning the case in the Cherokee land suits that was held up in the courts for twenty years. The lawsuit gave large tracts of land in Oklahoma and elsewhere to freed negro slaves who were enslaved by the Cherokee Indians. Oil was discovered in these fields which amounted to many millions of dollars. The account of the litigation began with Milton Turner, a former slave who was born a royal prince of Morocco but was kidnapped and sold into slavery. He became the personal attendant to President U.S.S. Grant, who appointed him the U.S. Minister to Liberia.
In 1922 he had contact with Sir Arthur Evans (1851-1941), purchasing thirty-two ancient Roman gold coins which Evans discovered at the Suez Canal, Egypt. After his death his extensive Greek and Roman coin collection amounting to over a thousand pieces was sent to England.
He was also the attorney in the famous Charles R. Forbes and John W. Thompson Veteran's Bureau Conspiracy trial from 1924-1926, representing Thompson. He was also the attorney in the annulment lawsuit of the famous St. Louis millionaire, 70-year old Hugh W. Thomasson, from his pretty 30-year young wife Grace Caroline Mahood Thomasson. In that suit Randolph Laughlin also represented his niece Elizabeth Strock Laughlin in a lawsuit for $20,000 for the loss of her eye in a fishing accident (ouch!!).
The 1930 U. S. Census lists his residence at Washington Street, University, Missouri.
He died on February 23, 1933 in St. Louis, Missouri. His obituary read:
Business envelope of Randolph Laughlin sent to the Chapman Brothers to purchase Roman silver and gold coins postmarked February 17, 1902.
To read the complete article, see:
LAUGHLIN, RANDOLPH (https://sites.google.com/site/numismaticmallcom/encyclopedic-dictionary-of-numismatic-biographies/laughlin-randolph)
We don't often get to learn much about the hardworking employees of the U.S. Mint who create so many of the coins we collectors collect. This week the Mint published an article about longtime worker Louis Massanova, who's been on the job since 1965. -Editor
The year was 1965 — the Los Angeles Dodgers were on their way to winning their fourth World Series behind MVP pitcher Sandy Koufax. Bonanza was the number one TV show and The Sound of Music was tops at the box office. A first class stamp was five cents and a gallon of gas was 31 cents. Just over five billion coins were struck that year by the United States Mint (a far cry from the more than 17 billion coins we expect to strike in 2015).
Things were quite different back in the summer of 1965 when Louis Massanova was hired at the Mint in Philadelphia. In fact, the current Philadelphia Mint building was nothing more than a vision and a large hole in the ground on Independence Mall.
Louis Massanova, the longest tenured Philadelphia Mint employee, was born and raised in South Philadelphia in an area known as the Italian Market. That's where he quickly learned the importance of family and friends and the value of a good work ethic. Louis has been working since he was eight years old; everything from shining shoes to selling pretzels, to loading trucks. He worked his way through High School, graduating from Bishop Neumann in 1961
Married to his childhood sweetheart, Joanne, and with their first child on the way, Louis was looking to advance. He heard from a cousin that the U.S. Mint was hiring. He eagerly applied, even though he had no idea what was produced at the huge granite facility on 17th and Spring Garden Streets. Louis remembers thinking, "I don't know anything about making candy."
He proudly recalls his score of 98 on the entrance exam. Louis was hired in August 1965 in the cutting section (now called blanking), earning $2.40 an hour. It was a good job, but it was also a pay cut, so he kept an outside job to make up the difference. Louis quickly advanced to become a Weigher WG–08, where he used a fork truck to lift heavy coin buckets and lower them onto scales.
It was during that same year that construction had begun on what would become the world's largest Mint. Ground had been broken for the fourth Mint facility in Philadelphia; returning to Independence Mall just 100 yards from the site of the first Mint building. Louis was there to help build the facility from the ground up. Promoted to a trainee position in plant engineering, Louis worked for Tony Leone and Frank Rush. For the next two and a half years, he studied every morning and worked engineering assignments in the afternoon. Louis was proud when the Mint opened the doors to its new facility on August 14, 1969.
Half a century later, Louis works in facilities maintenance on the four to twelve shift. As a Utilities Repair Operator, he's responsible for all utilities in the 650,000 square foot coin factory. "He's one of the most dedicated, dependable and knowledgeable workers in this place. A great guy and a true asset to the Mint," asserted his past supervisor, Sal Liberto. His current supervisor, Chris Pacetti, said, "Louis is always positive, always here, and he always gets the job done correctly, safely and on time. He's one of the best to work with and at keeping this place running smoothly."
Louis has seen many changes throughout his fifty year career; too many to recall. He's extremely proud of the facility and his co-workers, and after fifty years, he's even more dedicated to the mission of the Mint. "This job continues to get better. I've never had a bad supervisor over these past fifty years. And I've never had a bad day in this building," he emphasized with a smile.
Congratulations, Louis! Thank you for your hard work and dedication to the Mint, your co–workers and the American public. The Mint is a better place because of your efforts.
To read the complete article, see:
Employee Celebrates 50 Years at Philadelphia (www.usmint.gov/pressroom/insidethemint/index.cfm?action=50-years-for-philly-employee)
Error Dollar Coin Images Sought

Dave Bowers writes:
Correction: Olympic Medals and Coins
In last week's book review, the title is Olympic Medals and Coins, not coins and medals. We'll update our archive. Sorry!
To read the earlier E-Sylum article, see:
BOOK REVIEW: OLYMPIC COINS AND MEDALS (www.coinbooks.org/esylum_v18n49a12.html)
Who Is This American Numismatist? Jack Collins!
We didn't have anyone who attempted to answer the quiz in the November 29, 2015 issue. So who is the American numismatist in this baby photo? It's Jack Collins, co-founder of our organization, the Numismatic Bibliomania Society. Thanks to our other co-founder George Kolbe for the photo, which is now in the NBS archives.
To read the earlier E-Sylum article, see:
QUICK QUIZ: WHO IS THIS AMERICAN NUMISMATIST? (www.coinbooks.org/esylum_v18n48a18.html)
NGC Red & Gold Display Boxes
Len Augsburger writes:
NGC has created attractive red and gold display boxes in celebration of Chinese New Year. The boxes are sold by Certified Collectibles Group (CCG), an independent affiliate of NGC, for $10 each (plus applicable shipping fees and tax).
Red and gold are the colors most significant to Chinese New Year. Often paired together, the colors symbolize good luck and happiness. Red is also the national color of China, while gold is traditionally considered to be the most beautiful and prestigious color.
The NGC Red & Gold Display Box features a reflective gold foil NGC logo on a red base. It will hold up to 20 standard-size NGC holders.
NGC Red & Gold Display Boxes are available only until January 31 or as supplies last — so act fast!
For more information, or to order, see:
NGC RED & GOLD DISPLAY BOXES (http://www.ngccoin.com/news/viewarticle.aspx?IDArticle=4915)
Gaza Coin Find Image in Error
Regarding the November 29, 2015 article found via The Explorator, Björn Schöpe of CoinsWeekly writes:
To read the earlier E-Sylum article, see:
HAMAS SEIZES ANCIENT GOLD COINS DISCOVERED IN GAZA (www.coinbooks.org/esylum_v18n48a27.html)
We don't need more fakes!
Rich Hartzog writes:
To view the 2rooks eBay store, see:
http://stores.ebay.co.uk/2rooks






Frozen Mummy's Tattoo Designs Similar to Coin Designs
Arthur Shippee forwarded this Facebook post with a creepy photo of a tattoo on a mummy's hand together with coins with similar designs. Interesting. But is the tattoo in imitation of the coin design, or are both illustrating a symbol common in the contemporary society? Is anyone familiar with this? Can anyone tell us more? Thanks.
Saving a Lot of Work
Dave Lange writes:
Wanted: Others Ways to Access Numismatist Issues
Les Citrome writes:
Great idea! But man, that's a whopper of an archive. -Editor
Reputation: Q. David Bowers October 1955 Ad
Dave Bowers was pleased to find and print a copy of his October 1955 ad. Great words to live by (and build a business).
Tom DeLorey's Report
Logging on to the ANA website I found a scrolling banner with a link to the new feature.
I clicked on it and found the Getting Started box. Clicked on that and found that there were no directions and/or link to the Exact Editions Registration page. Clicked around at random and eventually got there. (Note: a clear link to the Registration page has since been added.)
Went there and was confronted with a request for my "Subscription Reference," which seemed to be my ANA number. Entered "LMxxxx" and the other information it requested and hit enter. Got a message "Your subscription details were not recognized." Tried "LM-xxxx" and still no go. Emailed Exact Editions and requested help. Because they are in Great Britain and I am in Colorado they were, of course, closed for the day.
So, I emailed the ANA Membership Director, Cary Hardy, who quickly explained that I had to leave off the "LM." I said thank you, and suggested that a note to this effect be added to the registration page. To his great credit I see that this has indeed been done, with "Subscription Reference" changed to "Membership Number" with a note to leave off the prefix letters. I suspect that he also made the link change above which I also suggested.
I then went back and registered. Once in the site I looked up a particular issue that I knew the date of because I wanted to recheck an article I had once made note of. The images are fantastic, and I printed out the pages using the "printable pdf" option. Excellent results.
Then, just as an experiment, I tried the "print text" feature, and the technology crashed and burned. The service uses OCR technology to scan the text so that the search engine can find particular words, but the OCR scanner tends to ignore oversized letters, such as are sometimes used as the first letter of a lead paragraph. Also, in a subhead "Sovereign fakes," it ignored the S, g, f and k, presumably because they rose above or fell below the height of the common letters. The subhead came out as "Overei n a es"
The worst failure was that this particular article had images placed between various columns, the columns indented on either sides of the images with the cutlines below. When scanning the column to the left of the image, it scanned the cutline as well up to the point that the column normally ended at, intermingling the cutline fragments in with the body text, and when scanning the column to the right of the image it scanned that part of the cutline inside the left border of the normal margin, again intermingling cutline fragments in among the body text. Other layout anomalies created similar scanning gibberish.
I then did a global scan for "Elder," and got 25 pages of results. The default arrangement is by "Best Match," though I do not see how the machine arrives at this ranking since many of the hits were simply Elder's name within an advertisement. Fortunately one can rearrange the results in chronological order, with either the newest or oldest first. This is helpful in avoiding the many hits that resulted from my 1980 Elder article, as I was looking for something contemporary to him.
For my second search I did Lincoln AND gold AND token. Here the best match feature did do its job, as the hits with those words in a line or close together did appear before the later hits with the key words scattered randomly on a page.
There were a few inevitable scanning errors, such as one instance where the word "holder" tripped the search engine's alarm. That was understandable, as the "o" might have been a bit smudged. However, in another hit the word "skillful" came up with the underlined letters highlighted. Tis a puzzlement.
The highlighting of the results is very useful in quickly finding the reference and seeing whether or not it is useful to you, as I have seen too many search engines that just give you a raw page and leave you on your own to find the relevant word.
Of course the scanning errors could cause you to miss an important reference, but such is life. The system is still going to be accurate most of the time, and save you looking through endless pages of text. For what it has given us, we should all be thankful to the ANA.
I'm glad to hear the archive has been so useful. How could it NOT be? Digitized content is a researcher's goldmine. It can still take some work to get what you want, but it can be a tremendous timesaver overall, enabling new research avenues that would not have been practical before. -Editor
To read the earlier E-Sylum articles, see:
RESEARCHERS WELCOME THE NUMISMATIST DIGITAL ARCHIVE (www.coinbooks.org/esylum_v18n49a08.html)
UPDATE ON DAVID LANGE'S RESEARCH PROJECTS (www.coinbooks.org/esylum_v18n49a13.html)
Dave Lange forwarded this great photo from the 1991 ANA convention banquet. Thanks! -Editor
I'm attaching a photo that seems to be little known. It's a group photo of the ANA's Banquet at the 1991 centennial convention in Chicagomont. The photo is too large for me to scan in a single pass, so I'm sending it in two parts with a slight overlap. It's also taller than in the scans, but all that's missing here is unoccupied carpet.
I don't believe the ANA had had a banquet photo taken since the 1970s, due to how large the conventions became after that time. Ironically, the officers and other bigwigs ended up in the distance, since the photographer had to go so far back to get everyone in the picture. I remember him perched on a tall ladder. While I was in the back row for all of the awards and speeches, it turned out that I was in the front for the photo, and I appear third from the left during a brief beardless period.
There was no announcement in The Numismatist of this photo's availability, so I called Barbara Gregory about getting a copy. I don't remember what I paid, but it's likely that the greater part of the cost was shipping. For the record, the print measures 24" x 12" tall.
Kelly Cronan of the Yale University HR Staffing and Career Development department forwarded this job advertisement. This sounds like a great opportunity for the right person. -Editor
The Yale University Art Gallery seeks a dynamic, knowledgeable, and collegial assistant curator for the Department of Numismatics. The largest in any American university, the Yale numismatics collection is a growing resource for teaching across the University. Yale's renowned collection of ancient Greek and Roman coins draws scholarly attention from around the world. New facilities support collection growth and the teaching mission. The Bela Lyon Pratt Study Room for Coins and Medals, established in 2012, comprises a coin room and library, a permanent collection gallery, and an adjacent object study classroom that is used for teaching with the numismatics collection and by faculty and curators in other fields.
Knowledge of numismatics across time and cultures is required, with a specialty in ancient Greek and Roman numismatics preferred. The Gallery seeks an assistant curator who is equally interested in the connoisseurship of coins viewed as works of art and in the long recognized use of coins as evidence for understanding social and cultural history. The successful candidate will demonstrate a collegial spirit and a strong commitment to scholarship and to mentoring students.
Required Education and Experience: Master's Degree in Art History, Classics, History, or related field and one year of experience including exhibition organization, scholarly research and publication or the equivalent combination of education and experience.
Application: For more information and immediate consideration, please apply online at www.yale.edu/jobs - the STARS req ID for this position is 34926BR. Please be sure to reference this website when applying for this position.
For more information on the collection, see:
http://artgallery.yale.edu/coins-and-medals
Dick Johnson submitted this request for assistance in transcribing an important document relating to American numismatic history. Can anyone help? -Editor
It's heartening to learn the Newman Numismatic Portal has digitized 77,000 pages. This is gist for the numismatic mill for researchers at present and far into the future. I would like to propose for digitation the most important document in 19th century American minting technology – the 1835 Peale Report – by Franklin Peale.
This document, in Peale's own handwriting (or some secretary's), is beautiful uniform script. Even so it is difficult to read, as it takes undue time to discern every word. It needs to be transcribed before digitation, This is necessary for 21st century eyes to read instead of 19th century script.
In 1833 U.S. Mint Director Samuel Moore hired away from the Peale family museum, their museum director Benjamin Franklin Peale (1795-1870). [He hated the name Benjamin and preferred Franklin his entire life.] Franklin was one of seventeen children of Charles Wilson Peale (1741- 1827) the famous and most successful painter of early America. All other second generation Peales were artists as well. Franklin was somewhat of a black sheep of the family who was more mechanically inclined so they stuck him in the family museum their father had established.
Director Moore first named Franklin Melter and Refiner at the Mint. Then Moore recognized Franklin's mechanical acumen, decided to order him to travel to Europe, visit all the mints, learn all their equipment and technology and bring this back to aid the struggling 42-year-old Philadelphia Mint.
Peale did just that, spending two years abroad 1833-34. He learned the technology and ordered the equipment to modernize the Philadelphia Mint, a steam engine, and an upsetting machine – both from England – plus the Contamin die engraving pantograph and the Thonnelier coining press, both from France.
When the equipment arrived he not only set each to operate but began to add improvements, completely rebuilding the Thonnelier press in 1840. Previously all dies were cut by hand each one separately. He leaned in France to obtained an oversize metal pattern of a portrait, mount this in the Contamin to cut – not a die – but a device hub. This would then be sunk in a blank die with lettering and numbers punched in by hand afterwards, one letter or figure at a time.
The advantage of the Contamin was that it could create device portraits of different sizes from the same pattern. This is why he created three sizes of the Polk Indian Peace Medal (Julian IP-24, 25, 26). The large size medal for the most important Indian Chief, smaller medals for Indians of lesser rank. All this technology is described in the Peale Report.
After his return in 1834 it took Peale a year to write his 276-page report The original document still exists in the Philadelphia National Archives, available to researchers. Unfortunately there are only 272 pages extant. All the drawings are missing, and perhaps some charts. Someone purloined these in the past, it is hoped they still exist and may surface someday.
I was introduced to this document by fellow Rittenhouse Society member and numismatic researcher Craig Sholley, who gave me a photocopy he had. Since it is handwritten, I attempted to transcribe the 272 pages from this indistinct photocopy.
With aid of a helpful wife who could identify some of those words from the context of the sentence, we started a daunting task. About a third of the way through I had to see the original document to identify some words. We traveled to Philadelphia after requesting in advance to have the Report brought out from storage. To handle the very document itself was a thrill. But we were there to clarify some indistinct words on the photocopy.
We transcribed the first 95 pages (on 44 typed pages) before I moved on to other, more pressing projects. However I would like to work with someone, perhaps with experience transcribing such handwriting. If so, I would share what work I have done to complete this chore before it is digitized.
I know there is software which by OCR can transcribe handwritten scrip. I am not a fan of this for technical information. An example: Gilroy Roberts gave a speech at the American Numismatic Society once, spoking extemporaneously, ANS wisely recorded this. They turned over the tape to a professional transcription service to type a hard copy.
I encountered this once searching their vertical files for coinage technology data. In several places I noticed the word "colors" in the text. This made no sense at all. What Gilroy said was "collars" referring to dies in a coining press. That so infuriated me I whipped out a ball-point pen and scratched out "colors" and wrote the word "collars" above it.
Transcribing a technical document requires a person with some knowledge of the subject. Any takers among E-Sylum readers?
Yosef Sa'ar writes:
Thanks. Toll bridges and roads were once much more common worldwide. Over time, many of these became public and free, a cause for rejoicing among commuters. The pendulum is swinging back these days, with more toll lanes and roads being built to relieve congestion. -Editor
To read the earlier E-Sylum article, see:
EDMONTON AMALGAMATION CELEBRATION MEDAL (www.coinbooks.org/esylum_v18n49a22.html)
Last week's item relating to Revolutionary War figure Haym Salomon prompted Mel Wacks to submit this note about medals featuring Salomon. -Editor
In 1973, the Jewish-American Hall of Fame issued a medal honoring Revolutionary War patriot Haym Salomon. It was designed by the Dean of World Medalists, Paul Vincze, and quickly sold out. In 2012, we have combined Vincze's portrait with a new "For God and Country" reverse, featuring a portion of the Great Seal of the United States.
In the book "For God and Country," author James Arcuri admittedly combined facts, myths and legends to tell how Haym Salomon helped to design the Great Seal of the United States – that features 13 stars, representing the original 13 states, in the formation of a six-pointed Star of David.
The historic facts indicate that the first description of the Great Seal did not specify whether the individual stars were to have five or six points -- and the stars were arranged randomly. The star-formation on the first Great Seal was designed and described by Charles Thomson in 1782 (during the lifetime of Haym Salomon) as: "Over the head of the Eagle a Constellation of Stars surrounded with bright rays and at a little distance clouds."
The Haym Salomon/For God and Country 22mm bronze medal is available for $7.50 from the non-profit Jewish-American Hall of Fame, 5189 Jeffdale Ave., Woodland Hills, CA 91364.
To read the earlier E-Sylum article, see:
E-SYLUM EDITOR INTERVIEWED BY ABC NEWS (www.coinbooks.org/esylum_v18n49a06.html)
Bob Neale adds:
To read the earlier E-Sylum article, see:
REVIEW: HISTORY CHANNEL'S SECRETS OF THE DOLLAR BILL (www.coinbooks.org/esylum_v09n31a12.html)

Richard Byrd medal

Charles Lindbergh medal
Skip Lane writes:
Nice medal. Can anyone help? -Editor
Farran Zerbe was an early collector and cataloguer of 1900-01 Lesher Referendum Dollars and they are usually referred to now by Zerbe numbers. In 1928 he sold his entire collection, including his Lesher Dollars, to the Chase National Bank of New York, remaining in New York as curator. But not long after this he began a second collection, which he donated to the American Numismatic Society Dec. 10, 1947.
I'm working on a book on Lesher Dollars, to be published in 2016 by The History Press, and would like to track down Zerbe's sources for these 14 coins. He acquired his Zerbe 11 and 12 from B. Max Mehl's Auction 86, Nov. 8, 1932, lots 455 and 456, and according to Adna Wilde, his Zerbe 1 and 4 are ultimately from the Judson Brenner collection. On Oct. 12, 1934, he exhibited an "uncatalogued' variety at a meeting of the New York Numismatic Club, but it is unclear which one because both Zerbe 13 and 14 were not in his original 1918 list.
Since Zerbe lived in New York during the 1928-1947 period, I assume that he acquired most of these at auction. Can any reader point me to auction sales of Lesher Dollars during this period? Or any dealer correspondence with Zerbe relating to Lesher Dollars? Since nearly all Lesher Dollars were serially numbered, it will be possible to match the ANS pieces to particular lots.
Alex Krapf publishes the Medallic Art Collector web site. He writes:
Readers; please have a look at the page and bookmark it. Can anyone help with some of these? Here are a couple underdocumented medals that caught my eye. These are fascinating views into history. The web site is excellent, and I look forward to its continued growth. -Editor
Federal Electric Award Medal

The medal's obverse bears god-like figure (Zeus?) on throne, eagle perched at throne's left, clouds and lightning in background. In exergue, THE FEDERAL ELECTRIC COMPANY / AWARD
The medal's reverse bears company's logo (circled F with lightning bolt) before clouds and lightning at top; below, horizontal branches of leaves. Inscription reading AWARDED TO / (blank space) / BY THE / NATIONAL ELECTRIC LIGHT ASSOCIATION / FOR THE GREATEST CONTRIBTION / TO THE PROGRESS OF THE / ELECTRICAL ADVERTISING / INDUSTRY / DURING THE YEAR 19(unreadable)
The edge is rifled and does not bear any maker's marks.
The Federal Electric Company was founded in Chicago, Illinois, in 1901 by John Goehst and James and John Gilchrist. The company started out by manufacturing and selling store signs lit by incandescent lamps. By 1915, they began manufacturing and selling electrically-operated mechanical sirens. In the 1920s, Federal Electric came under the ownership of Commonwealth Edison, eventually becoming a part of the utility empire of Samuel Insull.
In 1969 the company was spun off and went public as the Federal Signal Corporation. They are still operating under that name and "design, develop and deploy solutions intended to protect people, property and the environment under brands including Federal Signal, Elgin, Bronto, Vactor, Guzzler, Vactor, Victor, and Jetstream."
Do you know the artist who designed this medal or where it was manufactured?
This medal measures 70mm in diameter and was struck in white metal.
Yosemite National Park Medal

This uniface medal's obverse bears bust of Native American chief in feather headdress facing right. Around right side, YOSEMITE NAT'L PARK
The reverse bears maker's mark ROBBINS CO / ATTLEBORO / MASS
This beautiful medal bears no signature and no date. The design and craftsmanship make me believe that it was done by one of the better known medallists but I would really appreciate to get some data on this piece. I would date it no later than the 1940s, but I could be totally wrong.
To view the Underdocumented Medals page, see:
http://medallicartcollector.com/underdocumented.shtml
To visit the Medallic Art Collector web site, see:
http://medallicartcollector.com
While we're on the topic of identifying medals, above is a piece submitted by Dick Hanscomb. He's trying to identify it for a customer. Ideas, anyone? -Editor
Dick writes:
The DuPont Lavoisier Medal

The DuPont Lavoisier Medal honors men and women throughout the history of DuPont whose extraordinary technical achievements have resulted in significant business impact and enduring scientific value.
It is an appropriate tribute that the medals awarded to outstanding scientists and engineers in DuPont bear the name Lavoisier. In scientific thought, in dedication to theory, observation and experimentation, in the breadth of efforts in public service, they are all both honorable and brilliant.
To read the complete article, see:
Lavoisier Medalists are extraordinary scientists and engineers. (www.dupont.com/corporate-functions/our-approach/innovation-excellence/science/scientists-engineers/awards-and-recognition/articles/lavoisier-medalists.html)
1918 Sterling Silver DuPont Long Run Fob

To read the complete article, see:
1918 Sterling Silver DuPont Long Run Fob (www.hamiltonweb.us/latest-editions.htm)
Dow Chemical Company 50th Anniversary Medal

To read the complete article, see:
Famous Firsts by the Medallic Art Company (www.medallic.com/about/medallic_art_famous_firsts.php)
Dow Chemical Co. Ltd, Barry 25th anniversary medal

To read the complete article, see:
Dow Chemical Co. Ltd, Barry 25th anniversary medal (www.museumwales.ac.uk/industry/images/?action=show_item&item=5328)
Last week Pablo Hoffman introduced us to the Delanceyplace newsletter. This week it features another reading selection relating to numismatics. Here's an excerpt. -Editor
Author: Roger Lowenstein
Title: America's Bank: The Epic Struggle to Create the Federal Reserve
Publisher: Penguin Press
Date: Copyright 2015 by Roger Lowenstein
Pages: 11-1
Today's selection -- America's Bank by Roger Lowenstein. On the eve of the American Civil War, there was no single currency in the United States as exists today. Instead, there were thousands of different types of currency in circulation:
"In 1858, the United States was an industrializing nation with a banking system stuck in frontier times. ... Heated battles over 'the money question' came to dominate the country's politics, but no matter how unsatisfied the people, any solution that tended toward centralization was, due to the prevailing prejudice, off the table.
"America was a monetary Babel with thousands of currencies; each state regulated its own banks and they collectively provided the country's money. Officially, America was on a hard-money basis, but the amount of gold in circulation was insignificant. In any event, as a contemporary would write, it was impractical for a traveler 'to carry with him the coin necessary to meet his expenses for a protracted journey.' If he traveled with notes of any but a few of the biggest banks in New York, Boston, and Philadelphia, his money was likely to be refused, or greatly discounted. If he did carry gold, then, 'at the hotel, in the railroad car, on the river or lake,' he would be of­fered slips of engraved paper that, in the words of a western banker, might include 'the frequently worthless issues of the State of Maine and of other New England States, the shinplasters of Michigan, the wild cats of Georgia, of Canada, and Pennsylvania, the red dogs of Indiana and Nebraska, the miserably engraved notes of North Carolina, Kentucky, Missouri and Virginia, and the not-to-be-forgotten stumptails of Illinois and Wisconsin.'
"In theory, these notes were redeemable in gold or in state bonds, but notes from western banks were notoriously unreliable. Bankers, not surprisingly, sought to circulate their paper as far as possible from the point of issue. That way, the notes might never -- or not for a very long while -- return, and the bank avoided the annoying detail of having to redeem its debts. There was no institution to regulate either the quality or the quantity of money, and after states adopted so­-called free banking, a promoter needed little more than a printing press to set up shop. In 1853, Indiana's governor lamented, ' The spec­ulator comes to Indianapolis with a bundle of banknotes in one hand and the stock in the other; in twenty-four hours he is on his way to some distant point of the union to circulate what he denominates a legal currency, authorized by the legislature of Indiana.' The system was certainly democratic -- almost anyone could issue 'money' -- but it was just as certain to lead to credit booms and inevitable busts.
"According to Jay Cooke, a Philadelphia financier, some banks issued notes equal to twenty-five times their capital 'with no other security than the good faith of their institution.' Since such faith was often short-lived, Cooke hardly needed to add, 'confusion ... was the order of the day.' During the Civil War, the Chicago Tribune counted 1,395 banks in the Union states, each with bills of various denominations -- some 8,370 varieties of notes in all. Even for the careful bank teller, scrutinizing this profusion of paper became an almost hopeless task. In addition to bank failures, the country was plagued by con men whose note forgeries could be worthy of a Rembrandt. So widespread were phony notes that 'Counterfeit Detectors' were published, and these guides were widely circulated.
Love that Naramore sheet! -Editor
To read the complete article, see:
PRINTING MONEY -- 12/11/15 (http://delanceyplace.com/view-archives.php?p=2957)
Shortly after the commencement of hostilities in the spring of 1861, the Confederate Department of the Treasury realized that it was going to have to bring other printers on-line to keep up with the demand for additional Treasury notes.
The first firm used was Hoyer & Ludwig, conveniently located in Richmond, Va., and they initially printed more than 670,000 notes consisting of five different denominations ranging from $5 to $100.
The war came uncomfortably close to Richmond in the spring of 1862, when the Peninsula Campaign approached the very outskirts of the city.
In May 1862, nearly two months before Robert E. Lee turned back the Union advances, the Confederate government ordered the printers to evacuate and relocate their operations to Columbia, S.C. All complied except Hoyer & Ludwig, who refused to leave the city.
Secretary of the Treasury C.G. Memminger, faced with this rather public "disobedience," felt he had no choice but to strip the company of its printing contracts and award them to J.T. Paterson & Co., a new firm, politically connected to Vice President Alexander Stephens.
Hoyer & Ludwig, not being inclined to just give up, served up a proposal to Memminger that offered the department over a 55 percent savings on printing costs. When Memminger readily accepted the offer, the price reduction did not affect Hoyer & Ludwig because they had no business. But the other printers' margins were heavily squeezed because the department enforced the new prices on existing contracts. As a token of thanks, Memminger gave the company a contract to print a new $10 note, known today as Criswell T-46 in the standard cataloging system for Confederate notes.
An unusual stipulation was attached, however, that the firm's name could not appear on the note or any other future notes that the firm would be allowed to print. Memminger clearly wanted to keep quiet the fact that he was continuing to do business with a firm that had refused to move.
Ludwig, however, had the last laugh on the T-46 note. If you look very carefully in the foreground beneath the cotton bale on which the maiden is seated, you can make out LUDWIG in very small letters!
I wasn't aware of this episode before. I can't make out the name on this image, but I'll look for it the next time I come across one of these notes. Or does someone have a closeup image for us? -Editor
To read the complete article, see:
Confederate bank note printer has last laugh: Collecting Paper (www.coinworld.com/news/paper-money/2015/12/Confederate-bank-note-printer-has-last-laugh.html#)
Brad Ciociola, Currency Specialist with Stack's Bowers, published a blog article this week on the numismatic ramifications of "December 7th, 1941, a date which will live in infamy." -Editor
This Monday marked the 74th anniversary of the Japanese attack on the United States naval base at Pearl Harbor, Hawaii. The attack killed over 2,400 Americans and drew the United States into World War II. Now, more than seven decades after President Franklin Delano Roosevelt made his famous remarks in his address to the nation after the attack, his words remain as true as ever. December 7th remains one of the most pivotal days in our nation's history.
In the aftermath of the attack on Pearl Harbor, United States military officials feared that if the Japanese invaded the Hawaiian Islands they could seize a large amount of United States currency from banks and individuals. To thwart any possible threat to America's money supply, on January 10, 1942, Military Governor Delos Carleton Emmons ordered all regular US paper money on the islands to be recalled, save for small amounts that could be kept for individuals ($200) and businesses ($500).
On June 25, 1942, new notes were issued for the islands in $1, $5, $10 and $20 denominations. The notes issued closely resembled existing U.S. notes except that they featured brown Treasury Seals and "HAWAII" overprinted on the front and back in black. On the face the overprint is small and appears once each on the far left and right ends of the note. The backs are overprinted in just a single large HAWAII in black outlined letters centered in the middle of the back. The idea was that if the Japanese invaded Hawaii the U.S. could immediately declare the newly issued Hawaii overprinted notes worthless.
The government used a mix of both Silver Certificates and Federal Reserve Notes for the Hawaii emergency issue. The $1 notes were Silver Certificates from the Series of 1935 A. All of the $5, $10 and $20 notes were Federal Reserve Notes from the San Francisco Federal Reserve District. The $5 notes were issued under both the Series of 1934 and the Series of 1934 A. Only the series of 1934 A was used for the $10 denomination while both the Series of 1934 and the Series of 1934 A were used for the $20.
The military government of Hawaii ordered all Hawaii residents to turn in their non-Hawaii overprinted notes in exchange for the new emergency issue notes by July 15, 1942. Beginning August 15, 1942, no other paper currency could be circulated on the islands without special permission. Instead of shipping the redeemed currency back to the U.S. mainland, officials decided to destroy it using local facilities. For this purpose they employed a local crematorium and then a sugar mill to destroy $200 million worth of U.S. currency.
The Hawaii emergency notes were issued until October 21, 1944, and by April of 1946 they were being recalled from circulation. Print totals for the denominations were 35,052,000 for the $1 denomination, 9,416,000 for the $5 notes, 10,424,000 for the $10 bills and 11,246,000 for the $20s. Each denomination also had replacement notes printed and issued. All Hawaii Star Notes are scarce with many examples of the higher denominations being quite rare. There are also mule and non-mule varieties in the $5 and $20 denominations.
Nice summary. I wasn't aware of the local destruction of the old notes, but that makes sense. -Editor
To read the complete article, see:
Pearl Harbor and Emergency Issue Hawaii Notes of World War II (www.stacksbowers.com/NewsMedia/Blogs/TabId/780/ArtMID/
2678/ArticleID/65489/Pearl-Harbor-and-Emergency-Issue-Hawaii-Notes
-of-World-War-II.aspx)
Paul Schultz writes:
I'm sure there's a doctoral dissertation on this subject to be found somewhere. Regardless of its origins, the $2 bill did indeed once have an association (deserved or not) that didn't involve the church collection plate on Sunday mornings. Thanks to John Regitko and others for their amusing (but less publishable) comments. -Editor
To read the earlier E-Sylum article, see:
: The Sketchy Past of the $2 Bill (www.coinbooks.org/esylum_v18n49a16.html)
Pabitra Saha found some more information about that Latvian Five Cats coin we discussed in earlier issues. Thanks. -Editor
The coin comes with a small colored brochure which has more information about the story (typed as it is):
To read the earlier E-Sylum articles, see:
THE LATVIA FIVE CATS FIVE EURO COIN (www.coinbooks.org/esylum_v18n47a27.html)
MORE ON THE LATVIA FIVE CATS FIVE EURO COIN (www.coinbooks.org/esylum_v18n48a29.html)
Chip Howell forwarded this video from the Cracked website on "The Terrifying Reason Why Pennies Still Exist". Thanks. -Editor
To watch the complete video, see:
The Terrifying Reason Why Pennies Still Exist (www.cracked.com/video_19600_the-terrifying-reason-why-pennies-still-exist.html)
Inspired by the video by comedian John Oliver about the U.S. cent, Chip Howell writes:
To watch the video, see:
Last Week Tonight with John Oliver: Eurovision and Crimea Coin (HBO) (https://www.youtube.com/watch?v=We1IvUe6KLo)
To read the earlier E-Sylum articles, see:
COMMEMORATIVE COIN ON RUSSIA'S CRIMEA SIEZURE (www.coinbooks.org/esylum_v17n18a18.html)
RUSSIA TO ISSUE CRIMEA BANKNOTE (www.coinbooks.org/esylum_v17n28a24.html)
JOHN OLIVER VIDEO QUESTIONS USE OF THE PENNY (www.coinbooks.org/esylum_v18n48a24.html)
This marvelous cast gold ingot, to be offered this Friday in Heritage's inaugural Hong Kong auction, made in the form of the ubiquitous "cash" coins of China, was made during the early decades of the Song Dynasty, one of the most vibrant episodes in world history. During this three-century epoch, China rose to become the wealthiest, most populous, and strongest nation state on the planet.
The first Song emperor, Taizu (AD 960-976), after seizing power in a military coup, reunified most of China after the chaotic "Ten Kingdoms" period and instituted a series of reforms that strengthened the central government. Using incentives and subtle coercion rather than brute force, he convinced his rival warlords to retire in comfort and thus gained complete control of the unwieldly and rebellious army. He rebuilt the Civil Service by expanding the examination system and founded academies throughout China that encouraged freedom of expression and thought, leading to further reforms of the economy and society as well as a flowering of art and literature which continued for many generations.
His brother and successor, Taizong, is also remembered as diligent, hardworking and concerned for the welfare of his subjects. Trade in luxury and staple goods flourished, and the Dynasty's military innovations, including the first use of gunpowder weapons, kept the central state intact for 300 years despite many dire threats from Mongol invaders. Science and technology brought forth a revolution through the invention of movable-type printing, hydraulic engineering and improved ship construction.
Coins had been introduced in China many centuries before, and by the time of the Han Dynasty (ca, 200 BC-AD 220), the familiar bronze "cash" coins, cast round with a central square hole and Chinese characters giving the value, were being made in the hundreds of millions. The Song employed the same form of coinage, but also introduced the first government-printed paper money.
While virtually all Chinese circulating coinage was of the token variety, made either of copper alloy, iron or (rarely) lead, a handful of gold pieces in the form of "cash" coins have survived. These are often termed "mortuary coins" after the practice of placing coins and other objects of mouth of the deceased, although it is not known if they were really used in this way. The reverse of our gold piece bears the characters Chunhua Yuanbao, in semi-cursive script, with two Buddhist figures on the obverse: the left side with Sudhana (Shancai Tongzi, Child of Wealth) standing on a lotus base, with hands in namaskara mudra; the right side with seated Guanyin, an Asian deity of Mercy, with auspicious clouds below. The obverse figures were first cast into the surface and then embellished by engraving. The Buddhist imagery is evidence of a ritual purpose.
A small cache of similar gold pieces was found during repairs to a Buddhist temple on Wutai Mountain in 1988 and several examples reside in National Museum of China. The museum description of one such piece says the coin was likely made for Emperor Taizong's pilgrimage to Mount Wutai in the late 10th century. The dating comes from the form of legend, which was employed on copper and iron "cash" coins only from AD 990 to 994.
To view the complete lot description, see:
China: Song Dynasty. Chun Hua gold Cash Ingot ND (AD 990-94) (http://coins.ha.com/itm/china/china-song-dynasty-chun-hua-gold-cash-ingot-nd-ad-990-94-au-/a/3043-29013.s)
The hoard was buried near Watlington around the end of the 870s, in the time of the "Last Kingdom".
This was when the Anglo-Saxon kingdoms of Mercia and Wessex were fighting for their survival from the threat of the Vikings, which was to lead to the unification of England. Archaeologists have called the hoard a "nationally significant find".
The hoard was discovered by 60-year-old metal detectorist James Mather.
He said: "I hope these amazing artefacts can be displayed by a local museum to be enjoyed by generations to come."
The find in October was lifted in a block of soil and brought to the British Museum, where it was excavated and studied by experts from the British Museum in London and the Ashmolean Museum in Oxford.
The hoard consists of 186 coins - some fragmentary - and includes rarities from the reign of King Alfred "the Great" of Wessex, who reigned from 871 to 899, and King Ceolwulf II, who reigned in Mercia from 874 to 79.
Seven items of jewellery and 15 ingots were also found.
To read the complete article, see:
Watlington 'rare' Viking hoard found by metal detectorist (www.bbc.com/news/uk-england-oxfordshire-35061303)
IT was the find of a lifetime but the end of a long friendship of two metal detectorists.
Andy Aartsen and James Petts discovered 1,608 Romano-British coins from the third century AD in a field at Boldre near Lymington, an inquest heard.
The coins were in a red earthenware pot about 12 inches below the surface.
The hearing heard there is a dispute as to who had discovered the hoard and revealed the detecting club rules that govern who gets the credit for discoveries. The issue could end up in court, the inquest was told.
The inquest in Winchester heard a statement from Mr Aartsen, 54, from Surrey, that he was searching the field on May 4 2014 and came across about 25-30 coins.
Mr Petts, also from Surrey, joined him and Mr Aartsen said he had got an unstable signal.
But Mr Petts told the hearing Mr Aartsen walked off and he checked the signal and discovered a coin and shortly afterwards the pot containing more than 1,600 coins. It weighed 6.5kgs.
Mr Petts said Mr Aartsen was 100 yards away when he made the find.
Mr Petts said: "If you leave a signal and walk off then it is the next person's find. He did not ask me to help him. He said he would get coins from another area. That is when I found the pot. By the time there were four or five of us in the area.
"He (Mr Aartsen) said 'eff off, it's mine'. But he left the signal and walked off and the next person came along. If he had stayed there and said 'I have a signal, please check it out' and we had dug together that would have been different.
"I never said it's mine. The majority of the hoard is in the pot which I found, 99 per cent is mine, but I said it should be a joint find. But he (Mr Aartsen) basically refused."
Southampton Coroner Grahame Short declared the find to be treasure and ruled that it should be ruled a joint find between the two men.
"I make no finding as to how that find should be apportioned between individuals. If they cannot agree between themselves it is a matter for the courts to decide," said Mr Short.
The British Museum is interested in buying one of the coins. Most are relatively valueless.
To read the complete article, see:
Row over 1,600 Roman coin find ends metal detectorists' friendship (www.dailyecho.co.uk/news/14127466.Row_over_Roman_coin_find
_ends_metal_detectorists__friendship/)
Spain has warned Colombia to keep its hands off its sunken 18th Century galleon thought to hold $1billion in lost treasure, found last week off the coast of South America.
Jose Garcia-Margallo, the Spanish foreign minister, has said he hopes to come to an cordial agreement with Colombia as both countries try to claim rights to the submerged shipwreck.
It comes just days after Colombian authorities released the first pictures of the wreck of the 300-year-old San Jose.
The San Jose was sunk by the Royal Navy off the coast of Cartagena 300 years ago, carrying up to 11million gold and silver coins, as well as emeralds and other precious stones.
It was transporting the booty back to Spain to help finance its war of succession against Britain.
It had gained a reputation as the 'holy grail' of shipwrecks, as the ship was carrying one of the most valuable haul of treasure ever to have been lost at sea.
The San Jose was found submerged off the coast of Baru in what is now Colombia, near the Rosario Islands. Colombian officials have not revealed its exact location.
Experts sent down a deep-sea camera to examine the wreckage ahead of a planned salvage operation.
Sonar images reveal bronze cannons made specifically for the ship, arms, ceramics and other artifacts.
To read the complete article, see:
Hands off our treasure! Spain says it holds the rights to galleon the San Jose - and its $1bn worth of gold coins - found in Colombian waters 300 years after it sank (www.dailymail.co.uk/news/article-3351250/Hands-treasure-Spain-says-holds-rights-galleon-San-Jose-1bn-worth-gold-coins-Colombian-waters-300-years-sank.html)'
To read the earlier E-Sylum articles, see:
SAN JOSE GALLEON FOUND: THE HOLY GRAIL OF SHIPWRECKS (www.coinbooks.org/esylum_v18n49a26.html)
FINDING SHIPWRECKS IS GETTING EASIER AND HARDER (www.coinbooks.org/esylum_v18n49a27.html)
The crimson banknote is worth 5,000 kyats ($4; £2.60) but it could turn out to be priceless.
Signed by the three most important figures in Myanmar's recent history, it's being seen by some as a sign that a deal is being struck between Aung San Suu Kyi and her long time adversaries in the Burmese military.
Since first being made public on Facebook on Saturday night, a picture of the money has gone viral on Burmese social media. It was uploaded by a young man called Nay Shwe Thway Aung.
For the last few weeks he has been acting as an intermediary between Aung San Suu Kyi and his grandfather, one of Myanmar's most notorious and controversial leaders - the former dictator Than Shwe.
Than Shwe ruled Myanmar with an iron fist between 1992 and 2011.
They are remembered as some of Myanmar's bleakest years, with harsh internal repression coupled with international isolation. Aung San Suu Kyi, spent most of it cut off from the world, under house arrest.
So back to the banknote. Posted to Facebook by Nay Shwe Thway Aung on Saturday night, it contains the signatures of Than Shwe from 2009, the current President Thein Sein from 2012, and Aung San Suu Kyi from when she met with him on 19 November.
According to Nay Shwe Thway Aung, the signatures were gathered either when the person was Myanmar's leader or on their way to becoming leader.
The symbolism is clear - Than Shwe to Thein Sein to Aung San Suu Kyi - a line of succession that few thought possible.
Underneath the picture of the banknote are more than a thousand comments lauding Nay Shwe Thway Aung for his efforts. One even suggests a Nobel Peace Prize might be in order.
Ms Suu Kyi and her party, the National League for Democracy (NLD), have so far refused to comment in any detail on the ongoing negotiations. But it is a measure of how far she has come, that the discussion is no longer whether the former political prisoner is going to lead the next government, but precisely how.
The campaign to win Myanmar's election was very public. The battle to win the military over is taking place very much in secret.
With information scarce, the Burmese public are clinging to every hint that emerges, even if it is written on the back of a banknote.
To read the complete article, see:
What a signed banknote tells us about Myanmar's next leadership (www.bbc.com/news/world-asia-35023921)
These photos from China depict the banknote processing and destruction facility in Chengdu. -Editor
Staff members fasten the banknotes which will go back to circulation on Dec. 3, 2015 in a banknote processing center in Chengdu, Southwest China's Sichuan province. With the release of a new 100-yuan banknote in 2015, old banknotes will gradually be withdrawn from circulation. At a mysterious place one cannot find on the map of Chengdu, tons of banknotes are destroyed every day. The destroyed banknotes will be transported to paper mills as material for pulp, or burnt for power generation, or used as baking fuels.
Staff members punch holes on banknotes to be destroyed on Dec. 3, 2015 in the banknote processing center in Chengdu, southwest China's Sichuan province. With the release of a new 100-yuan banknote in 2015, old banknotes will gradually be withdrawn from circulation.
Bricks of damaged banknotes are seen in a banknote processing center in Chengdu, Southwest China's Sichuan province. With the release of a new 100-yuan banknote in 2015, old banknotes will gradually be withdrawn from circulation. At a mysterious place one cannot find on the map of Chengdu, tons of banknotes are destroyed every day. The destroyed banknotes will be transported to paper mills as material for pulp, or burnt for power generation, or used as baking fuels
To read the complete article, see:
A visit to banknote processing center in Chengdu (www.ecns.cn/visual/hd/2015/12-09/82398.shtml)
We have a pair of bizarre counterfeiter stories this week. The first is from Stephenville, TX, where a suspect earned the "Moron of the Month" award from local law enforcement. -Editor
The investigation found that during the first part of December, $400 in counterfeit money was used at Staples to purchase a tool used to cut paper. Investigators also learned that during the course of three separate transactions a combined total of approximately $800 had been used at Wal-Mart to purchase a printer, Play Station 4, 12-volt electrical children's car and other small items.
Investigators determined that Daniel Fry, 32, was involved in those transactions. Fry was arrested Dec. 9 at Radio Shack where Sheriff Tommy Bryant said Fry pulled a stunt that earned him a dumb criminal distinction.
"He went to return several items at Radio Shack that he had purchased with counterfeit money," Bryant said. "He was trying to get real money so he could pay an attorney who was working on another case for him. When Radio Shack refused to give him a refund, he actually called the sheriff's office on them to make a complaint - not realizing we had warrants on him. When investigators went to Radio Shack, he was arrested on the spot. This guy has got to be moron of the month."
Bryant said the Secret Service will take over the counterfeit investigation.
To read the complete article, see:
Sheriff: 'This guy has got to be moron of the month' (www.yourstephenvilletx.com/article/20151211/NEWS/151219913)
A woman who was charged in connection with the alleged use of counterfeit money at an adult entertainment store was found with drugs and $900 of bogus bills inside her body when booked into jail early Saturday morning.
Chelsea Marie Sperry, 31, of Fairbanks, was arrested after she and a male companion allegedly used a phony $100 bill to pay for merchandise at Castle Megastore on Old Steese Highway.
During the booking process a corrections officer noticed Sperry making "furtive movements" toward her [self], according to the complaint. Sperry was put through a body scanner, which revealed the presence of foreign objects in her body.
A female officer searched Sperry and found six $100 bills, three $50 bills, seven $20 bills and one $10 bill — all counterfeit — hidden inside one of her body cavities. A genuine $10 bill was found inside a different cavity, according to the complaint.
The officer also found about eight grams of methamphetamine, six morphine sulfate pills, a little less than a quarter-gram of heroin and 40 small baggies inside Sperry, the complaint says.
The counterfeit bills were missing all normal security features, including watermarks and security threads, and one of the $100 bills had the same serial number as the one used at Castle Megastore, according to the complaint.
The phony bills are clearly marked "for motion picture use only" and have been used at three other local stores in the past two weeks, according to city spokeswoman Amber Courtney.
To read the complete article, see:
Fairbanks woman found with counterfeit money (www.newsminer.com/news/local_news/fairbanks-woman-found-with-counterfeit-money/article_52c04d2e-9a63-11e5-bf61-1b2b13e57971.html)
To read the earlier E-Sylum article, see:
SPENDING "MOTION PICTURE USE ONLY" MONEY (www.coinbooks.org/esylum_v18n39a37.html)
Now back to our core topics of numismatics and numismatic literature. Here's an exchange from the Yahoo Colonial Coins group of interest to numismatic bibliophiles. -Editor
Ray Williams writes:
James Higby writes:
Jeff Rock writes: