About Us
The Numismatic Bibliomania Society is a non-profit organization devoted to the study and enjoyment of numismatic literature. For more information please see our web site at coinbooks.org
Subscriptions
Those wishing to become new E-Sylum subscribers (or wishing to Unsubscribe) can go to the following web page link
Membership
There is a membership application available on the web site Membership Application
To join, print the application and return it with your check to the address printed on the application. Membership is only $20 to addresses in the U.S., $25 for First Class mail, and $30 elsewhere. For those without web access, write to:
Terry White, Treasurer
Numismatic Bibliomania Society
P. O. Box 39 Hilliard, OH 43026-1278s
Asylum
For Asylum mailing address changes and other membership questions, contact Terry at this email address: terrywhite5475@yahoo.com
Submissions
To submit items for publication in The E-Sylum, just Reply to this message, or write to the Editor at this address: whomren@gmail.com
BUY THE BOOK BEFORE THE COIN
We have no new subscribers to report this week. Please reach out to your numismatic friends. We're always looking to add to our list of 1,971 subscribers.
This week we open with a sale from Kolbe & Fanning, an update from Dick Johnson, and two book reviews. Other topics this week include the Numismatic Indexes Project (NIP), U.S. proof coins, numismatic audio recordings, Disney Dollars, postal currency, and the black market price of the 500 Euro note.
To learn more about coin of the Golden Horde, "semi-proof" coins, Brock's Attic, the earliest American numismatic book, H. A. Ramsden, Georges Depeyrot, the die-cutting Czarina, Heidi Wastweet's Cleopatra, the World Mint Directors Conference, pliofilm flat packs, Hobo Benson tokens, extrusion dwell, and the Yokohama Numismatic Society, read on. Have a great week, everyone!
Wayne Homren
Editor, The E-Sylum


Numismatic booksellers Kolbe & Fanning are holding a sale today and tomorrow. Here's the press release. -Editor
Kolbe & Fanning are holding a sale for two days on retail items listed as part of their online bookstore at numislit.com. Orders received Sunday and Monday May 15 and 16 will be 20% off, with flat-rate domestic shipping of $5 regardless of how much is ordered (foreign orders will be shipped at cost).
Our online book selection features over 1300 titles and covers the spectrum of numismatic specialties, including ancient, medieval and modern coins, medals, paper money and exonumia. We handle works from all periods and in all languages, so check us out and take advantage of our 20% off sale through the end of Monday, May 16.
The Kolbe & Fanning website can be found at numislit.com
Dzmitry Huletski and James Farr have authored a book on the coinage of the Golden Horde. -Editor
Coins of the Golden Horde
Period of the Great Mongols (1224-1266)
Catalogue
English language.
40 colour pages.
Issue limit - 100 pcs.
This book is an introduction to coinage of the Mongol Empire during its westward expansion through Central Asia, the Volga regions and the Crimea under the leadership of Chingiz (Genghis) Khan's oldest son Jochi. These lands eventually came to be ruled independently by Jochi's descendants as the Ulus Jochi, known in later times as Jochids, Jujids or the Golden Horde.
Most of the early coins of Central Asia in the book are new discoveries only recently published in the Russian literature. The authors have attempted to relate the coinage to the historical context in which it was issued and to provide an overview of the westward expansion itself. The Golden Horde are the Mongols who were in Russia for two centuries and who had an indelible influence on the future development of the Russian Empire
For more information, or to purchase, see:
http://wirecoins.de/horde1/
The book is also available on Amazon:
Coins of the Golden Horde: Period of the Great Mongols (1224-1266) (Coinage of the Golden Horde) (Volume 1) (www.amazon.com/Coins-Golden-Horde-Mongols-1224-1266/dp/1530244366)
Dick Johnson writes:
Thanks everyone. A nice review of Dick's manuscript follows in this issue. Reminds me of the classic bar sign: "Buy one beer for the price of two, and get a second beer FREE!" -Editor
Let me get a comment in on Dick Johnson's master-work in progress. That beefy encyclopedia is 671 full size 8 1/2 x 11 inch pages long and packed with all sorts of valuable information even a seasoned numismatist may not know. I find it fascinating.
For example, do you know what extrusion dwell means? It means that when dies come down on a coin blank they don't just go bang, they pause for a microsecond while squeezing the planchet. That tiny fraction of a second pause, or dwell, in a coining press cycle is to prevent the metal from springing back by molecular memory. Who would have thought gold, silver and copper could do that? In simple terms, apparently all materials want to stay as they are.
I will be demonstrating this at my next talk on coins with slices of bread. When I bang my fist into a slice, most of the impression will pop back. But if I shove my knuckles into the slice and pause there a few seconds, the image on my fingers will stay on the bread.
Well, extrusion dwell is just one of the things I found fascinating in Dick's book. As someone who is writing a dictionary, I come to understand the difference between a numismatic encyclopedia and just a dictionary. In my past life as an advertising man, I was always explaining to clients that an ad or brochure needed a 5 second read and a 5 minutes read. Dick's big book does that. It starts with a clear, brief meaning of a term. If that is all you need, great. But then he gives you some interesting how and why of the device or process. And often the history about how it was developed.
Dick's decades of work in the artistic medals field shines through here. Few of us think of the difficulty involved in making a high relief medal. We learn that it takes three or four strikes with the dies to complete a medal. Each strike causes the metal to become work-hardened. So the metal must be softened by heating it in a furnace and then allowing it to cool before each strike. Sometimes an initial die is needed to get the high relief struck up, and then a die with the fine detail is used for completing the piece. I won't be looking at medals the same anymore.
The only down-side of this book is that it does not discuss paper money, only metal numismatics. It indirectly touches upon banknotes, however, as the engraver's art is explained in great detail, and that sometimes includes making intaglio plates as well as coin dies.
If you are the kind of person who enjoys saying "Wow – I had no idea that works that way" this massive book is for you. Dick Johnson sent years preparing it, you will spend weeks reading it.
Gary Beals
Segovia Spain
Author of Numiscadero the Spanish-English dictionary of Numismatics, going to press in June.
To read the earlier E-Sylum article, see:
NEW BOOK: ENCYCLOPEDIA OF COIN AND MEDAL TECHNOLOGY (www.coinbooks.org/esylum_v19n17a05.html)
Along with coins, bullion, tokens, gold nugget jewelry and other Alaskana, we also sell Alaska books, both used and new. I was over to my book wholesaler today, and picked up a copy of "A Guide to the Notorious Bars of Alaska" (2014, 171 pages) by Doug Vandegraft just so I could peruse it.
If you are looking for a new way to collect Alaska tokens, this just might be the text book for you. Without doing a comprehensive survey of the contents of this book, I would estimate that more than 75% of those discussed have had tokens - some old, some modern and some both. Since this is a travel guide, the bars included were still in business when the book was written.
The book is divided into geographical regions. A brief history of the bar is given, along with its license date (after prohibition). Just in Fairbanks, there is the Big I (started as the International Hotel, B-29), Mecca Bar, Midnite Mine, Comet Club, Club Manchu, Club Alaskan and Boatel Bar. All of these have modern tokens, and three can be found on page 42 of this issue of the newsletter.
The book not only hits the cities and towns, but also those highway watering holes and those in towns and villages off the road system. The author gives a great history of the Hobo Benson's Yukon Inn in Galena, "the only bar along the Yukon River from Tanana to the Bering Sea (approximately 600 miles)."
If you own any Alaska bar tokens, this book will surely add to your enjoyment. We have these available for $16.95 plus $3.05 first class postage ($20). Add $7 and I will throw in a Hobo Benson token.
Dick can be reached at: ALASKA RARE COINS, P.O. BOX 72832, FAIRBANKS, ALASKA 99707 -Editor
For more information on the book, see:
A Guide to the Notorious Bars of Alaska (www.notoriousbarsofak.com/)
To go directly to the Numismatic Indexes Project, see:
http://nip.money.org/nip/NumismaticIndexes_list.asp
To read the earlier E-Sylum articles, see:
NUMISMATIC INDEX BACK ONLINE (www.coinbooks.org/esylum_v03n29a04.html)
HARRY W. BASS, JR. FOUNDATION WEBSITE (www.coinbooks.org/esylum_v04n27a02.html)
NUMISMATIC INDEXES PROJECT (www.coinbooks.org/esylum_v08n13a15.html)
Women in Numismatics (WIN, founded in 1991) has published Winning Ways since 1992, and the issues from 1992 – 2007 are now available on the Newman Portal. Additional issues will be posted in due course. The U.S. Mint Engraver Elizabeth Jones was an early supporter of WIN and created the club logo, which first appeared in the third issue.
Early writers for Winning Ways included Q. David Bowers, and Ken Bressett, who held forth in The Bibliophile column. The Newman Portal acknowledges Charmy Harker, WIN President, and Dave Heinrich, Winning Ways Editor, for their assistance with this project.
Link to Winning Ways on the Newman Portal:
Winning Ways (https://nnp.wustl.edu/library/publisherdetail/511837)
A publishing format change isn't ordinarily big news (and this may be a yawner for many readers), but it warranted a press release from the American Numismatic Association this week (May 12, 2016), and I think it's worth mentioning. -Editor
The American Numismatic Association announced today that it is shifting the online viewing platform for its flagship publication, The Numismatist, to HTML5 Viewer. The viewer is a compatibility upgrade and brings a new look and a new menu. Readers don't need any plugins (such as Flash or other software) beyond their modern Internet browser; pages are larger and toolbars can be hidden when not in use.
"The new viewer is very intuitive," says Barbara Gregory, editor-in-chief of The Numismatist. "A pop-up tutorial will guide readers the first time they access the magazine online in the new format. HTML5 Viewer should be compatible with all new platforms, including Apple iOS, which did not support the Flash plugin. Readers now will have a unified viewing experience across all browsers, regardless of the device."
"In addition to the new look, the ANA has chosen to use HTML5 Viewer to provide an enhanced viewing experience for mobile phone users," noted Gregory. "Articles always have been available in a text-only ("Content View") format, but now phone browsers will default to text, while computer and tablet users will see the fully-formatted pages first."
One of the key advantages of HTML5 is the capability of rendering multimedia content without the necessity of installing a plugin or a player application. Animation, video clips, slideshows, audio, and other multimedia tools can be embedded in Enhanced Text Articles.
To read the complete press release, see:
The Numismatist Adopts HTML for Online Viewing Platform (www.money.org/uploads/pdfs/The%20Numismatist%20Adopts%20HTML.pdf)
Bob Julian writes:
Interesting. While I'm sure plenty have marketers have used the term "semi-proof" to spruce up the perceived value of a piece they're selling, this is the first time I recall seeing the term used by the U.S. Mint. Is anyone familiar with this usage? -Editor
Dave Hirt writes:
Dave Lange agrees. He writes:
I was unfamiliar with the term 'pliofilm', so I asked Dave about it. He writes:
Gary Beals of Segovia, Spain writes:

Thanks. How far the mighty proof sets have fallen! -Editor

To read the earlier E-Sylum article, see:
MORE ON PRE-1955 U.S. PROOF SET SHIPPING BOXES (www.coinbooks.org/esylum_v19n19a19.html)
Query: How Long Was Brock's Attic Issued?
Dave Hirt writes:
Query: The Earliest American Numismatic Book
On another topic, Dave Hirt writes:
Great question. Prior to 1858 there were no books printed in the U.S. specifically aimed at the numismatist, although there were several like this one aimed more at readers interested in politics or economics, with numismatics being incidental. It's hard to imagine an applicable U.S. title prior to 1740. Does anyone know of one? Can anyone trace the whereabouts of this copy? Is the text available online? -Editor
To read the earlier E-Sylum article, see:
HERSHEL THOMAS DANIEL (1905-1973) (www.coinbooks.org/esylum_v18n51a15.html)
The Museum of American Political Life
Tony Lopez writes:
To read the earlier E-Sylum article, see:
CONTROVERSY CLOUDS DEWITT POLITICAL COLLECTION FATE (www.coinbooks.org/esylum_v19n19a17.html)
Wooden Money Collectors at 2016 Central States Show

Bob Gabriel submitted this group shot of Wooden Money collectors at at Central States Convention in April 2016. Thanks. -Editor
International Organization of Wooden Money Collectors (IOWMC)
Club table @ Central States 76th Anniversary Convention
Chicago – April 2016
Back row: Harold Eckardt (IL) – Alfred Schubert (OH) – John Wilson (FL)
Front row: Bob Gabriel (NH) – Bob Fritsch (NH)– Darrell Luedtke (WI)
Photo courtesy of John & Nancy Wilson (ANA)

Applications can be obtained by emailing IOWMC@yahoo.com
Coin Board Web Site and Book Available

In the Summer 2016 issue of his Coin Board News, Dave Lange writes:
Dave also writes:
Note that the prices of Dave's two previous books on coin boards and albums have been greatly reduced. See his web site for more information and ordering information. -Editor
To visit Dave's Coin Collecting Board site, see:
www.coincollectingboards.com


To read a review by Paul Gilkes of Coin World, see:
David Lange relates history of The Coin and Currency Institute's series (www.coinworld.com/news/us-coins/2016/05/book-chronicles-coin-and-currency-institute-history.all.html)
More on Checks of King Philip II of Spain
Regarding the query from Craig Parks about financial instruments from the time of King Philip II of Spain, Robert Hoge writes:
Thanks! I came up empty with a Google image search on those terms, finding only modern items. Hopefully an example or image will turn up sometime. Readers: Let us know if you come across one. -Editor
To read the earlier E-Sylum article, see:
QUERY: CHECKS OF KING PHILIP II OF SPAIN ERA SOUGHT (www.coinbooks.org/esylum_v19n19a10.html)
Whittling Away at Denominations Large and Small

Ron Haller-Williams writes:
I was thinking that myself while working on last week's issue. Good points. Thanks. See another article later in this issue about speculation that the value of existing €500 notes is about to go up. -Editor
To read the earlier E-Sylum articles, see:
EUROPE TO DISCONTINUE 500-EURO BILL (www.coinbooks.org/esylum_v19n19a29.html)
U.S. TREASURY CONSIDERS PLANS TO ELIMINATE CENT (www.coinbooks.org/esylum_v19n19a28.html)
CANADA CONSIDERS DISCONTINUING THE NICKEL (www.coinbooks.org/esylum_v19n19a27.html)
More on the Lincoln's Funeral Train Engraving
Regarding the eBay Lincoln Funeral Train item Philip Mernick passed along from eBay last week,
David Schenkman writes:
Alan V. Weinberg writes:
Thanks, guys. -Editor
To read the earlier E-Sylum article, see:
NOTES FROM E-SYLUM READERS: MAY 8, 2016 : Engraving Depicts Lincoln's Funeral Train Locomotive (www.coinbooks.org/esylum_v19n19a11.html)
If it was in The E-Sylum I can't seem to find it, but I recently read an article about an old 45 rpm record on the "S.V.D.B." label with songs with numismatic titles. So guess what I just found in my garage? A copy of the record I'd forgotten I had. -Editor

Benjamin Jefmer record
A web search turned up this review:
To read the complete article, see:
If You're a Coin Collector / The Numismatic (http://rateyourmusic.com/release/single/benjamin_jefmer/
if_youre_a_coin_collector___the_numismatic/)
I also found these in the same container:

Fexlig Schlag, The Jefferson Nickel Story

Gilroy Roberts: The Designer and The Coin
Click on an image to see a larger version in our Flickr archive. Pretty cool, huh? So would anyone have a copy of the "Vantage Recording Company catalog listing all available records on Numismatics and Philately"? As far as I know, there are the only two numismatic records the firm produced.
I wish I could say I'd listened to them, but I acquired them long after the days when record players became obsolete. I know vinyl's making a comeback, but I've got nothing in the house that can play these. The same with this:

Adelphi University Home Study Course in
Fundamentals of Rare Coin Collecting and Investing
Twenty cassette tapes with talks by Stanley Apfelbaum, Grover Criswell, John J. Ford, Jr., Harry Forman, David Ganz, William Gay, Charles Hoskins, Donald Hoppe, George Mallis, Herbert Melnick, Walter Pershke, Ed Rochette, Leroy Van Allen, and Luis Vigdor.
Great numismatic ephemera if nothing else, but the audio content of some of these is priceless.
Sigmund Bowman Alexander (1864-1912), Brookline, Massachusetts. Coin dealer and principal of the firm of Alexander & Company. He was born on March 16, 1864 at Boston, son of Jacob Alexander (1834-post 1820) and Maria Bowman Alexander (1846- post 1820). His father was a Jewish immigrant from Germany and his mother was a native of Massachusetts. Maria Bowman was the daughter of an Englishman and a German mother.
He was engaged as a specie broker and insurance broker as a young man circa 1883, though his publications claims 1873 when he was just 9 years old. He dealt in United States and foreign coins, paper money and U. S. postage stamps as postal money or encased stamps in the day when Henry Ahlborn, Ebenezer Locke Mason, Jr., and William Elliot Woodward were also dealing at Boston. Alexander began publishing coin catalogues with a neat format about 1883 that continued until he changed the title to The Hub Coin Book in 1895.
He was also a writer, novelist, playwright and involved in the theatre. His first known novel was published in 1887, Ten of Us: Original Stories and Sketches. (Boston : Laughton, McDonald & Co., 1887). He wrote his second known novel in 1888, The Veiled Beyond : A Romance of the Adepts (New York : Cassell, 1888)
On January 3, 1888, his brokerage house was broken into by Patrick J. Geary, an unemployed widower with two starving children who grabbed the Swedish money from the storefront window after he smashed the glass to retrieve it.
Alexander & Company met with such great success selling the United States and Foreign Coin Catalogue that they went into a subdivision as a book publisher and bookbinder for their coin book renaming it The Hub Coin Book.



On June 8, 1896 he married at the Adath Israel Temple, Boston, to Blanch Liebmann (1871-1922) of Baltimore, Maryland, daughter of Dr. Augustus "Gustav" and Fanny Liebmann. They had a daughter Ruth Liebmann Alexander (1897-). They lived at 210 West Newton Street, Boston, Massachusetts.
He died at the age of 47 and 10 months of cerebral hemorrhage on January 5, 1912 at his in-law's home, 82 Naples Road, Brookline, Massachusetts.
The estate of Alexander managed by his wife Blanch kept publishing the Hub Coin Book and publishing it from her home state and city, Baltimore, Maryland by I. & M. Ottenheimer printers. The Hub Coin Book went into at least 34 Editions.
To read the complete article, see:
ALEXANDER, SIGMUND BOWMAN (https://sites.google.com/a/numismaticmall.com/www/numismaticmall-com/alexander-sigmund-bowman)
There are certain numismatic personalities I expect to encounter over and over again as I work with the historical collections at the ANS—Howland Wood, Sydney Noe, Thomas Elder, Henry Chapman. But there is a more obscure figure I sometimes find myself running into. This would be H. A. (Henry Alexander) Ramsden, a collector and dealer who exhibited an boundless enthusiasm for his area of expertise, Far Eastern numismatics, passionately working at it right up until his untimely death at the age of 43 in 1915.
Throughout the Society's library and archives are pockets of materials associated with Ramsden. There are his numerous letters in the Howland Wood, John Reilly, and Bauman Belden papers, for example. There are his publications—books, but also periodicals like The Numismatic and Philatelic Journal of Japan, which he founded and edited. Rummaging around in the library's pamphlet files recently, I happened upon what turned out to be an uncataloged item. It was ANS treasurer John Reilly's membership certificate for the Yokohama Numismatic Society, which included the stamped signature of Ramsden.
Though his influence still strongly reverberates, Ramsden remains a somewhat mysterious figure. There are no known photographs of him. Howland Wood supplied the ANA with what little he had on him for Ramsden's obituary in the Numismatist, information Wood had gleaned from a biographical letter Ramsden had sent him in 1914. Not too much has been added to what we know about him since. His father was a British diplomat. The younger Ramsden followed in his father's footsteps and came to be stationed in Japan as a representative of Cuba. He married a Japanese woman and went into business with her brother, stamp collector and dealer Jun Kobayahawa, in Yokohama.
He built up an enormous numismatic collection, over 15,000 specimens, including Chinese, Japanese, and Korean coins, as well as an impressive library. His unexpected death threw the future of these collections into question, and after some back and forth with the executor of his will, they were purchased by Reilly, who retained ownership, though they were housed at the ANS. Reilly's daughter Frances formally donated the materials in 1938.
To read the complete article, see:
LESSER KNOWN COLLECTOR AND DEALER H. A. RAMSDEN LEFT HIS MARK AT THE ANS (www.anspocketchange.org/lesser-known-collector-and-dealer-h-a-ramsden-left-his-mark-at-the-ans/)
Georges Depeyrot
Professor and Director of Research at the Paris CNRS as well as the École Normale Supérieure Author, publisher and editor of numismatic literature
Georges Depeyrot (*1953) studied History to become a teacher at the University of Toulouse II (licence since 1974) and, after obtaining two further degrees in Toulouse (Maîtrise des Lettres in 1975, DEA in 1976), received his doctorate degree in Toulouse II in 1977. After a temporary job at the Ministry for Culture (until 1981), he began teaching Ancient Numismatics at the University of Toulouse in 1982. From 1982 to 1985, he worked at the "Centre numismatique E. Babelon" in Orléans and, from 1986 to 1989, contributed to a research project on Medieval economy in Lille ("Économie médiévale, l'espace européen"). Between 1989 and 2010, he worked at the "Centre de recherches historiques" in Paris. In 1992, he qualified as a professor at the University of Besançon, before obtaining another licence to teach at universities in 1993. From 1994 to 1997, he taught at the École des Hautes Études en Sciences Sociales as Adjunct Professor. Between 1998 and 1999, he taught, as a lecturer, in Paris.
Concurrently with this, he started working in the publishing sector: between 1994 and 2000, he supervised the series "Collections numismatiques" of the publishing company Errance-Actes Sud. In 1995, he founded the Moneta series (Wetteren) over which he presides down to the present day.
Since 2010, he is a member of the research unit "Archaeology and Philology of East and West" at the École Normale Supérieure in Paris. Since 2012, he is Director of Research, 2nd Class, at the national research center CNRS.
Georges Depeyrot spent research periods abroad, for example in the U.S., and taught in Japan as Visiting Lecturer for a total of two years, between 2011 and 2015. He is honorary member of a number of numismatic societies, not only in Romania and Albania.
He engages in numismatic expert committees on a regular basis and functions as supervisor.
He has an impressive list of publications (currently comprising more than 500 individual articles and about 180 monographs and volumes of essays to which he contributed as an author and co-editor); thematically, his publications cover the entire range of numismatics and monetary history.
To read the complete article, see:
Numismatic Who's Who: Georges Depeyrot (www.coinsweekly.com/en/Numismatic-Whos-Who/Georges-Depeyrot/42?&id=24)
I came across this interesting article on the Künker web site about Russian Czarina Maria Feodorovna, who used her artistic talents to create coin and medal dies. -Editor
From Künker Auction 277, Lot 345:
Gold medal in the weight of 48 ducats of Maria Feodorovna on her son's entry in Paris. This specimen, coming up at the next Künker summer-auction, is estimated at 125,000 euros.
The medal of Czar Alexander I, honoring him as "savior of the people", and issued in three metals – gold, silver, bronze – is stunning. On the reverse it shows an altar, on which the Russian insignia, crown, scepter, and imperial orb are placed. Above all, the Eye of Providence in the aureola is glancing down. The inscription "To Alexander the blessed" is engraved into the front of the altar. Three wreaths are lying at the base of the altar sacrificed to the heroic czar: in the middle there is the laurel wreath of the victor, to the left the wreath of peace made of olive branches, and to the right an oak wreath for saving people's lives. The date on the medal, March 19th, 1814, doesn't correspond to the year of issue of the medal. It refers to the glorious entry of the victorious Allies in Paris. But do not wonder, why this historical event, according to the medal, took place on March 31st – keep in mind that the Russians at the time followed the Julian calendar. And Maria Feodorovna, whose name is inscribed below the floor line of the altar, thought Russian, even though she was born in Germany in 1759.
Sophie Dorothea, as her baptized name was, was the fourth of the twelve children of Frederick Eugene of Württemberg, who later, a long time after her marriage, became Duke of Württemberg. Her mother was the grand daughter of a sister of Frederick the Great, which is why Frederick used an enquiry of the Russian Czarina Catherine to marry his great grand nice off to Paul, heir to the Russian throne, and therewith getting Prussia closer to Russia. For this, Sophie Dorothea had to convert to the orthodox faith and take on the name Maria.
Maria devoted herself to her artistic inclinations. She played the harpsichord, sang and painted watercolors – just like most of the well-behaved young ladies. Quite unusual was her profound interest in engraving. She designed cameos, worked herself with carving knifes to create works in ivory, and at an unknown point in her life she learned the craft of a medalist. In Nagler's History of Arts we can read that Carl von Leberecht, who served at the Russian mint as a medalist since 1776, bragged that "an Empress was under his pupils, that is the Empress Mother Maria Feodorovna."
While soviet historians could not imagine (or weren't allowed to) that a Czarina was able to do something meaningful, today's historians assume that Maria Feodorowna did have the skills to design medal dies. And we do know about a work shop, which she installed in her later years in Pavlovsk. It is there, where the "steel matrices displaying emblems of mythology" and "different coining dies" were stored.
Maria Feodorovna certainly did have enough time to learn a craft during her long years in Gatchina, when Paul and her were reduced to doing nothing. And in the 18th century it wasn't that unusual for a member of high nobility to be a craftsman in his leisure time. The opera Czar and Carpenter, for example, is based on the fact, that Peter trained as a carpenter. Louis XV of France worked the wood lathe, and Louis XVI worked as a black smith in the royal smithy. And they were not the only ones. So, Maria Feodorovna chose to spend her time learning to cut stones and dies, which is why she went into training with Carl von Leberecht.
From Künker Auction 277, Lot 346:
Bronze medal of Maria Feodorovna on her son's entry in Paris. The estimate of this piece only amounts to 500 euros.
Of course, a Czarina did not create coin dies for every day strikings. But, as a German and mother, the victory of her son Alexander I over Napoleon was worthy for creating dies with her own hands displaying this success. We know of two different die pairs for this medal, whose designs deviate slightly.
When she was named full and honorary member of the Prussian Academy of Arts in the presence of the Prussian King Frederick William III on December 26th, 1818, she subsequently – as required in the bylaws of the Academy – provided an entrance piece. And this piece was the medal, which she created to honor her son's victorious entry in Paris.
Maria Feodorovna died on November 5th, 1828 in Pavlovsk. Just shortly before her death, she was able to read about herself, the "skillful princess", in Nagler's Encyclopedia of Artists.
To read the complete article, see:
The die cutting czarina (www.kuenker.de/en/information/presseinformationen/aktuelle-mitteilungen/78)
Garrett H. White, the recipient of the gold Lifesaving medal was a Coast Guard "Surfman" and one of six recipients awarded the gold Lifesaving medal by the Treasury Department on June 18, 1880 for the February 3, 1880 rescue of the crew of the schooner E.C. Babcock and crew of the Spanish Brig Augustina during a vicious storm off Monmouth Point, NJ. During the rescue, Garrett's actions were particularly gallant as he rushed into the dangerous surf to untangle and rescue men on the line attached to the Augustina.
The other recipients during the rescue were:
Charles H. Valentine
Nelson Lockwood
Benjamin C. Potter
William H. Ferguson
John Van Brunt
The details of the rescue can be found online: http://www.uscg.mil/history/awards/GoldLSM/
3_Feb_1880_2.asp
John Sherman was the Secretary of the Treasury under Rutherford B. Hayes from 1877-1881. The 6-page handwritten letter from the Treasury Department which accompanied the medal is secretarial and not in the handwriting of John Sherman. Only the first page of the letter was pictured in the article, so it is uncertain whether Sherman personally signed the letter, or if it was also done secretarially. [I've added an image of the signature. -Editor]
During the storm on February 3, 1880, the Treasury Department awarded a total of 26 gold First-Class Lifesaving medals for two separate rescue events. Other than the six gold medals awarded for the rescue of the E. C. Babcock and Augustina off Monmouth Point, NJ, another 20 gold medals were awarded for the rescue of the schooner George Taulane off Swan Point, NJ that same day. Had Sherman written all 26 of the accompanying six-page award letters to the recipients personally, he would have needed to handwrite a total of 156 pages – which explains why he assigned this responsibility to others.
The gold Treasury Department Lifesaving medal awarded to Garrett H. White in 1880 is listed in Robert Julian's Medals of the United States Mint, The First Century 1792-1892, catalogued as "Julian LS-7". In 1877, the Treasury Department reduced the size of the 1874 First-Class medal. The 1877-1882 LS-7 medal has the same designs both obverse and reverse as the earlier 1874 medal (Julian LS-5), but the size was reduced from 76 mm to 50 mm in diameter as seen with this medal. The most significant difference was the gold content which was reduced in 1877 from approximately 11 troy oz. to only 3 troy oz. In 1883, the First-Class medal was again reduced in size – to 44mm – but continued to maintain the same design.
The records in the Julian Mintage Records Appendix are as follows:
1876/1877 29 gold
1877/1878 7 gold, 5 copper (copper likely for collector purposes)
1878/1879 8 gold
1879/1880 14 gold
1880/1881 27 gold (26 of them for rescues during the February 3, 1880 storm off New Jersey)
1881/1882 3 gold, 2 White Metal
1882/1883 4 gold (Likely LS-9medals)
It is impossible to tell from the US Mint records in the Appendix of Julian the exact number of the larger LS-5 vs. smaller LS-7 medals struck. The first of the smaller medals were struck in mid-February 1877, and the records for this period begin with fiscal year 1876/1877, so it is unknown how many of the 29 medals struck within this timeframe were of the smaller LS-7 50 mm size.
The gold and white-metal medals struck during fiscal year 1881/1882 seem to contradict Julian's statement in the description of the medal that none of the 50 mm LS-7 medals were struck after 1880. The first of the smaller 44 mm LS-9 medals were struck beginning on June 16, 1883. The striking of these medals in 1883 falls within the fiscal year 1882/1883, so it is likely all 4 of the medals recorded were indeed the smaller LS-9 medals. Extrapolating from the records compiled in Julian, no more than 88, and no less than 56 of the gold 50 mm LS-7 medals of the type awarded to Garrett H. White were struck. In the 1986 Price Guide supplement to the Julian US Mint medal reference, Richard Hartzog lists a mintage of 88 LS-7 medals struck in gold.
The United States Coast Guard records show that there were a total of 37 recipients of the First-Class Lifesaving Awards between October 10, 1877 and February 4, 1881. The remainder of the gold medals issued were likely awarded outside of these Coast Guard records, and a few of the gold medals may have been struck for collectors.
One of the two rare white-metal examples of LS-7 (not engraved and thus unawarded) sold in the June 2004 Stack's sale of the Medio/Da Costa Gomez Collection, Lot 2782, realizing $489.00.

Close-ups of the high relief and Paquet's mark
Alan Weinberg adds:
On the larger LS-5 version

Jonathan Brecher writes:
To read the complete lot description for the gold LS-7 medal, see:
Lot# 2256: 1876 Treasury Department Lifesaving medal, first class. Julian LM-5. Choice Mint State. (http://prior.stacks.com/lotdetail.aspx?lsid=AN00000584&lotno=2256)
Regarding the John J. Ford collection, Alan Weinberg writes:
On the smaller LS-9 version

Alan Weinberg writes:
I added an image from a 2012 Heritage sale. Thanks again everyone; this is a great medal with an interesting backstory and connection to the U.S. Mint. -Editor
To read the complete lot description, see: U. S. Mint Medal: Treasury Department, Gold Life Saving Medal, First Class (http://historical.ha.com/itm/political/u-s-mint-medal-treasury-department-gold-life-saving-medal-first-class/a/6086-38334.s)
To read the earlier E-Sylum article, see:
GOLD LIFESAVING MEDAL OF THE FIRST CLASS (www.coinbooks.org/esylum_v19n19a13.html)
Shades of Walking Liberty Graced With Truth and Heroism
By Ted Lierl
Pictured in this article is a Vail Medal for Noteworthy Public Service that was awarded to Truth H. Jensen for her efforts to save lives threatened by fire in 1955.
The reverse contains the monogram of its designer Adolf Alexander Weinman, more widely known to numismatists for his beautiful coins, the Walking Liberty Half Dollar and the Mercury Dime.
Weinman, one of the leading sculptors in the United States, designed the Vail Medal in 1921. In designing the medal, Mr. Weinman captured not only the personality of Vail, but also his ideals of service to the public.
The pictured Vail Medal was struck in bronze by the Medallic Art Company of New York and is 63millimeters (about 2.5 inches) in diameter. It is marked "1425-1955" on the edge.
Bronze medals were awarded to individuals in each Bell System company, by that company's awards committee. A bronze medal was sometimes awarded to groups of employees where the noteworthy act was due to the concerted action of the group, rather than by an individual.
A bronze plaque commemorating the act was presented to the company concerned. These plaques were designed for display in telephone buildings as a permanent and public memorial. Plaques may be seen to this day in telephone company buildings across the nation.
Up to the breakup of the Bell System in 1984, hundreds of Vail Medal awards were made to telephone company employees for acts of public service and bravery ranging from struggling through a blizzard to fixing a downed line; saving a child from a burning building or a man from a raging flood; to staying at the switchboard while bullets flew.
The blue leather Vail Medal presentation box for Truth Jensen's Medal contained a brochure that detailed the history of the Vail Medal for Noteworthy Public Service as follows:
The face of the Medal bears the likeness of Mr. Vail, President of the American Telephone and Telegraph Company from 1907 to 1919, in whose memory the award was established. Struck in gold, silver, or bronze, the Medal symbolizes and perpetuates his ideals of service to the public.
The dominant central figure on the reverse of the medal represents the "Civilizing Force of Communication" speeding the winged message along the wires. At the right, "Loyalty to Service" upholds the left hand of the central figure, while a third figure, "Devotion to Duty", helps support the lines of communication at the left of the group. "
Upon email contact, the seller provided the following additional background information:
All in all, this particular medal has great eye appeal, a gifted designer, and a heart-warming story of an everyday hero.
Editor's note; Ted Lierl passed away on July 6th 2015. Ted always brought fun with him when he came to our meetings, his joy of collecting overflowed into others around him. Ted had a talent for writing and was a good man, I can't emphasize those last three words enough, a good man!
This article is reprinted in memory of Ted. It was originally published in the May 2009 issue of The Cincinnati Numismatist. It is one of three articles that Ted wrote for our newsletter.
I started my career at AT&T Bell Labs, but was not aware of the Vail medal at that time. And I've never seen one of the plaques, but then I haven't been into any local switching offices. Has anyone seen one of the plaques? Anyone have a picture of one? -Editor
For more information on the Cincinnati Numismatic Association, see:
CINCINNATI NUMISMATIC ASSOCIATION (https://cincycoinclub.org/)
To read the earlier E-Sylum articles, see:
1925 THEODORE N. VAIL MEMORIAL MEDAL (www.coinbooks.org/esylum_v17n25a10.html)
THEODORE N. VAIL NATIONAL AWARD MEDALS (www.coinbooks.org/esylum_v17n26a13.html)
Joe writes:
Thanks, Joe. So here are just a few of the medals that caught my eye. -Editor
Ron Dutton


Rain Stream, 1982

Spring Twitter, 2008
Leonda Finke


MARTHA GRAHAM • CLYTEMNESTRA, 1982

RAPE • COMPANION OF WAR, 1993

SURVIVORS, 1987
To visit the Medialia Gallery web site, see:
http://medialiagallery.com/
In my March 20, 2016 Numismatic Diary I discussed my dinner in Washington, D.C. with several members of the Citizens Coinage Advisory Committee, including sculptor and medallist Heidi Wastweet. At the dinner she displayed some recent examples of her work, and here are some images (Thanks, Heidi)! -Editor
Cleopatra

From the Provident Mint web site:
Heidi's female forms are subtle and seductive. I like this Cleopatra - she's a far cry from the "Cleopatra was really ugly" narrative we often see in descriptions of coin picturing her. -Editor
Heidi adds:
For more information, or to order, see: Cleopatra 2 oz Ultra High Relief Silver Round (www.providentmetals.com/cleopatra-2-oz-high-relief-silver-round.html)
Odin

From the Gainesville Coins web site:
For more information, or to order, see: 2 OZ DOUBLE-SIDED ULTRA HIGH RELIEF ODIN SILVER COIN (www.gainesvillecoins.com/featured/odin-silver-coin)
Heidi adds:
To read the complete article, see:
WAYNE'S NUMISMATIC DIARY: MARCH 20, 2016 (www.coinbooks.org/esylum_v19n12a26.html)
Disney Dollars, a popular souvenir item and an in-house currency at Disney parks, will no longer be sold.
A Disneyland statement confirmed on Thursday the once popular currency, which could only be used at Disneyland and Walt Disney World, would be terminated effective Saturday.
The Disney Dollars currently in circulation can still be used.
"It's a testimony to the enthusiasm and heart of Disney guests and collectors that Disney Dollars remain collectible today," the Disneyland statement said. "We continue to offer many ways to collect cherished Disney memories in tangible ways."
Gift cards and other forms of payment made the Disney Dollars obsolete.
Disneyland's first president, Jack Lindquist, invented Disney Dollars because of the Anaheim and Orlando theme park's growing popularity in the mid-1980s. The first runs were unveiled and circulated on May 5, 1987.
"We set the criteria that our Disney money would always be tied to the price of the U.S. currency, so if a dollar is worth a dollar, a Disney Dollar would be worth a U.S. dollar," Lindquist said in his memoir, "In Service to the Mouse." "That way, the money could be spent in the parks, the same way U.S. currency is."
Disney Dollars featured pictures of Mickey Mouse, Donald Duck and other characters. They were sold at the theme parks in denominations of $1, $5, $10, $20 and $50.
Disney Dollars were produced with the same level of security, "care and concern as any other currency," Lindquist said.
People on this fan site reacted to the news. -Editor
Montica writes:
Joe P. writes:
Elizabeth writes:
Sher writes:
To read the complete article, see:
BREAKING: Disney Dollars to be Discontinued May 14th, 2016 (http://wdwnt.com/blog/2016/05/breaking-disney-dollars-to-be-discontinued-may-14th-2016/)
We've had some articles recently about postcards picturing coins. This May 11, 2016 Stack's Bowers blog article by Frank Van Valen illustrates and example we haven't seen before. -Editor
​I recently added a neat French postcard to my exonumia collection simply because of the subject matter. The card is an advertisement for Biscuits Pernot, no doubt a popular snack in France in the late 1890s and early 1900s. The illustration on the front of the card, however, is what made me buy it. A trompe l'oeil Series 1899 $1 "Black Eagle" silver certificate forms the backdrop to what Frenchmen of the day no doubt thought of as a comical rendition of the American scene.
Front and center is a strutting young boy dressed as one of Teddy Roosevelt's Rough Riders in jodhpurs and knee-boots, cigar in mouth, wide-brimmed hat on head, and pistol by his side. His jacket is draped over his left arm and with his right hand he throws largesse in the form of gold coins and paper money at a young shirtless black boy in a cart with an andiron at its side, no doubt the poor beggar boy's method of locomotion. Walking along dutifully behind our American youth is another young black boy, this one dressed as a Native American with feathers in his hair and an American flag draped around his middle as a sash. The youth carries two large, swollen bags of gold coins, some of which are falling from a tear in one of the bags. In the lower right corner is the full-sized obverse and reverse of a gold-toned embossed U.S. half eagle dated 1886 with the word AMERIQUE beneath.
I can only guess that America was viewed by our French counterparts of the era as a land of adventurous, wealthy people who threw money at their problems and enjoyed the high life. As for me, I can't help but wonder if Biscuits Pernot were as good as the advertisement made them seem!
To read the complete article, see:
What the French Thought of Us at the Turn of the 20th Century (www.stacksbowers.com/News/Pages/Blogs.aspx?ArticleID=2085)
In 1862, the US was faced with a severe coin shortage, as individuals were hording gold, silver and even copper coins during the country's dire economic condition. Several measures were attempted, but the best solution was the issuance of Postage Currency notes to replace scarce coinage. While Postage Currency was never meant to be used as postage stamps, some people who did not have a stamp handy used these notes as an emergency replacement. This did not occur very frequently since it cost only 2¢ to mail a letter and the smallest postage currency denomination was 5¢.
Instances of this usage are quite rare. Over the past 30 years, only a handful have surfaced at auction. The placement of Postage Currency notes on an envelope is eye-catching (especially to the fractional enthusiast), and when an example shows up at auction, it attracts a lot of attention.
There are no examples from the John Ford sales conducted by Stacks Auction, but from the CAA (Currency Auctions of America) Milt Friedberg sale in January 1997, three different examples were sold. Shown is the lot description and auction sale price.
Lot 96. Postage Currency used as Postage. A 5¢ FR.1230 (Milton 1R5.4) mounted to the upper left of an envelope and postmarked "New York September 20 9PM 1901." The identical postmark appears at the right of the envelope. One of the very few known indisputably genuine uses of postage currency as postage (750-UP). Purchased by Milt from Fractional Currency Inc in 1994 at the Memphis show. Sold for $770. This same example sold twice more both at exactly $2,300. At the Tom O'Mara HA sale in September 2005 and from the Peter Gamble collection auction by HA in January 2008.
Lot 98. Postally Used Fractional Currency. A 5¢ First issue note has been used as a stamp to mail a letter which is postmarked September 18, 1901. Although not specifically authorized for use as postage, First issue notes occasionally, although rarely, were pressed into service as stamps. This five cent note on its plain cover appears to have been used as postage rather than a gimmick, souvenir or hobby stunt. (500-up). rom Abe Kosoff's 1971 sale of the Julian Marks Collection. Sold for $577.50.
For more information about the Society of Paper Money Collectors, see:
www.spmc.org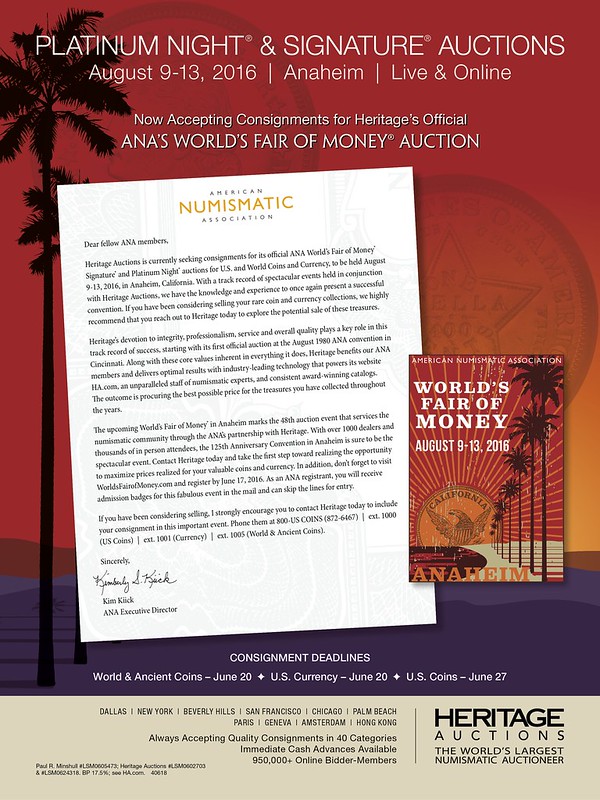 After work Tuesday May 10, 2016 I pointed my car toward downtown Alexandria, VA for the monthly meeting of Nummis Nova, my Northern Virginia numismatic social club. Aaron Packard was our host, and the venue was Southside 815 at 815 S. Washington street.
I was the first to arrive at about 5:30pm. As the staff set up our table Eric Schena arrived. We sat down and began chatting. I ordered a draft beer and showed Eric some new books I'd brought along.
Regulars Julian Leidman, Joe Leidman and Gene Brandenburg were unable to make it. Seated across from me and Eric were Dave Schenkman and Jon Radel. To my right was Robert Hoppensteadt. Other attendees included Tom Kays, Joe Esposito, Lenny Goldberg, our host Aaron Packard, Steve Bishop, Mike Packard and Wayne Herndon.
My companions brought along a great range of interesting material for display, and they kindly shared images and descriptions. So I'm turning the rest of my diary over the them, the numismatic mavens of the evening.
Eric Schena: Bank of Virginia $50 Note

Eric's 1859 Bank of Virginia $50 note is a rare issued example of a higher-denomination note. Most genuine higher-denomination notes got redeemed, leaving for collectors only printer's proofs and counterfeits.
Eric adds:
Jon Radel: Medals of the Guild of Medallic Art in Finland


Juhlavuosi (Anniversary) by Toivo Pelkonen

Elämää (Life) by Hannele Kylänpää
Jon writes:
Steve Bishop: Medals and An Overstruck 5 Kopecks
Steve has also become a fan of Finnish medals, and he brought some interesting examples.

Finnish Union of Veterans and War Invalids Medal

1952 Olympics Particpant Medal by Rasanen

1976 Medal Showing Coins Issued Under Finnish President Urhu Kekkonen

1930 French Aviation Medal to Georges Ferrand
I like these Art Deco era aviation medals. They're not all about Lindbergh.

1788 MM 5 Kopecks Overstruck 2
Steve writes:
Robert Hoppensteadt: Bronze coin from Caesarea ad Libanum in Phoenicia

Robert writes:
I too, like ancient coins featuring architecture, but have never collected them. Nice piece.
Joe Esposito: Upton Sinclair Satire Note

Joe writes:
Tom Kays: Washington Medal

Tom writes:
And More...

Tom Kays supplied these images of other items that graced our table.
Tom adds:
My beer got warm before I finished it. I switched to soft drinks. Dinner was good. I visited with Tom Kays, Joe Esposito and Wayne Herndon before heading home around 9 o'clock. As always, it was a fun night of numismatic fellowship. Looking forward to next time!
I've been home about a week from my trip to Thailand where CoinWeek was invited to be a presenter at the XXIX World Mint Director's Conference. I have to say that the Royal Thai Mint did a fantastic job hosting the event in the heart of Bangkok, a world-class city almost indescribable in the sheer scale of its towering skyscrapers and busy streets teeming with people, cars, and motorbikes. Thailand is known to many as the "Land of Smiles", and those in attendance–mostly mint directors and key personnel from leading state and private mints from around the world–were treated to some of the friendliest people and amazing food that I've ever had the pleasure to experience.
And I'd be remiss if I didn't mention the fantastic cultural exchange, including a visit from Her Royal Highness Princess Shrindihorn.
But beyond the pomp and circumstance, the reason for the gathering was to share information and expertise, and to find common ground for the sake of preserving and growing the coin minting industry.
I traveled to Bangkok to present a case for the commemorative and NIFC (Not Intended for Circulation) coin-issuing mints to consider the challenges of maintaining a secondary market for their products.
One need not be a professional coin market analyst to understand that the rare coin industry is mostly built on the recycling of a finite inventory of coins from the past. The mints, of course, contribute to this inventory, but in this postmodern era of coinage they produce far too many coins and offer them at too high a cost to insure that these coins will maintain their price in the long run.
We know all too well that many modern issues, even those that are popular out of the gates, do not fare well in the secondary market in the long term. Combating this problem won't be easy, but we think that the mints have a role in the matter and do bear some of the responsibility for the product they create.
In essence, the issue comes down to market sustainability and branding. No coin collector buys a coin with the intent of throwing it away when they grow tired of it. The cold hard truth of the collector coin market is that we're all just temporary owners of the coins we buy. And while the U.S. market is more investor-oriented than any other coin market in the world, it makes sense for the industry to research and develop ways of either capitalizing the secondary market for their past issues (when there's a need) or means of sustaining interest in past product so tomorrow's collector will find today's modern issues as interesting as we do.
As daunting as it might seem to stand up in front of representatives of all of the world's major mints to deliver this message, I found strength of purpose from my belief that sustaining the collector market in the long term is in the minting industry's best interests. Especially at a time when the very physical reality of money is increasingly challenged by digital forms of payment, aka the dreaded "cashless society".
Also, by carrying this message, we represent the interests of their customers–you, our CoinWeek readers. In making light of the collectors' impulse to turn a profit from a coin purchase, I told the mint directors that "inside the heart of every collector is a greedy little speculator". In actuality, I don't think any of us expects every coin we ever buy to pony up the goods, but we do hope that if we spend $100 of our hard-earned cash for a beautiful modern collector coin that we won't be left totally upside down, having nothing more to show for it than a fancy piece of bullion.
The coin market has already lived through the collapse of that system when the bottom fell out of the Franklin Mint's much-hyped marketing plan back in the 1970's. We certainly don't want a repeat of that, when the mints need collector support more than ever.
Kudos to the Conference for inviting Charles to speak, and kudos to him for speaking out on a topic the audience may not have wanted to hear. Prices for many Mint collector products are sky high, leaving little room for buyers to profit or even recoup their costs when selling. -Editor
To read the complete article, see:
Editor's Note – World Mint Directors' Conference XXIX: A Time for Cooperation (www.coinweek.com/world-mints/world-mint-news/editors-note-world-mint-directors-conference-xxix-time-cooperation/)
To read the earlier E-Sylum article, see:
THE 29TH MINT DIRECTORS CONFERENCE (www.coinbooks.org/esylum_v19n13a18.html)
In the previous article Charles Morgan discussed world Mint products aimed at the collector market. This article describes some post-mint coin marketing here in the U.S. -Editor
NRA Executive Vice President Wayne LaPierre is joining the ranks of several former U.S. presidents and more than 40 members of the Baseball Hall of Fame in teaming up with 1st American Reserve to provide signature backing for a limited-edition silver dollar.
The American Eagle silver coin comes in a protective case and includes a reproduction of LaPierre's signature on the label. The 2016-dated coin is graded Mint State 69 on the 70-point numismatic grading scale. Each coin contains one ounce of 99.9-percent pure fine silver, and the grade has been certified by the Professional Coin Grading Service, according to Michael Fuljenz, chief numismatic consultant for 1st American Reserve.
Previous editions of such coins have come with signatures of former U.S. presidents, top-level athletes and other notable individuals.
The release is part of a fundraising effort as the NRA gears up for this year's critical election. For each coin sold, 1st American Reserve will donate $2 to the NRA to help the Association work to preserve our Second Amendment-protected right to keep and bear arms.
The price per coin, subject to change based on the spot price of silver, is $26.99, plus shipping.
Former U.S. Mint Director Ed Moy and Sculptor-Engraver John Mercanti have signed labels for coin holders as well. At least with Mint officials there's a connection to the coin itself. But marketing has its own logic distinct from numismatics. I've got nothing against these items, though - if people want to buy them somebody might as well sell them. So why not special holders as fundraisers for numismatic organizations? The American Numismatic Association could have one, for example. -Editor
To read the complete article, see:
Wayne LaPierre Signature Coin To Raise Money For NRA (www.americas1stfreedom.org/articles/2016/5/13/wayne-lapierre-signature-coin-to-raise-money-for-nra/)
David Pickup forwarded this story about a rare error coin found in a charity collection bucket. Thanks. -Editor
Poppy collectors were stunned after discovering an extremely rare SILVER 2P coin in a tin - one of the only in the world and worth up to £2,000.
The almost unique coin was donated to a branch of the Royal British Legion as they were collecting in the street. They found the ultra rare 2p in amongst the normal coppers and pounds - and handed it to the bank to be destroyed thinking it was a fake. But The Royal Mint confirmed it was the result of a 'minting error' when a blank 10p was accidentally put in a 2p mint.
To read the complete article, see:
http://www.yorkshireeveningpost.co.uk/news/offbeat/video-rare-silver-two-pence-is-found-in-poppy-collection-1-7901205 (www.yorkshireeveningpost.co.uk/news/offbeat/video-rare-silver-two-pence-is-found-in-poppy-collection-1-7901205)
As the European Central Bank stops printing new €500 notes, the value of these big bills could climb as people pay more to own them.
The ECB said on Wednesday that it will stop printing a note that police agencies say is a preferred tool for international criminals.
But like pop stars and painters, the value of these notes may increase in death.
Some of the ECB's senior policymakers didn't like the idea of getting rid of the note entirely. So while new €500 notes won't be printed any more, they will remain legal tender.
Typically, when a central bank stops producing a denomination or a series of banknotes, it offers a fixed period in which it will still be accepted as legitimate currency.
For example, a British £20 note bearing the image of Edward Elgar was issued from 1999, ceased production in 2007 and stopped being legal tender in 2010. In the eurozone, national central banks will still exchange their old currencies, from the franc to guilder, for euros. But they can no longer legally be used purchase goods and services.
Restricting the supply of the €500 note could actually result in this note, one of the largest in major economies, trading at a premium to other euro denominations. Even before the decision, there were reports that this was happening.
In 2015, Europe's umbrella organization for policing, Europol, warned that law enforcement agents had informed them that €500 notes trade hands at above their face value in the criminal world, "so important is their role in cash transportation for money laundering."
And that phenomenon is not unique to Europe.
The highest U.S. dollar denomination, the $100 bill, trades at a significant premium in many emerging markets. That's according to Peter Sands, the former CEO of Standard Charted who sparked the discussion over high denomination banknotes earlier this year.
Argentina, Ethiopia, Indonesia and India are among the countries where buyers will stump up more of their local currency to get hold of $100 notes, paying between 2% and 20% more for the highest denomination, Mr. Sands said.
Though the idea seems odd, history shows that notes of the same ostensible value can trade at a premium to others.
Before the U.S. National Bank Act in 1863, many U.S. dollar notes were issued by private banks. The notes were traded at values based on how creditworthy the bank was regarded.
In much of the country, and particularly during banking panics, that made some dollars worth more than others.
To read the complete article, see:
(http://blogs.wsj.com/moneybeat/2016/05/06/the-death-of-the-e500-note-could-boost-its-black-market-price/) The Death of the €500 Note Could Boost its Black Market Price
To read the earlier E-Sylum article, see:
EUROPE TO DISCONTINUE 500-EURO BILL (www.coinbooks.org/esylum_v19n19a29.html)
In a move that sent shockwaves through the amusement park community, Disney World and Disneyland have been busted for running one of the most elaborate and widespread counterfeit money schemes in history. According to a report from Robot 6, Disney parks have been producing fake currency featuring Disney characters since 1985 in denominations of $1, $5, $10, $20 and $50, and have somehow managed to fly under the radar of authorities for all of that time.

However, a recent sting operation that involved FBI agents dressed as costumed characters revealed that the counterfeit bills were in circulation all over both American Disney parks, with vendors exchanging the bills for real American currency. Government forces moved swiftly to shut down the operation, seizing over 2 billion Disney dollars in fake currency, as well as an entire money vault full of the stuff owned by powerful Disney executive Scrooge McDuck.

At press time, authorities believed it could take years before all of the Disney Dollars could be taken out of circulation. No arrests have been made at this time, but the hideout of local criminal organization The Beagle Boys is reportedly under surveillance, and police and swat teams could move in at any moment. We'll keep you posted.

To read the complete article, see:
REPORT: DISNEY BUSTED IN MASSIVE COUNTERFEIT SCHEME (www.theouthousers.com/index.php/news/135321-report-disney-busted-in-massive-counterfeit-scheme.html)

This week's Featured Web Page is devoted to the B'Nai B'Rith Internations collection of Palestine Mandate Coins.