About Us
The Numismatic Bibliomania Society is a non-profit organization devoted to the study and enjoyment of numismatic literature. For more information please see our web site at coinbooks.org
Subscriptions
Those wishing to become new E-Sylum subscribers (or wishing to Unsubscribe) can go to the following web page link
Membership
There is a membership application available on the web site Membership Application
To join, print the application and return it with your check to the address printed on the application. Membership is only $20 to addresses in the U.S., $25 for First Class mail, and $30 elsewhere. For those without web access, write to:
Terry White, Treasurer
Numismatic Bibliomania Society
P. O. Box 39 Hilliard, OH 43026-1278s
Asylum
For Asylum mailing address changes and other membership questions, contact Terry at this email address: terrywhite5475@yahoo.com
Submissions
To submit items for publication in The E-Sylum, just Reply to this message, or write to the Editor at this address: whomren@gmail.com
BUY THE BOOK BEFORE THE COIN
New subscribers this week include: Hanh Pilitowski. Welcome aboard! We now have 1,983 subscribers.
This week we open with news of the loss of a numismatic publishing giant, Chet Krause. Next up are four new books, a new digital archive on Victoria Cross recipients, and an update from the Newman Numismatic Portal.
Other topics this week include U.S. Mint errors, regulated gold coins, Philadelphia dealer Stephen Nagy, colonial minter William Coley, Howard Daniel's visit to the ANA library, numismatic literature dealer Remy Bourne, coins found at a Pompeii shop, fires at banknote printing plants, and card money in New France.
To learn more about modern U.S. dollar coins, junk silver, "oil pan coins", Monetary Unions, multiple-denomination coins, Des Moines police coins, the 1878 Exposition Universelle aluminum token, counterfeit Kool-Aid cash, and the dead canary at the BEP, read on. Have a great week, everyone!
Wayne Homren
Editor, The E-Sylum







Pia Anderson, Mark Anderson, Chester Krause
Mark Anderson writes:
Regarding the Krause business model that originated in numismatics, George Cuhaj writes:
Ray Williams writes:
I discovered online an oral history interview with Chet about his WWII experiences. Here's the Abstract and Biographical Sketch. -Editor
Abstract:
Chester L. "Chet" Krause, a Helvetia, Wisconsin native, discusses his World War II service with Army anti-aircraft artillery in Europe and visiting Buchenwald concentration camp after its liberation. $b Krause talks about being drafted, artillery training at Camp Wallace (Texas), auto mechanic training at Camp Davis (North Carolina), and assignment to the 565th Anti-Aircraft Battalion at Camp Stewart (Georgia). He touches upon types of anti-aircraft battalions, the change of weapon control from a fire control center to radar control, and the use of proximity fuse ammunition. Assigned to Luxembourg City during the Battle of the Bulge, Krause comments on providing protection for the 3rd Army Headquarters, giving coffee to soldiers passing through in convoys, and seeing B-24 bombers dropping tinsel chaff to interfere with radar. He describes his work fixing trucks, salvaging parts, guarding field artillery near the Rhine, and following Armored Divisions. He comments on the Army's dependence on 70 octane gas and states it was always stored in five-gallon cans. Krause details visiting Buchenwald concentration camp: giving their "D-rations" to the camp doctor, having the structure of the camp explained, and visiting the Jewish section, the whorehouse, and the crematorium. He recalls retracing his steps with other veterans from his battalion in the early 1990s. He describes guarding the ports at Camp Lucky Strike (France) and Antwerp (Belgium). He evaluates the effectiveness of English soldiers and compares them to American troops. He touches upon his return to his family farm, the economic conditions following the war, getting involved in the publication business, and attending reunions.
Biographical Sketch:

Krause (b.1923) served in World War II with the 565th Anti-Aircraft Battalion. After the war he returned to Wisconsin and eventually settled in Iola. While working as a carpenter, he founded Krause Publications in 1952 and was involved with publications such as Numismatic News, the Standard Catalog of World Coins, and Old Cars.
To read the complete transcript, see:
Transcript of an Oral History Interview with CHESTER L. KRAUSE Mechanic, Army, World War II. 2002 (www.wisvetsmuseum.com/collections/oral_history/
transcriptions/K/Krause,%20Chester%20_OH%2045_.pdf)
Our wishes are with Chet's family. He was a giant who will be greatly missed. Other numismatic notes and reminiscences are welcome. -Editor
To read the earlier E-Sylum article, see:
NEW BOOK: I'M CHET: THE AUTOBIOGRAPHY OF CHET KRAUSE (www.coinbooks.org/esylum_v11n23a07.html)
Following his release from the Army in 1946, Krause returned to Iola where he worked on the family farm and set himself up as an independent builder. Through the early 1950s he constructed two dozen houses, two churches and a 105-foot ski jump in the Iola area.
In October, 1952, Krause published the first issue of Numismatic News. The one-sided 11" x 17" sheet was meant to fill a niche Krause identified to serve the buying, selling and trading needs of coin collectors nationwide who were far removed from metropolitan areas where numismatists enjoyed coin shops, clubs, shows and conventions. He was the prototypical customer for his new venture: a serious coin collector who was geographically cut off from that hobby's mainstream.
For the next five years the publication grew in advertising volume and circulation as Krause nurtured it on evenings, weekends and when inclement weather kept him away from current construction projects. In 1957, Krause finished the last building he would ever construct, a 40" x 40" brick and glass office a block off of Iola's Main Street. That would remain, with occasional additions as expansion dictated, the offices of Krause Publications for nearly two decades.
Numismatic News grew throughout the 1960s and Krause Publications expanded through acquisitions and start ups of periodicals to fill needs Krause identified in the coin collecting community.
When the coin collecting hobby suffered a serious downturn in the mid- 1960s, almost forcing the demise of his publishing business, Krause recognized that diversification was key to insure its survival. In 1971 he founded Old Cars, a virtual clone of the contemporary Numismatic News, and began to develop a parallel line of periodicals for antique auto enthusiasts.
His involvement with the car collecting fraternity led to one of the most significant contributions he would make to his hometown. In 1972, in conjunction with a pig roast and donation auction fundraiser sponsored by the Iola Lions Club, Krause invited two dozen area vintage car owners to display their vehicles at the cookout. That was the first Iola Old Car Show, an annual event that draws tens of thousands of spectators to the village to view more than 2,000 collector cars and do business with 1,500 swap meet vendors. The event has raised millions of dollars with profits benefiting the dozens of area civic organizations that provide volunteer staffing for the largest collector car show in the Midwest.
To read the complete article, see:
Chet Krause: The authorized internet biography (http://boblemke.blogspot.com/2013/05/chet-krause-authorized-internet.html)
Dennis Tucker of Whitman Publishing submitted these thoughts on Dave Bowers' new book on modern U.S. dollar coins. Thanks. -Editor
Coin Collectors Will Love Bowers's New Guide Book of Modern United States Dollar Coins
by Dennis Tucker
Whitman Publishing is releasing a new volume in the popular Bowers Series of numismatic references. The 320-page Guide Book of Modern United States Dollar Coins will be available July 26, 2016, and will officially debut with a book-signing by author Q. David Bowers at the World's Fair of Money, August 9–13, 2016, in Anaheim, California. It will retail for $19.95.
Modern U.S. dollar coins—those dating from the 1970s to today—are popular with collectors, even though they don't share the sepia-toned romance of older silver dollars. They're not worn from being slid down countless bars in Wild West saloons; we don't imagine them being paid out of Las Vegas slot machines in streams of clinking silver. None of them have attained the legendary status of the 1804 dollar, or entered the popular imagination like the coin supposedly thrown across the Potomac River by a young George Washington. (Never mind that the first U.S. silver dollars were minted when Washington was in his 60s.)
Even so, coin collectors love modern dollars. Many Americans have seen them, even the older Eisenhower types, at one point or another; specialists study their varieties; and the U.S. Mint continues to produce them by the millions, in innovative formats and with fascinating new themes and designs.
By 2016 Whitman Publishing's Bowers Series had covered the most popularly collected earlier dollar types (in the Guide Book of Peace Dollars, the Guide Book of Morgan Silver Dollars, and the Guide Book of Liberty Seated Silver Coins). But nowhere in the hobby's literature was there a single book-length history and coin-by-coin study of Eisenhower, Anthony, Sacagawea, Native American, and Presidential dollars.
The Guide Book of Modern United States Dollar Coins, volume no. 22 in the Bowers Series, remedies that situation. The new volume is a natural addition to the lineup. Every day at Whitman we're taking the pulse of the hobby community. From conversations with coin collectors, dealers, Mint officials, and others, and from our sales of folders, albums, and related products, we know that interest in modern dollar coins is strong.
Eisenhower dollars have a numismatic society, the Ike Group, devoted to them. Collectors (some with profit in mind) carefully select the highest-graded coins in the series, take the time to build well-matched and visually appealing sets, compete in registries, research the history of the coins, and study interesting die varieties. Susan B. Anthony dollars make up a shorter series but they have their enthusiasts, as well. And the golden dollars of 2000 to date traverse a rich landscape of Native American and presidential themes, giving collectors much to think and talk about.
The Bowers Series is named for Whitman Publishing's numismatic director, Q. David Bowers, a legend in the hobby. Not every volume in the collection is written by Dave Bowers himself (Roger W. Burdette created the work on Peace dollars, for example), but he was a natural choice for this particular subject. The author of several best-selling books on silver dollars, as well as numerous books and countless articles and columns on other coin series, Dave stays up to date on all modern coinage, including dollars. His contacts within the hobby community give him access to market insight and analysis from specialists.
Over the past several years Dave and I have visited each of the U.S. Mint's currently operating facilities (Philadelphia, Denver, San Francisco, and West Point, as well as headquarters in Washington, D.C.). We have interviewed Mint officers, technicians, engineers, assayers, coin designers, manufacturing specialists, and others who work with our nation's coinage on a daily basis.
By observing firsthand every aspect of production, and taking copious notes, Dave has gathered unique knowledge of the dollar coins being made today. This information is priceless not only for active coin collectors, but also for the sake of American history in general. Dave Bowers tells the story of the coins of the United States, and the coins tell the story of the nation.
To this cutting-edge modern-day research, which is ongoing as you read these words, Dave adds his photographic memory of 60-plus years as a coin dealer, collector, and researcher. He was famous as a numismatist well before the first modern U.S. dollars were minted in 1971, and he has personally known most of the designers, engravers, Mint directors, and others involved in the creation, production, and distribution of these coins.
I have written elsewhere on the subject of how Q. David Bowers manages to be so prolific as an author, in breadth and depth, across so many numismatic subjects. In the preface to the Guide Book of Hard Times Tokens I mentioned a few factors: his disciplined approach to writing, his insatiable curiosity, his ability to make creative mental connections, his deep network of colleagues, and his years of active experience. All of these factors were in play as Dave created the Guide Book of Modern United States Dollar Coins. The result is a valuable reference guide that will benefit every coin collector.
Dennis adds:
For more information, or to order, see:
A Guide Book of Modern United States Dollar Coins (www.whitman.com/store/Inventory/Detail/A-Guide-Book-of-Modern-United-States-Dollar-Coins+0794843980)
2017 U.S. Coin Digest, 15th Edition
The Complete Guide to Current Market Values
By David C. Harper, Editor; Richard Giedroyc, Market Analyst
The 2017 U.S. Coin Digest is the most comprehensive color guide to all United States coin issues on the market. Featuring professionally vetted values, complete coin listings, detailed photos and much more, U.S. Coin Digest is perfect for the coin collecting beginner and expert alike.
Easy to use and easy to understand, U.S. Coin Digest answers all your questions about coinage from Colonial America to the present. Its unique "lay-flat" design makes it a wonderful, handy resource tool while thousands of images make coin identification a snap.
Each year, U.S. Coin Digest is expertly reorganized and revalued, meaning the information remains fresh. In addition, new grade values have been added where needed to reflect demands in the ever-changing marketplace.
Whether sorting through a jar of coins or valuing a massive collection, U.S. Coin Digest is the perfect tool for the job.
Inside you will find:
All U.S. coin issues
Real-world market values
2,000 color images for easy identification
11 grades of coin condition
Coinage of Colonial America to today
Bullion coins
Mint and proof sets
Errors and varieties
SKU R0731 Author/Speaker/Editor David C. Harper,
Editor; Richard Giedroyc, Market Analyst
ISBN 13 9781440246746
Number Of Pages 320
For more information, or to order, see:
2017 U.S. Coin Digest, 15th Edition (www.shopnumismaster.com/2017-us-coin-digest-15th-edition-spiral-bound)
Brian Smith has released the 2nd edition of his Complete Guide to U.S. Junk Silver Coins, providing readers with a worthwhile update that warrants the attention of "junk" silver collectors and investors. Coming in at almost twice the length of the first edition, the book is a thoughtfully balanced resource complete with copious (black and white) images and helpful charts.
"Junk silver" is the name commonly used to describe pre-1965 U.S. coins that carry significant percentages of silver in their metal composition, yet are not seen as collectible in a numismatic sense. Oftentimes, years of wear from circulation have left their features worn or damaged. With some exceptions — which the author is careful to address — the general rule of thumb is that dimes, quarters, and half dollars struck before 1965 are composed of 90% silver.
This leads to an interesting situation, as the metal content of silver-based coins is now worth significantly more than their monetary denomination, while the value of contemporary clad coins is tied to the value of the dollar, which has gradually diminished over the decades due to inflation. For instance, a 1964 quarter composed of 90% silver is worth around 3 dollars today, while a clad 1965 quarter has lost value with inflation, since 25 cents doesn't carrying the buying power it once had. Smith shows how junk silver holds its value over time and represents a reasonably safe way to invest in precious metals.
Included are chapters looking at the history of silver used in United States coinage, reasons for investing in silver, composition details on specific coins containing the metal, thoughts on how wear effects weight and value, avoiding counterfeits, considering bullion coins, and more.
Because of all the varieties, fractions, and percentages one must bear in mind while sifting through silver-based coins, investing effectively in junk silver requires sound information and patience. Smith helps his readers navigate the pitfalls with admirable clarity.
The Complete Guide to U.S. Junk Silver Coins, 2nd edition is a 160-page independently published paperback. At the time of this writing it can purchased from Amazon for $12.99.
Brian Smith's Complete Guide to U.S. Junk Silver CoinsWorthwhile for Silver Enthusiasts (http://news.coinupdate.com/brian-smiths-complete-guide-to-u-s-junk-silver-coins-worthwhile-for-silver-enthusiasts/)
For more information, or to order, see:
The Complete Guide to U.S. Junk Silver Coins, 2nd Edition (www.amazon.com/Complete-Guide-U-S-Silver-Coins/dp/153035255X/ref=sr_1_1)
Gregory Brunk, author of four books on countermarked coins, has completed the first draft of his manuscript on "Regulated Gold Coins". With new information on marks, issuers and background of cause and effect, the information should be of great interest to students of this series. Expanded from two pages in his recent book "Merchant and Privately Countermarked Coins", the now 36 page document greatly increases the available information.
The publisher, Rich Hartzog of World Exonumia Press, is considering a tiny print run, mainly to solicit new photographs, listings and information. Full publication will probably be in 2017 or 2018. Persons interested in this topic, in contributing or in a copy of the limited print run, should either sign up on the exonumia.com JOIN web page, or send an email to hartzog@exonumia.com. All information is solicited. Contact Hartzog for specifications on images.
To read the earlier E-Sylum articles, see:
AMERICAN REGULATED GOLD PIECES (www.coinbooks.org/esylum_v19n10a14.html)
REGULATED GOLD: STACKS'S BOWERS MAY 25, 2016 SALE (www.coinbooks.org/esylum_v19n21a24.html)
See How The World's Coins Are Changing
Worldwide, the coins being issued today are undergoing a transformation, combining unique technological innovations and new security features with novel designs, details and materials. Keep up-to-date with these changes with the Directory of Circulating Coins.
Published by Currency News™, the Directory of Circulating Coins is the only guide to every circulating coin in the world – making it an invaluable reference and research tool.
The second edition was published in Spring 2016. The directory is available in print and pdf formats.
Every Coin, Every Country: One Indispensable Guide

The new directory provides detailed information on all the circulating coins in the world – including up-to-date information, specification and images in one concise and easy-to-use volume.
This makes it an indispensable guide for anyone involved in the design, production, quality control, validation or use of coins.
Over 200 A4 pages
Covers every coin from the Afghani and the Ariary through to the Yuan and the Zloty
Details of every denomination of each country's circulating coins
Includes real-size images of the obverse and reverse of each coin
Features dates for Year First Minited and Last Known Year of Minting
Information on composition, diameter, weight, edge detail, and description of motifs, security features and special notes.
How to Order Your Copy
The Directory of Circulating Coins is available in hard copy format or as a pdf.
The price is the same for either option. Buy both and save 50%.
For more information, or to order, see:
(www.reconnaissance.net/currency-news/publications/the-directory-of-circulating-coins/)
Medal collectors now have a new online research resource - a digital archive of winners of the Victoria Cross from 11 countries. -Editor
A digital archive honouring 175 winners of the Victoria Cross from 11 countries has been launched as part of the British Government's Centenary programme.
The stories of each of these men, from the Commonwealth and several other nations, who received Britain's highest award for valour during the First World War can now be found online.
In June 2014, bronze memorial plaques were presented to their home countries as a mark of gratitude from the UK.
The Foreign &Commonwealth Office explains: "In this second stage of the campaign we are telling the individual stories of these courageous men who came from many different backgrounds, and who fought side by side with Britain in a common cause. By doing so we hope that today's generations will come to learn more about their bravery, compassion, and loyalty."
During the Great War, overseas Victoria Cross recipients were drawn from Canada, Australia, New Zealand, South Africa, undivided India (now India &Pakistan), the United States, Nepal, Denmark, Belgium and Ukraine.
Foreign &Commonwealth Office Minister Hugo Swire said: "Behind every name engraved on the memorial plaques there is a truly remarkable story. It is fitting that we pay tribute to the Victoria Cross recipients from overseas by bringing their stories together in this digital archive.
"By doing so we are sending a message that these men, and the important role played by their home countries in the First World War, will never be forgotten by the people of the United Kingdom.
To read the complete article, see:
UK online tribute to overseas Victoria Cross winners (www.centenarynews.com/article/uk-online-tribute-to-overseas-victoria-cross-winners)
To access the VC Digital Archive, see:
www.gov.uk/government/collections/archive-commemorating-overseas-ww1-victoria-cross-recipients
The latest addition to the Newman Numismatic Portal is a collection of material published by numismatic literature dealer Remy Bourne. Project Coordinator Len Augsburger provided the following report. -Editor
Remy Bourne, a numismatic literature dealer active through the early 2000s, has graciously allowed the Newman Portal to digitize his entire catalog of publications. This collection includes 16 auction sale catalogs, a house organ, a short series of fixed price lists, and nine volumes surveying American numismatic periodicals, prices paid for lists, and other dealer-related promotional literature. This material is now available on the Newman Portal, with the exception of volumes 1 and 2 of the surveys. Can an E-Sylum reader loan these for scanning?
The Bourne survey volumes serve as a bibliography for some of the more obscure items in American numismatic literature – fixed price lists of little-known 19th century coin sellers, dealer newsletters containing the odd biographical tidbit found nowhere else, and the like. The publication of these references was a gift to the numismatic community that established a starting point for further research in this area.
Bourne's house organ, the Numismatic Literature Review, featured articles by Bowers, Orosz, and others, in addition to offering a selection of literature at fixed prices. A separate series of fixed price lists, under the imprint of Remy's children Michael and Marlene, was issued to the extent of three issues in the early 1980s. This pair also produced two auction catalogs under the same trade name. Finally, Remy Bourne produced a series of 16 auction catalogs from 1995 to 2002 featuring a variety of numismatic literature.
Link to Remy Bourne auction catalogs:
https://nnp.wustl.edu/library/auctioncompanydetail/510371
Link to Remy Bourne surveys:
https://nnp.wustl.edu/library/books?Tag=NUMISMATIC%20LITERATURE
Link to Remy Bourne house organ:
https://nnp.wustl.edu/library/publisherdetail/512806
Link to Michael &Marlene Bourne fixed price lists:
https://nnp.wustl.edu/library/publisherdetail/512755
Link to Michael &Marlene Bourne auction catalogs:
https://nnp.wustl.edu/library/auctioncompanydetail/510370
Michael Sanders of Beaverton, OR submitted this intriguing tale of San Francisco Mint tomfoolery of the 1970s. Thanks! -Editor
Here is a personal recollection that your E-Sylum readers might find interesting. The discussion has centered on the 1970 dated issues but this was certainly not just a one year event. In 1975 I worked in a small San Francisco coin shop just four blocks from the Old Mint. One day, just after opening, in walked a guy in his 20's with some coins to sell. He pulled out a baggie and proceeded to dump about 30 coins onto the counter. I couldn't believe it. They were all Proof coins from San Francisco and all mint errors.
Among the highlights were TWO Bicentennial Ike Dollars struck on Dime planchets. Nearly identical, both appeared to have been perfectly positioned on the anvil die so the dual 1776-1976 date would appear on the struck coin. An impossible error unless purposely created. The most remarkable piece was a Bicentennial Quarter struck 4 times with each succeeding strike moving progressively further off-center towards one o'clock resulting in a very distorted planchet.
Other coins included three Bicentennial Quarters struck on Cent planchets, a couple of double struck Bicentennial Halves and off medal errors of coins from the Philippines, Nepal and Panama. These were being struck at the San Francisco Mint at that time. Yes, these were all Proof issues and there were others that I don't remember given the short time I had to view them.
Curiously the coins were slightly wet. Later stories about this "extra-curricular" activity led me to figure out why. These midnight experiments did not just walk out of the Mint, they got a ride. Mint personnel had to go through a metal detector, so the story goes that the booty was dumped into the oil reservoir of the forklifts. When taken to a non-secure area for maintenance, the oil pan was removed along with the coins. The loot was washed and rinsed off and in this case not completely dried. Obviously there was a small organization of employees involved in this caper.
The seller didn't have a value in mind and obviously just wanted to get out of the store with whatever I offered. Just then, the owner walked in and took over the transaction. Five minutes and one phone call later he was out the door to sell the hoard to an Oakland dealer who handled errors. Everyone knew how illegal this was!
As a side note, years later Fred Weinberg used the multi-struck Bicentennial Quarter in one of his display ads. I instantly recognized it and wrote to him relating this story. He may not remember me but I'm sure that he remembers the coin. There is an old adage concerning modern Proof coins: "If it wouldn't fit in the hole in the holder it was not legally issued". I'm sure this has given the many owners of this piece pause.
I asked our resident error expert Fred Weinberg for his thoughts. -Editor
Fred Weinberg writes:
Thanks, everyone. Great stories. -Editor
To read the earlier E-Sylum article, see:
MORE ON 1970-S MINT "ERRORS" (www.coinbooks.org/esylum_v19n25a10.html)
While some Mint "errors" are clear fabrications, others are not (or at least, not so obviously faked). Check this out. -Editor
Julia Purdy writes:
Thanks! I don't remember reading about this episode. (And I like how the New York Assay Office is called an "essay office"). The article doesn't say anything about the returned coins passing through a U.S. Mint facility, and the wartime minting operations were long over by 1964. But it is at least plausible that a stray Indian coin could have lurked in the mint's facilities until then. A fascinating error regardless. -Editor
To read the earlier E-Sylum article, see:
1964 LINCOLN CENT STRUCK ON A INDIAN 1942 1/4 RUPEE (www.coinbooks.org/esylum_v19n25a11.html)
The Ends of Monetary Unions
In the wake of Britain's vote this week to exit the European Union, Georges Depeyrot of Moneta publications writes:
Indeed. As the saying goes, those who cannot remember the past are doomed to repeat it. The Moneta publications are a great resource on this important economic and political topic. -Editor
To read about the EMU project, see:
[EMU] European Monetary Unions in the Construction of European Identity (http://www.monetary-union.net/The-EMU-Project)
For more information on Moneta publications, see:
www.moneta.be
David Pickup writes:
David is correct - Britain never gave up the Pound in favor of the Euro, but did join the EU. Political unions can suffer many of the same problems as monetary unions, though. On this side of the ocean our own Articles of Confederation failed and were replaced with the current Constitution and later Amendments. This didn't prevent our Civil War in the 1860s but otherwise managed to unify a disparate set of individual states. Hopefully a path forward can be found for the EU someday. -Editor
Hall of Fame Corrections
Ira Rezak writes:
Ken Berger writes:
To read the earlier E-Sylum article, see:
MORE ON THE HALL OF FAME MEDALS (www.coinbooks.org/esylum_v19n25a12.html)
An Abysmal Specimen
Philip Mernick writes:
Edward I (1279-1307), New Coinage, Groat, London, 5.04g, variety a, +EDWARDVS:DI:GRA:REX:ANGL. a flat crown with pellet ornaments, small face with short hair, quatrefoil of three lines, drapery of two wedges with rosette below, colon stops, rev. :DNS HIBN'E DVX AQVT - LONDONIA CIVI, long cross, pellets in angles (N.1007; S.1379A; Fox 5, Stewartby p.170 var.a), poor to fair, the description best taken from Lord Stewartby's own ticket as follows:
'Very rare denomination for this reign. In the worst possible condition, worn, cracked, scratched, gilt, has been mounted and in a fire - an abysmal specimen.' A note that it is also plugged was subsequently added. £400-500
PROVENANCE:
Bt August 1955
I've seen worse coins - at least it's intact and unbent. But but this is certainly a frank description. Hopefully the coin will find a good new home regardless. -Editor
To read the earlier E-Sylum article, see:
Auction: 16020 - The Academic Collection of Lord Stewartby: English Coins part 2, Coins of Henry II to Edward II Lot: 710 (www.spink.com/lot-description.aspx?id=16020000710)
For Whitman Publishing I am doing a study of the nickel five-cent piece from its inception in pattern form in 1865, down to its use today. Here is a question for E-Sylum readers.
In the 1960s in Los Angeles I spent a couple of weeks trying to see what items on their own could be purchased for a "penny." I came up with three:
1. A one-cent stamp at the Post Office.
2. A gumball in some machines.
3. A view of flip cards in a hand-cranked Mutoscope flip card machine in the Crystal Arcade on Main Street in Disneyland.
Now, in 2016 I wonder how many single items can be bought for a nickel. Comments are welcome!
Also, I welcome high-resolution advertising images of sodas (other than Moxie and Coke) and of nickel products (well set on cigars) that mention "nickel," "five cents," "5 cents," or similar.
Reward: Credit in a Whitman book to be released early in 2018.
Send to:
Dave Bowers
qdbarchive@metrocast.net
Stephen Kenneth Nagy, Jr., (1884-1958), was born on January 13, 1884 at Newark, New Jersey, son of Stephen Kenneth Nagy (1856-), and Maria Nagy (1863-), both Austro-Hungarian immigrants. His father worked as a harness and saddle maker in Egg Harbor City, Atlantic County, New Jersey, where the child Stephen lived with his parents. They all spoke German and English.
Nagy is especially noted as the coin dealer who purchased [the] 1804 Silver Dollar specimen (Proof 60+), known as the Idler Specimen, and sold it to Henry O. Granberg. Somehow Nagy became identified as a business partner of Haseltine and considered a shady character and crooked dealer, "the top crook of them all" responsible for unauthorized restrikes of coins from Mint workers. Perhaps true, though conjecture indeed, and unsubstantiated.
In September 18, 1909 he married Gertrude B. Devere (1887-1937) in Wilmington, Delaware. They moved to Philadelphia, Pennsylvania. The following month in October Nagy attended a New York coin auction with Henry Chapman. Also in 1909 Nagy sold William H. Woodin an 1877 $50 gold piece for $10,000.
The 1920 U. S. Census lists him living with his wife Gertrude at 1536 North Willington Street, Philadelphia, Pennsylvania, and as the owner of an antique shop. Nagy is well known as a dealer in curios, guns, pistols, antiques, coins, stamps, paper money.

Nagy's business stationery in 1940's depicting
Confederate State of America $50 Bank Note.
He died of a heart attack on August 29, 1958 at the Hahnemann University Hospital, Philadelphia. He is buried at Egg Harbor City Cemetery, Egg Harbor, Atlantic County, New Jersey, next to his wife Gertrude.
To read the complete article, see:
NAGY, STEPHEN KENNETH, JR (https://sites.google.com/a/numismaticmall.com/www/numismaticmall-com/nagy-stephen-kenneth-jr)
Gary Trudgen submitted this item about a ceremony that was recently held at the gravesite of William Coley, a partner in the Vermont and Machin's Mills mints. Thanks! -Editor
Colonel William H. Coley Graveside Ceremony
The Colonial Coin Collectors Club (C4) honored the memory of William Coley on June 18, 2016 at his gravesite in Otselic, New York. Coley is credited with engraving the dies for the Vermont landscape coppers while in partnership with Reuben Harmon, Jr. A numismatic plaque constructed from black granite was placed next to his gravestone specifying Coley's involvement with the Vermont and Machin's Mills mints. Also, a Revolutionary War veteran's marker was placed next to his gravestone acknowledging his service in the fight for our independence.
The ceremony was conducted by the local Daughters of the American Revolution (DAR) chapter with music provided by a bagpipe player. Coley's great-great- great granddaughter, Linda Dodge, was present and talked to the audience about her grandfather's life. More detailed information about Coley and the ceremony is forthcoming in the C4 Newsletter and The Colonial Newsletter.
What a great idea - a wonderful way to honor a numismatic pioneer. For reference, here's one example of the Vermont landscape design, from the CoinFacts.com site. -Editor
To read the complete article, see:
VERMONT COPPER COINS (www.coinfacts.com/colonial_coins/vermont_coppers/vt_copper_varieties.htm)
As renovations at the Deer's Head Inn continue here, bits and pieces of memorabilia are stowed above the construction zone.
The inn's history boasts famous guests who stayed there.
Mary Brown, the widow of abolitionist John Brown, spent the night of Dec. 6, 1859, en route with his funeral cortege.
History claims that U.S. Presidents Grover Cleveland (a former governor of New York) and Benjamin Harrison stayed at the inn, which was much bigger in its heyday.
What is now known as the Deer's Head was an annex to the former three-story hotel. It was the smaller section that was heated and kept open year-round.
It has held its place on "The Plains" of Elizabethtown for more than two centuries.
It was the site of a raucous counterfeit money raid on July 27 in 1818 when Miss Lucy Willard was innkeeper, according to George Brown's account in the book "Pleasant Valley," published in 1905.
Inn guest Isaac Hogle was arrested for possessing counterfeit money.
But Willard ran out the back door as investigators came through the front. She raced on foot up the Boquet River to Azel Abel's farm and married him the next day.
I guess sometimes crime DOES pay. -Editor
To read the complete article, see:
History surfaces as old inn is restored (www.pressrepublican.com/news/local_news/history-surfaces-as-old-inn-is-restored/article_aae1bd3a-6448-5e53-9946-731004c91b34.html)
Frank Van Valen published an interesting article on the Stack's Bowers blog on Friday, June 24, 2016. It's about some unusual double or triple denomination exonumia items. -Editor
The beauty of exonumia is that it knows no boundaries – if it has to do with numismatics in some remote way, that's generally good enough for an exonumia collector. My personal collection contains paper, wood, metal, plastic, and Bakelite items and more, and some of them have been featured right here at this website in my many blogs.
Among my favorite exonumia items are my double-denomination pieces, but not the mint errors you might think I'm referring to. What I collect is coins that have other coins embedded or inserted into their surface, but it's easier to illustrate than to explain.
For instance, in my Conder token collection I have a curious piece. It's a 1795 Princess of Wales halfpenny from Middlesex, D&H-977. It's a common piece but not this example. Ever so slightly below center on the token a hole was fashioned and two 1844-dated half farthings were inserted back to back with the reverse side out. Heads or tails, there's an 1844 half farthing present. I'm still trying to figure out what the new denomination is!
Another favorite is a Mexican First Republic 8 reales dated 1834 from the Zacatecas Mint that received its parasitic partner sometime in the 20th century. I know this because the piggybacking coin is a beaten up Mercury dime placed at the obverse center of the host coin with the rays there now surrounding the dime. I just assume it's a 1916-D Mercury dime, so all is good!
The coins of Queen Victoria of England have always fascinated me, so it was only natural that I would own the final coin in this blog. At first glance it's a well-worn English penny dated 1858 and barely above Good-4, the sort of coin you might find in a dealer's box of three-for-a-dollar world coins. Once this worn-out old copper is flipped, however, the fun begins. Embedded in the penny is a French copper five centimes dated 1854, and embedded in the French piece is an English silver threepence dated 1887, the Jubilee Year of Queen Victoria's reign. This piece was very carefully crafted and probably made to celebrate Her Majesty's 50 years on the throne.
To read the complete article, see:
Some Double – or Triple – Denomination Curiosities (www.stacksbowers.com/News/Pages/Blogs.aspx?ArticleID=2147)
Jeff Starck forwarded this article from Iowa about a "coin" created by the Des Moines police to raise funds for the families of fallen officers. Thanks. -Editor
Police in Des Moines have started a new campaign to help the families of two fallen officers.
The department has created coins to honor Officers Susan Farrell and Carlos Puente-Morales. The two were killed in March by a drunk driver.
The officer's badges are displayed on the front and the back lists all Des Moines officers killed in the line of duty.
"I think it's part of working through the grief," said Sergeant Paul Parizek of Des Moines Police. "That's where this idea came from, we wanted to create something that we could share with the community, show them appreciation for their support and at the same time raise more money for the families.
The coins are $5 each with all the money going back to the officers' families.
"It's not surprising the community support and the community coming out and wanting to keep giving and it's nice to be able to give them something that they can hold in their hand and remember," said Parizek.
Nice coin, great cause. -Editor
To read the complete article, see:
Police selling coins to help fallen officers' families (www.kwwl.com/story/32268209/2016/06/21/police-selling-coins-to-help-fallen-officers-families)
Howard Daniel submitted this report on his recent visit to the American Numismatic Association's Dwight N. Manley Numismatic Library in Colorado Springs. Thanks! -Editor
My wife Phung and I staffed a club table at the International Paper Money Show in Memphis. The primary organization we supported was the International Bank Note Society but we also told collectors about the Numismatic Bibliomania Society.
After the show, we drove to Colorado Springs to visit some old friends from our assignment in Germany.
One morning, I also went to the ANA Library to do some research for the 3rd edition of my French Southeast Asia Coins &Currency catalog. I parked and walked around to the front of the building to look at the ANA seal on the wall just a few feet from the sidewalk. A few years ago, I wrote about it needing to be replaced because the old one was in bad shape. It was replaced and the new one looks great.
After signing in and being given a visitor's badge, I walked into the library. The library's reception desk was now staffed! Kitty Muller greeted me and offered her assistance. While I was talking with her I heard some derogatory remarks and turned around to see David Sklow, the librarian. We greeted each other and he also offered his assistance, then ran off to do some work.
I went to the aisle with my books in it and did not find them! The books have been reshelved! I also saw that David had a college student dusting the shelves. Changes are happening in the ANA Library! Kitty assisted me in finding my books. When I mentioned to her that I was looking for some San Francisco Mint reports, David was nearby and said he knew where they were. He ran down the stairs to the catalog room and I walked down! He showed me the reports and I picked out eight of them. They covered exactly what I needed and they did show some different mintages than are in the popular catalogs for some post-WWI and pre-WWII Indochina coins.
A volunteer, Keith Grove, was also in the library. He is researching polymer bank notes. He did not know one of my books has some in it so I showed it to him. I also said I would contact him about other sources for him. If you know of some sources, please send them to David at dsklow@money.org and he will give them to Keith. Keith does not have an email address!
After about five hours, I had gone from A to Z in the library and found a couple more references that I scanned into my laptop (I bring my scanner with me when visiting libraries) along with the mint reports. It was a very successful visit and I highly recommend visiting it. Please say hello to David, Kitty and Keith for me!
For more information on the ANA's Dwight N. Manley Numismatic library, see:
DWIGHT N. MANLEY NUMISMATIC LIBRARY (www.money.org/library)
The Bredon Hill hoard of Roman coins will be going on display at a local museum this summer. -Editor
A HISTORIC hoard of Roman artefects will be showcased at the Almonry as part of a packed summer of events.
The Bredon Hill hoard, discovered in 2011 on the slopes of Bredon Hill, is going on display at the venue in July.
A selection of the coins featuring 16 different Roman Emperors, along with the pot they were discovered in, will feature alongside the museum's existing Roman collection.
The hoard dates back to the 3rd Century and was buried in a Severn Valley Ware jar around 70 years after it was collected.
The hoard is the largest ever found in Worcestershire and after its discovery was declared treasure by the Coroner's Court under the Treasure Act 1996.
Ashleigh Jayes, Manager of the Almonry, said: "This is really exciting for us and a great opportunity to showcase our fantastic Roman collections alongside this important local find."
Mayor of Evesham, Coun Fred Kaler, said: "This is an exciting venture for the Almonry and for Evesham.It showcases the historic diversity of the area that we are proud to celebrate in our town museum.'
Museums Worcestershire were able to raise the funds to buy the hoard and keep it in the county, where it has been on display at the County Museum at Hartlebury Castle.
To read the complete article, see:
Historic Roman artifact hoard to go on display at the Almonry (http://eveshamobserver.co.uk/news/historic-roman-artifact-hoard-go-display-almonry/)
This Associated Press article mentions coins found in a recent excavation of the ancient city of Pomeii. -Editor
Italian and French archaeologists have discovered four skeletons and gold coins in the ruins of an ancient shop on the outskirts of Pompeii, officials said Friday.
The skeletons are those of young people, including an adolescent girl, who perished in the back of the shop near the ancient Roman town when Mount Vesuvius erupted and covered it in ash in 79, said a statement from the area office of the famous archaeological site near Naples.
Three gold coins and a necklace's pendant were scattered among the bones. In the workshop was an oven which archaeologists think might have been used to make bronze objects.
The excavation of that and a second ancient shop started in May near a necropolis in the Herculaneum port area. Archaeologists are puzzling over what kind of business the second shop did. It features a circular well accessible by a spiral staircase and dug out of the terrain.
Pompeii and nearby Herculaneum were ancient Roman towns. Much of the area is still to be excavated, including of Herculaneum, which was buried deeper, beneath as much as 80 feet (24 meters) of ash.
To read the complete article, see:
Skeletons, coins found in dig of ancient Pompeii shop (http://wtop.com/world/2016/06/skeletons-coins-found-in-dig-of-ancient-pompeii-shop/slide/4/)
Numismatics plays an important part in archaeology. This article describes how a recent find of coins and other artifacts has redrawn the boundary of the known Roman world. -Editor
The boundary of the Roman Empire and its influence in Britain are being re-thought as the full significance of a discovery of coins in Devon begins to sink in.
The southwest of the country, which was previously thought to have rejected Roman influence, may actually have been intricately involved with Mediterranean culture given the presence of the Roman currency denarii, brooches, pottery and a Roman road.
Because the site at Ipplepen, 20 miles from Exeter, has only been excavated during one period every year since its discovery in 2009, archaeologists are only now confident of the significance of the site's secrets.
In an interview with The Independent, Stephen Rippon, professor of Landscape Archaeology at the University of Exeter and leader of the excavation, said the site's 1,000-year history challenged the idea that Devon had been mostly isolated from the Romans.
Instead, natives enjoyed wine and olive oil from eastern Mediterranean amphorae, as well as pottery from northern France and western Germany.
"The southwest peninsula has always been seen as this backward and remote region of Britain during the Roman Empire ‒ but actually it wasn't," Professor Rippon told The Independent.
"What we're seeing is that these people at Ipplepen were clearly picking and choosing elements of the Roman life and Roman identity that they liked. They have acquired a taste for a Romanised life."
Prior to this, archaeologists thought Roman influence stopped in Exeter, and the native British who took up its culture were those with Roman style-villas in Dorset and Gloucestershire.
But this Iron Age settlement in Devon proves that Roman trade and culture was seeping into this remote part of England by about the 50s AD under Emperor Claudius and through invasion by the renowned general, Vespasian.
To read the complete article, see:
Roman coins unearthed in Devon prompt historians to redraw map of the empire (www.independent.co.uk/news/uk/roman-coins-unearthed-in-devon-redraw-map-of-the-empire-a7097206.html)
Last week Jonathan Brecher asked about early numismatic uses of aluminum [or aluminium] as a COMMON metal. Here are some reader responses. -Editor
1878 Exposition Universelle Aluminum Token

Russ Sears writes:
I shared this with Pete Smith, who writes:
George Clapp: Co-founder of ALCOA
Pete Smith writes:
Correct! Clapp was also a cofounder of the Western Pennsylvania Numismatic Society in Pittsburgh in 1878, and later donated his first and second sets of U.S. Large Cents to the American Numismatic Society in New York and the Carnegie Museum in Pittsburgh, respectively. -Editor
More Early Uses of Aluminum

Bruce W. Smith submitted these these notes on the question. Thanks! -Editor
Someone asked the question in the last issue of The E-Sylum about the earliest regular of common use of aluminum in coins and medals. The first part is easy. The world's first aluminum coins actually made for circulation and put into use were the 1907 and 1908 coins of British East Africa (1/2 penny KM 6; 1 penny KM 5) and British West Africa (1/10 penny KM 1). Aluminum corroded too quickly in the humid environment and the metal was changed to copper nickel. So regular aluminum coinage begins in the 20th century, after nearly 50 years of experimentation in the United States and also in Europe.
As for medals made of aluminum, I would say the first regular use was for the Worlds Columbian Exposition (Chicago Worlds Fair) of 1892-1893. Dozens of different souvenir medals were made, some of them extolling the virtues of the "new metal". Among those who had medals made were the Illinois Pure Aluminum Company, the Cincinnati Pure Aluminum Company (there were a number of companies at the turn of the century with names ending in "Pure Aluminum Company") and the Pittsburgh Reduction Company -- which not long afterwards changed its name to the Aluminum Company of America (ALCOA).
Before World War II, Alcoa was the only producer of aluminum in the United States, though there were many companies which manufactured products from aluminum. In the 1890's Alcoa was hoping for large orders for aluminum sheets or bars, but most of the products made in those days were "novelty products" such as tokens, medals and advertising items made in many forms (including business cards). The first successful large scale production of aluminum products were tea pots. They can be identified in antique shops by the use of screws or rivets to hold the parts together -- no one knew yet how to weld aluminum.
There are probably earlier uses of aluminum in medals, when the cost of the metal was not important to the issuer. Silver and even gold medals were common enough in the 1800's, so if some society wanted to award a medal, they might have had it made of aluminum at some time before 1892. I would not be surprised to find a pre-1892 medal issued by an engineering or manufacturing society.
I have not seen Russ Sears' 1878 French medal, but as I predicted, such a medal was produced by a progressive organization, in this case, the Aluminium Society. I have never heard of this society, but I am not surprised it exists. Note that France uses the same spelling as England -- aluminium.
To read the earlier E-Sylum article, see:
EARLIEST NUMISMATIC ALUMINUM AS A COMMON METAL? (www.coinbooks.org/esylum_v19n25a20.html)
Private William "Bill" Jackson was only 17 when he enlisted in the Australian Imperial Force in 1915.
He became the first – and youngest – Australian to receive the Victoria Cross on the Western Front during World War I.
Jackson's medals were put on display on Friday at the Australian War Memorial.
The teenager, from Gunbar, NSW, lied about his age to join the 17th Battalion in February 1915. He served in Gallipoli before arriving on the Western Front in 1916.
On the night of June 25, Jackson was part of a raiding party that broke into the German trenches outside the town of Armentieres on the border of France and Belgium.
He returned to the Australian trenches with a prisoner in tow but immediately went back to no man's land under heavy shell fire to bring in an injured soldier.
Jackson went out again to recover wounded men until a German shell explosion severed his right arm. Despite this, he got medical help and returned again to retrieve more wounded men.
Jackson was awarded the Victoria Cross at the age of 18 at a ceremony at Buckingham Palace.
To read the complete articles, see:
Medal of youngest Australian to receive Victoria Cross goes on display (www.canberratimes.com.au/act-news/medal-of-youngest-australian-to-receive-victoria-cross-goes-on-display-20160624-gprc1t.html)
Youngest VC winner medal to go on display (www.9news.com.au/national/2016/06/23/16/31/youngest-vc-winner-medal-to-go-on-display)
A war medal found in a field in Bridgend county has been returned to its rightful owners almost a century after it was awarded.
The Victory Medal belonged to Pte William John Boaden of the 3rd Battalion Devonshire Regiment.
It was found in a farmer's field in Porthcawl by a team of metal detecting enthusiasts.
Researcher Stephen Lyons then tracked down Pte Boaden's family in Tiverton, Devon, where he was born in 1897. But it is still not known how the medal came to end up in the field.
Pte Boaden signed up on the outbreak of the First World War aged 17.
His regiment served in France and Belgium, Mesopotamia, Salonika, Macedonia, Egypt, Palestine and Italy.
The medal is badly damaged but Pte Boaden's name and regimental number are still visible.
Chris Jeffreys made the discovery after sitting down on a fallen tree to take a break from metal detecting.
"I didn't have many finds that day," he said, until his detector picked up a "beautiful signal" around the tree.
"The area had been covered dozens of times before, so whether the tree falling disturbed something I don't know.
"It's the first medal I've found," he added. "I was overjoyed."
Keen to unravel the mystery of how the medal ended up in the field, Mr Jeffreys and his fellow metal detecting enthusiasts appealed for help to find out what happened to Pte Boaden.
A First World War expert based in Cwmcarn, researcher and historian Stephen Lyons answered the appeal.
Following a tenacious and at times pain-staking research, he tracked down daughter-in-law Moira Boaden and his grandson Stephen Boaden living in Tiverton, Devon.
Mr Jeffreys recently met them to present the medal.
Mrs Boaden said she was "delighted" as she never knew of its existence and that the family "will treasure it".
To read the complete article, see:
War medal found in Porthcawl field presented to family 100 years on (www.bbc.com/news/uk-wales-south-east-wales-36597103)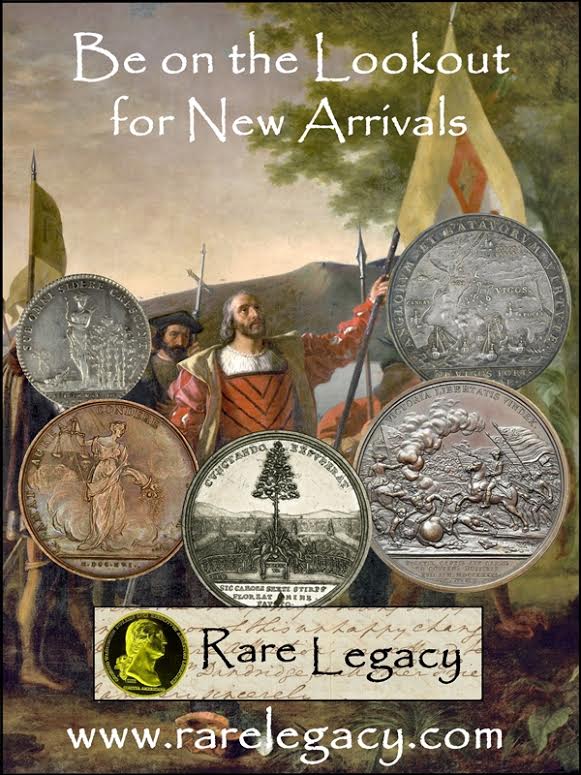 Designs for the 2016 Rio Olympics medals have been unveiled. Here's an article from the Olympics official web site. -Editor
Produced by the Brazilian Mint, the 5,130 medals for the 2016 Olympic and Paralympic Games will be symbols of sustainability and accessibility as well as sporting excellence. The coveted prizes, which weigh 500g each, comprise 30 per cent recycled silver and bronze while the ribbons are made from 50 per cent recycled PET. Meanwhile, the gold medals are completely free of mercury.
The gold medals are purer than ever, meeting sustainability criteria from extraction to refining, as well as meeting strict environmental and labour laws. They make use of recycled raw silver at 92.5 per cent purity, coming from leftover mirrors, waste solders and X-ray plates. And 40 per cent of the copper used in the bronze medals came from waste at the Mint itself. The substance was melted and decontaminated to provide material for the medals.
"Today starts the final countdown for the first Games in South America," said Thomas Bach, IOC president. Carlos Arthur Nuzman, president of the Rio 2016 Committee, added: "The medals are one of the biggest symbols of the Games and they are the most beautiful in the world."
The Olympic medal design includes the traditional laurel leaf while the Paralympic prizes feature engravings representing the "seeds of courage, persistence and development of the athletes." As is tradition, the reverse side of the medal displays an etching of Nike, the Greek goddess of victory.
The designs are fairly plain, but nice and clean. Isn't there enough gold in the world that we can quit mining for it already? Gold and silver are constantly being melted and refined and adapted for new uses. Still, mercury is a nasty metal in the environment, and I'm glad to see ways have been found around it (ways that are not actually worse, one would hope). -Editor
To read the complete article, see:
INNOVATIVE MEDAL DESIGN UNVEILED FOR RIO 2016 (www.olympic.org/news/innovative-medal-design-unveiled-for-rio-2016)
Below is some more information and images of the Paralypics medals from the Rio2016 site. -Editor
Nearly 2,500 gold, silver and bronze medals produced according to strict sustainability criteria
A total of 2,488 medals have been produced: 812 gold, 812 silver and 864 bronze.
For the first time, the medals are slightly thicker at their central point compared with their edges. The name of the event for which the medal was won is engraved by laser along the outside edge.
The designs feature laurel leaves – a symbol of victory in ancient Greece, in the form of the wreaths awarded to competition winners – surrounding the Rio 2016 Olympic logo. The laurel leaves represent the link between the force of nature and Olympians.
According to Olympic Games tradition, the other side of the medals features an image of Nike, the Greek goddess of victory with the Panathinaiko Stadium and the Acropolis in the background.
The Paralympic Games medals, which feature a special innovation, have also been revealed. They have a tiny device inside which makes a noise when the medal is shaken, allowing visually impaired athletes to know if they are gold, silver or bronze (gold has the loudest noise, bronze the quietest).
That's an interesting innovation. Pretty cool. -Editor
To read the complete article, see: Rio 2016 reveals Olympic medals, celebrating nature and sustainability (www.rio2016.com/en/news/rio-2016-reveals-olympic-medals-celebrating-nature-and-sustainability)
In 1914, just days before the outbreak of World War I, both England and America experienced a financial crisis almost as large as the Crash of 1929. Almost no one remembers it today, but it was the very moment leadership in the global financial world shifted irrevocably from London to New York. It turns out that the U.S. had learned from its 1907 crisis and had pre-authorized emergency money for just such an occasion, so handled the panic deftly. (America had unfortunately forgotten those lessons by 1929). London, however, had made no such provisions, and over five months the government spent a huge sum -- equal to 5.3% of GDP -- to save the banks and the economy, a gamble that could only have been approved in wartime. Coupled with its crippling expenditures on the war itself, London forever lost its financial leadership of the world:
"The outbreak of the First World War saw the biggest financial crisis in Europe, at least until the events of 2008, and an equally severe crisis in New York, albeit that the Great Depression was a bigger economic crisis in terms of its impact on output and unemployment. ... Yet I found that few people knew much about the financial crisis of 1914. Even the war memoirs of the Chancellor of the Exchequer at the time, David Lloyd George, devote only fourteen out of 2108 pages to the financial crisis he faced.
"So what happened in 1914? ... Just two days before Britain declared war in August 1914, the Governor of the Bank of England, Lord Cunliffe, was lunching on the yacht of the wealthy and well-connected Clark family, moored off the west coast of Scotland. ... 'There's talk of a war,' said Lord Cunliffe, 'but it won't happen. The Germans haven't got the credits.' ... [famed economist] John Maynard Keynes too was not immune to the mood of the moment when, on 24 June 1914, he wrote to the Treasury: 'In a modern panic it is improbable that the big banks will come to grief.' ... It was the ultimatum from Austria to Serbia (demanding that Serbia take draconian steps to suppress the expression of nationalist opinions) on 23 July that finally changed sentiment.
"The next two weeks saw panic in markets and among banks. European stock markets fell sharply, and several were closed. ... At 10.15 a.m. on Friday 31 July the London Stock Exchange was closed in order to postpone settlement of transactions and thereby prevent a wave of failures among its members as prices plummeted.
"That same day, lines formed in Threadneedle Street outside the Bank of England as depositors queued, as was their right, to convert deposits or notes into gold sovereigns, which commercial banks would not provide to them. ...
"Meanwhile, on the other side of the Atlantic, the position was no less precarious. ... The dollar fell sharply. What happened over the next few weeks, however, was to result in New York displacing London as the money centre of the world. ...
"Out of the 1907 crisis came [a] solution to the prob­lems of 1914. ... Emergency banknotes, embossed with each bank's own name and logo, worth $500 million were printed in advance and stored with the Treasury in a new underground vault. Here was a source of emergency money that could be distributed to banks in exchange for collateral without the need for a central bank. ...
"In contrast with 1907, when the money supply fell by over 10 per cent, in 1914 the creation of emergency money allowed the money supply to rise at an annual rate of around 10 per cent. Demand for emergency money peaked at the end of October 1914 and fell gradually, disappearing altogether by the middle of 1915. Despite the absence of any help from the new Federal Reserve Board, not yet up and running, [U.S. Treasury Secretary] McAdoo had shown how a government could act as a lender of last resort. ...
"Britain declared war on Tuesday 4 August. ... [But] Britain had not learned from the US experience in 1907 and had printed no store of emergency money to distribute in a crisis.
"Over five months, Chancellor of the Exchequer [David] Lloyd George and Treasury officials recapitalised the City. ... The Bank [of England] bought one-third of the entire stock of bills, amounting to some 5.3 per cent of GDP. As Lloyd George admitted in his memoirs, by offering the guarantee the government had 'temporarily assumed immense liabilities'. He took the risk of losses on the assets he guaranteed without seeking any compensation. It was a gamble that could have been taken only in wartime.
"It worked. The City was saved.
I came THIS close to buying a copy of Mervyn King's book to read on our trip this week (my wife prefers to do the driving). I guess I didn't have to - this may have been the most interesting part, at least for the numismatist in me. So the U.S. printed half a billion dollars worth of emergency money in 1914? Is that true? What became of it? Was it all destroyed? Were no specimens kept for posterity? I'd be interested in learning more about this if anyone has any information. -Editor
To read the complete article, see:
NEW YORK REPLACES LONDON AS THE CENTER OF THE WORLD --6/17/16 (www.delanceyplace.com//view-archives.php?p=3094)
Regarding Leon Saryan's question about whether the portrait of Churchill on the new Bank of England banknote was based on "the photograph of Churchill taken by the Canadian Armenian photographer Yousuf Karsh on Dec. 30, 1941." Jim Duncan of New Zealand writes:
Harry Cabluck writes:
To read the complete article, see:
Winston Churchill by Yousef Karsh (https://iconicphotos.wordpress.com/2009/07/31/winston-churchill-by-yousef-karsh/)
Joe Esposito writes:
To read the earlier E-Sylum article, see:
WAS CHURCHILL BANKNOTE MODELED ON KARSH PHOTO? (www.coinbooks.org/esylum_v19n25a28.html)

YOUSUF KARSH AND THE "DEVIL'S HEAD" PHOTO OF ELIZABETH II (www.coinbooks.org/esylum_v17n03a23.html)
ROYAL MINT UNVEILS £20 WINSTON CHURCHILL COIN www.coinbooks.org/esylum_v18n03a22.html)
BANK OF CANADA ISSUES ELIZABETH COMMEMORATIVE (www.coinbooks.org/esylum_v18n37a28.html)
It sounds like a minor incident, but a hazmat team was called to a fire at the Canadian Bank Note Company in Ottawa Friday, June 25, 2016. -Editor
An investigation is underway after a fire at the Canadian Bank Note on Richmond Road early Saturday morning.
At 2:40 a.m., Ottawa fire received a call for alarms at 145 Richmond Rd., the location of the security printing company. Security on site also called to report black smoke visible on the second floor of the building.
Crews responded, and declared a working fire.
The room involved was approximately 100 feet by 100 feet, with several presses and chemicals. Because of the variety of chemicals, a hazardous materials team was sent as a precaution.
Ottawa police, paramedics, Enbridge and Ottawa Hydro also attended.
There were no reported civilian or firefighter injuries, and the fire was under control by about 4:30 a.m.
The cause of the fire is not known. There was no damage estimate provided.
I wondered if there were fires at the U.S. Bureau of Engraving and Printing and did a quick web search. The best I could find was this item on Pinterest, but I couldn't figure out the source. If anyone has information on this or other such incidents at the B.E.P., let us know. -Editor
Bob Leuver writes:
To read the complete article, see:
Hazmat team involved in three-alarm fire at Canadian Bank Note (http://ottawacitizen.com/news/local-news/officials-investigate-three-alarm-fire-at-canadian-bank-note)
I was traveling this week and away from news most of the time, but apparently one legislator tried to derail the plans to upgrade portraits on U.S. paper money. -Editor
A Republican congressman is trying to block the Treasury from redesigning U.S. currency, a move that could prevent the government from replacing Andrew Jackson on the front of the $20 bill with abolitionist Harriet Tubman.
Rep. Steve King of Iowa has offered an amendment to a spending bill barring the use of funds to redesign any Federal Reserve note or coin. It wasn't immediately clear why King opposed the redesign, and his office did not immediately respond to messages.
Under plans announced in April by Treasury Secretary Jacob Lew, Tubman would replace Andrew Jackson on the front of the $20 bill. The abolitionist and former slave who was a leader of the Underground Railroad will become the first African-American featured on U.S. paper currency and the first woman on paper currency in a century.
King is a conservative Republican known for his outspoken criticism of U.S. immigration policy. His Democratic opponent in Iowa, Kim Weaver, said it's "a headline-grabbing piece of stunt legislation."
"And what chance does this meaningless and mean-spirited gesture have of actually passing? Just like most measures introduced by Steve King, none," she said.
To read the complete article, see:
Steve King seeks to block U.S. currency redesign, including adding Harriet Tubman to $20 bill (www.omaha.com/news/iowa/steve-king-seeks-to-block-u-s-currency-redesign-including/article_13795002-37f7-11e6-8251-ef4c15429934.html)
I'd like to think the defeat of Rep. Steve King's proposed bill to keep Harriet Tubman off the $20 bill would be the end of that debate, but I doubt it will be.
Presidential hopeful Donald Trump has called the move to put Tubman on the $20 bill "pure political correctness" and suggested she be put on the $2 bill instead.
King, an Iowa Republican, said his opposition isn't to Tubman, per se, but to changing what works just fine, in his mind.
"It's not about Harriet Tubman, it's about keeping the picture on the $20," he said Tuesday, according to Politico. "You know? Why would you want to change that? I am a conservative. I like to keep what we have."
Which, appropriately enough, is the sort of thing Tubman heard all the time back in her day.
Why change this whole slavery setup? It's working just fine!
My son recently brought home a biography of Tubman from his school's book fair. It's part of a "Who Was" series called "Heroes of Black History" that also includes Jackie Robinson (his favorite baseball player), Nelson Mandela, Rosa Parks and the Rev. Martin Luther King Jr.
As we read Tubman's story, I was embarrassed at how little I knew about her beyond her work on the Underground Railroad, where she led more than 300 slaves to freedom.
I didn't know she worked as a spy for the Union Army during the Civil War, serving as commander of intelligence operations and overseeing other scouts.
"As a small, black woman, she looked harmless," the book states. "She could slip behind enemy lines and approach the blacks who were with their masters in the Confederate army. These blacks would trust her. They might share information about the Southern army. This information could help the Union cause."
I didn't know she worked as a nurse during the war, caring for wounded soldiers and concocting a successful treatment for dysentery from roots and herbs she had watched her mother use as medicine.
I didn't know she gave speeches alongside women's rights activists Elizabeth Cady Stanton and Susan B. Anthony.
Meanwhile, are we honestly witnessing pushback on granting Tubman a bit of recognition for the ways she changed the very fabric of our country? For her lifelong dedication to justice and freedom and equality — the nation's founding principles, which she fought for even when they were denied to her?
That's shameful.
Jackson can lose his spot on the $20 bill and we will still have white males on every single piece of paper currency in the United States, from the $1 bill to the $100 bill. Pushing for a smidgen of diversity isn't divisive. It's overdue.
Let's get on with it.
To read the complete article, see:
Harriet Tubman on the $20 bill? Let's get on with it (www.chicagotribune.com/lifestyles/stevens/ct-harriet-tubman-20-steve-king-balancing-0622-20160622-column.html)
In the what-a-scumbag-department is another story about a counterfeit shover victimizing little kids. -Editor
Authorities in the northwestern Wisconsin village of Lake Nebagamon are warning the public about counterfeit money circulating in the area — mostly $20 bills, but also a few $10 bills.
Even child entrepreneurs have not been immune. A man reportedly asked a young girl for change from her Kool-Aid stand Sunday in Lake Nebagamon and gave her counterfeit money in exchange, according to Douglas County Sheriff's Office records.
Superior police Det. Chris Moe said 23 counterfeit bills have been reported in the city since February, including three over the weekend and a new report Monday morning.
I hope there's a special place in hell reserved for these jerks. -Editor
To read the complete article, see:
Police: Man asks for change using counterfeit money at Kool-Aid stand (www.inforum.com/news/4059285-police-man-asks-change-using-counterfeit-money-kool-aid-stand)
This week's Featured Web Page is the text of a speech by Martin Masse on card money in New France.