About Us
The Numismatic Bibliomania Society is a non-profit organization devoted to the study and enjoyment of numismatic literature. For more information please see our web site at coinbooks.org
Subscriptions
Those wishing to become new E-Sylum subscribers (or wishing to Unsubscribe) can go to the following web page link
Membership
There is a membership application available on the web site Membership Application
To join, print the application and return it with your check to the address printed on the application. Print/Digital membership is $40 to addresses in the U.S., and $60 elsewhere. A digital-only membership is available for $25. For those without web access, write to:
Terry White, Treasurer
Numismatic Bibliomania Society
P. O. Box 39 Hilliard, OH 43026-1278s
Asylum
For Asylum mailing address changes and other membership questions, contact Terry at this email address: terrywhite5475@yahoo.com
Submissions
To submit items for publication in The E-Sylum, just Reply to this message, or write to the Editor at this address: whomren@gmail.com
BUY THE BOOK BEFORE THE COIN
Sale Calendar
New subscribers this week include: Martin Bertelsen. Welcome aboard! We now have 2,043 subscribers.
As noted last week, we're publishing a day late because of the Christmas holiday. I was glad to finally discover a coin my wife could appreciate, so among other things this year I gave her a Target Gift Coin. It has a code on the back and works just like a gift card.
This week we open with an overview of Kolbe & Fanning's 2016 private sales of numismatic literature, a rare Bechtel Confederate note album, one new book, and two interviews with prominent numismatists.
Other topics this week include electronic publishing in numismatics, British countermarked silver coins, bank note printer proof sample sheets, coin photography, fake Mogan dollars, Thomas Spence and his tokens, a South Carolina Elephant token, Venezuela's new banknotes, and a new owner for the polymer banknote supplier Innovia.
To learn more about Rev. Stanislaus Siedlecki, the library of Peter Mougey, forger Thomas Wyatt, James Halperin, roadkill coins, the Cunobelin metalworker coin, the Space-Time Continuum coin, sintered metal, and the symbolism behind The Wizard of Oz, read on. Have a great week, everyone!
Wayne Homren
Editor, The E-Sylum


David Fanning submitted this summary of Kolbe & Fanning private sales of important numismatic literature in 2016. Thanks! -Editor
With another year coming to a close, we wanted to draw some attention to a lesser-known area of our business: private sales. While our various public auctions, mail-bid sales and other well-publicized activities are widely known, we often have the opportunity to handle some wonderful volumes that never receive full treatment in print. Here are a few highlights from 2016:

Cogan binding and Britton sale plate
One of the most extraordinary items we handled this year consisted of two nicely bound volumes from the library of Peter Mougey, a name familiar to collectors of U.S. large cents and aficionados of the Tom Elder sale catalogues. One of the volumes included several sale catalogues issued by George Cogan, including both of his extremely rare photographically plated sales: those of the J. Wily Aulick collection and the Charles Britton collection, both sold in 1883. Our records located only three plated copies of the Aulick sale, which isn't even listed as existing in some of the major bibliographies covering U.S. coin sales. But the Aulick sale pales in comparison to the Britton sale, for which we found only a single auction record in the modern era. Indeed, it was the first copy we had handled. That both of these legendary rarities were bound together in the same volume, and were from the library of a famous collector, made these very memorable indeed.
Another memorable item was a typewritten letter, signed in ink, dated May 10, 1916, from artist A.A. Weinman to George F. Kunz of Tiffany & Co. Weinman is most famous for his Walking Liberty Half Dollar and Liberty Head ("Mercury") Dime. In this letter, Weinman wrote, "I have but today finished the two obverses, of the Half Dollar and the Dime and am now finishing the reverse for the latter." Weinman letters are uncommon, and such a highly detailed letter with significant content, written in his most prolific year of numismatic activity, was a real treat for us to handle.
Another letter sold during 2016 was a remarkable handwritten note by James Earle Fraser (designed of the Buffalo nickel, among other numismatic items) discussing the design of the Harriman Memorial Medal, held by some to be his finest work. In this note, written in pencil in 1913 (his best-known year for numismatic activity), Fraser discusses the medal, which portrays a railroad brakeman, and elegantly expresses his realistic approach to iconography: "I wanted some design that would pertain to railroading and not a mythical figure that would have but little interest for people of today." The letter is a most interesting and detailed examination of a famous medal by the artist himself.

Wyatt letter and Allan article
It was a year for letters, and a group of six handwritten, signed letters from 1856 by Thomas Wyatt, the notorious forger of early American coins, was a real contender for the most fascinating item we sold in 2016. These got a fair amount of non-print publicity, and have since been written up in one of David Fanning's Asylum columns, but they never made it into a catalogue.
A rare early American article by John Allan on coins and medals, unlisted by Attinelli, was another wonderful piece of history we were privileged to handle. Published in the American Journal of Science and Arts in 1839, the article consists of a general overview of the subject of numismatics, with a focus on the development of the medallic art in Europe and the United States since the Renaissance. It is of considerable importance as one of the very few numismatic works published in this country in the 1830s and as perhaps the only numismatic work authored by Allan.
Finally, our firm brokered the sale of a remarkable collection of foreign numismatic auction catalogues including significant offerings of American coins. This is an area of the hobby that is finally receiving some attention, though most collectors remain unaware of just how many important U.S. coins were sold in European auctions in the nineteenth century. It is an area of U.S. numismatics that deserves substantially more research attention than it has received, and we suspect activity in this area to increase considerably.
Most of the above items were sold privately for the simple reason that we knew we had a particular customer for them. The more we know about our clients' collecting interests or research needs, the better we're able to assist them. Send us your want list. We can't promise to fill it, and we can't promise that you'll be the only client to ask for a particular item, but the odds are in your favor if we know what you are looking for! Want lists can be placed through our website at numislit.com or directly to David Fanning at df@numislit.com.
Finally, we are always interested in purchasing outstanding individual works or libraries at amounts fully commensurate with their significance. All such transactions are entirely confidential if so desired.
Thank you for a great 2016 and we look forward to serving you next year.
To visit the Kolbe & Fanning web site, see:
https://www.numislit.com/
Michael Sullivan alerted me to an extraordinary item coming up in a Heritage sale. Thanks! -Editor
Original Bechtel Album for Confederate Notes with Many Rarities
There are rare moments in collecting when treasures that you have only heard of or read about miraculously appear, offering the opportunity to own a true piece of numismatic history. This offering is one of those opportunities. Tonight we are pleased to offer an original C.H. Bechtel Confederate Currency album which contains most of the great rarities of the Confederate series in generally excellent condition.
The Album - C.H. Bechtel was a New York City coin dealer with two claims to fame from a paper money perspective. In 1879 he held a sale of the Confederate Paper Money collection of J.E. Barratt which included, among other things, all four Montgomery notes. Bechtel also created an album to house Confederate notes. As J. Wayne Hilton, widely respected Confederate collector and researcher, relates in his book, Collecting Confederate Currency: Hobby and Investment:
The album is in excellent condition, with just the slightest rubbing at the corners of the covers and binding. It is solidly bound and tight without any loose pages or other problems. The album begins with an introduction page and a four page index of Confederate type notes, as Bechtel identified them, that could be accommodated in the album. This is followed by ninety pages of Confederate type notes that have been affixed to the pages, mostly with stamp hinges. The album concludes with five pages that the owner used for Republic of Texas notes (one note has been removed) and two pages that were used for Colonial Bank of Canada obsolete notes.

$500 Montgomery note
To read the complete lot description, see:
Original Bechtel Album for Confederate Notes with Many Rarities. (https://currency.ha.com/itm/confederate-notes/original-bechtel-album-for-confederate-notes-with-many-rarities/a/3551-20471.s)
To read the some related earlier E-Sylum articles, see:
THIAN MASTER CONFEDERATE CURRENCY ALBUM OFFERED (www.coinbooks.org/esylum_v18n38a15.html)
SECOND THIAN MASTER CONFEDERATE CURRENCY ALBUM (www.coinbooks.org/esylum_v18n43a12.html)
KOLBE & FANNING OFFER THIAN CONFEDERATE CURRENCY ALBUM (www.coinbooks.org/esylum_v19n50a02.html)
Author Sanjeev Kumar has publishd a new book on coins of the Gupta Dynasty. It is available in hard cover and leather bindings. Here is the information from the book web site. -Editor
Treasures of the Gupta Empire: A Catalogue of Coins of the Gupta Dynasty
Printed Hard Cover book with Color Dust Jacket, 440 pages, Full Color, 8"x10" 1500+ images. Includes dust jacket.
$149.00
Leather bound book (bonded leather) with Color Dust Jacket, 440 pages, 8"x10" Book Cover is bound in bonded black bonded leather with Gold Foil imprinting. Includes a color dust jacket. This option is only available in limited quantities.
$179.00
Within USA: $13.45 each book ​
International shipping: $66.50 for each book or $91.00 for 4-5 books in one box.
This book covers the history and the entire Coinage of the Gupta Dynasty from the start in 319 AD to it's end in 543 AD. It also includes the Coinage of the Later Guptas and the related dynasties of Bengal. The author has illustrated every coin variety in Gold, Copper and Lead as well as a complete range of all known Silver coins with dates struck by the Gupta kings. The classification is comprehensive and intuitive.
The book includes an excellent section on the iconography, metal analysis, history and the evolution of the designs seen on the Gupta gold coins. This book is an quintessential guide for Collectors and Dealers in coins to better understand the relative rarity and the different varieties with a full representation of the coins from Private Collections and most of the major Museums in India and across the world.
While coins have existed for over two thousand years in India, none have matched the sheer beauty and complexity of design as the coins issued by the kings of Gupta Dynasty from the 4th through 6th century AD.
Starting from the first of the Gupta kings, Chandragupta I in 319 AD, to the last the King Vishnugupta in 543 AD, their coins are a historical record detailing the evolution of the Gupta style and its impact on religious art from this golden age of India. The clues hidden in the coin designs, legends, dates and metrology all speak volumes and have here been deciphered to help reconstruct the history of the dynasty. In this book an attempt has been made to catalogue the entire coinage in gold, silver, lead and copper, listing all known coin types and varieties. The book also includes a detailed analysis of the designs, dates and metrology and an extensive discussion of the history of the Gupta Empire.
The last complete catalogue of the Gupta Dynasty coinage was published by Dr. A.S. Altekar in 1957, and since then no one has been successful in fully cataloging the entire series. This work, published here on the 60th anniversary of Dr. Altekar's seminal work, is a continuation of that effort to fully document the coinage and to understand it's impact on the history of India. It includes the rarest of the coins, published here for the first time, from major Museum collections in India, and around the world as well as private collections, most of which are inaccessible to researchers.
The book is designed as a guide for collectors, scholars and history buffs alike. It will help researchers fully understand the complex history and inscriptions, as well as the vast and beautiful coinage of the Gupta Dynasty and will serve as a comprehensive reference on the Gupta Dynasty numismatics.
History is always written by the victors. The gap between what was fact versus reality during the Gupta Period is what this book is all about. In some cases, the historical facts written by the victors and the evidence from inscriptions and coins can lead to very different conclusions, and in many cases, create conflicting narratives. Solving the mystery of ancient India is like walking through a dark tunnel, with occasional glimpses of light, and fleeting clues that can help us reconstruct the true story. Coins issued by victors and victims alike, speak volumes, and this book is about piecing together evidence from the coins issued by the kings ruling over the Gupta Empire.
This book is a work of love and passion. Like all passionate journeys, first one must fall in love. I fell in love with these beautiful coins at a very young age. Their intricate designs, the action scenes, the different kings all fascinated me as a young child, and I marvelled at the coin collections showcased in the Coin Gallery at the National Museum in Delhi. My hope is that the beautiful designs of the coins and the decades of research summarised and presented in this book, will continue to shine a bright light on the mystery that is India, to help inspire and fuel the imaginations of the children of India and future generations who can continue to dream of exploring its rich history.
For more information, or to order, see:
www.treasuresoftheguptaempire.com
The book is available in the U.K. from Baldwin's. -Editor
Baldwin's is delighted to present the phenomenal and vitally important new volume from Sanjeev Kumar, covering the history and the entire coinage of the Gupta Dynasty, from the very start in AD 319 to its end in AD 543.
The book includes iconography, metal analysis, history and the evolution of the designs seen on the Gupta Gold Coins, and is the new quintessential guide for anyone with an interest in this fascinating period of India's history. The book serves as the new way to understand the relative rarity and the different varieties with a full representation of the coins from private collections, major museums in India and across the world.
HARDBOUND WITH COLOUR DUST JACKET: £179
LEATHERBOUND (BONDED LEATHER) WITH DUST JACKET: £199
(plus postage and packing)
You can order your copy right now by emailing us directly:
Abigail@baldwin.co.uk
Coin World: What led you to develop an interest in the Carson City Mint and its coinage?
Rusty Goe: Eight mints have stamped coins in eight different cities in the United States, beginning with the main one at Philadelphia, and most recently at the West Point branch. As a coin collector first and for the past 35 years as a coin dealer, I have been interested in the history and coinage production of all eight of these mints. But early on in my career as a coin dealer, I found it rather easy for me to develop a fervent fondness for the mint that operated in Carson City, Nevada. This is probably because I started dealing in coins while living at Lake Tahoe, which is only about 30 minutes from Carson City, and probably because of the way numismatic writers portrayed the Carson City Mint as being so colorful and storybook-like, and its coins as being so captivating and filled with mystique.
Yet I must say, the full charm, heightened value, and magic of the Carson City Mint and its coins did not capture my mind full force all at once. My fascination with the "CC" mintmark and all that it represents has evolved through the years, in direct correlation with the time and energy I have expended in building my knowledge base of the related subjects. There is a sense of wonder that increases incrementally the more absorbed I become with the lore surrounding the Carson City Mint and its coins.
CW: What was the most surprising previously unknown fact that you uncovered during research for your books?
RG: Oh, there are so many answers to this question. But let me just cite a few examples.
Foremost, in my first book, The Mint on Carson Street, I only devoted a handful of paragraphs to Carson City Mint superintendent James Crawford, and I speculated that he was only about 50 years old when he died. After publishing that book, I set a goal to find out more about Crawford, a man who had overseen the Carson City Mint for more than 10 years, and had supervised the production of 85% of all the coins ever manufactured at the Nevada branch. How could it be, I thought, that so little information survived about such a prominent person in Nevada history and in the annals of U.S. Mint history? For gosh sakes, it seemed woeful to me that his age at death was uncertain, and that no photographs of him existed. I wanted to at least write an essay about Crawford, if not a pamphlet-sized manuscript.
My four-year research quest resulted in a 650-page biography titled, James Crawford: Master of the Mint at Carson City – A Short Full Life, which we published in 2007. In it I revealed that Crawford died at the age of 52 years and 3 months; and I was excited to include several images of him.
Second, I discovered a fact four years after the release of my book about Crawford that I had wished I could have included in that book, because it pertained to a significant event that happened under Crawford's watch. While doing research for another writing project, I found an obscure news briefing in a Nevada newspaper from April 1876 that revealed that the Carson City Mint had coined the one and only output of 1876 twenty-cent pieces (or double dimes) in March that year. This is the third rarest date-denomination that has survived from the Carson City Mint, with only 18 specimens extant, and until my discovery writers had always speculated that the total mintage of 10,000 pieces had been struck sometime before the end of June 1876. Now we know that it happened in March.
To read the complete article, see:
Editor's Q&A: Sitting down with a Carson City Mint expert (www.coinworld.com/news/us-coins/2016/12/editor-q-and-a-rusty-goe-carson-city-mint-expert.html#)
Born in Boston in 1952, Jim Halperin formed a part-time rare stamp and coin business at age 16, the same year, he received early acceptance to Harvard College. But by his third semester, he was enjoying the coin business more than his studies, so he took a permanent leave of absence to pursue a full-time numismatic career. In 1975, he supervised the protocols for the first mainframe computer system in the numismatic business, catapulting his firm to the top of the industry within four years. In 1982, Jim's business merged with that of his friend and former archrival Steve Ivy to form Heritage Auctions.
Tell us about your start in the coins/antiques trade.
I was interested in business from a very early age because I wanted to be like my dad, who was and still is my hero and role model. From age 7 or 8 on, I would routinely start little businesses and get all our neighborhood kids involved. I was actually a comic book dealer and comics fanzine publisher when I was 10 or 11 years old, long before I became a coin dealer. I got interested in stamps as a kid because my grandfather was a pretty serious collector, but had never collected coins for more than a few months or had ever known how to value them. I knew all about Scott's catalog and Linn's Stamp News, but I'd never even seen a coin price guide or newspaper.
When I was 16 I opened a stamp store as a summer project, and as an afterthought I called it Jim's Stamp and Coin Shop, figuring it didn't hurt to have another product line. Kids would come in ask me if I had any coins and I would have to tell them that I didn't really know much about coins. So several of them offered to teach me and somehow I convinced them to work for me for free until I could afford to pay them. Turns out I had a knack for coins and it wasn't long before I actually did start paying them. A few years later I dropped out of Harvard after just three semesters to pursue numismatics full time.
How did a pair of college dropouts who were business rivals come together to form what is now the third largest US-auction house with annual sales in excess of $860,000?
Our merger occurred in 1982 when the coin market was the worst we had ever seen. Steve and I owned the two largest rare coin companies in America, but both companies were suddenly losing money hand over fist. Steve wrote out a plan on a pad of yellow-lined paper, and convinced me that we could combine forces and do as much business with only 75 percent of the overhead. The math was compelling. At the time my company was deeply in debt and insolvent and I was desperate to pay the creditors as quickly as possible to protect my reputation. Bankruptcy was not an option for me, because I knew if my dad was in the same situation he would have found a way to pay every dime he owed.
So when Steve offered me half of his business at book value for a nonrecourse note if I would move to Dallas, I accepted. I threw in the parts of my business that Steve thought were a good fit, basically my wholesale business, European operations and a fledgling auction company I'd started in 1975. Then I sold any assets Steve didn't want to one of my Boston employees, and focused on our new company, renamed Heritage. Everything Steve predicted on that yellow pad came true almost immediately. I had my creditors paid off in full within a few months, and I think it took me less than a year to fully pay off the nonrecourse note to Steve. Everyone in the coin business thought our partnership would last a few years, but 34 years later we're still in business together. Second best decision I ever made. Anyone who knows the girl I married in 1984 can tell you what my best decision was.
How is Heritage's approach unique to the auction business different than your corporate competitors?
We were the first auction house to disclose every reserve at least three days before each option, so bidders don't have to guess which lots are worth their time and attention. Christie's, Sotheby's and the other art auction houses still haven't followed suit, which amazes me, but most collectibles auction companies have copied that. We were also the first auction house to maintain a permanent, public online archive of every item we sold so bidders and other could research values for free. Basically our philosophy is to save our clients as much time as possible, to be as transparent as possible, and never to intentionally mislead anyone.
To read the complete article, see:
Q&A: James Halperin (www.antiquesandthearts.com/qa-james-halperin/)
How Long It Takes to Serially Number Books

Gary Beals of Segovia, Spain writes:
Thanks! Great for authors to know and readers to appreciate. -Editor
To read the earlier E-Sylum articles, see:
SERIALLY NUMBERED NUMISMATIC BOOKS (www.coinbooks.org/esylum_v19n48a11.html)
NOTES FROM E-SYLUM READERS: DECEMBER 2, 2016 : On Serially Numbered Numismatic Books (www.coinbooks.org/esylum_v19n49a11.html)
On Signing or Inscribing Books
Dave Lange writes:
Thanks. There is certainly a mix of happenstance and personal initiative and preference that determines whether and how any give book is signed or inscribed. It's all part of the fun of collecting and using books. -Editor
To read the earlier E-Sylum article, see:
TO INSCRIBE OR NOT TO INSCRIBE (www.coinbooks.org/esylum_v19n51a10.html)
Holabird Sale Results
Fred Holabird writes:
To read the earlier E-Sylum article, see:
DONALD YOUNG EXONUMIA IN HOLABIRD SALE (www.coinbooks.org/esylum_v19n47a15.html)
Roadkill Coins
Regarding Canada's Sesquicentennial circulating coins Ralf W. Böpple writes:
Ralf sent this back in November 2016, but it got lost in an old email account. Sorry for the delay. -Editor
To read the earlier E-Sylum article, see:
CANADA'S SESQUICENTENNIAL CIRCULATING COINS (www.coinbooks.org/esylum_v19n45a20.html)
Rodney Inn Concert Hall Token

Larry Gaye writes:
Thanks! Interesting piece, and a nice collection. -Editor
To read the earlier E-Sylum article, see:
BOOK PLANNED ON VIENNA PHILHARMONIC COIN (www.coinbooks.org/esylum_v19n51a03.html)
Oxford Numismatic Society Holiday Card

David Pickup sent this card from the Oxford Numismatic Society. Thanks! -Editor
Short Cross coinage, Penny, class Ib, Oxford, Ricard, ricard · on · oxen
Lot 143 from the Sale June 11th 2014. Image supplied by kind courtesy of Dix Noonan Webb.
For more information on the Oxford Numismatic Society, see:
http://www.coinclubs.org.uk/Oxford.htm
Holiday Wishes From Down Under
Jim Duncan of New Zealand writes:
Philip De Jersey writes:
Bob Van Arsdell writes:
Thanks, folks. One more piece in the puzzle... Here's Bob's catalog entry. -Editor
2097 - 01 Cunobeline Metal Worker Type 20-43 A.D. C
Bronze Unit 1.9-2.6 gms. 16 mm
Earliest Record: Camden, 1590
OBV: Romanized head left
Identifying points:
1) CVNOBELIN around head
2) pellet border
REV: Seated metal-worker right
Identifying points:
1) metal-worker hammers vase
2) hair in bun at back
3) hat with brim
4) pellet border
CLASSIFICATION: Trinovantian W
NOTES: Some in museums.
Reverse copies coin of Dubnovellaunus (Cantii), see number 178 - 01, ultimate source of image may be a gem a late Roman one in the Ashmolean is similar.
To read the earlier E-Sylum article, see:
MORE ON THE MYSTERY CATALOG OF ENGLISH COINS (www.coinbooks.org/esylum_v19n51a08.html)
Bob Van Arsdell adds this note about electronic publishing. Thanks! -Editor
Readers may be interested to learn that the Celtic Coinage of Britain website statistics now show 3000 unique IP addresses logging onto the site monthly, usually with multiple sessions.
This audience is much larger than that of my original 1989 book (the website is an electronic version of the book). The march of electronic publishing for things like catalogs and articles is a very powerful trend.
Over the last year, I decided to do a third edition of the book. Theoretically having the choice of electronic vs. print proved not to be much of a choice - electronic wins hands down. You can't beat "free on the internet" if you want to get your work in front of the widest possible audience.
Many, if not most numismatic publications aren't money-making propositions for the authors. So "free on the internet" poses no monetary loss for them. There is the loss in ego-boost in being able to look up on a bookshelf and see your name emblazoned on a spine - but I've found the monthly website statistics supplied by my host much greater evidence that my work is reaching my readers and finding new ones.
I switched over from print in 2012, and I'm not looking back. This from a life-long book lover, antiquarian book collector and retired independent bookseller (17 years).
My advice to would-be numismatic authors: learn a little Adobe Dreamweaver and get on with it. You can do it - and don't fall for the "you can't teach old dogs..." rubbish!
To visit the Celtic Coinage of Britain website, see:
www.vanarsdellcelticcoinageofbritain.com/
Author Eric Hodge is researching U.K. merchant countermarked silver coins. He submitted this summary of his research and current needs. Who can help out? -Editor
My research involves UK merchant countermarked silver coins. These are mainly Spanish-American eight reales that were countermarked during the fifty year period 1780 to 1830. The bible for this series is Harry Manville's Tokens of the Industrial Revolution- Foreign Silver Coins Countermarked for use in Great Britain c. 1787-1828. This book was published in 2001 by Spink, London and The British Numismatic Society. It was awarded the 2002 book prize of the International Association of Professional Numismatists. The book gives some historical background to every issue and lists all the known examples with provenance. It was a true tour de force.
I have written a general article on the subject that was published by Numismatics International in NI Bulletin issue May/June 2016. (www.numis.org)
My research started with the book information. I have checked every entry, obtained supporting documentation including photographs, and added provenance as I visit museums and archives that store old auction catalogues. My best source of catalogues has been that held by the Fitzwilliam Museum of Cambridge University in England. This is now being equalled by the Newman Numismatic Portal a mammoth undertaking which, I believe, will alter the future scope of numismatic research. I have recently discovered information through this source that I would not have found any other way.
In general I am now discovering new information and updating my records accordingly. So anyone with examples or information regarding this type would be of interest to me. However I still have some old entries where the relevant documentation still eludes me.
From the USA.
1) Colony Coin Company for May 1971. I believe this to be a sale catalogue with records of two merchant countermarks, one for Lanark Mills and one for Cromford. I do not believe there are photos.
2) Moffat Auction for July 2004. I believe this is an auction in the USA and to have one lot for J. Muir Manufr. Paisley. I am not sure of photos.
From the UK.
1) Ashby, Glasgow for July 1983. One example of a Lanark Mills. Not sure about a photo.
2) Weight, London for September 1912.Three lots, a Lanark, Rothsay and Cromford being lots 792, 789 and 770.
3) Seaby list for 24 December 1930 number S139, lot S5428, believed Lanark Mills.
4) Wallis & Wallis south of England for 27 February 1963 lot 57 a Dalry.
Any information and scanned copies of relevant pages (mainly the front sheet, the lot description and photos) would be gratefully received.
What a great project. This is a huge undertaking - any help we can provide will be useful. -Editor
This experimental medal was made by powder metallurgy, formed by compaction and sintering. It was made for Franklin Mint, but it proved the unworthiness of this process for medal manufacture.
Sintered Metal. Made by powder metallurgy. Compared to struck medals sintered medals have five percent porosity and are about a tenth the hardness. They do not take a typical "medallic patina" finish of reliving and highlighting but must be finished with coatings. The process consists of three stages, pulverization of the metal (and mixture of several metal elements if required), compaction, and sintering. Compaction is accomplished by extreme temperature and sintering is completed in special presses. Other than an experimental piece or two the process is not applicable to the medallic field. The piece illustrated was created for the Franklin Mint.
CLASS 05.6
Father Stanislaus Siedlecki (1854-1910), was born in November, 1854 in Austria-Poland, of Polish parents of the nobility. In 1878 he was ordained a priest for the missions in the Diocese of Przemysl, Poland, where he first served as an army chaplain 1878-1887. In 1888, he immigrated to America from the Diocese of Przemysl, Poland, and was assigned to the Polish-speaking mission church of Saint Stanislaus in the Diocese of St. Cloud, Swan River, Morrison County, Minnesota. While there he established a park.
In 1892, he filed a lawsuit against John Kukla who led a faction to establish a rival parish church at Fensburg, which he won. Unfortunately, the faction that lost the case began to spread rumors against the priest causing scandal. About 1892, he was transferred by Bishop Zardetti to the Scranton Diocese where Bishop O'Hara sent him to St. Mary's Polish Church at Blossburg, Tioga County, Pennsylvania, where he served as pastor for five years.
In September of 1898, he was sent temporarily to Nanticoke, Pennsylvania to take charge of a mission church. In 1899 he was sent to nearby Glen Lyon, a coal mining village in Pennsylvania to St. Adalbert Church. He succeeded Monsignor Zychowicz, and was appointed the new pastor St. Mary's, Our Lady of Perpetual Help Church in Mocanaqua, Pennsylvania, a mission parish church of St. Adalbert. However, Father Siedlecki remained at St. Adalbert Church, Glen Lyon, since the new mission parish burned after a spark from a passing train set fire to the wooden structure.
Correspondence sent by Father Siedlecki to Henry Chapman, Jr., postmarked Glen Lyon, Pennsylvania, January 30, 1908, 6 P.M. The envelope is of St. Adalbert Rectory and is very rare. This one letter alone Chapman sold Fr. Siedlecki $400 in coins, or nearly 44 percent of what the entire collection realized in 1911. Courtesy Lupia Numismatic Library, Special Collection, The Chapman Family Correspondence Archive.
In November 1908 the 18 year old building of St. Adalbert Church burned down, but the Glen Lyon firemen were able to save the rectory. He was transferred to Plymouth on March 17, 1909. He died at the rectory of St. Mary's Church of the Nativity, at 78 Willow Street of uremia caused by nephritis at the age of 56 years, on December 10, 1910, at Plymouth, Luzerne County, Pennsylvania. He is buried at the local Saint Michael's Cemetery, Glen Lyon.
In January 1911, Henry Chapman, Jr., announced the coin auction sale of the late Rev. Stanislaus Siedlecki of Plymouth, Pennsylvania. His collection of United States silver dollars lacked only the 1804 specimen. He also had an extensive collection of foreign coins including the 100 ducat struck in 1621 by the Polish King, Sigismund III Vasa. Also, in his cabinet he had an Alexander the Great stater, a U. S. Colonial 1783 gold cent of Washington, an 1851 gold octagon piece, and the rare 1907 Gold Eagle. The auction only realized $920.
Here's Chapman's wordy title to the sale, which gives a nice overview of its scope. -Editor
CATALOGUE OF THE VALUABLE COLLECTION OF FOREIGN AND UNITED STATES GOLD COINS, PARTICULARLY RICH IN ANCIENT ROMAN GOLD COINS, POLISH GOLD COINS, INCLUDING A 100 DUCATS, 1621, SET OF THE SILVER DOLLARS OF THE UNITED STATES, 1794 TO 1904, 1804 ALONE EXCEPTED. 1851 OCTAGONAL $50 PIECE. FINE DECORATIONS, INCLUDING THE ORDER OF THE CINCINNATI. MAGNIFICENT CENTS OF 1794, 1796, 1797, 1802, 1803, OF THE LATE REV. STANISLAUS SIEDLECKI, PLYMOUTH, PA.
To read the complete article, see:
SIEDLECKI, REV. STANISLAUS (www.numismaticmall.com/numismaticmall-com/siedlecki-rev-stanislaus)
To read the complete catalog on the Newman Numismatic Portal, see:
CATALOGUE OF THE VALUABLE COLLECTION OF FOREIGN AND UNITED STATES GOLD COINS, PARTICULARLY...OF THE LATE REV. STANISLAUS SIEDLECKI, PLYMOUTH., TO WHICH IS ADDED THE CANADIAN COLLECTIONS OF R.O. MONTAMBAULT, J. BONNER, E. M TURNER. (https://nnp.wustl.edu/library/auctionlots?AucCoId=20&AuctionId=511091)
When Zachariah Fike returned from Iraq in 2006, he needed a hobby to stop his mind wandering back to the scenes he had left behind. He had come back a different person - he'd seen good things and bad things, and needed a way of dealing with the stress.
For him, the solution was to collect antiques - he enjoyed the thrill of searching for lost treasure. Sometimes he came across military items - helmets, uniforms, medals. It bothered him to see them lying around, so he started buying them up.
Fike, aged 35, comes from a long line of soldiers. His parents met in the army. His grandfather was a World War Two veteran who would drive hitchhiking soldiers all the way home, even if it meant going 100 miles out of his way.
So it was no surprise that Fike was drawn to military memorabilia. But his feelings about this trade changed in 2009, when his mother, Joyce, presented him with a very special Christmas gift - a Purple Heart.
America's oldest military award, the Purple Heart started out as a cloth patch in the shape of a heart, pinned to the chest of Revolutionary War soldiers by General George Washington himself. Later it became a heart-shaped medal, decorated with the bust of Washington, and given to those wounded or killed in battle.
"It's one of those awards that most soldiers don't want because it means that you've been struck by enemy fire or you've lost your life," says Fike. "So it's very special."
The one Joyce had bought for $100 in an antique shop near her home in upstate New York was engraved "For Military Merit, Corrado A.G. Piccoli". It came in a little case with the dog tags all soldiers carry so they can be identified if they die in battle.
"When I saw it, I knew it didn't belong to me," says Fike. "It symbolises an individual who's shed their blood or their life for a cause, for their country. That shouldn't be in somebody's personal collection. It should be with that family or in a place of honour."
He started digging around in archives to find out what he could about the man who had earned the medal, and learned that Private Corrado Piccoli had enlisted in January 1943, shortly after graduating from high school, and had died in France on 7 October 1944. Fike also found Piccoli's home address and discovered he had six brothers and sisters.
In January 2011 he picked up the trail again, driving up to Watertown, near his mother's home, to visit Piccoli's old high school.
There, in the 1942 yearbook, he spotted the picture of an earnest young man wearing glasses and a tie. "Immediately he became a person, he became real," says Fike. Later that day he met a nun who told him that one of the Piccoli sisters, Mary, still lived in town.
The story of Corrado Piccoli and his Purple Heart was broadcast on the news, and the next morning Fike started receiving phone calls from all over the country. Medals had been found in abandoned homes, vehicles, furniture - one had even been dug up in a backyard by a dog.
It was going to be a lot of work, so Fike decided to set up a non-profit organisation, Purple Hearts Reunited, to return lost or stolen medals to veterans or their families.
At first Fike did all of the research himself. After a full day's work, training young officers for the Vermont Army National Guard, he would come home, help his wife put the children to bed, and sit up for hours working on his laptop.
This year Fike was named Soldier of the Year by the Military Times, but not everyone regards him as a hero - to medal collectors he is a menace. Purple Hearts are valuable collector's items, and Fike has been campaigning to stop them from being bought and sold.
"Believe it or not, there's millions of collectors across the country and even overseas that actively pursue these medals and they collect them, trade them, like baseball cards," says Fike. He feels this is wrong - just as he did when he held Corrado Piccoli's Purple Heart in his hand the first time.
"Early on I was very verbal about how I thought it was deplorable to make a profit off anyone that sacrificed their life," says Fike. "It's a national symbol that symbolises someone that shed their blood or gave their life and we should respect that. Who would argue that laying down your life is not the greatest act?"
He has even helped bring about a bill - The Private Corrado Piccoli Purple Heart Preservation Act. It does not ban anyone from owning such medals, just from profiting from their sale.
The idea has dismayed many collectors, who fear the ban could drive the trade underground or abroad and erode public knowledge of military history.
But Fike doesn't buy it. "Some of them will say, 'We want to preserve history, we're not here to make a profit.' But if you buy a medal for $50 and then find out the man fought at Iwo Jima and you turn around and sell it for $750, you're making a profit," he argues.
Even when he knows the soldier's family sold the medal, Purple Hearts Reunited still "rescues" it, he says, "because we still don't believe that the medal should be in somebody's private collection".
Sometimes he sees a medal in a collection online, finds the family it belongs to, then asks the collector to sell it to him for whatever they paid for it, so that he can return it.
But many collectors won't deal with Fike directly, and he now has to rely on intermediaries. His "rescue team" are continually buying medals from online auction sites - last year alone they spent $50,000 (£40,000) on 125 medals. The average posthumous Purple Heart medal on the open market goes for about $300 (£240), but if it has some historical significance it could go for thousands.
As I've said before, I very much understand the well-meaning position those behind the law are taking. I still think it's misguided. Many of these medals will be returned only to be lost again by future descendants. Collectors provide a valuable service in saving, researching and protecting them. And if in the future a recipient's descendants want to reclaim the medal, it will be documented and available. -Editor
To read the complete article, see:
The medal detective (www.bbc.co.uk/news/resources/idt-5c1940d8-5f8f-4fd4-ac12-e216184a9a72)
To read the earlier E-Sylum articles, see:
U.S. HOUSE BILL WOULD BAN PURPLE HEART SALES (www.coinbooks.org/esylum_v19n48a26.html)
DICK JOHNSON ON THE PURPLE HEART LEGISLATION (www.coinbooks.org/esylum_v19n49a19.html)
A friend owned a small coin shop not far from where I lived in Norfolk, Virginia and in 1960, after I was discharged from the Navy, I occasionally did work for him, usually packaging and pricing coins. I was interested in several series of early U.S. coinage, so my pay usually was in the form of additions to my collection. One day he purchased a large group of Indian head cents and asked me to get them ready for sale. As I sifted through the accumulation, hoping to find an 1877 or 1909-S, I noticed a few unusual pieces. Although they were about the same size and composition as Indian cents, they certainly didn't appear to be coins.
So this was my introduction to Civil War tokens. The dealer was happy to give me these pieces; he knew what they were, but didn't think there would be much market for them in his shop. I took them home and studied them at length. To me, they were much more interesting than a group of cents which were all identical except for their dates. I decided to collect them.
This was easier said than done. The question now was where to find more tokens, and how much to pay for them. As it turned out, locating tokens was a greater problem than buying them. Usually when found they could be purchased for a small price.
I haunted all the area coin shops, "talked tokens" at club meetings whenever possible, and my collection gradually grew. Before long I had amassed about two hundred varieties of Civil War tokens, and had reached the point where most pieces offered to me duplicated what I already owned. By this time I was considered the local "expert" on tokens, and in my infinite wisdom I decided that my collection was nearly as complete as it ever would be.
Then my bubble burst! I heard about the Fulds' new catalogs of Civil War tokens, ordered them, and was shocked to discover that there were literally thousands of these tokens known to collectors. My collection was still in its infancy. It was even more of a surprise to learn that these books were not the first written on the subject; George Hetrich and Julius Guttag's catalog had been published in 1924. So much for my "expertise."
Well, maybe I wasn't such an expert. So what? I still knew more about Civil War tokens than the other numismatists in my area, and armed with the Fulds' catalogs, which now accompanied me wherever I went, I could readily determine which types were rare and which were common. With this knowledge I felt new confidence when offered a token. A quick look at the catalogs and I knew its rarity; thus I was able to make an educated decision about its worth.
I now found myself frequently purchasing tokens which would previously have been passed up because of price. After all, a common type might be overpriced at two dollars, while a rare token was possibly cheap at several times that price. Without the catalogs I wouldn't have been able to make that determination. I also found that the catalogs were making money for me. More times than not these "expensive" tokens were actually quite underpriced.
The Fulds' books were certainly paying for themselves many times over! And, since I knew what I was doing, my collection grew rapidly. I corresponded with other collectors, purchasing tokens and trading duplicates for pieces I needed. Without the books I wouldn't have felt comfortable doing this. Knowledge is power!
Dave Schenkman adds:
For more information about the Civil War Token Society, see:
http://cwtsociety.com/
Bruce Hagen and Maureen Levine submitted this article highlighting several amazing engraving company proof sample sheets in the upcoming internet-only Heritage sale of material from the Eric P. Newman collection. Thanks! -Editor
Spellbinding Sample Sheets in Newman Internet 2
The known engraving company proof sample sheets are generally rare to exceedingly rare. They had a very limited distribution to preferred clients, were used within the engraving companies themselves, or were passed on to successor firms for their archives. Often, when considered obsolete, they were disposed of. Surviving sample sheets in choice condition are particularly difficult to obtain.
The engraving company sample sheets from the Newman Collection comprise one of the larger groupings offered in the past few years. They provide a wonderful opportunity to study the various motifs and devices used on Obsolete currency by a variety of imprints.
This beautiful selection offers collectors an excellent opportunity to obtain one or several of these rarities in the Newman Collection Internet-only Part 2 auction. Bidding is currently open on the Heritage website at HA.com/241622 .
Lot 91333: Bank Note Company Engraving Proof Sample Sheet for Draper, Underwood, Bald & Spencer.

This undated sheet, circa 1830s-40s, is simply stunning. The large cameo profile medallion of Napoleon and Josephine at the center is encircled by the firm's name and locations. Radiating around are numerous evocative vignettes, portraits, cameos, panels, and denomination blocks. Many of the vignettes are used on Philadelphia and other Pennsylvania Obsolete notes and proofs. These oversize sheets are rare, and the survival rate is very low due to the large size. This impressive example will display beautifully.
Lot 91335: Bank Note Company Engraving Proof Sample Sheet for Draper, Underwood, Bald & Spencer.

From the same engraving firm and time period, this sheet, shows eight portraits and four Napoleon cameos surrounding the titled cameo of left-facing Josephine. At left and right are denominated end panels from Obsolete notes. Many vignettes, showing both allegorical and contemporary images, abound along with smaller cameos and oval vignettes.
Lot 91345: Bank Note Company Engraving Proof Sample Sheet for C. Toppan & Co. Engravers.

This undated, circa 1830s, large sheet is rarely encountered. The fascinating William Tell vignette at the center illustrates the legendary Swiss story. Pat Lyon at the Forge is among the numerous classic Toppan vignettes featured. There are also interspersed dies and lathe work strips.
Lot 91347: Bank Note Company Engraving Proof Sample Sheet for William W. Wilson, Engraving and Printing.

A large and wide format sample for the Boston lithographer. The vignettes copy those created by engravers from the same period, including Putnam's Escape, as well as several vignettes that are observed on spurious notes. This has a very distinctive style and size, and like all the Newman sample sheets, will appeal to both the scholar and the novice.
These are stunning examples of the banknote printer's art, as well as historical records of the firm's work. Quite rare and fascinating. -Editor
To read the complete article, see:
REVEAL YOUR COINS' TRUE BEAUTY (www.ngccoin.com/ncs-conservation/)
The earliest regular auction catalogues for rare coins in the United States began in the 1850s or so. These early catalogues illustrated coins with the use of woodcuts. That process of illustration had been used for centuries in all forms of media from books to newspapers. The limitations of this form of illustration are obvious. You get an idea of what the coin type looks like, but no indication of the actual coin's appearance. Over the years, I have run across the actual woodcuts used for catalogues and these are quite collectible themselves.
The first United States auction catalogue to use actual photographs was the 1868 Cogan sale of the McKenzie collection. Early auction catalogues are highly collectible and over the next several decades many extremely important collections were auctioned.
The quality of photographs in these early catalogues varied extensively. A recent auction catalogue by Kolbe and Fanning offering an example of the 1911 Thomas Elder auction of the William Woodin collection states: "[E]xtremely rare, with remarkable photographic plates painstakingly executed by the multi-talented Edgar Adams, one of the most prolific American numismatic researchers and photographers of the early twentieth century." The catalogue sold for $2,937.
From 1868 until around the 1970s, most auction catalogues used the same standard black-and-white illustrations. The quality of images varied greatly from company to company. In 1984, I started a rare coin auction company and getting the photography in place was quite the chore. We needed to build a dark room and hire someone to take the pictures. Our first auction catalogue used images that had been developed in a bath tub by my partner, Ron Guth.
Today, digital photography is one of the key tools for the business of numismatics. Everyone who lists a coin on eBay, has a website, or produces catalogues is highly dependent on quality digital images. The skill to take great images and to manipulate them with software is very desirable. Each day thousands and thousands of images of rare coins are posted online by rare coin sellers around the world. These range from horrible pictures taken with a phone camera, to studio pictures that are amazing.
The market desirability of coins with great images is seen in the sales by online coin companies. There are several companies who pride themselves in the fantastic images they use for their web business. I have even heard some of them state that they take into account how a coin will photograph when making a purchase. A few rare coin companies outsource images for important coins to get the very best results. Recently, I overheard a conversation by one of these sellers stating that they send the coins to multiple photographers trying to get the best image possible. It's sort of like trying to get an upgrade on a coin photo!
To read the complete article, see:
Coin Photography – A Picture's Worth a Thousand Words or at Least a Thousand Dollars! (www.coinweek.com/education/coin-photography-education/coin-photogrqaphy-worth-thousand-words/)
As railroads and large ships opened new expanses to agriculture and use of farm machinery diffused, prices of farm products fell. Hastening their decline was the Coinage Act of 1873, which eliminated the coinage of the silver dollar and became known as the Crime of '73. Removing silver from circulation reduced the quantity of money and thus prices, adding to the burden of debt shouldered by farmers and small businesses and shifting wealth to the eastern bankers. A bushel of wheat brought only half as much in 1898 as in 1873. Sugar and cotton prices fell even more.
Seeing their incomes erode and their land foreclosed, farmers joined the Populist movement, thrilled by William Jennings Bryan's "Cross of Gold" speech at the Democratic National Convention in Chicago in 1896 - "you shall not crucify mankind upon a cross of gold" - calling for silver coinage to boost prices and thus relieve the burden of farmers' debt.
Parents reading Frank Baum's 1900 American fairy tale "The Wonderful Wizard of Oz" to their children readily understood his social satire. They read the "Wizard," the best-selling Christmas book of the year, as both fairy tale and parody, not as a coherent parable of Populism but more in the spirit of opportunistic mocking by Will Rogers or Gilbert and Sullivan, or today by Saturday Night Live or Capitol Steps.
Baum himself was a Republican, not a Populist, though his satirical writings took on all alike, even his admired suffragists, when he edited a newspaper in Aberdeen. After gaining fame from "The Wonderful Wizard of Oz," he would travel to a city to present two speeches, the first to Republicans deriding Democrats and the second the reverse.
As to the book, the Scarecrow without a brain stands for farmers and the Tin Woodman without a heart for dehumanized industrial workers. The Woodman had rusted into inactivity, the way factory workers were unemployed during the recession
As railroads and large ships opened new expanses to agriculture and use of farm machinery diffused, prices of farm products fell. Hastening their decline was the Coinage Act of 1873, which eliminated the coinage of the silver dollar and became known as the Crime of '73. Removing silver from circulation reduced the quantity of money and thus prices, adding to the burden of debt shouldered by farmers and small businesses and shifting wealth to the eastern bankers. A bushel of wheat brought only half as much in 1898 as in 1873. Sugar and cotton prices fell even more. v Seeing their incomes erode and their land foreclosed, farmers joined the Populist movement, thrilled by William Jennings Bryan's "Cross of Gold" speech at the Democratic National Convention in Chicago in 1896 - "you shall not crucify mankind upon a cross of gold" - calling for silver coinage to boost prices and thus relieve the burden of farmers' debt.
Parents reading Frank Baum's 1900 American fairy tale "The Wonderful Wizard of Oz" to their children readily understood his social satire. They read the "Wizard," the best-selling Christmas book of the year, as both fairy tale and parody, not as a coherent parable of Populism but more in the spirit of opportunistic mocking by Will Rogers or Gilbert and Sullivan, or today by Saturday Night Live or Capitol Steps.
Baum himself was a Republican, not a Populist, though his satirical writings took on all alike, even his admired suffragists, when he edited a newspaper in Aberdeen. After gaining fame from "The Wonderful Wizard of Oz," he would travel to a city to present two speeches, the first to Republicans deriding Democrats and the second the reverse.
As to the book, the Scarecrow without a brain stands for farmers and the Tin Woodman without a heart for dehumanized industrial workers. The Woodman had rusted into inactivity, the way factory workers were unemployed during the recession.
The Wizard may portray President William McKinley, according to historian Samuel Eliot Morison "a kindly soul in a spineless body", no more competent than any ordinary person and powerful only because his subjects agree to obey him. The Wizard's name Oz could be the abbreviation for an ounce of gold, the letters O to Z on the second of Baum's pair of filing cabinets, or just a word that sounds good with Wizard.
In any case, the story has allusions to Bryan's campaign to add silver coinage to the gold standard. These include the yellow brick road, the silver slippers (changed to ruby in the 1939 MGM movie starring Judy Garland and Bert Lahr), and even the seven passages and three flights of stairs, recalling the Crime of '73, through which Dorothy is led to her room in the palace.
It is a tribute to the steadfast nature of human folly that much of Baum's tale parodies events today. But you can simply read it to your children, enjoy the abundant original illustrations, and dream that all of us can discover brains, kindness, and courage within ourselves.
To read the complete article, see:
Dave Denslow: The symbolism behind the 'Wizard of Oz' (www.gainesville.com/opinion/20161221/dave-denslow-symbolism-behind-wizard-of-oz)
To read the earlier E-Sylum articles, see:
BRYAN MONEY AND THE WIZARD OF OZ (www.coinbooks.org/esylum_v04n34a09.html)
THE WIZARD OF OZ IN NUMISMATICS (www.coinbooks.org/esylum_v04n35a09.html)
BREEN'S WIZARD OF OZ THEORY (www.coinbooks.org/esylum_v04n36a09.html)
MICHAEL MAROTTA ON THE WIZARD OF OZ PARABLE (www.coinbooks.org/esylum_v12n26a15.html)
I posted a discussion topic on CoinTalk.com
https://www.cointalk.com/threads/the-wizard-of-oz-and-the-crime-of-73.58952/
I posted the bibliography on Rec.Collecting.Coins and it was copied by other people to other forums (fora), as for instance:
http://www.collectingbanter.com/showthread.php?t=274998 ​
Apparently, I uploaded the Centinel article to Scribd:
https://www.scribd.com/document/106617471/The-Wizard-of-Oz-Children-s-Fable-or-Numismatic-Cyclone
More recently (2014), I put the discussion up on ObjectivistLiving:
http://www.objectivistliving.com/forums/index.php?/topic/14432-the-wizard-of-oz-as-political-allegory/
I do not seem to have anything posted to the ANA Blogs.
Finally, it is a funny thing, but I have a blog, NecessaryFact.blogspot.com, and I write for myself mostly on whatever interests me. Other people do read it apparently. The most popular article (3630 page views total since 2011; 45 of the 59 views all week; and 4 for today right now) remains "What (if anything) Did Dorothy Learn?"
http://necessaryfacts.blogspot.com/2012/01/what-if-anything-did-dorothy-learn.html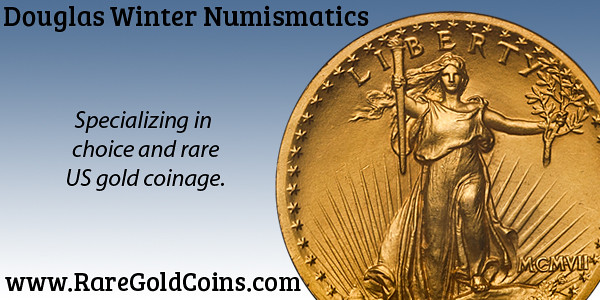 1904 SAINT LOUIS WORLD'S FAIR "SILVER" MEDAL

SAINT LOUIS WORLD'S FAIR "SILVER" MEDAL, 1904. Hendershot 30- 50; Baxter 108; Krueger 14; Eglit LPE-6. 67x67mm. Bronze. Adolph A. Weinman, Sc.. (U.S. Mint). VF/XF. Obverse with a central medallion of Liberty cloaking herself and a young female figure next to her in the American flag. The field on the reverse is filled by an American eagle with outstretched wings framing a cartouche for the inscription SILVER MEDAL/ LOVISIANA PVRCHASE/ EXPOSITION with a pair of opposed dolphins flanking a scallop shell below.
Baxter finds in this an important precedent for Weinman's "Walking Liberty" half dollar coin. The field on the reverse is filled by an American eagle with outstretched wings framing a cartouche for the inscription SILVER MEDAL/ LOVISIANA. $115.00
It's always interesting to trace the evolution of an artist's work. medals like these are often precursors to designs submitted later for se on coins. -Editor
1970 MAINE SESQUICENTENNIAL MEDAL

MAINE SESQUICENTENNIAL MEDAL, 1970. 63.4mm. .999 Silver. (6.95 oz.) G.W. Carter, Sc. (MACO) Choice Unc. Original box & pamphlet. Obv: Eagle flying high above scene with Indian settlement and lake. DAWN OF AMERICA above. Rx: Circle of stars around SESQUECENTENNIAL above mountain view. Below, state seal/MAINE. $165.00
I like this design, particularly the obverse. -Editor
1915 PANAMA PACIFIC EXPOSITION OFFICIAL AWARD MEDAL

PANAMA PACIFIC EXPOSITION OFFICIAL AWARD MEDAL, 1915. Baxter 114; Marqusee 150. 70.4mm. Bronze. John Flanagan, Sc. (U.S. Mint). Gem XF/AU with a minor edge bruise at 11:00. The obverse bears a pair of nude figures representing the uniting of the Atlantic and Pacific Oceans. The reverse features a view of the Jewell Tower, the architectural centerpiece of the exposition, surrounded by an expo legend. MEDAL OF AWARD inscribed within a cartouche below the building. The medal is housed in its uninscribed round black fabric case of issue.
The U.S. Mint struck only 2,000 of these medals in bronze - far fewer than the numbers struck for the official award medals for the Columbian and the 1904 Saint Louis Expositions. $210.00
1998 M.C. Escher Medal

1998, the Netherlands
M.C. Escher.
Manufacturer: Koninklijke Begeer.
Bronze remembrance token.
Diameter: 70 mm.
1998
In original box, with certificate.
This caught my eye because I've always been a fan of the amusing artwork of M. C. Escher. I occasionally work in a building with a double staircase that strikes me as particularly Escheresque - I half expect to see someone walking at a 90-degree angle. -Editor
To read the complete lot description, see:
7. M.C. Escher for Koninklijke Begeer - Bronze remembrance token 100th birthday (https://auction.catawiki.com/kavels/9307501-m-c-escher-for-koninklijke-begeer-bronze-remembrance-token-100th-birthday)
1928 IX Olympiad Amsterdam Medal

Jaap Kaas
Beauty in sport of the IX Olympiad, Amsterdam 1928.
Bronze medal, 40 mm.
Obverse: A runner in a stylized stadium in the style of the expressionists of the Amsterdam School.
Reverse: Monogram of the Association on a blank background with the year 1928.
Text: Schoonheid in sport
For a "Beauty in sport" medal, that's a really ugly athlete. Intriguing design, though. -Editor
To read the complete lot description, see:
142. The Netherlands – Medal 'Beauty in sport' IX Olympiad Amsterdam 1928 – Bronze (https://auction.catawiki.com/kavels/9366195-the-netherlands-medal-beauty-in-sport-ix-olympiad-amsterdam-1928-bronze)
Medallic Art Company 50th Anniversary Medal

A bronze medallion commemorating the fiftieth anniversary of the Medallic Art Company. The obverse shows a winged head with a lion pelt and a coin press, and the reverse shows a hand holding the medallion with the inscription "1900-1950 Medallic Art Company 50th Anniversary".
Nice design. -Editor
To read the complete lot description, see:
Medallic Art Company 50th Anniversary Bronze Commemorative Bronze Medal (www.ebth.com/items/4983701-medallic-art-company-50th-anniversary-bronze-commemorative-bronze-medal)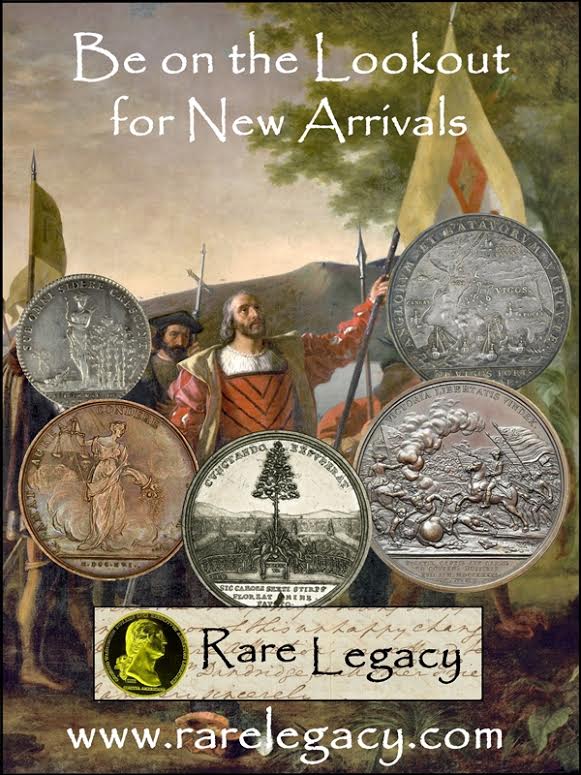 Here is the press release for the February 15, 2017 sale of Roman coins by London auctioneers Dix Noonan Webb. -Editor
An important collection of Roman bronze coins formed by a connoisseur before and during the Second World War will be back on the market for the first time in 75 years when it is auctioned by Dix Noonan Webb, the international coins, medals and jewellery specialists, in London on 15 February 2017. The collection, which will be sold in 194 lots, is expected to fetch up to £250,000.
The coins in this collection were assembled over a remarkably short period of eight years from 1933 to 1941, some of them being bought at London auctions during a time when the capital was under attack from the German Luftwaffe. The anonymous connoisseur was assisted by the renowned experts Herbert Seaby and Leonard Forrer as he brought together a group of Roman bronze coins that has been unavailable for study for three-quarters of a century.
Many of the coins have distinguished provenances. The connoisseur was a successful bidder at the London auctions of the collections of Christopher Corbally Browne and, most notably, the Rev Edward Sydenham. Among the lots are pieces from the great continental sales of the 1920s and 1930s, including the collections formed by Clarence Bement, Franz Trau, Sir Arthur Evans, Captain Edward Spencer-Churchill, Howard Levis and Paul Vautier.
The star item in the collection is a an extremely rare Sestertius from the brief reign of Divus Titus, who was Roman emperor from AD 79 to AD 81. It is one of the most important Roman bronze coins available to the market with only 10 specimens of this type known, of which seven are in museums. It is a full grade finer than the only other example sold recently.
The posthumous coin dating from cAD 81 to AD 82 depicts the recently-completed Coliseum, which had been finished during the reign of Titus. The coin, which the collector bought in February 1939, is expected to fetch £60,000 to £80,000.
Other highlights include a Sestertius from the brief reign of Vitellius, who was emperor for eight months in AD 69. This extremely rare coin was part of several famous collections in the early part of the 20th century but was last on the market in May 1940. An impressive piece celebrating the end of the civil war of AD 68 to AD 69, it is estimated at £4,000 to £6,000.
Another Sestertius depicting the emperor Hadrian addressing his British troops and dating from AD 134 to AD 138 is expected to sell for £3,000 to £4,000. When it was last sold as part of the Drabble Collection in July 1939, the cataloguer, Albert Baldwin, described it as "possibly the finest known specimen". The design of Hadrian haranguing his soldiers is found on a series of bronze coins from the mid-130s but the British issue is one of the rarest.
For more information, see:
www.dnw.co.uk
Completion of excavations in the courtyard of Jerusalem's Tower of David, outside the Old City's walls, archeologists thought no stone was left unturned. However, during routine conservation work in the museum's archeological garden, Orna Cohen, veteran archeologist and chief conservation officer at the Tower of David, spotted a metallic item among stones near a wall.
Upon closer inspection, Cohen determined the object was a bronze-leaf cent, once used in Jerusalem during the days of King Antiochus IV Epiphanes, a decidedly unwelcome guest in the history of the city.
Antiochus was a reviled king who made draconian decrees, sparking the Maccabean revolt that led to the victory of the Maccabees and the reclamation of the Temple.
The coin was found near the Hasmonean walls that cut through the center of the citadel's courtyard, next to the tower base built during the day of Yonaton and Shimon, brothers of Judah the Maccabee.
During the original excavation of the Tower of David, ballista stones and iron arrowheads were found, evidence of the battles that took place in Jerusalem in the days when the city struggled for independence against the rulers of the Seleucids.
A portrait of Antiochus is engraved on one side of the coin, which was worth roughly 10 agorot back then. On the other side, a goddess is shown wrapped in a scarf.
While researchers are having difficulty dating the relic with precision, it is known that such coins were minted in Acre, a city on the northern shore of Israel that was once called Antiochia Ptolemais, after Ptolemy, and as such the coin is dated sometime between 172 and 168 BCE.
To read the complete article, see:
Rare coin from King Antiochus's rule discovered in Jerusalem (www.jpost.com/Israel-News/Rare-coin-from-King-Antiochuss-rule-discovered-in-Jerusalem-475963)
In the I-am-NOT-making-up-that-name department comes this heartening story about the conviction of a man caught selling counterfeit Morgan dollars in Maine. -Editor
Prosecutors say a Maine man has been sentenced to 10 months in prison for selling counterfeit versions of century-old U.S. dollar coins.
U.S. Attorney Thomas Delahanty says 32-year-old Mwashuma Sithole, of Waterville, started ordering counterfeit Morgan dollar coins in May 2014. Morgan dollars were minted from 1878 to 1904 and again in 1921.
Delahanty says Sithole ordered coins that were offered as counterfeits and made in China. The prosecutor says Sithole sold and pawned about $12,000 worth of counterfeit Morgan dollars in Maine.
Authorities seized about 1,200 counterfeit Morgan coins belonging to Sithole after executing a search warrant.
Sithole pleaded guilty to the charges. He was also sentenced to three years of supervised release.
It's rare to hear of a prosecution for this; in fact, I think this is the first I've ever heard of someone successfully caught and prosecuted for this. Is anyone aware of other cases? -Editor
To read the complete article, see:
Man sentenced for selling counterfeits of century-old coins (www.foxnews.com/us/2016/12/21/man-sentenced-for-selling-counterfeits-century-old-coins.html)
For information on other fake U.S. silver dollars, see: Learn how to identify fake and counterfeit US Silver Dollars. (http://coinauctionshelp.com/Counterfeit_Silver_Dollars_Fake_
Trade_Dollars_Fake_Morgan_Dollar.html#.WFyAlfkrKAs)
This article from the Coin Auctions Help site illustrates some fake Morgan dollars and discusses how to detect them. -Editor
The above is obviously counterfeit for many reasons and the incorrect date and mint mark should be the first thing noticed. No CC (Carson City) were minted in 1895. Incorrect mint marks i.e. 1887-CC, 1888-CC, 1878-O, 1902-CC, or any Morgan with a D mint mark other than the 1921, are but one problem when it comes to counterfeits, but it's the most easiest to discern once you know the appropriate dates and mint marks combinations.
Of course, this so-called 1895-CC has more going against than an incorrect mint mark, even the letters and numbers and other design features are "off" when you compare it to the authentic Morgan Dollar image above it. Another note, all business strike (for circulation) 1895 Morgans have either and S (San Francisco) or an O (New Orleans) mint mark, the 1895 without a mint mark is only found as a proof.
Just remember, if it looks odd, it may be a fake or counterfeit, and silver dollar collectors should always be wary of the "too-good-to-be-true-deal". Also, any suspect fake should be weighed and examined my an expert.
Fake 1903-CC Morgan Silver Dollar
This coin's metal content is steel (it sticks to a magnet) and no 1903 CC's ever created. It's a good replica of a date and mint mark combination that never existed, but one look at the font of the date and you can tell it's wrong.
To read the complete article, see:
Morgan Dollars Counterfeit/Authentic Comparisons (http://coinauctionshelp.com/Identify_Fake_Morgan_Dollars_Trade_Dollars.html)
Finland and the United States were the top winners in the first round of judging in the Coin of the Year competition.
Each nation won two of the 10 categories, while Italy, Japan, Canada, Great Britain, Austria, and the Cook Islands each won in a single category.
The COTY Awards are sponsored by World Coin News, the World Money Fair and the Journal of East Asian Numismatics.
All coins in the contest are dated 2015.
Finland had the Best Bi-Metallic Coin, a 5-euro piece depicting Lapland reindeer (KM-224).
It also won in the Best Silver Coin category with a 10 euro marking the 70th anniversary of peace after World War II (KM-226).
The United States claimed the Best Circulating Coin title with an America the Beautiful quarter honoring the Kisatchie National Forest (KM-598).
The Cook Islands had the Most Innovative Coin, a silver $2 that represents the Space-Time Continuum – Black Hole Shaped Coin with Magnetic Sphere (KM-1693).
See the full article online for a complete list of the category winners. Congratulations to the artists and teams behind these designs. -Editor
To read the complete article, see:
Coin of the Year's 10 winners (www.numismaticnews.net/article/coin-years-10-winners)
This article from the site of the Fitzwilliam Museum in Cambridge presents a great overview of the token coinage of Thomas Spence. -Editor
Revolution and Reform on English Tokens
England avoided revolution after the image of the United States of America and France, but the shared language and shared sea-lanes between it and these new governments meant that the thought and arguments of the revolutionaries were abroad in England too. Particularly prominent as a text for, if not revolution, at least reform was Thomas Paine's The Rights of Man, published in 1791, which defended the rights of the citizenry to rise against a power that would not rule them fairly, and argued for a written constitution and a progressive income tax designed to prevent the emergence of hereditary aristocracies. Paine's book led to him being tried for sedition, but in his absence, as he had already flown to France where he narrowly avoided execution. Trials for sedition in late-eighteenth-century England were not uncommon, and the country could in no way be considered a safe place to speak out against government. Those who continued to express dissent, however, did so not just in printed works and pamphlets, but in metal.
Whether for collectors or for commercial use, the possibilities of a freely-circulating medium, almost impossible to police, were obvious to those who wished to spread propaganda against the state, and although the manufacturers and engravers of tokens would happily take commissions from such parties, the issuers could if necessary acquire the necessary machinery to manufacture them alone. Associations of dissenters who felt themselves particular notable, therefore, or those who wished to celebrate one of the few triumphs against the status quo, often had recourse to this form of advertising in copper.
The danger and isolation of dissent led to a grimly humourous camaraderie that makes these tokens witty, but often hard to grasp. The piece below, for example, mimics the commercial issues that invited the buying public to redeem their tokens for silver at the issuer's business address ("Payable at the premises of..."), but the 'address' given by the reverse design is Newgate Jail, because the four men named had been imprisoned there for sedition the previous year.
The joke hangs on the assumption that the prisoners' names would have been known to anyone who happened to receive the token. This is evidence in itself that the doings of revolutionaries were the subject of common report in London. Two of the men named, Henry Symonds and James Ridgway, had been imprisoned for publishing Paine's book.
Thomas Spence
The chief user of tokens as propaganda for the revolution was Thomas Spence. His radicalism was of a different stamp to that of many other agitators. Born in Newcastle in 1750, by his mid-twenties he was already politically active, and had developed a plan for land reform that would have seen the communalisation of all landed property and the abolition of landlords and rents. He had published this already in 1775 as Property in Land: Every One's Right but, losing nothing to political fashion, republished it under the title The Real Rights of Man in 1793 (an online text can be found here). He was, despite the title, a keen advocate of Paine's work, which he sold at the London shop he ran by 1794 (when he was briefly imprisoned for its output), and lost no opportunity to associate himself with the 'other Thomas', but it is doubtful that Paine would have agreed with his more communist ideas.
The obverse of the farthing at left below lists Spence as the first of three Thomases, 'Advocates of the Rights of Man', the others being More and Paine; the reverse at right advertises Spence's penny weekly publication, Pig's Meat, the title of which played upon a reference of Edmund Burke's to 'the swinish multitude'.
From the first Spence was alert to the possibilities of tokens as propaganda, and his earliest issue commemorating the 1775 publication of his Plan appears to have predated the 'token mania' by some years and is consequently extremely rare. Once established in London, however, he found not only a ready market, better than for his bookseller's business, but also a fruitful collaboration with the engraver James, whose readiness to depict Spence's ideas in his animated and vivid style led to a riot of high-impact political imagery which much outpaces Spence's rather turgid prose in the communication of not just his politics but his sense of outrage and rebellion. The result has been a kind of immortality that Spence might not, perhaps have wished, compared to the relative obscurity of his actual writings, but which one of his own catalogues shows that he probably expected:
"... some of them on account of device, some for neatness of workmanship, and all on account of their great variety, may, nay will claim the attention of the curious in after-ages."
To read the complete article, see:
The Propaganda Coins of Thomas Spence and his Contemporaries (www.fitzmuseum.cam.ac.uk/dept/coins/exhibitions/spence/)
Here's an article about a nice souvenir coin created by Defiance, OH and the Osborne Coinage Company. -Editor
The Defiance, Ohio, Development & Visitors Bureau (DDVB) has found a unique way to celebrate their city — by commissioning a commemorative silver coin. Originally designed as a souvenir for bicycling tourists, the coins became so popular that the mayor now hands them out to visiting dignitaries and to the people that make the town unique.
In 2015, the DDVB received the news that the Great Ohio Bicycle Adventure would be coming through Defiance and stopping for a day to relax in the town. For five days in June every year, 2,000 bikers tour Ohio, stopping along the way in each town. In years past, the DDVB organized tote bags as souvenirs, but Cindy Mack, executive director of DDVB, had an idea for a more memorable souvenir.
Mack ordered the coins from Osborne Coinage of Cincinnati. The coin features "City of Defiance: A Great Place to Live" on one side and a logo recognizing their Best Hometown award from Ohio Magazine. Osborne specializes in custom orders, and was able to produce the coins just as Mack had designed them. She ordered 1,750 pieces, adding up to $1,357.85 — less than a dollar per coin.
As opposed to just handing the coins out, she designed a scavenger hunt through the town, where the bikers visited specific locations and filled out a card along the way. When they returned the card, they were awarded a coin. By putting in additional effort, the visitors perceive the coin as having additional value — and Mack got to show off her hometown. The bikers enjoyed the small size of the piece — a coin is much easier to fit in a bicycle basket than a tote bag — and will remember Defiance each time they see the coin.
Shortly after the last bicyclist had departed, Defiance High School won the state championship in baseball. At a celebration to honor the victorious Bulldogs, the winning team members were each given a coin. The mayor even hands them out to visiting dignitaries, who prefer the silver coin to the mayor's old souvenir: a comb (the mayor was formerly a barber).
A nicely done piece, from a city with a great name. -Editor
To read the complete article, see:
Souvenir coins celebrate and spread hometown pride in Ohio (http://americancityandcounty.com/products-work/souvenir-coins-celebrate-and-spread-hometown-pride-ohio)
For more information about the Osborne Coinage Company, see: www.osbornecoin.com
Coin Discovery at Knowsley Hall, Merseyside br/> Stephen Lloyd, Curator of the Derby Collection
Following my discovery during 2012 in the archive at Knowsley of a collection of 670 previously unrecorded coins – mostly Roman – wrapped in a piece of mid-nineteenth-century paper and stored in one of the boxes relating to the 17th Earl of Derby's passion for racing and breeding of thoroughbreds, I contacted Henry Flynn for advice at the Money and Medals network based at the British Museum.
Having published an article for the M&M Newsletter about the discovery of this accumulation of coins by various Earls of Derby, I was contacted by the Ormskirk and West Lancashire Numismatic Society. Since then two of their members, Alan Dawson and Graham Jones, have been assiduously cataloguing these coins at Knowsley on a volunteer basis, one day a month.
A compact 28-drawer Crozier mahogany cabinet has been made to store the coins, having been constructed by Peter Nichols of Nottingham. In 2014 Henry Flynn chaired a roundtable seminar at Knowsley Hall, where discoveries concerning the Knowsley hoard were presented to local museum curators from the North West. I was also able to make a short presentation that same year about the coins at a M&M Network study day at the British Museum. Research is continuing into the history and provenance of the Knowsley miscellany of coins, which date from the reign of Julius Caesar up until the late eighteenth century.
Perhaps the rarest object is a South Carolina Elephant token of 1694, which was struck in copper in London, and which were thought to been a form of advertising jettons to promote interest in the young American colony.
London Elephant tokens were struck around 1672 to 1694, probably weren't intended to circulate in the colonies, and are available in well-worn Very Good condition for around $300.
Similar tokens dated 1694 with a reverse reading GOD PRESERVE CAROLINA AND THE LORDS PROPRIETORS were likely struck in England and were possibly intended to heighten interest in the Carolina Plantation in the American colonies.
A third variant (the rarest) states GOD PRESERVE NEW ENGLAND on the reverse; it is also dated 1694.
The Carolina Elephant token has two distinct reverse types, one with the correct spelling of proprietors and another with the misspelling PROPRIETERS. Heritage adds, "Although described in most references as different dies, the placement and shape of all lettering is nearly identical, suggesting that a single reverse die was corrected after a small production of the misspelled pieces."
The majority of the known Carolina Elephant tokens are well-worn, grading Very Good to Very Fine. Extremely Fine and finer examples are rare. This EF-45 piece sold for $47,000.
To read the complete article, see:
1694 Elephant token promoting the Carolina Plantation in the American colonies sells for $47,000 (www.coinworld.com/news/us-coins/2014/06/1694-Elephant-token-promoting-the-Carolina-Plantation-in-the-American-colonies-sells-for-47K-at-Eric-P-Newman-auction.all.html)
For more information on the Money & Medals Network, see:
www.moneyandmedals.org.uk
The numismatic collection at the Grosvenor Museum in Chester is a particularly strong one and a longstanding ambition of theirs to put more of it on display came to fruition in 2016, with the help and support of Museum Development North West. The exhibition, Minted: Making Money and Meaning, took a thematic approach to numismatics and utilised a wide range of coins from many different periods. Without focusing on one period or type of coinage, the exhibition sought to challenge people's perceptions of money itself and encouraged them to think about the change in their own pockets in new ways. The exhibition explored portraiture, inscriptions, propaganda and hoarding, as well as the process of making coins, in every case making good use of the Grosvenor's own collection. A nice touch was the inclusion of modern coins in a number of showcases, in an effort to draw parallels with recent events and concepts, thereby lending the exhibition a relevant and contemporary feel.
Numismatic objects are famously challenging to display in ways that make them engaging to the public and have the added hindrance of being small and tricky to see. Pleasingly, this exhibition made successful attempts to make the subject matter appealing to visitors of all ages through the use of a number of innovations. The coins themselves were displayed lying flat in table cases with magnifying glasses. Younger audiences were also catered for through the use of simple but effective interactive features – these included a stand for coin rubbings, the provision of paper and pencils so children (of all ages) could design their own coins, and a dressing up box so people could pose as a portrait image on a coin. I have to confess that, when no one was looking, I gave this a go!
One particular innovation that really helped to bring the subject to life was the use of photography. Professional photos were taken of members of the public who had had their hair styled to emulate various portraits on coins. These recreated hairstyles were displayed prominently in roundels next to images of the specific coins they were intended to imitate.
The exhibition closed in October but has proven to be such a success with visitors to the Grosvenor that elements of it have now been incorporated into the museum's permanent displays. This means that this engaging, innovative and genuinely thoughtprovoking approach to numismatics can continue to be enjoyed for years to come.
For more information on the exhibit, see: http://events.westcheshiremuseums.co.uk/event/minted-making-money-and-meaning-2/

For more information about Grosvenor Museum, see:


http://grosvenormuseum.westcheshiremuseums.co.uk/
For more information on the Money & Medals Network, see:

www.moneyandmedals.org.uk
ARTICLES HIGHLIGHT 1983 TWO PENCE ERROR
Rare two pence coins produced in 1983 could be worth thousands of pounds.

Experts believe the copper's value could soar after one of them sold on Ebay for £100.

The news will likely push cash-strapped Christmas shoppers to scour their homes for the rare coin - in a similar rush to find the valuable new £5 notes.

The coins are worth so much because of a production error. From 1983 all 2p coins should have been printed to say 'two pence' but an error caused thousands to say 'new pence'.

The valuable coins, known as the '1983 New Pence 2p coin', are worth hundreds of pounds and could fetch thousands in the future.

Philip Mussell, director of Coin News, explained to the Mirror how some coin's worth soars: 'One is when a mistake is made by the Royal Mint, like a 20p without a date, for example, or a 1983 2p coin accidentally printed with the old wording "New Pence". Mistakes are eminently collectable.

'Other collectibles are redesigns or limited edition releases. For example, an Olympic 50p with a swimmer was recently re-released.'

He said the time to sell and make the most money was when interest in the coin increases because of media attention.

To read the complete article, see:


Time to shake out the piggy bank! '1983 New Pence 2p coin' could be worth THOUSANDS thanks to an error during production (www.dailymail.co.uk/news/article-4049058/Time-shake-piggy-bank-1983-New-Pence-2p-coin-worth-THOUSANDS-thanks-error-production.html)
It's not just polymer £5 notes with rare serial numbers that could be worth a fortune. A valuable two pence piece has just sold on eBay for £100 - and you could well have one in your piggy bank.

To read the complete article, see:


The rare New Pence 2p coin that's worth a fortune - because of this miniscule error (www.msn.com/en-gb/money/personalfinance/the-rare-new-pence-2p-coin-thats-worth-a-fortune-because-of-this-miniscule-error/ar-BBxmMhs)
VENEZUELA'S NEW HIGH-VALUE INFLATIONARY BANKNOTES
The Banco Central de Venezuela have begun to recall the current 2008 series of banknotes and replace them with six new, higher-value denominations in an effort to stabilize the economy and enable the public to conduct everyday purchases.

As inflation has essentially rendered worthless the denominations of the Fuerte ("strong") Bolivar—originally introduced in 2008, also as a means of controlling Venezuela's then-runaway inflation—the series, which featured vertical obverse designs and included denominations from 2 to 100 Fuerte Bolivares, was introduced at a ratio of 1,000 old Bolivares to one new Fuerte Bolivar. At the time of its introduction, the exchange rate between the U.S. dollar and the Fuerte Bolivar was set at 2.15 per U.S. dollar. The rate was later officially readjusted four times, with the last rate being set at 6.30 per US$1 before the black market determined that the Fuerte Bolivar was more realistically valued at 10 times the official rate.

As of December 14, the Banco Central began to recall all 100 Bolivar banknotes, which are slated to be replaced with coins of the same value. The bank will also introduce six new denominations, from 500 to 20,000 Bolivares. The 2016-series notes reintroduce the same designs and personalities featured on the 2008 banknote series, though with new colors and varying security features. It is believed that additional coins, with values of 10 and 50 Bolivares, will be issued shortly, also replacing banknotes of the same value. Officially, the 20,000 Fuerte Bolivar note will have an exchange rate of US$26, but it is expected that the note will trade at the black-market rate, meaning it will be regarded to have a real worth of about $4.40.

See the complete article online for images of both sides of each new note. They're nicely done. -Editor

To read the complete article, see:


Venezuela: High-Value Inflationary Denominations Replace Previous Series of Banknotes (http://news.coinupdate.com/venezuela-high-value-inflationary-denominations-replace-previous-series-of-banknotes/)

To read the earlier E-Sylum article, see:


VENEZUELA WITHDRAWS LARGEST BANKNOTE (www.coinbooks.org/esylum_v19n51a28.html) CANADIAN FIRM TO BUY POLYMER NOTE FIRM INNOVIA

Polymer banknote maker Innovia has conveniently agreed to sell itself to a Canadian firm. -Editor
Canadian label and packaging maker CCL Industries Inc said it would buy Innovia Group, which supplies the new UK plastic five pound note that has fallen foul of vegetarians, for around C$1.13 billion ($842 million).

The acquisition of UK-based Innovia is expected to make CCL the world leader in the fast-growing polymer banknote market. Britain is one of the largest economies to adopt plastic banknotes and they are already in circulation in Canada, Mexico, New Zealand and Australia.

But the new five pound note, made of a thin and flexible plastic designed to be cleaner and harder to forge, has fallen foul of thousands of people who object to the use of animal fats in their manufacture.

The deal is the latest in a string of takeovers of British companies by foreign firms that have taken advantage of the sharp fall in the sterling since Britain voted to leave the European Union.

While this sale was likely in the works for a while and would have occurred regardless of the vegan backlash, it is convenient for both parties. Innovia gets to say "Sorry, it's not our problem anymore", while CCL gets to say, "Hey, don't look at us, it wasn't our fault." -Editor

To read the complete article, see:


Canada's CCL to buy British bank note maker Innovia for $842 mln (www.dailymail.co.uk/wires/reuters/article-4049872/Canadas-CCL-buy-UK-based-Innovia-842-mln.html)

To read the earlier E-Sylum articles, see:


NEW POLYMER NOTES CONTAIN ANIMAL FAT (www.coinbooks.org/esylum_v19n49a29.html)
MORE ON ANIMAL FAT IN THE POLYMER BANKNOTES (www.coinbooks.org/esylum_v19n50a34.html) BIBLIOTHERAPISTS: BOOKS AS MEDICINE

In the take-two-books-and-call-me-in-the-morning department, John Lupia writes:

I saw this one, too. Great idea! Here's an excerpt. -Editor
Depressed? Over-the-counter remedies abound, though some are hard to swallow. The 272-page "City of Thieves" by David Benioff, for example.

It is one palliative prescribed by Mano Bouzamour at the recent Frankfurt Book Fair, where he sat at a desk sporting a white doctor's coat and stethoscope. The Dutch novelist, who has no medical license, was serving as a "book doctor." After brief consultations with people who lined up in the cold drizzle outside a pop-up clinic, he pulled out a prescription pad and scribbled titles to alleviate readers' woes.

"You need 'The 25th Hour'," he told an enervated university student, referring to a novel by Mr. Benioff.

"Great story. Punchy dialogue. A drug dealer gets sentenced to prison," said Mr. Bouzamour, who recommended any Benioff title to cure listlessness and the blues.
Mr. Bouzamour's act is part of a growing movement among bibliophiles who put the "script" in prescription by treating problems with personalized book recommendations. Unaffiliated with bookstores, these consultants—often called bibliotherapists—talk to clients about issues and suggest books they think can help. Consultations and recommendations go for varying fees, usually excluding the books themselves.

"We genuinely believe novels are a powerful thing," said Susan Elderkin, a U.K. bibliotherapist. "People can glean a lot from a novel that can stay with [them] in a resonant way."

Hmmm. It would be fun to set someone up with a table at a coin show to field questions from the public and dispense numismatic book recommendations. -Editor

To read the complete article (subscription required), see:


'Book Doctors' Say What You Need Is a Good Read (www.wsj.com/articles/book-doctors-say-what-you-need-is-a-good-read-1482091512)
OFFICIAL U.S. WAR AND STAMP GREETING CARDS
The Treasury Department a proved the production and distribution of greeting cards promoting the sale of defense and war savings stamps.

The text on the back identifies the publisher of the cards as the Greeting Card Industry, Inc.

Most interestingly the three cards have unique identification numbers. The three seen are: 5WS306, 5WS308, 5WS402. The proximity of the 306 and 308 seem logical, but 402 indicates that about one hundred different cards were issued. While this is possible, It seems unlikely. Obviously reports of more cards are needed.

DS101 © 1941 A Gift of Defense Stamps with the Season's Best Wishes
5WS302 Birthday with a 10¢ Defense (over stamped with War) Stamp Album
5WS303 Birthday with a 10¢ War Stamp Album
5WS306
5WS307 A Salute to You with a 10¢ Stamp Album
5WS308
5WS402 Christmas with a small envelope to insert a war savings stamps

To read the complete issue, see:


Official war and stamp greeting cards (http://us13.campaign-archive2.com/?u=10eb366ab80344a56657e0d5d&id=cd486a2f67&e=f71a788d6b)

For more information about the MPC Gram, contact:


MPCGram@yahoo.com