About Us
The Numismatic Bibliomania Society is a non-profit organization devoted to the study and enjoyment of numismatic literature. For more information please see our web site at coinbooks.org
Subscriptions
Those wishing to become new E-Sylum subscribers (or wishing to Unsubscribe) can go to the following web page link
Membership
There is a membership application available on the web site Membership Application
To join, print the application and return it with your check to the address printed on the application. Print/Digital membership is $40 to addresses in the U.S., and $60 elsewhere. A digital-only membership is available for $25. For those without web access, write to:
Terry White, Treasurer
Numismatic Bibliomania Society
P. O. Box 634,
Canal Winchester, Ohio
43110
Asylum
For Asylum mailing address changes and other membership questions, contact Terry at this email address: terrywhite5475@yahoo.com
Submissions
To submit items for publication in The E-Sylum, just Reply to this message, or write to the Editor at this address: whomren@gmail.com
BUY THE BOOK BEFORE THE COIN
Content presented in The E-Sylum is not necessarily researched or independently fact-checked, and views expressed do not necessarily represent those of the Numismatic Bibliomania Society.
New subscribers this week include: Les Holbrook, courtesy of Bob Fritsch. Welcome aboard! We now have 3,249 subscribers.
Thank you for reading The E-Sylum. If you enjoy it, please send me the email addresses of friends you think may enjoy it as well and I'll send them a subscription with your compliments. Contact me at whomren@gmail.com anytime regarding your subscription, or questions, comments or suggestions about our content.
This week we open with the NLG Writers' Competition, two new books, one new periodical issue, and one book review. Other topics this week include making cents at the Denver Mint, the Token and Medal Society, problems with recycled metal in medal-making, collector Robert Gilmor, Jr., dealer Bill Youngerman, auction previews, and silver Panamint balls.
To learn more about the coinage of Paraguay, pre-modern Central Asian coins, the "E.T. coin", the death of Josiah K. Lilly, the Invisible Empire, England's first trade tokens, and the coins of Maria Theresa, read on. Have a great week, everyone!
Wayne Homren
Editor, The E-Sylum


Ed Reiter, Executive Director of the Numismatic Literary Guild forwarded this press release about the organization's 2017 Writers' Competition. Get your entries in, authors (and editors)! The NLG is not affiliated with the Numismatic Bibliomania Society, but many active researchers and writers are members of both (like myself). -Editor
Entries are now being accepted for the Numismatic Literary Guild's 2017 Writers' Competition. The contest covers a broad spectrum of categories, including books on numismatic subjects; newspaper and magazine articles and columns; online websites, articles, columns and blogs; numismatic newsletters; auction catalogs; and TV, radio and audio-visual presentations.
To be eligible for consideration, entries must have been published, posted, broadcast or presented between May 1, 2016 and April 30, 2017. Entrants must be NLG members.
Entries must be received by June 19, 2017.
Rules for several categories have been modified to reflect the growing importance of online numismatic writing. However, the numbering system for categories has been retained from last year to avoid confusion by entrants and judges. This is one more reason to read the rules carefully before submitting entries.
Winners will be announced at the 2017 NLG Bash, which will be held on the night of Thursday, Aug. 3, in the Sheraton Denver Downtown Hotel during the 2017 World's Fair of Money. Award plaques bearing the official NLG logo will be presented to winners during the Bash.
Because of sharp increases in shipping costs plus cumbersome security regulations, winners who live in foreign countries, other than Canada and Mexico, will be given certificates and cash awards instead of plaques. First-place winners will receive $50 apiece, entrants cited for Extraordinary Merit will receive $25 each and both will get award certificates suitable for framing.
Complete rules, including the address where entries should be sent, are posted on the NLG's website, www.nlgonline.org .
The Numismatic Literary Guild, founded in 1968, is an organization made up of several hundred writers, authors, editors, publishers, photographers, catalogers, curators and other individuals from around the world who are engaged in publicizing and promoting numismatics through writing and related skills. -Editor
The work itself was born due to the lack of numismatic informative material in our country (Paraguay) it is somewhat complicated for Paraguayan collectors who are starting in the world of numismatics to find some kind of material and information on coins, bills and other subjects .
Those that exist are from years back and of time when there was not much information to expose. The Book contains basic information for the reader, either collector or someone who is foreign to this world but who wants to learn a little more about the monetary history of his country. Starting from the colonial period, continuing through the different periods and their governments, the most outstanding data on the first national currency, some data on bills, the first gold and silver coin of Paraguay, the economy during the wars, are some Of the topics appearing in this material are expected to be of great help to young collectors.
Author: Raul Olazar Cristaldo - Founding Partner of the Collectors Association of Paraguay (ACONUPA)
Age: 26 years - Paraguay
1st. 2017 Edition
For more information, or to order, see:
http://www.numismaticodigital.com/raulolazar
ENGLISH PAPER MONEY Including Polymer 9th Edition OUT NOW - Essential guide for every collector of Bank of England banknotes 1694 to date - Up to date information on all denominations and reverses - The Treasury banknote series from 1914 - 1928 - White Fivers - The indispensable award winning Price Guide for English banknotes - 384 full colour pages
£20 Plus £4 P&P
For more information, or to order, see:
http://britishnotes.co.uk/




A new book on pre-modern central Asian coins was reviewed on the Zeno.ru Oriental Coins Database site by by Dick Nauta of the Netherlands. Here's an excerpt. -Editor
CATALOG OF PRE-MODERN CENTRAL ASIAN COINS 1680–1923 Janid (later period) – Bukhara – Tashkand – Shahrisabz –Khoqand – Khiva – Khorezm Republic – Dzungar (later period) – Islamic East Turkestan By Vladimir NASTICH and Wolfgang SCHUSTER ― Moscow and Vienna 2016 ― 304 pp. ― above 820 illustrations throughout the text ― 9 tables and charts ― 1 map ― Bibliography pp. 289‒298 ― Russian summary pp. 299-304 ― ISBN 978-3-00-055514-5.
Reviewed by Dick Nauta, Dieren, the Netherlands. This work concerns an entirely new Catalog of a field of numismatics that so far has been poorly served by scattered publications of widely varying substance, academic quality and visual impact, not to mention perceptible lack of accessibility. With the present work, the authors have maintained high professional standards in every sense and have succeeded admirably in putting Central Asian coinage on the map, so to say.
This publication, an international project, is the result of a fruitful collaboration between a Russian professional orientalist and an Austrian expert numismatist; it took more than ten years to complete. What originally started as a modest but much needed revision of the relevant entries of the SCWC grew into an impressive comprehensive treatise of these coin series.
This is not surprising in view of the fact that no compilation of previous work, hailing back to the late 17th century, on any aspect of Central Asian coinages exists. Collecting, selecting and sifting information, translating, critically assessing, separating historical fact from fancy, collating and analysing all that has been published and illustrated in a wide array of periodicals and other scattered documents in archives and museum collections, required the command of about a dozen different languages; this has been the leading author's great merit. The co-author has supported this daunting process by making sense of the information about frequently highly confusing coin types and series, presenting them in as much of a systematic manner as possible. The authors, more than once, acknowledge to have benefited from expert assistance provided by many specialists in related and complementary fields, an indication of the complexity of the topic.
It can be said that Central Asian numismatics is not for starters. This is immediately clear from the fact that coin legends may occur in Arabic, Persian, Turkic, Uighur, Russian, Manchu and Chinese, presented in several different scripts, each with a choice of calligraphic renderings, whereas existing literature on these coinages, scattered over time and place, has been published in yet other, different languages. As Dr. Judith Kolbas, the former director of the Central Asian Numismatic Institute (CANI), Cambridge, UK, writes in her professional assessment of this work, this unusual breadth and depth of knowledge has all been rendered into English, so that the Catalog's vast content is now accessible to a very large numismatic community, which in recent years has grown considerably.
This Catalog is so far the only resource to cover the historically important transitional period from the late medieval to modern times in the pivotal area of Central Asia, which by its geographic location touches upon numerous adjacent regions, while by its vast extent it was able to maintain its largely pastoral pursuits and related traditions up to the present day.
To assist not only the beginner, but also the well-versed numismatist, a very thorough general introductory chapter together with sections on how the catalog has been composed and how to use it make its content readily accessible to all users. All recorded and reported coin types, subtypes, varieties, metal compositions, legends, mint names and their epithets, as well as years of issue are covered and described, together with main design features, latinized readings of coin inscriptions and metrological details as well as physical appearance. Every listing is provided with an estimation of relative rarity using a scheme of six indications from common to exceptionally rare which reflect the catalogers' personal consideration and experience. Almost all type and variety entries are provided with one or more colored coin illustrations, more than 820 in all. Combining historical facts, basic data and images, the coins themselves almost come to life which makes the catalog easy to use for scholars, museum workers, collectors and coin dealers.
To read the complete article, see:
#179973: Catalog of Pre-Modern Central Asian Coins 1680-1923 (https://www.zeno.ru/showphoto.php?photo=179973)
There are areas in numismatics that are something for specialists. They have many advantages. One such advantage is that you can always buy extremely rare, interesting and valuable coins below their actual value. For the fewest dealers are specialists in all exotic areas, and so occasionally they don't notice how rare a coin actually is, because they shun the efforts of searching the literature. The pre-monetary coins of Central Asia are such an area. The fewest coin dealers are able to read their inscriptions in the first place, or know to where and to whom they can be attributed.
Or should we better say the fewest dealers knew to where and to which coins of Central Asia can be attributed. For as Volume 10 of its 'Bremer Beiträge zur Münz- und Geldgeschichte', the Bremer Numismatische Gesellschaft has published a clearly laid-out catalog that presents the coins from the territory of today's Kazakhstan, Kyrgyzstan, Tajikistan, Turkmenistan, and Uzbekistan, minted between 1680 and 1923.
To read the complete CoinsWeekly review, see:
Central Asian Coins: 1680-1923 (http://www.coinsweekly.com/en/News/Central-Asian-Coins-1680-1923/4?&id=4730)
Here's the publisher's information. -Editor
For 20 years now, the Bremen Numismatic Society has published books with topics on numismatics. This year, Band 10 was released as an international band in English. Already our band 8 was written in English in English and a great success. It is equally pleasing to be able to support with the newly published book, for the first time international authors - Vladimir Nastich from Moscow and Wolfgang Schuster from Austria .
Volume 10:
Title: "Catalog of Pre-Modern Central Asian Coins 1680-1923"
Authors: Vladimir Nastich and Wolfgang Schuster
ISBN: 978-3-00-055514-5
Year: April 2017
Pages: 316, A4, color
Price: 39, - Euro
Pictures: 820
For more information, or to purchase, see:
Books of the BNG (https://www.bng-bremen.de/ver%C3%B6ffentlichungen/)
Scott Barman writes:
Thanks for the background and update. Readers - please stay on the lookout for any old U.S. Mint product catalogs and ordering forms. A set of U.S. Mint catalogs digitized on the Newman Numismatic Portal would be a great resource for collectors and researchers. -Editor
To read the earlier E-Sylum article, see:
U.S. MINT DISCONTINUES MAIL ORDERS (http://www.coinbooks.org/v20/esylum_v20n22a17.html)
In this day and age, even telephone orders seem old-fashioned. If you want any of the hot Mint offers, you must order through the website.
Instant sellouts mean that any attempt to offer the coins the old-fashioned way by going to the expense of printing catalogs and order cards and mailing them to collectors simply means that any actual orders generated for hot items would have to be returned unfilled. This would raise collector blood pressure across the land. – Not a good thing for the Mint to do. Blood pressure readings are high enough among collectors who actually do use a computer to place orders.
Of course, the Mint could issue printed catalogs that offer none of the good stuff. They could then fulfill the orders they receive. But even those few collectors who still order by mail know the potentially hot stuff from the routine, and will not be particularly responsive to catalogs with no hot stuff in them.
So what's the point of making such a catalog in the first place? The Mint has asked this question and come to the logical conclusion.
To read the complete article, see:
Shed a tear for end of mail orders? (http://www.numismaticnews.net/article/shed-tear-end-mail-orders)
The position of the Newman Numismatic Portal at Washington University in St. Louis gives us access to the Federal Depository Library Program (FDLP), a group of over one thousand libraries with the mission to make access to federal documents more accessible to the general public. This includes Mint and Treasury documents as well. The latest addition is a visitor brochure, How to Make a Penny, which was distributed by the Denver Mint in the early 1970s.
The main feature of this publication is a flow chart representing Lincoln cent production from raw metal to struck coin. No doubt discarded by the public in great quantities, the best source of such documents today are programs such as FDLP, and the Newman Portal is grateful to Barbara Hofmann, Washington University Library Technical Specialist for U.S. Government Documents, for bringing it to our attention.
Link to How to Make a Penny on the Newman Portal:
https://nnp.wustl.edu/library/book/531278
Julia (Purdy) Casey of Charlton, New York has looked into Ron Cheek's question of who was the "M Walker" whose name is on a "For Services" medal for the 1851 Great Exhibition in London -Editor
I think the "M. Walker" on Ron Cheek's Great Exhibition medal could be Marcus Walker of Boston. He is listed among the names of the attendees in "An Account of the Proceedings at the Dinner Given by Mr. G. Peabody to the Americans Connected with the Great Exhibition at the London Coffee House Ludgate Hill on the 27th of October 1851" (this publication is available online via Google Books).
The best candidate I have been able to find to be this Marcus Walker would have only been 15 in 1851, however, I do think there is much to support him being the same Marcus Walker as on the "For Services" medal.
This Marcus Walker was born February 1, 1836 and died September 21, 1887. He is buried in New Jersey. His father, Cornelius Walker, was a graduate of Dartmouth College and was notable in Boston and environs as a grammar school headmaster.
In the 1850 Federal Census Marcus Walker is listed as living with his family in Boston. In the 1855 State Census (age 19) his occupation is "Bookkeeper" and that of his younger brother Marcellus (age 16) is "Clerk". I mention the younger brother's age and occupation as he is about the same age as Marcus Walker would have been at the time of the Great Exhibition.
In 1857 the Boston Evening Transcript newspaper reported that Marcus Walker delivered the closing address at the 8th anniversary meeting of the Franklin Literary Association (the subject was "Fame"). The article also noted that he would be "leaving for the west in a few days". In an 1857 Census he appears in Dakota County, Minnesota Territory (occupation "Mill Owner"). Also at this time it appears that his father Cornelius became involved in mining and was a principal in the "Boston Mining Company".
In 1865 he married Hattie Gladwin of Brooklyn, NY and in the 1870 Census they are living in New York City (Occupation: "Iron Merchant"). Later in the 1870s he was secretary and treasurer of the "Black Hills Placer Mining Company". From 1879-1880 famed writer Ambrose Bierce was retained by the company to oversee the operations.
From Assault on the Deadwood Stage: Road Agents and Shotgun Messengers (Robert K. DeArment 2011), pg. 250:
This company went into foreclosure in 1882 after the superintendent Captain I.M. West "fell in with an unknown beauty and lived with her on a scale of princely magnificence" (The Montana Standard, Feb. 15 1883) spending much of the money that the stockholders had provided for improvements.
The flume works constructed for this mine are presently part of a popular National Recreational Trail in the Black Hills.
To read the "Proceedings at the Dinner" on Google Books, see:
An account of the proceedings at the dinner given by Mr. G. Peabody to the ...
To read the earlier E-Sylum article, see:
QUERY: WHO WAS M WALKER? (http://www.coinbooks.org/v20/esylum_v20n22a15.html)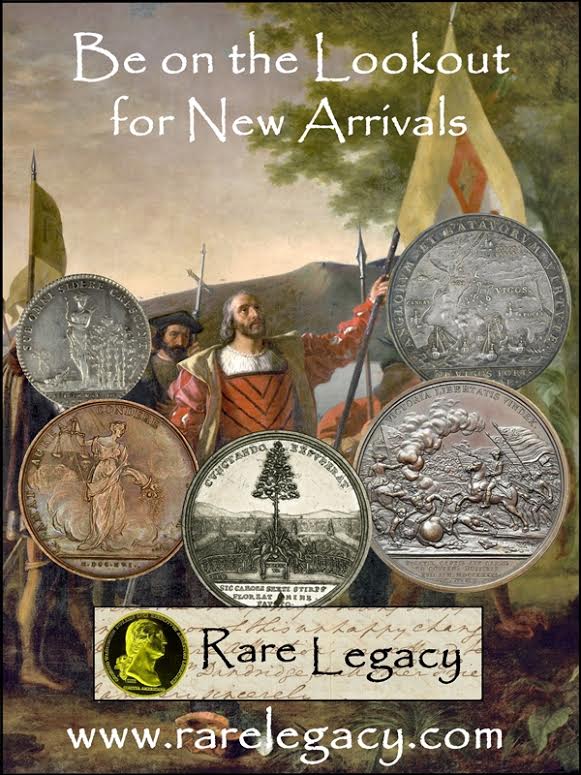 Two weeks ago Bill Miller asked about this interesting overstruck Civil War token. We published a suggestion by Jeff Rock in last week's issue, but before he saw it Jeff Kelley of Massachusetts submitted this wonderfully detailed analysis which syncs well with Jeff Rock's thoughts. -Editor
The May 21 edition of The E-Sylum included pictures of a counterstamped Civil War token submitted by Bill Miller of Denton, MD, who was hoping that a reader might have some clues about the origin of his mystery item.
I took the opportunity to engage in a little exercise to see if I could fill in some blanks for the incomplete text of the counterstamp which might in turn help identify its origin. My analysis includes quite a bit of speculation, but I will provide the reasoning and method for coming to the conclusions I reached.
The critical key to the analysis was found in the upper left side of the counterstamped surface: a dot flanked by two lines, which was intended to delineate the text above it from text below it. That small dot provides an important clue as it can be assumed that it is the center point of the width of the lines of text. Also, while the letters in the 2nd, 3rd, and 4th lines of text have the same height, the spacing and width of the letters varies, and I assume this was so that the overall length of each line of text could be kept roughly the same.
With these two assumptions in mind, I was able to estimate the center of each line and the number of characters (letters and spaces) in each row. I identified five rows of text, with the top one being so truncated both vertically and horizontally that it was of limited use in my analysis, except that the partial word seemed to have a B, possibly an A, a G, and then possibly a second G. With that sequence of letters the word BAGGAGE popped into my head.
I began by drawing an imaginary line downward from the dot near the top of the counterstamp; that line provided the middle point of each line of text. All that was left to do was fill in the blanks. To illustrate my method I will start with the last line.
Line 5: Although the first word shown is only partially there, the two words are pretty clearly HUNDRED DOLLARS. The center of that line is the letter E in HUNDRED. There are then 9 characters (letters and a space) to the right of it, which means there should be 9 letters and spaces to the left of it: ----HUNDRED-DOLLARS. So, we need a three letter word to fit in front of the word HUNDRED (leaving a space in between them). Since we are looking for an amount, that three letter word would be a number, which means the word is ONE, TWO, or SIX.
The text that can be read suggests this is some sort of indemnity disclaimer, and based on the assumption that this a 19th century counterstamp the amount of $600 seemed excessive and a bit odd for this purpose, so I am leaning towards $100 or $200 being the amount; for no particular reason I went with $100 since that seems a generous amount for 19th century insurance coverage for a piece of baggage (assuming this is related to baggage).
So, line #5 reads ONE HUNDRED DOLLARS
Using the same method I cane to some conclusions about the text on the other lines.
Line 2: the partial first word reads ERATION. I discovered a handy website that allows you to type in a sequence of letters and chose to search for words that begin or end with that same sequence (http://www.wordbyletter.com/). So, I was able to generate a long list of words that ended with ERATION, and the most suitable one for this application seemed to be CONSIDERATION, and using the imaginary vertical center line, that meant that there was enough room to add the word IN in front, so now we can fill in the blanks with the words IN CONSIDERATION. At the right side of line 2 is a partial word starting with FR, and based on my assumption that each line of text is about the same width, there is only space for a couple more letters, so I settled on the word FREE.
So, line #2 reads IN CONSIDERATION OF FREE
Line 3: this was a tough one as so little of the first visible word on the left side is included. I calculated the number of characters that I was looking for and came up with the word CARRIAGE; the last word on that line only shows the first letter but since there is only room for one more letter I assumed that word to be IS.
So, line #3 reds CARRIAGE ITS VALUE IS
Line 4: this is nearly an impossible challenge. Between what we can see and what we can easily deduce, the partial text reads TO BE LIMITED TO. There are seven characters to the left of that, and based on what we already know about the subject matter I speculated that the missing word is AGREED.
So, line 4 reads AGREED TO BE LIMITED TO
When you put it all together, the text (minus the top line) reads:
IN CONSIDERATION OF FREE
CARRIAGE ITS VALUE IS
AGREED TO BE LIMITED TO
ONE HUNDRED DOLLARS
This begs the question about what is being subjected to this condition. My initial speculation about the top line including the word BAGGAGE would make this text an indemnity disclaimer for transporting baggage. Line 1 has space for ten letters and spaces to the left of the word I have assumed is BAGGAGE, and of course there could have been more lines of text above that line on the original counterstamp. So, what is above the dot flanked by two lines is the subject of the limitation that is being described below it.
My speculation is that this token was counterstamped with a die used to make a railroad baggage claim tag. The metal tag would have included a unique number which would have corresponded to a similar tag attached to the baggage or luggage. I did a little cursory searching on the Internet and I did not find anything with this type of text, but perhaps some experts in that field could offer more insight.
Julia Casey writes:
Julia sent a link to a WorthPoint page for a 2007 auction lot. -Editor
To read the complete article, see:
ROCHESTER AND PINE N.Y. RAILROAD BAGGAGE CHECK TAG (https://www.worthpoint.com/worthopedia/rochester-and-pine-n-y-railroad-baggage-check)
This seems to nail it - mystery solved. Thanks, everyone! -Editor
Jeff Kelley adds:
To read the earlier E-Sylum articles, see:
NOTES FROM E-SYLUM READERS: MAY 21, 2017 : A Mystery Item Struck on Civil War Token (http://www.coinbooks.org/v20/esylum_v20n21a13.html)
NOTES FROM E-SYLUM READERS: MAY 28, 2017 : More On the Mystery Item Struck on Civil War Token (http://www.coinbooks.org/v20/esylum_v20n22a14.html)
Notes From Dave Hirt
Dave Hirt writes:
Thanks, Dave. Here's a link to last week's issue for anyone who may have missed it. All of our back issues are archived on our web site. -Editor
To read the earlier E-Sylum article, see:
Volume 20, Number 22, May 28, 2017 (http://www.coinbooks.org/v20/club_nbs_esylum_v20n22.html)
The "E.T." Coin

Regarding last week's discussion about how a deign element on an ancient Persian coin looked like the "classic" image of an extraterrestrial being, Bill Eckberg writes:
To read the earlier E-Sylum article, see:
NOTES FROM E-SYLUM READERS: MAY 28, 2017 : Ancient Persian Coin Proves Aliens Exist (http://www.coinbooks.org/v20/esylum_v20n22a14.html)
Jeff Rock Remembers Benjamin Bell
Jeff Rock of San Diego writes:
To read the earlier E-Sylum article, see:
BENJAMIN BELL (1976-2017) (http://www.coinbooks.org/v20/esylum_v20n22a20.html)
Kuenker Auction Catalog Set Available
Bob Knepper of Anaheim, CA writes:
Reparations Commission Photo: Thomas Nelson Perkins

Web site visitor Hobart Perkins Bauhan of Harrisonburg, VA writes:
Thank you! I passed this along to Pete Smith, who posed the original question. -Editor
To read the earlier E-Sylum articles, see:
QUERY: GERMANY REPARATIONS COMMISSION PHOTO (http://www.coinbooks.org/esylum_v13n45a13.html)
MORE ON THE GERMANY REPARATIONS COMMISSION PHOTO (http://www.coinbooks.org/esylum_v13n46a07.html)
Dave Wnuck on Numismatic Digitization
A general comment on numismatic digitization from Dave Wnuck's Making the Grade newsletter #35 published earlier this week:
Questions such as these serve a purpose from time to time in helping understand the scope and purpose of collecting organizations
TAMS not only has a need to exist, it is an essential element in the world of token and medal collecting. The benefits are overwhelming:
TAMS publishes both scholarly works and collecting guides of tokens and medals -Collectors meet once a year at the ANA national coin show, tying the forms of numismatics together, and allowing new collectors to meet with "the old gu ard"
Collectors are provided with a first-class journal – a journal that provides scholarly articles about both tokens and medals
Collectors can use this 55 year publication for research of their own pieces
The TAMS Journal is now part of a massive digitization process that will allow full access of the first 50 years online to anyone through the Newman numismatic portal
TAMS members are a friendly, sharing group. When we're all asked questions, we don't hesitate to send collectors in the right direction for an answer. This is a near constant in today's world of email.
TAMS members publish articles in other numismatic publications, furthering the interest and education in the hobby
The key element of TAMS is Education of the public about Tokens and Medals
The fact that Paper Money might have been included originally and has split off, doesn't bother me at all. Paper tokens are still a live part of TAMS.
While a number of "splinter groups" have formed over the years, they have a different purpose than that of TAMS. ATCO, NTCA, and WESTS are/were regional and national token collector groups who have/had no technical journals that explore the deep history or technical aspects behind tokens and medals. Any articles they had were generic in form (including the ones I wrote!). Perhaps the key element of their existence is that they offered a sales platform that was important to the members. Both NTCA and WESTS have annual shows that offer tokens to the general public, which are in addition to the "Big" national ANA convention. These sales forums form an important part of the collecting genre, but the "mother" group is TAMS – the clear leader of the field. This is akin to the ANA- a national organization with a monthly journal and an annual show. Regional coin clubs hold regional shows and generally have newsletters. They have and serve a different purpose than that of the "mother ship" ANA.
With regard to "Red Book" of tokens and/or medals, I'm sure we all agree - This is a near impossible task. If a funding source existed for such a project, a compendium of tokens from every class is necessary. Some of these have been completed (to some degree), such as Civil War Tokens, or So-Called Dollars.
A compendium of medals has never been attempted. This subject matter would easily encompass one million pieces, since medals are minted every day at one the many minting facilities. As in other fields, books on medals would need to encompass specific collecting fields within the whole. Some of these books exist today, such as Washington Medals.
If we think about the possibility of a compendium of 50 states merchant good-for tokens, that compendium would number in excess of one million entries. It would also require the cooperation of approximately 50 authors, also a near impossible task because of copyright issues. This would be a lofty goal – to someday digitize all of the token databases for easy search, but let's face it- we are years away from this, perhaps decades.
Some of these compendiums are current works in progress. Richard Greever has attempted a digital listing of United States merchant good-for tokens with his online token catalog, a massive undertaking in a field he dearly loves. The site survives because of voluntary help.
TAMS members continue to publish outstanding work. Among them recently are Greever's work on Brunswick-Balke (and other) tokens, Schenkman's regular columns in The Numismatist and elsewhere, and Schimmel's work on American Chinese tokens.
TAMS also reaches out to other collecting genres, with the goal of partnering with collecting organizations such as the Civil War Token Society, and our efforts to get token and medal books published by TAMS available through other partner organizations.
In summary, TAMS is an educational organization at the top of its game because of strong member input/output in a multitude of token and medal genres.
Fred Holabird
President, TAMS
Thanks! All great points. I'll still look forward to the stellar panel featuring David Schenkman, Bill Hyder, Steve Hayden, Neil Musante and Q. David Bowers. -Editor
To read the earlier E-Sylum article, see:
NOTES FROM E-SYLUM READERS: MAY 28, 2017 : Symposium On The Allure Of Tokens And Medals (http://www.coinbooks.org/v20/esylum_v20n22a14.html)
Crossing the Line: A Maritime Rite of Passage by David E. Schenkman
Allison's Coupon Books by Bruce Smith
World War I Themed Medal by Susan Taylor Wins the 2016 AMY Award
Joseph Pulitzer Medal Issued by the Jewish-American Hall of Fame by Mel Wacks
Revena Park Over-the-Rhine Spanish Fort by Glyn Farber
Morlein Lager House, Cincinnati, Ohio by William D. Hyder
Remembering R,W. Colbert 1930-2017 by William D. Hyder
For more information on the Token and Medal Society, see:
www.tokenandmedal.org
Since the 1700's, Americans have used tokens and medals to encourage business, lampoon politicians, celebrate special events, pay fares, promote social causes, award the deserving, and scold the wicked. In the Guide Book of United States Tokens and Medals, award-winning author Katherine Jaeger explores these fascinating and collectible pieces of American history, from colonial times to today. Thousands of full-color illustrations, market values, and a grading guide add to the book's reference value. Essential reading for every coin collector and American history buff! Featuring images from the American Numismatic Society's Collection. By Katherine Jaeger, foreword by Q. David Bowers. 304 Pages, Full Color. Softcover
To read the complete article, see:
A Guide Book of U.S. Tokens and Medals (https://www.whitman.com/store/Inventory/Detail/A-Guide-Book-of-U-S--Tokens-and-Medals+0794820603)
Last week Bob Leonard shared an article describing problems with the "eco-friendly" medals for the 2016 Rio Olympics. -Editor
John Regitko of Toronto, Canada writes:
Thanks! Here is John's writeup. -Editor
HOW THE COST OF NICKEL AFFECTED
THE 2006 CNA CONVENTION MEDAL
We keep hearing about the price of precious medals (i.e. gold and silver) going up and up. But did you know what havoc is caused when the price of non-precious medals goes up?
The advantage of producing medals from copper or nickel or the variations such as cupro-nickel or German silver, is its low cost and, therefore, its attractive selling price. It enables coin clubs to produce souvenirs at an affordable cost.
When the price of non-precious metals goes up, you know what happens?
In one word: Recycling!
Nickel is actually being recycled by some manufacturers of blanks. To the naked eye, there is no difference in appearance from the old stock of non-recycled blanks.
The blanks are fed into the minting press and struck. To the naked eye, there is no difference in appearance from the medals struck with non-recycled blanks. It, therefore, makes no difference to the collectors.
Those of you that know about metallurgy know that when you recycle nickel, it becomes a bit harder than during the original go-round. That is not a problem for the minting presses, as the pressure of striking can be adjusted accordingly.
The only time the final appearance of a medal is affected is if the following factors come into play together:
a) the nickel is recycled
b) it is a uniface medal
c) the design on the one die is in 3D (which the medals were)
This affected a few of the medals presented at the 2006 C.N.A. Convention - the nickel presentation medals that were supposed to be presented to the second place winners in the competitive displays could not be presented. Neither could the nickel presentation medals to members of various committees that volunteered to make the convention the success it was.
The blank side has the appearance of having acid stain the center part of the medal as if it was caused by a thumbprint, as well as an outline on a portion of the outside of the "thumbprint" in the shape of a partial horseshoe. When the medal is engraved with a person's name and reason for the award, you can readily see the "thumbprint" and "partial horseshoe." This is known in the industry as "ghosting."
We are told that a solution should be forthcoming shortly, at which time medals will be mailed to the recipients.
The required quantity of the uniface medals in nickel were restruck and nobody would know the difference looking at them. The 2-sided saleable convention medals in copper and silver were not affected. Neither were the uniface medals in silver (which were awarded to 1st place competitive exhibitors in each category and other presentations, as well as to key convention committee members) or in copper (3rd place competitive exhibitors in each category).
John adds:
To read the earlier E-Sylum article, see:
PROBLEMS WITH RIO OLYMPICS ECO-FRIENDLY MEDALS (http://www.coinbooks.org/v20/esylum_v20n22a25.html)
Robert Gilmor, Jr., (1774-1848), was born on September 24, 1774, son of Revolutionary War leader, Robert Gilmor, Sr. (1748-1822), and his wife Louisa Airey Gilmor (1745-1827).
Robert Gilmor, Jr., was a Baltimore merchant, ship owner, East India importer, and a collector of art, rare books, autographs, coins, stamps, natural antiquities including geological specimens and minerals, antiquities, and various curiosities. Lance Lee Humphries has shown that Gilmor was one of the most significant art collectors and patrons in the United States during his lifetime.
When sixteen he began collecting coins in 1790.
In 1799, he and his brother William became partners in the family firm of Robert Gilmor & Sons.
From 1800 - 1801, he went on the Grand Tour visiting Scotland, England, Belgium, France, Holland, Italy, Germany, Austria, and Prussia. Some of the correspondence to his brother William (1775-1829), is now in the Maryland Historical Society, Library.
On June 1, 1802, he married Elizabeth Suzanna Cooke (1783-1803). She died on May 5, 1803.
On April 9, 1807, he married Sarah Reeve Ladson (1790-), daughter of Major James Henry Ladson (1753-1812), Lieutenant -Governor of South Carolina, and Judith Smith Ladson of Charleston, South Carolina. Both Robert and Sarah Gilmor had their portraits made by Thomas Sully (1783-1872), which now are in the Gibbes Museum, Charleston, South Carolina.
In 1821, he had various coins and medals shipped to him at the New York Customs House, and received by his agent, Mr. Bogard. Orosz has astutely speculated Bogard is actually Bogert, which may very well be correct. Also about this date he developed close connections at the United States Mint in Philadelphia. One of his chief aims through these connections was to amass an exhaustive collection of all U. S. Mint type coins. Even with his connections we learn that some twenty years later this was close but still not as yet complete.
September 1821, Gilmor was responsible for the second medal ever produced by the United States Mint made to celebrate the golden wedding anniversary of his parents who were married on September 25, 1771. It was designed by the English portrait artist, Benjamin Rawlinson Faulkner (1787-1849). There is an estimated 75 known specimens of this medal in various collections. Bangs & Merwin sale probably catalogued by Ed Cogan of the cabinet of J. N. T. Levick sold one on May 31, 1865, lot 393; Ed Cogan sale on January 24-28, 1876, lot 921; Ebenezer Locke Mason, Jr., sale of the Smith Cabinet, October 7, 1880, lot 58; Joseph Burleigh, Jr., auction on March 7, 1881, lot 37; George W. Massamore auction held September 21, 1882, lot 451; S. H. & H. Chapman auction on June 14, 1884, lot 703; W. E. Woodward sold one at auction on October 13-18, 1884, lot 1221, and Edouard Frossard sold one at auction on October 23, 1884, lot 702; New York Coin & Stamp sale January 24, 1890, lot 1852; Edouard Frossard sold another at auction on September 20, 1890, lot 497; S. H. & H. Chapman sold another in the estate of the late George W. Massamore auction April 12, 1899, lots 426 & 427; Henry Chapman, Jr sale December 22-23, 1915, lot 1370, and so on.
In 1838, Gilmor advocated Washington, D. C., to become a center of art and culture hoping to have his art collection housed there which included his coins. He was able to inspire and encourage the establishment of the United Stated Mint Cabinet of Coins.
In 1841, he amassed nearly a complete collection of all United States the various type coins and included a 1787 Brasher doubloon. His original plan was to bequeath or donate his collections to the newly formed National Institute for the Promotion of Science, which he was involved in its founding. Unfortunately, the National Institute for the Promotion of Science did not persist over time and dissolved.
Gilmor hoped the Smithsonian Institute would purchase his vast art and antiquities collections that included his U. S., foreign and rare ancient coins. When they declined he was forced to sell privately. According to the implications of Emmanuel Joseph Attinelli's account, Gilmor had sold specimens of his originally much larger collection of ancient coins at private sales at an earlier period prior to his demise in November 1848.
He died of protracted pulmonary disease at 8 A.M. on Thursday, November 30, 1848, at Baltimore, Maryland.
The Rober Gilmor, Jr., coin auction sale is the thirteenth coin auction sale known in American history by Attinelli at that time, i.e., December 1875. Gilmor's is the sixth identity recorded of the earliest consignors in American history known by Attinelli. Whereas, in the John N. Lupia, III, list, the revised edition of Attinelli, Gilmor is the 141st auction known in America and the 41st known identity of a consignor.
On May 26-28, 1862 William Harvey Strobridge catalogued and sold the William A. Lilliendhal collection that included the 1793 Chain Link Cent known as the Gilmor Cent. This is the pedigree Atinelli referred to of coins circulating with provenance from the Gilmor collection also referred to as Gilmorata.
To read the complete article, see:
GILMOR, Jr., ROBERT (https://sites.google.com/a/numismaticmall.com/www/numismaticmall-com/gilmor-robert)
In a series of blog posts, Harvey Stack has been writing about his family's role in helping form the Josiah K. Lilly Collection. Here's the latest installment (#28) -Editor
I continue the story of my spring 1966 trip to visit with Mr. Josiah K. Lilly in Indianapolis. After he picked me up at the Athletic Club in the morning, the driver told me we would not be going to Eagle's Nest as Mr. Lilly was at his home in town. I had never visited it, and had wondered about it. We drove through a lovely residential area of Indianapolis with large homes on large pieces of property; most were fenced or had shrubbery for privacy. We turned into a driveway with a stone arched entrance, and onto an inner driveway, sheltered on each side by huge trees just starting to bloom. I learned that the house stood on 26 acres of wooded and flowering gardens, We must have driven a mile before we came to the house, It was fieldstone and brick, and very large. To one side was a large greenhouse, where I learned that Mrs. Lilly grew prize-winning roses and other flowers. Gardening was one of her hobbies. In addition she was very involved with the various charities she worked with and supported.
We arrived at the front door, were greeted by a uniformed houseman, and were ushered into the foyer, which opened up to the large living room. This room was surrounded by decorated windows that overlooked the gardens, and was furnished with period furniture with rare classical paintings on the walls. A curved staircase led to the upper floors. I felt I was in a museum or a castle and I was excited to have been invited there.
The houseman took my topcoat, and took me to the upper floor and showed me to Mr. Lilly's bedroom. I found him there, sitting on the edge of the bed and he got up and greeted me with a warm smile. He said, " I am so happy that you made the trip, for I enjoy our time together discussing my collection."
We moved to a small table with two chairs in his bedroom, and I laid out the coins I had brought with me. They included a number of Spanish American doubloons (the series that started his collection), both cobs and portrait issues; a group of hammered English and French gold coins; several coins of the Ancient world; ducat and double ducat issues of the early German States, and a few coins from China, Japan, and India.
Mr. Lilly examined each carefully, asked about some that were undated, and we discussed world numismatics. "These will make fine additions to my collection," he said. "I hope you will keep searching for more."
Looking at my watch I realized I had to conclude my visit, as my stay was already a few minutes more than the half hour I had promised to spend. So I got up, shook his hand and thanked him for allowing Stack's to build this outstanding collection with him. We bid each other goodbye, I wished him improved health, and I left.
The car was waiting for me, I stopped at the Club, picked up my bag, and was taken to the airport. Little did I know then that I would not see J.K. Lilly again.
On May 5, 1966 Josiah K. Lilly passed away. The funeral was to be private for family only.
As I continue with more of this story, I will tell about how the Lilly Collection made its way to the Smithsonian Institution.
To read the complete article, see:
Building a World Class Numismatic Gold Coin Collection The Josiah K. Lilly Collection Part 28 (http://www.stacksbowers.com/News/Pages/Blogs.aspx?ArticleID=2549)
To read the earlier E-Sylum article, see:
BUILDING THE LILLY COLLECTION, CONTINUED (http://www.coinbooks.org/v20/esylum_v20n17a18.html)
A local Delray, Florida newspaper published a profile June 2, 2017 of dealer Bill Youngerman. Nice library! -Editor
Bill Youngerman remembers driving around with the ice cream truck man as a kid. His trips didn't involving savoring ice cream sandwiches, but to swap coins kids paid with for their cones that he wanted for his coin collection.
Since he was 9, he said he has collected coins. By the time he was 13, he said he was running his own coin business and by the time he was 16, he was working for a major coin company in Miami and several years later he was running his own business out of his home.
Now, his Boca Raton company William Youngerman Inc., which deals with buying and selling of coins from around the world, is celebrating 50 years in the business.
He bought his first gold coin when he was 13. He said most kids had coin or stamp collections and gold was $35 for an ounce.
"It forever hooked me," he said. "It became a passion. It is a hobby enjoyed by kings dating back to Nero."
Name a coin and Youngerman has likely seen it or owned it. From gold coins of ancient times to modern times to paper bank notes, Youngerman either has it in his personal collection or has it up for sale.
He is known for paying a pretty penny for currency he is missing. About 10 years ago, he paid over $130,000 for a bank note that was missing from the city of Fort Meade. Winning the note at auction completed his collection of all 59 National Bank Towns in Florida.
"Every U.S. gold coin minted, we have handled," he said.
That collection and other notes and coins can be found online at hometowncurrency.org. The virtual museum shows the currency and history behind it. It also features gold coins of the Treasure Coast. These coins were found by salvagers along the coast and the collection contains Treasure Gold from shipwrecks.
It also showcases territorial notes. The Territory of Florida had two issues of Treasury notes. The first issue dates back to 1829.
To read the complete article, see:
Rare Coin Collector, Dealer Celebrates 50 Years In Business (https://delraynewspaper.com/rare-coin-collector-dealer-celebrates-50-years-business-24168)
To read the earlier E-Sylum article, see:
NEW BOOK: COLLECTING FLORIDA NATIONAL BANK NOTES (http://www.coinbooks.org/v20/esylum_v20n13a03.html)
An article by Miles Standish in the Coin Dealer Newsletter Monthly Supplement for June 2017 examines the tenure of Rhett Jeppson at the helm of the U.S. Mint. Here's an excerpt. -Editor
Since 2011, the U.S. Mint has not had a Director, by far the longest gap in its history. Normally, a new Director is nominated by the President; then the Senate votes to approve the nominee. Given the highly partisan climate of the time, it was unclear if a new Director could get confirmed. Sensing the need for new leadership, in January 2015, the Treasury Department acted on its own.
They found a leader in M. Rhett Jeppson. He had served in the Marines for 28 years, including a stint as Deputy Director of Operations for U.S. Forces—Afghanistan from 2009 to 2010. As his military career was ending, he joined the Small Business Administration, rising to the acting chief operating officer in 2014. In 2015, Treasury Sectary Lew named Jeppson to the highest position at the Mint he could. He was to become the first ever Principal Deputy Director of the United States Mint—a position and title designed to impart the full authority of the directorship when no one held that position.
Jeppson hit the ground running, and one measure of his success is seen in the raw numbers. During his two years in office, the Mint returned profit of over $550 million annually to the Treasury General Fund. In the two years prior, the Mint returned an average of under $350 million. This was achieved in part because Jeppson was able to cut unit costs for circulating coinage by roughly 10%. At the same time, the Mint had a perfect delivery record, shipping 16 billion circulating coins 100% on time. Also in 2015, demand for bullion coins surged as metal prices slid. A record amount of silver bullion was sold: 47,870,000 ounces.
The following year, another challenge was admirably met. In 2016, the Mint celebrated the 30th anniversary of the Silver Eagle. By an act of Congress, the Silver Eagle's edge was changed from the standard reeded edge to a lettered edge that noted this milestone. The change occurred on all numismatic/non-bullion examples of this coin. It was the first ever meaningful design change in the series and a technically complex one. The proof and uncirculated (burnished) versions of the coin were released publicly without hiccup or delay.
Jeppson also worked to restore continuity to certain coin and medal programs, a fundament of their collectability. For example, in 2016, Presidential medals for Barack Obama were designed, struck and issued assuring an unbroken chain in this medal series from Washington to the present. He also returned the bullion Platinum Eagle to production. The collector version of that coin is among the most coveted of all platinum coinage series, but the Mint was having trouble securing planchets for its bullion coinage. During Jeppson's tenure, the Mint overcame this limitation and produced the most one-ounce Platinum Eagles (proof and bullion combined) since 2000.
On October 13, 2016, Jeppson held a numismatic forum in Philadelphia. Along with Mint Officials, 50 leading members of the numismatic community—including myself and Mark Salzberg, NGC chairman—met to discuss ways to revitalize and expand the hobby. Thematically, this was meant to dovetail with the 225th anniversary of the Mint, by looking at the past and better planning for the future. His biggest takeaway, he said in an interview, was "the need for us to have this ongoing dialogue and engagement with the numismatic community."
Before leaving the Mint, Jeppson laid the groundwork for the production and release of a high relief $100 one-ounce gold coin to celebrate the Mint's 225th anniversary. The coin's design is a substantial departure. While an allegorical figure of Liberty has appeared on US coinage since 1792, this coin shows her as an African-American woman, a true first for a U.S. coin. The groundbreaking nature of its design received considerable coverage in the mainstream media. Within the confines of numismatics, a tradition-rich environment, it continues to be the center of discussion.
I was unable to attend the Mint Forum but had the opportunity to briefly meet Jeppson and some of his Mint staff at the Anaheim ANA convention last year. The forum was a great idea and I hope future Mint leaders continue the tradition. -Editor
To read the complete article, see:
MONTHLY SUPPLEMENT: RHETT JEPPSON: REVITALIZING THE U.S. MINT (http://blog.greysheet.com/2017/05/31/monthly-supplement/)
Here are a few items that caught my eye in Duane Feisel's token sale closing June 24, 2017. -Editor
Lot 2: Lodi, CA Fashion Saloon Token

SALOON - CA, Lodi
Lot 2: FASHION SALOON / GOOD FOR / 1 / DRINK / F.J.V. // The Brunswick Balke / Collender / Compy. / (billiard table) / Check, (Lodi), br rd 24mm. Listed F-1, E-1
The billiard table design is a commonly seen motif for saloon tokens. -Editor
Lot 3: Art Saloon Souvenir Jap Statue Token

SALOON - CA, San Francisco
Lot 3: GOOD FOR / ONE DRINK / AT THE BAR / ART SALOON / 1356 / MARKET ST. S. F. // Souvenir Jap Statue / (statue looking right) / (sm: L.H. Moise S.F.), (San Francisco), br rd 34mm. Listed F-12, E-12.
This is one I've never seen or heard of. What the heck was a "Jap Statue"? -Editor
Lot 157: Bristol CT, New Departure Token

CONNECTICUT - Bristol
Lot 157: NEW / DEPARTURE // E 10½, (Bristol), wm rd 14mm. Unlisted! Whatzit? G5-
An interesting whatzit indeed. Does anyone know what this might signify? -Editor
Lot 171: 1879 Hawaii Token

HAWAII - Kahulai
Lot 171: T.H.H. / 12½ // R.R. / 1879., (Kahului), cu rd 21mm. Listed 2TE-8 $300. G3-
I've never collected them, but have always held a fascination for Hawaiian tokens. -Editor
Lot 562: Roy-Millner Coal Co. Token

COAL - KS, Weir
Lot 562: THE ROY-MILLNER / COAL CO. / (facsig: W.W. WILLIAMS) / SEC. // (background 5¢) / Good For / Five Cents / In Legal / Merchandise / At / The Roy-Milner Coal Co. / (sm: The Whitehead & Hoag Co, Newark NJ Pat June 6 1899), (Weir), black imprint blue plastic sq 36mm. Listed 2694 B5 R10 w/size error.
Nice color (I like blue). -Editor
Lot 624: The Invisible Empire

Lot 624: THE INVISIBLE EMPIRE / (knight on horse)
I don't believe in whitewashing history, so I don't think these tokens should be banned from the marketplace, such as Nazi items are barred in places. I've left out much of the text to help appease spam filters. -Editor
Lot 651: Mechanicville Archery Club

MISCELLANEOUS - NY, Mechanicville
Lot 651: (engraved coin) V nickel with fine engraving on obverse: MECHANICVILLE ARCHERY CLUB, (NY).
Interesting way to cross-purpose a coin as a medal. Not exactly a Hobo nickel, but unusual. -Editor
Duane H. Feisel
PO Box 212
Shingletown, CA 96088
(530) 474-4168
dhfeisel@frontier.com
To view the lot images, see:
http://tinyurl.com/lvhu7lw
Brad Ciociola of Stack's Bowers penned a blog article May 31, 2017 about a great collection of Confederate States of America paper money being offered in their upcoming ANA sale. -Editor
A remarkable type collection of Confederate paper money, assembled by a husband and wife over the more than 50 years, will be featured in the Stack's Bowers Galleries Official U.S. Currency Auction of the ANA World's Fair of Money this August in Denver, CO.
"The Cleo Collection is truly an exceptional collection of Confederate paper money that was assembled with great care and patience," remarked Stack's Bowers currency specialist Brad Ciociola. "Each note in the collection was added with an eye for ideal cut and paper quality and excellent visual appeal."
There are a number of notes in the core 72-note type set that are either the single finest graded by both PMG and PCGS or are the finest graded by each respective service. The collection was started in the 1950s when high quality notes were more available. Notes in the collection were sourced from some of the top names in Confederate Currency such as Grover Criswell, Dr. Douglas Ball and Hugh Shull. The collection was continually added to and upgraded until recently when it became apparent that significant improvement was improbable and the decision was made to allow the notes to be appreciated by a new generation of collectors.
"There have been a number of great Confederate collections assembled over the years but few have been curated with such a keen eye for quality" says Ciociola. "The core type set is the finest I've ever seen when taken as a whole."
While many Confederate type notes are common, there are quite a number of very scarce and rare types, and assembling a complete collection in top condition is indeed quite a feat. Congratulations to the consignors for their diligence and patience over all these years. -Editor
To read the complete article, see:
Exceptional "Cleo Collection of Confederate Paper Money" to be Featured in Stack's Bowers ANA Currency Auction (http://www.stacksbowers.com/News/Pages/Blogs.aspx?ArticleID=2553)
Here is the announcement for the June 15, 2017 sale by Archives International Auctions. -Editor
U.S., CHINESE AND WORLDWIDE BANKNOTES SCRIPOPHILY AND COINS WILL BE OFFERED IN 2 SESSIONS AT PUBLIC AUCTION ON THURSDAY, JUNE 15 th , 2017
The auction will be held by Archives International Auctions, at their offices in Fort Lee, N.J.
The June auction, consisting of 1089 lots, will feature an extensive collection of Chinese banknote rarities including additional items from the Pogrebetsky Family Archives; an amazing discovery archive of Imperial Russian Specimen bonds, circa 1866 to 1927; an exciting assortment of U.S. Obsolete banknotes and Large Type Notes including a rare and high grade 1923 $10 Legal Tender "Poker Chip" note that is rarely seen this nice as well as hundreds of other desirable banknotes, coins, bonds and shares.
The first session includes 668 lots of Chinese and Worldwide banknotes and coins, beginning at 10:30 AM EST. The second session will include 270+ lots of U.S. Banknotes, Coins and Security Printing Ephemera and 138 lots of U.S. and Worldwide Scripophily and will begin no earlier than 4:30 PM local time after the first session has ended. For those unable to attend in person, online bidding will be available through the website, www.ArchivesInternational.com.
"We are privileged to be able to offer another outstanding assortment of U.S and worldwide banknotes, coins and scripophily including many rarities that are new to the collecting marketplace. Included in the auction is a discovery archive of 54 individual lots of Imperial Russian Specimen Bonds as well as hundreds of other worldwide banknotes and scripophily that will be sure to attract serious attention from both collectors and dealers alike," said Dr. Robert Schwartz, president of Archives International Auctions.
Highlights from Session 1, will begin with 172 lots of Chinese, Hong Kong and Japanese banknotes, coins and scripophily with highlights including a Deutsch-Asiatische Bank, 1907, $10 "Shanghai" Branch Issue rarity; a Russo-Asiatic Bank, 1910, $500 "Harbin Branch" Provisional Issue that is rarely seen at auction; 2 high grade Sin Chun Bank Private Banknotes, as well as dozens of other exciting and rare Chinese banknotes, bonds and shares. Worldwide banknotes feature an outstanding and very rare full Specimen set of six U.A.E., ND (1973) Specimen notes including the extremely rare 1000 Dirhams note; an extremely rare and attractive Russian Central Union of Consumers Society, 1920, 500 Rubles banknote, one of 2 issued examples found in the Pogrebetsky Family Archives with no others ever reported previously; a discovery Colombia approval specimen set of 3 notes from Medellin from the issuer Senores Fernando Restrepo & Hijos that is offered for the first time in auction; a Brazilian, 1773 Royal Diamond Administration note, payable in gold, from an old time collection recently offered in an estate sale; also included is a significant selection of Russian and related area banknotes from the Pogrebetsky collection as well as dozens of other exciting items from around the world.
The U.S. banknote section will feature over 200 lots consisting of U.S. Colonial, Confederate, Obsolete, Small and Large type, fractional and depression scrip. Highlights include the Hollidaysburg collection of 37 lots of rare 1840 to 1860's obsolete scrip notes; Large type notes are highlighted by a 1923, $10, Fr.#123 "Poker Chip" note and a 1902, $5, Ely, Nevada Territorial National Banknote rarity is offered.
Coins are represented by an early 1500's to 1600's English coin assortment and desirable U.S. coins from ½ cents to Silver dollars. The sale offers Security Printing Ephemera including early ca.1820-40's copper printing plates from early Security Printers, two different and rare Advertising broadsides from Rawdon, Wright, Hatch & Co., ca. 1820-30's and by International Bank Note Company, ca.1883-1890's , as well as numerous rare items that seldom come up for auction. The auction ends with an exciting assortment of U.S. & World scripophily.
The auction will feature hundreds of additional rare and desirable banknotes, coins, and scripophily in every price range, for the beginner to the advanced collector. Previews will be held at Archives International Auctions offices Monday to Wednesday, June 12 th to 14 th from 10 AM to 5 PM and by appointment. For an appointment call 201-944- 4800 or email info@archivesinternational.com.
The online catalogs for the April 11 th sales are on Archives International Auctions' website and can be viewed via the Archives International live bidding platform. It can also be viewed as a virtual catalog or downloadable .pdf on their website. To pre-register for live internet bidding, log on to the Archives International Auctions website, at www.ArchivesInternational.com.
Archives International Auctions is currently seeking quality consignments for future auctions and is looking for U.S. and worldwide banknotes, coins, stocks, bonds, stamps, postal history, historic ephemera, autographs, and documents to buy outright. To sell or consign one piece or an entire collection, please call AIA at (201) 944-4800; or e-mail them at info@archivesinternational.com.
You may also write to Archives International Auctions, at 1580 Lemoine Ave., Suite #7, Fort Lee, NJ 07024 U.S.A. To learn more about Archives International Auctions and the auctions planned April 11 th , 2017, log on to w www.ArchivesInternational.com.
Here's a selection of interesting or unusual items I came across in the marketplace this week. Tell us what you think of some of these. -Editor
1766 Pitt Halfpenny

1766 Pitt Halfpenny. PCGS graded AU53.
Repatriated by me from the Great White North (a.k.a. Canada), where it resided for much of its life. The coin sports a perfect milk chocolate brown patina. It's delicious, and so good for you too.
To read the complete lot description, see:
1766 Pitt Halfpenny. PCGS graded AU53. (http://www.davewcoins.com/newsletter)
1795 Anti-Slavery Conder Token Farthing

1795 Anti-Slavery Conder Token Farthing. NGC graded MS62 Brown.
Middlesex-Spence D&H-1118. A heartbreaking rendition of a man in chains, on his knees. The English were decades ahead of the Americans in abolishing the slave trade, though both countries profited mightily from the "peculiar institution" in the meantime.
To read the complete lot description, see:
1795 Anti-Slavery Conder Token Farthing. NGC graded MS62 Brown. (http://www.davewcoins.com/newsletter)
1803 French Token: Napoleon I / Agents de Change de Lyon

Material: Silver Geographical Origin: France Diameter: 32 mm Weight: 19 g. Bee and silver hallmark on the edge
I'm more familiar with the British silver tokens of this era, anddon't recall seeing this one before. Nice piece. -Editor
To read the complete lot description, see:
23. France – Token 'Napoleon I / Agents de Change de Lyon' 1803 by Mercié – Silver (https://auction.catawiki.com/kavels/12056003-france-token-napoleon-i-agents-de-change-de-lyon-1803-by-mercie-silver)
Navy Medal Of Honor

To read the complete lot description, see:
Lot 3399 USA, Medal Of Honor, Navy uitvoering, betreft een museumreproductie in zeer goede staat (https://mpoauctions.com/en/browse?aid=27&cid=16999&lid=106123)
For more information on the Medal of Honor, see:
http://www.cmohs.org/medal-history.php
1930 French Medal by Charles Pillet

edal Inauguration Eclairage Intensif 29 October 1930 / La Société Civile des Galeries St Hubert à Richard Stockman
Engraver: Ch. Pillet
Hallmark: Triangle
Bronze. Weight: 85.79 g, 68x50 mm
(in its original box).
Nice medal. -Editor
To read the complete lot description, see:
62. France – Medal 'Inauguration de l'Eclairage Intensif' 29 October 1930 by Charles Pillet – Bronze (https://auction.catawiki.com/kavels/11865671-france-medal-inauguration-de-l-eclairage-intensif-29-october-1930-by-charles-pillet-bronze)
1974 'L'aquarium' Medal by Pierre Poitevin

L'AQUARIUM
Engraver: Ω
Hallmark: horn 1974 - numbered 24 of 100 specimens.
Copper. 266.21 g – 81 mm.
I'd never seen this one before. An excellent limited edition modern art medal. I really like the camoflage designs - very clever. -Editor
To read the complete lot description, see:
88. France – Medal 'L'aquarium' 1974 by Pierre Poitevin – Numbered (n°24/100) – Copper. (https://auction.catawiki.com/kavels/11832493-france-medal-l-aquarium-1974-by-pierre-poitevin-numbered-n-24-100-copper)
The Davisson's E-Auction 20 closes Wednesday, June 7th, 2017. In one of their email newsletters promoting the sale they included a nice article about early English Trade Tokens. With permission, here is a lengthy excerpt. -Editor
When did the use of trade tokens in Britain begin? The answer may be during the reign of Edward I whose introduction of a round farthing in 1279 quickly put an end to the need for a token to use as "small change."
This is a possible interpretation provided in a 1971 article by Michael Dolley and W. A. Seaby, two very prominent 20th century numismatists.
The story begins in the 1845-6 edition of the Numismatic Chronicle with the report of a find of "several hundreds" of "quaint" tokens found in a ditching project just outside the great London wall near Aldersgate Street, a location not far from the Museum of London.
These pieces are of a high quality cast, and there was some muling of obverses and reverses. The plate shown is from Akerman's article.
The author of the article was John Akerman, an important 19th century numismatist whom Manville calls "one of the principal mid-nineteenth century architects in encouraging interest in numismatics," adding that he was a person who "did not suffer fools gladly."
Akerman noted that a need for change was an ongoing problem. "The history of the English coinage furnishes us with many anecdotes, illustrating the inconvenience and misery arising from the want of a proper supply of the fractions of the commonest current coin…" was his observation in the 1840s, a statement well borne out by the many token series—17th century, 18th century early and late, 19th century early and mid-century—that make up a huge chapter in the history of British numismatics.
Akerman did not speculate about the time of origin but he did note that there was an unmet need for a farthing coin in an era when a penny (a day's wage for a laborer at the time) was too large a denomination "for very general use among the poor." One-hundred-twenty-six years later Dolley and Seaby note that the idea that the pieces originated in the thirteenth century was supported by a find of a "little clump" of similar pieces in a thirteenth-century "Dublin cess pit" used later in the era for general disposal and containing other artifacts that allowed a close estimate of the date. This was the Dublin (Winetavern Street) hoard.
They suggest that a Dublin entrepreneur imported a bulk order of these pieces noting that tin was a valuable metal and this group was nearly two pounds. They think the total number would have been 4320 or 5184 depending on the quantity ordered—long "hundreds" or two gross of each variety. The shipment could well have been abandoned when there was legal pressure against its use. But the fact that it was ordered in the first place suggests that someone was manufacturing a token unit of exchange that was well enough made to a consistent standard that a merchant—a tavern owner is suggested by Akerman—would buy them for small change needs.
A 1984 British Numismatic Chronicle by Michael Mitchiner and Anne Skinner disagrees arguing that "Although base metal tokens were frequently used as an alternative to small denomination official coinage, the medieval token should not really be conceived as a straight monetary substitute: at least not until after the Reformation so far as England is concerned." In their exhaustive and detailed discussion of tokens in this era they do observe that "Circulation of these tokens during the second half of the thirteenth century is clearly attested by extant evidence."
Their article is rich with detail: Who? Probably ecclesiastical ("1307 marks the first recorded citations of English secular pewterers in London.") They do not pin down an exact use leaving room for the token speculation. How made? Stone molds. Why pewter? More durable than lead. Designs? Decorative rather than informative. The authors also provide extensive lists of varieties and die combinations.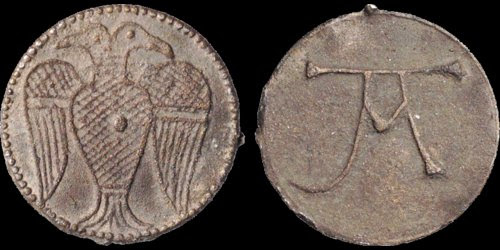 To come back to the question that started all this: Are these the first examples of "trade tokens" in England. Dolley and Seaby concluded that "the 1971 discovery in Dublin has established beyond all possibility of refutation that objects of the class first described by Akerman are (a) authentic, (b) numismatic and (c) of late thirteenth-century date."
The social and economic issues that led to later outbursts of token production—small change for working men—were present. Accounts of the time refer to the use of silver farthings, something that was far more awkward when one had to cut down a penny. Whether the pieces were intended to serve a monetary function or not, the point is that there is a logic to it having been a use.
Like the 18th century tokens that have become the dominant enthusiasm of so many collectors these issues offer an elegance of design and, generally, superior condition (Dolley and Seaby noted that "the condition of the individual pieces is superb"). Finally, like all the other token series that were created for a needy public, this fascinating little numismatic chapter provides a tangible tie to an era eight centuries past.
To read the complete article, see:
England's First Trade Tokens? (http://mailchi.mp/davcoin/englandsfirsttradetokens?e=ebc6cc0e42)
To browse E-Auction 20, see: https://davcoin.com/sale/E-Auction%2020
From Facebook:
Tom adds:
To visit the PAN Facebook feed, see:
https://www.facebook.com/search/top/?q=pennsylvania%20association%20of%20numismatists
For more infomraiton on PAN, see: http://pancoins.org/
Most collectors are aware of Austrian Empress Maria Theresa (1717-1780) because of the dollar-size silver trade coin that bears her likeness. Yet there are quite a number of other Maria Theresa coins and medals one can collect. The Künker firm published an article June 3, 2017 featuring several of these from their upcoming sale. Here's an excerpt and a few items that caught my eye. -Editor

Maria Theresa at ages 11 and 60
On 13 May 1717, Maria Theresa was born as the second child of Emperor Charles VI. Her older brother had died shortly after his birth and there would not be any more sons. Therefore it was soon evident that she would be the next ruler of the Habsburg hereditary lands. ... Maria Theresa, the 23-year-old archduchess of Austria, Queen of Hungary and Bohemia, was forced to simultaneously fight against Prussia and Bavaria, Spain, Saxony, France, Sweden, Naples, the Electoral Palatinate and the Electorate of Cologne in order to maintain her country's integrity.

Maria Theresa. Gold medal by A. Widemann
The mints of Maria Theresa
When Maria Theresa assumed office, she took over the denominations as well as the weight and fineness of her father's coin. Thus the most important coin was the taler, which – as she confirmed in the coin instruction of 17 July 1741 - should be issued at 28.82 g of 875 silver. Intended for minting were talers, half-talers (= gulden), quarter-talers, 15 kreuzers, 6 kreuzers, groschen, kreuzers, half-kreuzers and pfennige (= vierer).
After the Austrian War of Succession and the first two Silesian Wars, Austria's finances were ruined. Maria Theresa thus used an effective method to regenerate. In the 18th century, this method was to lower the silver content of the denominations and to mint more fractions, whose intrinsic value was far below its face value anyway.

Maria Theresa. Ducat 1765, Kremnica.
Maria Theresa actually issued three edicts in just four years: In 1747, she demanded that the minting of talers, half-talers and quarter-talers be limited in favour of fractions, in 1748 and 1750 she reduced the metal content of all coinages. In order for the officials to be able to recognise the "bad" coins, a saltire was put after the year. Of course this "secret mark" did not stay secret for all too long...
After Maria Theresa's death, 3,943 gulden and 44 kreuzers were found lying around in Maria Theresa's room, which could be interpreted as a sign that in 1780, when the empress died, the money problems were gone. She left a well-organised empire to her son Joseph II, which he then reformed into a modern state. This state, despite Napoleon, would grow into the multinational empire of the 19th century.

Maria Theresa. Half-convention taler 1765
The article does not illustrate the "secret mark". Could anyone send us images or cite a reference with more information? -Editor
To read the complete article, see:
The coins of Maria Theresa (https://www.kuenker.de/en/information/presseinformationen/aktuelle-mitteilungen/148)
Alchemy, the process of turning a base metal into gold, has been a dream of gold enthusiasts for millennia. It's not hard to see why. If you discovered a recipe for turning lead into gold, you would become a millionaire overnight. Your basement would be filled with stacks and stacks of gold, and you would never need to worry about inflation again.
You could indulge in all sorts of eccentric hobbies, and if anyone questioned you, you could just throw a few gold bars their way.
Unfortunately, it turns out that alchemy, at least in its purest form, can't be done. You can't turn any metal into gold, no matter how much sorcery or chemicals or mystical charms you use. For now, lead will remain lead and gold will remain gold.
Alchemy originated in a spiritual worldview that said everything holds a universal spirit within it. Metals were not only alive but also grew inside the earth like living organisms. They had the universal spirit within them, just like every other material on earth.
A base metal, like lead, was simply a physically and spiritually immature form of a higher metal, like gold. Zinc, lead, and gold were not all individual metals, but the same metal in various forms of development.
The goal was to make the base metal "mature" into the higher metal gold. Think of it like nurturing a young child.
As time went on, the process of alchemy evolved. In the beginning, it relied heavily on magic. Some individuals thought that something called the "Philosopher's Stone" existed, which could heal people, lengthen life, and transform base metals into gold. Others created elaborate mystical rituals designed to effect the transformation.
During the Enlightenment, a more rational, scientific approach was taken, with many scientists experimenting with chemical processes. Surprisingly though, even some of the most rational scientists such as Isaac Newton clung to the hope of discovering a mystical alchemy process.
In March 2016, the Chemical Heritage Foundation bought a 17th-century alchemy manuscript written by Newton. Buried in a private collection for decades, the manuscript detailed how to make "philosophic" mercury, thought to be a step toward making the philosopher's stone — a magical substance thought to have the ability to turn any metal into gold and give eternal life.
Unfortunately, none of these efforts produced true alchemy. It turns out that base metals can't be magically or chemically transformed into gold.
Today, it is possible to "create" gold using particle accelerators, but the amounts created are minuscule and not worth the Herculean efforts involved.
To read the complete article, see:
What Is Alchemy and Is It Even Real? (https://weldaloy.com/what-is-alchemy-and-is-it-even-real/)
To read the earlier E-Sylum article, see:
NEW BOOK: THE HISTORY OF ISAAC NEWTON'S PAPERS (http://www.coinbooks.org/esylum_v17n21a09.html)
What's more rare than an original 1826 Erie Canal Completion medal? - the box it came in. This auction lot caught my eye for the great condition of the presentation box and the name of the person it was presented to. -Editor
Description: circa 1826; white metal double-sided medal commemorating the completion of the Erie Canal in 1825; front with Pan and Poseiden representing the joining of the Atlantic Ocean to the Great Lakes; reverse with eagle and ship and canal start and completion dates, designed by Archibald Robertson (1765-1835) and struck by Charles Cushing Wright (1796-1857), in rare circular wood storage case, made from wood from the first canal boat, "The Seneca Chief," (on printed label in interior), and a second presentation label to Silas Duncan, medal - 1 3/4 in. Diam.
Condition Report: Medal - patination wear, blemish on edge, case -labels stained, chip on interior lip
To read the complete article, see:
Lot 1204: Rare Erie Canal completion medal (http://www.invaluable.com/auction-lot/-1-c-8C449A0BB9)
1826 Erie Canal Medal
White Metal, HK-1
In Original Wooden Box
1826 Erie Canal Completion Medal in Original Wooden Box. HK-1, R.6. White metal, 44.4 mm. The medal is unworn and free any from visible marks, but portions are oxidized charcoal-gray. The front half of the box has a minor crack repaired with a short strip of modern translucent tape. The reverse of the wooden box exhibits the inked name (possibly a Mr. Knaulan) of the original recipient. The first variety in the Hibler-Kappen reference, and rarely encountered with its original box.
To read the complete lot description, see:
1826 Erie Canal Completion Medal in Original Wooden Box. (https://coins.ha.com/itm/so-called-dollars/1826-erie-canal-completion-medal-in-original-wooden-box-hk-1-r6/a/1218-4430.s)
Over the years we've had several references to "Panamint Balls" of silver, a purported tactic to thwart robbers by making silver ore too heavy to transport without the proper equipment and manpower. Bob Van Ryzin submitted these research notes - he believes the story may have been made-up or exaggerated. -Editor
I wonder if the story of the Panamint (Calif.) cannonballs of silver wasn't made-up or exaggerated by its most prominent teller—Sen. William M. Stewart of Nevada, who owned mines there, along with Sen. John P. Jones, also of Nevada.
The first reference I've come across to the large Panamint balls, said to have been used in the 1870s by the Panamint mine owners to thwart highwaymen along the Panamint road, comes from Stewart. More than 30 years after the prime days at Panamint, Stewart said that five 750 pound balls were made, whereas period newspaper references say it was five 400+ pound bars, not balls.
The Oct. 15, 1875 issue of the San Francisco Weekly Stock Report and California Street Journal and the Stockton, Calif. Daily Evening Herald of Oct. 13, 1875 both relate the same thing—that a big shipment of silver had been received at the U.S. Mint and it was in the form of large bars.
The Stockton newspaper wrote:
The Oct. 20, 1875 issue of the Pioche (Nev.) Daily Record had a slightly different take:
That there were robbers along the Panamint road is evidenced by contemporary newspaper reports, but the general story nowadays is not of bars but of cannonballs of silver.
Wikipedia, for example, relates that "Because of Panamint City's lawless reputation, Wells Fargo refused to open an office there. The senators [Jones and Stewart] solved the question of how to transport the silver bullion from the mines by casting it into 450-pound cannonballs, which were hauled to Los Angeles in an unguarded wagon."
The first mention I've come across to cannonballs originated in the March 10, 1908 issue of the San Diego Union and was spread by its later appearance in the March 21, 1908 issue of the Saturday Evening Post, and further by Stewart's 1908 book, Reminiscences of Senator William M. Stewart, where it appears with slight style changes.
Under the title, "Cannon Balls of Pure Silver: How Senator Stewart Got the Best of Ore Thieves in Early Days in Nevada," the March 10, 1908 issue of the San Diego Union told of the beginning of mining in the Panamint region and the need for a clever solution to getting the silver safely to mint. The Union wrote:
The article says Stewart explained, as part of his upcoming Saturday Evening Post article, that the highwaymen were very cordial while Stewart and his associates worked the mine, "and they seemed to like the locality so well they could not be persuaded to go away, but hung around and acted affectionate and sociable and kind. We were on such good terms with them that they did not hesitate to ask me when we expected to begin shipping bullion, and then I realized they had sold their mines, not with the intention of giving up the profits, but merely to save themselves the necessity of labor."
Wells Fargo, he said, refused to set up an express office because of the road agents.
"We were stumped. We were getting out plenty of ore, but didn't dare to run it into bullion, because the minute we did the property would change hands.
"Finally I hit on a scheme. I had some molds made in which a ball of solid silver could be run weighing 750 pounds. Then I began smelting the ore, and I ran out enormous cannonballs of the precious stuff that could have bombarded a battleship."
He claims the highwaymen then complained, acting like he was cheating them out of their property, to which Stewart replied, "'All right, said I, 'business is business. If you haven't genius enough carry this stuff off, why, you'll have to suffer, that's all. You can't expect me to be sorry for you, can you?'"
The highwaymen "'fairly sweated themselves trying to lug one of those silver cannon-ball off" and were "mad as hornets" when they couldn't accomplish the task.
Later, they returned and a "Half a dozen of them pried, and tugged, and strained, and grunted, trying to hoist one of them on a mule; but that made the mule mad, and by and by he took a hand in the proceedings, and made those outlaws feel pretty sick. After that they gave it up, and while we were loading five of the silver cannonballs on an immense freight wagon they sat around disconsolate and solemn like pall-bearers at a funeral."
The story is colorful, if nothing else.
To read the complete Saturday Evening Post article, see:
The Saturday Evening Post, Volume 180, Issue 3
Thanks! Now what do readers think? For fun, below is one more version of the tale -Editor
A bandit hollered: "Whoa! Hold it right there! Let's have the silver!"
"Help yourself", the driver said: "I'm haulin' cannon balls... they're all yours".
After pulling the load cover back, the bandits took one look and exclaimed:
"Damn it! Them ain't cannon balls!" They knew they had been out-smarted.
Sure enough, carefully secured in the bottom of the wagon were these large balls of metal weighing at over 400 pounds each! They were solid silver ingots that had been cast in the shape and size of wrecking balls. The balls of silver had been oxidized to turn black and were much bigger than any cannon ball. It would be impossible for the greediest of bandits to pick one up, let alone carry it away.
To read the complete article, see:
The Cannon Balls of Panamint (http://www.edkeenan.com/index.php/easyblog/entry/cannon-balls-of-panamint)
To read the earlier E-Sylum articles, see:
GREAT BALLS OF SPECIE (http://www.coinbooks.org/esylum_v04n48a08.html)
WILLIAM SHARON DINNER SILVER INGOT (http://www.coinbooks.org/esylum_v06n02a13.html)
PANAMINT BECOMES THE PONDEROSA (http://www.coinbooks.org/esylum_v07n11a25.html)
Michael Sanders writes:
I came up empty on this myself - I don't believe we've discussed this before. "Aber Nit" translates from German as "But Not". Is it the 1896 equivalent of #FakeNews, calling "Bryan's Idea of Coinage" stupid? Thoughts, anyone? -Editor
To read the complete articles, see:
Fake Notes (https://www.nytimes.com/interactive/2017/06/02/magazine/new-york-stories-fake-notes.html)
A West Village Bar Crawl Leaves Behind a Trail of Counterfeit Green (https://www.nytimes.com/2015/03/28/nyregion/a-west-village-bar-crawl-leaves-behind-a-trail-of-counterfeit-green.html)
Emanuel Ninger spent his days alone in an upper room of his New Jersey home, as any artist might do. But Emanuel Ninger was no starving artist. How could he be, when he spent his days developing the art of counterfeiting?
The man the New York Times would call the "Pen and Ink Counterfeiter" perfected his craft to an art. He would place a piece of bond paper, cut to size, in water colored with coffee grounds. The coffee gave the paper an appearance of moderate handling. Ninger wanted to avoid the attention that might be called to a crisp new note. Then, with an authentic bill under the wet paper, Ninger meticulously traced the entire bill. After the tiny engraved lines were duplicated, he added the appropriate colors with a camel hair brush.
It was a counterfeit 1880 $50 note that sent Ninger to jail. On a damp March night in 1896 — just before boarding a ferry in Manhattan for his return to New Jersey — Ninger stopped in at a saloon. The bartender recognized him, and didn't hesitate to change a $50 bill. Soon after Ninger left the bartender noticed ink on his own fingers. He looked at $50 note, which had come in contact with moisture on the bar.
Sure enough, part of the design was smudged. The counterfeiter was arrested — and after his trial, Emanuel Ninger served a few years in prison.
To read the complete article, see:
https://nnp.wustl.edu/library/book/512786?page=13
Just to show how common this practice is today, here's the story of another small-time counterfeiter in Scotland. Dozens of these are reported each week, and I generally don't bother commenting on them unless there is something particularly unusual about the story (like a graphic novelization!) -Editor
A FORGER who ran a counterfeit mint and cheated York businesses and shops with his fake £20 notes, has been jailed.
Darren Lea Wilson, 31, used a laptop, Photoshopped internet images, a computer printer, shoe polish and other equipment to produce between 100 and 200 fake Scottish £20 notes at his sister's home, Laura Addy, prosecuting, told York Crown Court. They were apparently worth £2,000 to £4,000.
He took some of the notes to York where he deliberately chose low value items to buy and paid for them with fake notes so that he got genuine banknotes and coins in exchange. He was on bail at the time for passing counterfeit notes in Sheffield.
To read the complete article, see:
Forger jailed for cheating York shops (http://www.yorkpress.co.uk/news/15312085.Forger_jailed_for_cheating_York_shops/)