Visit our NBS Sponsors
About Us
The Numismatic Bibliomania Society is a non-profit association devoted to the study and enjoyment of numismatic literature. For more information please see our web site at coinbooks.org
Subscriptions
Those wishing to become new E-Sylum subscribers (or wishing to Unsubscribe) can go to the following web page link
Membership
There is a membership application available on the web site Membership Application
To join, print the application and return it with your check to the address printed on the application. Print/Digital membership is $40 to addresses in the U.S., and $60 elsewhere. A digital-only membership is available for $25. For those without web access, write to:
Charles Heck, Treasurer
Numismatic Bibliomania Society
P. O. Box 2058,
Bluffton, SC
29910-2058
Asylum
For Asylum mailing address changes and other membership questions, contact Chuck at this email address: treasurer@coinbooks.org
Submissions
To submit items for publication in The E-Sylum, write to the Editor at this address: whomren@gmail.com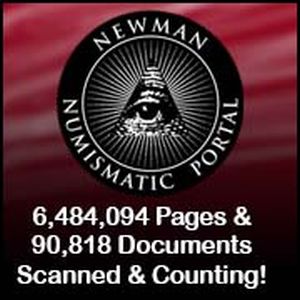 BUY THE BOOK BEFORE THE COIN
Sale Calendar
Content presented in The E-Sylum is not necessarily researched or independently fact-checked, and views expressed do not necessarily represent those of the Numismatic Bibliomania Society.
Thank you for reading The E-Sylum. If you enjoy it, please send me the email addresses of friends you think may enjoy it as well and I'll send them a subscription. Contact me at whomren@gmail.com anytime regarding your subscription, or questions, comments or suggestions about our content.
This week we open with some NBS news, a numismatic literature sale, five new books, a new periodical issue, updates from the Newman Numismatic Portal, and more.
Other topics this week include transportation tokens, mint errors, silver art bars, counterfeiting, Tyrants of the Thames, Warren Lapp, Hunter Hicks, Mark Salzberg, CAC Grading, fixed price and auction previews, a Dickin medal winner, and a new micronation's currency.
To learn more about bookbinding, the coinage of Gordian III, the MCA Advisory, the Betts Novi Orbi medals, Morgan silver dollars, the 1663 Petition Crown, Una & the Lion, Ruth Bauer, Elizabeth Coggan, Yvette Haas, Pamela West, Emil Fuchs, Hermon MacNeil, multiple blanking, Pennywise, Jim Licaretz, the Cragg Vale Coiners, the 1783 Unity States Cent, and the currency of Slowjamistan, read on. Have a great week, everyone!
Wayne Homren
Editor, The E-Sylum


NBS Bookbinding Demo at the ANA
The NBS will host a bookbinding demo during the ANA convention, at the NBS club table, on Wednesday, August 9. Being book collectors, we should learn a bit about how they are constructed! All supplies will be furnished for those who wish to participate, including unbound pages for a new, unpublished work. Prior to the convention, we will reveal further information on this volume, copies of which will not be otherwise available until after the convention.
Our bookbinding term of the week is cambric. The cambric is a mid-grade, woven fabric used as a spine reinforcement material in book making. This provides connective tissue for the loose boards within the covers. The cambric is glued in underneath the front and rear pastedown pages. If you take apart a hardbound book (just don't tell anyone you did so!), you may notice this at the spine.
For more information on the Numismatic Bibliomania Society, see:
https://www.coinbooks.org/
12th auction of numismatic literature at Solidus on 25 June 2023
The literature auction 121 of Solidus on 25 June 2023 is entirely dedicated to selected auction catalogues. The spectrum of the 862 lots ranges from early catalogues of the mid-19th century to entire series of catalogues by renowned firms of the 21st century. Among the pre-1945 auction catalogues are numerous sought-after and rare collections, including the collections of Gnecchi, Prospero Sarti, Rhousopoulos, Kneist, Imhoof-Blumer, Hauswaldt, Hermitage St. Petersburg, Welzl von Wellenheim, and Meyer-Gedanensis. Also represented are many well-known auction houses, such as Cahn, Hess, Helbing, Hamburger, Ratto, Santamaria, Baranowsky, Schlessinger, Naville, Riechmann, Rosenberg and Münzhandlung Basel. Among the auction catalogues after 1945 are series of catalogues by Peus, Künker, Gerhard Hirsch, Numismatica Ars Classica and Kolbe & Fanning. Numerous Highlights include the following lots:
1) Hamburger, Leopold, Frankfurt a.M. Auction 3 of 17 November 1873: Collection Graf Heinrich Stecki. Poland (Nos. 642-2374), coll. Bursio, coll. v. Vogelstein. Middle Ages, thalers with Gothic script (incunabula). 4573 nos., 1 pl. Bound with: Hamburger, L. u. L., Frankfurt a.M. Auction 1 of 25 October 1875. Collection of medieval and modern coins and medals of Hauptmann v. Löhr, Darmstadt. Collection of Polish coins of Count Heinrich Stecki (II. Dept.), as well as coins of Italy, the Popes, the Order of St. John, beautiful proof coins etc. of Henri Regnault. Bound in one volume. Half leather.
"Verzeichniss der Münz- und Medaillen-Sammlung des kaiserl. königl. Hofrathes und Mitgliedes mehrerer gelehrter Gesellschaften, Herrn Leopold Welzl von Wellenheim. Auctions of 10 February 1845, 7 January 1846 and 1 February 1847
. Complete series. Bound in 3 uniform volumes. Full cloth, bumped and scuffed, partly foxed, book block of volume 1 somewhat loose.
Hess, A. Frankfurt am Main. Auctions 61, 62 and 63. "Münzen- und Medaillen-Sammlung Adolph Meyer-Gedanensis, Berlin.
First and second sections and the numismatic library. Bound in one volume. Half linen. Splendid copy.
4) Numismatica Ars Classica, Zürich. Series of auction catalogues. Auctions 70 - 112, 114 - 120, 124 - 127 from 2013 - 2021. Orig. paperback and cardboard.
We hope you enjoy browsing through the wide range of numismatic auction catalogues with a variety of collections and that there will be something for your library again this time.
You can access the auction via AUEX:
https://solidus-numismatik.auex.de/Auktion/Onlinekatalog?intAuktionsId=1369
The auction is also available on Sixbid:
https://www.sixbid.com/de/solidus-numismatik/10829
The website of Solidus Numismatik can be found here:
www.solidus-numismatik.de
The Coinage of Gordian III from the Mints of Antioch and Caesarea
Roger Bland
Royal Numismatic Society Special Publication 60, 2023
This book presents a detailed die-study of the issues of the mints of Antioch in Syria and Caesarea in Cappadocia from the reign of Gordian III (AD 238-44). The coinage of Antioch consisted of two series of radiates with Roman legends and four series of tetradrachms and 3,818 coins of Antioch and 1,312 silver and bronze coins of Caesarea are included in the die-study. All the dies are illustrated in 100 plates.
The study shows how to distinguish the radiates of Antioch from those of Rome and examines the relationship between radiates and tetradrachms of Antioch. The former coins have traditionally been classed as `Roman imperial' and the latter as `Roman provincial'. The dies for the coinage of Caesarea were also produced by Antiochene engravers, which had not been noticed before.
Further chapters examine chronological problems, the metal content of the silver coins of Gordian's reign (over a hundred analyses are published here for the first time), the evidence for their circulation in hoards and site finds and the historical events of Gordian's reign. These findings are summarized in the conclusion, which sets the coinages of Antioch and Caesarea in their historical context.
Roger Bland is President of the Royal Numismatic Society. He retired in 2015 as Keeper of the Department of Britain, Europe and Prehistory at the British Museum.
548 pages + 100 plates, 1,414 illustrations in text.
ISBN 978-0–901405–39–6
£80 (£60 to Fellows of the RNS)
Tax included. Shipping calculated at checkout.
For more information, or to order, see:
The Coinage of Gordian III from the Mints of Antioch and Caesarea | Roger Bland (https://spinkbooks.com/products/the-coinage-of-gordian-iii-from-the-mints-of-antioch-and-caesarea-roger-bland)
Whitman Publishing announces the upcoming release of the newest Cherrypickers' Guide to Rare Die Varieties. The sixth edition, volume II, will debut in August 2023 at the American Numismatic Association World's Fair of Money in Pittsburgh, Pennsylvania. In the meantime, the 320-page spiralbound-hardcover book can be preordered for $39.95 online, including at Whitman.com. After the ANA show the Cherrypickers' Guide will be available from booksellers nationwide.
To cherrypick is to examine coins that appear normal at first glance, seeking those with unusual characteristics—overdates, repunched mintmarks, doubled and tripled dies, and similar features—that reveal them to be rare and valuable. The Cherrypickers' Guide uses close-up photographs and text descriptions to show collectors what to look for. It includes rarity ratings and retail values in multiple grades.
For the latest volume, Cherrypickers' Guide coauthor Bill Fivaz and professional numismatist Larry Briggs coordinated edits and updates. They reached out to the hobby community for advice, recommendations, research, market analysis, and photographs. The new volume features more than 440 die varieties, including nearly 80 new additions. The book covers Capped Bust and Liberty Seated half dimes, dimes, and quarters; Barber dimes and quarters; Mercury dimes; Roosevelt dimes; twenty-cent pieces; Standing Liberty quarters; and Washington quarters, including the State, D.C., Territorial, and National Park series.
Picking up from there, volume III of the sixth edition is slated to debut in 2024. It will cover Capped Bust, Liberty Seated, and Barber half dollars, plus Liberty Walking, Franklin, and Kennedy half dollars, trade dollars, Morgan and Peace silver dollars, modern dollar coins, gold coins (dollars through double eagles), classic commemoratives, bullion, and coins struck for the Philippines under U.S. sovereignty.
Bill Fivaz, a coin collector since 1950, has earned recognition as one of the country's most respected authorities on numismatic errors and die varieties. He is a longtime contributor to the Guide Book of United States Coins (the Red Book), a past governor of the American Numismatic Association, and a past member of the United States Mint's Citizens Coinage Advisory Committee. With the late J.T. Stanton he published the first Cherrypickers' Guide in 1990, launching the modern boom in interest in die varieties.
Volume editor Larry Briggs is well known to the hobby community as a dealer, author, and educator. He was president of the American Numismatic Association's Authentication Committee. A student of history and archaeology, Briggs served in the U.S. Air Force and worked for Ford Motor Company before launching his own business, Larry Briggs Rare Coins, in 1978. His specialties include error coins and die varieties, Liberty Seated coinage, and early American coppers.
# # #
Cherrypickers' Guide to Rare Die Varieties of United States Coins, sixth edition, volume II.
By Bill Fivaz and J.T. Stanton; forewords by Kenneth Bressett and Q. David Bowers; edited by Larry Briggs.
Publication date: August 2023. Retail $39.95. 320 pages, 6 x 9 inches, spiralbound hardcover.
https://whitman.com/cherrypickers-guide-volume-ii-6th-edition/
To read the earlier E-Sylum article, see:
NEW BOOK: CHERRYPICKERS' GUIDE, 6TH EDITION, VOLUME I (https://www.coinbooks.org/esylum_v18n30a04.html)
AVA Publications Chairman Rich Mallicote writes:
Transportation tokens were first catalogued by themselves in 1920 when Mr. F.C. Kenworthy typed up a list of his collection and in other collections he had seen. This earliest "check list" was passed around and copied by the few collectors of Mr. Kenworthy's acquaintance. Kenworthy's list employed a rather crude listing method whereby cities were arranged alphabetically without regard to their states, and reverses were indicated by code letters.
In March 1925, Kenworthy passed the job of compiling a listing of transportation tokens to Mr. R.W. Dunn who, in 1932, had his check list mimeographed. This was the first printed listing of transportation tokens anywhere in the world and it included both foreign and U.S. tokens.
Shortly after publishing his listing in 1932 Mr. Dunn passed the mantle to Roland C. Atwood. Mr. Atwood had an extensive correspondence with other collectors and travelled throughout the United States and Canada annually in search of tokens and their collectors. His Hollywood address became a kind of central clearing house of information on transportation tokens, and the result of this was a rapid growth in the size of the transportation token check list.
Early in 1942 the publisher of Keim's Hobby News, a mimeographed monthly, obtained a copy of Atwood's check list and, without Atwood's permission, proceeded to run it serially in his hobby publication. Meanwhile both Mr. Dunn and Ray B. Cooper of Chicago had printed updates of Dunn's list.
Beginning in January, 1943, the Numismatic Scrapbook Magazine published serially a Check List of U.S. Transportation Tokens compiled by Mr. Bernard Morganthau of New York City. This was completed in September, 1944, and shortly thereafter published in book form. It was of limited value to collectors, however, because it contained no information about the metals or sizes of the tokens, or their center devices, nor did it give full reverse inscriptions. Nevertheless, Morganthau's brilliant and witty articles in the Scrapbook and in the Numismatist, under the rubric "The Story Behind the Token" enhanced the popularity of transportation tokens as a separate hobby in their own right.
In 1948 Mr. Atwood arranged to have his Check List published by the American Numismatic Company of Los Angeles. The result was called the National Check and Premium List of All U.S. Transportation Tokens, published loose-leaf and now arranged for the first time by states.
Meanwhile, increasing interest in collecting transportation tokens as a separate hobby induced a San Francisco collector, Mr. R.L. Moore, to begin publication of a monthly mimeographed news-letter called the Fare Box. The first issue was published in July, 1947, and was mailed to about 100 collectors from a list given to Moore by Roland C. Atwood. The subscription rate was one dollar for twelve monthly issues mailed by first class. In December, 1948, Mr. Moore was forced to give up publishing the Fare Box and he turned it over to the newly formed American Vecturist Association. The A.V.A. continued to publish the Fare Box as its official organ under the direction of editor John Coffee who succeeded Mr. Moore.
The American Vecturist Association itself was founded on October 31, 1948, in the office of Max M. Schwartz in New York City. Chief impetus for founding the new society had come from editorials in the Fare Box by Mr. Moore, so we have the interesting situation causing the birth of the Association which then took over publication of the news letter. Mr. Schwartz, founding father of the A.V.A., was a veteran numismatist but a novice transportation token collector. He brought a vigorous organizing talent to the hobby and served as first President of the Association, and later as its Secretary. The word "vecturist" in the title of the Association was coined by Mr. Moore as "vecturalist", derived from the Latin "vectura" which means "passage money". In proposing a name for the new association it was agreed to shorten "vecturalist" to "vecturist", and so it has remained. The word is listed in Merriam-Webster's Dictionary, and has even been one of the questions on "Jeopardy" on television.
Yosef adds:
The American Vecturist Association (or AVA) is an organization of transportation token collectors in the United States and Canada, as well as worldwide. Members of the AVA receive the Fare Box, the monthly newsletter of the AVA. The Fare Box contains advertisements, stories, and information about various tokens, as well as resources to buy, sell, and trade tokens. AVA members are also eligible to join the New Issue Service, which mails new transportation tokens to its members for a nominal fee.
For more information about the American Vecturist Association, or to join, see::
https://vecturist.com/
I am proud to announce the 3rd Edition of my book, Mint Errors to Die For. The book is 266 pages, 8.5 by 11 inches, and printed on thick, glossy, high-quality paper; the cover is soft-cover with a nice plastic coating. Loaded with large HD photos including close-ups. I have added many new examples of error types, added some edits and updated information, and even included a few new error types.
I not only showcase, explain, and analyze dozens of error types, I also include information on how to detect altered coins, 100% counterfeits, and examples of damage that can mimic genuine errors. Bits of collecting advice, recent sale prices to help determine values, fun trivia, and some U.S. History are also sprinkled throughout. Most importantly, it's written in plain language so a beginner/novice can understand the reading, but yet it's comprehensive and detailed enough where it won't bore experienced collectors.
The direct sale price is $110 with free shipping anywhere in the U.S. (it's $135 plus $6 shipping on eBay). I accept Venmo and PayPal (Friends and Family), but any transaction fees must be made up by the buyer. I can also accept money orders and personal checks in some cases (per references).
Order yours today! Email me at josephcronin@protonmail.com
For more information, or to order, see:
Mint Errors To Die For 3rd Edition, by Joe Cronin ~ 280 page book on Error Coins (https://www.ebay.com/itm/185801767455)
Mint Errors to Die For, 3rd Edition (Cited from: https://www.cointalk.com/threads/mint-errors-to-die-for-3rd-edition.402055/) (https://www.cointalk.com/threads/mint-errors-to-die-for-3rd-edition.402055/)
To read the earlier E-Sylum article, see:
NEW BOOK: MINT ERRORS TO DIE FOR, 2ND EDITION (https://www.coinbooks.org/v24/esylum_v24n39a04.html)
SAC 7th Edition Guide Book of Silver Art Bars & Art Rounds
Continuing the Incredible Tradition of Archie Kidd, Silver Art Collectors Introduces the New "7th Edition Guide Book of Modern Silver Art Bars & Art Rounds"
This comprehensive guide is a must for all silver art collectors alike. Providing detailed in formation of the Modern Art Bar & Round Mints from 2007-2020 and the many beautiful pieces produced.
Sadly, Archie passed away and now with a collaboration with his son, Stephen SAC Silver Art Collectors we are please that the Archie Kidd's tradition and legacy will go on.
For more information, or to order, see:
SAC 7th Edition Guide Book of Silver Art Bars & Art Rounds (https://www.ebay.com/itm/124124948218)
It's here!! The Spring 2023 issue of the award-winning MCA Advisory has been published, packed with entertaining, scholarly, and fascinating articles on all manner of medals! We're thrilled to share the cover and table of contents with you here, but in order to read everything - and read it now - the best course of action is to join the MCA today! Electronic memberships start at just $41.50 for a year at medalcollectors.org.
Spring 2023 Table of Contents:
President's Message
Editor's Message
Letters
John J. Ford: a Remembrance by John Adams
No. 421. 1759. Quebec Taken Medal by Christopher McDowell
Pirckheimer and Erasmus, in search of a perfect cast by Lev Tsitrin
A few thoughts on the medals of Mehmed II by Lev Tsitrin
The Underappreciated and Occasionally Maligned Edwin Bishop by Julia Casey
Brief Additions to the Betts Novi Orbi Medals by Peter Olav Pleuss
For more information on the Medal Collectors of America, see:
https://www.medalcollectors.org/
Benjamin Myers's new novel is about the Yorkshire poor in the 18th century, a time when the theft of a handkerchief or a loaf of bread could lead to the gallows. Small wonder, then, that smuggling and coining – the manufacture of fake money from melted-down clippings – was rife, and that the gangs were protected by local populations.
Today the Cragg Vale Coiners and their chief, David Hartley, who ran a successful coining business and protection racket from his moorland home in the 1760s, are commemorated in a Calderdale museum. Myers's retelling of their desperate rise and fall is interspersed with the fictional prison journal of the greyt King Dayvid Hartee A farther a husban a leeder a forger a moorman of the hills and a pote [poet] of werds and deeds.
One of the first images presented is of a man hanging in chains: He who had poached and butchered a nobleman's stag ... Hunger then it was that had led this poor soul to the gallows steps – a hunger for warm meat rather than cold-blooded murder. Not greed but necessity. King David, however, is more Pablo Escobar than Robin Hood, and this is the ancient tragedy of social injustice spawning monsters. Hartley's gang suppresses all dissent. Those that speak against the Cragg Vale Coiners will be lambs to the abattoir cleaver, his brother declaims. No one is spared intimidation, not even children. The scenes of torture and brutal humiliation are stomach-churning, not to mention the fate of a travelling Cumbrian labourer turned into bubblinmeet for wandering into the wrong pub and drunkenly thinking aloud about informing for money.
One long lyrical scene portrays the simultaneous journeying of 30 or 40 men of stone and soil … poor men, proud men to a gathering at their chief's house. Men, Myers adds, who made myths of their own mad delusions. And yet, while pointing out the moral complexity of the situation, he subtly colludes with the myth. In reality Hartley was an entrepreneur, a shrewd businessman lining his nest while his followers did most of the hard work. Myers presents him as a mighty orator, a poet, a visionary and mystic.
I wish Myers had delved more deeply into these characters. Did no one ever agonise or reflect? Hardly at all, it seems. I'd also like to have seen more of the women. Grace, Hartley's wife, is the only female character, and she serves mainly as a recipient of seed and bearer of ale. Women were involved in the gang's doings and a woman was among those charged over the pub atrocity. Where are they?
To read the complete article, see:
The Gallows Pole by Benjamin Myers review – murder on the moors (https://www.theguardian.com/books/2017/may/25/the-gallows-pole-benjamin-myers-review)
For more information, or to order on Amazon, see:
The Gallows Pole Paperback – October 15, 2019 (https://www.amazon.com/Gallows-Pole-Benjamin-Myers/dp/0997457856)
The seventh edition of Whitman Publishing's best-selling Guide Book of Morgan Silver Dollars, by Q. David Bowers, is on sale now, available from booksellers and hobby shops nationwide. Here, Whitman publisher Dennis Tucker discusses the new volume in the context of the hobby's fascination with these historic coins.
Ask collectors to rank the coins of the United States by popularity, and the famous Morgan silver dollar will always emerge at the top of the list. At Whitman Publishing we're immersed in the coin's universal appeal. Hobbyists buy thousands and thousands of albums, folders, and other holders to store and display their Morgan dollars. We get emails, letters, and phone calls about the hefty old coins. At coin shows, collectors, dealers, and investors are always talking about them. As we work on each year's edition of the Guide Book of United States Coins (the Red Book), we hear plenty of Morgan dollar observations and market analysis from coin dealers around the country.
Meanwhile, outside the active hobby community, this is one of the rare coins that even non-collectors know about. They see them tossed in the air in a Hollywood Western, or for sale in a magazine ad, or nestled in Grandma's purse. If Grandpa had a cigar box of old money, it likely included a Morgan dollar. Once this coin entered the American consciousness nearly 150 years ago, it never left. It's a hard-money classic that sparks our imagination.
Given this widespread interest, it's easy for a publisher to answer the question, Why make yet another book about Morgan dollars? In my opinion, America's most popular coin deserves as many good books as the hobby community can read and enjoy. From observing the book market over the past 20-plus years, I believe that a rising tide lifts all ships when it comes to Morgan dollars. Because of the hobby's longstanding interest in these coins, each new Morgan dollar book starts out with the potential of a built-in audience. If the book is fun to read and gives valuable information, it will create even more excitement around its already popular subject.
It's kind of like the Treasury Department's sale of its warehoused hoards of Morgan dollars in the 1960s and '70s. Far from glutting the market and depressing prices, the mountains of coins were eagerly bought up, enthusiasm skyrocketed, and values began to rise.
Dave Bowers Creates a New Best-Seller
Q. David Bowers's Guide Book of Morgan Silver Dollars, billed as A Complete History and Price Guide, is the popular standard reference in the field. The first edition was published almost twenty years ago, in 2004. Of course, by then Bowers was widely recognized as a subject-matter expert (not just for Morgan dollars, but across all aspects of U.S. numismatics). His published work on these coins goes back decades; a short list includes the Comprehensive U.S. Silver Dollar Encyclopedia (1992) and the hugely popular two-volume Silver Dollars and Trade Dollars of the United States: A Complete Encyclopedia (1993), not to mention numerous chapters, essays, and articles published in other books and in hobby newspapers, journals, and magazines.
The second edition of this guide book followed in 2005 with updated pricing and certified-coin population data. A new appendix studied the Morgan dollar patterns of 1878.
In 2007 Whitman published the third edition. By this time the modern renaissance in numismatic publishing was well under way. Black-and-white photographs were no longer acceptable to the hobby community; the third edition was published in full color. Again the book's coin-by-coin pricing was updated, reflecting the active market, and certified populations captured the latest data. New research was incorporated into the manuscript—Morgan dollars are a popular field of study with frequent new discoveries. We improved the book's layout and typography to make it as pleasantly readable as possible and easy for the reader to navigate.
The fourth edition came out in 2012. Again fully updated and revised, the new edition added an illustrated appendix of misstruck and error Morgan dollars, showcasing some truly remarkable coins including double strikes and off-centers, along with advice to guide smart purchases.
What did the hobby community think of Morgan dollars at this point? The fourth edition's updated pricing reflected continuing enthusiasm. Many common dates had increased in retail price by 50 percent or more since the book's first edition debuted eight years earlier, and rare dates and varieties had doubled—or more—in value. The Morgan dollar remained the King of American Coins.
Other New Morgan Dollar Books
By the time the Guide Book of Morgan Silver Dollars established itself as the coin's modern standard reference, other Whitman books had joined the party. In late 2009 (with a copyright date of 2010) we published Carson City Morgan Dollars: Featuring the Coins of the GSA Hoard, by Adam Crum, Selby Ungar, and Jeff Oxman. This book begins with the accidental discovery of gold in California in 1848, we announced at its release. The struggles of adventurers in the Gold Rush . . . the Nevada silver boom of the late 1800s . . . the creation of the Carson City Mint . . . these are some of the rich historical veins that Crum, Ungar, and Oxman mine in Carson City Morgan Dollars.
Carson City Morgan Dollars was expanded and revised in a second edition released in 2011, then updated to a third edition that debuted at the American Numismatic Association's National Money Show held in Atlanta in March 2014. Even with its specific focus on a subset of Morgan dollars, there was plenty of new material to enhance the new edition. It was updated with additional historical photographs, revisions from ongoing research, new coin values and certified-coin populations, and fresh market commentary. A fourth edition was published in 2018, expanded by 24 pages with a photographic gallery of the Carson City Mint, a review of other coins minted there, a study of Morgan dollar values in the late 1940s, and other updates and additions.
In November 2012 (copyright date of 2013) Whitman published The Private Sketchbook of George T. Morgan, America's Silver Dollar Artist, a remarkable new book made in cooperation with the Smithsonian Institution. Today most collectors know Morgan as the father of this legendary silver coin, we noted. Some specialists are familiar with his designs for commemoratives and medals, and his significant work in U.S. pattern coins. But who exactly was George T. Morgan? Karen M. Lee, a curator of the National Numismatic Collection housed at the National Museum of American History, finally answers that intriguing question. Introducing Morgan's never-before-published personal sketchbook, and with unique access to family photographs and documents, Lee reveals the man behind the coins. The Private Sketchbook of George T. Morgan is an eye-opening immersion into what Lee calls the designer's 'life of art and labor.'
This book, like the others mentioned herein, went on to win literary awards.
Next, in 2014, a new Whitman book was published, authored by Michael Miles Standish assisted by the research/writing team of Charles Morgan and Hubert Walker. In Morgan Dollar: America's Love Affair With a Legendary Coin, various sections discuss the United States during the Morgan dollar era; the anatomy of the coin's design; a market study going back to 1946; a year-by-year analysis of the series, including Philadelphia, New Orleans, Carson City, Denver, and San Francisco coins; and Morgan dollar Proofs.
An Exciting Development, and a Fast Sellout!
The fifth edition of Bowers's Guide Book of Morgan Silver Dollars debuted in September 2016. It featured the requisite updated pricing, a useful new index, fresh illustrations, and exciting news of a startling discovery: information never before published, the story of the 1964 Morgan dollar. This made national headlines, stirred up the hobby's imagination, and got people talking. (Would we expect anything less from the wonderful and legendary Morgan dollar?)
Until the fifth edition of the Guide Book was published, the hobby community was unaware that dies, hubs, and models for a 1964 Morgan dollar exist deep in the vaults of the Philadelphia Mint. We featured a hub for the 1964 Morgan on the cover of the book, with more photographs and details of the bombshell discovery inside. This discovery was announced in late August 2016, and demand for the new book skyrocketed even before it debuted in September, causing a temporary sellout. We ordered thousands of more copies to be shipped from our printer for distribution that October.
In 2019 the sixth edition continued the ongoing exploration, conversation, and fascination with these classic coins. We dramatically expanded our coverage of the 1964 Morgan dollar, and increased the scope of the index (a helpful tool for navigating the book). A new appendix described a serious threat to the hobby: counterfeit coins. And again we updated the coin-by-coin catalog with current pricing and new certified-population data.
The Newest Edition of Bowers
Today Dave Bowers's Guide Book of Morgan Silver Dollars is in its seventh edition. This latest version has been expanded by 16 pages, to include more (and larger) illustrations of circulated and Mint State grades; a gallery of toned coins; a new appendix on counterfeit Morgan dollars based on the work of retired Coin World editor Beth Deisher; a new appendix on the 1921–2021 anniversary coins; an expanded index; and a completely updated portfolio of date-by-date coin photographs. The pricing and certified-population data in the coin-by-coin chapter was again updated in a snapshot of today's market.
George T. Morgan's classic dollar coin continues to capture the imaginations of collectors, investors, dealers, and everyday Americans. Readers of the Guide Book of Morgan Silver Dollars will find much to learn in this new edition of Dave Bowers's popular study.
# # #
A Guide Book of Morgan Silver Dollars, seventh edition
By Q. David Bowers; foreword by Jeff Garrett
ISBN 0794849164 · 6 x 9 inches, softcover, 336 pages, full color · Retail $24.95 U.S.
URL: https://whitman.com/guide-book-of-morgan-silver-dollars-7th-edition/
To read the earlier E-Sylum articles, see:
NEW BOOK: MORGAN SILVER DOLLARS, 7TH EDITION (https://www.coinbooks.org/v25/esylum_v25n41a02.html)
BOOK REVIEW: MORGAN SILVER DOLLARS, 7TH (https://www.coinbooks.org/v25/esylum_v25n45a05.html)
Newman Portal Adds Coin Show Podcast Archives
Through the courtesy of Mike Nottelmann and Matt Dinger, Newman Portal has added the Coin Show Podcast archives to our multimedia content. Launched in 2010, the Coin Show podcast is about as inside baseball as it gets, as Mike and Matt bring years of retail coin shop experience to each episode. Future generations wanting to get a snapshot of the early 21st century numismatic milieu will do well to absorb these recordings.
For those not familiar with the Coin Show, it is roughly the numismatic equivalent of sports talk radio, with a pair of experts slicing and dicing the coin business in just about every way you can imagine. Being on the retail front lines, Mike and Matt bring a public-facing perspective that is sometimes lost among advanced collectors and dealers who trade primarily among themselves. Running segments such as the sponsor of the week, original music, and high production values lend a professional air to the podcast, which is highly recommended by this writer.
The video version, first produced in 2020, adds graphics to the podcast, along with a video feed featuring the hosts.
Link to The Coin Show home page:
https://coinshowradio.com/
Link to Coin Show Podcast on Newman Portal:
https://nnp.wustl.edu/library/multimediadetail/550188
Link to Coin Show Podcast (video version) on Newman Portal:
https://nnp.wustl.edu/library/multimediadetail/550189
North Carolina numismatist Dennis Beasley has addressed several FUN conventions on a wide range of subjects. Dennis shares with the audience how to get the most enjoyment possible from their paper money collecting endeavors and the different ways to collect. In this lecture with show-and-tell presentation you will learn:
books and publications to help learn about small sized paper money
different ways to collect serial numbers on notes
notes in circulation worth more than face value
Speaker(s): Dennis Beasley.
To watch the complete video, see:
https://nnp.wustl.edu/library/book/560275
Hundreds of historic English coins from the extensive and unprecedented Tyrant Collection (www.TheTyrantCollection.com) will be displayed at the American Numismatic Association's 2023 Pittsburgh World's Fair of Money®, August 8-12 (www.WorldsFairofMoney.com).
The 300-coins exhibit will include a rare surviving example of England's first gold coin as well as one of the few known 1656 Cromwell 50 Shillings pattern gold coins, and the only privately-owned complete King Edward VIII pattern proof set produced in 1937 by the Royal Mint. It will be only the second time this set has been shown in public in the United States.
English coins from the Tyrant Collection were displayed for the first and only time five years ago in California. However, there are many new, superb-condition additions since then, so the new name for the upcoming display is 'Tyrants of the Thames 2.0' to reflect the significant update, explained Ira Goldberg President of Goldberg Coins and Collectibles, Inc. (www.GoldbergCoins.com) in Los Angeles, California.
Goldberg is one of the numismatic professionals providing guidance in assembling the wide-ranging Tyrant Collection of superb quality, historic U.S., world, and ancient coins. Described as the world's most valuable rare coin collection in private hands, the unparalleled collection is owned by Southern California collector Dan O'Dowd.
The finest collection of English coins outside of Great Britain -- and possibly the finest English collection in private hands anywhere – will be in the exhibit at the ANA convention. Insured for $30 million, these are superbly preserved examples of portrait coins minted in the Thames Valley over the last 1,400 years, said Goldberg. There is an example of every portrait coin denomination issued by English monarchs since the early 7th century.
The exhibit will range from early Anglo-Saxon to hammered Heavy Weight Light Weight Nobles varieties to modern era coins.
Highlights of the Tyrants of the Thames 2.0 exhibit include:
• The finest privately held example of the gold Thrysma issued by Eadbald, King of Kent (616 – 640 AD), London Mint, S-758, graded PCGS MS64. This was the first English coin to carry the name of the issuing king.
• Anglo-Saxon pennies including one of only seven known surviving examples of what researchers describe as the first gold coin of England, a superb condition Henry III 1257 gold penny graded NGC MS63.
• Edward III, Plantagenet King (1327 – 1377), gold Double Leopard, S-1476, third coinage (1344 – 1351), graded PCGS MS62. There are only four known examples of this historic coin, and two are in museums. It is described as perhaps the most important English coin in The Tyrant Collection.
• Henry VIII, Tudor King (1509 – 1547), gold Fine Sovereign, second coinage (1526 – 1544), S-2267, graded PCGS MS63. The largest coin issued during Henry VIII's turbulent reign. This example is believed to be the finest known.
• Elizabeth I, Tudor Queen (1558 – 1603), gold ship Ryal, sixth issue (1583 – 1600), S-2530, graded PCGS MS61. This specimen is one of the finest known and features a fabulous design emblematic of the English navy's historical importance.
• One of the 12 known 1656 Oliver Cromwell 50 Shillings pattern gold coins. A century ago, this historic coin depicting one of the most important figures in British history was in the vast collection of Chicago beer baron Virgil M. Brand.
• An example of the rare 1663 Petition Crown created by Thomas Simon in an effort to persuade King Charles II to consider Simon's designs for English coinage. Graded PCGS SP53, it was once part of the legendary Norweb Collection.
• Charles II, Stuart King (1660 – 1685), proof or presentation gold 5 Guineas dated 1670, S-3328, graded NGC PR64 and one of the great treasures of The Tyrant Collection.
• George III, Hanover King (1760 – 1820), pattern proof gold 5 Guineas by Tanner dated 1770, S-3723, graded PCGS PR63. This is one of the rarest coins of this denomination in the English series, and another of the great treasures of the collection.
• George IV, Hanover King (1820 – 1830), gold proof Pound dated 1826, S-3797, graded PCGS PR65+ Cameo. Unlike most other 1826 issues, this magnificent cameo specimen is not marred by marks or hairlines.
• Victoria, Hanover Queen (1837 – 1901), graded PCGS PR64 Deep Cameo, this is one of the finest known examples of the world-famous Una & the Lion gold 5 Pound piece, which was obtained by the Tyrant Collection as part of a pristine original complete set of Proof 1839 coins issued for Victoria's coronation. It is considered to be one of the world's most beautiful coins.
• Gem condition, complete proof sets from King George II in 1746 through Queen Elizabeth II in 1953, including the only privately-owned 1937 Edward VIII proof set, considered the most valuable item in English numismatics.
On December 11, 1936, Edward VIII abdicated his throne to marry the woman I love. Edward VIII then became known as the Duke of Windsor, and during his lifetime he was never able to acquire even a single English coin bearing his image.
Three of the four known complete Edward VIII proof sets are owned by the Royal Mint, with one of the Mint's two sets on long-term loan to the British Museum. A fifth set, lacking gold coins, was broken up over the years and the coins were sold off separately.
Visitors to the exhibit at the ANA convention can receive a free, illustrated educational booklet about this amazing display. Detailed catalogs with information and illustrations about each coin in the Tyrants of the Thames 2.0 exhibit will be available for $10 each.
For additional information about the 2023 Pittsburgh World's Fair of Money, visit www.WorldsFairofMoney.com.
To read earlier E-Sylum articles, see:
TYRANT COLLECTION AT FEBRUARY 2018 LONG BEACH (https://www.coinbooks.org/v21/esylum_v21n02a22.html)
BOOK REVIEW: THE TYRANT COLLECTION (https://www.coinbooks.org/v24/esylum_v24n46a05.html)
Bob Steinberg writes:
Mark Borckardt writes:
Ralph Langham writes:
Cindy Wibker writes:
Alan V. Weinberg writes:
Ingrid O'Neil writes:
I read with interest in The E-Sylum the discussion about women dealers in numismatics and of course it has concentrated on USA based dealers so far like Cathy Bullowa who we all knew well.
Of course there have been other women dealers active around the world in all of this time including the UK and I wanted to send you the link below, where I was pleased to see online at the Newman Numismatic Portal the 1976 anniversary edition of the Seaby Coin and Medal Bulletin which celebrated Seabys 50 years as a London coin dealer.
Listed here are H. A. Seaby's memories of the story of Seaby and mentions his sister Mildred Seaby helping him start up from 1926. The joining of Margaret Eccles in 1933 who later dealt war medals and was with him till 1968. His own daughter Pat Seaby joining to deal coins at the family firm from 1943 till marriage took her overseas in 1949. Mrs Emmy Cahn joining to help on ancients from 1945. Monica Bussell who I know some of the older English trade remember as the lady who dealt in English copper who joined in 1952 but later died in a house fire in 1972. The most senior lady dealer in the English trade at this time of the 1976 publication though was Margaret Amstell who joined Seaby in 1956 and was in charge of gold by the time of this anniversary and she was a board director of the firm since 1973 – she carried on dealing independently later in life once Seaby was over and I still remember dealing with her not long before she died in 1997.
You will see at the link below names of other lady dealers at the firm in 1976: Jennifer Loosely since 1970, Donna Hills since 1969, Judith Marks since 1973, Linda Dillon (accessories) since 1965, Barbara Burns since 1974 as well as Muriel Seaby wife of Peter Seaby.
Other independent lady dealers I have known of were Eva Hardy who was based in London dealing from 1960s till emigration to Australia in 1970s, and was still going down there until the 1990s – she came into Spink London once around 1998. There was also Neddy Allen who died not long before covid who dealt in medallions for many years and was the widow of Peter maundy Allen, such a nice lady.
There was also a dealer in the 1960s called Valerie coins but only older people in the UK trade will be able to tell you about her and her business partner.
Thinking of Spink where I used to work there was a lady in the gold department there called Judith Spear who I believe got married and moved to Canada in the late 1970s – I met her once when she visited Spink in the 1990s. We of course had May Sinclair who worked at Spink 1972 – 2004 before a consultancy for many years after and is now happily retired in Scotland who dealt in British tokens and English hammered coins. I worked happily with her for 15 years. Also when I started at Spink in 1990 I worked with Julie Franklin who became bona fide specialist in world coins from around 1994 and stepped back from it around 2000. There was also a lady called Judith Doel who worked on war medals from 1980s to c.2000 and was the daughter of Brian Carter who himself had once worked on ancient coins at Spink. We also had Sandra Ferguson (now Mrs Conway) who worked on gold bullion and who with Linda Ainsworth started ATS Bullion Ltd when Spink let their bullion department go in the early 2000s but both retired in the last ten years. Two ladies running a bullion dealers is/was most unusual though it was backed by another bullion house.
Frances Simmons is an active coin and medal dealer with husband Howard in London still today and can be fond here Home - Simmons Gallery but has been going strong since the 1980s. We also have banknote dealer Pamela West who has been full time since the 1990s and well known to paper money people in the USA www.britishnotes.co.uk
Emily Reid who worked with me at Spink 2001-2005 has since gone on to work with Mark Rasmussen and now with Morton and Eden.
A continental coin firm run by women whom I know well is Hohn in Leipzig Germany – started by their late mother Heidren in 1990 the firm is run by sisters Christina and Saskia Hohn with their Farther Manfred but the girls are the numismatists Homepage - Hoehn - Coin Shop & Auction House Leipzig (leipziger-muenzhandlung.de) Christina did a work placement with me at Spink in 1999.
There have of course been many other ladies who have come into the business since the year 2000 and have current positions in other firms. An excellent example of this is the British Royal Mint where most of the leading people including the Chief Executive Ann Jessop are all women.
I nearly forgot to mention Clare Lobel wife of Richard who you have featured the interview of recently who works at Coincraft running the banknote department ever since the 1980s – possibly late 70s.
Also recently deceased from South Africa was Natalie Jaffe who took over her husbands coin business about 1971 after he was killed in a boating accident and ran City Coins for decades and latterly a South African representative for Noonans.
Lastly thinking of Australia I know Jill Pearson well since the 1990s who runs the Melbourne office of Noble Numismatics and is the daughter of Ray Jewell who originally ran that office and passed away in the early 1990s when it used to be Spink Australia.
There are also a number of ladies working at Kunker in Germany, Marion Kuenker is wife of founder Fritz Rudolf and Alexandra Elflein has been there since about year 2000 Customer Service of the Highest Quality - Kuenker (kuenker.de)
I am sure there are many more! But will leave it at that.
I am sure there is a lot more scope for further discussion on The E-Sylum and I hope some of the women who work in the industry contribute to you further themselves.
To read the Seaby's Coin and Medal Bulletin article, see:
Seaby's Coin and Medal Bulletin: July 1976 (https://archive.org/details/seabyscoinmedalb1976base_s6e9/seabyscoinmedalb1976base_s6e9)
To read the earlier E-Sylum article, see:
U.S. WOMEN COIN DEALERS (https://www.coinbooks.org/v26/esylum_v26n24a20.html)
Hermon MacNeil Plaque: Elizabeth

To read the earlier E-Sylum article, see:
MACNEIL'S PEACE DOLLAR DESIGN (https://www.coinbooks.org/v26/esylum_v26n24a09.html)
On the Dislike of Slabbing
Alan V. Weinberg writes:
To read the earlier E-Sylum article, see:
RICHARD LOBEL INTERVIEW PART SIX (https://www.coinbooks.org/v26/esylum_v26n24a21.html)
The National Money Show
Regarding her late husband Steve Bobbitt, Barbara Gregory writes:
To read the earlier E-Sylum article, see:
STEPHEN L. BOBBITT (1950-2023) (https://www.coinbooks.org/v26/esylum_v26n24a05.html)
Henry Chapman Coin Boxes
John Lupia writes:
To read the earlier E-Sylum article, see:
MORE ON COIN STORAGE BOXES (https://www.coinbooks.org/v26/esylum_v26n24a11.html)
On Numbering Sets of Books
John "JD" Dannreuther writes:
To read the earlier E-Sylum article, see:
WAYNE'S NUMISMATIC DIARY: JUNE 11, 2023 (https://www.coinbooks.org/v26/esylum_v26n24a24.html)
Searching the "Million Penny Hoard"

Regarding the "Million Penny Hoard", Chris Fuccione writes:
To read the earlier E-Sylum article, see:
THE MILLION-PENNY HOARD (https://www.coinbooks.org/v26/esylum_v26n24a31.html)
Benjamin Rush and America's First Plague
Gerry Tebben writes:
To read the complete article (subscription required), see:
'America's First Plague' Review: Attack of the Yellow Jack (https://www.wsj.com/articles/americas-first-plague-review-attack-of-the-yellow-jack-3cb1eb4e)
To read the earlier E-Sylum article, see:
LOOSE CHANGE: JUNE 11, 2023 : Batman's Giant Penny (https://www.coinbooks.org/v26/esylum_v26n24a30.html)
Piggy Bank Cartoon

For more Bizarro, see:
https://www.bizarro.com/
I have always had an interest in the trajectory taken of the artists whose lives paralleled that of Hermon Atkins MacNeil. The E-Sylum never fails to rouse my curiosity, case in point Emil Fuchs. Six months younger than MacNeil, Fuchs was born in Vienna, Austria on August 9, 1866; MacNeil on February 27, 1866 in Everett, then called Malden, in Massachusetts. Fuchs had his early training in Europe; MacNeil had his in the Massachusetts Normal Art School, and then, having been awarded the first Rinehart scholarship in sculpture in 1895, in Rome. As his years increased, so too did the number of his trips to Europe. The same held true for Fuchs who made annual visits to America, usually business related, from 1906 through 1915 when he decided to become an American citizen.
Fuchs was at heart a European artist, a medalist, painter and sculptor of significant talent. His patrons and subjects were members of the British aristocracy and nobility, notably Queen Victoria and Edward, the second child and eldest son of Queen Victoria and Prince Albert. Among his works was a medal in her honor modeled in 1900, another to commemorate the coronation of King Edward VII and Queen Alexandra in 1902. In that same year appeared a one penny stamp with a profile of the new king. Never before had English stamps had the picture of a man's head on them.
When in America Fuchs occupied a studio in Manhattan's Bryant Park, there executing portraits of many New York City doyennes and socialites. He also designed the medal to commemorate the city's Hudson-Fulton's 100 th anniversary celebration commissioned by the American Numismatic and Archaeological Association.
MacNeil was a through and through champion of American art at first lauded for modeling the American Indian and in time, also for producing statues and groups; medals, a famous coin, memorials, large and small, portrait busts and paintings, too. Fuchs had John Singer Sargent as his teacher; MacNeil, William Bourgerau and Jean-Léon Gérôme.
Other than their taking part in the National Sculpture Society's 1923 exhibition there appear to be no instances where their names appeared together. Both men were multi-faceted artists whose works were celebrated. Articles indicate they enjoyed giving lectures, and taking part in exhibits, large and small. Men of wit and humor, Fuchs once said I like every part of my work such, that I cannot decide my favorite, so I compromise and give lectures. My cracks, wise and otherwise, are the joy of my life. MacNeil, when asked to comment on converting his community's unused, unattractive, and outmoded water tower as a WWI memorial, he replied with tongue planted firmly in cheek, Without any intention of throwing cold water into the tank, it is my firm conviction the location is totally inadequate.
Two deaths were reported on January 14, 1929. One, the passing of Babe Ruth's wife who had perished in a house fire while visiting friends in Massachusetts. The other, that of Emil Fuchs who, having been diagnosed with cancer some years earlier, had taken his own life. In a note written to his sister Renee he said You can see as well as I can that I am going down every day. There is no help for me. I'm taking the only way out. I beg you will forgive me for what I am doing. MacNeil lived on until October 2, 1947. I suspect they would have enjoyed each other's company.
To read the earlier E-Sylum articles, see:
NEW BOOK: HERMON ATKINS MACNEIL (https://www.coinbooks.org/v25/esylum_v25n43a02.html)
NEW ANS HUNTINGTON MEDAL DESIGN (https://www.coinbooks.org/v26/esylum_v26n24a18.html)
Numismatic Guaranty Company® (NGC®) was honored to recently certify an incredible cache of rare Civil War-era coins found in the Bluegrass State. The Great Kentucky Hoard (as it had been designated) includes a group of finest-known 1863 Double Eagles and hundreds of US Gold Dollars dated 1850 to 1862, as well as a small number of silver coins. Several interesting varieties and errors were also discovered.
During the American Civil War, the state of Kentucky played an important role, as it bordered Union states in the north and Confederate states in the south. Situated as such, tensions were high from the beginning of the nation's unrest, and when the war began in 1861, Kentucky Governor Beriah Magoffin asserted the state's neutrality with the Kentucky Declaration of Neutrality.
Despite the Declaration of Neutrality, the Civil War was a time of great turmoil in Kentucky. Many families were pitted against one another, and Kentucky saw much conflict. The Great Kentucky Hoard may have been a result of this conflict, with the coins lost for over 150 years, until they were unearthed in a cornfield. Details of the location and finder will remain confidential.
Rare coin dealer Jeff Garrett, a leading expert in US coinage, was contacted to handle the newly discovered group of coins.
While I'm always excited when someone calls asking for advice about a rare coin discovery, the opportunity to handle the Great Kentucky Hoard is one of the highlights of my career, he said. The importance of this discovery cannot be overstated, as the stunning number of over 700 gold dollars represents a virtual time capsule of Civil War-era coinage, including coins from the elusive Dahlonega Mint. Finding one Mint condition 1863 Double Eagle would be an important numismatic event. Finding nearly a roll of superb examples is hard to comprehend.
The coins will be available in the coming months. Each is encapsulated with a special NGC Great Kentucky Hoard certification label, enhancing their display and presentation.
Before the coins were graded, the NGC affiliate Numismatic Conservation Services™ (NCS™) performed the challenging task of conservation.
From first hearing about the hoard, to seeing the raw coins and through to viewing the coins attributed, graded and encapsulated, it has been an amazing experience, said David Camire, NCS President and NGC Finalizer. While assisting in conserving the hoard, I was able to examine each coin in detail. This yielded some interesting varieties and errors.
The first variety discovered was the 1862 Gold Dollar with a doubled die obverse. This is a known variety and attributed as FS-101. The doubling is quite evident in most of the lettering, and the feather detail of the portrait. There were just three of these among all of the gold dollars in the hoard. NGC has graded a total of 23 in all grades.
This trio was followed by a handful (11 coins) of 1861 Gold Dollars that had medallic alignment in error, instead of the normal coin alignment.
The last variety found was quite significant as it turned out to be an unlisted variety of a re-punched date and was assigned a new NGC variety number of VP-002. The date was re-punched into the die a second time lower than the first. This resulted in a double image to the date. Only two of these discovery coins were found among the hoard.
To read the complete article, see:
NGC Certifies the 'Great Kentucky Hoard' of Pre-1865 US Gold Coinage (https://www.ngccoin.com/news/article/11795/kentucky-hoard-civil-war-coins/)
Multiple Blanking. The process of producing several blanks with a single stroke of the blanking press. A multiblanking head is required with a matching plate containing the same number and pattern of openings as the number and pattern of blanking punches. Such multiple blanking is highly suitable for coin blanks of thin gauge metal and small size blanks, as under one inch diameter.
The first multiple blanking had two blanking heads, and was called dual blanking. History has not recorded who developed this concept, but we do know that multiple blanking was done at the Royal Mint London by 1888. It was blanking silver shillings two at a time, and copper blanks – farthings and halfpence – five at a time.
As blanking presses developed, and became more powerful, additional blanking heads were added (with corresponding apertures in the blanking plate). The most modern multiple blanking presses can blank as many as thirty blanks with each cycle of the press. Wider strip is required and an elaborate blanking pattern is used. The advantage of multiple blanking is two fold: it lowers the cost of the blanks and slightly more blanks can be cut out of the strip (leaving as little as 30% to 35% unblanked, as skeleton scrap).
Multiple blanking can create a number of errors from imperfect advancement of the rolled strip. Also portions of the skeleton scrap have been inadvertently struck, these mint errors are unusual shape. The most dramatic of such is the BOW TIE, struck on a piece of scissel from the metal formed between two dual blanking dies.
`Leonardo da Vinci's drawing (circa 1500) for a proposed press had, in effect, a blanking and a striking press back-to-back. Perhaps it could also do double blanking on the same strip (since these were completely separate of one another da Vinci could be credited with the concept, despite the fact there is no record this press was ever built). See blanking.
NNP Project Coordinator Len Augsburger adds:
To read the complete Coin Community thread, see:
Is This A Piece Of Scissel? (https://www.coincommunity.com/forum/topic.asp?TOPIC_ID=248264)
To read the complete entry on the Newman Numismatic Portal, see:
Multiple Blanking (https://nnp.wustl.edu/library/dictionarydetail/516369)
I have never met a movie star who collects coins. I have met a couple of notable early copper collectors who have been portrayed in movies. One of them was the creator and first editor of the Early American Coppers journal, Penny-Wise. I know I am getting old when I realize he has now been dead for thirty years.
The Early American Coppers Club was founded in 1967 by Herbert A. Silberman (1916-2001). He recruited Dr. Warren Lapp, EAC Charter Member 33, to edit a club newsletter, which Lapp did from the issue of September 15, 1967, through March 15, 1986. A January 1986 heart attack forced him into retirement after 113 issues and 5440 pages.
Penny-Wise grew from modest beginnings into a great resource for copper collectors. Doctor Sheldon's book, Penny-Whimsy, was published in 1958 and through the popularization of variety collecting, became quickly out of date. One of the missions of Penny-Wise was to gather resources for the eventual update of Penny Whimsy.
Warren Anthony Lapp was born in Chicago Heights, Illinois, on April 5, 1915, and grew up in Norwood, Ohio. His parents were Reuben Roy Lapp (1886-1952), a manager for Socony Oil Company, and Gertrude Caroline Hacker (1888-1982).
Warren attended Ohio State University and received an M. D. in 1939, trained as an obstetrician and gynecologist. He did an internship in Brooklyn 1939 to 1941. He married Emma Katherine Beard (1916-1993) on January 25, 1941, then continued with his residency 1941 to 1944. He was commissioned as a first lieutenant and army doctor and served in Europe during 1944 to 1946. Dr. Lapp delivered the first child born to a military dependent in Europe after the war.
On December 9, 1945, the 1938 Cadillac in which General George S. Patton was riding collided with an Army truck near Manheim, Germany. Patton received a paralyzing spinal cord injury and died on December 21, 1945. One of the attending doctors was Warren Lapp. Lapp was a script consultant for the 1986 television movie, The Last Days of Patton. Lapp was portrayed by actor Michel John Paliotti. Lapp received a Bronze Star in April 1945 and left the Army as a major.
After the war, Lapp returned to Brooklyn as attending physician at Kings County Hospital. After that he was director for OB-GYN at St, Johns Episcopal Hospital in Brooklyn. Later he was an Associate Clinical Professor at the State University of New York after 1955. He was president of the Kings County Medical Society in 1959 and president of the Brooklyn Gynecological Society in 1960. He was a fellow of the American College of Surgeons and Councilor of the New York State Medical Society.
Lapp contributed an important article to The Numismatist. The Yellow Fever Epidemics in Philadelphia and Their Effect on the First U. S. Mint was published in the issue of April 1971. It won a 1972 Heath Literary Award for Lapp in 1972. His collection of items made from large cents was the basis for an article, Uses and Abuses of U. S. Large Cents published in The Numismatist in August 1971.
Lapp joined Herbert Silberman to edit the anthology, United States Large Cents 1793-1857, published by Quarterman in 1975. Among his collecting interest were oddities made from large cents and things named Pennywise.
His interests outside numismatics included membership in the Long Island Historical Society and Rotary International. He enjoyed fishing, swimming and boating on a private lake near his vacation home in New Jersey.
In May of 1983, I met Dr. Lapp at the annual EAC convention in Queens, New York. I took his photo in my role of EAC Historian. The quality is not good, but it is the only one I have.
After his 1981 retirement, he moved to Charlotte, North Carolina. Lapp was in poor health and died at home there on May 20, 1993. He is buried at Oakwood Cemetery at Raleigh, North Carolina. He was survived by his wife, two sons and five grandchildren. Katherine died seven weeks later on July 8, 1993.
As I was doing research on Lapp this week, the most comprehensive source I could find for him was the obituary I contributed to the July 15, 1993, issue of Penny-Wise. I would have trouble doing as well today.
Getting back to characters in movies. Pennywise is a character in the Stephen King 1986 novel It. This was made into a movie. Pennywise was portrayed by Tim Curry in the 1990 television adaptation and by Bill Skarsgard in the 2017 film adaptation. The American punk-rock band, Pennywise, is named after the character.
I'm Hunter Hicks, a 19 year old from Northern Virginia. I started collecting coins about 10 years ago, when a shiny 1943 Lincoln Steel Cent at an antique shop caught my eye. Beyond thinking that the coin was pretty, I left with a fascination about how the world interacts with money. Since I first started collecting, I have been just as intrigued by coins as I am with the ways they arestored and transacted. In addition to collecting U.S. type and Lincoln Wheat Cents, I used to browse the various U.S. Mint packages on eBay before I could afford the actual coins.
As I became more involved in the hobby, I joined the local Alexandria and Fairfax Coin Clubs. Later on, I started attending the American Numismatic Association Summer Seminars and then added Witter Coin University to my summer plans. When I turned 16, I began working at Wayne Herndon Rare Coins. Working for a coin dealer gave me a different perspective on the relative rarity of various coins.
Many times, the coins are not as rare as the means with which they were stored. Beyond old coin folders and albums, the history of the hobby of course includes PCGS memorabilia. While I am still desperately hunting for a PCGS double-row rattler box, I am proud to own every other regularly issued box design and color.
Collectors often talk about all the stories a coin has gone through, and I want to bring that idea to life. While I am working on a 140-coin Lincoln Cent Basic Set, Circulation Strikes (1909-1958) PCGS Registry Set, I recently expanded my collection to include some of the mechanisms with which coins were transacted. In addition to a series of mechanical coin-op machines and change counters, my passion project is to fill my 1916 National Cash Register Company with period-correct coins, including VF/XF Barber silver coinage, Black Eagle banknotes, and eventually some pre-1933 gold coins.
Recreating the appearance of an active, vintage cash register is a great way to gain an interactive historic perspective of how coins were once used. I also like that this is an open-ended project with no overt completion guidelines. I can always increase the quality of the coins in the register or perhaps buy a few dozen uncirculated 1916 Lincoln Cents, all with the same surface appearance, to replicate a bankroll that may have recently been cracked open. I recently began my freshman year of college in Northern California. From attending local coin shows to buying coins for my cash register, to joining local Peninsula and Cupertino Coin Club meetings – and occasionally interning at Witter Coin in San Francisco – I am enjoying the constant reward the hobby provides as I get settled in. To feel at home, one truly needs a community, and I am so fortunate that the coin community is everywhere.
To read the complete article, see:
Young Numismatist Goes from Coins to Cash Registers (https://www.pcgs.com/news/young-numismatist-goes-from-coins-to-cash-registers)
To read the earlier E-Sylum article, see:
PCGS 2023 SUMMER SEMINAR SCHOLARSHIPS (https://www.coinbooks.org/v26/esylum_v26n16a16.html)
Mark Salzberg, one of the world's most respected collectibles experts, has announced that he will retire at the end of June 2023. His retirement is the culmination of a nearly four-decade career with the Certified Collectibles Group® (CCG®), during which Salzberg made numerous highly impactful contributions to the world of collectibles.
Salzberg joined the Certified Collectibles Group in 1988, when it was just NGC®, a coin grading startup, and immediately recognized that the expert and impartial services NGC offered would change the collecting landscape — from a niche hobby to a robust industry. A decade later, it was clear that third-party certification had revolutionized the collecting hobby.
Recognizing the ability to scale to other classes of collectibles, Salzberg partnered with CCG CEO Steven Eichenbaum in the late 1990s to expand the company's services. Utilizing NGC's proven platform, they established CGC® as the world's first comic book grading service. CGC quickly grew into a powerhouse in its category, and remains the industry leader with more than 10 million pop culture collectibles certified. Meanwhile, CCG continued to expand to paper money, stamps, trading cards, memorabilia and more, and opened offices around the globe. The industry grew significantly larger as people from all walks of life gained confidence in collectibles as an asset class. Today, the CCG companies have certified more than 80 million collectibles.
While the 'Wild West' early days were exciting, seeing where the business and industry are now is beyond rewarding, Salzberg notes. I do not take for granted how lucky I am to have been able to do something I absolutely love and have made it my profession.
Steven Eichenbaum comments, The collectibles industry has been forever impacted by Mark Salzberg's vision, innovation and hard work. He is excellent at cultivating meaningful relationships and carrying big ideas from concept to completion.
Mark has a unique combination of collectibles expertise, business acumen and vision, says Max Spiegel, President of CCG. It has been incredibly impactful to my own career's development to learn how he identifies an area of the market that is underserved and then works with such great passion and intensity to build a best-in-class solution.
Salzberg is well-known for his strong leadership, particularly in the mentorship of up-and-coming numismatists. He has mentored dozens of graders at the Certified Collectibles Group, taught many classes at the American Numismatic Association (ANA) Summer Seminar and published numerous educational pieces for numismatic journals.
A big reason that I came to NGC from PCGS in 2002 was Mark Salzberg, says Rick Montgomery, NGC President and Finalizer. I have very much enjoyed the years that I have spent with Mark in the grading room, not only seeing some incredible coins but also establishing a bond of mutual respect. The NGC Grading Team that we've built these past 20 years benefits from this shared passion, culture and real commitment to numismatics.
Working in the coin grading room for most of his 35 years with CCG, Salzberg has graded virtually all of the world's most high-profile coins. He is widely credited for his central role in standardizing and promoting the use of today's highly precise grading scales, an essential component of the collectibles industry's development.
An ANA Life Member, Salzberg was named Numismatist of the Year by the ANA in 2006 and received the ANA's Presidential Award in 1998. He is also a member of the Professional Numismatists Guild (PNG). Education is a passion of Salzberg's, and he helped create the US Mint's H.I.P. Pocket Change Program, designed to educate and spark youth interest in collecting. His own captivation with coins began at the age of 7, and by 11, he was already working at a coin shop. Watch this video to learn more about his fascinating career from Salzberg himself.
To read the complete article, see:
Mark Salzberg Announces Retirement (https://www.ngccoin.com/news/article/11816/salzberg-retirement/)
There is significant news regarding CAC Grading (henceforth CACG). They began accepting submissions from their investor-partners last week. We sent in a selection of coins - some raw, some PCGS/NGC slabbed without stickers and some slabbed with stickers - so that we could begin to understand how this will all work in practice. And, we'll probably send some additional coins in this week. We hope to be able to have some new CACG coins with us at the ANA's World's Fair of Money this August in Pittsburgh. Just one more reason to consider attending that show.
CACG has been very busy getting up to speed. Their website has been greatly expanded and updated with a new online portal, the coin catalog has been created, many die variety attributions have been added to the catalog, submission forms have been made available, and actual coin-processing operations in Virginia Beach have begun. We were able to spend a little bit of time with a couple of the senior grader/finalizers at Baltimore - Bill Shamhart and John Butler - and we've been assured that the intensive preparatory work has been completed. Yet there is plenty more to do, and there will surely be kinks and bottlenecks in the various systems to be worked through, but that is why they have yet to throw the switch on accepting submissions generally. That will come in time. John Albanese and the entire staff at CACG wants to get it all right from the start, and we are completely confident they will do just that.
There is CAC Stickering news as well. The economy tier, which had been paused for many months, has now re-opened. But be sure to check the details before you send coins to New Jersey, as the prices, tier structure and other details have changed quite a bit. For example...collector accounts used to pay $0 for coins that didn't sticker while dealers paid in full for such coins. Going forward, all accounts will now get a 25% rebate for a coin that does not sticker, and costs are higher to begin with. Still, we are happy to be able to send cheaper coins again.
To read the complete DKRC newsletter, see:
Baltimore in June... (https://mailchi.mp/9fd956fa2315/david-kahn-rare-coins-news-and-newps-june-2023)
A lot of folks are curious about the new CAC grading service and many questions are being asked about details. Kenny Duncan, Jr. and Matt Duncan, of The Coin Shop Podcast spent a few minutes with founder, John Albanese, to get some answers as the "launch date" approaches.
To read the complete article (with a link to the video), see:
John Albanese of CACG Discusses the Launch of New Grading Service with The Coin Shop Podcast (https://www.greysheet.com/news/story/john-albanese-of-cacg-discusses-the-launch-of-new-grading-service-with-the-coin-shop-podcast)
To read earlier E-Sylum articles, see:
HARRY LAIBSTAIN ON HOBBY'S PAST AND FUTURE (https://www.coinbooks.org/v25/esylum_v25n51a16.html)
CAC BECOMES A THIRD-PARTY GRADING COMPANY (https://www.coinbooks.org/v25/esylum_v25n42a20.html)
The American Medallic Sculptors Association (AMSA) has announced that Jim Licaretz has won the 2023 American Medal of the Year (AMY) award, for medals created in 2022, for his timely work in honor of Volodymyr Zelensky. This is the second medal in a series honoring world icons. The first honored civil rights leader John Lewis, a runner-up in the 2022 AMY competition. The original is made with a 3-D printer, then a mold is made and the 3 medals are cast in bonded bronze; finally, Jim applies a wax patina by hand. The edition is limited to 200 pieces. They can be ordered for $165 from the non-profit Jewish-American Hall of Fame by calling 818-225-1348. 100% of the profits will be contributed to charities helping Ukrainian victims.
This year the jurors honored two other medals as finalists: Days of Silence – Nights of Song, by Jeremiah D. Welsh, the 2022 Brookgreen Medal, struck in bronze, in the long-running series issued by Brookgreen Gardens as a membership benefit, and Hydroponic by Jeffrey Briggs, a uniface 5 by 23/4 medal cast in marble with a bronze patina. The latter is available from Jeffrey for $90, contact him at jeffrey@briggssculpture.com .
All 42 AMY entries, by 26 artists, will be pictured in the next full color issue of AMSA's Members Exchange. Art medal collectors and designers are invited to learn about and join the American Medallic Sculpture Association at www.amsamedals.org.
The new chair of the AMY committee, Jon Radel, is honored to be taking over for the founding chair, Mel Wacks, who has stewarded the award since its founding in 2014. He remarked, I'm thrilled at the broad representation by artists this year, both those well known to all who collect American medals, as I do, but also relative newcomers who deserve broader exposure.
For more information on the American Medallic Sculpture Association, see:
https://amsamedals.org/
To read the earlier E-Sylum article, see:
2022 AMERICAN MEDAL OF THE YEAR AWARDS (https://www.coinbooks.org/v25/esylum_v25n16a28.html)
Associations with 18-century counterfeiters can be seen across Calderdale, where The Gallows Pole tourism has mainly been welcomed
Anyone who has watched the BBC Two drama The Gallows Pole could be forgiven for thinking of Cragg Vale and its surrounding villages in Calderdale, West Yorkshire, as bleak and unforgiving.
But a surge of visitors captivated by the true story of a village's illegal coin-minting operation in the 1700s are finding it is anything but.
The nearby large village of Mytholmroyd and, in particular, the smaller Heptonstall, where most of the Shane Meadows series was filmed, are already experiencing an increase in tourism thanks to the popularity of the three-parter. The series tells the story of the Cragg Vale Coiners, who were said to be so successful that they devalued the pound by 9% before their counterfeit operation came crashing down around them.
Clues of a proud association with the gang are scattered everywhere in Mytholmroyd – in the Coiners restaurant, Coiners Wharf and a bar called Barbary's, after the pub in the story. In Heptonstall, cakes in the window of the Towngate tearoom have chocolate coins poking out of the top.
Outside the tearoom, Amy Schofield, a local resident, said tourism to the area tended to increase as the summer began but that over the last week there had been a noticeable boost.
Schofield said most residents were delighted that the Coiners' story had grabbed so much attention, but that the repeated periods of filming had caused a few disruptions, which had led to complaints locally. She also mentioned another problem: People here don't like it [the story] because it puts a negative light on the area and they say it makes it look bad.
A passerby interjected: It hasn't put people off, though, has it?
Benjamin Myers, who wrote the book that inspired the series, said so many people had contacted him after its publication in 2017 to say they were visiting that it led him to produce a map. The Gallows Pole has sold thousands of copies, said Myers, so for seven years there has been a regular stream of walkers visiting the real-life (and sometimes fictional) locations.
These maps are still in regular use, said Lisa Thwaites, the owner of the Blue Teapot, a vegetarian cafe in Mytholmroyd. She had been forced to binge-watch the series because customers were coming to the cafe and talking about it.
Thwaites said: The first episode, I thought it wasn't for me, the second I was getting into it and by the third I loved it.
St Thomas the Apostle church sits at the top of Heptonstall, on a hill that drops off into a breathtaking valley. It is known to literary fans as the resting place of the US poet Sylvia Plath, but it is also where the 25-year-old ringleader of the counterfeiters, King David Hartley, is buried. He was hanged for masterminding the operation.
Hartley's grave, in the cramped and uneven older part of the graveyard, was dotted with modern coins placed there in tribute to the man who brought desperately needed wealth to a place so deprived that children were starving.
Lyndsey Place, a bar worker at the Cross Inn, said: I don't want it to get touristy. A fireplace in the bar was the scene of a real-life murder, where a man who was prepared to snitch on the Coiners died after having hot coals put down his trousers.
A local antiques collector said he had some counterfeit Portuguese coins from the operation that he had bought before the story was well known. But its newfound popularity meant you couldn't get Coiner stuff any more, he added.
To read the complete article, see:
'Definitely a lot busier': TV show lures visitors to coin gang's Yorkshire home (https://www.theguardian.com/uk-news/2023/jun/16/tv-show-the-gallows-pole-visitors-coin-gang-yorkshire-village)
1074993 | AUSTRIAN STATES. Salzburg. Maximilian Gandolph von Küenburg. (Prince-Archbishop of Salzburg, 1668-1687). 1668 AV Klippe 10 Ducats. NGC MS62. 34.94gm. * MAXIMIL : GANDOLPH9 D : G : ARCHIEPS : SALISBVRG : SED : AP : LEG : S : R : I : PR :. Cardinal's hat and tassels above shield of arms; divides date / * SS : RVDBERTVS • ET • VIRGILIVS • PATRONI • SALISBVRGENSES •. Two saints seated facing each other with croziers, church in foreground. KM 204; Fr.-798; Probszt 1597; Zöttl 1922 (Type 5).
Exceedingly rare. Currently the finest known at NGC as of May 2023
$155,000
To read the complete item description, see:
https://atlasnumismatics.com/1074993/
1075718 | DANISH WEST INDIES. Christian VI. (King, 1740 - 1849). 1740-(heart) CW AR 12 Skilling. NGC AU58. Royal Danish Mint. D . G. REX . DAN . | NOR . VAN . G . . Crowned double C6 monogram / XII. SKIL. DANSK. FOR. DE. DANSK. AMERIC. INSULER. Ship within inner circle. KM 4.
Attractively toned.
$1,950
To read the complete item description, see:
https://atlasnumismatics.com/1075718/
1075783 | GERMAN STATES. Württemberg. Wilhelm I. 1841 AV 4 Ducats. NGC PR62 Cameo. By Voigt. Stuttgart. Laureate head, left; signed below truncation / City goddess with staff and shield of arms; cherub supporters to either side with cornucopia and fasces; date in exergue. KM X-1; Fr.-3615; KR-86; AKS 119; Jaeger 75; cf. Hermann 469; Divo 232.
Commemorative Coinage. 25th Anniversary of Reign. Superb eye appeal for the grade assigned; mirrored fields and frosty devices. Very rare as a proof striking.
$19,500
To read the complete item description, see:
https://atlasnumismatics.com/1075783/
1074636 | MEXICO. Ferdinand VII. 1809-Mo TH AR 8 Reales. NGC MS63. Mexico City. FERDIN · VII... Armored laureate bust right / IND · REX... Crowned shield flanked by pillars. KM 110; Calico 1308.
Attractively toned; some minor natural annealing flaws in planchet.
$1,950
To read the complete item description, see:
https://atlasnumismatics.com/1074636/
1075866 | SWITZERLAND. 1871-B AV Pattern 20 Francs. NGC PR65. Edge: Reeded. Shield within sprigs, date below / Value within wreath. KM Pn17; Fr.-491; HMZ-2-1225a, Divo Proben-9; Varesi 634.
From a reported mintage of just 25-30 pieces.
$36,500
To read the complete item description, see:
https://atlasnumismatics.com/1075866/
Updates to their online inventory are issued monthly. For more information and to sign up for the firm's monthly newsletter, visit: atlasnumismatics.com
102426 | FRANCE. Philippe II, Duke of Orléans bronze Medal. Dated 1715 (though likely issued circa late 18th century). Commemorating the beginning of the Duke's regency for King Louis XV (41mm, 40.65 g, 12h). By J. Duvivier & J. Dollin at the Paris mint. PHILIPPUS DUX AVRELIANENS FR ET NAV REGENS, bare head right // PAR VIRTVS ONERI (the strength shall meet the burden), Atlas right, bent to one knee, bearing celestial sphere (with zodiacal band separating the stars) upon his back. Edge: Plain. Divo 6. Choice Mint State. Deep brown surfaces, with some light rub upon the highest points and some brilliance in the fields. $295.
Upon the death of the "Sun King" (Louis XIV), the throne passed to Louis XV, the great-grandson of the former. However, at the time, the younger Louis was not yet 6 years old. As such, in keeping with custom, a regent was appointed to effectively rule in the place of the boy-king until he reached his majority, which was the age of 13. Philippe II, the Duke of Orléans, thus served as the Regent of France from 1715 until the 13th birthday of Louis XV on 15 February 1723. On this medal, the weighty role as chief decision maker in the kingdom is expressed through Atlas bearing the celestial sphere upon his back.
To read the complete lot description, see:
102426 | FRANCE. Philippe II, Duke of Orléans bronze Medal. (https://www.numismagram.com/product-page/102426)
SWITZERLAND. Basel. Dog Show gilt bronze Award Medal. Issued 1901 for the 2nd International Dog Exposition from 19–21 October (45mm, 40.44 g, 12h). Five different hounds below radiant Swiss cross; 1901 on garnished cartouche below // II. INTERNATIONALE HUNDEAUSSTELLUNG BASEL 19. 20. & 21. OCT. 1901, basilisk left, head right, holding garnished coat-of-arms of Basel. Edge: Plain. Choice Mint State. A few light marks, one of which occurs above the head and left wing of the basilisk; otherwise highly brilliant and prooflike. $195.
Despite sometimes being referred to as a dragon, the mythical creature on the reverse of this medal (along with many of Basel's coins) is that of a basilisk. The origin of such mythical creatures is from ancient Greece, with it said to have had the head of a rooster and wearing a crown, all with the body of a serpent. By medieval times, this iconography had changed somewhat to having a body more akin to that of a wyvern, with the basilisk and the cockatrice essentially being the same. What remained throughout lore was the fact that the gaze of the basilisk, just like Medusa, was said to be lethal. It is not fully certain as to why the basilisk became symbolic with Basel, whose name in Roman times was Basilea, though the punning nature of the city's name and the mythical creature is quite likely.
To read the complete lot description, see:
102420 | SWITZERLAND. Basel. Dog Show gilt bronze Award Medal. (https://www.numismagram.com/product-page/102420)
GERMANY & ENTENTE POWERS. Carriers of Culture cast bronze oval Medal. Dated 1914. "Kulturträger–Die Verbündeten im Weltkrieg"—on the allies' use of native colonials (90mm x 58mm, 12h). By K. Goetz in München. KVLTVRTRÆGER, crowned and mantled busts of Nikolai II of Russia right and George V of the United Kingdom left; between them, facing bust of Raymond Poincaré (President of France), with hands on the monarchs' shoulders; in between (from left to right), busts with heavily caricatured features of African, Central Asian, Indonesian, and Asian soldiers, all held together Poincaré's "group hug" embrace; in two lines in exergue, VERBVENDETE / IM WELTKRIEG // ZVR SCHANDE / SEI ES LAVT GESAGT, / ZVM SPOTTE – / ER WIRD IN EVCH NAGEN, / DASS IHR DIE WILDEN HORDEN / JAGT AVF JENE – / DIE, KVLTVR NACH FERNSTEN / LANDEN TRAGEN (Let it be said out loud in derision, "For Shame"– It will gnaw on you that for you the wild hordes hunt on those who carry culture to the furthest lands) in eight lines. Kienast 140. NGC MS-62 Brown. $645.
Here, Goetz very directly alludes to allied use of colonial soldiers in the war effort. While sticking to rather benign, non-caricatured depictions of the three leaders, he heavily delves into racialized tropes with the non-Caucasian representations. This visual stereotyping is present in a contemporaneous issue satirizing Japan in Germany's colonial outpost in Chinese Kiao Chau (Jiaozhou), and later during post-WWI issues pertaining to the occupation of the Rhineland and the supposed harassment of German women by French colonial troops from Africa. A larger issue than those generally issued by Goetz at the time, and in the highly unusual oval (rather than circular) format.
To read the complete lot description, see:
102284 | GERMANY & ENTENTE POWERS. Carriers of Culture cast bronze oval Medal. (https://www.numismagram.com/product-page/102284)
SWEDEN. Alfred Nobel silver Medal Issued 1926. Commemorating the 30th anniversary of his death (45mm, 45.72 g, 12h). By E. Lindberg for the Swedish Academy of Sciences. ALFRED NOBEL, bust left in frock coat // Pallas-Athena standing left, spearing tri-headed serpentine Hydra to left; in three lines in exergue, MALA • CORPORIS • ANIMIQVE / SCIENTIA / VINCET (may knowledge conquer the maladies of both mind and body). Edge: SILVER 1926. Ehrensvärd 268. Mint State. Light graphite gray hues, with a tremendous matte nature to the surfaces. A very rare and desirable issue paralleling the Nobel nominating committee medals, which were also done by Erik Lindberg. From a mintage of just 150 examples. $1,095.
Known for inventing dynamite and bequeathing his fortune in order to fund what would become the Nobel Prizes, Alfred Nobel was a prolific inventor who held over 350 patents. In 1864, he founded the Nitroglycerin Aktiebolaget (Nitroglycerin Corporation), the world's first manufacturer of nitroglycerin (which was vital in his patenting of dynamite a few years later).
As for the artist of this medal, Erik Lindberg was tasked early on with the creation of the Nobel Prize medals in 1901—the Nobel institution for the awarding of these prizes having been newly established. Outside of the Peace Prize (presented instead in Oslo) and the Economics Prize (created much later by the Sveriges Riksbank and not considered part of the Nobel canon), Lindberg's renditions continue to be used for the prize medals to this day, as well as the medals presented to the respective nominating committees. This medal, with its very small mintage of just 150 examples, comes in a larger format of 45mm (rather than 26mm for the nominating committee medals, which continue to be made and awarded). The bust style is also slightly modified from that of the nominating committee medals, and it features a reverse with the same Neoclassical flair as the Nobel Prize medals themselves.
To read the complete lot description, see:
102454 | SWEDEN. Alfred Nobel silver Medal. (https://www.numismagram.com/product-page/102454)
A Saxon Wedding, Jewish Everyday Life and Roman Gold
The highlights of Künker's upcoming eLive Premium Auctions 389 and 390 are Saxon coins from the Kemlein Collection, Jewish medals, a series of coins from Bremen and Verden and part seven of the Salton Collection, including Roman aurei at favorable prices.
Immediately following the two public auction sales 387 and 388, on 23 and 24 June 2023 Künker will hold two eLive Premium Auctions. In addition to world coins and medals from antiquity to present times, numerous special collections are on offer. They include the Dr. Walter Kemlein Collection of coins and medals from Saxony, a special collection with coins from the Duchies of Bremen and Verden, an important collection of Jewish medals from all over the world, part seven of the Salton Collection with Roman coins at favorable estimates and an extensive series of Italian issues as well as coins and medals from the German States.
Catalog 389: World Coins and Medals
Ancient coins, world coins and medals and, of course, the German States: If you are looking for new acquisitions to add to your collection, auction 389 provides you with the perfect opportunity. Estimates range from low two-digit starting prices to some four-figure estimates.
The focus is on issues of the German States. After all, two extensive special collections are presented at once: Bremen and Verden as well as Saxony. However, the small series with Mecklenburg issues should not be neglected either.
No. 2056: Russia. Aleksey Mikhaylovich, 1645-1676. Jefimok 1655, overstrike on a 1637 reichstaler of Saxony, John George I, Dresden mint. Rare. Very fine to extremely fine. Estimate: 1,250 euros
No. 2249: Mecklenburg. Frederick Francis I, 1785-1837. 2 talers 1797, Schwerin. Extremely fine. Estimate: 750 euros
An Extensive Special Collection Focusing on Bremen and Verden
Only a few bracteates represent the Catholic past of the Diocese of Bremen, which was merged with the territories of the secularized Bishopric of Verden in the Peace of Westphalia, to come under Swedish rule as an imperial territory. Therefore, coins minted in Stade under Swedish rulers are the main batch in this special collection on Bremen and Verden, which contains about 100 lots. However, it should be mentioned that there are many more coins behind these 100 lots because especially fractional coins were often grouped into carefully arranged multiple lots. This collection was assembled with great attention to detail and has something to offer for everyone who is interested in this field. Although there are no rarities of top quality, connoisseurs can look forward to coins of above-average quality with fine patinas.
No. 2127: Bremen-Verden. Charles X Gustav, 1654-1660. 4 marks 1660, Stade. Rare. Beautiful patina. Very fine to extremely fine. Estimate: 600 euros
No. 2136: Bremen-Verden. Charles X Gustav, 1654-1660. 4 marks 1668, Stade. Extremely rare. About extremely fine. Estimate: 600 euros
No. 2198: Bremen-Verden. Charles XI, 1660-1697. Reichstaler 1692, Stade. Very rare. Very fine to extremely fine. Estimate: 3,000 euros
Catalog 389: The Kemlein Collection
It was one of those typical German fates that encouraged Dr. Walter Kemlein to collect the coins and medals of his old Saxon homeland. Born on 24 October 1927, he was one of the last two cohorts that were conscripted into the army shortly before the end of the Second World War. Good luck and helpful fellow men saved him from being held as prisoner in Russia for a long time. Instead, the just 18-year-old could return home and escape to Erlangen three years later, where he started to study medicine. During his many years of service as a trauma surgeon and chief physician at the surgical clinic of the Johannes Hospital in Bielefeld, Dr. Walter Kemlein never forgot his roots. He remembered his old home by assembling an extensive collection of coins and medals that related to Saxony, which will now be entering the market once again. A special focus is on the city of Dresden. More than 250 lots are offered in this auction sale.
Dr. Walter Kemlein acquired a particularly large number of medals, including some pieces that commemorate the Wedding of Frederick Augustus and Maria Josepha in 1719, the so-called Wedding of the Century.
No. 2301: Upper Lusatia. Vladislaus II of Bohemia, 1158-1173. Bracteate, Bautzen or Görlitz. Extremely rare. Extremely fine. Estimate: 3,000 euros
No. 2382: Saxony. 1676 silver medal by E. C. Dürr commemorating the heightening of the tower of Dresden Castle. Very rare. Very fine +. Estimate: 1,500 euros
No. 2421: Saxony. Frederick Augustus I, 1694-1733 (Augustus the Strong). Silver medal by Chr. Wermuth, commemorating his son's wedding in 1719. Very rare. About extremely fine. Estimate: 2,500 euros
No. 2427: Saxony. Frederick Augustus I, 1694-1733 (Augustus the Strong). Hexagonal reichstalerklippe 1719, Dresden, prize of the Schnepper-Gesellschaft for the shooting competition on the occasion of his son's wedding. Very rare. Minor traces of mounting(?). Estimate: 2,000 euros
No. 2471: Saxony. Frederick Augustus III (I), 1763-1806-1827. Silver medal by Chr. J. Krüger commemorating the founding of the Kingdom of Saxony in 1806. Extremely rare. Extremely fine to FDC. Estimate: 2,500 euros
Catalog 389: Jewish Medals
Actually, the largest part of the collection of Jewish medals should have also been included in the chapter on the German States because a wealth of issues from the 19th century are from there. They reflect how proud German citizens of the Jewish faith were on their new synagogues, which they were finally allowed to build – in some cases against the resistance of local authorities. Be it Erfurt or Frankfurt, Cologne or Munich, Mainz or Würzburg, numerous synagogues were erected at the time, just to be demolished by the Nazis a few decades later.
However, these medals also recount other stories. They tell of wise rabbis and how the Jewish communities came to develop a new pride in their past in the second half of the 20th century.
No. 2599: Denmark. 1888 gold medal for the 60th jubilee of Abraham Alexander Wolff as Chief Rabbi of Denmark. Probably unique in gold. Extremely fine. Estimate: 10,000 euros
No. 2604: France / Strasbourg. 1898 bronze medal for the consecration of the new synagogue in Strasbourg. Very rare. Extremely fine to FDC. Estimate: 1,500 euros
No. 2635: Hungary / Szeged. 1903 silver medal for the consecration of the new synagogue in Szeged. Very rare. Very fine to extremely fine. Estimate: 1,000 euros
No. 2674: Habsburg hereditary lands. 1745 silver medal on the expulsion of the Jews form Bohemia and the successful protest against it, minted on behalf of the Jewish communities of Amsterdam, Rotterdam and The Hague. In silver probably the only specimen on the market. Extremely fine. Estimate: 20,000 euros
No. 2697: Germany / Munich. 1826 silver medal for the consecration of the synagogue in the presence of King Ludwig I and Queen Therese. Very rare. Extremely fine. Estimate: 6,000 euros
To order a catalog, contact Künker, Nobbenburger Straße 4a, 49076 Osnabrück; phone: +49 541 / 962020; fax: +49 541 / 9620222; or via e-mail: service@kuenker.de. You can access the auction catalogs online at www.kuenker.de. If you want to submit your bid from your computer at home, please remember to register for this service in good time.
To read the earlier E-Sylum articles, see:
KÜENKER JUNE 2023 AUCTION 387 (https://www.coinbooks.org/v26/esylum_v26n23a20.html)
KÜENKER JUNE 2023 AUCTION 388 (https://www.coinbooks.org/v26/esylum_v26n23a21.html)
Catalog 390: The Salton Collection
The following eLive Premium Auction 390 wonderfully ties in with the collection of Jewish medals, because it contains the seventh part of the Salton Collection, the fate of which we have already recounted on several occasions. Therefore, we will only mention a few key events here. Mark Salton used to be called Max Schlessinger before moving to the United States, and was a descendant of a long line of German coin dealers. His parents, Felix and Hedwig Schlessinger, died in the Holocaust. Max managed to escape. After the end of the Second World War, he moved to New York, where he met his future wife Lottie. The two of them built up a second life there.
This life obviously included the coins they collected. And their collection was typical of the pre-1970s era, as they paid more attention to rarity than to quality. Therefore, the Salton Collection contains both pieces of excellent quality and issues that we would describe as very fine today. This enables collectors of Roman coins to consider bidding on an aureus this time, given that estimates start at 2,000 euros. Although, of course, the selection of denarii and bronze coins with estimates starting in the two-digit range is also quite extensive. Be it Roman Republic or Roman Empire, many historically important rarities of very fine quality can be found in this catalog. The material will provide those who are rather interested in history than in coin grades with plenty of opportunities to dream about the past.
But there are also coins for lovers of high-quality pieces. Have a look at the denarii by Hadrian: there are numerous coins with nice portraits whose quality is better than extremely fine. The Saltons were especially interested in this travelling emperor who, despite his love of peace, mercilessly crushed the Bar Kochba uprising. But there are also rarities of attractive quality in the section of the soldier emperors and the tetrarchs.
Please also take a look at all the carefully compiled multiple lots that are definitely worth to be viewed!
No. 3065: Roman Republic. Caesar. M. Mettius. Denarius, 44, Rome. Very rare. About extremely fine. Estimate: 2,000 euros
No. 3187: Hadrian, 117-138. Denarius, 121-123. Extremely fine. Estimate: 300 euros
No. 3216: Marcus Aurelius, 161-180. Aureus, 161-162. Very fine to extremely fine. Estimate: 2,500 euros
No. 3224: Faustina II. Aureus, 161-176. Very fine. Estimate: 2,500 euros
No. 3229: Commodus. Aureus, 178. Very rare. Extremely fine. Estimate: 12,500 euros
Catalog 390: World Coins with a Focus on Italy and the German States
The Salton Collection is a universal collection, which is why many European coins will be on offer as well, including numerous pieces of the finest quality. However, once again, the Saltons paid more attention to rarity than to quality, which is why you will find a comprehensive offer of historically important and rare pieces of very fine quality. Particularly noteworthy is a series of coins and medals from Italy, which tells of the great love of the Saltons for their third home country. It contains numerous rarities of the finest style, some of which in extremely fine quality.
And there are also many beautiful pieces from the German States. Submit your bids as the money will go to charitable organizations working for reconciliation and the remembrance of Jewish history!
No. 3512: Italy / Ferrara. Alfonso I d'Este, 1505-1534. Testone n.d. Very rare. Very fine to extremely fine. Estimate: 2,000 euros
No. 3519: Genoa. 2 scudi 1682. Very rare. Very fine +. Estimate: 2,000 euros
No. 3618: Sicily. Ferdinand III, 1759-1816. Oncia (30 tari) 1791, Palermo. Rare. Very fine to extremely fine. Estimate: 3,000 euros
No. 3946: German States / Lippe. Hermann Adolf, 1652-1666. Reichstaler 1658 (minted in 1659), Detmold. Rare. Extremely fine. Estimate: 2,000 euros
No. 4033: German States / Saxony. Vereinsdoppeltaler 1841 G. Diligence medal of the Freiberg mining academy. Only 200 specimens minted. Proof. Estimate: 2,000 euros
No. 4122: German Empire. Waldeck-Pyrmont. 5 marks 1903. Extremely fine to FDC. Estimate: 2,000 euros
To order a catalog, contact Künker, Nobbenburger Straße 4a, 49076 Osnabrück; phone: +49 541 / 962020; fax: +49 541 / 9620222; or via e-mail: service@kuenker.de. You can access the auction catalogs online at www.kuenker.de. If you want to submit your bid from your computer at home, please remember to register for this service in good time.
To read the earlier E-Sylum articles, see:
KÜENKER JUNE 2023 AUCTION 387 (https://www.coinbooks.org/v26/esylum_v26n23a20.html)
KÜENKER JUNE 2023 AUCTION 388 (https://www.coinbooks.org/v26/esylum_v26n23a21.html)
To view all lots or bid, see:
June 2023 Collectors Choice Online Auction - Selections from the Sydney F. Martin Collection - Lots 92001-92441 (https://auctions.stacksbowers.com/auctions/3-13HCOQ/june-2023-collectors-choice-online-auction-selections-from-the-sydney-f-martin-collection-lots-92001-92441)
To read the earlier E-Sylum articles, see:
SYDNEY F. MARTIN COLLECTION PART ONE (https://www.coinbooks.org/v25/esylum_v25n29a21.html)
SYDNEY F. MARTIN COLLECTION PART TWO (https://www.coinbooks.org/v25/esylum_v25n38a15.html)
SYDNEY F. MARTIN COLLECTION WASHINGTONIA (https://www.coinbooks.org/v25/esylum_v25n39a17.html)
SYDNEY F. MARTIN COLLECTION PART III (https://www.coinbooks.org/v26/esylum_v26n11a20.html)
IN THE LATTER PART OF THE 18th CENTURY, George Washington was a Colossus in Americans' minds. This wealthy farmer from Virginia was a surveyor, fought admirably in the French and Indian Wars, and when the newly-formed nation looked for a leader, Washington went willingly to the forefront. The British army and navy were vastly superior, perceived as the best in the world at that time, yet Washington inspired farmers and tradesmen to leave their plows in the fields and their workshops unattended and defend the idea of an American nation based on liberty.
His accomplishments were legendary. After forcing the surrender of one the Great Britain's greatest generals, Lord Charles Cornwallis, in August of 1781 in Yorktown, Virginia, effectively ending the American Revolutionary War, to being named President of the First Constitutional Convention, he was a man of mythic proportions.
The Coinage Act of 1792, establishing a United States Mint, positions for coin minters and even for American coinage itself was still a decade away when both coin designers, minters and other entrepreneurs began to create 'coins' for use in the American nation of colonies. The strong central government was still some time away, but the need for an American coinage was great. Coins from many foreign countries circulated in America at that time as there was no substitute.
Entrepreneurs began to strike copper medals and 'coins' as some even bore denominations on them, in hopes of their designs catching the eye of the new government officials and perhaps becoming coinage. Some of these pieces bore Washington's likeness, which he publicly frowned upon. Washington didn't want America's coins to remind people of Britain's coins, bearing a portrait of the king. Washington wanted allegorical representations of Liberty to grace our coinage.
Nevertheless, a number of copper pieces bearing portraits of George Washington were struck and they all were intended to honor the legend of George Washington. Many of these 'coins' circulated as coinage, as evidenced by the large number of them that display over two centuries worth of healthy wear. Whether they were struck as potential coinage for America, as a tribute to Washington, or as part of the British series of Conder Tokens, portraying personages and historical events, they form a unique collection of historical Americana.
We will examine not only the history of these coins but how assembling a collection of them is such a worthwhile task for those of us who love American history.
To read the complete article, see:
The Copper Coinage of Our First President, Part I (https://www.greysheet.com/news/story/the-copper-coinage-of-our-first-president-part-i)
Paddy the Pigeon, who was hatched in Co Antrim, was the fastest of the flock when he was released on June 6, 1944, to deliver the news of the successful D-Day landings back to England.
Paddy battled through bad weather and avoided the falcons released by the Germans as he made his way back to his home loft at RAF Hurn in Dorset, England with a coded message attached to his leg.
Having traveled some 230 miles (368km) in four hours and 50 minutes, Paddy beat off the other 31 pigeons to claim the honor of handing over the first message from Normandy, flying his way into history.
For his flying feat, Paddy was awarded the PDSA Dickin Medal "For the best recorded time with a message from the Normandy Operations, while serving with the RAF in June, 1944" on September 1, 1944.
The Dickin Medal is the highest award any animal can receive whilst serving in military conflict that is recognized worldwide as the animals' Victoria Cross.
His medal went up for auction in 1999 but was bought by businessman and racing pigeon enthusiast Kevin Spring, who was determined to keep this fascinating piece of Irish history in the country.
"Paddy was the last pigeon to be let go by the Americans in Normandy and he was the first one home," McMullan said at the time. "He was the best of the lot, the best of thousands."
To read the complete article, see:
The Irish pigeon that played a vital role in World War II's D-Day landings (https://www.irishcentral.com/roots/history/paddy-pigeon-dday-landings)
To read the earlier E-Sylum articles, see:
DICKIN MEDAL-WINNING PIGEON PADDY HONORED WITH PLAQUE (https://www.coinbooks.org/esylum_v12n38a27.html)
DICKIN MEDAL WINNER PADDY THE PIGEON (https://www.coinbooks.org/v20/esylum_v20n31a34.html)
D-DAY DICKIN MEDAL HERO PADDY THE PIGEON (https://www.coinbooks.org/v22/esylum_v22n23a35.html)
How many times did you use cash to buy something in the past week?
If you said none, you're hardly alone. A survey from Pew Research Center found 41% of Americans didn't use cash for any purchases in a typical week last year. Only 14% used cash for all, or nearly all, of their purchases.
The survey also showed the majority (54%) of adults between the ages of 18 and 50 don't worry about whether they have cash on hand when they go out.
The increasing prevalence of cashless transactions, bolstered by smartphone payment apps, has enabled a growing number of businesses in the Seattle area to stop accepting paper money.
For folks who don't have access to a credit card or bank account — typically poor people — this is a problem.
The Metropolitan King County Council is currently considering legislation to require restaurants, store and shops to accept cash, a move supporters say would ensure residents without access to banking services can still make purchases. The measure would only apply to unincorporated areas of the county. A vote on the proposal was delayed Tuesday as it appeared it may not have enough support to pass.
Pew data shows 59% of people nationwide with a household income of at least $100,000 never use cash in a typical week, compared with just 24% of people with a household income less than $30,000.
Meanwhile, the use of digital wallet apps for in-store purchases has surged. About 41% of King County residents say they've made purchases using Apple Pay, Google Pay or Samsung Pay in the past three months.
To read the complete article, see:
Data shows Seattle area is becoming increasingly cashless (https://www.seattletimes.com/seattle-news/data/data-shows-seattle-area-is-becoming-increasingly-cashless/)
A San Diego man got so tired of living in a regular country that he founded one in the California desert.
Randy Williams, the self-appointed sultan of Slowjamastan, told CNN that he had visited every UN-recognized county in the world: "I ran out of countries, so I created my own," he said.
The micronation is an 11.07-acre plot of desert land off Southern California's Route 78. Its official name is the Republic of Slowjamastan, named for its leader's love of slow jams.
CNN reported that Slowjamastan — which has its own flag, currency, and national anthem — declared its sovereign status and seceded from the US proper on December 1, 2021.
It even has its own timezone, Slowjamastan Standard Time, and 12 states within the 11-acre space, including Dublândia, the capital.
Williams told CNN that he had visited at least one other micronation: the Republic of Molossia, a similarly sized micronation in Nevada that supposedly seceded from the US in 1998. Inspired by his visit, Williams went home and bought the land in California in October 2021 before declaring the country independent three months later.
Whether the independence of Slowjamastan is recognized is debatable. Williams told Insider that President Joe Biden had yet to acknowledge his micronation's secession via email and social media. The country's website says it's recognized by "The Sultan's mom" but does not list formal diplomatic relations with other nations.
"When he's not ruling over the world's newest nation, our Dear Leader hosts an internationally syndicated radio show called 'Sunday Night Slow Jams,' currently heard on over 200 radio stations across America," Williams' bio on Slowjamastan's website reads.
Despite being the supreme leader of the so-called land of slow jams, Williams wrote in his bio that he still spent "most of his time outside of Slowjamastan." That's around 70 miles away, where he works as a radio DJ at the San Diego stations Magic 92.5 and Z90.
"I visit as often as I can — working mostly out of our American Consulate here in San Diego, California, United States of America," Williams said. "It's here where I enjoy the luxury of electricity and running water. And a roof."
To read the complete articles, see:
A San Diego man got sick of living in a regular country so he founded a nation of his own called Slowjamastan and crowned himself its sultan (https://www.insider.com/san-diego-man-crowns-himself-sultan-of-micronation-slowjamastan-2023-6)
DJ who's visited all 193 countries sets up his own 11-acre MICRONATION called Slowjamastan in California desert where prospective citizens are banned from wearing CROCS (https://www.dailymail.co.uk/news/article-12183809/California-man-creates-MICRONATION-called-Slowjamastan-desolate-Golden-State-desert.html)
To visit the official Slowjamistan website, see:
https://www.slowjamastan.org/
Retail Workers Rant About Making Change
If you've ever worked in retail, you're familiar with a certain type of person who always pays in large bills. No matter how small the total, some people will decide to address their total with a $50 or $100 bill, emptying your register before the day's even started.
Now, a user on TikTok has sparked discussion after calling out customers who do this. In a clip with over 214,000 views as of Friday, TikTok user Jay (@pressed_possum) simply asks, Why do old people treat businesses like banks?
Ma'am it is 9:30 am, they add in the text overlay. I do not have change for a $100 in my till for your $7 order.
One time my FIRST THREE customers paid with 100s, a user recalled. I was giving back change in ones at that point.
I had to break a $100 bill for a 97 cent seltzer once, another shared.
To read the complete article, see:
'I do not have change for a $100 in my till for your $7 order': Papa John's worker calls out 'old' customers who treat restaurant like it's a bank (https://www.dailydot.com/news/papa-johns-old-customers-banks/)
More on the Oily Penny Pile Story
A man who paid a former employee's final paycheck in oily pennies has been ordered [to] pay the man and eight other former employees over $39,000.
A consent judgment against Miles Walker and A OK Luxury Autoworks ordered the company to pay former employee Andreas Flaten and several other employees $19,967.09 in back wages as well as the same amount in liquidated damages. The total sum is $39,934.18.
Walker paid Flaten's final paycheck in nearly $1,000 in oily pennies in May 2021. In an interview with Atlanta News First at the time, Walker said It doesn't matter. He got paid, that's all that matters. He's a f*****g weenie for even bringing it up.
In addition to paying Flaten, A OK and Walker must remove all photographs of and references to former employee Andreas Flaten, and is permanently enjoined from posting photographs of or references to Mr. Flaten on [their website] or any other website or social media site.
To read the complete article, see:
Man who paid former employee in oily pennies ordered to pay nearly $40K (https://www.atlantanewsfirst.com/2023/06/16/man-who-paid-former-employee-oily-pennies-ordered-pay-nearly-40k/)
To read the earlier E-Sylum articles, see:
THE 500-POUND POMADED PENNY PILE (https://www.coinbooks.org/v24/esylum_v24n13a35.html)
PENNY PILE PRECIPITATES PROSECUTION (https://www.coinbooks.org/v25/esylum_v25n02a31.html)
The destruction of the Hanlin Library
The most famous World's Greatest Library ever consumed by fire is that of Alexandria over 2,000 years ago (thanks, Caesar)—we don't know exactly what was lost but we know that it was a lot. This, perhaps, is what makes such a conflagration particularly tragic: we are tantalized by the eternally unknowable, those lost documents of human genius that may have—that surely!—held the key to wisdom, that would have shown us the way if only they hadn't been destroyed…
And so it is with the destruction of the Hanlin Library, which at the time was certainly in the conversation for World's Greatest Library. Part of the Hanlin Academy, an institution of learning founded in the 8th century in what is now Beijing, the Hanlin Library—and the accumulated wisdom therein—was lost to us in a fire on this day (June 24) in 1900, the result of clashes in the Boxer Rebellion during The Siege of Peking.
The Hanlin Academy, a sizable complex of buildings, had the misfortune of sitting adjacent to the quarters of the British Legation, which is where the Brits had consolidated their people—including Chinese Christians—in the face of the Dowager Empress's ill-fated rebellion. Operating under the assumption that the Chinese would take extra care in their assault—out of veneration for the thousand years of cultural accumulation sitting right next door—the Brits were shocked to see the whole area go up in flames. But things get a little murky when it comes to responsibility: the Brits claimed the Chinese torched the place (as had been their approach to parts of the city abandoned by the colonizers during the rebellion), and the Chinese claimed the Brits set fire to the library as an act of cultural hostility… Whatever the case, the library was destroyed.
Unlike the great Library of Alexandria, we do have some idea of what was lost in the Hanlin fire, despite the fact that no known records of its contents survived. Renowned among its innumerable volumes was a massive 15th-century encyclopedia commissioned by the Ming Dynasty emperor Zhu Di in 1403. Called the Yongle Dadian, the encyclopedia contained some 22,000 sections, into which were crammed 370 million(!) words covering topics as varied as agriculture, drama, geology, medicine, art, history, and literature. To get a sense of the scope of the project, if you stacked every word in the Yongle Dadian one upon the other, they would reach the moon (do not attempt this by yourself).
To read the complete article, see:
On the destruction by fire of the greatest library in the world you've never heard of. (https://lithub.com/on-the-destruction-by-fire-of-the-greatest-library-in-the-world-youve-never-heard-of/)
The New Antiquarians
New Antiquarians, a book by the art historian Michael Diaz-Griffith, features the homes of 22 antiques collectors from the United States and England, filled with Shaker chairs, Regency furniture, Indian textiles, and 19th-century tapestries.
As you write in the book, there's been a noticeable shift in how younger generations are approaching collecting and antiques, and it wasn't what the industry expected.
I'm seeing a widespread recognition in the art and design worlds that a revival of interest in antiques is happening. It's a reversal of how the market was perceived. Post-recession, all that antiques dealers see is decline. 9/11 is a marker used in the antiques world to describe the beginning of a waning of interest. And then it really falls off after 2009. The news in the antiques world was, Young people are finished with this stuff, they're never gonna like it again. We're screwed. We've got warehouses full of material that we'll never sell, we'll never make our money back on. It was an apocalyptic time.
It was hard to point to what was happening in the antiques world for the simple reason that millennials started off on the wrong foot economically. As they came of age, they had less buying power than previous generations. And collecting is not a young person's game. It never has been — except for a lucky few.
At the same time, millennials were obsessing over color and pattern and old things and Sofia Coppola films. And this is when Lady Gaga appeared on the scene. I could see that the sort of ingredients that were contributing to this generation's taste were not minimalism, or, at least, not solely minimalism. My peers weren't high modernists. They didn't think that it was wrong to have old things around. They didn't have an almost ideological narrative about the goodness of modernism and the badness of traditional things. It was a much more well-rounded sense of taste.
And what do these new collectors look for? Is it the same stuff as in previous generations?
Younger people are going to inevitably be interested in different things than previous generations. That's always been the case. You'll go through a period in which Victorian furniture is reviled, and then in the 1930s, there'll be a Victorian revival, and then the stuff will go back out again, and then comes back again in the '70s.
To read the complete article, see:
Why Young Collectors Are Buying Fussy Antiques (https://www.curbed.com/2023/06/new-antiquarians-book-michael-diaz-griffith.html)
A Colombian police officer has been admitted to hospital after swallowing a wad of banknotes he extorted from a businessman. The officer had demanded payments in return for not arresting his victim on trumped-up charges – but did not know that the businessman had already reported the shakedown to Colombia's anti-kidnapping and extortion unit.
When anti-corruption investigators arrived the officer gobbled up the cash in the hope of erasing the evidence but quickly realised he had bitten off more than he could chew when the notes got lodged in his throat, blocking his airways and sending him to an emergency clinic.
Videos showed the grey-faced officer pleading his innocence while in a police van after he had swallowed the nine notes in Soacha, a sprawling suburb on the edge of the capital, Bogotá.
I have received nothing, absolutely nothing, I don't know what they are talking about, the officer can be heard saying while recoiling and gasping for breath.
We'll have to take him to hospital to get him cleaned, one anti-corruption officer can be heard saying, as he gives the choking officer medical attention.
Doctors managed to remove the notes – which amounted to 500,000 pesos (£95) – and the officer was hospitalised to treat his stomach.
To read the complete article, see:
Colombian police officer in hospital after swallowing extorted banknotes (https://www.theguardian.com/world/2023/jun/15/colombia-police-swallow-money-extortion)