Visit our NBS Sponsors
About Us
The Numismatic Bibliomania Society is a non-profit association devoted to the study and enjoyment of numismatic literature. For more information please see our web site at coinbooks.org
Subscriptions
Those wishing to become new E-Sylum subscribers (or wishing to Unsubscribe) can go to the following web page link
Membership
There is a membership application available on the web site Membership Application
To join, print the application and return it with your check to the address printed on the application. Print/Digital membership is $40 to addresses in the U.S., and $60 elsewhere. A digital-only membership is available for $25. For those without web access, write to:
Charles Heck, Treasurer
Numismatic Bibliomania Society
P. O. Box 2058,
Bluffton, SC
29910-2058
Asylum
For Asylum mailing address changes and other membership questions, contact Chuck at this email address: treasurer@coinbooks.org
Submissions
To submit items for publication in The E-Sylum, write to the Editor at this address: whomren@gmail.com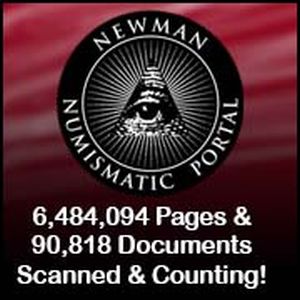 BUY THE BOOK BEFORE THE COIN
Sale Calendar
Content presented in The E-Sylum is not necessarily researched or independently fact-checked, and views expressed do not necessarily represent those of the Numismatic Bibliomania Society.
We now have 8,084 subscribers.
If you're wondering why it's been a while since we published subscriber numbers, we were working through a glitch that occurred some time ago while our provider was upgrading their server. During the switchover hundreds of email addresses got dropped. It took a while, but these have now been restored. If you're receiving this today after a long absence, that's why. Welcome back!
Thank you for reading The E-Sylum. If you enjoy it, please send me the email addresses of friends you think may enjoy it as well and I'll send them a subscription. Contact me at whomren@gmail.com anytime regarding your subscription, or questions, comments or suggestions about our content.
This week we open with ANA convention updates, new numismatic literature offerings, two new books, two periodical issues, updates from the ANS, RNS, the Newman Numismatic Portal, and more.
Other topics this week include Andrea Fulvio's Illustrium imagines, Standing Liberty Quarters, exonumia dealers Christiansen and Stone, the first CAC slab, narrative relief, auction previews, a Roman military Medusa medal, Australia's first government banknotes, and the future of box breaks.
To learn more about National Commemorative Medals, Wampum belts, military money, the Clapp Family Collection, the Lhotka Prize, the World's Most Overdue Library Book, the Coin School, the Henry Medal, the Golden State Mint, Paymaster's Bills, Police Fund Notes, and the luckiest Chuck E. Cheese coin, read on. Have a great week, everyone!
Wayne Homren
Editor, The E-Sylum


Bookbinding at the ANA
Our book binding term of the week is awl. Everyone knows what an awl is, but how is it used in book binding? After a signature is assembled and folded in half, the binder uses the awl to punch a line of holes, typically space about an inch apart, along the fold mark. These holes will then be used for sewing the signature itself and for sewing the signatures to each other. Illustrated here is the interior of a signature, with punched holes. Our bookbinding demo at the ANA will be on Wednesday, August 9, at the NBS table.
To read the earlier E-Sylum articles, see:
NBS BOOKBINDING DEMO AT THE ANA (https://www.coinbooks.org/v26/esylum_v26n25a02.html)
NBS BOOKBINDING DEMO: CURVED NEEDLE (https://www.coinbooks.org/v26/esylum_v26n26a02.html)
Whitman Publishing is launching the new sixth edition, volume II, of the Cherrypickers' Guide to Rare Die Varieties at the American Numismatic Association World's Fair of Money in Pittsburgh, August 8–12, 2023. A small quantity will be sold at the show, with a limit of one copy per customer. Ten copies will be raffled to lucky winners at the Whitman Publishing booth. After the show the new volume will be available from booksellers and retailers nationwide.
We know how frustrating it is to experience a sell-out when quantities are limited, said Whitman Publishing's Dawn Burbank. We want to make sure every collector at the ANA show has an equal chance to win the new Cherrypickers' Guide if they're not able to buy one. We're reserving ten copies to raffle during the show, two per day, Tuesday through Saturday.
The raffled books are dated and individually numbered, with bookplates autographed by author Bill Fivaz.
For hobbyists who can't attend the World's Fair of Money, the 320-page spiralbound-hardcover book can be preordered for $39.95 online, including at Whitman.com. Delivery of preordered books will begin after the ANA show.
# # #
About the Cherrypickers' Guide
To cherrypick is to examine coins that appear normal at first glance, seeking those with unusual characteristics—overdates, repunched mintmarks, doubled and tripled dies, and similar features—that reveal them to be rare and valuable. The Cherrypickers' Guide uses close-up photographs and text descriptions to show collectors what to look for. It includes rarity ratings and retail values in multiple grades.
For the latest volume, Cherrypickers' Guide coauthor Bill Fivaz and professional numismatist Larry Briggs coordinated edits and updates. They reached out to the hobby community for advice, recommendations, research, market analysis, and photographs. The new volume features more than 440 die varieties, including nearly 80 new additions. The book covers Capped Bust and Liberty Seated half dimes, dimes, and quarters; Barber dimes and quarters; Mercury dimes; Roosevelt dimes; twenty-cent pieces; Standing Liberty quarters; and Washington quarters, including the State, D.C., Territorial, and National Park series.
Bill Fivaz, a coin collector since 1950, has earned recognition as one of the country's most respected authorities on numismatic errors and die varieties. Volume editor Larry Briggs is well known to the hobby community as a dealer, author, and educator.
Cherrypickers' Guide to Rare Die Varieties of United States Coins, sixth edition, volume II.
By Bill Fivaz and J.T. Stanton; forewords by Kenneth Bressett and Q. David Bowers; edited by Larry Briggs.
Publication date: August 2023. Retail $39.95. 320 pages, 6 x 9 inches, spiralbound hardcover.
https://whitman.com/cherrypickers-guide-volume-ii-6th-edition/
To read the earlier E-Sylum article, see:
NEW BOOK: CHERRYPICKERS' GUIDE, 6TH EDITION, VOLUME II (https://www.coinbooks.org/v26/esylum_v26n25a05.html)
Private Gold Coinage of California 1849-1855 by Edgar Adams
National Commemorative Medals of the United States of America by William Swoger
To read the complete lot descriptions, see:
Private Gold Coinage of California 1849-1855 by Edgar Adams (https://www.ebay.com/itm/195853174519)
National Commemorative Medals of the United States of America by William Swoger (https://www.ebay.com/itm/195853162982)
Illustrations and Descriptions of Wampum Belts by Jake Thomas
Gold and Platinum Coinage of Imperial Russia from 1701 to 1911 by HM Severin
To read the complete lot descriptions, see:
Illustrations and Descriptions of Wampum Belts by Jake Thomas (https://www.ebay.com/itm/195853186679)
Gold and Platinum Coinage of Imperial Russia from 1701 to 1911 by HM Severin (https://www.ebay.com/itm/175797427401)
The Thalers of the Austrian Nobel Houses by John Davenport
Coins of Haiti 1803-1970 by Carmen Arroyo
To read the complete lot descriptions, see:
The Thalers Talers of the Austrian Nobel Houses by John Davenport - Water Damage (https://www.ebay.com/itm/195853110297)
Coins of Haiti 1803-1970 by Carmen Arroyo - Printed 1970 (https://www.ebay.com/itm/175797442712)
To see all listings:
Numismatics with Kenny
Wacks: The Handbook of Biblical Numismatics from Abraham to the Crusaders
James C. Risk: The History of the Order of Bath and its Insignia
To read the complete lot descriptions, see:
Wacks: The Handbook of Biblical Numismatics from Abraham to the Crusaders (https://www.ebay.com/itm/134636958793)
James C. Risk: The History of the Order of Bath and its Insignia (https://www.ebay.com/itm/115848824437)
Colonial Latin American Collection of Ray Johnson, Freeman Craig Sale #5
Dale A. Seppa: The Paper Money of Brasil
To read the complete lot descriptions, see:
Freeman Craig Sale #5 Ray Johnson collection features choice portrait 8 reales (https://www.ebay.com/itm/133777492316)
Dale A. Seppa: The Paper Money of Brasil (https://www.ebay.com/itm/134636961747)
Almanzar & Stickney: The Coins and Paper Money of El Salvador
Military Money. A Fiscal History of the U.S. Army Overseas in World War II
To read the complete lot descriptions, see:
Almanzar & Stickney: The Coins and Paper Money of El Salvador (https://www.ebay.com/itm/115848589270)
Military Money. A Fiscal History of the U.S. Army Overseas in World War II (https://www.ebay.com/itm/134637277191)
To see all listings:
https://tinyurl.com/uuvpznyj
Andrea Fulvio's Illustrium imagines and the Beginnings of Classical Archaeology
Series: Brill's Studies on Art, Art History, and Intellectual History, Volume: 64
Author: Brian Madigan
Andrea Fulvio's Illustrium imagines and the Beginnings of Classical Archaeology is a study of the book recognized by contemporaries as the first attempt (1517) to publish artifacts from Classical Antiquity in the form of a chronology of portraits appearing on coins. By studying correspondences between the illustrated coins and genuine, ancient coins, Madigan parses Fulvio's methodology, showing how he attempted to exploit coins as historical documents. Situated within humanist literary and historical studies of ancient Rome, his numismatic project required visual artists closely to study and assimilate the conventions of ancient portraiture. The Illustrium imagines exemplifies the range and complexity of early modern responses to ancient artifacts.
Andrea Fulvio's Illustrium imagines (1517) was recognized repeatedly in the sixteenth century as the first published book to present systematically material remains of Antiquity, in this case in the form of coins, predominantly Roman. The purposes of the present study are to determine for Fulvio's text the standard of knowledge of Roman history and the methodology employed in exploiting the material remains of Antiquity to corroborate, amplify or correct the understanding of that history as gained exclusively from texts. Methodology should be understood here to mean not simply the processes by which the author examined the coin evidence, but also the inclination of the author to rely on the material evidence against the textual. At a time when all antiquarians were educated exclusively in texts, the willingness to recognize and take advantage of the information available from objects would represent a critical disposition for the development of the disciplines of archaeology and art history.
The Illustrivm imagines presents a history of Rome from its establishment down to the Holy Roman Emperor Henry III, presented as a series of summary epitaphs accompanied by an image of the individual in coin format. The concern of the present study is with those entries where the image derives from an ancient coin. The medieval entries, where all the images are imaginary constructions, therefore are not evidence for how visual objects were handled. The examination considers the image on the represented coin and its legend with the aim of establishing the degree of accuracy for both the legend and the image, and thereby identify, where possible, the Roman coin that functioned as a model.
Biographical Note
Brian Madigan, Ph.D. (1982, University of Minnesota), is emeritus professor in art history at Wayne State University. He has published books in the areas of Greek architectural sculpture, Greek vase painting, and Roman ceremonial sculptures.
Readership
Specialists and laymen interested in the historiography of archaeology and art history, the reception of Classical Antiquity, and the antiquarian and humanist pursuits of the early modern period. Keywords: early modern history, Renaissance, Italy, antiquarianism, humanism, art history, historiography, historical methodology, reception studies, coins, numismatics, portraiture, book history.
Copyright Year: 2022
Hardback
Availability: Published
ISBN: 978-90-04-28812-6
Publication: 21 Oct 2022
USD $129.00
E-Book (PDF)
Availability: Published
ISBN: 978-90-04-29349-6
Publication: 24 Oct 2022
USD $129.00
For more information, or to order, see:
Andrea Fulvio's Illustrium imagines and the Beginnings of Classical Archaeology (https://brill.com/display/title/61698?language=en)
To read earlier E-Sylum articles, see:
DWIGHT MANLEY DONATES WORLD'S FIRST ILLUSTRATED NUMISMATIC BOOK TO ANA (https://www.coinbooks.org/esylum_v10n51a05.html)
STIRLING MAXWELL'S ILLUSTRIUM IMAGINES (https://www.coinbooks.org/v20/esylum_v20n45a09.html)
Lakshmi Bearer of Riches
Indian Gold Coinage after the Tenth Century
by John Deyell
IIRNS Publications LLP, 2022. Hard cover, 330 pages, well illustrated. NEW Copy.
After an absence of several hundred years, die-struck gold coins began to re-appear in North India in the eleventh century, following the introduction of punch-marked gold in South India in the tenth. All these issues had one point of unity: the figure of goddess Lakshmi, seated on a lotus (in the north) or her name, 'Sri' (in the south). They became the dominant gold coins of most Rajput kingdoms, even being adopted by the early Turkish invaders.
This book explores the production, circulation and function of these coins, probes the question of who really minted them, and explores their economic and cultural functions in early medieval society.
A must-have book for collectors and students, this is the first major update of the gold coin listings of Living Without Silver (1990). Retaining the original catalogue numbers, it expands them to accommodate many new discoveries.
For more information, or to order, see:
Lakshmi Bearer of Riches Indian Gold Coinage after the Tenth Century by John Deyell - Just Published NEW Copy (https://www.vcoins.com/en/stores/ancient_numismatic_enterprise/9/
product/lakshmi_bearer_of_riches_indian_gold_coinage_after_the_tenth_century
_by_john_deyell__just_published_new_copy/1741484/Default.aspx)
CONTENTS
Coins of Rustam Aq Qoyunlu countermarked in Varamin (Waramin)
Seyed Omid Mohammadi and Saeed Soleimani
Chinese influence in the former Dutch East Indies as evidenced by the use of cash-like coinage
T. D. Yih
The discovery of coins in Batu Bahara: The existence of Batu Bahara sultanate in 1745 AD?
Saparudin Barus
Qiaopi: a modern Chinese letter and remittance means of payment
Zhang Ruiqi
A find of coins and letters relating to H. W. Codrington
Barbara Mears
ONS news
Book review and notices
To read the complete article, see:
https://www.orientalnumismaticsociety.org/
THIS ISSUE of The Medal draws attention to two specific medals and two specific medallists. In doing so, it ranges from the seventeenth to the twenty- first century.
Dynastic marriages between princely houses are a recurring theme in European history, and many of them are recorded in medals. Rarely, however, can an alliance of this sort have been commemorated with a medal as intricate in its workmanship and rich in its symbolism as that devised by the German- born Sebastian Dadler for the marriage in 1642 of Prince William of Orange, the future stadtholder of the Netherlands, and Princess Mary, daughter of King Charles I of Great Britain. Using contemporary texts and Dutch prints, Gilman Parsons examines this medal in all its stunning complexity, his aim being to allow us to read the medal as it would have been understood at the time of its production.
A medal by one of France's greatest medallists, Eugène Oudiné, based on a painting by one of the country's greatest painters, Jean Auguste Dominique Ingres, is the subject of Tanya Szrajber's article. The painting, The Apotheosis of Napoleon I, no longer exists. Installed in the Hôtel de Ville, Paris's city hall, it was destroyed in 1871 during the tumultuous months of the Paris Commune. Accordingly, its appearance is known only through other works in various media in both two and three dimensions. Among these is Oudiné's medal, which itself exists in different forms. In her article Szrajber disentangles the available information to provide an account of how and when this medal came into being and thereby allowed Ingres's composition to live on in a form to which, as has previously been remarked, it was so admirable suited.
The two medallists whose work is highlighted here are both Dutch. Although in many ways they are very different from each other, there are some intriguing connections. Ferenc Matits looks at some of the works of Elisabeth Varga, who died in 2011, considering them from a Hungarian perspective – a particularly appropriate approach given the artist's family background. As Matits shows, Varga worked in various media and was as adept at large-scale pieces as at medals. Linda Verkaaik also works on a wide range of scales and in various materials. In his discussion of her work, Karel Soudijn demonstrates very clearly the close connections between Verkaaik's medals and her much larger works, draws out some of the themes that link them all, and offers compelling interpretations. As he explains, in the case of Verkaaik meanings keep expanding.
Two other contemporary medallists should also be mentioned here, for, as usual, BAMS is announcing in this issue its two latest medals. Known well to readers of The Medal, Bulgarian artist Bogomil Nikolov has added to his large body of work by producing for us a medal that addresses the uncertainties of today's world and the hopes we all share. Meanwhile, in his first ever medal British artist David Snoo Wilson draws on his experience of the birch forests of Sweden to make a somewhat unsettling comment on our place in the natural world. Two very different medals for BAMS members to add to their collections…
CONTENTS
Editorial: Two and two
Sebastian Dadler's Arrival of Princess Mary A case study in Baroque iconography
Gilman Parsons
Eugène Oudiné's renditions of Ingres's Apothéose de Napoléon Ier
Tanya Szrajber
In memory of Elisabeth Varga A personal reflection
Ferenc Matits
Linda Verkaaik's narrative medals
Karel Soudijn
Martin Folkes 1690-1754: Newtonian, antiquary, connoisseur, by Anna Maria Roos
William Eisler
Publications noted
News
Medals from BAMS
For more information about the British Art Medal Society, see:
https://bams.org.uk/
ANS Library Acquires Clapp Family Collection Inventory and Provenance Record
?Thanks to a generous gift given towards its purchase by ANS member Eric Krauss, the ANS Library has acquired a unique archival document detailing a major collection of U.S. gold and regular issue coins.
This previously unavailable bound inventory is the only complete record of the coins of J. M. Clapp (1835-1906) and his son John Clapp (1880-1940), whose collection was acquired intact by Louis Eliasberg in 1942. We are thrilled to have the opportunity to fill a gap in the provenance record by preserving this inventory and making it available for study.
Yarrow Book Wins Royal Numismatic Society's Lhotka Prize
The Roman Republic to 49 BCE: Using Coins as Sources by Prof. Liv Mariah Yarrow, Chair of Classics at Brooklyn College, has been awarded the 2022 Lhotka Memorial Prize by the Royal Numismatic Society. It is awarded to the author of the book or article in English considered most helpful to the elementary student of numismatics and published in the previous two calendar years. Yarrow's book is part of the Guides to the Coinage of the Ancient World series co-published by the ANS and Cambridge University Press with the purpose of integrating numismatic evidence—especially high-definition photos—into course materials communicating the history and archaeology of the ancient Mediterranean world.
For more information, or to order, see:
The Roman Republic to 49 BCE Using Coins as Sources (https://www.cambridge.org/highereducation/books/the-roman-republic-to-49-bce/6B6B3CE9413AD5F5A8CF098AA8F3EDFF#overview)
Guides to the Coinage of the Ancient World (https://www.cambridge.org/highereducation/series/guides-to-the-coinage-of-the-ancient-world/3CA432CF4CA222FF8F9D54B7B32D0F8B)
The Lhotka Memorial Prize was endowed in 1962 by the late Honorary Fellow, Professor J.F. Lhotka (University of Oklahoma), in memory of his father, Dr. J.F. Lhotka.
It is awarded to the author of the book or article in English considered most helpful to the elementary student of numismatics and published in the previous two calendar years.
Submissions, with a copy of the work submitted, may be made by any person before the 31st December each year to the Secretary of the Society.
The value of the prize is not less than two hundred and fifty pounds.
2014 Elizabeth Cottam and Chris Rudd (Britain's First Coins, 2013); Michael Cuddleford (Coin Finds in Britain: A Collector's Guide, 2013)
2015 Richard Kelleher (A History of Medieval Coinage in England, 2015)
2016 Eleanor Ghey (Hoards: Hidden Histories, 2015)
2019 Clare Rowan (From Caesar to Augustus (c. 49 BC-AD 14): Using Coins as Sources, Cambridge, 2018)
To read the complete article, see:
The Lhotka Memorial Prize (https://numismatics.org.uk/honours-and-awards/the-lhotka-memorial-prize/)
From right to left: Binod (Hugo's frequent travel companion, business director), Hugo van Reijen, me (Steve) & my Mom
Drs. Hugo Jan van Reijen, October 10, 1938 to June 27, 2023
When I was still dabbling in stamps, Hugo was the philatelic agent for many of the Dutch countries. Thirty years ago I went from retail numismatics to wholesale, and as he was buying up the contents of national banks, in Africa and around the world, Hugo was a great source.
He loved to visit us in Ft Myers, especially when my Mom was down from NY, as they shared stories of escaping from the Germans during the war (my Mom being Belgian and Hugo was from the Netherlands).
And here he is, on the lanai (what non-Floridians would call a porch) at the start of Covid in February 2020.
He died at a private hospital in Bali, near to where he had a home with a 737-200 airplane fashioned into an office. As I understand, the business will be carried on by his trusted employees, Binod & Fazal.
The 1976 Libertas Americana Restrike
The Libertas Americana medal is perhaps the most celebrated in the American series and is placed first in Whitman's 100 Greatest American Tokens and Medals. Although not approaching the number of restrikes of the Washington Before Boston medal, the Libertas has seen its share of copies. The most prominent among these was accomplished by the Paris Mint, in conjunction with First Coinvestors, Inc. in 1975. The massive 3 silver planchet, 0.925 fine, weighed 8.04 troy ounces and required at least six strikes to fully render the detail. Louis Sass, in the July 1990 Numismatist, noted a production of five trial strikes in copper, 500 pieces in silver (marketed at $250 each), and three examples in gold.
The two-page ad taken by First Coinvestors in the July 9, 1975 edition of Coin World artfully worded the production method, not from original dies, but rather the same mint and from the exact design. The 1976 restrikes were struck from copy dies, adapted from the original dies still extant in the Paris Mint. We also learn that the original strikes are priceless collectors' items, and that the original appearance of the Libertas caused such public fervor that there was hardly a farmhouse anywhere in France that did not have an enlarged cloth reproduction of Libertas Americana hanging in a place of special honor within the home.
Despite the breathless copy, the medal was well-done, and John Adams pronounced it a worthy replica of the matrix in Comitia Americana and Related Medals (2007). Examples today are valued in the mid-three figure range, with an MS67 example from the Martin Logies collection recently sold by Stack's Bowers for $660 in their March 2023 U.S. Coins Auction (lot 9008).
Image: 1976 Paris Mint restrike of the Libertas Americana medal, image courtesy of PCGS Coin Facts.
Link to Medal of Friendship and Thanks, by Louis C. Sass:
https://archive.org/details/Numismatist1990July/page/n59/mode/2up
Jacksonville researcher Ray Herz has done an in-depth analysis of the very popular Standing Liberty quarter series. He addresses which dates are surprisingly scarce in the higher circulated grades, which dates are rare with full head detail as well as other important information. Find out more in this highly informative program that includes:
sculptor Hermon A. MacNeil and the influence of Art Nouveau on his creations
controversy and final conclusion of the identity of the model for the design
creation of the plaster models
why the 1916 date is such a rarity
variety differences and their years of creation
the myth of a public outcry over Liberty's exposed breast
weak strike zones and what to look for
statistics to tell you how rare the Standing Liberty quarter really is
Speaker(s): Ray Herz.
To watch the complete video, see:
https://nnp.wustl.edu/library/book/560277
To address the mass proliferation of counterfeits plaguing the U.S. marketplace, the Anti-Counterfeiting Educational Foundation (www.ACEFonline.org) in partnership with the U.S. Treasury Department and in cooperation with the American Numismatic Association will sponsor an accredited seminar for local, county, state, and federal law enforcement agencies.
Entitled, Counterfeit Coins, Precious Metals, Numismatic and Financial Crime Investigations, the eight-hour seminar will be conducted on Thursday, August 10, during the ANA 2023 Pittsburgh World's Fair of Money® in the David L. Lawrence Convention Center. Instructors for the seminar will be former Texas Police Chief Doug Davis, Director of the ACEF Anti-Counterfeiting Task Force, and Chris Hersey, Senior Special Agent in the Treasury Department's Office of the Inspector General.
The curriculum during the 8:30 am to 4:30 pm seminar will provide law enforcement attendees from across the country with the fundamental investigative techniques, resources, knowledge and understanding to respond effectively to the complex challenges encountered during the investigation of crimes related to counterfeit coinage and precious metals as well as other numismatic and related financial crimes, explained Davis.
To enhance the educational experience, attendees will be given hands-on training and be introduced to the numismatic profession and collecting community by having the opportunity to tour the bourse floor and bring back questions to the classroom setting, he added. The seminar is open only to law enforcement personnel. Tuition is free and includes all training materials and a certificate of completion.
Registration forms and additional information can be obtained online at
https://acefonline.org/wp-content/uploads/2023/06/ACTF-Educational-Flyer-2023-1.pdf, by contacting Davis at Doug@acefonline.org, or by calling 817-723-7231.
The Anti-Counterfeiting Educational Foundation and its volunteer task force of rare coin and precious metals experts are supported entirely by donations. The ACEF is a 501(c)(3) corporation, and all donations are tax deductible.
To read the earlier E-Sylum article, see:
LONG BEACH ANTI-COUNTERFEITING SEMINAR REPORT (https://www.coinbooks.org/v23/esylum_v23n09a16.html)
Phil Iversen writes:
Larry Elman of Laguna Hills, California writes:
To read the earlier E-Sylum article, see:
WAYNE'S NUMISMATIC DIARY: JULY 17, 2016 : Christensen and Stone (https://www.coinbooks.org/esylum_v19n29a19.html)
More on Larry Casey
E-Sylum advertiser Steve writes:
To read the earlier E-Sylum article, see:
PASSINGS: ERWIN SCHäFFER, LARRY CASEY (https://www.coinbooks.org/v26/esylum_v26n26a13.html)
Pairing A Drink with a Numismatic Dish

Jim Contursi writes:
To read the earlier E-Sylum articles, see:
POLICE OFFICER SWALLOWS BANKNOTES (https://www.coinbooks.org/v26/esylum_v26n25a36.html)
NOTES FROM E-SYLUM READERS: JUNE 25, 2023 : On Eating Banknotes (https://www.coinbooks.org/v26/esylum_v26n26a10.html)
The General Anthony Wayne Gold Medal
Alan V Weinberg writes:
To read the earlier E-Sylum article, see:
GOLD MORGAN COMITIA AMERICANA MEDAL DISPLAY (https://www.coinbooks.org/v26/esylum_v26n26a23.html)
Jules and Iona Reiver Wedding Anniversary
Regarding the inconsistent newspaper articles reporting the anniversary of Jules and Iona Reiver, Julian Leidman writes:
With my article on Jules Reiver, I included a newspaper clipping that appeared to have information on the Reiver 50 th anniversary. Unfortunately, the text below the photo actually belonged to another article about another couple. Here is the proper listing for the Reivers.
I enjoy pointing out errors made by other biographers. I do not enjoy admitting my mistakes. However, the fact is that I have published information that is incorrect, occasionally.
To read the earlier E-Sylum article, see:
JULIUS JULES REIVER (https://www.coinbooks.org/v26/esylum_v26n26a15.html)
On Tommy Thompson's Legal Limbo
Lev Messick writes:
To read the earlier E-Sylum article, see:
TOMMY THOMPSON'S LEGAL LIMBO (https://www.coinbooks.org/v26/esylum_v26n26a27.html)
The World's Most Overdue Library Book
Regarding overdue library books, Ken Barr writes:
Borrowed by Colonel Robert Walpole (father of Sir Robert Walpole, regarded as the first Prime Minister of Great Britain).
Walpole apparently borrowed the book in 1667-8, when he was an undergraduate at Trinity College, according to his biographer, Dr J. H. Plumb. There are no surviving records of loans from that time, so the exact date he borrowed it is uncertain.
Dr Plumb discovered it while he was working on the biography among the papers at Houghton Hall in Norfolk. He returned it to Sidney Sussex on 16 January 1956, at the suggestion of Walpole's descendant, the 5th Marquess of Cholmondeley. It was therefore at least 287 years overdue. The Marquess of Cholmondeley later wrote to the Master, Thomas Knox-Shaw, inviting him to Houghton Hall to see the library where the book had been lurking.
To read the complete articles, see:
Mystery surrounds decades-overdue St. Helena library book (https://www.cbsnews.com/sanfrancisco/news/mystery-surrounds-decades-overdue-st-helena-library-book/)
11 Ridiculously Overdue Library Books (That Were Finally Returned) (https://www.mentalfloss.com/article/55621/11-ridiculously-overdue-library-books-were-finally-returned)
The world's most overdue library book (https://www.sid.cam.ac.uk/worlds-most-overdue-library-book)
To read the earlier E-Sylum article, see:
LOOSE CHANGE: JUNE 25, 2023 : Library Patron Returns Book Borrowed in 1958 (https://www.coinbooks.org/v26/esylum_v26n26a30.html)
Curved Needles Aren't Just for Bookbinding
Brad Karoleff writes:
To read the earlier E-Sylum article, see:
NBS BOOKBINDING DEMO: CURVED NEEDLE (https://www.coinbooks.org/v26/esylum_v26n26a02.html)
The Other Nova
Gil Parsons writes:
To read the earlier E-Sylum article, see:
TOM'S NUMISMATIC DIARY: JUNE 25, 2023 (https://www.coinbooks.org/v26/esylum_v26n26a18.html)
Earlier this week I had the exclusive opportunity to witness the first official CAC slab being sealed and released for public viewing. A major thunderstorm was pounding outside but the real lightning was happening in the new CAC grading facility. Ours was the only news outlet available to attend this momentous event and I expect this moment will be an historic one in the history of numismatics, not to mention a seminal moment in the growth phase of the CAC company itself.
In slabbing its first coin in Virginia, CAC has effectively relocated its headquarters from Far Hills, NJ to Virginia Beach. The founder and president, John Albanese, personally plans to remain in New Jersey but will make a regular commute to his new southern HQ. The existing business of stickering of PCGS and NGC coins will still happen in New Jersey for an indefinite time.
A first visit to the CAC Grading facility in Virginia Beach, VA, including the first official coin to be slabbed: a 1928 Hawaiian commemorative graded CAC AU58
Observations I had on this historic visit:
The building is large and state of the art. CAC has built their new headquarters with an eye towards large-scale growth and it is clear this is not a bolt-on to the stickering business.
The slab is beautiful, yet understated, slightly thicker than a PCGS slab but otherwise similar in dimensions to the PCGS and NGC slabs. Albanese says that perfecting the slab has been a top priority in launching our new product.
The Hawaiian I saw in person graded AU58 and looked gorgeous. The coin had some minor rub on the high points but otherwise this is a classic choice slider, and she looked amazing. If this is the grading standard these coins will be very desirable in the marketplace.
The support staff and graders are super excited. The team leadership has been preparing the operation, assembling a staff of world class graders, training slabbers and imagers, and everything in between for well over a year. By my perception, they are fired up and ready to scale up.
CAC grading serial #1: 1928 Hawaiian commemorative half dollar graded AU58 "Essay Contest Winner" (Image courtesy of CACcoins.com)
I was given a full tour of the new facility but not permitted to take any pictures, nor do I want to describe the interior for security purposes. I will only add that John and his team have seemingly spared no expense to create a world-class grading and authentication facility.
As a 40-year resident of Virginia Beach, it is truly exciting to see the addition of a major numismatic company coming to town. Our immediate region is now home to multiple national coin operations: David Lawrence Rare Coins, Stack's Bowers Galleries, Harry Laibstain Rare Coins, CAC Grading, and of course CDN Publishing -- home of the Greysheet. I'm guessing we'll see some more companies coming as Tidewater, VA becomes a numismatic epicenter. I couldn't be more excited about that either.
To read the complete article, see:
* CDN Exclusive * Greysheet on Hand to See First CAC Slab Off the Press (https://www.greysheet.com/news/story/cdn-exclusive-greysheet-on-hand-to-see-first-cac-slab-off-the-press)
Narrative Relief. The use of multiple figures and scenes of events in continuous sequence. Narrative relief, also called continuous relief, is much like a comic strip without panes. In medallic form narrative relief is called a register which employs multiple ground lines with the multiple designs crossing over a ground line or two.
As an art technique the use of narrative relief is quite old. First used in Egyptian wall relief sculpture which presented human, animal and mythical figures in noteworthy scenes. The most famous narrative relief is Trajan's Column with a spiral base line winding up a 125-foot column with a 4-foot band over 625 feet long. The marble column is hollow with a staircase inside; it was built 106-113 AD to be the tomb of Roman emperor Trajan. The continuous relief tells of two campaigns during Trajan's reign. It is still standing but the relief has been eroded by time. A statue of Saint Peter was added at a later time.
An excellent example of narrative relief is illustrated: the Hartford Art School Medal of 1952 by Henry Kreis. See register.
To read the complete entry on the Newman Numismatic Portal, see:
Narrative Relief (https://nnp.wustl.edu/library/dictionarydetail/516385)
Most readers of The E-Sylum should be familiar with the American Numismatic Association Summer Seminar. It recently concluded after running during the weeks of June 17-22 and June 24-29. Some people who attend refer to it as Coin Camp.
Are any readers familiar with the Coin School? A photo shows the name Coin School on the bell tower above the door.
What can E-Sylum readers report about the Coin School?
Where is it located?
What summer programs do they offer for numismatists?
Has any reader attended the Coin School?
If all goes well, I will tell what I know next week.
A 1794 (S-24) U.S. large cent has been returned to the American Numismatic Society (ANS) by the Husak family after they realized that the coin in the family's Liberty Cap Foundation Collection had been stolen from the ANS decades ago. The coin was originally part of the George H. Clapp Collection of U.S. large cents, one of the greatest of such collections ever created, which was donated to the American Numismatic Society in 1946.
In the years after the Clapp donation, Dr. William H. Sheldon began researching the ANS collection of large cents and swapped 129 of his own large cents for those from the Clapp collection, matching the exact die variety to conceal the substitution. Through the years, many of the 129 stolen coins have been repatriated to the ANS collection. With the latest return, 44 coins remain unrecovered.
The 1794 large cent was couriered by Chuck Heck, an ANS member and prominent expert on large cents, who confirmed the Husak family's suspicions that the coin was among those stolen from the ANS collection and was authorized to act as an agent on behalf of the family. Pending approval of the Board of Trustees, the ANS plans to give the coin that Sheldon swapped for the stolen coin to the Husak family. The ANS has routinely given the coins that Sheldon switched out to those who return the stolen large cents, which often remain highly valuable and desirable objects.
Dr. Gilles Bransbourg, ANS Executive Director, remarked: We are incredibly grateful for the Husak family coming forward with this item after discovering its history and restoring it to the ANS collection, where it will become available to the public again. I also deeply appreciate the efforts and support of our longtime member and friend, Chuck Heck. Such days shape our history as the oldest numismatic institution in the U.S. Dr. Jesse Kraft, ANS Resolute Americana Assistant Curator of American Numismatics, reflected on the return: It was truly amazing to experience the return of this large cent. After about seventy-five years of being away from its brothers and sisters, this coin is finally back home. The efforts of the Husak family and the example they have set are admirable.
To read the complete article, see:
After 75 Years, 1794 Large Cent Returned to ANS Collection (https://numismatics.org/pr-1794-largecent-returned/)
To read the earlier E-Sylum article, see:
NEW BOOK: DIE STATES OF 1794 LARGE CENTS (https://www.coinbooks.org/v25/esylum_v25n22a04.html)
Stephen Album Rare Coins will hold its Internet Auction 21 on July 10-11, 2023. The auction is made up of exactly 2200 lots of Ancient, Islamic, Indian, Chinese, and World Coins.
The sale includes additional items from collections that were consigned to the firm's May 2023 Auction 46. Notable sections of interest include The Butalia Collection of Sikh Empire Coins (Part 2), some single lots and group lots of Ottoman countermarked coins from the Hans Wilski Collection, as well as a varied assortment of medieval Islamic gold coins. One additional internet auction will take place in August before the firm offers up its next premier auction in September.
Some highlights from the July sale follow:
LOT 629
OTTOMAN EMPIRE: Mehmet III, 1595-1603, AV sultani (3.43g), Dimashq, AH1003, A-1340.1, NP- 319, good strike, VF, ex. Ken Bovenkamp.
Estimated $350 to $450
LOT 881
GOLDEN HORDE: Toda Mangu, 1280-1287, AR dirham (1.68g), Qrim, AH683, A-2021.1, tamgha in central circle, a wonderful mint state example! NGC graded MS64.
Estimated $300 to $400
LOT 1680
JAPAN: Bunkyu, 1861-1864, lead 100 mon (154.98g), Hosokura mine, Mutsu province, H-6.8, JNDA-Bakumatsu-17, hosokura to hyaku, official's signature on reverse, cast in the 4th year Bunkyu era (1864), a superb quality example, EF. Made by the Sendai clan at the Hosokura mine in Mutsu province. It is said that because it was so heavy and inconvenient to carry, a smaller 10 mon piece was made, but this has not been recorded.
Estimated $400 to $600
LOT 1773
CRUSADERS OF TRIPOLI: al-Mustansir, 1036-1094, AV dinar (3.31g), NM, ND, A-720A, Ma-7, Latin B above obverse, T above reverse, without cross, flan crack, EF, RR.
Estimated $400 to $500
LOT 1864
SCOTLAND: James V, 1513-1542, AR groat (2.59g), ND (1526-39), Spink-5379, crowned bust right with +IACOBVS 5 DEI GRA SCOTORV around, head with pointed nose // pointed shield over cross fourchée with :OPPI - DV (trefoil) E - DINB - VRGI around, a bit wavy with weak legend at 12:00, VF.
Estimated $275 to $375
LOT 1874
GREAT BRITAIN: Edward VII, 1901-1910, AR medal, Barac-151, 37mm silver Tibet Expedition medal by G.W. de Saulles and E.G. Gillick, uniformed bust left with EDWARDVS VII - KAISAR-I- HIND around // fortress of Potala Lhassa with TIBET 1903-4 below, with ornate hanger, with GYANTSE campaign bar, "7344 Naick Madho Singh Private 1st Bengal Garhwal Rifles" engraved in cursive script on edge, EF.
Estimated $400 to $500
The firm's COO and director of auctions Mike Barry notes: Bidders can expect to find a wide variety of offerings in this sale. Clients often tell us that they are excited to browse our new auctions when they come online as they are never quite sure what diverse items we might have in store. We are happy that our reputation as a specialized auction house keeps consignments of interesting material coming our way that you just won't find in other venues. The firm is always accepting consignments for future premier auctions, as well as future internet-only sales. Please see www.stevealbum.com for more information.
1549 Edward VI Half-sovereign

Edward VI (1547-53), Second period, January 1549 – April 1550, Half-sovereign, Tower mint, mintmark arrow (1549), uncrowned bust right, rosette stops, legend surrounds, SCVTUM FIDEI PROTEGET EVM. Rev, crowned quartered garnished shield of arms, E and R flanking either side all within inner linear beaded circle. Legend reads EDWARD VI DG AGL FRA Z HIB REX, 5.32 (S.2435; N.1908; Schneider 670 variation with rev stops). Light reddish toning complimenting the intrinsic Gold, an underlying mint bloom also visible. Portrait pleasing, with clear fields both sides. Good very fine, rare.
To read the complete lot description, see:
Edward VI (1547-53), Second period, January 1549 – April 1550, Half-sovereign, Tower mint, mintmark arrow (1549), uncrowned (https://thestrand.com/auctions/calendar/list#/lots/db133e45-ed71-4b3a-a065-07ead807c2f2)
The Henry Medal

Smithsonian Institution Henry medal awarded in May of 1981 to William A.M. Burden (William Armistead Moale Burden Jr., New York, 1906-1984), who served as U.S. Ambassador to Belgium (1959-1901), President of the Museum of Modern Art, New York, medal in bronze approx 2.5" diameter, 4.43oz, housed in small presentation box **Note: The Henry Medal recognizes contributions to the Smithsonian Institution in the fields of art, science, education. It is named for Joseph H. Henry (1797-1878), the first Smithsonian Secretary.** Start Price: $60.00
To read the complete lot description, see:
1981 SMITHSONIAN INSTITUTION HENRY MEDAL AWARD (https://www.liveauctioneers.com/item/155919883_1981-smithsonian-institution-henry-medal-award)
1823 Australian Promissory Note Four Spanish Dollars

1823 Van Diemen's Land 4 Spanish Dollars Promissory Note Lempreire Good
This is an intact example of the most used paper currency in colonial Australia.
Coins were extremely scarce in colonial Australia, so to help grease the wheels of daily trade, paper currency notes for equivalent amounts were issued by many merchants across New South Wales and Van Diemen's Land right up until the late 1820's.
Solid British gold, silver and copper coins (known in the day as "sterling") were trusted far more in daily business than the often-flimsy paper currency notes, so many of the colonists that had been born in Britain took to referring to themselves as "sterling", and at the same time contemptuously referred to native-born colonists as "currency", the inference being that anyone born on the Australian continent was inferior, and not to be trusted!
To read the complete item description, see:
1823 Van Diemen's Land 4 Spanish Dollars Promissory Note Lempreire Good (https://www.sterlingcurrency.com.au/1823-van-diemens-land-ten-shilling-promissory-note~212783)
"Commerative Copper Medalions"

To read the complete lot description, see:
Lot 405: Lot of 4 1oz .999 Commerative Copper Medalions (https://www.invaluable.com/auction-lot/Lot-of-4-1oz-.999-Commerative-Copper-Medalions-405-c-45F40D081B)
HISTORY IS LITTERED with great and wise rulers who fathered heirs who were monsters or idiots: sons who just plain turned out wrong. The coins of these rulers illustrate these stories, perhaps offering us some insight into how such good fathers raised such bad sons.
Germanicus and Caligula

Germanicus (father of Caligula) ? As. Image: Roma Numismatics, Ltd.
Born into the Roman elite on May 24, 15 BCE, Germanicus was destined for a brilliant career. His father, Drusus the Elder, was the son of the empress, Livia Drusilla, and the stepson of the emperor Augustus. Germanicus' mother, Antonia the Younger, was the daughter of Mark Antony.
In a series of brilliant campaigns (14 – 16 CE), Germanicus led eight legions to regain two of the three sacred legionary standards captured by German tribes in the disastrous Battle of Teutoburg Forest in 9 CE. He became a national hero, beloved by the Roman people. Posted to the Syrian city of Antioch to deal with the restless eastern provinces, Germanicus died suddenly in 19 CE at the age of 34. It was suspected that he was poisoned on the orders of his uncle, the jealous and suspicious Emperor Tiberius. Many years after his death Germanicus was honored on coins issued by his son, Caligula, and his brother Claudius.
Gaius (Caligula), with Germanicus. 37-41 CE. AR Denarius. Image: CNG.
Caligula
was a nickname meaning
little boots
that was given to him as a child by his father's troops, amused by his miniature legionary uniform. Collectors seeking evidence of madness, decadence and depravity in the coinage of Caligula will be disappointed. Coinage is conservative, and these coins present an idealized portrait of a rather dorky young man, along with a series of stock images reflecting conventions of Classical art that the Romans adopted from the Greeks.
To read the complete article, see:
Good Dad, Bad Son: Disappointing Heirs of Great Rulers (https://coinweek.com/good-dad-bad-son-disappointing-heirs-of-great-rulers/)
A nearly 1,800-year-old silver military medal featuring the snake-covered head of Medusa has been unearthed in what was once the northern edge of the Roman Empire.
Excavators discovered the winged gorgon on June 6 at the English archaeological site of Vindolanda, a Roman auxiliary fort that was built in the late first century, a few decades before Hadrian's Wall was constructed in A.D. 122 to defend the empire against the Picts and the Scots.
The "special find" is a "silver phalera (military decoration) depicting the head of Medusa," according to a Facebook post from The Vindolanda Trust, the organization leading the excavations. "The phalera was uncovered from a barrack floor, dating to the Hadrianic period of occupation."
Medusa — who is known for having snakes for hair and the ability to turn people into stone with a mere glance — is mentioned in multiple Greek myths. In the most famous story, the Greek hero Perseus beheads Medusa as she sleeps, pulling off the feat by using Athena's polished shield to indirectly look at the mortal gorgon so that he wouldn't be petrified, according to the Metropolitan Museum of Art in New York City.
"From Greek times on, this is a potent apotropaic to ward off bad things, to keep bad things from happening to you," Pollini said. Medusa's serpent-surrounded head is also seen on Roman-era tombs, mosaics in posh villas and battle armor. For instance, in the famous first-century mosaic of Alexander the Great from Pompeii, Alexander is depicted with the face of Medusa on his breastplate, Pollini noted.
Medusa is also featured on other Roman-era phalerae, but the details vary. For instance, the Vindolanda Medusa has wings on her head. "Sometimes you see her with wings, sometimes without," Pollini said. "It probably indicates she has the ability to fly, sort of like [the Roman god] Mercury has little wings on his helmet."
Silver phalerae of the Roman soldier Titus Flavius Festus in the Neues Museum (of the Staatliche Museen) in Berlin. Two Medusa heads are represented in the second row of the display on each side of a horned head of Ammon Zeus.
To read the complete article, see:
Silver medal featuring winged Medusa discovered at Roman fort near Hadrian's Wall (https://www.livescience.com/archaeology/romans/silver-medal-featuring-winged-medusa-discovered-at-roman-fort-near-hadrians-wall)
Inscriptions referencing the American belief in God began to appear on US coinage as early as colonial times. The foundation of the nation was ultimately built on the belief in God, as most of the first English to permanently settle in North America were Puritans, Anglicans, and Quakers, among other Christian denominations. When President Theodore Roosevelt was elected into office in 1904, he decided to remove the inscription In God We Trust from American coinage. He thought that putting this motto on the coins was atrocious. Roosevelt received a great deal of backlash for his rejection of the nation's motto on coinage, which led to new legislation requiring the motto to be inscribed on certain coins.
Since Christianity was the dominant religion in colonial America, colonial coins bore inscriptions that recognized the Christian faith. For example, the Carolina cent produced in 1694 included the inscription God preserve Carolina and the Lords proprietors on the reverse side. The 1767 Louisiana cent bore the Latin inscription Sit Nomen Domini Benedictum, which translates to Blessed be the name of the Lord. The Christian faith was also incorporated in important documents, such as the First Charter of Virginia of 1606, the Mayflower Compact of 1620, and the Declaration of Independence.
The idea of placing a religious sentiment on official US coinage came during the early years of the American Civil War. One of the first official requests to recognize the Christian faith or God on coinage came from Reverend M.R. Watkinson of Ridleyville, Pennsylvania. Reverend Watkinson wrote to the Secretary of the Treasury Salmon P. Chase on November 13, 1861 and requested the Almighty God in some form be recognized on US coinage. At Reverend Watkinson's request, Chase contacted the Director of the Mint, James Pollock, on November 20 to prepare a motto to be used on the coins. However, an Act of Congress passed in January 1837 defined what mottos and devices should be placed on American coinage. Before a new motto could be introduced, the current legislation had to be amended.
In April 1864, Congress passed legislation that would allow adjustments to be made to the one-cent piece and authorized the creation of a two-cent bronze coin. The Director of the Mint was allowed to determine different mottos, devices, and shapes of the coinage, so long as the Secretary of the Treasury approved it. The 1864 bronze two-cent piece was the first coin to bore the inscription In God We Trust. In March 1865, Congress authorized the Director of the Mint, with the Secretary of the Treasury's approval, to place In God We Trust on gold and silver coins. As a result, the motto appeared on the eagle, double eagle, half eagle, dollar, half dollar, and quarter dollar coins. Later legislation would involve more specifics as to what devices should be on different coins and additional inscriptions and features were added.
Teddy Roosevelt was first sworn into presidency following the assassination of President William McKinley in September 1901. Roosevelt ran for president in the 1904 election and won. Teddy Roosevelt decided to focus some of his attention on changing the designs on US coinage. On December 27, 1907, Roosevelt wrote a letter to the Secretary of the Treasury, Leslie Mortier Shaw, describing the current US coinage as artistically of atrocious hideousness. Teddy Roosevelt commissioned American sculptor Augustus Saint-Gaudens to design his inaugural medal. Roosevelt was very pleased with the design Saint-Gaudens had created for his inaugural coin.
During a dinner at the White House in 1905, Roosevelt asked Saint-Gaudens if he'd be interested in creating new US coinage designs like the intricate Greek coins. Saint-Gaudens agreed that he could create new designs for the one-cent, eagle, and double eagle coins. The process of introducing new designs to American coinage was done somewhat secretively. In the letter to Secretary Shaw, Roosevelt had inquired if he would be able to create new designs and produce new coinage without the permission of Congress. After getting approval from Secretary Shaw, Roosevelt began coordinating with Saint-Gaudens on creating the designs. The initial plan was to quickly get the designs completed and approved by the US Mint before Congress reconvened. This would allow at least some of the coins to enter circulation before Congress could potentially shut it down if they didn't approve of the new coins.
President Teddy Roosevelt didn't purposely remove In God We Trust on money. However, he did approve the idea, which was originally suggested by Saint-Gaudens. Including the inscription In God We Trust, as Saint-Gaudens suggested, would detract from the artistry on the coins. Roosevelt sought legal advice on the matter to ensure that the motto wasn't mandatory. No law existed at the time that prohibited the removal of In God We Trust, so Roosevelt agreed with Saint-Gaudens that it should be removed.
Some saw the removal of In God We Trust on money as an attack on the Christian religion, which the foundation of America had been built on. Others claimed that Roosevelt showed complete disregard for the religious sentiments that many Americans valued. The release of the coins and the public backlash also came at an unfortunate time for Roosevelt, as the Panic of 1907 put the country in a financial crisis. Roosevelt's critics tried to place the blame of the crisis on him for being so harsh on big business practices that gave him his trust buster nickname. A number of religious organizations, such as the Presbyterian Brotherhood of America and the Convention of the Episcopal Diocese of New York, protested and sent Congress and the Secretary of the Treasury signed petitions to have In God We Trust on money restored.
To read the complete article, see:
Why Did Teddy Roosevelt Remove In God We Trust from US Currency? (https://www.thecollector.com/in-god-we-trust-money-roosevelt/)
[W]hile cryptocurrencies get a lot of attention today, in some ways they are not a revolutionary concept. Hundreds of years ago, workers in Wales were often paid with alternative currencies instead of money.
These currencies were physical tokens that represented and were linked to the value of real money. Many cryptocurrencies work in a similar way, acting as digital tokens that represent a ledger of financial assets (this is known as tokenisation).
Digital currencies are also not reliant on any central authority, such as a government or bank, to uphold or maintain their network of exchange. Again, this is similar to how physical tokens were used by Welsh mining companies.
Towards the end of the 18th century the coinage of Britain was in a deplorable state due to the severe shortages of silver and copper coins. During the Industrial Revolution people migrated from the countryside into mining and manufacturing centres. But living in towns required money, and the ability to pay wages was impossible for businesses without small change.
With an influx of new workers using money, new shops were opened to meet demand, creating more jobs that required payment in coins. Although the production of counterfeit coins was illegal and punishable by death, it was not illegal to produce tokens with other designs which could be used instead of coins.
The first great era of token production during the first Industrial Revolution began in 1787 with the issue of the Parys Mining Company token. This company mined at Parys Mountain on the Welsh island of Anglesey. It briefly produced more copper than any other mine in the world during the Industrial Revolution.
It also used the high-quality ore from its mine to produce tokens which could be exchanged for official coin at full value at any one of its shops or offices. This made the Parys Mining Company the first company in the world to issue tokens. These were described as the premier tokens of the 18th century by that era's coin experts.
While the production of tokens by the Parys Mining Company were spurred on by the first Industrial Revolution, the adoption and popularity of Bitcoin and other cryptocurrencies has been hastened by the fourth Industrial Revolution.
lthough they are more than 200 years apart, the history of these tokens have important lessons for today's cryptocurrencies. First, for cryptocurrencies to succeed there needs to be various ways for individuals to accumulate the crypto/tokens, plus a demand and use for the crypto that means it holds its value, and trusted environments where exchange for goods and services can take place.
And second, for cryptocurrencies to be successful and sustainable in the long term they must uphold their original purpose of having an ecosystem that remains independent of a single company or government. Efforts to lock cryptocurrencies to a single organisation do not look positive, for example Facebook's failed attempt to launch a cryptocurrency, announced in 2019.
The tokens of Welsh mining companies inherently failed when the closures of the mine or shops led to the removal of one or more of the three components of the ecosystem. And then people left with the tokens lost their money, a lesson for us today.
To read the complete article, see:
Welsh mining towns had alternative currencies 200 years ago – here's what the crypto world could learn from them (https://theconversation.com/welsh-mining-towns-had-alternative-currencies-200-years-ago-heres-what-the-crypto-world-could-learn-from-them-205511
Nevada's biggest silver deposits were discovered well over a century ago: the Comstock Lode, discovered around 1860 and then the Tonopah District discovery of the 1900s.
Nevada became a state as a result of the Comstock – the silver paid for the Civil War and the winning of the Union, said Bill Howard, executive chairman of Blackrock Silver during a June site visit. It's often said that if Comstock made Nevada, the Tonopah silver deposits were what paid for keeping Nevada a state. That's why we're called the 'Silver State.'
Below the town, underneath its historical buildings in the surrounding Esmerelda and Nye counties, remain rich gold and silver deposits which again make sense to explore given the use of new technology and higher metals prices. And there's a newcomer to the party – high-grade lithium clays abound towards the north, west and south of Tonopah, which have sent local prospectors into a spin with the potential EV windfall.
However, for the time being, the historical Tonopah silver deposits are receiving the brunt of exploration investment, with Blackrock Silver and Suma Silver looking to breathe new life into the old silver deposits that gave life to the mining town.
One time-worn story holds that prospector Jim Butler, a man driven by curiosity and a touch of luck, stumbled upon the treasure that would define Tonopah's future. It is said his donkey was stubborn, and when the frustrated man picked up a rock to throw at the animal, he found it was quite heavy, signalling the presence of silver.
Sharing his discovery with assay labs, he faced initial disbelief, but his persistence paid off when significant silver deposits were later confirmed. Spurred by his wife's encouragement, Butler staked the land and named the town Tonopah along with his partners.
Tonopah quickly became a bustling mining town, boasting a peak population by the 1920s of more than 25,000, attracting many miners hoping to strike it rich. The town today still celebrates its annual 'Butler Days'. Leasing their claims to others in exchange for a share of the revenue, Butler and his partners enjoyed considerable success.
Capital poured into the region, consolidating mining operations and the birth of successful companies such as the West End Mining Company and the Jim Butler Mining Company.
Historically, it produced 174 million oz. silver and 1.8 million oz, gold from 7.5 million tonnes.
To read the complete article, see:
Site visit: Tonopah primed for mining renaissance as precious metals attract prospectors (https://www.northernminer.com/news/site-visit-tonopah-primed-for-mining-renaissance-as-precious-metals-attract-prospectors/1003856423/)
Over the years I've seen several of the notes issued by the NSW Colonial Police Fund - judging by the prices they realised at auction, I could see they were rare and highly prized, but I never really appreciated their importance until recently.
These notes are so early in Australia's settled history that very little has been written about them. They fall outside the scope of our standard guides to Australian coins and notes, yet they were essential to the foundation of our national economy. They are so important, they should be understood and acknowledged for what they are - the first official banknotes to be used on our continent.
The question I had about the NSW Colonial Police Fund notes was - are these the earliest known notes issued by a government body on Australia's shores? If they weren't, what was?
My task then was to work out:
Which government authorities issued notes in Australia before 1835?
What types of notes were issued by government authorities in Australia before 1835?
Which of those notes still exist?
Which of those notes are available for collectors to buy?
Known Examples of Publicly Issued Colonial Currency Notes
Publicly Issued Currency Notes from Australia's colonial era are far rarer than the equivalent notes issued by private individuals. This is due to their enduring monetary value - whereas the financial viability of many of the issuers of private currency notes was uncertain and many currency notes lost their value as a result, publicly issued notes had much better backing and were far more reliable, so maintained their value over time.
Worthless scraps of paper that no longer have a redemption value are more likely to be set aside as collectibles than highly valuable media of exchange.
NSW Store Receipts: The earliest dated store receipt from the NSW Commissariat that has been recorded as still being in existence is dated 1802. In his paper titled "Australian Paper Currencies, Percy Marks stated that, as of 1919, it was held by the London Record Office.?17 This information is being verified at present.
NSW Commissariat Notes: None of these notes are known to still be in existence, much less remain available to collectors. I am yet to see a record of any being held by a public collection in NSW, or elsewhere in Australia. A very small number of bills of exchange issued by the New South Wales Commissariat are known in private hands, these are different to the notes issued by the Commissariat, however. Notes issued by the Commissariat in Van Diemen's Land as well as the Swan River Colony are known in private hands, they are dated slightly later than the period discussed here.
Paymaster's Bills: These are not explicitly listed as being held in any public collection that I have seen so far. That said, the Dixson Collection in the State Library of New South Wales does hold several paymaster's notes, issued by the 73rd Regiment in Launceston in 1813. One of those paymaster's notes is dated April 24th, 1813, which is either the earliest date seen on a publicly-issued note still in existence, or is incredibly close to it.
Police Fund Notes: A very small number of these notes in different forms (single and uncut) are held in the State Library of New South Wales; in the National Library of Australia as well as in private hands.
As the earliest-known paper notes issued by a government authority on Australian soil, the Police Fund notes occupy a unique position in our national economic history. They are a rare and exclusive artefact of the foundation of Australia's economy.
To read the complete article, see:
Australia's Earliest Government-Issued Notes (https://www.sterlingcurrency.com.au/blog/news-research/pre-federation-notes/australias-earliest-government-issued-notes/)
Why You Should Learn to Grade for Yourself
In the history of the numismatic market, one of the main topics has always been coin grading. Defined as a label to describe the condition of the coin, a coin's grade is inseparably intertwined with its value. Coins of the same rarity with lower grades are worth less than coins that qualify for higher grades.
Although it's hard to believe, back before the beginning of the major grading services (ANACS, NGC, PCGS), coins at a coin show were typically found in 2x2 holders or 2x2 brown paper envelopes with the dealer's grade plainly marked on the holder. This was a grade that used adjectives to describe it such as Very Good or Very Fine or Gem Uncirculated. Sometimes pluses were added if the dealer thought the coin was particularly nice for the grade.
Some dealers applied grades that could best be described as optimistic. That is, the coin in reality might be a grade or two (or more) below the grade indicated on the holder. In addition, many coins had serious problems (cleaning, damage, whizzing) not described on the holder.
But how do you go about learning to grade? Cited in the ANA's Grading Standards for United States Coins, Ken Bressett of Red Book (Guide Book of United States Coins) fame listed four things needed to learn how to grade coins: (1) a good magnifying glass, (2) a good light, (3) a good memory, and (4) 20 years of experience. In other words, you're not going to teach yourself how to be an accurate grader overnight. You're going to have to look at coins in different grades, study and remember their characteristics, and read all you can about the grading process.
To read the complete article, see:
Why You Should Learn to Grade for Yourself (https://www.numismaticnews.net/collecting-101/why-you-should-learn-to-grade-for-yourself)
To read the earlier E-Sylum article, see:
NOTES FROM E-SYLUM READERS: JUNE 25, 2023 : How to Learn to Grade Coins (https://www.coinbooks.org/v26/esylum_v26n26a10.html)
Prigozhin's Boxes of Rubles
Yevgeny Prigozhin, the leader of the Wagner Group Private Military Company, has confirmed that Russian security forces have found boxes full of money near his office in St Petersburg. Russian media reported that the boxes contain a total of 4 billion roubles (approximately US$47 million).
According to Fontanka, Prigozhin is believed to have his office in the Trezzini Hotel. During a search conducted in the hotel, the white Gazel minivan aroused suspicion as it did not belong to anyone living in Akademichesky Lane [the street where the van was parked - ed.]. The van was checked for explosives; when it was unlocked, boxes stuffed with money were found inside.
When the money contained inside the boxes found in the Gazel van was counted, the total was 4 billion roubles in cash (approximately US$47 million).
After this information was shared, Prigozhin issued a statement saying that in addition to the Gazel van, another two minibuses containing his money were also found.
"It wasn't just the Gazel that was found, but two other minibuses that contained money earmarked for wages, compensation for Cargo 200s [unofficial code for bodies of fighters killed in action - ed.], and other things," Prigozhin said.
He also claimed that during its 10 years in business, Wagner Group has always used cash for all payments.
To read the complete article, see:
Billions of roubles: Prigozhin claims Russian forces have found a van and 2 buses containing boxes of his money (https://www.yahoo.com/lifestyle/billions-roubles-prigozhin-claims-russian-124613179.html)
What does money mean if you can't hold it in your hand?
Somewhere in the British Museum is a small gold disc. Just 10mm in diameter, it weighs less than a teaspoon of salt. On one side is a lion roaring at a bull, on the other, two squares. This is the Lydian Lion and, at about 2,700 years old, it is perhaps the oldest coin humanity retains today. This is money.
And despite the civilisations that have risen and fallen in the millennia between the minting of the Lydian Lion and now, people today can still – without effort – recognise the Lydian Lion as money. We can imagine its use in the markets of ancient western Turkey. We can picture it being piled in with others in a pouch by a nobleman's feet. We understand it because most of us grew up using something very much like it: cash. Earned through our labours, exchanged in return for something we wanted or needed.
Until, of course, now.
This month Australia's treasurer, Jim Chalmers, announced a death sentence for cheques but it is not the only way of paying for things which is in a state of atrophy. Across the country just one in 20 point-of-sale transactions now involves cash. We rarely use it and increasingly we cannot access it. Thousands of bank branches have been shut. ATMs have hauled out of walls and wheeled out of shopping centres en masse. Even one of the last bastions of cash, pocket money, is on the march towards apps and cards. Tap, tap, tap. Click, click, click. We wave a card or a phone and that which we desire is bought.
To read the complete article, see:
A post-piggy bank world: what does money mean if you can't hold it in your hand? (https://amp-theguardian-com.cdn.ampproject.org/c/s/amp.theguardian.com/australia-news/2023/jun/18/a-post-piggy-bank-world-what-does-money-mean-if-you-cant-hold-it-in-your-hand)
Dame Shirley Bassey visits the Royal Mint

Dame Shirley Bassey was invited to the Royal Mint to strike one of the first in a limited-edition series of coins created in her honour.
The design features the name and silhouette of the Big Spender singer striking her famous arms-outstretched pose.
It is embossed with the names of her three James Bond theme tunes – Diamonds Are Forever, Moonraker and Goldfinger – and pays tribute to the performer's Welsh roots through a small depiction of the Welsh dragon.
Dame Shirley said: My collaboration with The Royal Mint is an incredibly exciting moment for me.
It's thrilling to know that my silhouette, and the Welsh Dragon, will be featured on my very own coin, and to be the first female included within the Music Legends collection is an absolute honour.
To read the complete article, see:
Dame Shirley Bassey visits Royal Mint to see coin created in her honour (https://www.independent.co.uk/news/uk/royal-mint-welsh-goldfinger-dame-elton-john-b2363993.html)
The Luckiest Chuck E. Cheese Coin

A Chapel Hill man found an old coin under the seat of his car. He used it to scratch off a $20 lottery ticket and won a $2 million prize.
I was cleaning out the car and found it underneath the seat, Bobby Gary said. I told myself, 'I am going to scratch with this until l get lucky.
Gary kept the coin because it had a special date on it.
It was a Chuck E. Cheese coin from 2010, which just happens to be the year we got married, he said. I said, 'I feel like it is going to bring me luck. And it did.'
To read the complete article, see:
Old coin becomes lucky coin when Chapel Hill man wins $2 million (https://www.wral.com/story/old-coin-becomes-lucky-coin-when-chapel-hill-man-wins-2-million/20935653/)
Among the many mysteries that the author Michael Finkel hoped to untangle when he first began interviewing the world's most prolific art thief was the matter of logistics. How did Stéphane Breitwieser do it? How did he manage to slip more than 300 works of art out of museums and cathedrals all across Europe, amassing a secret collection worth as much as $2 billion? And how did he do it all during daylight hours, as museum-goers and security guards often mingled nearby?
Finkel first introduced GQ readers to Breitwieser in 2019, in his story The Secrets of the World's Greatest Art Thief. Since then, Breitwieser was arrested for stealing art once more, and when he faced trial earlier this year, Finkel was in the courtroom. Now, as his new book arrives—a full 11 years after he first began pursuing the story—Finkel discusses how he reported it, why Breitwieser is so unique among criminals, and what it feels like to visit a museum with one of history's most spectacular art thieves in tow.
GQ: Stéphane Breitwieser averaged an art theft every two weeks for more than seven years. His collection was enormous. What would I have seen if I'd been able to visit his Ali Baba's cave, as you call it, the attic rooms in his mother's house?
Michael Finkel: Breitwieser lived with his mother and girlfriend in a boxy, unremarkable house in the suburban sprawl of Mulhouse, a city in the industrial belt of eastern France, one of the least attractive areas in a nation filled with beauty. During my reporting for the book, I visited the house. You enter through a small front entryway cut into a corner of the home. Most of the living area is on the ground floor, where his mother slept, but a narrow set of stairs ascends to a wooden door. Open that door.
And you'll be blown away. I have seen video footage of the attic lair at the height of its glory. Every inch is filled with extraordinary objects – works in silver, ivory, bronze, crystal, porcelain, and gold. The walls are crowded with Renaissance oil paintings. Pieces are arranged on armchairs, balanced on windowsills, stacked in the closet. Everything, in total, is worth an estimated $2 billion. The colors are incandescent. And in the middle of it all is a majestic four-poster bed. Breitwieser basically lived inside a treasure chest.
In the end, the French media called Breitwieser's crime spree the biggest pillage of art since the Nazis.
Breitwieser, as you write, challenges many of the conventional assumptions we have about art thieves. Maybe the biggest is his motive: he steals because he loves art, not to sell it. How rare is this in art crime?
Art thieves hate art. That is the reality. Fictitious art thieves, in novels and movies, always seem to be sensitive connoisseurs, like Pierce Brosnan in The Thomas Crown Affair—a movie that Breitwieser adores. But in real life, less than one in a thousand art thieves actually care about art. They just want the money.
Breitwieser is one of these rare exceptions. He always stole during daylight hours, without resorting to violence, or even the threat of violence, and was motivated by beauty, not cash. This is a chief reason he was able to avoid capture for so long – police detectives who specialize in art crime typically make arrests when a thief attempts to sell a stolen work.
To read the complete article, see:
How Did One Man Steal $2 Billion in Art? (https://www.gq.com/story/michael-finkel-the-art-thief-interview)
For more information, or to order the book, see:
The Art Thief (https://www.penguinrandomhouse.com/books/611687/the-art-thief-by-michael-finkel/)
On that day in 2019, box breaking was still in its toddler stages as the biggest accelerant on what has become a booming, roller-coaster, billion-dollar sports card business. At that time, box breaking was nibbling at the corners of the hobby. Four years later -- at least partially because of what is about to happen in that room with Rich Layton -- box breaking has swallowed up the hobby whole. It's such a big business that using the word "hobby" at all anymore feels a little silly.
THE INVENTOR OF THE BOX BREAK is believed to be a New Jersey card dealer named Rick Dalesandro. But even the most die-hard breakers probably know him only as Dr. Wax Battle, an over-the-top character created by Dalesandro in the mid-2000s. He'd broadcast live from his shop, The Backstop in Toms River, in a black wig, sunglasses and a multicolored shirt.
Breaks were a small part of what was basically a 90-minute or two-hour call-in radio show with Dr. Wax Battle. He'd have sketches, phone calls and interviews, and he would even do a State of the Hobby address. He'd then post them on YouTube, and a generation of little Dr. Wax Battles was born soon after.
Those days feel like 100 years ago. Breaks were recorded, not streamed live, and the most expensive boxes were a few hundred bucks, not $25,000 like some cost now. Breakers would buy boxes from card shops, then post a video one day that they were going to rip open a box a week later. They'd ask people to sign up for it in the comments, then collect money and buy the product. A week later, a video would get posted of the breaker opening up everything.
It's important to note that box breaks did not happen in a vacuum. The human desire to watch other people open up things had become a new phenomenon in the mid-2000s, and it wasn't just sports memorabilia. People had begun broadcasting themselves opening up their Christmas gifts, iPhones, gaming systems, clothes, beauty products, new toys ... so many new toys.
And make no mistake: This is not just a silly fad. Unboxing stuff is now 15 years old and growing bigger every single hour of every single day. It's big business on TikTok, Twitch and YouTube, and young people are driving the bus. At one point in 2021, four of the 10 most popular YouTube channels starred kids, who generated views and sponsorships by unboxing new toys and trying them out.
Live breaks are now a substantial portion of the card business -- Layton thinks 90-95% of his sales are from breaks, which he also thinks is similar to most of the big sellers these days. "I wouldn't quite say box breaking saved the industry," says Ryan Cracknell, hobby editor at Beckett Collectibles. "But it's taken card collecting to a whole new level. In the 1990s, card shops and card shows were the collecting community. Now, box breaks have become the community, and it turns cards into entertainment."
But this ain't opening up Shopkins or new jeans on camera. There are no tiny plastic figures or Levi's that are worth $100,000, and nobody has purchased a stake in what often feels like a lottery drawing during a card box break. Longtime breaker (and former Class A pitcher) Chad Redfern recently did a break of Topps Transcendent, which has 61 cards in the entire box and costs $27,000 to buy. Each breaker spot was $430 -- for the opportunity to get one card. The cards were all cool, with 1-of-1 autographs and jersey patches for only the very best players in baseball. But, still, each slot was the cost of a monthly car payment. "When you can take an expensive box and chop it up so everybody can get a piece of it, that's cool," Redfern says.
So if this all sounds a little like unregulated gambling ... well, TikTok agrees. In early March, the platform all but banned live box breaks from TikTok, saying that they might constitute illegal gambling. At this point, there is very little regulation of breaks other than trusting card companies and breakers. Fanatics recently announced that it will get into the box break game, and eBay will begin pre-approving sellers before they can break with the company. That should help formalize breaking. But there are still lots of allegations of faking pulls during breaks, that inordinate numbers of big cards seem to go to the biggest breakers, and a slew of other groanings on Memorabilia Twitter on an almost daily basis.
Eric Whiteback, known on Twitter as The Collectibles Guru, thinks it's only a matter of time until other companies join TikTok in forbidding live breaks or regulation becomes a reality, or both. "I would not be shocked to see other social media platforms follow suit -- I honestly think that they should," he says. "There are some of these breaks that you can go into and see how much they resemble a casino."
Attorney Paul Lesko agrees. He's a well-known collector whose Twitter feed is devoted mostly to legal happenings involving sports memorabilia. In his many conversations with other lawyers over the years, he says he has never had a fellow attorney argue that box breaks aren't gambling. He has been predicting congressional investigations, legislation and regulations for a decade now.
And ... nothing has happened. "I think people say, Who is this really hurting? Box breaks are very good for the hobby," he says. "And I like them myself. They bring a lot of excitement to cards. But still, technically, they fall under being illegal forms of gambling. I wish I could be proven wrong."
To read the complete article, see:
The controversial rise and uncertain future of box breaks (https://www.espn.com/nba/story/_/id/37918363/box-breaks-memorabilia-industry)
To read earlier E-Sylum articlse, see:
NUMISMATICS WITH KENNY ON NEWMAN PORTAL (https://www.coinbooks.org/v21/esylum_v21n02a06.html)
LOOSE CHANGE: JANUARY 22, 2023 : Linebacker Pivots to Pokémon (https://www.coinbooks.org/v26/esylum_v26n04a27.html)