Visit our NBS Sponsors
About Us
The Numismatic Bibliomania Society is a non-profit association devoted to the study and enjoyment of numismatic literature. For more information please see our web site at coinbooks.org
Subscriptions
Those wishing to become new E-Sylum subscribers (or wishing to Unsubscribe) can go to the following web page link
Membership
There is a membership application available on the web site Membership Application
To join, print the application and return it with your check to the address printed on the application. Print/Digital membership is $40 to addresses in the U.S., and $60 elsewhere. A digital-only membership is available for $25. For those without web access, write to:
Charles Heck, Treasurer
Numismatic Bibliomania Society
P. O. Box 2058,
Bluffton, SC
29910-2058
Asylum
For Asylum mailing address changes and other membership questions, contact Chuck at this email address: treasurer@coinbooks.org
Submissions
To submit items for publication in The E-Sylum, write to the Editor at this address: whomren@gmail.com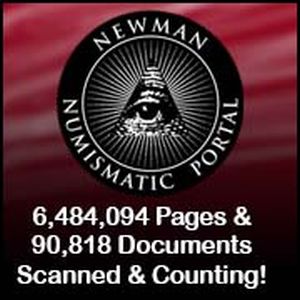 BUY THE BOOK BEFORE THE COIN
Sale Calendar
Content presented in The E-Sylum is not necessarily researched or independently fact-checked, and views expressed do not necessarily represent those of the Numismatic Bibliomania Society.
New subscribers this week include: Shawn Tew and Don Goddeau. Welcome aboard! We now have 8,059 subscribers.
Thank you for reading The E-Sylum. If you enjoy it, please send me the email addresses of friends you think may enjoy it as well and I'll send them a subscription. Contact me at whomren@gmail.com anytime regarding your subscription, or questions, comments or suggestions about our content.
This week we open with a book sale, eight new books, updates from the Newman Numismatic Portal, notes from readers, and more.
Other topics this week include Puerto Rican paper money, Indian coinage, Chinese and Siamese gaming pieces, the 1909 Lincoln Cent, coin and bank bags, Gene Hessler, Mike Diamond, Tom Hipschen, Ben Franklin, Beate Rauch, the Knights of St. Eligius, my numismatic diary, sad and weird coin hoard news, and a coin designed by artificial intelligence.
To learn more about marbled paper, quarter eagles, U.S. Treasury Notes, early modern Swedish medals, the Vincit Amor Patriae medal, Out-East World Coins, Nails to Nickels, James and William Tassie, muscovite, the Operation Crossroads Short Snorter, coins of Pompey the Great, and engraved gems, read on. Have a great week, everyone!
Wayne Homren
Editor, The E-Sylum


NBS Bookbinding Demo at ANA Convention
Our bookbinding term of the week is marbled paper, which was sometimes used in older books for the front and rear pastedowns. Wikipedia explains the manufacture: A shallow tray is filled with water, and various kinds of ink or paint colors are carefully applied to the surface with an ink brush. Various additives or surfactant chemicals are used to help float the colors. Once the desired pattern is achieved, a sheet of paper is pressed into the solution, and the image transfers (in reverse) to the sheet. For our demo at the ANA, we will have several types of marbled paper to choose from, such as this French marble peacock example.
To read the earlier E-Sylum articles, see:
NBS BOOKBINDING DEMO AT THE ANA (https://www.coinbooks.org/v26/esylum_v26n25a02.html)
NBS BOOKBINDING DEMO: CURVED NEEDLE (https://www.coinbooks.org/v26/esylum_v26n26a02.html)
NBS BOOKBINDING DEMO: AWL (https://www.coinbooks.org/v26/esylum_v26n27a02.html)
BOOKBINDERS UNITE AT THE ANA CONVENTION (https://www.coinbooks.org/v26/esylum_v26n28a02.html)
NBS BOOKBINDING DEMO: BUCKRAM (https://www.coinbooks.org/v26/esylum_v26n29a02.html)
Stock up for your summer reading with books from the ANS. Choose from backlist titles as well as select recent titles, some as low as $2 (plus shipping). Note that ANS member discounts are not applicable on these closeout prices.
A Simple Souvenir: Coins and Medals of the Olympic Games (Peter G. van Alfen)
Connections, Communities, and Coinage: The System of Coin Production in Southern Asia Minor, AD 218-276 (George Watson)
The Art of Devastation: Medals and Posters of the Great War (Patricia Phagan and Peter van Alfen)
Coins of the Seleucid Empire in the Collection of Arthur Houghton, Part II (Oliver D. Hoover)
Concordia Disciplinarum: Essays on Ancient Coinage, History, and Archaeology in Honor of William E. Metcalf (Nathan T. Elkins and Jane DeRose Evans)
FIDES: Contributions to Numismatics in Honor of Richard B. Witschonke (Peter G. van Alfen, Gilles Bransbourg, and Michel Amandry)
Irritamenta: Numismatic Treasures of a Renaissance Collector (John Cunnally)
Jacques Wiener's Most Remarkable Edifices of Europe: The Man, Monuments, and Medals (Michael Ross)
A Monetary History of Central America (Brian Stickney)
The Banknotes of the Imperial Bank of Persia: An Analysis of a Complex System with Catalogue (Michael E. Bonine)
The Later Republican Cistophori (William E. Metcalf)
Medals Concerning John Law and the Mississippi System (John W. Adams)
Tha Nablus 1968 Hoard: A Study of Monetary Circulation in the Late Fourth and Early Third Centuries BCE Southern Levant (Haim Gitler and Oren Tal)
Coinage of the Caravan Kingdoms: Ancient Arabian Coins from the Collection of Martin Huth (ACNAC 10) (Martin Huth)
Agoranomia: Studies in Money and Exchange Presented to John H. Kroll (Peter G. van Alfen)
Alexander's Drachm Mints II: Lampsacus and Abydus (Margaret Thompson)
The Beaux-Arts Medal in America (Barbara A. Baxter)
Canada's Money (John M. Kleeberg)
European Medals in the Chazen Museum of Art: Highlights from the Vernon Hall Collection and Later Acquisitions (Maria Dale)
From Crime to Punishment: Counterfeit and Debased Currencies in Colonial and Pre-Federal America (Philip L. Mossman)
America's Gold Coinage (William E. Metcalf)
Numismatic History and Economy in Epirus during Antiquity (Katerina Liampe)
Illegal Tender: Gold, Greed, and the Mystery of the Lost 1933 Double Eagle (David Tripp)
The Island Standard: The Classical, Hellenistic, and Roman Coinages of Paros (John A. N. Z. Tully)
The Coinage of Metapontum, Parts 1 and 2 (Sydney P. Noe)
The Norman Davis Collection (Hyla Troxell)
The Proud Republic: Dutch Medals of the Golden Age (Stephen Scher)
Silver Coinage with the Types of Aesillas the Quaestor (Robert A. Bauslaugh)
Offer good while supplies last. Orders will be filled within 5 business days and will ship directly from ANS headquarters. Orders of multiple books will be consolidated into as few shipments as possible. Questions regarding the sale and shipping should be directed to publications@numismatics.org.
To view all of the ANS's current eBay listings, see:
https://www.ebay.com/usr/american-numismatic-society
The ninth edition of Mega Red (the Deluxe Edition of the Guide Book of United States Coins) is available for sale. The 1,504-page book can be ordered online (including at Whitman.com) and is available from booksellers and hobby shops nationwide.
The new ninth-edition Mega Red includes updates and revisions in every U.S. coinage series. As a special feature, it includes 178 pages of expanded study of quarter eagle gold coins—the $2.50 denomination issued from 1796 to 1929. Every type, date, and mintmark of these valuable and collectible gold coins is individually studied. Coverage includes history, illustrated grading standards, mintage information (including for rare early Proofs), strike characteristics, data on logotypes and other die characteristics, estimated field populations in Mint State and circulated grades, collectible die varieties, selected historical auction records, and more. This in-depth analysis covers all eight major quarter eagle types from the Capped Bust coins of the 1790s to the Indian Head coinage that concluded just before the Great Depression.
More than a dozen appendices explore specialized subjects such as patterns, error and misstruck coins, and counterfeits. One richly illustrated 43-page appendix, based on the work of Q. David Bowers and Katherine Jaeger, studies the history and collecting of American medals and tokens. Another in-depth appendix covers the American Arts Commemorative Series gold medallions of 1980 to 1984. Numismatists Jeff Shevlin and William D. Hyder contributed an 18-page study of So-Called Dollars with photographs, historical information, rarity data, and values for nearly 100 different examples struck to celebrate expositions of the 1880s. Other appendices describe the United States Mint's upcoming coinage programs for 2024 and beyond.
Billed as the biggest, most useful Red Book ever, Mega Red measures 7 x 10 inches and has 1,040 more pages than the regular edition. The larger size and increased page count combined make Mega Red five times bigger than the regular-edition Red Book. It prices more than 9,000 items in up to 13 grades each, with 50,000 individual values and more than 15,000 auction records covering circulated, Mint State, and Proof coinage. The book is illustrated with thousands of full-color images, including hundreds that are new to this edition.
Mega Red covers American coinage from New England colonial times to the modern day—half cents through $20 gold double eagles, plus bullion, commemoratives, Proof and Mint sets, error coins, significant tokens and medals, coins struck by the United States for the Philippines (1903–1945), and other numismatic collectibles. It follows the basic structure of the regular-edition Red Book, but each chapter is dramatically expanded with more historical information, more die varieties, detailed grading instructions with enlarged full-color illustrations, specialized advice on strike characteristics and other technical details, market analysis, auction data, and guidance on collecting and investing in rare coins.
Q. David Bowers is the book's Senior Editor. Jeff Garrett is its Valuations Editor. Kenneth Bressett serves as Editor Emeritus. An illustrated 83-page introduction, The History of Coins in America, 1607 to Date, is the work of Bowers. More than 120 numismatists have contributed research, photographs, market analysis, and other valuable knowledge and resources.
The ninth edition of Mega Red includes a 2023 Coin Market Report by Jeff Garrett. My overall view of the rare-coin market is very positive, writes Garrett. Educated collectors will always have the best chance of success. There has never been a better time to collect coins. The information available now for every coin series is astounding—Mega Red is a great example. Collectors a generation ago had only a fraction of this information available to make purchase decisions.
Each year's new Mega Red features an expanded focus on one or more coin series. The first edition included a 364-page section on copper half cents and large cents, with images, history, diagnostics, and pricing for 832 die varieties, 1793–1857. The second edition featured 330 pages covering 607 varieties of Flying Eagle, Indian Head, and Lincoln cents, 1856 to date. The third edition's feature was on nickel five-cent pieces—Shield nickels, Liberty Head nickels, Buffalo nickels, and Jefferson nickels—covering 545 varieties in 314 pages. Other editions have studied dimes, quarter dollars, half dollars, and silver and related dollars, as well as odd denominations such as twenty-cent pieces and half dimes.
For federal coins, detailed charts show each mintage; a summary of certified population data; average national retail prices in grades ranging from About Good to high Mint State and Proof; and three or more recent auction records for most coins. Enlarged close-ups of die varieties provide visual guidance. Extensive chart notes give the backstories and additional details on significant rarities.
Mega Red: A Guide Book of United States Coins, Deluxe Edition, 9th edition
ISBN 0794850197 1,504 pages, full color $59.95 retail
By R.S. Yeoman; Senior Editor Q. David Bowers; Valuations Editor Jeff Garrett; Editor Emeritus Kenneth Bressett
A fresh perspective on the history of United States paper money arrives with Stack's Bowers Galleries' publication of United States Treasury Notes 1812-1865: An Illustrated History, by Nicholas J. Bruyer. Bridging the gap between the Continental Currency of the Revolutionary War and the paper money issued by the United States to fund the Civil War, the 271-page hard cover book chronicles how the Treasury repeatedly used Treasury notes as a form of national currency in its times of greatest need.
Peter Treglia, Director of Currency at Stack's Bowers Galleries stated "Nicholas J. Bruyer's insightful book not only sheds light on the importance of various types and issues of currency, but it also unravels the mysteries that collectors and scholars have long pondered. With meticulous research and a keen eye for detail, Bruyer masterfully connects the dots, providing the answers to longstanding questions. From the earliest days of U.S. issued Treasury Notes to the Civil War, this book serves as a definitive resource, furthering our understanding of our nation's monetary heritage. Prepare to embark on an enlightening journey as Bruyer weaves together the threads of history, offering profound insights and a newfound appreciation for the importance of early US Treasury Notes.
Treasury notes were authorized under the U.S. Constitution as bills of credit, interest-bearing financial instruments of low denominations issued for short terms. Since the Constitution forbade the issuance of paper money by the government, the Treasury repeatedly turned to Treasury notes when it lacked sufficient gold and silver coin during deep recessions or wartime demands. The notes were issued in small sizes convenient to pass hand-to-hand, with interest ranging from 7.3% to no interest at all. Although opposed by hard money advocates in Congress, the notes were issued in denominations as low as $3. And while some notes were made payable to specific individuals, many were payable to bearer to encourage their use as a circulating medium.
Drawing upon Treasury Department documents in the National Archives, Congressional records and contemporary press accounts among other sources, Mr. Bruyer explores the use of Treasury notes by a succession of Treasury secretaries to meet the nation's financial needs during the War of 1812, the Panic of 1837, the Mexican War, the Panic of 1857 and the War of Rebellion. The greatest use of Treasury notes occurred during the Civil War under Treasury Secretary Salmon P. Chase, who initially believed he could pay the entire cost of winning the war solely using Treasury notes, without new taxes or bonds. As the war progressed, Chase experimented with different kinds of Treasury notes, including coupon-bearing notes, before settling upon a 6% note yielding compound interest in June 1864. U.S. Treasury Notes 1812–1865 is more than a catalog; it's a well-reasoned study that offers new perspectives in American financial and economic history commented Dennis Tucker, Publisher, Whitman Publishing.
United States Treasury Notes is the most extensively illustrated of any reference work yet published on the subject. Most notes are shown in color and include specimens from major auction houses and the Smithsonian Institution. Many are rare or even unique, the only known surviving examples. Individual notes illustrated in book have sold for upwards of $1 million at auction.
Students of Civil War currency may be surprised to learn that the non-interest bearing Demand notes of 1861 were in fact the second issue of such notes by the Treasury. The first Demand notes, in a $50 denomination, were issued in 1843 by Treasury Secretary John C. Spencer. They were payable on demand at any one of three federal depositories in New York. $1.3 million were placed into circulation before Congress concluded the notes were unconstitutional and prohibited Spencer from continuing his paper money experiment. Despite Congressional disapproval, the $50 Demand notes were favorably received by the public and circulated for years.
The book also dedicates space to the periods before and after the War of 1812 with chapters on the First (1791-1811) and Second (1816-1836) Bank of the United States. Arguably, if either institution had survived the politics of its times, there would have been no need for the U.S. government to issue its own circulating currency. However, growing distrust of British shareholders, who owned a majority of the First U.S. Bank at a time of increasingly prickly relations with the British government, sealed its fate. The Second Bank fell victim to President Andrew Jackson's dislike of bankers in general and what he called the monster bank in particular. This new book organizes the paper money of these banks in easy-to-follow chronological sequence. Circulating drafts, a form of paper money created to avoid the requirement for notes to be hand-signed by the Second Bank's president and chief cashier, also are described and illustrated.
Anyone interested in the monetary history of the United States and its paper money, from the beginning of the federal era through the end of the Civil War, will find United States Treasury Notes to be valuable as an introduction and a foundational reference. Well-known author and currency specialist, Art Friedberg remarked A sorely-needed book on a subject that has long been insufficiently studied and overlooked by all but a small segment of collectors. It is comprehensive, well written, and beautifully designed and illustrated. It will be published in mid-August and sold by Stack's Bowers Galleries, America's oldest numismatic auction house. The book will have a list price of $59.95 and will be available at Amazon.com – simply search United States Treasury Notes 1812-1865.
This new title will debut at the upcoming ANA World's Fair of Money convention in Pittsburgh at the Stack's Bowers Galleries table – #1000. In addition, Nick Bruyer will be on hand to meet attendees, talk paper money and personally autograph all copies of his soon to be best seller, offered at a special convention price of $30, a 50% discount to the cover price.
Nick will also have an extraordinary million dollar display of Treasury Notes, from a $1000 note from the War of 1812, to a $50 7.3% "coupon" note issued from 1864 to the end of the Civil War. Also on display will be an unissued specimen of the first and only U.S. $3 note, from 1815; a $50 note from the Panic of 1837; the first "Demand" note ($50) from 1843; the first $5000 note, issued for the Mexican War in 1847; the first note issued for the Civil War, a unique 1861 $50 6% 2-yr note valued at $1 million; a proof $100 coupon-bearing 7.3% note of 1861; and a $100 1864 Compound Interest note.
To read the earlier E-Sylum article, see:
NEW BOOK: U.S. TREASURY NOTES, 1812-1865 (https://www.coinbooks.org/v26/esylum_v26n29a05.html)
Historia Documental del Papel Moneda en Puerto Rico (1781-1790) Tomo I
By Ángel Navarro Zayas
Documentary History of Paper Money in Puerto Rico (1781-1790) Volume I
This Documentary History of Paper Money in Puerto Rico (1781-1790), Volume I, constitutes the beginning of a new series of volumes through which its author, the dynamic historian and young university professor, Dr. Ángel O. Navarro Zayas, will enrich his already extensive and constant bibliographic production within the subject of the study of the monetary and numismatic history of Puerto Rico. These achievements constitute the most prolific, useful, and relevant that a scholar in any of these fields has ever achieved, up to now, within Puerto Rican historiography.
He published the series Historia Monetaria Documental de Puerto Rico (La Moneda Macuquina), Volumes I-V (Lulu Enterprises, 2013-2016), as well as multiple and outstanding contributions of articles and essays published, from then to the present, in the prestigious and selective magazines The Numismatist, of the American Numismatic Association; Journal of Early American Numismatics, from the American Numismatic Society; The Paper Money Journal, by The Society of Paper Money Collectors; The Advisory, from The Medal Collectors of America; the Bulletin of the Royal Academy of Spanish History; and the annual magazine NUMI EXPO, of the Numismatic Society of Puerto Rico.
The search, location, transcription, compilation, ordering and publication of primary and unpublished documentary sources allows the accessibility and availability of documentation and material for reading, consultation and analysis that facilitates and enables historians -and other social scientists- the interpretation and reconstruction of the processes of the historical past of a people.
Hence the importance of pioneering works of this nature, such as the Historical Library of Puerto Rico, by Alejandro Tapia y Rivera (Márquez Printing House, San Juan de Puerto Rico, 1854); the Historical Bulletin of Puerto Rico, 14 volumes, by Dr. Cayetano Coll y Toste (Cantero, Fernández & Compañía Typography, San Juan, 1914-1926); the Documentary History of Puerto Rico, Volumes I-IV, by Father Vicente Murga Sanz (Plus Ultra Publishing House, Seville - Río Piedras - Ponce, 1956-1976); the Documents of the Royal Treasury of Puerto Rico, Vol. I (1510-1509), Vol. II (1510-1545), by Aurelio Tanodi (Historical Research Center, University of Puerto Rico, Río Piedras, 1971, 2009); and, the New Sources for the History of Puerto Rico by Aurelio Tió (Inter-American University of Puerto Rico, San Germán, 1961).
Details
Publication Date: Jun 25, 2023
Language: Spanish
ISBN: 9781312411548
Specifications
Pages: 312
Binding: Paperback
Interior Color: Black & White
Dimensions: US Trade (6 x 9 in / 152 x 229 mm)
For more information, or to order, see:
Historia Documental del Papel Moneda en Puerto Rico (1781-1790) Tomo I (https://www.lulu.com/shop/%C3%A1ngel-navarro-zayas/historia-documental-del-papel-moneda-en-puerto-rico-1781-1790-tomo-i/paperback/product-8vynj8.html)
Pabitra adds:
For more information, or to order, see:
https://www.facebook.com/rajgorsauctions/
Coins of Noida Mint 1988 to 2023 Catalogue & Valuation (Legacy of India: # 2) (https://www.ibpbooks.com/search?q=Coins+of+Noida+Mint)
Coins of Mumbai Mint 1947 to 2023 Catalogue & Valuation (Legacy of India: # 3) (https://www.ibpbooks.com/coins-of-mumbai-mint-1947-to-2023-catalogue-valuation-legacy-of-india-3/p/59593)
To read the earlier E-Sylum article, see:
NEW BOOK: COINS OF HYDERABAD MINT (https://www.coinbooks.org/v26/esylum_v26n14a04.html)
Cast Chinese Gaming Pieces

Various classes of objects were omitted from Cast Chinese Amulets (by this author), as their primary use was for gaming, rather than the bringing of good fortune. This book is intended to make good this omission. The pieces covered are:
Horse Coins, a Song Dynasty game played with counters bearing the names of famous horses and generals.
Chess Pieces, the well-known game of Chinese Chess, still played to this day.
Select An Immortal. A game played during the Song dynasty using counters with illustrations of one of the Immortals, and a short poem describing their activities.
Wine Drinking Game Coins. These are counters dating back to the time of the Han dynasty, and were used for a variety of drinking games.
Study of these pieces gives an insight to Chinese history and traditions; full details of this are given for each piece.
Publisher : New Generation Publishing (March 18, 2022)
Language : English
Paperback : 123 pages
ISBN-10 : 1803693185
ISBN-13 : 978-1803693187
Item Weight : 11.2 ounces
Dimensions : 8.27 x 0.28 x 11.69 inches
For more information, or to order, see:
Cast Chinese Gaming Pieces Paperback – March 18, 2022 (https://www.amazon.com/Chinese-Gaming-Pieces-David-Hartill/dp/1803693185/ref=sr_1_6)
PI Gaming Pieces: Siamese Porcelain tokens

Pi are small porcelain tokens made in China for the gambling houses of Siam in the 19th century. They were sometimes used as small change in the neighbourhoods in which they were issued.. They come in a large variety of shapes and colours. They are mostly inscribed in Chinese, but occasionally in Siamese. Inscriptions can vary between simply the name of the gambling house to extracts from classical Chinese poetry.
This catalogue illustrates, in colour, about 1800 of these tokens, with a full translation and explanation of their inscriptions and iconography.
Publisher : New Generation Publishing (November 23, 2022)
Language : English
Paperback : 188 pages
ISBN-10 : 1803696125
ISBN-13 : 978-1803696126
Item Weight : 1.37 pounds
Dimensions : 8.27 x 0.51 x 11.69 inches
For more information, or to order, see:
PI Gaming Pieces: Siamese Porcelain tokens Paperback – November 23, 2022 (https://www.amazon.com/PI-Gaming-Pieces-Siamese-Porcelain/dp/1803696125/ref=sr_1_3)
To read the earlier E-Sylum article, see:
NEW BOOK: CAST CHINESE AMULETS (https://www.coinbooks.org/v23/esylum_v23n35a07.html)
The Medal in Early Modern Sweden
From the Renaissance and onwards, the medal has been an important element of European art and visual culture. It was appreciated for its symbolic and material value. However, much of its significance lies in the fact that it affects multiple senses and not sight alone. Recipients can touch and hold it, wear it, trace the engraved portrait with their fingers, or place it in a cabinet drawer. How people engaged with medals and which significance this medium gained and lost unearths how visual media and early modern art were used over time. From the 16th to the 18th century, the medal changes shapes and meanings, inspires and assumes tendencies from other visual expressions, and one can trace European culture and politics through it.
Ylva Haidenthaller
The Medal in Early Modern Sweden. Significances and Practices
Mediehistoriskt arkiv 52
2021 | 459 p. | English
ISSN: 1654-6601
ISBN: 978-91-985800-4-4, 978-91-985800-5-1
For more information, or to order, see:
The Medal in Early Modern Sweden (https://www.ht.lu.se/en/series/9064222/)
An Exploration of 1909 and 1910 Lincoln Cent Varieties
Recently added to the Newman Portal is Shawn Tew's The Rabbit Hole of the 1909 Wheat Cent, a work supported in part by a grant from the Eric P. Newman Numismatic Education Society. In this work, Tew synthesizes the current technical research related to this coin and uses material from the National Archives to provide context for the design changes made early in the life of the Lincoln cent, the most ubiquitous coin in recorded history.
The interplay between Victor D. Brenner and Charles Barber is fascinating, as the efforts to bring artistry to the nation's coinage come into conflict with the quotidian concerns of day-to-day coinage production. Tew summarizes the known varieties for the 1909 and 1910 cents, one of which reuses a reverse from 1909. Tew leaves no stone unturned and integrates test results from the Center for Advanced Microscopy at Michigan State University, in order to analyze the relief profiles of the reverse dies. The work concludes with analysis of a remarkable hoard of Lincoln cents put away in 1909 and not fully examined until today.
Image: The infamous VDB initials on the reverse of the 1909 Lincoln cent, engraved by Victor D. Brenner and reworked by Charles Barber
Link to The Rabbit Hole of the 1909 Wheat Cent on Newman Portal:
https://nnp.wustl.edu/library/book/629442
Coinage of the Southern Confederacy
Palm Beach Coin Club member Bob LeNeve is a serious student of the history, traditions, and coinage of the southern Confederacy. In this program Bob gives a short background on the events leading up to the Civil War, shutting down of the Southern mints and a detailed look at the regular coinage and restrikes of the Confederacy. In this lecture-with-slides you will see and learn:
an overview and historical background
formation of the Confederate States of America
coinage production of the South in 1861
coins of the CSA including the half dollar, cent and many restrike issues
other possible CSA coins and related materials including Civil War tokens
Speaker(s): Robert LeNeve.
To watch the complete video, see:
https://nnp.wustl.edu/library/book/560281
The American militia men were hidden in the bushes having lunch and playing cards when they heard the horse galloping toward them. Springing from their lookout post near Tarrytown, N.Y., they confronted a stranger who was seemingly in a great hurry.
He was Maj. John André, head of British secret intelligence. But on this day, Sept. 23, 1780, he was disguised as a civilian, John Anderson.
Stuffed in André's boot were papers that laid out how to successfully take the American fort at West Point. He had only received the information two days earlier from Benedict Arnold, the commander of the fort, and André now was riding south in the hope of getting back behind the British lines.
But the militia men, John Paulding, David Williams and Isaac Van Wart, questioned André, realized he was a spy and arrested him. West Point was never attacked, André was later hanged and Arnold, whose name became synonymous with treason, fled.
The medal awarded the three militiamen in 1780 was made of silver. On one side it carried the Latin words Vincit Amor Patriae, or Love of Country Conquers.Credit...
Paulding, Williams, and Van Wart were recognized by the Continental Congress with hand-wrought, silver military medals, now considered to be the first ever awarded to American soldiers. Two of the three were stolen from the New-York Historical Society in 1975. But the third, held by the Van Wart family for more than two centuries, has now been given to the New York State Museum in Albany, where it will go on display this fall.
As the only one of the three out there, it's such a unique medal, said Sara Mascia, the executive director of The Historical Society of Sleepy Hollow and Tarrytown. It's invaluable. I don't think you could put a number on it.
After Van Wart died in 1828, the medal was passed down in his family until it reached Rae Faith Van Wart Robinson, a descendant living in White Plains. It became her prized possession, and until she died in 2020, she kept it in a shoe box under her bed, taking it out occasionally to display at events hosted by the historical society.
It was the one thing she cared about, said Henry Neale, the lawyer representing the executor of her estate.
Neale donated the medal to the New York State Museum in February, based on Robinson's wishes that it be given to a museum where it could be seen by the world.
If Washington and the American patriots had lost West Point, we would have lost our independence, said Cole Jones, associate professor of history at Purdue University.
To read the complete article, see:
He Foiled Benedict Arnold. His Medal Is Now Out From Under the Bed. (https://www.nytimes.com/2023/07/21/arts/benedict-arnold-medal-west-point-andre.html)
Beate Rauch at 93
Beate Rauch writes:
To read the earlier E-Sylum article, see:
NOTES FROM E-SYLUM READERS: JULY 16, 2023 : Beate Rauch: Still With Us (https://www.coinbooks.org/v26/esylum_v26n29a13.html)
Medal Collectors of America Membership Giveaway

To visit the Medal Collectors of America Facebook page, see:
https://www.facebook.com/medalcollectorsofamerica
FREE MCA MEMBERSHIP GIVEAWAY!
We're giving away multiple free MCA memberships! Members receive the award-winning MCA Advisory magazine, access to exclusive medals, and an unbeatable network of fellow medal enthusiasts. There are THREE ways to win! Entry period ends 7/25/2023.
1. Like our Facebook page, like this post, and tag two friends in the comment section of this post with hashtag #mcacontest to be entered into a drawing for a free one-year electronic membership to the MCA. AND/OR
2. Purchase/renew one year of MCA electronic membership for yourself at
https://www.medalcollectors.org/membership/join to be entered into a drawing for a free second year of electronic membership! Tell us in the comments once you've done so, and we will enter you in our drawing (proof of purchase will be necessary if selected). AND/OR
3. Purchase a $10 Young Numismatist membership at
https://www.medalcollectors.org/membership/join and donate it to a YN that you know to be entered into a drawing for a free two-year electronic membership to the MCA for yourself. Every additional donated YN membership is an additional entry into the drawing! Tell us in the comments how many YN memberships you've donated, and we'll enter you that many times (proof of purchase will be necessary if selected).
For more information on the Medal Collectors of America, see:
https://www.medalcollectors.org/
Out-East World Coins Sought

My mother passed away last year. My siblings and I are still going through all the stuff stashed away at her house. I came across a box called "Julia's Books" and in it, I found a copy of "Nails to Nickels." I don't remember this book as a child but I love it that my mother packed it away for me. I have five older siblings and this book predates me (it's a first edition) so it could have belonged to any one of them first, but my mother made sure it got to me.
It's a wonderful children's book! I'm impressed that the author was so comprehensive in the story.
I found a newspaper article from the June 30, 1960 Norfolk Ledger-Dispatch that relates how Elizabeth Campbell got the idea for the book.
Librarian Solves Dilemma No Such Book -- So She Wrote One
When a librarian hasn't got a book that a reader wants, a handy solution is to order it.
Librarian Elizabeth Campbell didn't have a book that many of her readers wanted but neither could she find one to order. Her solution? She wrote a book and got it published. Mrs. Campbell is the attractive wife of Dr. W. E. Campbell, assistant superintendent of schools for business and finance. She works as a librarian at Ingleside Elementary School.
"Almost three years ago," she says "a lot of my children at the school were interested in coin collecting. They talked about it and swapped information. But when they wanted to read about coins, I found that there weren't any books written in language they could understand."
The situation got her started on the writing project. She did some research and put material together for what she planned as a small pamphlet.
"I tried to answer the questions that children had asked," she says, "in a certain sense, the book had hundreds of coauthors." When it was finished, she took a chance and sent it to a publishing house. They turned it down, saying they weren't interested in a book of that type at the moment. However, the tone of their letter to Mrs. Campbell was encouraging so she tried again.
This time the publisher was Little, Brown and the answer was acceptance. Then followed a stretch of work on the manuscript to make revisions suggested by the publisher. There were surprisingly few, Mrs. Campbell says, but she noted that the first enthusiasm of authorship wilted somewhat under the grind of rewriting and revision. Finally it was ready for the artist, and that was long enough ago so that when the finished book arrived in Norfolk this week it rekindled all of the forgotten enthusiasm.
The book is entitled "From Nails to Nickels." It's a history of American money with many eye-catching illustrations in brown and gold tones. "I tried to relate money to history, to show how events and development of money are related," Mrs. Campbell says. "I wanted to teach history as well as a hobby." The book was the first writing Mrs. Campbell had ever done other than the usual material turned out by a college student and teacher, which she has been.
But the result has put her eye on the target of books covering other "grown-up" subjects in language children can understand. The level of interest in elementary school children is high in topics such as space, she feels, and there aren't enough books children can read themselves to answer their questions. So the writing team, of Elizabeth Campbell and Ingleside school youngsters, with one success to their credit, may soon try again.
I'm curious to learn more about an extremely rare 2009 Great Britain currency 10 pence. Evidently there are only 2 or three known pieces making it arguably the rarest decimal coin struck. It was sold in the Noonan's Auction of 7-8 June, 2023 as Lot #508 and fetched 1300 pounds plus the commission.
As a collector of British coins (mainly late predecimal milled copper and silver) I found this coin interesting and could find precious little about it except for an additional specimen sold by London Coins in 2015. I don't believe it has been formally published.
I wrote to the Royal Mint and sent them what information I had. I cannot confirm but one of these coins was alleged to have come from a 2008 Celebration Specimen set of some kind, perhaps for a child's birthday. The Obverse with QE II is a standard for 2009 rendition but the reverse is of the lion that was phased out after 2007 with the transition year of 2008 having both this older type and the newer lion on shield (Km 889 is the older type in Krause and not listed for 2009 and Km 1110 is what I recall is the Krause number for the newer type).
The London coins specimen from 2015 is one coin and another reported with no other information; the Noonan's coin may be this coin or it may represent a third specimen. That is the sum of all that I know.
To read the complete lot descriptions, see:
Decimal Ten Pence 2009 mule with the earlier (2008 and before) crowned lion reverse (https://www.londoncoins.co.uk/?page=Pastresults&auc=150&searchlot=2020&searchtype=2)
Elizabeth II (1952-2022), Decimal issues, Mule Ten Pence, 2009 (https://www.noonans.co.uk/auctions/archive/lot-archive/results/454191/)
First, I want to say how pleased I am to find a real person to ask a question about numismatics. It's not my field, except tangentially, and I have been looking for someone with a broad knowledge of the field to ask a question of – you seem to fit the description.
Second, a little background about how I found you and an answer to a question you asked sixteen years ago. While surfing the web looking for all things Nathaniel Marchant, I came across your diary entry of 7 Aug 2007 in which you described your visit to the Soane Museum in London. You saw the portrait of Marchant labeled, Nathaniel Marchant R.A. Die Sinker To the MINT" and asked, Was he an engraver at the Royal Mint? The short answer is found in Seidmann's article (which you mention) 'NATHANIEL MARCHANT, GEM-ENGRAVER 1739-1816', Walpole Society, vol. LIII, 1987, pp. 1-105. By G. Seidmann, It can be found and downloaded at https://www.jstor.org/stable/pdf/41829502.pdf (There is a charge unless you have academic connections.)
In the article, p22, she states, The first 'place' to which he was appointed, in 1797, was as probationer or apprentice engraver at the Mint, replacing John Milton (who had used Mint facilities for unauthorized purposes) under Pingo as Chief Engraver. In this post, and subsequently that of Assistant Engraver, performed his duties 'with diligence and fidelity', until superannuated for reasons 'age and infirmities' in 1815, only a few months before his death.
Marchant was a very accomplished engraver of gems, both of ancient mythological subjects and contemporary portraits. He was an RA and had exhibited many times at the Royal Academy. The coin engraving was really a very small part of his work. I plan on being in London this Fall and will visit the Soane with one objective being to view the set of his impressions there.
Now, on to the Tassies. My question – Have you ever come across coin impressions similar to those shown below?
I believe they were produced by James and William Tassie roughly during the period between 1780 and 1830. I have presented just about everything I have been able to discover about these coin impressions in a blog post to be accessed at https://engravedgem.com/coin-impressions-by-tassie/ For almost a year now I have continued to search for additional information about them and have found very little.
I have been in touch with the folks at the Hunterian Museum in Glasgow (I also plan to visit there in the Fall). While they have a number of gem impressions and portrait medallions by the Tassies, they don't have any coin impressions, but are very interested in finding some. As mentioned in the blog post, a great many (over 1,000?) of the Tassie coin impressions were of specimens in the Hunter coin collection.
Have you ever come across anything similar (or even single face impressions) in red sulphur or plaster? They usually have the gilded edge, hard paper wrap. I have seen some similar, single face, large medal impressions, but never coins. Supposedly, the Tassies also produced coin impressions in what they called enamel – a white opaque paste, glass-like substance.
Any thoughts or comments will be appreciated.
Lastly, congratulations on your continuing longevity in authoring pieces about a topic that you clearly love – it shows.
To read the earlier E-Sylum article, see:
WAYNE'S LONDON DIARY 7 AUGUST, 2007: SIR JOHN SOANE'S MUSEUM (https://www.coinbooks.org/esylum_v10n32a17.html)
You are brave for venturing into the bank bag / coin bag / deposit pouch field.
They are partly utilitarian for coin, bank notes, and document transport and storage and partly serving an advertising / customer convenience purpose.
Attached are representative photos of bags in the Higgins Museum reference collection. We have plenty of them, with litte duplication.
As to the Coin Bags, note the Federal Reserve Bank of Chicago bag formerly said Gold Coin, and from the production code 5,000 were made or ordered on April 21 1933.
For more information on the Higgins Museum, see:
https://thehigginsmuseum.org/
To read earlier E-Sylum articles, see:
COIN BAG COLLECTING & OTHER STRANGE AFFLICTIONS (https://www.coinbooks.org/esylum_v06n27a21.html)
COLLECTING AND CATALOGING U.S. MINT BAGS (https://www.coinbooks.org/v26/esylum_v26n07a30.html)
NEW BOOK: U.S. MINT COIN BAG GUIDE (https://www.coinbooks.org/v26/esylum_v26n13a06.html)
HIGGINS MUSEUM HIRES CUHAJ AS CURATOR (https://www.coinbooks.org/v26/esylum_v26n11a06.html)
Negative Shadow. Flow marks on tin and tin alloy compositions which form a permanent bright shadow in contrast to the remaining surface of a struck piece which has darkened from exposure to cold temperature. Tin has this unusual property; it does not work harden like other coinage compositions. Instead, its surface displacement during striking causes the flow marks to form a permanent bright area, somewhat like bright finish on other metals. Tin, tin alloys, including white metal, will darken in time, called darkening, from a mild condition of tin pest. This darkening is brought on from another property of tin – it is unstable below 18° centigrade (64° Fahrenheit). Prolonged exposure to cold temperatures first causes this dark toning on all surfaces that do not exhibit negative shadow. Continued exposure will cause unstable metallic tin (beta-tin) changing to the stable powdery form (alpha-tin) on the surface. The darkened area is in stark contrast to the bright areas of negative shadow. See tin, white metal.
class 06.5
To read the complete entry on the Newman Numismatic Portal, see:
Negative Shadow (https://nnp.wustl.edu/library/dictionarydetail/516392)
I have some great memories from the 1991 Centennial ANA Convention. At the time I was conducting interviews for American Numismatic Biographies. On the morning of August 15, I sat outside before the bourse opened. For about an hour I sat with John J. Ford and heard some great stories. A few of them I was able to print.
As the show was winding down, I walked through the exhibit area. Gene Hessler was there packing up his exhibit. I knew Gene from an interview I had done in May. At his side was the Howland Wood Memorial Award that he had won for his Best of Show exhibit. This was the first time I really thought about the award. Five years later I received the same award.
Gene celebrated his 95th birthday last week. Wayne Homren suggested I write something about Gene in honor of the occasion.
Eugene Joseph Hessler was born on July 13, 1928, in Mount Healthy, Ohio, a Cincinnati suburb. He showed an early interest in music and began taking music lessons in the second grade. He began playing with various bands while in high school.
During the 1951-53 Korean war era, he played with an Army band and performed with Cannonball Adderley. In 1953-54 he performed around Cincinnati with the Gene Hessler Orchestra. He graduated from the University of Cincinnati in 1955 with a B. A. in music education.
Gene moved to New York in 1955 and received a master's degree from the Manhattan School of Music in 1957. He got a job playing in the pit orchestra for various Broadway shows including Annie, Camelot, How to Succeed in Business and The Music Man. He also played with the Radio City Music Hall orchestra. When the Bolshoi Ballet Orchestra and the Leningrad Philharmonic came to New York, Hessler played with them.
In 1964 he joined a band sponsored by the State Department on a tour of Africa. In 1966 he toured the world with the Cincinnati Symphony Orchestra. On each of these tours he gathered large quantities of coins from local dealers and money changers. He also gathered examples of world currency. He was interested in their designs and engraving.
Lester Merkin was a navy veteran and professional saxophone player who opened a coin business in Manhattan in 1958. Gene Hessler visited the store and Merkin became a mentor. In 1967, Hessler joined the ANA as member #58664.
With a recommendation from Lester Merkin, Gene applied for the job as curator of the Chase Manhattan Bank Money Museum in Rockefeller Center. He was hired to replace someone named Zerbe who had the position there before him. He worked there from 1967 to 1977 while continuing to work as a musician. Later from 1986 to 1988, he was curator of the Mercantile Money Museum in St. Louis. That museum was formed by someone named Newman. After 1988 he worked as a free-lance writer contributing 350 articles to numismatic publications.
He served as editor of Paper Money, the journal of the SPMC from 1984 to 1998. He contributed the Notes on Paper column to The Numismatist and is a contributing editor.
Hessler wrote a script for the ANA Money Talks series broadcast on National Public Radio that was nominated for a Peabody Broadcasting Award. He made an appearance on the TV show What's my Line. He also appeared on the NBC Today show twice and was listed in Who's Who in the East. He is frequently quoted in newspaper articles as an expert on paper money.
Hessler has written five books on paper money topics.
The Comprehensive Catalog of U. S. Paper Money (1974)
An Illustrated History of U. S. Loans 1775- 1898.(1988)
U. S. Essay, Proof and Specimen Notes (1979)
The Engraver's Line: An Encyclopedia of Paper Money and Postage Stamp Art (1993)
The International Engraver's Line: Paper Money and Postage Stamp Engravers and Their Work from the 1700s to the Euro. (2005)
He also wrote his memoir, Hey, Mister Horn Blower: Memoirs of a Life in Music and Numismatics, published in 2009.
He has received many awards and honors over the years.
Howland Wood Memorial Award for Best-of-Show Exhibit (1991) for the complete works of Czech banknote designer Max Svabinsky.
ANA Glenn Smedley Memorial Award (1993)
Named Numismatic News Numismatic Ambassador (1993)
Professional Numismatists Guild Outstanding Achievement Award (1994)
ANA Medal of Merit (1995)
ANA Presidential Award (1998)
International Bank Note Society (IBNS) Silver Medal for Service (2001)
Middle Atlantic Numismatic Association Numismatist of the Year (2001)
Numismatic Literary Guild Clemy Award (2007)
ANA Farran Zerbe Memorial Award (2008)
Inducted into the IBNS Hall of Fame (2011)
ANA Lifetime Achievement Award (2014)
Inducted into the SPMC Hall of Fame (2014)
In 2022, the Cincinnati Numismatic Association authorized a literary award named for Hessler. They were struck in silver and bronze by the Osborn Mint.
- - - - -
I spent hours trying to find Hessler in Census records to identify his parents. Well, you might ask, how many Hessler's can there be in Mount Healthy, Ohio. I found 33 in the 1940 Census. Eventually I found Jean Hessler in the 1930 and 1940 census. His parents were Joseph (1899- 1986) and Clara (1899-1973) living on Elizabeth Street. Joseph was proprietor of a tailor shop. That fits with other sources.
To read earlier E-Sylum articles, see: COINING "SYNGRAPHICS"
(https://www.coinbooks.org/esylum_v05n29a11.html)
U.S. ESSAY, PROOF AND SPECIMEN NOTES, 2ND EDITION (https://www.coinbooks.org/esylum_v07n31a09.html)
INTERNATIONAL ENGRAVER'S LINE (https://www.coinbooks.org/esylum_v08n42a09.html)
NEW BOOK: HEY! MISTER HORN BLOWER BY GENE HESSLER (https://www.coinbooks.org/esylum_v12n13a02.html)
BOOK REVIEW: U.S. FEDERAL LARGE-SIZE NOTES (https://www.coinbooks.org/esylum_v17n48a05.html)
Greg Bennick: Mike, thanks for taking some time to answer some questions today. Can you tell me a little about your background?
Mike Diamond: Well, I'm semi-retired now. I work as a freelance writer. I write for Coin World. I used to be a teacher, teaching biological anthropology and cultural anthropology. Before that I taught human gross anatomy and other courses necessary for basic health sciences. I have a Ph.D. in biological anthropology from the University of Chicago. Coins are a hobby that allow me to exercise my brain. I haven't done any active scientific research for quite a while, so this keeps my neurons firing and lets me work on my writing skills, too.
Greg Bennick: How did you get involved with error collecting? How and when did that come about?
Mike Diamond: I had a brief flirtation when I was in high school in the early 1970s, and quite probably it started when I picked up Frank Spadone's terrible book on errors, which I didn't know was terrible at the time. (Note: Major Variety and Oddity Guide of United States Coins, by Frank G. Spadone, Krause Publications, Iola WI)
Greg Bennick: Right?!
Mike Diamond: Yes, I got a copy of that. That sparked my interest.
Greg Bennick: Can you tell us a bit about the Spadone book? I have copies of multiple editions of it on my shelf and I flip through them from time to time. What was it for you about that book that leaves you saying today that it was terrible because it is indeed, not the best book.
Mike Diamond: (Laughs) It was riddled with fakes! It is riddled with counterfeits and altered coins. You name it. And some the terminology is idiosyncratic, and then you've got the pictures. I knew about the 1943 bronze cent for example and then I see, Oh, wow. There's a triple struck one! (laughs) Yeah, right. They were all fake.
Greg Bennick: I'd be very curious to know about Spadone himself. I don't know anything about him, like where he was from and what inspired him to write the book and whatnot.
Mike Diamond: I'm sure he's led many a hobbyist astray. But yeah, I don't know any background material about him. Once I went to college, I forgot about errors for years and years and years. I picked it up again in 1997 when I went to a coin show and I picked up two coins, one of which was an error, the other of which was a fake. But I didn't find out about that for several years. Anyway, that got me rolling. When I went to the show. I wasn't sure whether I wanted to collect error coins or paper currency, and I'm glad I made the decision I made!
Greg Bennick: What were the two coins that you bought? The real, or authentic one, and the fake one?
Mike Diamond: Well, the authentic one was a dime, a clad layer struck off center. I'm not sure if it's a uniface strike on top of a normal dime planchet or if it separated after the strike. Those two errors, unless there are some clues that you can pick up on, are essentially indistinguishable. Anyway, it was a struck clad layer. And the other one was, I thought, an incomplete punch. But it turned out to be a fake.
Greg Bennick: I most certainly have made my mistakes over the years. I remember buying a 1964 off-center Kennedy silver half dollar with a brockage reverse on the bourse floor in Baltimore. And I thought for sure that I made the purchase of the century and then sent it in to PCGS and it came back in a body bag. And it turned out to be a fascinating educational piece as Fred Weinberg and I would later discuss. It seems there was a series of these 1964 fake brockages which came out around that time and we talked about who made them all. It's pretty interesting what you can learn when you get burned, so to speak. The key if you buy the wrong thing is to stay devoted to your education about why the coin is fake and how to discern an authentic one.
Mike Diamond: You know, on the rare occasions these days when I do buy a fake, I just write it up for Coin World and make lemonade out of a lemon.
Greg Bennick: So, given that it was the late 1990's, you moved relatively quickly from getting back into errors to starting to work on the Error Coin Information Exchange on Yahoo! Groups and I'm assuming that you started writing articles shortly thereafter as well? How did you start writing about error coins?
Mike Diamond: I tried to read everything there was to read. Arnie Margolis' book (Note: The Error Coin Encyclopedia, Third Edition by Arnold Margolis and Fred Weinberg) and Alan Herbert's book (Note: Official Price Guide to Mint Errors, by Alan Herbert, House of Collectibles, New York) and James Wiles short course, and some of the older references too. I also got hold of back issues of ErrorScope. I read through all of them. I read everything I could and I learned everything I could, and then I went beyond it.
Greg Bennick: You certainly went beyond it! Which of those references was most inspirational to you? I'm wondering if the Herbert book was indeed the one that was most central to you, because your work, seemingly as a scientist of sorts of the minting process, follows methods that Herbert seemed to approach with his book. His book was very, very specific in the error types it explored. I was wondering if that book was particularly inspiring for you?
Mike Diamond: I would say Herbert's book and Margolis' book were equally informative. Herbert's a little bit more technical. His classification is odd. We don't need to go into that. But they were both useful. I also found this older book, Steiner and Zimpfer's Modern Mint Mistakes (Note: Ideal Printing Company, LaPorte, Indiana). It was an older book, but still quite useful.
Greg Bennick: Absolutely. A classic with amazing photos, too.
Mike Diamond: Kind of grainy actually in terms of the quality of the photos. Black and white, and the resolution's not great, but certainly good enough to show what they wanted to show.
Greg Bennick: I agree. I think for the time, the early seventies, I believe 1971 or 1972, it was tremendous.
More of Greg's error interviews can be found in previous issues of Errorscope magazine. For more information on the Combined Organization of Error Collectors of America (CONECA), see:
https://conecaonline.org/
Though few Washingtonians know of him, most of us carry some of Thomas Hipschen's art every day. His portraits of Abraham Lincoln, Andrew Jackson, Ulysses S. Grant, and Ben Franklin are cut into American history, printed on the front of the $5, $20, $50, and $100 bills.
Hipschen is considered one of the world's best portrait engravers. For the late 20th century, he is basically the engraver, says Mark D. Tomasko, author of The Feel of Steel, a history of currency engraving in the United States.
But when the Treasury Department rolls out a new $100 bill in February, the engraving on the front—a fuller portrait of Franklin—will be Hipschen's last. The two-centuries-old tradition of hand engraving is fading away. Bank-note artists who cut tiny dots, dashes, and lines into steel plates are putting down their tools and instead using a keyboard and a digital tablet to create images that can be produced in three weeks rather than three months.
But at the same time that the bureau is phasing out hand engraving, it's adding anti-counterfeiting technology. The new $100 bill will have features such as a three-dimensional ribbon as well as ink that contains microscopic flakes that shift color with movement. Says Stephen Mihm, a University of Georgia professor who specializes in the history of money: These innovations are the latest in a game of cat and mouse that has been going on for centuries.
A magnifying glass held to Benjamin Franklin's coat—which Hipschen lengthened for the new $100 bill—and to the facial and eye area on the left side of the note, reveals lines that are alternatively heavy, thin, dark, and light. Slanted, tic-tac-toe-like crosshatches with dots inside create depth and texture.
It's almost as if the portrait is rising off the paper, says Gene Hessler, author of five books on paper money and engravers. A master engraver like Hipschen creates this three-dimensional effect better than anyone.
Hipschen has spent decades studying engravings—especially those from the 1920s and '30s—to learn ways to use open space, lines, and dots. There are a million little decisions because there are a million little dots, he says. It's a very tiny canvas, so all the space has to be put to good use.
Hipschen's interest in art was sparked at age eight, when he saw a drawing of a young hare by the German Renaissance engraver Albrecht Dürer in a magazine. I thought it was the most beautiful thing I had ever seen, he recalls. Hipschen also copied pictures in comic books that his father, a drugstore manager in Bellevue, Iowa, brought home after they didn't sell.
Hipschen dreamed of studying art in college but knew that with ten children in the family (he was second-oldest), his parents couldn't afford it. A door to art opened when his cousin Bob Jones, a postage-stamp designer at the Bureau of Engraving in DC, returned home to Iowa to visit and saw Hipschen's work. Jones knew the bureau was searching for an apprentice and encouraged his cousin to apply.
Hipschen traveled alone to Washington at age 17 with a bus ticket his grandfather had bought. He sketched a still life, competing with dozens of older artists before winning the post. He credits his youth with helping him get the job: They wanted someone they could mold.
Hipschen started as an apprentice in 1968, peeling tiny threads of steel off a plate with a pointed chisel, called a burin, to create a seven-cent stamp of Ben Franklin, who designed the country's first paper money—continental dollars issued to pay for the American Revolution. Franklin used plaster casts of leaves to create lead plates and then print images of the leaves on dollars, because each leaf was unique and therefore hard to counterfeit.
As an apprentice, Hipschen received permission from the bureau to moonlight for the Canadian government to engrave portraits on $10 and $50 bank notes of John A. Macdonald and William Lyon MacKenzie King, the first and tenth prime ministers.
The precision of his work attracted attention among currency experts around the world. He was approached by countries on three continents to engrave their currency, and he received proposals to create illegal engravings. When one man asked Hipschen to copy travelers' checks, he gave the information to the Secret Service.
Despite his skill, Hipschen's work long remained anonymous. The art world and the academic world has largely ignored this area, Tomasko says. Because currency engraving is a security business, publicity has traditionally been discouraged: It's rare to be famous if you are an engraver.
To read the complete article, see:
Face Value (https://www.washingtonian.com/2010/10/18/face-value/)
The best thing about newspapers is you never know what you're going to find. The New York Times reports on a paper about Benjamin Franklin's printing techniques that was just printed in the Proceedings of the National Academy of Sciences.
The Times story says, "During his printing career, Franklin produced a stream of baroque, often beautiful money. He created a copper plate of a sage leaf to print on money to foil counterfeiters: The intricate pattern of veins could not easily be imitated. He influenced a number of other printers and experimented with producing new paper and concocting inks."
Here's a link to the Times article:
https://www.nytimes.com/2023/07/17/science/benjamin-franklin-counterfeit-currency.html
I don't have access of the National Academy article, but the abstract available to non-subscribers makes me want to find a way to read it.
The authors analyzed 600 18th century notes. The abstract says,
Here's a link to the abstract:
https://www.pnas.org/doi/full/10.1073/pnas.2301856120
When Benjamin Franklin moved to Philadelphia in 1723, he got to witness the beginning of a risky new experiment: Pennsylvania had just begun printing words on paper and calling it money.
The first American paper money had hit the market in 1690. Metal coins never stayed in the 13 colonies long, flowing in a ceaseless stream to England and elsewhere, as payment for imported goods. Several colonies began printing bits of paper to stand in for coins, stating that within a certain time period, they could be used locally as currency. The system worked, but haltingly, the colonies soon discovered. Print too many bills, and the money became worthless. And counterfeiters often found the bills easy to copy, devaluing the real stuff with a flood of fakes.
During his printing career, Franklin produced a stream of baroque, often beautiful money. He created a copper plate of a sage leaf to print on money to foil counterfeiters: The intricate pattern of veins could not easily be imitated. He influenced a number of other printers and experimented with producing new paper and concocting inks.
The study draws on more than 600 artifacts held by the University of Notre Dame, said Khachatur Manukyan, a physicist at that institution and an author of the new paper. He and his colleagues looked at 18th-century American currency using Raman spectroscopy, which uses a laser beam to identify specific substances like silicon or lead based on their vibration. They also used a variety of microscopy techniques to examine the paper on which the money was printed.
Some of what they observed confirms what historians have long known: Franklin's paper money contains flecks of mica, also known as muscovite or isinglass. These shiny patches were most likely an attempt to combat counterfeiters, who would not have had access to this special paper, said Jessica Linker, a professor of American history at Northeastern University who studies paper money of this era and was not involved in the study. Of course, that didn't stop them from trying.
They come up with very good counterfeits, with mica pasted to the surface, Dr. Linker said.
In the new study, the researchers found that the mica in bills for different colonies seems to have come from the same geological source, suggesting that a single mill produced the paper. The Philadelphia area is notable for its schist, a flaky mineral that contains mica; it's possible that Franklin or printers and papermakers associated with him collected the substance used in their paper locally, Dr. Manukyan said.
Gerry writes:
The researchers took samples from the paper money and examined them in increasingly fine detail using a variety of microscopes, including a high-resolution model that passed beams of electrons through the samples to produce images of the atomic details.
We take a very, very tiny piece of money, Manukyan said. It is a thousand times tinier than a human hair. We can image even single atoms.
Researchers discovered that the black ink used by Franklin and his associates was made of graphite. The blue threads in their bills were dyed with indigo, a plant-based pigment. Their paper was strengthened with muscovite, a variety of mica.
Combined, the features created bills that were more durable and of a higher quality, Manukyan said.
He has small muscovite inside the paper early on, Manukyan said. Then we see it appear on the surface and glimmer. No others had this among those we analyzed. Indigo-colored threads were unique to Benjamin Franklin's money. The black pigment is a more vivid black than the others.
Bills produced by other printers included in the analysis used lamp-black or bone-black ink; Prussian blue, a mineral-based pigment; and a more common type of paper strengthened with kaolinite, a clay mineral.
To read the complete article (subscription required), see:
How Benjamin Franklin Helped Foil Early American Money Counterfeiters (https://www.wsj.com/articles/how-benjamin-franklin-helped-foil-early-american-money-counterfeiters-bf51f8c7)
To read the additional articles, see:
How Benjamin Franklin laid groundwork for the US dollar by foiling early counterfeiters (https://apnews.com/article/benjamin-franklin-counterfeit-colonial-money-currency-a1063605531aeeb4a2cb2826a89e27b0)
How Benjamin Franklin laid groundwork for the U.S. dollar by foiling early counterfeiters yy21 (https://www.inquirer.com/news/nation-world/ben-franklin-us-dollar-counterfeiters-20230717.html)
Benjamin Franklin launched America's fight against counterfeit money with colored threads, watermarks and images of leaves, new study shows (https://fortune.com/2023/07/18/benjamin-franklin-launched-us-fight-counterfeit-money-colored-threads-watermarks-images-leaves-new-study/)
All about the Benjamins: Researchers decipher the secrets of Benjamin Franklin's paper money (https://www.sciencedaily.com/releases/2023/07/230717175947.htm)
While you were working on this project, what did you learn that surprised you the most? I was surprised to learn how interesting early American history was. As a foreign economist, without a British or Christian background, all I knew about the colonial period before starting this project was Mayflower, Thanksgiving, and the Salem witch trials.
Later, I was surprised to learn how valuable my perspective could be, exactly because I was such a complete outsider. The subject of my investigation—a currency issued by Massachusetts in 1690—has been known to historians for centuries. The perspective of an economist (with legal training) was necessary to appreciate the global historical significance of this invention. This culturally distanced perspective allowed me to investigate and explore this history with fewer preconceived notions about England vs. America, a preference for a region within America or a Christian denomination, or a penchant for seeing everything as leading to the American Revolution.
Why is it that the money we use, and the political mechanism that controls it, are so similar to those of 1690 Massachusetts?
Massachusetts created an alternative to metallic money and metal-backed paper money. This alternative fit wartime episodes as in 1690 and was implemented during many wars since then, as in the Civil War. To prevent inflation, this legal tender money was regularly abandoned after wars in favor of gold. The World Wars of the twentieth century, with the Great Depression in the middle and the welfare state later, increased government expenditures so much that gold was doomed. Since 1971 gold has played no role in the monetary system.
The English colonies and the later United States have struggled for centuries with the proper way to control the money supply. In 1690 Massachusetts it was obvious that a committee should issue the new money because everything of importance was performed by committees. The monetary committee had a slight majority of members representing the executive and legislature over those representing the private sector. These checks and balances worked well, but the later United States forgot this successful experiment in the three times it established a central bank. The First and Second Banks of the United States were private and centralized while the original Federal Reserve System was mostly private and very decentralized. All three experiments were terminated within two decades. The Federal Reserve still exists but in a modified form, in which policy resides in a Federal Open Market Committee, where, as in 1690, the representatives of the executive and legislature have a slight majority over the private sector. This political mechanism has survived for almost a century because it gave the private sector the proper role that the American constitutional tradition has generally granted it.
What do you hope most readers will take away from your book?
The Puritans were no cartoon characters of stern, disciplined fanatics—they were real people, who tried, with as many moral errors as other humans, to deal with the difficult circumstances of their lives. They were highly skilled, determined individuals who came up with a brilliant invention that profoundly affected the modern era and still affects our own lives. It is not a coincidence that the United States grew in large part out of that old Massachusetts. Long before the Tea Party, the people of Massachusetts audaciously broke free of one of the Old World's most sacred institutions—metal-based money—and showed the way to the future.
To read the complete article, see:
Five Questions with Dror Goldberg, author of Easy Money: American Puritans and Invention of Modern Currency (https://pressblog.uchicago.edu/2023/06/29/five-questions-with-dror-goldberg-author-of-easy-money-american-puritans-and-invention-of-modern-currency.html)
To read earlier E-Sylum articles, see:
NEW BOOK: EASY MONEY (https://www.coinbooks.org/v26/esylum_v26n13a03.html)
BOOK REVIEW: EASY MONEY (https://www.coinbooks.org/v26/esylum_v26n14a06.html)
With great pleasure and honor Frank Galindo, Chancellor, St. Eligius Numismatist Brotherhood, U.S.A. (a branch of the Saint Eligius Brotherhood of Numismatists of Canada), has inducted and welcomed Robert (Bob) F. Fritsch, FRCNA, FONA as a life fraternal brother, and Knight of St. Eligius. Bob is in good company, as there are very distinguished Knights in the United States (including Puerto Rico), Canada, Germany, France, Hungary, and some other European countries, as well as some South American countries. Knights come from different professions, such as professors, doctors, scientists, business executives, educators, artists, authors, religious leaders, veterans, and retirees. One thing in common with all Knights, is their generous spirit, their advancement of numismatic education and the science of numismatics, their volunteerism, their fostering of fellowship, and their help in growing and sustaining the numismatic hobby for the enjoyment of others.
As Frank is unable to travel beyond an area in his home state of Texas, he was delighted to have other Knights present to Bob during the Royal Canadian Numismatic Association's annual convention held in Halifax, Nova Scotia, Canada, this month.
This July 22nd photo taken by Lloyd Chan shows Bob being formally presented his induction certificate as a Knight of St. Eligius, by these 5 Knights: (left to right): Sir Clifford Mishler, Lady Phyllis Ross (newly elected ANA Governor, effective August 11, 2023), Sir Ralph Ross (ANA President, until August 11, then Immediate Past President), newly Knighted Sir Robert Fritsch, Sir Scott Douglas (Grand Knight and Chancellor), and Sir Serge Pelletier. Male Knights are addressed as Sir and female Knights as Lady.
Sir Robert Fritsch then gave a Hawaiian koa wood bowl originally presented to Mr. Al Baber for emceeing the Honolulu 1981-February 5th-8th ANA's 3rd Annual Mid-year Convention Banquet (now called the National Money Show) to Sir Ralph Ross (see photo by Paul Johnson). All knights got a packet of Bob's Saint Eligius elongated cents. Joyful banter accompanied the ceremony.
During the convention, Bob freely distributed the first ever issue of an elongated St. Eligius medal, PATRON OF NUMISMATISTS • Saint Eligius • MAY HIS WISDOM GUIDE YOU. Bob has a number of squish machines, and has been designing and producing elongated coins for decades. As he plans to have these coins find their way across a couple of countries, Bob's production process will result in a mintage of around 2,000 pieces, so he engaged CZC in the production, and this is noted on the left-hand side of the coin. Engraving the die took a couple of months, but then it was smooth sailing from there.
Bob is a Fellow of both the Royal Canadian Numismatic Association (RCNA) and the Ontario Numismatic Association (ONA). He is recipient of at least 16 awards, the most recognizable ones include: Krause Publications Numismatic Ambassador Award, American Numismatic Association's (ANA's) Glenn Smedley Award, ANA's Terry Armstrong Award, ANA's President Award, ANA's Medal of Merit, Central States Numismatic Association's Medal of Merit, and the Joseph E. Boling Award for Judging Excellence.
At present Bob holds memberships in 52 numismatic organizations, and at one time this was at 59. He has served in executive roles in at least 14 clubs (President, Vice President, Secretary, Treasurer), and 6 of those were in the officer role of President. This includes simultaneously serving as President for 3 groups (at state, regional, local levels). Bob is currently a Director / Governor on 3 Boards, which includes the Industry Council for Tangible Assets. He has served in multiple roles and continues to do so in these larger organizations: New England Numismatic Association, and American Numismatic Association (which includes originating the concepts No Club Left Behind and Numismatic Community, and creating the criteria for merit-based scholarships for the ANA Summer Seminar). Bob has been an exhibit judge, an exhibitor, convention general chairman, a public speaker, a facilitator, presenter, editor, and an author. Along with Kevin Winn, he has put Young Numismatist coin clubs into local school programs.
102407 | BELGIUM. Liège. St. Martin's Church bronze Medal. Issued 1847 for the 600th anniversary of the Fête-Dieu (Corpus Christi) festival held there (74mm, 208.29 g, 12h). By L. & J. Wiener. Interior view of the church, from a central vantage point; st martin à liége in exergue (in Gothic script); around, circular border of flowers and with the names of prior pastors and bishops // Coats-of-arms of Pope Pius IX, surmounted by tiara, and of Archbishop van Bommel, surmounted by galero, within trilobe; around, 19 coats-of-arms and names of prelates. Edge: A few scattered marks, otherwise plain; thickness: 9mm. Ross M37; van Hoydonck 34; Reinecke 11. Choice Mint State. Deep chocolate brown surfaces, with some enchanting brilliance remaining in the fields; a minor bruise is noted near the center of the floor. Incredibly intricate, with nearly microscopic lettering populating the reverse, making this an exceptionally well rendered type. Compare to a similar example in Coin Galleries (18 August 2009), lot 6024 (which realized $1,380). $895.
From what is today eastern Netherlands and western Germany, the Wieners were a Jewish family of exceptional medalists, especially known for numerous numismatic works throughout the Kingdom of Belgium. Eldest brother Jacques, along with younger brothers Leopold and Charles, created some of the finest works of medallic art of the 19th century, and all are particularly noted for their work in the highly detailed and intricate work of architectural renderings.
To read the complete lot description, see:
102407 | BELGIUM. Liège. St. Martin's Church bronze Medal. (https://www.numismagram.com/product-page/102407)
102465 | BELGIUM. Liège. Bishop Cornelius Richard Anton van Bommel bronze Medal. Issued 1852. The Bishop's Achievements/St. Paul's Cathedral (74mm, 183.35 g, 12h). By L. & J. Wiener. C R A VAN BOMMEL EPISC LEOD SS DD PRÆL DOM ET SOL PONT ASSIST LUGD BAT NAT MDCCXC OBIIT MDCCCLII LAUDIBUS CLARUS, mantled bust left, wearing zucchetto // ECCLES LIBERTAT IN CLERICIS INSTITUEND PROPUGNATOR / RELIGIOSAR FAMILIAR PIAR SODALITAT OMNIGEN BONOR OP FAUTOR, ornate perspective interior view of the choir; DE JUVENTUTE / RITE RELIGIOSEQ / INFORMANDA DE SALUTE ANIMAR / PROCURANDA INDEF SOLLICITUS in four lines in panel to left; DECORIS ECCLESIAR / CULTUSQ SS EUCH ET B V M A E / DISCIPLINÆ CLERICALIS / PROMOTOR in four lines in panel to right; in two lines in exergue, FELICI BENE MERENTIS / MEMORIÆ. Edge: Plain; thickness: 6.5mm. Ross M109; van Hoydonck 98; Reinecke 145. Choice Mint State. Red-brown surfaces, with great brilliance in the fields and relief on the obverse. Far superior to other examples commonly featuring a high degree of spotting and oxidation. $465.
To read the complete lot description, see:
102465 | BELGIUM. Liège. Bishop van Bommel bronze Medal. (https://www.numismagram.com/product-page/102465)
102375 | FRANCE. Paris. Church of St. Geneviève (Panthéon) bronze Medal. Issued 1858. Most Remarkable Edifices of Europe series (59mm, 99.70 g, 12h). By J. Wiener in Brussels and struck at the Geerts mint in Ixelles. ÉGLISE Ste GENEVIÈVE (PANTHÉON) À PARIS / COMMENCÉE EN 1758 J. G. SOUFFLOT ARCHIT, centered, exterior view of the (then) church building as viewed from the west // Interior view of the (then) church looking east down the nave from just left of the center aisle centerline. Edge: Plain. Ross M211 (R1); van Hoydonck 159; Reinecke 41. Choice Mint State. Deep red-brown surfaces, with some enchanting brilliance remaining in the fields. Compare to a similar example in Coin Galleries (18 August 2009), lot 6119 (which sold for a total of $488.75) and in Stack's Bowers CCO (22 April 2020), lot 30016 (which sold for a total of $480). $435.
To read the complete lot description, see:
102375 | FRANCE. Paris. Church of St. Geneviève (Panthéon) bronze Medal. (https://www.numismagram.com/product-page/102375)
102466 | NETHERLANDS. Amsterdam. State House bronze Medal. Issued 1850. Most Remarkable Edifices of Europe series (59mm, 87.91 g, 12h). By J. Wiener in Brussels and struck at the Geerts mint in Ixelles. Three-quarter perspective view of the building's exterior; in five lines in exergue, STADHUIS TE AMSTERDAM / DE EERSTE STEEN GELEGD 20 JAN: 1648 / INGEWYD 29 JULY 1655. / JAC: VAN CAMPEN BOUWMEESTER / A QUELLINUS BEELDHR // Interior view of the State House, from a central vantage point. Edge: Plain. Ross M66 (R1); van Hoydonck 64; Reinecke 64. Choice Mint State. Somewhat mottled brown surfaces, though with elegant brilliance remaining in the fields. A later die state. $465.
To read the complete lot description, see:
102466 | NETHERLANDS. Amsterdam. State House bronze Medal. (https://www.numismagram.com/product-page/102466)
Tuesday July 18, 2023 brought the monthly meeting of my Northern Virginia numismatic social group Nummis Nova. Mike Packard was our host, and he chose Maggiano's Little Italy in the Galleria at Tyson's II mall. This was the site of our second meeting in November 2007, a memorable event where many of us met for the first time (the initial gathering the month before was just myself, Roger Burdette and Wayne Herndon). Here's a group shot of the whole crew.
Clockwise from left: Lorne Lavertu, Mike Packard, Jon Radel, Wayne Homren, Tom Kays, Tom's guest Mike Markowitz, Julian Leidman, Steve Bishop, Daryl Haynor, Dave Schenkman, Eric Schena and Wayne Herndon.
I only had one item to show this time - a copy of Peter Bertram's new work on the Confederate Chemicograph Back banknotes.
To read the earlier E-Sylum article, see:
NEW BOOK: CHEMICOGRAPH BACKS REVISITED, 2ND ED. (https://www.coinbooks.org/v26/esylum_v26n22a05.html)
Here are some of my photos from the evening.
We ate downstairs, but I checked out the staircase to the empty upper level.
Here Tom Kays and Mike Markowitz review a binder with a copy of Mike's presentation for an upcoming Fairfax Coin Club meeting. A great way to preserve and memorialize a presentation - I wish I'd thought to do that with my own presentations.
Daryl Haynor and Dave Schenkman examine coins.
The Nuclear Option
Here are some notes and images from Eric Schena.
Eric writes:
Eric adds:
Tom's Medals

Tom Kays writes:
Obverse: Wooden steam-powered barkentine Grønland is lodged in pack ice with broken rudder.
Reverse: Ancient Greenland Rock Painting of two men dancing to an Inuit Drum – KALAALLIT – NUNAAT – 1974 - GRøNLAND.
Edge: KULTATEOLLISUUS FINLAND - UDGIVET AF ANDERS NYBORG A/S NORDISK KUNSTMEDALJE SERIE DEN 1 / 4 (19)74, NR 153 /5000
Mint: 70mm Bronze medal from the Mint at Kultateollisuus Ky, Turku, Finland
Engraver: Sven Havsteen-Mikkelsen
Numisma Rarity Index: 97th out of 100 (where 1 is most common)
50th Anniversary Commemoration: Wooden steam-powered barkentine Grønland under the command of Ejnar Mikkelsen of the private Scoresby Sund Committee is lodged in pack ice with broken rudder just fourteen days after leaving Copenhagen in June 1924, including a stop in Iceland to pick up four Icelandic pack ponies; yet completes its mission to transfer native East Greenland Inuit hunters to a new settlement on the shores of Scoresby Sund at the mouth of the largest fjord system in the world. The new fishing and hunting settlement established at Ittoqqortoormiit is at the Fjord's northern entrance where the Grønland became stuck in the ice. They explored, unloaded, and departed by rigging an oar off the deck to steer in September as hazardous winter blasts began. The Grønland made it to Ireland, was towed to Denmark, repaired, refitted, and renamed Gustav Holm and made a return visit in 1925 with 90 colonists, to find the small Inuit colony thriving in newly-built buildings after finding large rookeries, swarms of fish, hot springs, and even a beehive with honey.
Jon Radel writes:
For more information, or to order, see:
https://numismatik.dk/litteratur/bestilling-af-litteratur/nordiske-kunstmedaljer/
The Medal (issue 62, Spring 2013) (https://bams.org.uk/product/the-medal-issue-62-spring-2013/)
Tom adds:
Another excellent evening of numismatic fellowship, with great food and drink to boot. I expect to see several of these folks along with many loyal readers like you at the ANA show in Pittsburgh next month. Stop by the NBS events or the tables of NBS, Julian Leidman or Wizard Coin Supply to say hello. Julian will be our dinner host next month in his home state of Maryland.
The break-in looked like the work of professionals.
It began after midnight on Nov. 22, 2022, when someone cut fiber optic cables at a telecommunications center in the small German town of Manching, in Bavaria, knocking out internet and telephone connections in 13,000 households.
Then, just before 1:30 a.m., the Celtic and Roman Museum was broken into. Within nine minutes, thieves had pried open two locked doors and a display case, the police said.
One official said the coins, along with a chunk of gold that was also stolen, could be worth $1.7 million, although much less if melted down.
On Thursday, the Bavarian state criminal police said that they had arrested four men suspected of carrying out the theft after a monthslong investigation by a 25-member task force turned up a trace of DNA on an unspecified item at the scene.
The deputy head of Bavaria's state criminal police office, Guido Limmer, told reporters in Munich that the authorities had examined 18 lumps of gold that were recovered this week, The Associated Press reported.
Each is believed to be the result of four coins being melted down, he said.
We know that about 70 gold coins have apparently been lost irretrievably in their cultural and historical significance, Bavaria's state culture minister, Markus Blume, said, according to The A.P. But that means that, of course, there is still hope of perhaps being able to find the rest of the gold coins, and so the majority of the gold treasure.
The coins had been unearthed in 1999 during a dig at an ancient Celtic settlement known as the Oppidum of Manching.
The trove is considered the biggest cache of ancient Celtic gold discovered in the 20th century. It remains a mystery why so much gold was stored in one spot and how it ended up at the site.
The coins were the pride of the Celtic and Roman Museum, a small archaeological institution that showcased them and other artifacts discovered in the region.
To read the complete article, see:
Four Charged in Gold Coin Theft From German Museum (https://www.nytimes.com/2023/07/21/world/europe/bavaria-gold-coins-suspects-arrested.html)
To read the other articles, see:
https://www.dw.com/en/germany-arrests-made-in-celtic-gold-coin-treasure-theft/a-66287216
Four charged in gold coin theft from German museum (https://artdaily.cc/news/159539/Four-charged-in-gold-coin-theft-from-German-museum)
German police find melted-down gold in search for stolen ancient Celtic coins (https://nypost.com/2023/07/20/german-police-find-melted-down-gold-after-theft-of-celtic-coins-seek-rest-of-treasure/)
A treasure inquest has heard how three coins went missing from a 56-strong Roman coin hoard discovery, only to be mysteriously replaced with ones in better condition.
The more valuable replacements were noticed when photographs taken of the original first batch of money found did not match the currency sent to the British Museum for identification.
All the coins, known as the Lanviet Hoard, were discovered during digs at newly ploughed fields near Bodmin over four years between October 2017 and January 2020, Cornwall Live reports..
At a treasure inquest on Monday it was heard how since the hoard was initially photographed three of the coins have been pinched and replaced - but the new ones are even more valuable than the ones initially found.
The hoard was discovered by members of the Mid Cornwall History Hunters group who were metal detecting with permission from the landowner, and they dutifully reported the find to Cornwall's finds officer at the time, Anna Tyacke from the Royal Institution of Cornwall.
The inquest heard how 56 coins spanning 200 years were found in the same location during a series of digs.
During the inquest, Ms Tyacke said: "It's quite rare to find so many coins together in a small area. It's almost like there were curated."
However, she said that more intriguing was that three of the coins from the original find in October 2017 were missing and had not been reported as treasure finds.
Instead, they were substituted with other Roman silver coins from the same period and in similar appearance.
She added: "The substitute coins looked similar to those found but are actually in a better condition and are more valuable than those they were swapped in for. The substitution does not make sense."
Ms Tyacke told the inquest that the missing coins from the original dig have never been found.
To read the complete article, see:
Mystery as coins missing from Roman hoard 'replaced with more valuable ones' (https://www.express.co.uk/news/uk/1792234/Roman-coins-stolen-replaced-valuable)
ROMAN ARISTOCRAT AND general Gnaeus Pompeius (better known to English speakers as Pompey) was a pivotal figure in the events that led to the collapse of the Roman Republic. Coins issued in his name, or by his sons and supporters, document and illustrate a dramatic period of Roman history.
Born September 29, 106 BCE in the Italian province of Picenum, he was the son of Pompeius Strabo, a rich landowner who became a Roman senator and eventually consul in 89 BCE. At the age of 16, young Pompey accompanied his father on campaign in the Social War.
In the bloody and protracted civil wars that wracked the dying decades of the Roman republic, young Pompey sided with the dictator Sulla, raising and training an army at his own expense. In recognition of Pompey's victories, Sulla awarded him the honorific title of Magnus (the Great) which appears on the coins in place of his given name. In 67 BCE, he was voted extraordinary powers to suppress the Cilician pirates, who had paralyzed Mediterranean trade and were threatening Rome's vital imported grain supply. Public confidence in Pompey was so great that the price of bread dropped on the day he was appointed. Within three months, he swept the pirates from the seas. In 60 BCE, he formed a political alliance, the First Triumvirate, with Marcus Licinius Crassus, the richest man in Rome, and Gaius Julius Caesar, an ambitious up-and-coming politician. Their political enemies called it the three-headed monster. Pompey cemented his alliance with Julius Caesar by marrying Caesar's daughter, Julia. Pompey was elected consul three times; in 70, 55, and 52 BCE; on the first occasion, he was not even a Senator, which was unprecedented.
The first coin attributed to Pompey is an extremely rare gold aureus, probably issued at Rome on the occasion of his triumph in 71 BCE, although some sources question this date (Kopij, 111). Only five examples of this coin are known, all but one in museums. The best-known published example is in the British Museum, purchased in 1867 from French collector Louis Duc de Blacas (1815-1868).
The aureus, valued at 25 silver denarii (a month's pay for a mercenary soldier) was not a regular part of the currency at this time; it was only issued on special occasions. On the obverse, the head of a female wearing an elephant headdress and surrounded by a laurel wreath represents Africa, where Pompey won some of his victories. The inscription is simply MAGNVS (the Great). On the reverse, Pompey stands in a triumphal quadriga (a parade chariot drawn by four horses); a small figure riding the lead horse may be Pompey's young son, Cnaeus. The inscription PRO•COS abbreviates another of his titles, Proconsul.
To read the complete article, see:
The Ancient Coins of Pompey the Great (https://coinweek.com/the-ancient-coins-of-pompey-the-great/)
The Pressburg Mint, a privately-owned mint based in Bratislava, Slovakia specializing in the production of investment gold and silver coins and bars, has issued the world's first silver coin designed by Artificial Intelligence (AI).
AI was given the task of designing a silver coin based on what it imagined a silver coin should look like.
According to the Mint's General Manager Alan Behul (no relation to the writer), We follow technological trends, so we thought to test the capabilities of artificial intelligence in our industry. Initially, we tried many different inputs until we got the final output you can see on the coin itself. The whole process took about 6 months, from the creation of the initial design to the launch of production.
Production of the 2023 AI silver coin has already begun. Specifications:
Mintage: 30,000
Weight: 1 troy ounce
Diameter: 38 mm
Material: Fine Silver 9999/10000
The Pressburg Mint continues to stand out in the conservative world of precious metals with its innovative, sophisticated designs and technological advances.
The AI coin will be continued each year as a series of coins with changing designs. AI will be given the same assignment every year. In doing so, the Mint will be able to follow the development of AI technology and see it improve over time.
The coin is now available at www.pressburgmint.com.
Or check out the YouTube video at:
The World's First Silver Coin Designed by AI (https://www.youtube.com/watch?v=KnIdeeEBVv8)
The London goldsmith James Morisset is known to have made five two-colour gold boxes granting freedom of the City of London to naval heroes. Two of them are now in the National Maritime Museum in Greenwich but that issued to Admiral William Waldegrave, First Baron Radstock (1753-1825), was offered at Christie's as part of the Exceptional Sale on July 6.
The enamelled scene to the lid of this box shows the moment Jervis in HMS Victory, closely supported by Waldegrave in the Barfleur, approached the Spanish ship Salvadore del Mundo and poured a broadside into its hull.
Additional battle scenes decorate the sides alongside the arms of the city of London, the arms of Waldegrave and the monogram WW.
When it was last offered by a direct descendant at Christie's in 1991, the box was followed to the rostrum by two related items: an inscribed gold 'victory' medal to a design by engraver Lewis Pingo and two illuminated vellum documents, one appointing Waldegrave as Governor of Newfoundland, the other addressed to Waldegrave as first Baron Radstock, confirming to his wife Cornelia Jacoba the arms of Radstock and Van Lennep.
At the time the three items were bought by the same buyer and they will remain together after being offered as a single lot 32 years later.
Estimated at £70,000- 100,000, the trio attracted many admirers as both a tour-de-force of English goldsmithing and a little piece of naval history. The last lot of the day, it took £190,000 (plus 27% buyer's premium) from a phone bidder.
To read the complete article, see:
Pick of the week: Well done to naval hero Waldegrave (https://www.antiquestradegazette.com/print-edition/2023/july/2602/news-digest/pick-of-the-week-well-done-to-naval-hero-waldegrave/)
This week's Featured Web Site is The Engraved Gem.