Welcome to NBS
The Numismatic Bibliomania Society (NBS) is an educational association founded in 1979 to support and promote the use and collecting of numismatic literature. Numismatic literature includes books, periodicals, catalogs and other written or printed material relating to coins, medals, tokens, or paper money, ancient or modern, U.S. or worldwide.
NBS Events at ANA and Benefit Auction - for information »» "Click Here"
This Week's E-Sylum
August 19, 2018
This week's Complete E-Sylum »
E-Sylum Archive | E-Sylum Subscription Page
Announcements
NBS Events Planned For 2018 Philadelphia ANA -

See Events at ANA

Numismatic Literary Guild 2017 Awards:

Best Issue, Small-Circulation Club Publications: The Asylum, Autumn 2016, "The Future of Numismatic Literature," Maria Fanning, Editor
Best Column, Small-Circulation Club Publications: "Off the Shelf," by David Fanning, The Asylum
PCGS Education Award: E-Sylum, Wayne Homren, Editor
The Asylum Author Index has been updated. It is available on the NNP or on The Asylum page.





Martin Gengerke has made his book on ANA Auctions Open Source and available for download by NBS Member at no charge. The book can be found on the Resources Page. The book will also be placed on the NBS Wiki so that NBS members can add information to the book.





Annual NBS Auction Catalog





Click here to view/download (pdf) 2018 NBS Benefit Auction sale catalog.




The Asylum v36 n2 Table of Contents
NBS News
NBS Constitution and By-Laws Proposed Changes and Ballot
The Asylum Awards Ballot
Message from the President
Donte to NBS Benefit Auction at ANA
A Handwritten Letter from Eric P. Newman Shared by George F. Kolbe
Funny Meeting You Here! By Bill Daehn
Taking the Plunge: or, Becoming a "Real" Bookseller By David F. Fanning
The Camden Bank Note Registers By David Gladfelter
An Adventure in Rhode Island By Dan Hamelberg
Chasing an Oasis of Numismatic Knowledge By Thomas D. Harrison
Imhoof-Blumer, Fontana, and Quadras y Ramón Kibitzing My Collection By Andrew McCabe
A Copy of Henfrey's English Coins Bound with Wilkinson's Ancient Egyptians By David Pickup
There Has To Be a Better Lazy Deuce? By John and Nancy Wilson
A Fortunate Scratch By Ray Williams
An exceedingly interesting copy of Brooke's English Coins By Peter Gaspar
Tales of Numismatic Good Luck and Bad Luck By Jud Petrie
Sponsors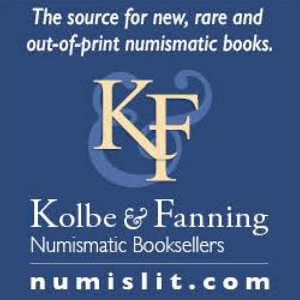 Download a FREE
Sample Issue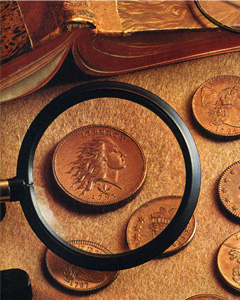 Photo from the cover of Louis Helfenstein Collection of Large Cents (August 14, 1964). Catalog courtesy of Dan Hamelberg.