About Us
The Numismatic Bibliomania Society is a non-profit organization devoted to the study and enjoyment of numismatic literature. For more information please see our web site at coinbooks.org
Subscriptions
Those wishing to become new E-Sylum subscribers (or wishing to Unsubscribe) can go to the following web page link
Membership
There is a membership application available on the web site Membership Application
To join, print the application and return it with your check to the address printed on the application. Print/Digital membership is $40 to addresses in the U.S., and $60 elsewhere. A digital-only membership is available for $25. For those without web access, write to:
Terry White, Treasurer
Numismatic Bibliomania Society
P. O. Box 39 Hilliard, OH 43026-1278s
Asylum
For Asylum mailing address changes and other membership questions, contact Terry at this email address: terrywhite5475@yahoo.com
Submissions
To submit items for publication in The E-Sylum, just Reply to this message, or write to the Editor at this address: whomren@gmail.com
BUY THE BOOK BEFORE THE COIN
Sale Calendar
New subscribers this week include: George Skic, courtesy of Gary Patterson. Welcome aboard! We now have 2,014 subscribers.
This week we open with updates from two numismatic literature dealers, two new books, and audio content from the Newman Numismatic Portal, which now host over 397,000 pages of digitized content.
Other topics this week include the coinage of 1815, Canadian coin designer Doug Comeau, Smithsonian exhibits, postmodern "coin" issues, the Nero Aurius, and gold-stealing hackers.
To learn more about the only numismatic title by Thomas Paine, author of Common Sense, Ben Jefmer's numismatic tunes, the YN Digest , Coin Jocks, coin dealer Azzez Khayat, Captain Cook's Resolution and Adventure medal, the McKinley Campaign Procession Badge and Siberian Polushkas, read on. Have a great week, everyone!
Wayne Homren
Editor, The E-Sylum




To read the earlier E-Sylum article, see:
LAKE BOOKS 125TH SALE CLOSES SEPTEMBER 13, 2016 (www.coinbooks.org/esylum_v19n37a02.html)
For more information, see:
www.lakebooks.com
Numismatic booksellers Kolbe & Fanning have issued a September 2016 Fixed Price List. -Editor
Kolbe & Fanning are pleased to announce the availability of their September fixed-price catalogue, featuring rare and out-of-print numismatic books from around the world. Including works on ancient, medieval and modern topics, the 36-lot PDF catalogue offers a wide variety of material.
A few highlights from this offering include:
the magnificent 1645 Icones volume of Goltzius
a set of Calciati's marvelous Pegasi
the only numismatic title by Thomas Paine, author of Common Sense
a wonderful 1913 letter from Mint Director George E. Roberts praising James Earle Frazer's depiction of the American Indian on the Buffalo nickel.
The catalogue is being published only in PDF form. No printed catalogue will be issued. It is being distributed first to those customers of ours who have signed up for our email list. You can sign up for our mailing list on our website at numislit.com. Kolbe & Fanning plan to issue similar fixed-price PDF catalogues in the future, so make sure you are among the first to know of them: most items offered are one of a kind.
Please email David Fanning at orders@numislit.com or call our office at (614) 414-0855 to purchase lots. We look forward to hearing from you.
To download the catalogue, see:
http://www.numislit.com/dl.php?type=pdf&file=/pdfs/KolbeFanning0916FPL.pdf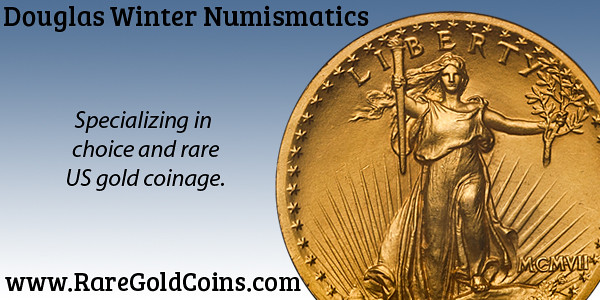 Dennis Tucker of Whitman Publishing submitted this article about a new title on the U.S. Mint. Thanks! -Editor
Exploring the Mints of the United States—From Colonial Days to the Present
by Dennis Tucker
The United States Mint is at the center of American coin collecting. It is the wellspring, the mother lode, of the little copper, silver, and gold objects of material culture that numismatists collect, study, and catalog. The Mint is the sole manufacturer of the nation's legal-tender coinage, and its products are used every day by millions of Americans nationwide. As a repository its facilities safeguard $311 billion in national assets. Its programs are self-sustaining and operate at no cost to taxpayers. It employs nearly 2,000 people, including its own police force.
The Mint is, quite simply, a big and important part of American life.



Naturally anything this large attracts attention. Most collectors today love the Mint. (At times some love to critique it; opinions in the hobby community, unlike 1804 silver dollars and 1792 half dismes, are not scarce.) Hobbyists discuss the latest coins, programs, and developments in blogs, editorials, online forums, and print articles. We eagerly await the latest announcements from the Mint's Office of Corporate Communications. Entire industries surround the Mint and its products—book-publishing firms, weekly newspapers, monthly magazines, coin conventions, makers of folders and albums, bullion wholesalers and retailers, and rare-coin dealers. Museums and scholarly societies archive and display U.S. coins. Hobbyists join affinity groups that focus on specific topics (like Liberty Seated silver coins, or early American coppers) as well as larger groups that cover the entire expanse of coinage (like the American Numismatic Association, online at www.money.org).
Still, even longtime collectors might not know how the Mint operates, how coinage designs come to be, how coins are distributed, and the million moving parts that make our national mint facilities run.
Meanwhile, outside the hobby community the Mint seems perpetually misunderstood. Non-numismatists sometimes think the Mint makes our nation's paper currency. Hollywood's 1967 madcap romp Who's Minding the Mint? includes the spectacle of George Washington dressed as Milton Berle (or vice versa) surrounded by printing presses cranking out $100 bills. Some people think that it's the Federal Reserve, not the Mint, that makes coins. Few non-numismatists could name all the American cities that are home to the modern Mint's coinage factories. And most don't realize that the famous gold depository at Fort Knox is part of the Mint, or that a huge amount of silver is stored in scenic West Point.
Prior to Q. David Bowers's new Guide Book of the United States Mint (making its debut in October 2016), many volumes had been written about American coinage, and about individual mint facilities. However, at Whitman Publishing we've seen the need for a single authoritative history of not just the modern (post-1872) U.S. Mint, but also of the early Mint, plus each of its branches, and the many private and territorial mints and assay offices that provided local and regional "coins" (from colonial days up to the 1860s) in places where official money was scarce.
Here are just a few of the predecessors to the Guide Book of the United States Mint:
◊ Colonial coins and tokens and early American patterns (dating from before 1792, when the federal mint was established under the management of the Department of State) were studied in classic texts such as Sylvester S. Crosby's The Early Coins of America, published in 1875. Q. David Bowers's Whitman Encyclopedia of Colonial and Early American Coins, 2009, discussed the colonial minters in a single-source reference containing the latest research.
◊ Philadelphia coin collector Andrew Madsen Smith published an Illustrated History of the U.S. Mint, which was released in later editions (over the course of nearly 20 years starting in the 1880s) by bookstore and gift-shop owner George G. Evans, who sold it to tourists and visitors. Frank H. Stewart published his History of the First United States Mint, Its People and Its Operations—an important reference about the Philadelphia Mint—in 1924. Stewart, his book, and the first U.S. mint were explored in great depth by Leonard Augsburger and Joel Orosz in The Secret History of the First U.S. Mint, published in 2011 and subtitled How Frank H. Stewart Destroyed—And Then Saved—A National Treasure.
◊ Neil Carothers (Fractional Money, 1930) and Don Taxay (U.S. Mint and Coinage, 1966) also wrote about the early Philadelphia Mint and its coins.
◊ Clair M. Birdsall wrote two studies of the history and coinage of the U.S. branch mints at Dahlonega (Georgia) and Charlotte (North Carolina), published in 1984 and 1988 respectively.
◊ Coin dealer and collector Rusty Goe has researched and written extensively on the history of the Carson City Mint.
◊ Numismatic historians Richard G. Kelly and Nancy Y. Oliver have written on many Mint-related topics, including the branch mint at San Francisco.
◊ Michael F. Moran's books Striking Change (2007) and 1849: The Philadelphia Mint Strikes Gold (2016) explore the inner workings of the Philadelphia Mint from its early days to the "Renaissance" era of President Theodore Roosevelt and sculptor Augustus Saint-Gaudens.
◊ Richard Doty's America's Money, America's Story provides colorful background to the nation's coins and its mints.
◊ Roger W. Burdette's work, shared in his "Renaissance of American Coinage" trilogy and the Journal of Numismatic Research among other places, shines light on many previously unpublished aspects of the Mint. For his Guide Book of Peace Dollars Burdette interviewed many old-time employees of the Denver Mint, where the 1964 Peace dollar was struck.
◊ David W. Lange wrote the History of the United States Mint and Its Coinage, a richly illustrated and engaging study published in 2006—perhaps the closest in scope to Bowers's Guide Book of the United States Mint.
◊ My own American Gold and Silver: U.S. Mint Collector and Investor Coins and Medals, Bicentennial to Date (published 2016) offers behind-the-scenes coverage of modern Mint production, in particular at Philadelphia and West Point.
Each of these books, and others, focused on one or several parts of the giant tapestry of the United States and its mints. Before the Guide Book of the United States Mint, though, there was no single book that brought together all of these subjects and more, in vibrant full color and in fascinating depth, connecting the water-, horse-, and man-powered machines of the 1600s and 1700s with today's massive Gräbener presses that strike three-inch silver coins with 500 metric tons of pressure.
Our choice of author for this complex undertaking was easy. There is no better craftsman for such a volume than Q. David Bowers himself—Whitman Publishing's numismatic director, after whom the popular Bowers Series of references is named. For more than 60 years Bowers has made the study of American coinage his life's work. He's known many of the Mint's directors, superintendents, sculptors, and chief engravers as personal friends.
In recent years I've had the honor of traveling with Dave on research missions to each of the Mint's operating facilities, in Philadelphia, Denver, San Francisco, and West Point, as well as its headquarters in Washington, D.C., with the blessing of its directors and public-affairs officers. The insight we've gained from these recent studies is icing on the cake for Dave's readers. His already remarkable knowledge is constantly expanding, and he shares that knowledge generously. His first-hand interviews with Mint personnel going back to the 1960s, plus decades of archived research at his fingertips (accessible with a photographic memory), are updated by frequent communication with Mint staff and ongoing study of new issues.
The result is a historical record that lives and breathes. It is a landscape painting of the U.S. Mint stretching back to the colonial era but also as close as today's dimes and quarters jangling in our pockets.
The Guide Book of the United States Mint, like those coins, is for every American—artistic but also useful, and a tangible expression of our nation's history.
A Guide Book of the United States Mint
By Q. David Bowers; foreword by Kenneth Bressett
Available October 25, 2016
ISBN 0794843972
Softcover, 6 x 9 inches, 448 pages, full color
Retail $24.95 U.S.
For more information, or to preorder, see:
ITEM NUMBER:0794843972 A Guide Book of the United States Mint (www.whitman.com/store/Inventory/Detail/A-Guide-Book-of-the-United-States-Mint+0794843972)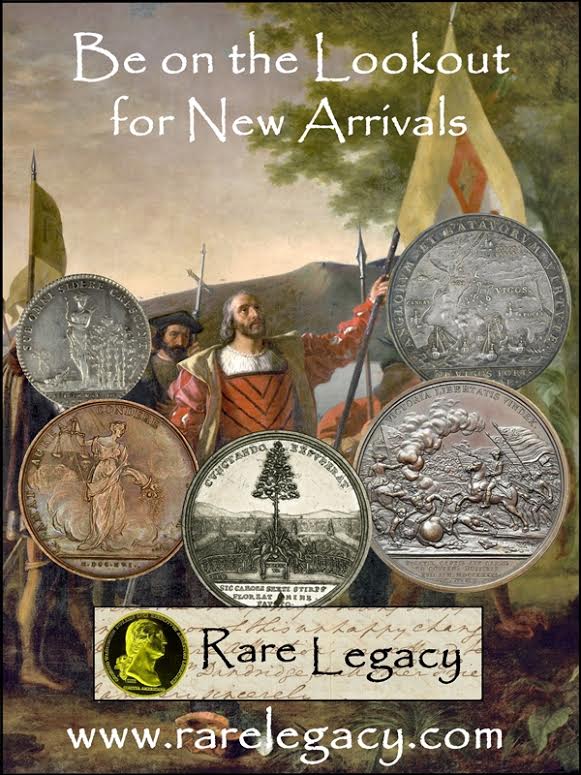 Harvey Stack writes:
Thanks. I had trouble locating information on the Smithsonian web site, so I reached out to National Numismatic Collection Curator Ellen Feingold, who kindly put me in touch with Peter Liebhold, Curator, Division of Work and Industry. Peter and his team curated the exhibition. -Editor
Peter Liebhold writes:
For more information on the exhibit, see: American Enterprise (http://americanhistory.si.edu/american-enterprise)
Thanks! Here's information on the book. Harvey submitted a second item (seen elsewhere in this issue) about the Stack family's history with the Smithsonian National Numismatic Collection. -Editor
American Enterprise: A History of Business in America
by Andy Serwer, David Allison, Peter Liebhold, Nancy Davis, Kathleen G. Franz
What does it mean to be an American? What are American ideas and values? American Enterprise, the companion book to a major exhibition at the Smithsonian's National Museum of American History, aims to answer these questions about the American experience through an exploration of its economic and commercial history. It argues that by looking at the intersection of capitalism and democracy, we can see where we as a nation have come from and where we might be going in the future.
Richly illustrated with images of objects from the museum's collections, American Enterprise includes a 1794 dollar coin, Alexander Graham Bell's 1876 telephone, a brass cash register from Marshall Fields, Sam Walton's cap, and many other goods and services that have shaped American culture. Historical and contemporary advertisements are also featured, emphasizing the evolution of the relationship between producers and consumers over time. Interspersed in the historical narrative are essays from today's industry leaders—including Sheila Bair, Adam Davidson, Bill Ford, Sally Greenberg, Fisk Johnson, Hank Paulson, Richard Trumka, and Pat Woertz—that pose provocative questions about the state of contemporary American business and society. American Enterprise is a multi-faceted survey of the nation's business heritage and corresponding social effects that is fundamental to an understanding of the lives of the American people, the history of the United States, and the nation's role in global affairs.
ISBN 10: 1588344967
ISBN 13: 9781588344960
Author Information
Andy Serwer, David K. Allison, Nancy Davis, Kathleen G. Franz, and Peter Liebhold
ANDY SERWER is the editor-in-chief of Yahoo Finance. He was formerly the managing editor of Fortune magazine, as well as a regular contributor on CNN's "American Morning" and a co-host of CNN's "In the Money." DAVID K. ALLISON, NANCY DAVIS, KATHLEEN G. FRANZ, and PETER LIEBHOLD are curators at the Smithsonian National Museum of American History.
For more information, or to order, see:
American Enterprise: A History of Business in America (www.smithsonianbooks.com/store/history/american-enterprise-history-business-america/)
The latest addition to the Newman Numismatic Portal is Benjamin Jefmer's offbeat numismatic record. Project Coordinator Len Augsburger provided the following report. -Editor
In May, Wayne Homren discussed a 45 RPM record in his collection, which has now been digitized by the Newman Portal. These recordings, on the "S. V. D. B." label, are undated but likely coincide with the collecting boom of the early 1960's. The songwriter was clearly versed in the numismatic lingo of the day and familiar with key and semi-key issues of the 20th century American series.
The tunes are well crafted with a breezy country and western feel, and still amusing a half century later. "The Numismatic" describes roll searching at the local bank and the equal joy and frustration of filling a penny board. "If You're a Coin Collector" is perhaps a stronger effort, extolling the virtues of such issues as 1950-D Jefferson nickels and 1914-D Lincoln cents. Both reflect the intersection of popular music and numismatics at a time of pervasive "coin mania" in the American culture.
Link to Benjamin Jefmer recordings on Internet Archive:
https://archive.org/details/newmannumismatic?and%5b%5d=mediatype%3A%22audio%22&and%5b%5d=jefmer
Link to Jefmer records previously mentioned in the E-Sylum:
www.coinbooks.org/esylum_v19n20a13.html
Give 'em a listen - these are entertaining. -Editor
Len adds this reminder:
At the ANA convention in August I had the pleasure of meeting Kellen Hoard at the NBS General Meeting. At the end of the month Kellen wrote a letter to 105-year-old numismatist Eric P. Newman. Both parties have given their permission to publish the exchange. -Editor
Dear Mr. Newman,
My name is Kellen Hoard, and I am a 12-year old young numismatist. I have been collecting for about three years, so going to the Anaheim World's Fair of Money was a big deal for me. While I was there, I met Wayne Homren, Len Augsburger, and Joel Orosz during the Numismatic Bibliomania Society general meeting. Len and Joel ended up telling me that they had in fact written your biography, and that Len and Wayne were also working on the Newman Numismatic Portal. This was amazing to me, because the Newman Numismatic Portal is currently my favorite numismatic website! So, I decided to write this letter of appreciation. As a way of thank you, I would like to tell you about a time when the NNP helped me in my research.
I used to write blog posts on the ANA website. One time, I wrote about my idea of having an online young numismatist exclusive club. Sam Gelberd (an ANA educator) commented that he thought something similar had been tried previously. I researched online briefly, but found nothing except for the name of the club. Then, I thought of the NNP. I typed in the club's name into the search bar, and sure enough there were nine search results! I learned a lot from these results, including the stunning fact that Greg Lyon, a current ANA Board Member, was the President!
Overall, the point of this letter is to thank you for making this project possible. I have learned so much, and it makes me want to continue being a numismatist for the rest of my life.
I look up to you and hope to be like you some day. It would be an honor if I could have an ongoing correspondence with you, or at the very least have your signature for my collection.
Thank you for your time!
Kellen
Here is Eric's response, dated September 5, 2016. -Editor
Dear Kellen:
I'm glad to hear that the Numismatic Portal has been useful to you in your effort to create an online club for young numismatists.
When you were at the recent ANA gathering in Anaheim, you met several fine scholars in the field whom I have always respected.
It appears that you and I started collecting at about the same age. I encourage you in continuing your numismatic scholarship as it can be a lifelong joy.
Sincerely,
Eric P. Newman
Bill Eckberg provided this reply to R. W. Julian's note last week about the coinage of the U.S. Mint in the calendar year 1815. -Editor
The root of the difference, or dispute if you want to call it that, is that Julian and I studied mutually contradictory Mint records. I studied an internal document that describes the flow of metal within the Mint, and he studied a letter from the Director. If Julian believes Patterson's letter provides "absolute certainty" that the Mint abandoned standard practice at the end of 1815, so be it. As a retired practicing scientist, I am loath to use the term "absolute certainty" in any context, especially in a numismatic/social science context.
Here is a copy of the relevant page from the Treasurer's receipts for copper coins, which I published in the Penny-Wise article last year. You will note the top entry from October 28, 1814 followed by the next entry on the same autographic page from February 3, 1816. There are no entries from the fifteen months in between, which includes all of calendar 1815. The article was published in Penny-Wise, vol.49, pp. 120-121. Readers who may be interested in following my logic in more detail may download a copy here: http://tinyurl.com/jjlrpyr.
I see no point in continuing this discussion. All research findings are subject to interpretation, and his and mine differ. I am happy to let E-Sylum readers draw their own conclusions.
To read the earlier E-Sylum articles, see:
ONLY QUARTERS AND HALF EAGLES COINED IN 1815 (www.coinbooks.org/esylum_v19n36a16.html)
NOTES FROM E-SYLUM READERS: SEPTEMBER 11, 2016 : R.W. Julian: Cent Coinage Resumed in 1815 (www.coinbooks.org/esylum_v19n37a12.html)
The Zenith Trading Company Browning Plates

We've found a lost reader response to Mike Paradis' question on plates from the Browning book on early U.S. Quarters. George Kolbe forwarded this note originally sent September 5th. -Editor
George writes:
Thanks! Sorry I misplaced this. Some weeks my email cup runneth over... -Editor
To read the earlier E-Sylum articles, see:
QUERY: BROWNING QUARTER PLATES INFORMATION SOUGHT (www.coinbooks.org/esylum_v19n32a18.html)
MORE ON THE BROWNING QUARTER PLATES (www.coinbooks.org/esylum_v19n37a14.html)
The Future of Numismatic Literature
ANA District Representative Chris Bower writes:
All opinions are welcome and valued. No one can truly know in advance what the future will hold. Only time will tell. These are useful discussions to have in the meantime, though. We all have a chance to help shape the future with what we think, say and do today. -Editor
To read the earlier E-Sylum article, see:
NOTES FROM E-SYLUM READERS: SEPTEMBER 11, 2016 : http://www.coinbooks.org/esylum_v19n37a12.html (www.coinbooks.org/esylum_v19n37a12.html)
Alchemy Quiz Answer: Isaac Newton
Last week I asked, " Which famous Mint official was fascinated with alchemy?"
Dave Ellison writes:
Exactly! Thanks for playing. -Editor
To read the earlier E-Sylum article, see:
AN ALCHEMY MEDAL (www.coinbooks.org/esylum_v19n37a28.html)
The YN Digest
Kellen Hoard writes:
A Note from Bob Leuver
Bob Leuver writes:
To read the earlier E-Sylum article, see:
NEW BOOK: POLYMER BANKNOTES OF THE WORLD (www.coinbooks.org/esylum_v19n35a03.html)
Bill Rosenblum Remembers Al Zaika
Bill Rosenblum writes:
To read the earlier E-Sylum article, see:
ALEXANDER ZAIKA (1919-2016) (www.coinbooks.org/esylum_v19n37a15.html)
More On Coin Thickness
Regarding the discussion on coin thickness initiated by Gary Beals, Gary writes:
To read the earlier E-Sylum articles, see:
NOTES FROM E-SYLUM READERS: SEPTEMBER 4, 2016 : On Coin Thickness (www.coinbooks.org/esylum_v19n36a15.html)
NOTES FROM E-SYLUM READERS: SEPTEMBER 11, 2016 : More On Coin Thickness (www.coinbooks.org/esylum_v19n37a12.html)
Thoughts on Victorian Half Pennies in Iron Mounts

Jeff Rock writes:
Interesting possibility. Thanks. -Editor
To read the earlier E-Sylum article, see:
QUERY: VICTORIAN HALF PENNIES ENCASED IN IRON (www.coinbooks.org/esylum_v19n33a09.html)
Pat the Coin Jock

Pat McBride of the Pennsylvania Association of Numismatists was driving recently near the Outer Banks of North Carolina when he stopped to get a picture of this road sign. -Editor
Pat writes:
Why be a Coin Nerd or Coin Geek when you can be a Coin Jock? -Editor
Pat adds:
Azeez Khayat (1875-1943), was born in Tyre, Lebanon (then Ottoman Syria) on January 1, 1875. He was an amateur archaeologist who excavated sites in Lebanon, Egypt, Syria and Greece as a treasure hunter who made a lucrative living through non academic digs. Critics unfairly and anachronistically refer to him as a grave robber, though he was neither an excavator with criminal intent nor of sacrilege, but rather, an aficionado of antiquities who made a living bringing many rare and important antique objects into the hands of serious collectors and museums.
It was a period of history when excavations were not exclusive to Universities and their Archaeology Departments and a time of political change from Turkish Ottoman rule to French rule; when government permits for digs was neither as yet required nor enforced and when antiquities traded without restriction and restraint. His office in Tyre, southern Lebanon, was near the shore and ancient ruins in an area rich in antiquities, seals, cylinders, and coins. He came to America in 1893 and became a Naturalized Citizen on December 17, 1898.
In America he found a market to sell his finds through his excavations and items found by others through art dealers and his own office at 55 West 11th Street, New York City, New York. He was also a correspondent with the Chapman Brothers and sold them ancient coins.
On February 8, 1900 he read a paper, "Discoveries of Coins, Glass, and other Antiquities in Ancient Syria," at the Forty-Second Annual Meeting of the American Numismatic Society, New York. Khayat also donated two Roman terra cotta lamps and six pieces of ancient Phoenician glass to the American Numismatic Society at that meeting.

Left: Advertisement in The Naturalist Directory (1894)
Right: Advertisement in Sun February 9, 1903
On February 12-13, 1903, he held his first known public auction of antiquities including ancient coins at The Fifth Avenue Art Galleries, 366 5th Avenue, New York City, New York.
On December 15-17, 1904 his second auction at the same Galleries was referred to as "The Annual Sale of the Azeez Khayat Collection" also including coins. However, his frequent importing of large collections of antique glass and ceramics soon led to his more frequent auction sales at the Galleries with his third sale held on February 14-16, 1905. These collections always contained numismatic items including coins, gems, cylinders, intaglios, and seals. His next auction at the Galleries was held November 29-December 1, 1906.
On February 14, 1907 he sold some coins among other antiquities at auction through Thomas E. Kirby, Auctioneer, at the American Art Galleries, New York.
On February 12-13, 1908 he held what was titled his "Last Sale" auction through The Fifth Avenue Art Galleries, which included cylinder seals, coins, and gems. The prices realized totaled $12,182.00. Though far from Khayat's "Last Sale" we find more auctions of his collections held at The Fifth Avenue Art Galleries, next on December 4-5, 1908, once again called "Azzes Khayat's Annual Sale".
He also sold many collections of antiquities including some coins through Anderson Galleries, New York. Also not in Gengerke. Besides public auctions he began to sell his antiquities and coins through his shop beginning no later than January, 1911, at 366 Fifth Avenue, the same address as The Fifth Avenue Art Galleries. He soon advertised the following month in February that he was conducting "Private Sales" at that address to close out his inventory of glass and coins making reading for a new acquisitions voyage to Egypt. This sort of continual traveling to the Middle East, Greece, and Europe for new acquisitions became routine for Khayat who sold his artifacts through his shop and auction houses for many decades.
The American Numismatic Society has a splendid sigillographic item ex-Khayat, a carnelian gem/seal engraved with an ancient seven-armed candelabrum or menorah flanked with a botryoid motif, i.e., a cluster or bunch of grapes on either side which is the insignia of the Temple of Jerusalem, donated by P. Romanoff in 1944 originally from the Azeez Khayat Collection in 1922. Accession No. St Gem. 0000.999.36807. Note the menorah is a most probably designed on Zechariah's lampstand.
In the New York City Directories from 1912 to 1949 his office was located at 366 5th Avenue. After his death in 1943 the office was managed by his family.
To read the complete article, see:
KHAYAT, AZEEZ (https://sites.google.com/a/numismaticmall.com/www/numismaticmall-com/khayat-azeez)
A local television station in Kingston, Ontario interviewed artist Doug Comeau, who designed the new 2016 twenty dollar fine silver coin for the Royal Canadian Mint. -Editor
Doug Comeau has been able to make his passion for art a second career.
After 22 years in the military, he opened a gallery and studio in his home.
It was here where the design for the new 2016 twenty dollar fine silver coin was created.
Doug Comeau:
"It's like a surge of adrenaline that hits you. Like oh my god… You're proud and then you're like oh no, I better do a good job."
This is the second time Comeau has been commissioned by the Mint.
Back in 2013 he completed his first silver coin which also features a Bison.
Doug Comeau:
"It strikes a good note with me because I lived in Montana back wen I was a child, 11-12 years old and that was when I got inspired the most. When I was visiting Yellow Stone National Park, the work of Charlie Russell. All the Native art. Bison art for sure . So yeah, it was kind of a cool subject for me."
It took about one month, lots of research and many, many hours to create the Bison image, which was chosen by the Mint.
Doug Comeau:
"It's a good mixture of technique and removing the actual graphite for texture. It's a lot of years of technique development and putting it together in a combination, in a format that makes it look real."
Driven by passion, and inspired by nature Comeau says it's a huge honour to have his artwork captured and turned into a piece of Canadian history.
Doug Comeau:
"It's one of those things that comes up. You just keep plugging away and hopefully you do the right things and people notice. It's a passion for me, so it's nice to get the accolades but I'll do it no matter what."
The coin is now available for purchase by the Mint for $99.95. A little piece of Canada with a Quinte West flare.
To read the complete article, see:
Quinte West artist designs newest Canadian Mint coin (www.ckwstv.com/2016/09/13/quinte-west-artist-designs-newest-canadian-mint-coin/)
David Sundman of Littleton Coin Company writes:
I did! I was an active customer of Littleton early in my coin collecting career. Here's an excerpt. Be sure to go online to view the entire exhibit. -Editor
For over 70 years, Littleton Coin Company has brought the excitement of collecting by sending stamps, coins and paper money to customers through the mail. Since 1945, from our Littleton, New Hampshire headquarters, we've provided customers with friendly, knowledgeable and dependable service. Today, thanks to the U.S. Postal Service, thousands of collectors across the country have shopped at Littleton Coin to begin collections, add to existing ones or to find unusual items to share with their friends and families. But Littleton's history of bringing the "coin store to a customer's door" via packages in the mail, goes back even earlier than that.
It all began in 1927, when rain forced 12-year-old Maynard Sundman and his friend inside. Billy showed him his stamp collection. From then on, Maynard was hooked. Although he received stamps through the mail from businesses far away, he spent hours studying ads offered by various companies. The same year the stock market crashed in 1929, setting off the Great Depression, Maynard turned 14. That year he noticed an ad for a free H.E. Harris stamp catalog and sent away for it. Inside he found an article: The Future of the Stamp Business. He had been selling penny stamps to other student collectors for a few years, and that article fueled the dream of starting his own business.
1935-41 The Maynard Sundman Stamp Company
After graduating from high school in the summer of 1935, he opened the Maynard Sundman Stamp Company with a $400 order he made from H.E. Harris. (Later Harris would serve as his mentor, teaching him key lessons about the mail order business.) Working from a table in his parents' kitchen in Bristol, CT, he sent stamps on approval through the mail to customers across the country. With stamps on approval, he placed his trust in his customers, believing that if they saw the stamps to "approve" before they paid for them, they would be happier with their purchase in the long run. Maynard's business blossomed that first year, even during the depression, and he hired four neighbors to help fill orders.

Littleton Coin Company employs over 320 at their New Hampshire headquarters
To read the complete article, see:
Stamps started it all – Littleton Coin Company Over 70 years of Building Collections via the Mail (http://postalmuseum.si.edu/americasmailingindustry/Littleton-Coin-Company.html)
Harvey Stack submitted these notes on the Stack family history with the Smithsonian National Numismatic Collection. Thanks! -Editor
I and my family have been loyal supporters of the Numismatic Division at the Smithsonian.
Since the mid 1950's till virtually today the Stack Family has helped to bring the Numismatic Collection from the basement display area at the Castle, (one of the earliest buildings dedicated to the National Collection) to the large display area that housed the Numismatic Collection in the new building THE MUSEUM OF AMERICAN HISTORY from 1962 where it featured the Numismatic Collection in a large gallery with many of its coins on display.
It was housed there till the early part of this century, when it was reduced to a small display area during an full renovation of the Museum, and now is a major display once again, near the main entrance for the new museum, housed in an area that is entranced through a large Safe Door and attractively displayed.
From the early 1950's to the present The Stack Family has donated over 20,000 coins to the collection and over 40,000 manuscripts including the Charles Barber Drawings and notebooks. One of the highlight coins that the Stack's Family donated to the Museum was the 1794 Dollar struck in Copper, in super Mint State, and is believed to have been struck just prior to the FIRST 1794 DOLLAR struck in Silver.
The Stack Family was also instrumental in having the Congress of the United States to acquire from the Estate of Josiah K. Lilly. his collection of over 6,250 gold coins of the World, which itself is considered a "World Class Numismatic Gold Collection which is one of the finest collections of Gold Coins of the World housed in a museum, which features a virtually complete collection of U.S. Gold Coins, Pioneer and Territorial Gold coins, and thousands of different gold coins of the world, from ancient times to the 1930's.
Stack's was privileged in building this J.K. Lilly Collection and was the sole numismatic supplier to Mr. Lilly of the gold coins. It was accomplished in 16 years, from 1951 to 1966, the year J.K.Lilly died. The Highlight coin in the Lilly Collection is the 1822 U.S Half eagle.
In July of last year, American publisher Krause Publications released the 10th edition of The Standard Catalog of World Coins: 2001-Date. This book serves as the most comprehensive encyclopedia of all coins struck by or for each country in the world, tracking issues starting with Afghanistan's decimal coins and ending with the dollar coinage of Zimbabwe.
At 1,344 pages, The Standard Catalog of World Coins: 2001-Date is an impressive volume. But the prodigious output of new coin designs from each of the world's mints has not only rendered this book obsolete, but rendered the concept of a single-volume encyclopedia devoted to 21st-century world coins untenable.
Consider this.
Since its debut in 2007, The Standard Catalog of World Coins: 2001-Date has increased in size by an average of 118 pages per year. Should the annual output of new coins from the world's mints continue at this pace, the 94th edition of The Standard Catalog (which, one assumes, would be scheduled for publication in the year 2100) would exceed 11,000 pages. This assumes that coins will continue to be produced and that the medium doesn't find itself replaced by digital or altogether different forms of payment.
Which means that, by the end of this century, the number of new coin designs issued by the world mints will dwarf the entirety of all known coinage struck from the middle ages to the year 2000.
But that's nothing compared to the actual number of pieces struck.
The United States Mint alone has already struck more than 180 billion coins. That number could exceed one trillion circulating coins by the end of the century. Add to that all of the circulating coins that will be struck by every nation across the globe. The number of coins that will be produced this century (ceteris paribus) will be simply staggering.
And believe it or not, despite the fact that almost none of the coin issues will be what one would naturally consider rare, there will still be a built-in collector base for them. Coin collectors of all ages and experience levels have traditionally enjoyed collecting their country's circulating coinage. For many, discovering and accumulating the older coins that circulate alongside newer ones is the first act of a budding collector.
After doing this a while, it becomes apparent to these collectors that there are gaps in their collection, coins they can't find. Perhaps they will buy an informative book or magazine, or read about their preferred series online. And in order to acquire these missing coins–the coins they couldn't find in their change–collectors have trade for them or buy them from other collectors or coin dealers. It is at this point that new coin collectors enter the numismatic marketplace.
But even as global circulating coin production pushes into the trillions, circulating coins aren't the cause of the explosive growth of Krause's Standard Catalog and these coins pose little threat to the rare coin industry as it's currently constituted. Instead, the cause of that irruption belongs to the seemingly endless cavalcade of collector coin issues, the vast majority of them to be struck at mints that operate not as government bureaucracies but as for-profit businesses.
And as these corporate mints have become innovators and leaders in the marketplace, the more traditionally-structured mints have followed suit. The result of this industry transformation has been a dramatic redefinition of what a coin is as a physical object; as a social construct; and what role the coin-producing mints play in the numismatic marketplace.
The article covers the history of commemorative coins and medals from the Great Depression through The Franklin Mint and up to today's "postmodern coins", with both private and public mints churning out product after product. -Editor
And while it's safe to say that a viable market in bullion coins – that is, precious metals coins sold at or near the current market price for their constituent metal – is thriving and supported by a sophisticated network of retailers, wholesalers and consumers, the same cannot be said about precious metals coins that are issued for premiums well above the coin's intrinsic value.
This is a problem. For coins, unlike cars, computers, or other consumables, do not get used up and discarded. Instead, they are purchased with the belief that they are a store of value and the expectation that this value will increase over time.
Without a proportionally-sized and well-developed secondary market, these goals cannot be realized.
Will a secondary market for these emissions evolve over time? The answer is almost certainly yes, but that begs the author's point, which is that market levels will likely be far below the prices charged and paid today. People are going to lose a lot of money, just like the initial buyers of many Franklin Mint products. -Editor
To read the complete article, see:
The Coming Collector Coin Supernova and Its Ramifications for World Mints and the Numismatic Marketplace (www.coinweek.com/opinion/editorials/coming-collector-coin-supernova-ramifications-world-mints-numismatic-marketplace/)
Geoffrey Bell submitted these profiles of highlighted lots in the upcoming Toronto Coin Expo sale. Thanks. Great items! -Editor
A True Trophy Note for Toronto Coin Expo

Geoffrey Bell Auctions Ltd. has offered many trophy notes in the past, but there's one for the up-coming Toronto Coin Expo 2016 Fall Sale that takes the cake. Successful auctions will always have at least one item that will make even the non-collector exclaim, "Wow," and this truly rare 1901 Bank of Commerce five-dollar note - CH 75-14- 06a - is going to attract a lot of attention (Lot 757).
The Canadian Bank of Commerce, one half of the entity that became the current Canadian Imperial Bank of Commerce (CIBC) when it merged with the Imperial Bank of Canada in 1961, opened in 1867 in Toronto and grew rapidly, acquiring banks across the country to become one of Canada's largest financial institutions - ranked third in terms of assets in 1918.
The Yukon gold rush began in 1897 when the world heard the stories of the precious metal being discovered. Many a miner imagined quick riches and the trek was on over the mountains, across the rivers and lakes to yellow treasure. The Bank of Commerce was asked by the government to set up shop to act as banker and agent of the Federal Government.
A branch was opened in 1898 in temporary quarters. The staff of six employees received spe-cialized training in security, assaying and other skills needed in this remote location. Getting the banknotes to Dawson was a logistical nightmare in the beginning. There were the dangers of travel including the potential loss of notes to weather, water and general lawlessness that prevailed in the region.
The notes were therefore stamped in Toronto with the word DAWSON on one end of the note. Serial numbers were recorded in Toronto head office and then the notes were sent on their way. When they safely arrived in Dawson, they were counter-stamped with DAWSON on the opposite end of the banknote. Eventually the Northwest Mounted Police came to enforce law and order and better shipping patterns were established so that the special printing was not needed.
The note itself is everything you'd expect from a true rarity; it is totally original and the paper has the firmness and bold colours one would expect in an old time VF. There are only three known, with Heritage Auctions selling a fine in April of 2015 in their CICF World Currency Signature Auction - Chicago #3534 that realized $28,200 USD. This example is far superior.
Even without the rarity factor, the note commands attention with its classic design, featuring a woman with books and lamp dominating the face, surrounded by intricate engraving, coloured black, orange and yellow-brown tint, plus the desirable double DAWSON overprints in red. It bears the serial number 362736/B. The back design possesses lathework, counters, the bank name, and building all in brown.
These chartered banknotes never fail to impress and this one will be the centrepiece of any collection. The 2016 Fall Sale at the Toronto Coin Expo already promises to be another showstop-per, so mark your calendar for September 29 and 30 - Geoffrey Bell Auctions Ltd. looks forward to seeing you, either online or in person.
Captain Cook's Resolution and Adventure Medal

Sometimes something really special comes across the desk at Geoffrey Bell Auctions Ltd. and they just can't wait to tell their readers about it (okay, this happens fairly often!) and such is the case with the highly prized Captain Cook Resolution and Adventure medal that's the subject of this blog post and will be auctioned at the Toronto Coin Expo. (Lot 460)
Captain James Cook of England is a celebrated man; born to a farm labourer, he rose to become a recognized navigator, cartographer, explorer, and captain in the Royal Navy. Among his many credits, he took part in the 1758 capture of the Fortress of Louisbourg, then the siege of Quebec City where he mapped much of the entrance to the Saint Lawrence River, and then mapped Newfoundland's coastline in the 1760s before being credited with the "discovery" of Australia in 1770.
For his second voyage to Terra Australis in 1772, with the ship HMS Resolution under his command and the HMS Adventure commanded by Tobias Furneaux, medals were struck by Matthew Boulton, his first medal, for Sir Joseph Banks for presentation to the locals by Cook. There were 2000 stuck in bronze alloy, 100 in silver, and two in gold. The precious metal medals appear to have remained in England. Cook wrote in his journal in July 1772, ""their lordships also caus'd to be struck a number of Medal…..to be distributed to the Natives of….and left upon New Discovered Countries as testimonies of being the first discoverers." Since the medal has the image of George III and his titles, it's assumed it was approved by the King.
Understandably, there are few surviving pieces and exceedingly fewer in private collections as, given their history, they are highly sought after by museums. This is a superb example, without the corrosion seen on many known specimens and displaying a crack on the reverse at 7pm, through the RC of "MARCH."
Captain Cook's Resolution and Adventure medal is sure to attract a lot of attention when it hits the blocks in the Toronto Coin Expo 2016 Fall Sale.
For more information, see:
Toronto Coin Expo Fall Sale 2016 (http://auctions.gbellauctions.com/Toronto-Coin-Expo-Fall-Sale-2016_a26883?m=all)
The country mouse goes to town
I have been collecting for fifty years or so (I started very early!). I have mainly collected from home or within short distance of it. I have relied on dealers sending me their lists, auction catalogues, a bit of swapping and trading at coin clubs, and more recently occasional internet use. I have been very fortunate in having an excellent local dealer who somehow finds things that are interesting and reasonably priced. I have never had to travel far but recently went to my first major coin fair.
Apart from being overwhelmed by the number of dealers' stalls – and I understand this was a slow day for fairs - a few things struck me.
There were no bookdealers. One stall had some Krause catalogues. Yes I can buy secondhand catalogues on the internet but it would be nice to see a coin book dealer in person.
There were no stalls representing any society whether national or local. There are so many excellent groups and clubs you would think they could be a display on a board with details – rather like a freshers' fair at college. There were no sellers of collecting equipment – magnifying glasses, coin envelopes tickets, albums or boxes.
The items on offer were mainly modern coins, quite a lot of bullion and some ancient. Not many medallions or tokens. Many dealers' displays were not priced at all. There were whole trays and bags of hoard coins without any indication of price. If I went to a store that had shelves of goods that were unpriced I would wonder what was going on.
Like many collectors I collect what is on offer and I can afford. I tend to buy something that looks interesting and then research it. I accept that dealers want stock that will sell at a reasonable price and is easily identified and by definition interesting material is rare and hard to come by, but if we want a hobby that is lively and will be passed on to the next generation do we have to think differently?
Interesting. Sounds like a great opportunity for a coin book and supply dealer. With limited space it can be hard to offer space to clubs, but it's a worthwhile endeavor. Major U.S. shows typically feature a row or two of club tables. -Editor
Dick Johnson submitted these thoughts on a call for the Royal Mint to abolish the penny. Thanks. -Editor
End of news story, and now for my comments. I have written extensively about this subject for years. Mr. Carney's statements of why a country should ax its lowest value coin is the best I have read. In country after country citizens have rejected accepting low value coins in change. They will not even bend over to pick up one on the ground.
The fact that 23 countries around the world have ceased striking and abolished their lowest value coin has not influenced American officials. United States, as a financial leader, should have done so years ago.
Yet Congress and the Treasury Department have rejected any suggestion to eliminate the cent – even though for the past five years it costs more than a cent to manufacture a cent! The cost 2.4 cents in 2011 and has dropped slight since. Notably despite several consultant studies the conclusion was there is no feasible metal composition in which to make cent coins.
Mr. Carney noted that once the penny is withdrawn, citizens can donate their coins on hand to charities. That is fine but ultimately something must be done with the physical metal when all the coins are turned over to be melted.
In articles in The Wall Street Journal and elsewhere I have suggested two solutions: reformulate U.S. cent metal to (1) strike higher denomination coins, or, (2) use the metal for statues or carrion bells for municipalities who desire to have these.
This requires, however, revamping our entire coinage structure. I suggest abolishing three denominations, and adding three new denominations for circulation.
Eliminate the cent, nickel and quarter, continue striking the dime, half dollar. and dollar coins and add new denominations of $5, $10 and $20 for circulation.
The coin machine industry – one of the largest users of coins – would endorse the increased use of coins to eliminate the systemic problems of machine acceptance of paper money.
This new coinage array will inevitably become standard in America, I predict, by 2030.
The cent of today will be the economical equivalent of the dime in the future.
The Treasury should take action in this direction, the sooner the better. It solves many problems at the present – i.e. cost of cent coin composition – and prevents similar problems in the future.
There were several news articles on Mr. Carney's statement, the best is: Is the end of the 1p coin in sight? The Bank of England governor thinks so (www.mirror.co.uk/news/uk-news/end-1p-coin-sight-bank-8850995) It's the end of an era as we might get rid of the 1p coin
Here's another from Metro: (metro.co.uk/2016/09/17/its-the-end-of-an-era-as-we-might-get-rid-of-the-1p-coin-6133952/)
Lot 4769 in Auction 282 from Künker is an interesting silver medal from 1636 by Sebastian Dadler estimates at 20,000 euros. Here's an excerpt from an article on the Künker web site. -Editor
To celebrate the victory, Sebastian Dadler was engaged to create a medal. Its reverse programmatically repeats the inscription that can still be viewed at the portal of the Hamburg town hall: LIBERTATEM QVAM PEPERERE MAIORES STUDEAT SERVARE POSTERITAS (= The liberty the elders have achieved posterity may preserve.).
The obverse shows a motif that had been hitherto used in a similar form in emblems only: a colossus whose legs straddle the entrance to the Hamburg harbor. Until that day, that subject had been associated with the motto 'only the great pleases'. Dadler, however, used the motif to illustrate the size of Hamburg which – and that was the comparison – matched up with ancient harbor city of Rhodes. While the Colossus of Rhodes was an image of the god Helios, Hamburg was given a Hanseatic variant: Mercury as embodiment of the trade, wearing a winged cap and winged shoes, a staff with entwined snakes and an olive branch as symbol of peace. To avoid any mistaken identity, the god carries a plate around his neck depicting the city's coat of arms. Cornucopiae on both sides embody the affluence both of land and sea. Two women can be seen behind Mercury: one is standing on land, holding a spade, between bunches of goods and barrels; the other one is standing on a barge decorated with the globe of the earth, sailing the Elbe River. In the background a harbor is depicted, protected by a fortress, as well a ship under full sail.
The medal's reverse is remarkable. For the subject Dadler drew on a map that was to be published a few years later, in 1644. Dadler most probably had seen early drafts of that marvel. He represents that map in such detail that Gerd Hatz was able to show in 1989 that an engraving by Arnt Pitersen, published in 1944, must have been the model. In 1636, Hamburg was sure on a rosy future. The Privilege of the Elbe had been granted and soon the revenues would flow. But more than a century was to pass until the struggle for Hamburg's autonomy from Holstein was finally decided - a struggle that was rekindled again and again by the Elbe customs. Only with the Treaty of Gottorp from 1768, Denmark acknowledged the imperial immediacy of the Hanseatic city officially.
Amazing detail. A very busy design, but incredible work. Great medal! -Editor
To read the complete article, see:
Colossus Mercurio – or: Hamburg and the Privilege of the Elbe (www.kuenker.de/en/information/presseinformationen/aktuelle-mitteilungen/92)
On Tuesday September 13 I arrived at Clyde's Restaurant in Tyson's Corner about 6pm for the latest meeting of my Northern Virginia numismatic social group, Nummis Nova. I'm the host for September, along with Howard Daniel. He was out of town, but had helped me with the restaurant choice. It was an easy pick, as we'd enjoyed our dinner here last year.
But in an attempt to explore other options I'd found a second restaurant nearby and asked Howard in an email what he thought. Before he could reply a synapse in my brain belatedly fired and I asked, hey, isn't that other place where Eric got so sick he ended up in the hospital? Yep. We're not going there again. Clyde's would be our pick.
Clyde's has been dependable, despite accessibility problems. Perched atop a hill in the shadow of a giant communications tower, it's an oasis amid a circle of business and retail locations and surrounded by endless highway ramps and road construction. It's not an easy place to find, even if you've been there before. I circled the ramps myself, thinking "there is it", "here it comes" and "what happened - where'd it go"?
But by paying closer attention to my GPS system, cursing and obeying everytime it told me to take a U-Turn, I'd finally made it to the parking lot.
Several regulars were already there, including Roger Burdette, Wayne Herndon, Steve Bishop, Eric Schena, Dave Schenkman, Chris Neuzil, Joe Levine, Gene Brandenburg, Joe Esposito and Tom Kays. Last to arrive was Julian Leidman.
I would call the decor mainly Art Deco, with classy sculptures placed throughout. Very nice atmosphere.
Coin Scale

Tom Kays writes:

Gene Brandenburg offers Joe Levine Velvet Devil Merlot
Un-Slabbing a Medal

Chris Neuzil is an avid collector and research of medals of the War of 1812. And he doesn't care for slabs. When one of his recent auction purchases arrived in a slab, he liberated the medal. As proof he brought the cracked slab to show us, and it was HUGE. I held it up to take this framed photo of Chris.

















Wayne Herndon, Wayne Homren, Tom Kays, Roger Burdette, Chris Neuzil
Clyde's Tokens

Tom Kays writes:
These are nicely done. A solid "coin" in a fancy box makes for a classy gift. I assume the management tracks these closely and recycles them somehow. Change is returned not in cash, but gift cards. The group owns fourteen restaurants in the greater Washington D.C. area. Are there many restaurants that employ such tokens today? These are related to the ubiquitous Good-For tokens of years past, but "Good For" a much higher value than just a beer. I'm not aware that these have been catalogued anywhere, or who the manufacturer was.
To visit the Clyde's Restaurant Group site, see: www.clydesrestaurantgroup.com

Joe Esposito, Gene Brandenburg, and Joe Levine

Gene Views Coins by Candlelight
Schenkman's Tokens
Dave Schenkman can always be counted on to bring some interesting items to show. He stumped me on the second one.
Dave writes:
Dave writes:
Some Medals

Tom Kays writes:
Passing by at dinner were a handsome 1873 Vienna Austria, World Exhibition Medal in Proof, White Metal, an 1844 Berlin Industrial Exhibition Medal in Gilt Bronze with early steam engine crossing a stone bridge on the reverse.

Left: Chris Neuzil and Dave Schenkman
Right: Dave Schenkman and Eric Schena discuss a token.
McKinley Campaign Procession Badge

Tom Kays writes:
Joe Esposito adds:
Dave Schenkman writes:
From Steve Bishop: Morgan Dollars and Siberian Polushkas

Steve Bishop sent me these images of some of his display items.

1879-S Morgan Dollar Toned

1883-O NGC MS64PL Morgan Dollar

1771 KM Siberia Denga

1785 Polushka
A Nummis Nova Motto?
Tom Kays writes:
Dave Schenkman adds:
I've often toyed with the idea of selling E-Sylum or NBS swag. It would be nice to see some folks walking around coin shows and auctions with our name prominently displayed.
It was yet another night of great numismatic fellowship, and I'm already looking forward to October's meeting.
Ray Williams noticed this item on eBay and posted the link to the Yahoo Colonial Currency group this week, noting "You gotta love the front cover of this book: "Authentic Copies of Actual Bills"!" Here's an excerpt from the listing. -Editor
New Old Stock from the estate of the author. "United States Colonial Currency" "An Illustrated Story of Paper Money in the American Revolution with Authentic Copies of Actual Bills" by Ralph Morgan. This was originally produced for the 1976 Bicentenial. Most likely intended for young collectors, it has copies of bills that can be cut out and attached to the pages. Measures 9" x 11 3/4". It is 12 pages plus 8 pages of bills.




Ray adds:
Interesting concept, although the thought of cutting up any book makes me cringe, even when that's the whole idea. Is anyone familiar with this book or its author? The book says he hailed from Elkhart, Indiana. -Editor
To read the complete article, see:
1976 Story of United States Colonial Currency Book / Album NOS 12+ pages (www.ebay.com/itm/1976-Story-of-United-States-Colonial-Currency-Book-Album-NOS-12-pages-/232082633141)
The discovery of a rare gold coin bearing the image of the Roman Emperor Nero at the University of North Carolina at Charlotte's archaeological excavations on Mount Zion in Jerusalem, has just been announced by the archaeologists in charge of the project, Drs. Shimon Gibson, James Tabor, and Rafael Lewis.
"The coin is exceptional," said Gibson, "because this is the first time that a coin of this kind has turned up in Jerusalem in a scientific dig. Coins of this type are usually only found in private collections, where we don't have clear evidence as to place of origin."
The gold coin (aureus) bears the bare-headed portrait of the young Nero as Caesar. The lettering around the edge of the coin reads: NERO CAESAR AVG IMP. On the reverse of the coin is a depiction of an oak wreath containing the letters "EX S C," with the surrounding inscription "PONTIF MAX TR P III." Importantly, these inscriptions help to work out the date when the coin was struck as 56/57 AD. Identification of the coin was made by the historian and numismatist, Dr. David Jacobson from London.
The coin dates to a little more than a decade before the destruction of Jerusalem by the Romans in 70 AD, and was found in rubble material outside the ruins of the 1st Century Jewish villas the team has been excavating. The team has hypothesized that the large houses may have belonged to wealthy members of the priestly caste, and it may have come from one of their stores of wealth.
"The coin probably came from one of the rich 2000-year old Jewish dwellings which the UNC Charlotte team have been uncovering at the site," said Gibson. "These belonged to the priestly and aristocratic quarter located in the Upper City of Jerusalem. Finds include the well-preserved rooms of a very large mansion, a Jewish ritual pool (mikveh) and a bathroom, both with their ceilings intact."
This mansion and other like it, were utterly destroyed by Titus and the Roman legions, when Jerusalem was razed to the ground. It is likely, owing to the intrinsic value of the gold coin, it was hidden away ahead of the destruction of the city, and was missed by the marauding and looting Roman soldiers.
"It's a valuable piece of personal property and wouldn't have been cast away like rubbish or casually dropped. It's conceivable that it ended up outside these structures in the chaos that happened as this area was destroyed."
The image of Nero is significant in that it shows the presence of the Roman occupation and provides a clear late date for the occupation of the residences.
To read the complete article, see:
Rare Roman gold coin found in Jerusalem at Mt. Zion archaeological dig (www.sciencedaily.com/releases/2016/09/160913150507.htm)
To read the complete article, see:
Face of a tyrant: Rare 1st century gold coin bearing the image of Roman Emperor Nero is found in Jerusalem Read more: http://www.dailymail.co.uk/sciencetech/article-3791094/Face-tyrant-Rare-coin-bearing-image-Roman-Emperor-Nero-Jerusalem.html#ixzz4KcG9rHHR Follow us: @MailOnline on Twitter | DailyMail on Facebook (www.dailymail.co.uk/sciencetech/article-3791094/Face-tyrant-Rare-coin-bearing-image-Roman-Emperor-Nero-Jerusalem.html)
This story from Thailand discuses a rare variety of the 1962 Thai One Bhat coin. -Editor
A man from Bangkok became the second lucky Thai to find an extremely rare one-baht coin that collectors are chasing after. Panun Jewelry, a rare coin shop in Rayong, recently drove the internet wild by announcing on Facebook that they are willing to pay THB140,000 in cash to anyone who possess the rare B.E. 2505 one-baht coin. The shop yesterday posted the good news that they just traveled to Bangkok to buy the second rare coin from a man.
The lucky dude, whose name was not mentioned, said that he found the coin in some old shelves that he was about to throw away.
This particular one-baht coin was produced as an example lot in 1962. There are about 100 coins like this in existence. They are unique because the crown on one side of the coin points directly at the Yor Yak alphabet above it.
After the first lot, about 800 milion coins of the same model were produced, but the text above the crown shifted, so the crown points at the blank space between two letters, and sorry, no one collects that one.
Panun Jewelry was the same shop that also got people to smash their piggy bank two years ago after they offered to pay THB100,000 for a rare ten-baht coin.
I checked a currency converter and the price amounts to about $4,000 USD. Interesting to see variety collecting is popular worldwide. -Editor
To read the complete article, see:
Lucky Bangkok man cashes in old one-baht coin for THB140,000 (http://bangkok.coconuts.co/2016/09/14/lucky-bangkok-man-cashes-old-one-baht-coin-thb140000)
Dealers who ship valuable merchandise need to be wary not only of dishonest shipping company employees, but computer hackers as well. -Editor
A computer hacker, who was living a lavish lifestyle in London's Canary Wharf, has been convicted of orchestrating a series of cyberattacks on the computers of a gold bullion firm and using the pilfered data to steal nearly £90,000 worth of the sought-after metal. In the well-oiled hacking scheme, Adam Penny, 25, stole the names, addresses and parcel tracking numbers of customers awaiting deliveries of gold bullion before passing the data to three associates who then intercepted the packages.
In a court hearing at Kingston Crown Court on 12 September it emerged that the culprit and his team stole – or attempted to steal – six packages of gold with an estimated value of over £88,000.
According to the Met's cybercrime division, the hacker and his team then sold the stolen gold to an unsuspecting London jeweller.
Penny was convicted on conspiracy to steal, blackmail and unauthorised access to a computer. He was sentenced to five years and four months in jail.
Following his initial arrest in the Canary Wharf area on 26 June, police seized six iPhones and two Apple MacBooks – one of which was discovered in a toilet cistern. Analysis of the uncovered devices produced evidence that Penny had also managed a lucrative extortion scheme.
"Penny hacked into the computers of the company and got others to intercept the gold packages for him," explained detective constable and cybercrime expert Matt Burke. "When even this wasn't enough for his lavish lifestyle, he blackmailed the company for £50,000. At the time of his arrest Penny was living in a luxury apartment in the Canary Wharf area, despite having no paid employment that we could identify."
Alongside Penny, three others were sentenced for conspiracy to steal and for their part in intercepting deliveries of gold.
To read the complete article, see:
Canary Wharf hacker jailed for stealing nearly £90k of gold bullion (www.ibtimes.co.uk/canary-wharf-hacker-jailed-stealing-nearly-90k-gold-bullion-1581091)
To read the complete article, see:
Man hacked computers at a gold bullion trading company so his gang could intercept delivery drivers – then blackmailed the firm for £50,000 (www.dailymail.co.uk/news/article-3785905/Man-hacked-gold-bullion-firm-gang-pounce-delivery-drivers.html)
Crikey! A petition seeks to get Crocodile Hunter Steve Irwin's image on an Australian banknote. -Editor
A petition to get the face of one of Australia's most favourite sons on a banknote has gathered more than 21,000 signatures in just a few days.
While the Bank of England this week unveiled Sir Winston Churchill on the new plastic £5 note, there is a growing clamour for the late 'Crocodile Hunter', Steve Irwin, to feature on a bill.
The petition, started by Kyle Ryan, calls on people to recognise the "all time greatest Australian bloke". It coincides with the 10th anniversary of Irwin's death at the age of 44 after he was stung by a stingray during a break in filming for a new documentary series.
"With a list a mile long of all the good Steve had accomplished in our world let's show our appreciation to a great true blue Australian by putting Stephen 'Steve' Irwin on our country's currency."
Irwin has already appeared on a 2009 series of Australian dollar coins commemorating prominent citizens. And the head of the Royal Australian Mint, Ross McDiarmid, has urged those behind the petition to submit a formal, written proposal.
Irwin's widow, Terri, and their children Bindi and Bob, have yet to comment on the idea.
The Crocodile Hunter TV show made an international star of Irwin. He and his wife toured Australia and beyond highlighting threatened species and habitats. His infectious presenting style, trademark khaki shirt and shorts and regular expressions of "Crikey!", endeared him to millions.
To read the complete article, see:
Crikey! Petition To Get Crocodile Hunter Steve Irwin On Australian Banknote Goes Past 21,000 Signatures (https://uk.finance.yahoo.com/news/crikey-petition-to-get-crocodile-hunter-steve-105117093.html)
Here's an unusual practice from a restaurant in China - the staff wear banknotes pinned to their uniforms, and unsatisfied customers can help themselves to a refund. -Editor
A Chinese restaurant owner offers customers the chance to claim a 20-yuan (HK$23) banknote, pinned to the striped uniforms of waiting staff, if they are dissatisfied with the service, mainland media reports.
The restaurant, called Go To My House, in the city of Taizhou, Zhejiang province, which charges diners an average of 53 yuan per head – including a service fee – has had the money-back offer for almost one year, Qianjiang Evening News reported.
Only once has the money been claimed in that time – and that was because a diner had taken the banknote from a waitress as a joke, owner Zhu Xiaojian said.
He came up with the idea of the money offer from a popular Chinese entertainment television show Running Man, which includes a section called, "Name-tag ripping", where contestants vie to grab the most name tags from their rivals' clothes.
"We have already included the service fee in each customer's bill, so they absolutely have the right to claim it back if they are not satisfied with the service," Zhu said.
He has made all 26 waiters and waitresses pin 20-yuan banknotes to the left shoulders of their uniforms.
Zhu said the idea had significantly improved service quality at the restaurant, as well as reduced the number of complaints from diners.
A Chinese Yuan is worth about 15 cents, so the 20 Yuan note is about three dollars. -Editor
To read the complete article, see:
Chinese restaurant lets customers grab 20-yuan-banknote pinned to staff uniforms if dissatisfied with service (www.scmp.com/news/china/society/article/2019605/chinese-restaurant-tells-customers-grab-20-yuan-banknote-pinned)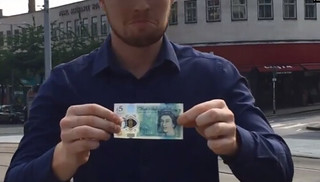 What does it take to destroy one of the new "more durable" £5 notes?
Well, we took the shiny new currency to test across Nottingham after tracking down what we thought could have been the first batch of new fivers in the city - following the note's release on Tuesday.
According to the Bank of England, the new £5 note can survive a cycle in the washing machine. Challenge accepted.


But can it survive going through the fountains in Old Market Square, being run over by one of Nottingham's trams, or the gnawing jaws of a large hungry rabbit?
Find out by watching our video.
Disclaimer: We do not condone the destruction of money, and carried out the tests on the advice that the notes should survive the trials.
To read the complete article, see:
Watch what happened when we left a new £5 note on Nottingham's tram tracks (www.nottinghampost.com/watch-what-happened-when-we-left-a-new-5-note-on-nottingham-s-tram-tracks/story-29722317-detail/story.html)




This week's Featured Web Page is the Wikipedia entry on the Gold Medal of the Royal Astronomical Society. Past recipients include Charles Babbage, Albert Einstein, Edwin Hubble and Stephen Hawking.