Visit our NBS Sponsors
About Us
The Numismatic Bibliomania Society is a non-profit association devoted to the study and enjoyment of numismatic literature. For more information please see our web site at coinbooks.org
Subscriptions
Those wishing to become new E-Sylum subscribers (or wishing to Unsubscribe) can go to the following web page link
Membership
There is a membership application available on the web site Membership Application
To join, print the application and return it with your check to the address printed on the application. Print/Digital membership is $40 to addresses in the U.S., and $60 elsewhere. A digital-only membership is available for $25. For those without web access, write to:
Charles Heck, Treasurer
Numismatic Bibliomania Society
P. O. Box 2058,
Bluffton, SC
29910-2058
Asylum
For Asylum mailing address changes and other membership questions, contact Chuck at this email address: treasurer@coinbooks.org
Submissions
To submit items for publication in The E-Sylum, write to the Editor at this address: whomren@gmail.com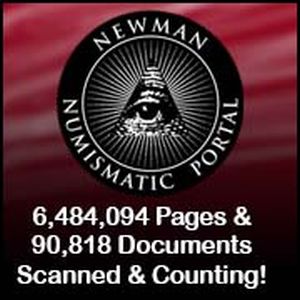 BUY THE BOOK BEFORE THE COIN
Sale Calendar
Content presented in The E-Sylum is not necessarily researched or independently fact-checked, and views expressed do not necessarily represent those of the Numismatic Bibliomania Society.
New subscribers this week include: Aliaksandr (Alex) Sauchyk, S. Omid Mohammadi, and Saehoon Park. Welcome aboard!
Thank you for reading The E-Sylum. If you enjoy it, please send me the email addresses of friends you think may enjoy it as well and I'll send them a subscription. Contact me at whomren@gmail.com anytime regarding your subscription, or questions, comments or suggestions about our content.
This week we open with numismatic literature sale highlights, six new books, updates from the J. Douglas Ferguson Historical Research Foundation, the Newman Numismatic Portal, and more.
Other topics this week include Canadian coins, British gold coins, S.S. Central America artifacts, D. W. Valentine, David Lisot, Jeff Garrett, Bill English, auction previews, Dionysus on Ancient coins, and the Super Bowl coin toss.
To learn more about the American Diplomatic Medal, the 1794 dollar, relic hunting in America, the medals of British Admiral George Brydges Rodney, Nizam's Mint, Canadian Numismatic Resources, the Celina Coin Co., Mint sports, the Princess Kaiulani medal, and preventing Bicycle Face, read on. Have a great week, everyone!
Wayne Homren
Editor, The E-Sylum


Highlights from February 25 Sale
Kolbe & Fanning Numismatic Booksellers are holding our next auction on Saturday, February 25, 2023. The sale brings together two excellent libraries on U.S. and world coins, and supplements them with offerings from several other consignors, to result in a remarkable variety of rare and out-of-print works on coins, medals, and paper money from antiquity to the present.
Some highlights of the sale include:
Lot 63: an original set of Giulio Emanuele Rizzo's classic work on the coinage of Sicily, Monete greche delle Sicilia
Lot 167: George Francis Hill's masterwork, A Corpus of Italian Medals of the Renaissance before Cellini
Lot 99: an exceptional set of Argelati's De monetis Italiae variorum illustrium virorum dissertationes, the classic work on the coinage of Italy
Lot 246: a remarkable 1793 sketch by Augustin Dupré depicting the Droits de l'Homme, one of several works by or relating to Dupré in the sale
Lots 300: Ralph Barker's well-preserved plated copy of the Chapman Brothers' important 1906 catalogue of the collection of Harlan P. Smith
Lot 249: the original 1791 letter to Dupré from the Comte de Moustier, published in Loubat, inquiring about the American Diplomatic Medal
Lot 318: the extensive Jack Collins archives on the 1794 dollar, including his specially bound photographically illustrated manuscript
Lot 319: one of four extra-illustrated deluxe bound copies of Collins & Breen on the 1794 dollar
Lot 406: the 1870 edition of Edward Maris's Varieties of the Copper Issues of the United States Mint in the Year 1794, one of the classic rarities of early copper literature
Lot 441: a bound volume of original manuscripts of scientific lectures delivered before the Franklin Institute in 1831–1833 by Franklin Peale.
Register early to bid online
Bids may be placed via post, email, fax or phone, as well as online. Kolbe & Fanning use Auction Mobility as our third-party online bidding platform. Auction Mobility is an app-based platform allowing users the ability to participate in the sale through phones, tablets and computers. To register for the sale, bidders must go to bid.numislit.com and sign up. Once you have set up an account, you may browse lots, place advance bids, or participate in the live sale online. Those wishing to participate on their devices can download the Kolbe & Fanning app through the Apple or Google Play Store. The catalogue has also been posted on Biddr and NumisBids.
The printed catalogue has been mailed to all active customers on our mailing list. As international mail speeds have been inconsistent, we encourage our foreign clients to consult the electronic catalogue in case their printed catalogue does not arrive promptly. A PDF of the printed catalogue has been posted to our main website at numislit.com for those who prefer that format. Bids placed via post, email, fax or phone must be received by February 24, the day before the sale, in order for them to be processed. Advance absentee bids may also be placed at any time online at bid.numislit.com. Live internet bidding will be available during the sale itself through the same platform.
Kolbe & Fanning Numismatic Booksellers LLC is a licensed and bonded auction firm in the State of Ohio, and our sales are conducted by licensed auctioneers. For more information, please see the Kolbe & Fanning website at numislit.com or email David Fanning at df@numislit.com. To register for the sale, go to bid.numislit.com. We look forward to your participation.
To read the Catalogue PDF, see:
https://www.numislit.com/images/upload/kolbefanningsale166.pdf
To read the earlier E-Sylum article, see:
KOLBE & FANNING AUCTION SALE 166 ANNOUNCED (https://www.coinbooks.org/v26/esylum_v26n06a02.html)
Groundbreakers by Stephen W. Sylvia and Nancy Dearing Rossbacher (publishers of the North-South Trader Magazine) is a beautiful and massive book of nearly 600 pages illustrating the history of relic hunting in America with thousands of stunning color photos of artifacts (including many coins), plus sidebar stories about the significance and meaning of these historic treasures. Published in celebration of the fiftieth anniversary of the Northern Virginia Relic Hunters Association (NVHRA), the oldest club of its kind in America, Groundbreakers highlights true tales about finding historic artifacts, pulling the best representatives from thousands of photos, spanning hundreds of lifetime collections of living and deceased diggers, whose amazing collections have never been fully shared in public until now.
Relics are sorted into colonial, Revolutionary War, youthful America, and Civil War times, with sidebars on digging events of today and special finds by club members in places well outside the Old Dominion, including New England, the Caribbean, and England. Of value to cultural resource specialists and history sleuths, Groundbreakers provides a complete survey with beautiful images of all types of artifacts that successful detectorists have unearthed after hundreds of thousands of hours in the field, and goes on to place them in historic context, often with personal connections to those who made, used, lost, and found these treasures. Groundbreakers is available for $89.95, plus $13.47 USPS Priority Mail Shipping (Virginia Residents 6% Tax). Mailed to United States addresses only. Order using PayPal at https://www.nvrha.com/nvrha-book/ or e-mail info@NVRHA.com for multiple copies at reduced shipping.
More about Groundbreakers – A Review by Tom Kays
Who doesn't like a good story about finding valuable coins with a metal detector, or on a treasure hunt, or hidden in the walls of an old building? Many of the most interesting and valuable coins were found by people in exactly those ways, for example, the $6 million cache of coins in a farm field, coins hidden in the walls of an old house, and gold and silver coins recovered from the shipwrecks of famous Spanish galleons. Whether or not you follow numismatics or coin collecting news, you have likely read a headline like Metal detectorist finds valuable coins. Usually it's the tale of an amateur metal detectorist who discovers ancient, rare, or valuable coins in a field or somewhere on a beach. It is safe to say that every metal detectorist dreams of finding rare and valuable coins or at least some precious metal. People using metal detectors continue to find some of the most exciting, historically important, and valuable coins around the world, especially in areas of the US and UK, as well as northern Europe.
See historic treasures unearthed by hundreds of expert detectorists, over lifetimes of digging. As a life member of the Northern Virginia Relic Hunters Association (NVRHA), I know that writing and publishing Groundbreakers was a monumental, six-year effort by dozens of dedicated folks, who convinced normally private detectorists to share their stories and to photograph highlights of lifetime collections. Some of the finest diggers have passed on since starting this work. This becomes their legacy, shared with us, sampled from private collections and documented in confidential digging journals, after first-hand accounts are no longer possible. The thousands of artifacts shown are just the tip-of-the-iceberg, with several thousand more images deemed too many for the book. Tens of thousands of similar items are yet to be photographed.
I was present when many of the coins pictured (and hundreds that did not make it into the book) came to light, being shared as recent finds at club meetings. I often helped finders identify some of the more obscure coins including hundreds of cut pieces of Spanish/Spanish colonial silver, including a Star-of-Lima cob, hundreds of Georgian, contemporary counterfeit, half pence, small caches of US gold and silver coins, and oddballs such as a Hogmouth Thaler, or counterfeit Leeuwendaalder. Some dug coins remain unidentified. Groundbreakers introduces us to all types of dug coins (hammered, cobs, struck and roller-die-made coins, sharp silver, foreign and early Federal coins) that truly did circulate in pre-civil war America.
What I find most fascinating are equal introductions to the breadth of historic exonumia found alongside old coins, including sutler tokens, dog tags, personal ID pins, military insignia, political tokens, colonial coin buttons, badges, and love tokens. Groundbreakers doesn't stop, giving even more fascinating types of finds such as colonial glass bottle seals, counterfeiters lead molds, wax seals, scales and weights, colonial cufflinks, political buttons, slave tags, firemen's badges, patriotic pins, Masonic items, camp-made poker chips, and hand-fashioned embellishments and adornments made from coins. Aside from every kind of numismatic-related item, Groundbreakers explodes with loads of military and non-military uniform accoutrements, weapons, ammunition, unusual glass, horse tack, and every sort of civilian item used in olden days, all done to perfection with color photos, often linked through images of soldiers and famous persons using the same type of item (sometimes the exact one) as the artifact recovered.
Special thanks to Steve Silvia and Nancy Rossbacher who spent years on this labor of love. Extra special thanks to all the legends of relic hunting present and past, who cared enough about history to go looking in their own back yards, and finding curious old objects in the dirt, never stopped wondering about and searching for who left these artifacts all over the place.
P.S. I did hear about one complaint. Steve relates that Nancy received a call from a buyer in Georgia who said Groundbreakers is causing him to lose sleep as he stayed up two nights in a row, zealously reading it cover to cover
NOTE: Quotes in the first paragraph are from the introduction to Best Coin Finds by Metal Detectorists, Treasure Hunters, and More by Marin Aleksov (Marinaleksov.com, Rosland Capital @Roslandcapital1 on Instagram)
It is with great pleasure that we announce the publication of Medallic Memorials of George Brydges Rodney Admiral of the White. This book delves into the life and legacy of one of the most influential figures in British naval history as illustrated by the numerous medals issued to commemorate his naval achievements which are cataloged here for the first time.
Admiral Rodney was a major figure in the British Royal Navy during the 18th century. He was instrumental in securing several major victories for Britain during the American Revolution and the Anglo-French Wars. His bravery and leadership on the high seas earned him the admiration of the British people and a place in the annals of history. One of his most brilliant accomplishments was the employment of a naval strategy called breaking the line, which had been virtually unused in British naval warfare up to that point.
In this book, the reader will explore the medals and other commemorative items that were minted to celebrate Rodney's achievements. Through the examination of these rare and historic artifacts, a picture of Rodney's life and legacy begins to emerge. But this book is more than just the story of Admiral Rodney's life. It is a catalog of the medals that delve into the historical context of the times in which he lived. Many had been previously listed by various authors at different times here and there in some very scarce and hard to find books, but here is a compilation for the first time of all the medals commemorating the events of his life.
This is an opportunity to add this unique and insightful work to your library. Whether you are a student of history, a collector of rare items, or simply a lover of all things medallic, the Medallic Memorials of George Brydges Rodney Admiral of the White would be a welcome addition to your collection.
Order your copy today! $45 plus $5 shipping.
Checks can be sent to :
Skyler Liechty
519 E. Interstate 30 PMB 403
Rockwall, TX 75087
Or you can use paypal at:
Skyler.liechty@gmail.com
2023 CHARLTON CANADIAN COINS VOLUME 1, NUMISMATIC ISSUES, 76TH EDITION
$34.95
'The Standard' reference guide for all circulating Canadian coins.
The 322-page catalogue illustrates, lists and prices the entire range of Canadian Coins from the 1600s to 2022. Besides the complete coverage of circulating coinage, there are listings on foreign coins in Canada from the 17th to 19th centuries; local pre-decimal coins; and coins from Nova Scotia, New Brunswick, Prince Edward Island, Newfoundland and the Province and Dominion of Canada. There are sections on maple leaf bullion coins, specimen coins, patterns, trial pieces and official fabrications, test tokens, collector sets and proof platinum coins.
The complete guide to Canadian coins, the 2023 edition includes Part 1 of the Canadian Coin Variety Catalog 1st Ed. by Hans Zoell.
Available in English and French. Retails for $34.95. CCN/CSN members pay $27.96.
ISBN: 978-0-88968-443-0
For more information, or to order, see:
2023 CHARLTON CANADIAN COINS VOLUME 1, NUMISMATIC ISSUES, 76TH EDITION (https://coinstampsupplies.com/product/pre-order-2023-charlton-canadian-coins-volume-1-numismatic-issues-76th-edition/)
English Gold Coinage 1649-1816
Maurice Bull
Regular price £55.00
Hardback
216 x 138 mm
680 pages with colour illustrations throughout
ISBN: 978-1-912667-50-5
This comprehensive guide covers every type of English gold coin for the period 1649-1816, including many new varieties. The arrangement is by monarch, with accompanying Bull reference numbers cross-referenced to the Standard Catalogue of British Coins.
The section on Provenances lists the instances of illustrations of coins and where they have appeared, potentially proving the existence of many rare examples or those only rumoured to exist. Rarity of the coins has also been looked at in light of current evidence.
English Gold Coinage Volume I is a record of the major and many minor recognised types and die-varieties of English gold coins between 1649 and 1816; combined with Volume II (covering the period from 1816-1971) it is truly the essential handbook for any collector of English gold coinage. Both volumes are available independently or as a bundle offer.
For more information, or to order, see:
English Gold Coinage 1649-1816 Maurice Bull (https://spinkbooks.com/products/english-gold-coinage-1649-1816-maurice-bull)
English Gold Coinage Volume II (1816-1971)
by Maurice Bull
Regular price £55.00
Hardback
216 x 138 mm
618 pages with colour illustrations throughout
ISBN: 978-1-912667-72-7
This comprehensive guide covers every type of English gold coin for the period 1816-1971, incorporating the British Sovereign Series issued within the British Empire. The arrangement is by monarch, with accompanying Bull reference numbers cross-referenced to the Standard Catalogue of British Coins, and includes provenance below each illustration when possible.
English Gold Coinage Volume II continues Maurice Bull's comprehensive overview of the major and many minor recognised types and die-varieties of English gold coins between 1816 and 1971; combined with Volume I (covering the period from 1649-1816) it is truly the essential handbook for any collector of English gold coinage. Both volumes are available independently or as a bundle offer of £90 for both volumes.
For more information, or to order, see:
English Gold Coinage Volume II (1816-1971) by Maurice Bull (https://spinkbooks.com/products/english-gold-coinage-volume-ii-1816-1971-by-maurice-bull)
NIZAM'S MINT TO A PEOPLE'S MUSEUM
A Pride of Deccan Heritage and Technology
Author Name: Dr J P Dash
Format: Paperback
Here is a book titled ' Nizam's Mint to a People's Museum, A Pride of Deccan Heritage and Technology ' that Connects the Past with the Present and tells you how Nizam's Mint metamorphosed into a Living Coin Technological Museum. Be ready to explore the History of Deccan Coinage, take an enchanting voyage in time with the Mint, explore the Science and Technology of Minting, revel in the unheard incidents and anecdotes from the Life of the Mint, including that of Second World War, relish the Art of Project Management in the creation of one of the finest Mint at Cherlapally. I am sure your Love for coins and Numismatics will be kindled in your heart. And you will celebrate the Heritage of India through the History of Minting as we rejoice in the 75 Years of Freedom, captioned as Azadi ke Amrit Mahotsav.
Dr J P Dash
JP is an IIM (Bangalore) educated technocrat, who joined with Ordnance Factory, Government of India, for three decades and headed India Government Mint, Hyderabad as Chief General Manager.
A seasoned leader in Corporate Strategy and Business Transformation, JP dares to challenge the status quo. He happens to be a Fellow of the Institute of Directors. He takes an avid interest in history, public policy, and spirituality.
Teaching and Writing is his first Love. Having worked as the Director of the National Academy of Defence Production, he keeps publishing in many Academic Journals on Management and Policy Issues. The stroke of Cancer propelled him to write his first book titled Memoir of Cancer Survivor, I can and I will. He was the guiding force for the old, dilapidated Saifabad Mint, which is set to wear a new face after decades of negligence as a befitting tribute to the 75 years of celebration of Indian freedom by SPMCIL (Security Printing and Minting Corporation of India Limited).
In 1893, the Royal Mint of Hyderabad was shifted to a new building at Dar-us-Shafa, during the regime of Mir Mahaboob Ali Khan, the sixth Nizam. He introduced first machine-minted coins, known as Charkhi coins. In 1903, the sixth Nizam imported the sophisticated machine from London and erected it at the present Mint Compound at Saifabad. It started operating from July 13, 1903, Safiullah said.
According to Dr Reddy, even after the end of the Nizam rule with Hyderabad state being merged with Indian Union on September 17, 1948, the minting of coins at the Royal Mint, Saifabad, continued in the name of the last Nizam of Hyderabad Mir Osman Ali Khan, till January 26, 1950, when India became a Republic.
To read the complete article, see:
Hyderabad: Nizam's mint to be converted into a museum (https://www.hindustantimes.com/cities/others/hyderabad-nizam-s-mint-to-be-converted-into-a-museum-101637177398200.html)
For more information, or to order, see:
NIZAM'S MINT TO A PEOPLE'S MUSEUM (https://notionpress.com/read/nizam-s-mint-to-a-people-s-museum)
NIZAM'S MINT TO A PEOPLE'S MUSEUM (https://www.amazon.in/NIZAMS-MINT-PEOPLES-MUSEUM-Technology/dp/B0BTYQZ4R2)
The catalog is 288 pages with a hidden coil spiral bound cover and comes with 3D Glasses and 3D imagery!
In this special catalog, you'll find new and exciting stories on the people and artifacts of the SS Central America. There are numerous important essays by Fred Holabird, Bob Evans, Neil Dobson (one of the archaeologists), and others. Essays include:
"Ship Plans" by Fred Holabird
"Coal & the Quest for the Ship of Gold" by Robert Evans
"Recovery Technologies & Methodologies" by Neil Dobson
"The Easton Family Story" by Brian Easton Stark
"Trunks" by Robert Evans
"Gold Bags Through History" by Fred Holabird
"Sam Brannan" by Fred Holabird
"Purser Hull" by Linda Stanton
"The Counterfeit 8 Escudo Coins from the SS Central America" by Fred Holabird & Robert Evans
"Notes on Passenger Receipts" by Fred Holabird
Alsop Treasure Box & Story by Fred Holabird
PMSS Tag & Story by Fred Holabird
"California Gold Quartz and Gold Nugget Jewelry" By Fred Holabird
"California Gold Rush Miners' Fashion" by Fred Holabird
Kellogg & Humbert Gold Ingot & Story by Fred Holabird
"Nemo" by Robert Evans
"Is There More Treasure?" by Fred Holabird & Robert Evans
You'll find special 3D images, schematic drawings of the ship, and QR codes that will lead you to videos showing recovery of select artifacts by the Nemo ROV!
If you make a purchase over $500 in this auction, your catalog purchase of $100 will be credited to your invoice upon request (shipping excluded). Please contact us prior to payment to collect your credit.
For more information, or to order, see:
S.S. Central America Artifacts Auction Part II Catalog (https://www.holabirdamericana.com/shop/p/ss-central-america-december-auction-catalog-set-5n4np)
To read the earlier E-Sylum article, see:
S.S. CENTRAL AMERICA ARTIFACT CATALOGS (https://www.coinbooks.org/v25/esylum_v25n45a02.html)
The J. Douglas Ferguson Historical Research Foundation is pleased to announce the launch of a new website, a digital repository of Canadian numismatic sources. The website is aptly named Canadian Numismatic Resources – Ressources numismatique Canada: www.cnr-rnc.ca. The CNR website is the first of its kind in Canada and promises to be the most complete resource of Canadian numismatic documents. While content is constantly being added, the new website already contains the equivalent of over 10,000 pages of sources consisting of a variety of material, including numismatic periodicals, coin club journals, numismatists' catalogues, dealer price lists and auction catalogues, and government and archival records relevant to Canadian currency and numismatics. Most documents are out-of-print and free of copyright protection. Otherwise, permission has been granted on protected documents.
The website is intended to be fully bilingual, although documents added to the site will be available in their original language only. Most of the documents are fully searchable having been scanned with high-quality photography and scanning equipment and enhanced with the OCR [Optical Character Recognition] feature (in the case of printed documents). Content on the website will continue to grow with the expectation of adding at least 20,000 pages of scanned documents every year. But as the website gains traction and support from users and contributors, the output could significantly expand.
The committee overseeing the digitization project is soliciting members of the numismatic community to contribute to the expansion of the website by providing access to their libraries. Contributors can contact the webmaster of the website at webmaster@cnr-rnc.ca for further information.
Although access to the website is completely free to Internet users, the Ferguson Foundation is asking that users contribute to the website either by submitting original high-resolution scanned documents free of any copyright protection or, even more importantly, by making a donation to The J. Douglas Ferguson Historical Research Foundation through the CNR website.
The J. Douglas Ferguson Historical Research Foundation is a non-profit organization whose mission is to promote and financially support the active research of Canadian numismatics. For further information about the Foundation, readers can visit https://www.jdfergusonfoundation.ca/ .
To visit the website, see:
https://cnr-rnc.ca/
To read the earlier E-Sylum article, see:
WEBSITE: CANADIAN NUMISMATIC RESOURCES (https://www.coinbooks.org/v25/esylum_v25n49a08.html)
Daniel W. Valentine (1863-1932)
In honor of Valentine's Day, one might recall the New Jersey collector Daniel W. Valentine (1863-1932). Valentine was a two-time president of the New York Numismatic Club (1918, 1920) and is best remembered for his work on half dime varieties, The United States Half Dimes, published by the American Numismatic Society in 1931 in the Numismatic Notes and Monographs series, no. 48. He also published Fractional Currency of the United States in 1924.
Daniel W. Valentine presidential medal in silver, issued by the New York Numismatic Club. Ex. Jay Galst (CNG, May 26, 2021), lot 870, realized $1,300.
The Valentine example of the 1792 half disme, plate coin from The United States Half Dimes. Ex. Heritage Auctions, 2012 ANA, lot 3819 (realized $38,187.50).
Link to works by Daniel Valentine on Newman Portal
https://nnp.wustl.edu/library/booksbyauthor/1950
ANA Money Talks presentation by Jerry Fochtman on Valentine:
https://www.youtube.com/watch?v=Vm1ic6OcobE&t=6s
David Lisot is featured in a myriad of programs featuring collectibles
To watch the complete video, see:
https://nnp.wustl.edu/library/book/584278
Greg Bennick: My name is Greg Bennick, and I'm here today with Jeff Garrett. We're going to answer a few questions about his career and whatnot. And Jeff, let's just dive right in. Thanks so much for taking the time. I really appreciate it.
Jeff Garrett: Well thanks Greg for having me today.
Greg Bennick: Absolutely. So tell me, how did you get your start in coins? You know, your bio is online, many people know the things that you have done. I'm almost always more curious about the human element behind the bio. So how did you get your start in coins and what year was that and how did that go about?
Jeff Garrett: Well, in the late sixties I got started like millions of other people did. A friend of my family gave me a Lincoln Penny book from 1941 to date at that time, I guess in the sixties, and they told me about coin collecting. A friend of my family's, he was an amateur collector. He gave me the book and then I started filling the album. And we all know the magic of Whitman folders: it's an addictive behavior. And I was a perfect sucker for that because I'm really kind of anal about everything anyway. I like everything in its order and complete. So, I started putting it together and then I've started realizing that some of these are actually kind of hard to find. And I would look and my mom and dad would take me to the bank and I would get a couple dollars' worth of pennies and I'd go back and I'd go through them. And fairly soon I had it pretty complete. And then I made my first numismatic purchase. I lived in the Clearwater, Florida area and I couldn't find 1941-S. I'm sure I could have found one eventually, but I was impatient, so I'm not sure in those days how we did it, was probably a newspaper ad I saw, but I bought a 1941-S penny from Littleton Coin Company. So that was my first numismatic purchase. For me, the thing that helped me get started in coins and going actually fairly young as a professional, probably 16 or 17, I was a professional, but I grew up in Clearwater Tampa area and that was really key to me being able to get into coins and being able to have the opportunities that I did.
In Clearwater, Florida, back in the late sixties, early seventies, there were a lot of coin clubs. There were probably five or six in the area. So, basically every week there was a coin club meeting somewhere in one of the towns. And I was really lucky that I had some mentors that I guess they saw tin me hat I really love coins and I was a young kid and by the time I was 14 or 15, I was considered like a whiz kid with it. So, they would come and pick me up. My dad traveled out for work so he was never home, but they would pick me up and take me to the coin club meetings. And then afterwards they'd all meet at Denny's and I'd get to talk coins with them and things like that. And then also in that area was a Clearwater coin show, which was kind of famous in Florida, it used to be a really big deal and we would go to that once a year. And so, it was my luck of growing up in the Clearwater, Tampa area that I was able to have some mentors that really kind of got me into it, amd gave me opportunities to learn. I would ride my bike to a coin shop in Dunedin, Florida that a guy named Ed French ran. And I would help him flip coins and do things you do in a coin shop. And it was a typical hole in the wall place. But I was just really in the right place at the right time to be exposed to coins, so it was really a lucky time.
Greg Bennick: That's amazing. Now what do you think it is that defines a whiz kid at 14 or 15? What was it about you that made you stand out from all the other kids? Was it your ability to memorize, was it your grading ability at the time? What do you think it was?
Jeff Garrett: That's a good question. You know, it was really kind of a combination of those. So grading, I was really good at grading, like really quickly. I had a really good memory for coins. I still do. I can't remember what I had for lunch yesterday, but I can remember a coin that I sold a year ago. Somehow, I have like a photographic memory for coins, but it doesn't imply to anything else, so it's really a strange thing. And also, I was really good with counterfeit detection, for some reason I could identify counterfeit gold. So, by the time I was 15, people were asking me for advice. It was kind of funny. And also fairly soon I became a pretty good trader. I could see a coin and figure out what it was worth. And I kind of kid people because now I'm editor of Red Book and back in the seventies, the Red Book was really an important thing. And so I did everything I could and memorized the Red Book. And then another thing, I started understanding early on that information was really key. And I don't know if education's the right word for it then, but I was like, the more you know, the more you can make, kind of thing. I figured that out really fast. And I remember when David Aker's books came out in the seventies and I was like, wow, this is really great information. You could look at and memorize the Red Book, but that was mintages and prices, but Dave Aker's books were the first one that had a narrative about this coin, maybe it's listed in the Red Book, but it's actually known in mint state and that kind of stuff. So early on I just realized the more you know the more you can make. And I kind of made that a staple of how I did business.
Greg Bennick: I'm not Gregsplaining this to you, as you know this already, but those little pieces of information make the difference. If you know that the Red Book says this, but this coin is unknown in Mint State and that coin comes up for auction and it happens to be in Mint State, that little piece of information is huge. I mean it's absolutely immense.
Jeff Garrett: Yeah, it was big. And then long later on, I actually learned that there were ways of finding information too. You know, many years later John Dannreuther and I started compiling auction records. We were one of the first ones that did that. We would go in, we started a database and we eventually sold it to PCGS. And now it's part of what everyone uses. Now people use auction records for pricing pretty much more than price guides. So yeah, I remember we had started that project, we hired college students to take auction catalogs and put them in an Excel file. And then later we had to use more sophisticated databases. But I remember buying an 1841 Quarter Eagle, and I saw the auction records that they were all bringing twice what they were bringing in the catalog and I capitalized on that at a coin show. I was like, wow, we gotta really amp it up. So we hired more people and it ended that even today, now it's the way most people price coins; prices realized.
Greg Bennick: How many auction records did these college students type in, do you think?
Jeff Garrett: Oh, it was tens of thousands. I remember we eventually got beyond Excel, and I have to ask John which database we went to next, but he was more the tech guy and we ended up having to buy something else that was bigger, that could control more data. And up until about 10 years or so ago, a lot of it was done by hand. It's in the last 10 years that now the auction companies, they download it into databases and it goes up to the Collector's Universe who gets it, and then Greysheet gets it. And so that information now is consolidated and you can get it at your fingertips.
Greg Bennick: You know that you've taken on a large coin task when you go past the capability of Microsoft. When Excel just isn't enough and you're like, your silly small company? I'm sorry, we're gonna have to deal with somebody bigger for the project that we're doing. That's pretty remarkable. So you mentioned the Red Book and of course growing up the Red Book was everything. And I would look forward to it coming out and of course, comparing old prices to new and whatnot. What was it like getting involved in the Red Book? I mean sure, I'd be happy to talk about what you do for the Red Book right now, and please feel free to mention that in case people don't know. But what did it feel like going from growing up reading the Red Book to then working on the Red Book?
Jeff Garrett: You know, it's kinda like a slow boil, like you put a frog in a boiling water and he doesn't know it because it goes so slowly. So, my exposure to Red Book was really a slow process. I was a coin trader for most of my career until about 15 or 20 years ago. And I had this idea about the 100 Greatest Coins. Everybody's like, Wow, what's the most expensive coin? I said, that's would be an interesting book: what's the greatest coins? So, Ron Guth and I, one of my great friends in the business, we worked together on it and we put together the The 100 Greatest Coins. And I went to the idea with Whitman Publishing and I guess it was Whitman, it might have been a different company at that time. And we told them about the idea and they liked it and so we published this book and then we had prices in there. ,So they kind of established my relationship with Whitman, the company, and then I would help them. You know, that book became very popular, it won Book of the Year. And it's in this fifth edition and it's still really a useful book that a lot of people like. But it kinda got me working with them, they would call up and say oh, there's a guy doing a book on Buffalo nickels, but we need pricing for it. So, I would help him with the pricing for it. And then eventually, they wanted me to help them with the gold coins because I eventually did a book Encyclopedia of US Gold with Ron Guth as well and that was a multi-year adventure. It took a long time to get it done. And then that book had pricing in it, so I created a database to do pricing for that. And then they asked me to help with the pricing for gold coins for Red Book.
Then I started working with Ken Bressett and so we worked on that. And I would do every year for a few years, I would do the pricing for gold, kinda what they call finalizing, where they have contributors, but someone has to take the contributors prices and put in the final final price. And even then, I was putting in the prices, but Ken Bressett would overlook it and he would be the ultimate finalizer, but I did 95% of the work. So, we did that and then eventually Ken was wanting to slow down a little bit, I guess he was getting in his late eighties, and he said he wanted to finally slow down a little bit. So I started doing more of the book, and then eventually I was doing sort of like an apprenticeship. I was doing the entire book, but it was still as I guess a pricing editor, I think what they called me was a valuation editor is what I was called so I did that. And I love the Red Book and I've used it as a tool for my whole life, so it's been something I really care about. And so eventually worked on it some more. And then at some point I got the big honor of having my name moved to the front of the book as a valuation editor with Dave Bowers as research editor and Ken Bressett as editor. That was a big achievement for me numismatically, so I was pretty happy about that.
And then I guess 2019 I think it was, so it's about three or four years ago now, Ken Bressett was 91 or 92 and still walking four miles a day, but he was wanting to actually really retire. So I took on the job of doing the entire Red Book as a senior editor. So now I'm senior editor, Ken Bressett is still fairly active as far as you know, we have a question if something comes up, or if someone questions a mintage on a coin, we'll still be like, Well Ken, where did that number come from? And he'll say Oh, in 1962, we did this, this, and this.
So, he still has an amazing memory, and he'll turn 95 this year and that's pretty amazing. So, my involvement with Red Book was an evolving process and it's been enjoyable. I like it. I like everything except for the last month where I have to really put it all together, which is like a big giant amount of work. We have a good contributor system. Someone told me a quote once that I really like from Mark Twain. Someone asked Mark Twain if he enjoys writing, and he said, I enjoy having written. So that's kinda how I am. Once I get it done, I'm like Phew, I'm glad that's done, I can wait till next year.
About the Interviewer
Greg Bennick (www.gregbennick.com) is a keynote speaker and long time coin collector with a focus on major mint error coins. Have ideas for other interviewees? Contact him anytime on the web or via instagram @minterrors.
To watch the complete interview on NNP, see:
Jeff Garrett, Interviewed by Greg Bennick (https://nnp.wustl.edu/library/book/622304)
To read the earlier E-Sylum article, see:
FRED WEINBERG INTERVIEW, PART FOUR (https://www.coinbooks.org/v25/esylum_v25n31a14.html)
Judy Blackman had an instrumental role in the design of Bill's tribute medals minted on the occasion of the 60th anniversary of the Waterloo Coin Society last fall. In her own words from a February 1, 2023 personal communication to me, including her attached sketch to which she refers:
At the same 2014 RCNA Convention in Mississauga where I received Bill's gift of a 1969 Kitchener-Waterloo Heritage Festival medal, I picked up (from none other than the namesake owner and founder of my numismatic book business, Richard Stockley himself) my first set of the first 25 years (1956-1980) of bound volumes of the Canadian Numismatic Journal with Bill's name and his RCNA membership number 1808 embossed in gilt on the lower left-hand corner of each blue cloth front cover as illustrated by the attached image. His CNA membership was first announced in the Feb. 1958 issue of the CN Journal (Vol. 3 no. 2, p. 56), pointed out in red per the image. Apparently, for some mysterious reason, Bill had at least 4 sets bound and embossed in this way.
The image is from Volume 8 (1963) because it includes, on p. 242-243 (specifically from the June 1963 issue, vol. 8 no. 6) an image of then 40-year-old Bill (circled in red) in the group photo of the Executive of the then newly struck Ontario Numismatic Association (ONA). On facing page 243 is Bill's own authored report as ONA Publicity Director, from the first annual ONA Convention held in Vineland, Ontario and hosted by the St. Catharines Coin Club on April 26-28, 1963.
To read the earlier E-Sylum article, see:
CANADIAN COLLECTOR BILL ENGLISH TURNS 100 (https://www.coinbooks.org/v26/esylum_v26n06a07.html)
Jamaica Street Car Co. Token

Jon Radel writes:
To read the earlier E-Sylum article, see:
NUMISMATIC NUGGETS: FEBRUARY 5, 2023 : Jamaica Street Car Co.Token (https://www.coinbooks.org/v26/esylum_v26n06a18.html)
How to Create a World Class BankNote Collection
Kavan Ratnatunga writes:
Creating a world-class banknote collection requires research, patience, and a strong passion for collecting.
Here are some steps you can follow to create a world-class banknote collection:
Research: Learn as much as you can about the history of banknotes, the different types of banknotes, and the various countries that issue banknotes. Familiarize yourself with grading systems and condition criteria used to evaluate banknotes.
Define your collection focus: Decide on a specific theme or type of banknote that you want to focus on, such as antique banknotes, commemorative banknotes, or banknotes from a specific region.
Build relationships: Network with other banknote collectors, join banknote clubs and organizations, and attend banknote shows to meet other collectors and dealers.
Purchase banknotes from reliable sources: Purchase banknotes from reputable dealers and auction houses, and carefully examine each banknote before buying to ensure authenticity and quality.
Store and protect your collection: Store your banknotes properly to protect them from damage, such as moisture, light, and handling. Consider purchasing specialized storage materials, such as currency sleeves and albums.
Stay informed: Stay up to date on the latest developments in the banknote collecting world, such as new releases, trends, and changes in market conditions.
Build a reference library: Build a library of books, magazines, and online resources that can help you learn more about banknotes and the history behind them.
Remember, creating a world-class banknote collection takes time, dedication, and resources. Stay focused on your goal, and your collection will grow over time into a valuable and impressive collection.
See:
https://notes.lakdiva.org/cat/AI_chatGPT.html
https://chatgptwriter.ai/
David Lange on Numismatic Publishing
Mike Costanzo writes:
"To get a book printed and bound in an attractive and durable manner, with fully sewn and not glued signatures, typically requires a minimum press run of 300 copies to keep the list price within reason. With my most recent book I asked for a quote on 150 copies, and the unit cost was clearly prohibitive. It was a question of printing 300 copies and selling perhaps a third of them over the next few years versus printing 150 and selling no more than a couple dozen at a high price. I opted to get more books sold, since all authors want to create some sort of lasting legacy. There is no legacy when hundreds of books go into a dumpster upon the author's death."
To read the earlier E-Sylum article, see:
DAVID W. LANGE (1958-2023) (https://www.coinbooks.org/v26/esylum_v26n04a04.html)
More Numisma Reprints
David Sundman writes:
To read the earlier E-Sylum article, see:
NOTES FROM E-SYLUM READERS: JANUARY 15, 2023 : Another Numisma (https://www.coinbooks.org/v26/esylum_v26n03a12.html)
WWII German Paper Money Book Sought
Pieter Vermaak of South Africa writes:
To read the earlier E-Sylum articles, see:
NEW BOOK: WWII PAPER MONEY AND FINANCIAL INSTRUMENTS OF NAZI GERMANY (https://www.coinbooks.org/esylum_v15n22a04.html)
BOOK REVIEWS: BNR PRESS WWII GUIDES (https://www.coinbooks.org/esylum_v17n35a08.html)
Rochester Junior Numismatic Association
Joe Lanzafame (the last adult advisor for the RJNA) writes:
To read the earlier E-Sylum article, see:
MORE ON JUNIOR COIN CLUBS (https://www.coinbooks.org/v26/esylum_v26n06a15.html)
Subscriber profile: Aliaksandr Sauchyk
New subscriber Alex Sauchyk writes:
More Celina Coin Co. Pricelists
NBS President Tom Harrison writes:
To read the earlier E-Sylum article, see:
THE CELINA COIN COMPANY (https://www.coinbooks.org/v26/esylum_v26n06a16.html)
Mint Sport. An enigmatic numismatic item which can only be explained as an object created by mint personnel for their own amusement or diversion. A mint sport can be something of utmost curiosity, of the most beguiling dilemma or perplexing uncertainty. Often they are termed by the unenlightened as mint errors. But a knowledge of mint technology would help determine when an object is a bona fide error and when it is someone playing around with the equipment. Any worker in a mint – engraver, diesinker, pressman or finisher – could create such an object, as it can originate at most any step of the minting process, or include several steps.
Mint sports can be most frivolous – as, say, placing a gold coin between the dies striking a common sports relay medal. On the other hand, they can be so complex and detailed they would be classed as a fantasy coin.
Illustrated is a mint sport from the author's collection which is a struck piece from a die in which a diesinker passed time by sinking letter punches (perhaps to improve his skill in following a bowed base line). He ran through three alphabets creating the die that struck this object.
Numismatist Kenneth Bressett suggests this term seems to have originated in the Orient and usually refers to Chinese coins. In Russia the term 'novodel' is used for similar items. In the U.S. they are often attributed to 'midnight minters'.
To read the complete entry on the Newman Numismatic Portal, see:
Mint Sport (https://nnp.wustl.edu/library/dictionarydetail/516332)
TAMS Journal, Vol. 24, No. 6 (pg. 19):
Numismatics International Bulletin, Vol. 13, No.10 (pg. 61)
Numisma, no. 6 [1963] (pg. 24):
The MCA Advisory, March 2008 (pg. 9)
This week, as Valentine's Day approaches, our subject is a numismatist named Valentine.
Daniel Webster Valentine was born in New York City on March 7, 1863, the son of real estate dealer and hardware merchant, Charles Wesley Valentine (1834-1905) and Sarah Eliza Fleetwood Valentine (1834-1885). When Daniel was four years old in 1867, the family moved to Englewood, New Jersey. Before going to college, Daniel worked in the family store.
Daniel was married on October 28, 1896, to Ada Belle Colwell (1863-1941) at the Presbyterian Church in her home town of Harrisville, Michigan. She graduated from Elmira Female College in 1884 and worked as a teacher. They had two daughters. Marion and Margaret, and both got married but neither of them had children.
As a young man, Valentine played baseball with the Englewood Pioneers.
Daniel attended the New York College of Dentistry and received a D.D.S. on March 9, 1887. Fresh out of college, he spent a year in Vienna learning of dental practice on the continent. His practice was in New York City during 1888 to 1896. After his marriage, he moved to Englewood, New Jersey, and practiced there for thirty-five years until his death.
Valentine Joined the New York Numismatic club in 1910. He joined the ANA as member #1484 effective March 25, 1911. His name was listed as Dr. D. W. Valentine.
In 1914 the American Numismatic Society conducted an Exhibition of United States and Colonial Coins and published a photo illustrated catalog. Dr. Valentine contributed a small group of 43 half dimes to the exhibition.
Valentine was an active member of the New York Numismatic Club (NYNC) and served two non-consecutive terms as president in 1918 and 1920. He was honored with a club presidential medal designed by Jonathan M. Swanson with fifty struck in bronze and eight in silver.
The Valentine medal is one of the tougher ones in the series to acquire. At the sale of the Dr, Jay Galst collection on May 26, 2021, a bronze medal sold for $780 and the silver medal sold for $1560. Prices at the sale were very strong.
Valentine chaired a committee of the NYNC in 1913 to make a listing of postage and fractional currency and is credited as the author of Fractional Currency of the United States published in 1924. His collection of fractional currency is untraced. It may have been acquired by F. C. C. Boyd but that is still speculation.
Valentine had an extensive collection of half dimes. His second book was The United States Half Dimes published in 1931 as ANS Monograph #48. It was published with tan card covers. It listed 257 die varieties of half dimes.
Most of his collection was sold at auction by Thomas Elder in 1927. It was a broad collection of United States and world coins and medals. Noted was a complete set of gold dollars for all dates and mints. His half dimes were not included. It was not known what happened to his collection of half dismes, for most of the pattern varieties outlined in his book have not been seen since per Stephen Crain.
Dr. Valentine was a member of the Elks and the Masons. He was ill for two years prior to his death. He died of apoplexy (stroke) at home in Englewood, New Jersey, on January 24, 1932. He is buried with his parents at Brookside Cemetery in Englewood.
One obituary stated, Formerly owned 750 B. C. gold-piece, a half stater of Lydia, said to be the oldest gold coin in existence. It realized $128 in the 1927 Elder sale.
Valentine was inducted into John Reich Collectors Society (JRCS) Hall of Fame in 2010 and into the Society of Paper Money Collectors (SPMC) Hall of Fame in 2017.
Researcher Jerry Fochtman had been unable to find a quality photo of Valentine. Since both daughters died without children, there were no archives with descendants. Eventually he found the studio photo that illustrates this article through a cousin of Margaret Valentine Beatte in California. He related the story in a Money Talks presentation at the ANA World's Fair of Money.
In recent years I compiled a census of known examples of the 1792 half disme. This included the plate coin for the Valentine book on half dimes. It is noted for a partial piercing at the Y of LIBERTY on the obverse. It has a special significance to me as the coin owned by the author of the reference book on the topic.
The NYNC presidential medal for Valentine is considered the key to the series. I recall Stephen Crain writing about his long quest for an example and his joy at finally getting one.
In 2013 I served as a judge for the numismatic literature exhibit class at the ANA World's Fair of Money. An exhibit on Dr. Daniel W. Valentine: Profile of a Numismatic Pioneer, included photos acquired from his family as well as a bronze and silver medal. The exhibit placed by Jerry Fochtman was very deserving of first place.
Fochtman also wrote in The E-Sylum that he was attempting to compile a list of known examples of the Valentine medal. He asked people to check for the edge number and report them to him.
Mark Anderson sold current club medals and recorded their serial numbers. I learned that he was also recording the serial numbers for the Valentine medals. When I acquired a bronze example at an ANA WFM, I brought it to Mark so I could show off what I had acquired.
The medal is strongly held for a variety of reasons. Mark Anderson wanted one since he collects the NYNC series. Jerry Fochtman collected them because of his interest in fractional currency. Steve Crain wanted the medal because of his interest in half dimes. I wanted it because I collect medals for numismatists.
There may be competition, but sharing a common interest like this can bring collectors together. I learned much about Valentine this past week through contact with Jerry Fochtman.
On February 9, 2023, my local coin club sold books from the club library in a silent auction. I bought a Durst reprint of the Valentine half dime book for $1.
Jerry Fochtman commented on the Valentine Fractional Currency book and medals:
Collectors line up to gain entrance to the 2023 FUN & World Money Fair Shows in Orlando and Berlin, respectively.
Six weeks into the new year, we have a strong indication of the mood of 2023 market. The year starts with the two of the largest coin shows in the world -- Florida United Numismatists Show, or FUN (Orlando, FL in January), and the World Money Fair (Berlin). Both of these events are huge by numismatic standards with major auctions tied to them, as well as many hundreds of dealers in attendance. I have been to over 35 annual FUN shows since 1976, and half a dozen of the Berlin events, and I can tell this year felt different (in a good way) for both of them.
These shows are so significant that they represent bellwether events which give us a glimpse into the current state of the market, and short-term expectations for the industry. Here are my take-aways based on these two shows:
Coin collecting is a global enterprise
This may sound obvious, as coin collecting has always been an international pursuit. However, the business of numismatics has traditionally held an American-centric perspective. Third-party grading was invented here. The leading auction companies launched internet platforms here first, and so on. What is extremely obvious now is that the rest of the world has caught up, and improving on the American model in many ways. World minting firms (government and private) are miles ahead of the U.S. Mint, and our piddly private minting firms. Check out CIT, Perth Mint, Monnaie de Paris, and others to catch a glimpse of the amazing offerings from these firms. Huge dollar volume is generated by these companies with marketing budgets to match. There's no equal in the USA.
Collectors are heading to shows in droves
It was amazing to see collectors and dealers alike queuing up in the convention hall lobbies anxiously awaiting entrance to the show. The Berlin show was so busy with two-way traffic that I felt like I was getting on/off the Metro during rush hour. One is told that all the "real deals" at Berlin are done in private rooms, which says a lot because there was a ton of commerce happening on the bourse floor. The Emporium Hamburg booth was close to ours at the show and it was normal to see people 3-deep waiting to talk to a numismatist.
Prices on more common items are settling a bit
Despite the frenetic energy at the shows, we are starting to see prices come down to earth, especially for the readily available U.S. material that frequently trades on the bourse floor and at auction. I am referring to items under $5000, including Morgan dollars, Walking Liberty half dollars, better date gold, mint state type coins, and so on. These series typically saw big gains over the past 2 years.
Two observations: 1) I think most of these coins will bottom out higher than they started prior to the pandemic period; 2) series that didn't jump as much in this time frame are now starting to perform well (Lincoln cents, for example),
Everyone is feeling positive energy
The vibe at both FUN and WMF was off the chart. Rarely have I been to the end of a show feeling more energetic than when I started. You can just feel the energy coming off the floor as everyone from collectors to dealers, to Mint representatives are glowing with enthusiasm. Why not? Everyone is doing business and feeding off each other.
Crime and theft are rising
Sadly, the thieves are getting more brazen and smarter at the same time. As reported by Doug Davis of Numismatic Crime Information Center, thefts at the trade shows are increasing and worrisome. World Numismatics, a dealer specializing in Mexican and South American coinage has items stolen after they were closed for the day at the NYINC show in late January. A similar theft occurred at the ANA show last Summer in Rosemont, IL.
The moral to the story is that, with increased attention and popularity, coin shows are going to have to increase security to meet the challenge. The Berlin show offered something new in this regard: every entrant to the show was required to scan the barcode on their badge every time they entered or left the bourse floor. The security on the floor was palpable with many exhibitors also having their own private security at the booth.
Young people are the fastest growing demographic at shows
Saving, perhaps, the best for last, it is truly exciting to see so many new and young faces at these coin shows. The average age of exhibitor (and support staff) in Berlin was easily below 40 years old, by my anecdotal observations. In Orlando, the average age was a little higher, but we are finally seeing next-gen coin dealers and very engaged new staffers who are truly excited about this hobby. They're not just here for the paycheck. They think "coins are cool" -- which blows my mind. Of course coin collecting is cool. What's better than history, money, and profit, and while running around with your good friends hustling all day? I remember feeling this way at shows in the 1980s, but as the millennials like to say, "it's been a minute."
To read the complete article, see:
Six Takeaways from the First Two Major Coin Shows of the Year: FUN & WMF (https://www.greysheet.com/news/story/six-takeaways-from-the-first-two-major-coin-shows-of-the-year-fun-berlin)
Lot 598: Brazil 960 Reis, 1810-R. KM-307.3. Rare variety with no stops/periods either side of 960 and florets. Listed in Gomes – valor e florao sem pontos. Unrecorded in recent auction records. Pleasing toned EF with trace of undertype visible. Nice opportunity for the specialist. ($200-300)
To read the complete lot description, see:
Brazil 960 Reis 1810-R Rare Variety Toned EF - No Stops/Periods at 960 & Florets! None in Recent Auction Records! (https://numismaticauctions.nextlot.com/auctions/1421161/lots/11558758)
Lot 660: China, Szechuan Dragon Dollar, ND(1901-1908). L&M-345, Y-238. Eye catching unusually nice gunmetal and multi-color toned Unc to Choice Unc. Close inspection recommended. ($500-1000)
To read the complete lot description, see:
China, Szechuan Dragon Dollar ND(1901-1908) Colorful Toned Unc (https://numismaticauctions.nextlot.com/auctions/1421161/lots/11559192)
Lot 775: French Indo-China Sapeque 1889-A Exceedingly Rare Colorful Proof Only issue Choice to Gem Proof Mintage Only 100pcs!!! ($1000-1500)
To read the complete lot description, see:
French Indo-China Sapeque 1889-A Exceedingly Rare Colorful Gem Proof Only issue Choice to Gem Proof Mintage Only 100pcs!!! (https://numismaticauctions.nextlot.com/auctions/1421161/lots/11600569)
Lot 780: German New Guinea 5 Mark, 1894-A. KM-7. PCGS Gold Shield Secure MS65 Superlative Gem with outstanding pale amber, gold and periwinkle toning accented by strong supporting luster. A very PQ example and a condition rarity Bird of Paradise Silver Crown with potential to upgrade given the quality of the surfaces present. Tied for second finest graded with5 Mark, 1894-A. KM-7. PCGS Gold Shield Secure MS65 Superlative Gem with outstanding pale amber, gold and periwinkle toning accented by strong supporting luster. A very PQ example and a condition rarity Bird of Paradise Silver Crown with potential to upgrade given the quality of the surfaces present. Tied for second finest graded with a recent virtually twin example to this one in PCGS MS65 bringing $24,000 in an August 2021 Stack's/Bowers Auction. ($20,000-25,000)
To read the complete lot description, see:
German New Guinea 5 Mark 1894-A PCGS Gold Shield Secure MS65 Top Grade Example! (https://numismaticauctions.nextlot.com/auctions/1421161/lots/11600604)
Lot 807: German States, Hannover Taler, 1851-B. KM-209.2. NGC MS66 blast white semi-prooflike with some cameo effect. TOP POP finest graded example! An exemplary Gem, far nicer than the MS65 Otto Horn example which hammered at 700 USD. ($750-1000)
To read the complete lot description, see:
German States, Hannover Taler 1851-B NGC MS66 Semi-prooflike Cameo effect TOP POP WHITE GEM (https://numismaticauctions.nextlot.com/auctions/1421161/lots/11600793)
Lot 816: German States, Prussia 2/3 Taler, 1722-L/IGN. Dav. 301, KM-178. The rare Soldier King Key type. NGC XF45 and the only graded example. A very seldom seen issue! Nice. ($500-1000)
To read the complete lot description, see:
German States, Prussia 2/3 Taler 1722-L/IGN rare "Soldier King" Key type NGC XF45 the only graded example (https://numismaticauctions.nextlot.com/auctions/1421161/lots/11600856)
Lot 877: Hong Kong, Dollar, 1867. KM-10. Attractive Pale gold to amber toned Borderline AU-Unc, hints of original electric blue near rim from toning incurred via oxygen entry into the old time 2x2. Very natural, nicely struck and displays a fully lustrous reverse. ($5000-7500)
To read the complete lot description, see:
Hong Kong, Dollar 1867 Attractive toned Borderline AU-Unc (https://numismaticauctions.nextlot.com/auctions/1421161/lots/11601283)
Lot 955: Mexico, Guadalajara Mint 8 Reales, 1831-GaLP. KM-377.6. Lustrous AU-Unc and unblemished surfaces, softly struck at centers. Exceptional condition rarity. Ex: Mike Dunigan and Black Swan Collection. ($1250-1500)
To read the complete lot description, see:
Mexico, Guadalajara Mint 8 Reales 1831-GaLP Lustrous AU-Unc an Exceptional Condition Rarity! (https://numismaticauctions.nextlot.com/auctions/1421161/lots/11801273)
For more information, or to bid, see:
Sale 67 Day 2 Timed Auction (https://numismaticauctions.nextlot.com/auctions/1421161/lots)
To read the earlier E-Sylum article, see:
NUMISMATIC AUCTIONS SALE 67 WORLD HIGHLIGHTS (https://www.coinbooks.org/v26/esylum_v26n05a20.html)
Auction 42, closing Wednesday, March 1st 2023, is online now! Print catalogs will be sent tomorrow, and can also be viewed on our website.
Our major annual auction covers many areas—Greek and Roman, the British Isles from Anglo-Saxon to hammered, milled, and tokens, World, and U.S. It opens with select gold from several beautiful collections that have come into our office in the past year–fine style solidi of Constantius II and Honorius, a rare Julian II solidus, and a fascinating series of three tremisses showing the progression from Roman, to Byzantine, to Visigoth.
The Zabel Collection, which anchors our sale, features several exceptionally choice and rare small gold Merovingian and Anglo-Saxon issues. These pieces were acquired by Patrick Zabel in the 1990s and early 2000s, and are some of the finest we have ever handled.
Our gold offering continues with selections from the Zabel collection of Spanish American coinage–the Central American Republic, Costa Rica, Mexico, and more. Look also for several British sovereigns and a few large early 20th century Turkish issues.
The section concludes with U.S. gold from the Zabel collection, featuring denominations from $1 to $20, and finishes with two handsome bullion issues.
Do take a look! Registering and bidding is straightforward through our website, or we are always happy to help via phone or email.
We will be back next week with several highlights from our Greek and Roman sections.
To browse Davissons Auction 42, see:
https://davcoin.com/sale/Printed%20Auction%2042
An extremely rare £500 note from the Bank of England branch in Leeds dated 1936 will be offered by Noonans in their sale of Banknotes on Wednesday & Thursday, March 1 & 2, 2023. Signed by Kenneth O. Peppiatt who was Chief Cashier at the Bank of England, it is expected to fetch £18,000-22,000. It is the first one to ever be sold at auction and only the second one known to exist.
As Andrew Pattison, Head of Banknote Department at Noonans commented: It is indeed a fantastic note. £500 notes are very rare, and in fact only available from three Bank of England branches - London, Liverpool and Leeds, although some were issued in Birmingham and Manchester none have ever come to light. Of those available, Leeds branch, like this one, are the rarest. It comes from a long-term collector and is only the second example ever to come to the open market.
The sale will also include the Bruce Smart Collections of notes from India, and also of Britain and Ireland. The proceeds will be donated to an animal welfare organisation in the United States by the name of Humane Animal Partners, which was recently created by the merger of the Delaware SPCA with the Delaware Humane Association.
The India section, which consists of 62 exceptional notes, is a wonderful example for the unusual value of 2 Rupees and 8 Annas. This was issued in Cawnpore (now Kanpur) in 1917, and bears the portrait of King George V. Due to its rarity and wonderful condition, it is estimated at £20,000-26,000.
Elsewhere in the auction there is a large and diverse group of South African material, including an astonishingly rare £5 issued in the town of Koffyfontein during the Boer War, while the town was under siege. This is estimated at £8,000-10,000 and is arguably the most difficult and certainly desirable Boer War note to find with only four other examples in private hands.
For more information, see:
https://www.noonans.co.uk/
Lot 13: ANCIENT GREECE Macedonia (kingdom of), Philip II (359-336 BC). ND Golden Stater (323-315 BC), Amphipolis or Pella. The Rider 492 - SNG ANS 177; Gold - 8.41 g - 18.5 mm - 2 hours Slice with some dishes. Slight scratch on the charioteer on the reverse. Remnants of the original gloss. VF to Superb. With lightning, this stater is sometimes considered contemporary with Philip II or sometimes given to his successors under Alexander III, Antipater (regent from 334 to 319), Polyperchon (regent from 310 to 317) or Cassander
To read the complete lot description, see:
https://www.biddr.com/auctions/mdcmonaco/browse?a=3258&l=3712565
Lot 22: ANCIENT GREECE Pamphylia, Aspendos. Stater ND (380-325 BC), Aspendos. SNG BNF 106 - Tekin Series 4; Silver - 10.73 g - 22 mm - 5 h Good centering and covered with a gray patina. VF to Superb.
To read the complete lot description, see:
https://www.biddr.com/auctions/mdcmonaco/browse?a=3258&l=3712574
Lot 33: ANCIENT GREECE Lagid Kingdom, Ptolemy VI (180-145 BC). Octodrachm or mnaieion ND (c.180-145 BC), Alexandria. Sv.1498-99 - SNG Cop.321-22 - Boston 2293; Gold - 27.64 g - 28 mm - 12 h Frame traces on the edge. Nice strike, with the slightly concave blank. Minimal handling marks. Stunning.
To read the complete lot description, see:
https://www.biddr.com/auctions/mdcmonaco/browse?a=3258&l=3712585
Lot 103: ROMAN REPUBLIC Julius Caesar (60-44 BC). Denarius 49 BC. AD, Rome. RRC.443/1; Silver - 3.69 g - 17 mm - 2 h Gray patina. VF to Superb.
To read the complete lot description, see:
https://www.biddr.com/auctions/mdcmonaco/browse?a=3258&l=3712655
Lot 195: ROMAN EMPIRE Geta (198-212). Denarius 200-202, Laodicea ad Mare. RIC.101; Silver - 3.22 g - 18 mm - 12 h With an old collector's tag. TTB.
To read the complete lot description, see:
https://www.biddr.com/auctions/mdcmonaco/browse?a=3258&l=3712747
Lot 319: CONGO Province of Katanga. 5 francs 1961. Fr.1; Gold - 13.26 g - 26 mm - 12 h Formerly cleaned. Stunning.
To read the complete lot description, see:
https://www.biddr.com/auctions/mdcmonaco/browse?a=3258&l=3712871
Lot 716: FRANCE Third Republic (1870-1940). Plate, Painting, by A. L. M. Charpentier ND, Paris. Maier p.206-210; Bronze - 46.08 g - 52.5 mm - 12 o'clock By Alexandre Charpentier (1856-1909). Superb at Fleur de Coin.
To read the complete lot description, see:
https://www.biddr.com/auctions/mdcmonaco/browse?a=3258&l=3713268
Lot 1069: West Africa. 1000 francs type 1942, CANCELED 1942. K.177a - P.32; Very rare. Superb at Splendide.
To read the complete lot description, see:
https://www.biddr.com/auctions/mdcmonaco/browse?a=3258&l=3713621
Welcome to Part II of the SS Central America Shipwreck Artifacts Auctions!
After breaking world records in the Part I, December 2022 auction, we now present the second and final auction of unique treasure items from this world-famous 1857 Gold Rush treasure ship.
The 420 lots in this sale are split into five sections hosted over two days. Sections 1, 2, & 3 will take place on Saturday, March 4th, 2023. Sections 4 & 5 will take place on Sunday, March 5th, 2023.
The catalog organization is a journey of exploration for our collectors and bidders through this epic treasure ship! Each of five evenly divided sections has a nice cross-section of the various types of items found, such as jewelry, passenger items, ship hardware, brass tags of a varying nature, clothes, and, of course, items from the Gold Room. Each section includes a focus on a specific room/area of the ship, such as the Saloon, Wine Room, Dining Room, Purser's Safe and Gold Room. Each of the five different sections also features two of what we consider to be the ten "key items" in the sale, such as the Sam Brannan gold brooch, Kellogg & Humbert ingot, "Mona Lisa of the Deep" photograph, contemporary counterfeit 8 escudo gold coin, and much more.
The print catalog itself is a must-have for every SS Central America collector and historian. In a very special first for any auction catalog, it contains QR codes that will lead you to videos showing recovery of select items by the Nemo ROV! Every section of the catalog contains detailed stories and essays of the people and items. Also included for the first time is a detailed floor plan of every level of the ship with notes by Bob and Fred based on actual experience and archival information, inclusive of the original passenger receipts. These long stories cannot be transferred to the internet bidding sites, nor can the three-dimensional photographs. Virtually none of the information has been previously published. We know you'll love what you see and read!
This print catalog is available for $100, refunded by a purchase from the sale of $500 or more. The printed quantity is limited. We also have perhaps a dozen catalogs left of the first SS Central America sale in December, also available at $100. (Please see more details about the print catalog below)
We invite collectors to join us in-person at the Reno-Sparks Convention Center, where you can meet and ask questions of chief scientist Bob Evans, the main man on all four of the recovery expeditions, and Fred Holabird. These two spent 35 and 25 years respectively working on various aspects of this incredible treasure. You can also bid on the phone with one of our agents; or bid online with one of four auction platforms: iCollector, Live Auctioneers, Invaluable, or AuctionZip. The latter three sites may have an additional Buyer's Premium.
Our friendly staff is ready to help you participate; whether it be to assist in registration, placing an absentee bid, or answering an expert question. Absentee bidding begins Saturday, February 11th. Questions are welcome! Please call our office at (775) 851-1859.
So now, fellow treasure hunters, please join us on this second and final adventure to the Deep. From the California goldfields to the Atlantic Ocean floor to the Holabird auction showroom, we're thrilled and honored to bring you with us on this journey exploring the recovered stories, secrets, and treasures of the "Ship of Gold."
Happy bidding!
For more information, or to bid, see:
SS Central America Shipwreck Artifacts Auction, Part II (March 2023) (https://holabirdamericana.liveauctiongroup.com/SS-Central-America-Shipwreck-Artifacts-Auction-Part-II-March-2023_a59497)
Upcoming Auctions from Holabird Western Americana Collections (https://www.liveauctioneers.com/auctioneer/2699/holabird-western-americana-collections/)
Upcoming Auctions from Holabird Western Americana (https://www.invaluable.com/auction-house/holabird-western-americana-jtsr7mxscl)
To read the earlier E-Sylum article, see:
S.S. CENTRAL AMERICA ARTIFACT CATALOGS (https://www.coinbooks.org/v25/esylum_v25n45a02.html)
Elis, Olympia, Silver Stater
Elis, Olympia, silver Stater, c.400 BC, 'Hera' mint, struck during the 95th Olympiad, head of Hera right, wearing stephane decorated with the letters H-P-A, and palmettes, rev. F - A, thunderbolt within olive wreath, 12.09g, 7h (Seltman, Temple 275 [dies EK/hn]; BCD -; SNG Copenhagen 381, these dies; BMC 63, these dies). In NGC holder graded Ch VF, Strike 4/5, Surface 5/5.
To read the complete lot description, see:
Lot 3: CH VF 4/5 5/5 | Elis Olympia silver Stater Late 5th century BC (https://auctions.sovr.co.uk/index.php?option=com_bidding&view=timed&layout=details&id=755005)
Civil War Soldier Dog Tag
Civil War Soldier ID Dog Tag, Maier & Stahl 1D. Battles Fair Oaks, White Oak Swamp, Bottom Ridge, Malvern Hill, Bristow Sta. Bull Run 2 Fredicksburgh. Maj. Gen. G.B. McClellan Peninsular Campaign
To read the complete lot description, see:
Civil War Soldier ID Dog Tag No Name Battles Fair Oaks Bull Run 2 Fredericksburg (https://www.ebay.com/itm/225393979568)
Princess Kaiulani Medal
"1893" (1895) Reginald Huth Medal. Princess Kaiulani. Medcalf-Russell 2MH-3. Silver. Proof-62 (NGC).
Another of the Reginald Huth private medals, this one honoring Queen Liliuokalani's niece, the Princess Kaiulani. Deep slate gray-blue toning is consistent on both sides, and the fields are nicely mirrored. Only light handling marks, a few little ticks in the lower right obverse field. Double struck to bring up exquisite detail. A majestic creation, one of only 50 said to be produced by John Pinches in London, with a single dolphin below the Princess' portrait. A great rarity at an attractive level of preservation.
To read the complete lot description, see:
"1893" (1895) Reginald Huth Medal. Princess Kaiulani. Medcalf-Russell 2MH-3. Silver. Proof-62 (NGC). (https://auctions.stacksbowers.com/lots/view/3-118PCK/1893-1895-reginald-huth-medal-princess-kaiulani-medcalf-russell-2mh-3-silver-proof-62-ngc)
1896-S Barber Quarter
For decades, American consumers were handling a significant numismatic rarity, almost certainly without realizing it. Many 1896-S quarters, of which just 188,039 were struck, made their way into circulation, as collecting by mintmark had not yet entered numismatic vogue. Its small mintage coupled with extensive circulation renders Mint State examples real prizes; the date in any grade is among a trio of key Barber quarters from the San Francisco Mint that includes the 1901-S and 1913-S.
To read the complete article, see:
STACK'S BOWERS GALLERIES TO OFFER MS-65 1896-S BARBER QUARTER (https://stacksbowers.com/stacks-bowers-galleries-to-offer-ms-65-1896-s-barber-quarter/)
Prevent Bicycle Face!
1900 Cook County Illinois Cure All Celluloid Political Button. This Charm Will Not Work Unless You Vote For Magerstadt For Sheriff. This Charm If Carried In The Pocket Prevents Bald Heads, Hard Work, Love, Warts On The Nose, Bicycle Face, Dark Brown Taste, War Craze, Swelled Head, Delirium Tremens, Unhappy Marriages, Insanity, And Punctured Tires Avoid Substitutes, As This Charm Will Either Kill Or Cure.
To read the complete lot description, see:
1900 Cook County Illinois Cure All Celluloid Political Button Magerstadt Sheriff (https://www.ebay.com/itm/204232891687)
To read the earlier E-Sylum articles, see:
SOME INTERESTING TOKENS: DECEMBER 14, 2014 : Columbus Cure All Token (https://www.coinbooks.org/esylum_v17n51a18.html)
WAYNE'S NUMISMATIC DIARY: FEBRUARY 18, 2018 : Token and Medal (https://www.coinbooks.org/v21/esylum_v21n07a25.html)
Stump Speaker Bank
Stump Speaker cast iron bank. Key included. H 9-3/4" W 5" D 4". Provenance: Collection of Rick McLennan.
To read the complete lot description, see:
Stump Speaker Bank (https://www.bidsquare.com/online-auctions/new-haven-auctions/stump-speaker-bank-4712493)
WINE PLAYED SUCH a central role in Greek and Roman culture, economics, and religion that it is no surprise that Dionysus, the god of wine, appears on thousands of ancient coins, especially from regions famed for their grape vines. These are often regions that still produce fine vintages today. Grape clusters, vine leaves, and a two-handled drinking vessel called a kantharos often accompany Dionysus in classical art, along with his supernatural followers the satyrs and his animal companion the panther. On Greek coins, he is almost never identified with a written label, but he can usually be recognized by his signature attributes: a wreath of ivy leaves and the thyrsus, which is a staff or wand topped by a pine cone.
Naxos Drachm circa 461-430 BCE, AR 3.77 g. Numismatica Ars Classica, Auction 132. 30 May 2022. Lot: 205 Realized: 110,000 CHF (Approx. $114,967).
Some of the most famous ancient coin images of Dionysus appear on the coinage of Naxos, the first Greek colony in Sicily, founded in 734 BCE near modern Taormina. The bearded obverse portrait on tetradrachms and drachms dated to c. 461-430 BCE is widely regarded as a masterpiece of Late Archaic art.
The reverse of this design shows Silenos, the constantly drunk companion and advisor to Dionysus and the oldest of the satyrs. He was often portrayed as being part horse instead of part goat, as demonstrated here by his pointed ears and long tail. The engraver has brilliantly fitted the squatting body of the drunken satyr into the circular space of the coin, neatly tucking the inscription N A X I O N (of the Naxians) around the margin. The sense of space is enhanced by the satyr's foot breaking through a beaded circular border at the bottom.
Naxos. Tetradrachm, circa 415 BCE, AR 17.31 g. Numismatica Ars Classica, Auction 132 Auction date: 30 May 2022 Lot Number: 206 Price realized: 300,000 CHF (Approx. $313,545). Image: Numismatica Ars Classica.
An example of the drachm, Very rare and in exceptional condition for the issue, possibly the finest specimen known, brought nearly $115,000 USD in a recent Swiss auction.
To read the complete article, see:
God of Wine: Dionysus on Ancient Coins (https://coinweek.com/ancient-coins/god-of-wine-dionysus-on-ancient-coins/)
Britain's coins have been tested for their metallic composition, weight and size in the country's oldest judicial process called the Trial of the Pyx, which carries the maximum punishment of imprisonment for the chancellor if the coinage is found to be of poor quality.
Officials from the Royal Mint on Tuesday brought close to 10,000 coins to King's Remembrancer, the oldest judicial office in the UK, to be counted and weighed in an official ceremony at Goldsmiths' Hall in London.
For the first time in seven decades, there will be coins with two monarchs' heads — Her Late Majesty and King Charles — which only happens when a monarch dies and a new reign begins.
Another unusual addition — a 15kg solid gold coin, the largest ever made — joins this year's collection.
The Trial of the Pyx, which has barely changed since the reign of Edward I, is not just ceremonial, but has a formal role as an external assessor of the work of the Royal Mint, the UK's official coinmaker. The coins represent one piece from every batch of each denomination minted.
The trial by jury, which takes place annually, dates back to the 12th century, when the ceremony was created to ensure that the coins produced by the Royal Mint were up to standard.
The jury must consist of at least six members of the Goldsmiths' Company, one of the 12 senior livery companies of the City of London, originally founded to support the gold-making trade.
The jury has powers to take action against the master of the mint, a role held by chancellor Jeremy Hunt. If the trial determines that the coinage is faulty, the chancellor can be fined, struck off or imprisoned.
The last master of the mint to be penalised by the jury was Isaac Newton in 1696. Another was sent to prison for six weeks in 1318.
The trial ensures that every coin produced by the Royal Mint meets a strict set of standards aimed at protecting consumers and that coins can, for example, be used in vending machines.
Throughout the year, coins are randomly selected and sealed in Pyx boxes — the word pyx is derived from the Latin pyxis or small box — for the testing ceremony.
To read the complete article, see:
British coins tested for quality in 700-year-old 'Trial of the Pyx' (https://www.ft.com/content/e70a612b-900d-4e34-a1bc-16d5c789497a)
The King and Queen Consort will distribute Maundy money at York Minster in April in the first such service since the death of the late Queen Elizabeth.
The royal couple will attend the minster on 6 April for the traditional service where money is handed out to people in recognition of their work in the church and community.
The Dean of York, the Very Reverend Dominic Barrington, said it was an honour the minster had been chosen for the first Maundy service of the new reign.
During their last visit, King Charles unveiled a statue to his late mother
During the service, which is held annually at a cathedral or abbey in the UK, 74 men and 74 women - signifying the King's age - will be given Maundy money.
The late Queen carried out the royal tradition in York twice during her reign - first on 30 March 1972 and again on 5 April 2012.
Dean Barrington said: "We are honoured His Majesty has chosen York Minster to be his cathedral church for the first Maundy service of his reign.
"Taking place in Holy Week, this historic service symbolises humility, care, kindness and appreciation of others.
Maundy Thursday is a symbolic ceremony where the monarch gives specially-minted coins to selected people, and dates back to AD 600.
The recipients are traditionally local elderly people, who are recognised for their contribution to community.
To read the complete article, see:
King and Queen Consort to hand out Maundy money at York Minster (https://www.bbc.com/news/articles/crgv80nlnq4o)
The United States Mint announced a new $1 coin will be releasing this year featuring esteemed Native American ballerina dancer, Maria Tallchief, along with four others representing the Five Moons – an Oklahoma-based group of Native American ballerinas during the 20th century.
The coin is the latest addition to the U.S. Mint's Native American $1 Coin Program which began in 2009. Authorized by the Native American $1 Coin Act (Public Law 105-124), which was signed into law in 1997, these coins feature designs celebrating the important contributions made by Indian tribes and individual Native Americans to the history and development of the United States, according to the U.S. Mint.
This year's coin features Maria Tallchief, a member of the Osage Nation and one of the Five Moons ballerinas that had tremendous success in their art while defying racial barriers, opening the door for women of color in the ballet industry, and helping shape ballet in America during the 20th Century in general.
Alongside Tallchief was Myra Yvonne Chouteau, Rosella Hightower, Moscelyne Larkin, and Tallchief's sister Marjorie. Although Tallchief is the only name featured on the coin, releasing later this year, it is suggested the four other dancers in the background are the other members of the Five Moons. Each of these women performed with the Ballet Russe de Monte Carlo before pursuing successful careers both on stage and in leadership roles with companies like the New York City Ballet, American Ballet Theater, Tulsa Ballet, Oklahoma City Ballet, and the Paris Opéra Ballet.
A bronze sculpture was even erected in Tulsa, Oklahoma, in 2007 to honor the Five Moons and several dance festivals in their name occur frequently. The sculpture, however, was unfortunately destroyed by thieves in 2022.
Tallchief, who is considered America's first major prima ballerinas and is said to have revolutionized ballet, was inducted into the Women's Hall of Fame in 1996, and received a National Medal of Arts in 1999. Tallchief passed away in 2013 due to complications related to a dancing injury she sustained the year prior.
To read the complete article, see:
New $1 coin to feature Native American ballerinas 'Five Moons' (https://lynnwoodtimes.com/2023/01/26/five-moons-1-dollar-coin/)
For more than 40 years, Celia Cruz quartered in Fort Lee. In late 2024, her image will adorn a quarter. Officials at the United States Mint this month named the late Cruz one of five honorees for the American Women Quarters Program's 2024 series. Launched in 2022, the program is in its second year of a four-year run designed to create awareness for trailblazers in women's history, such as Cruz.
All of the women being honored have lived remarkable and multi-faceted lives, and have made a significant impact on our nation in their own unique way, said Ventris C. Gibson, the director of the U.S. Mint. The women pioneered change during their lifetimes, not yielding to the status quo imparted during their lives.
Born Oct. 21, 1925, in the Santos Suárez neighborhood of Havana, Cuba, Cruz would become the 20th century's Queen of Salsa." Cruz was a standout singer in her youth but had plans to become a teacher. It was only after she enrolled in the Normal School for Teachers in Havana that her talent became too much to ignore.
Cruz transferred to Havana's National Conservatory of Music and began to study her craft. She blitzed through amateur singing contests, toured Mexico and Venezuela and found modest success through performances on Cuban radio. In 1950, Cruz got her big break. She was asked to join Sonora Matancera, a historic and popular Cuban orchestra. Over the next 15 years, she would record 188 songs with the group and earn her first of 23 gold albums.
She would also defect from Cuba with the group in 1960 while touring in Mexico amid the Cuban Revolution.Boasting a powerful voice, Cruz was often equally appealing to the eyes. A cultural icon, she spanned music, film and fashion. One of her trademark colorful dresses, a long sequined gown, has been on display at the Smithsonian's National Museum of African American History and Culture.
After leaving Cuba and subsequently being banned from reentry by Fidel Castro, Cruz and her partner, Pedro Knight, moved to Fort Lee. She spent the rest of her 42 years in the community, just a river crossing from New York City's Latin music scene.
To read the complete article, see:
Celia Cruz quarter will honor New Jersey's 'Queen of Salsa' (https://www.northjersey.com/story/news/2023/02/09/american-women-quarter-celia-cruz-nj/69886499007/)
This Carson City mint bag once held 1000 Morgan silver dollars. A Heritage auction recently sold this bag at auction for $6,000 including the buyers premium. I was totally amazed that an empty bag which once held 1000 Morgan silver dollars could sell for 6 times its once held contents.
Shown here are several pictures of vintage silver dollar bags of which literally hundreds, if not thousands were stored in vaults. It is strange that more than a few have survived, or have they, and are they part of long time old collections still in hiding. Or, were the vast majority simply tossed like garbage like an old candy wrapper? In any event, I will keep looking and hoping to find that elusive treasure someday.
ABOVE ARE BAGS AND BOXES OF CURRENCY AND SILVER DOLLARS. WHERE DID ALL THE BAGS GO?
IN SEARCHING FOR THESE PICTURES I CAME ACROSS AN ABSOLUTELY FANTASTIC MINT BAG WHICH ONCE HELD $5,000 (250)1928 DOUBLE EAGLES. WOW!
To read the complete lot description, see:
Carson City Mint Silver Dollar Bag.... (https://coins.ha.com/itm/morgan-dollars/silver-and-related-dollars/carson-city-mint-silver-dollar-bag-pcgs-7144-/a/1351-3923.s)
To read earlier E-Sylum articles, see:
COIN BAG COLLECTING & OTHER STRANGE AFFLICTIONS (https://www.coinbooks.org/esylum_v06n27a21.html)
THE NEVADA "FITZGERALD" HOARD (https://www.coinbooks.org/esylum_v07n23a10.html)
QUERY: MARKINGS ON U.S. MINT COIN BAGS (https://www.coinbooks.org/esylum_v14n41a14.html)
GOLD DUST IN OLD MINT COIN STORAGE BAGS (https://www.coinbooks.org/v23/esylum_v23n48a09.html)
Historic numismatic items, including a nearly two-pound Kellogg & Humbert assayer's gold ingot, are included in the second and final auction of never-before-offered California Gold Rush artifacts recovered from the 1857 sinking of the fabled Ship of Gold, the S.S. Central America. The auction will be conducted in Reno, Nevada and online by Holabird Western Americana Collections, LLC (www.HolabirdAmericana.com) on March 4 and 5, 2023.
Among the nearly 500 other recovered items in the auction are an intact treasure shipment box, a contemporary counterfeit Mexican gold coin, jewelry made from Gold Rush ore and nuggets, banknotes, coin shipment bags, and leather pokes that had carried miners' gold and other belongings on the voyage. Even Nemo, the 12,000-pound robot submarine that located and retrieved the treasure, is in the auction.
This is the last opportunity for collectors to acquire previously unavailable, historic artifacts from what Life magazine proclaimed, 'America's greatest treasure.' The 420 lots in the auction represent an incredible time capsule of the California Gold Rush era, said Fred Holabird, President of Holabird Western Americana Collections.
Numismatic-related highlights include a 32.15-ounce Kellogg & Humbert ingot stamped 882 fine gold and with the assayer's value at the time indicated as $586.17.
Augustus Humbert and John Glover Kellogg are among the most famous assayers in California Gold Rush history. Kellogg & Humbert opened for business in early 1855 and were among the most active and prolific issuers of gold ingots and coins during the mid-1850s, said Dwight Manley, managing partner of California Gold Marketing Group, the consignor of the sunken treasure.
The auction also offers a contemporary counterfeit Mexican 8 Escudos gold coin dated 1853.
There were five Mexican gold coins mixed in with dozens of U.S. and world coins in a canvas bag in the ship's purser's safe when we recovered it in 2014. Two were genuine gold and copper alloy Mexican coins and three were counterfeits like this one in the auction, composed of a gold and silver alloy, explained Bob Evans, Chief Scientist of the S.S. Central America Project who was on each of the recovery missions.
The coin has been encapsulated by Professional Coin Grading Service in a special holder with a compartment containing a pinch of recovered gold dust. The encapsulation label reads: 1853-GoPM 8 Esc / PCGS / Contemporary / Counterfeit.
The auction catalog contains an extensive explanation of Mexican counterfeit coins and why the five 8 Escudo gold pieces may have been in the safe of the S.S. Central America Purser, Edward W. Hull.
There is also the only known, complete treasure box from the 1850s California Gold Rush period. An embossed wax seal on the box is still easily readable as Alsop & Co., renowned merchants and gold treasure shippers of the era.
Six more banknotes discovered in the purser's safe will be offered: a $5 note from North River Bank of New York; a $20 note from the North River Bank of New York; a $1 note issued by Manufacturers and Traders Bank of Buffalo, New York (Haxby G2a); a $5 note from Lee Bank in Lee, Massachusetts; $10 Bank of Hallowell, Maine (Haxby G10); and $2 Wrentham, Massachusetts Bank (Haxby G22).
A total of eleven banknotes were found in the purser's safe and three of them were issued by North River Bank. Interestingly, that bank was liquidated in October 1857, just weeks after the Central America was scheduled to return to New York, said Holabird.
The S.S. Central America was carrying tons of Gold Rush treasure from San Francisco and the northern California area when she sank 7,200 feet deep in the Atlantic off the North Carolina coast in a hurricane while on a voyage from Panama to New York City in September 1857. Recovery from the shipwreck site occurred in several stages between 1988-1991 and again in 2014, explained Evans.
The public auction features exquisite Gold Rush jewelry including a large gold quartz brooch that was being sent to Switzerland as a gift from California's first millionaire, Sam Brannan; vintage clothing including an early Brooks Brothers shirt; ship's objects such as cabin and dining plates, bowls, and bottles; 37 Cuban cigars apparently acquired when the ship stopped in Havana on its voyage to New York; and an intriguing 1850's photograph of an unknown young woman now nicknamed Mona Lisa of the Deep.
The six-ton remotely-operated underwater vehicle scientists and engineers successfully used between 1988 and 1991 to locate and retrieve the Central America's legendary sunken treasure nearly a mile-and-a-half under the Atlantic Ocean will also be offered.
The auction also offers recovered coal and portions of the S.S. Central America itself, including a porthole from what is believed to be Captain William Lewis Herndon's topside cabin, said Manley.
Holabird Western Americana Collections, LLC has prepared an extensive catalog with many illustrations of the S.S. Central America recovery operations in 3-D. Copies of the March 2023 auction catalog are available for $100 each with the price refundable with any purchase from the auction.
All items in the auction are being offered unreserved. For additional information about the auction, visit Holabird Western Americana Collections of Reno, Nevada at www.HolabirdAmericana.com, call 775-851-1859, or email info@holabirdamericana.com.
The Super Bowl is almost here and to kick it off, you need a coin toss.
The game doesn't start without us, so we are really proud of that moment, and we'll be in front of 50 million people, says Vince Bohbot, Highland Mint Executive Vice President.
It's the end of the line at the Highland Mint. Workers are hurriedly bundling up something special for their customers.
For nearly 30 years, the Melbourne-based mint has been has been flipping out and turning out the coin used to start the game at the Super Bowl.
Leading the charge is Garrett Snyder, a legacy employee with a father that has worked there for decades. Garrett has done all the jobs in his 13 years, from framer, to shipping and now, head of assembly.
He knows each coin must be perfect.
We have people go through them and hand select each one to make sure there are no imperfections on the coin before we send them out to our customers, Garrett said.
The coins are washed and dried to a shine using high heat and spin. A special laser etches the design on the mold used to stamp all the coins.
Garrett has been around the mint since he was two years old. He says there is no better place he'd rather be, especially around Super Bowl time.
It's a family affair.
I've pretty much grown up around this place. I love this place, he said. I was in here as a little kid. During Super Bowl, numbering coins, I used to get paid in Pokémon cards.
A limited edition of 10,000 coins are made. The first 100 will go to the NFL, then the rest will be available for purchase by fans of the Kansas City Chiefs and Philadelphia Eagles.
But there's one special coin. It's stamped with serial number 0001.
That is the coin that's going to be flipped at the start of the Super Bowl. Garrett isn't pulling for either team to come out victorious.
To read the complete article, see:
Highland Mint shares what it takes to make a Super Bowl coin (https://www.mynews13.com/fl/orlando/news/2023/02/07/you-can-t-start-the-super-bowl-without-highland-mint-s-coin-)
YN Collects British Indian Coinage
My name is Aarav Dokania, and I'm a 19-year-old numismatist from India. I specialize in British India Coinage from 1835 through 1947. I started collecting coins at the age of eight or nine years old. My late uncle collected coins, and after his passing, his collection was inherited by my elder brother and sister, who also collect coins. This tradition of coin collecting in my home led me to collect coins naturally.
In my early days, I would collect foreign and Indian coins that looked different from the ones in circulation. I was such a pain for all my family and relatives, always asking for coins. I used to believe that the age of a coin determined its rarity. I didn't have much access to the internet and there were fewer resources available online then. Being from a rural part of the country also left me with little chance of fraternizing with any professional numismatist. Over the next few years, I would go on to collect without any knowledge and understanding, but with a passion to learn.
From the age of 12 to 17, my involvement with the hobby nearly came to a standstill because of my years in a boarding school. It was during the pandemic-related lockdown that I had the time to sit down and look through my collection once again, and it was then that I also was able to connect to the numismatic community. It all started when I came across a YouTube video that covered Indian coins, through which I was able to connect to all the groups on Facebook, where much of the hobby community interacts. I started to learn more about the subject and about coin grading, third-party grading, numismatic forums, and auction houses and started to have conversations with dealers and other senior numismatists who were always very kind to answer my questions and were of great help.
It was at this point that I got into British Indian coins, which I found fascinating with a very organized market. I quickly immersed myself fully and got very serious about it and started to give five to eight hours a day to the hobby, including reading books and articles, going through auction records, and evaluating major Indian collections that were auctioned.
I'm currently assembling a complete date-and-mint set of one rupee coins from 1835 to 1947, with the end goal of making it the best set of rupee coins ever assembled. The one rupee coinage has always fascinated me the most because of the beautiful designs and rich history it carries.
To read the complete article, see:
British Indian Coinage Draws This Young Numismatist (https://www.pcgs.com/news/british-indian-coinage-draws-this-young-numismatist#.Y-eTOSnEy7g.gmail)
Germany's Largest Private Library
German bruno schroeder88 year old mining engineer Died alone in his home in the town of Metingen, in the North Rhine-Westphalia region. When the officers entered his house, A real treasure discovered: India's largest private libraryAccording to Der Spiegel. about 70,000 books cover every inch of every wall in the house, All fully classified and registered in one computer.
No one in his town knew much about his life. Yes, his widow is admitted to a residence and the couple had no children, but there were others. Bruno was A lonely man, a hermit who hardly spoke to his neighbors, Except for one: The Town Bookseller. There he ordered between 20 and 30 titles of all genres every week, except for pink novels. Lots of poetry, novels, history books.
He was our best repeat customer for many years. His books were very important to him., I kept them like a treasure, bookstore owner Silke Meyer told the WDR series.
The collection extends to all corners of the house, even to the attic roof, Bruno made the shelves himself in a small workshop in the basement of the house. He was very skilled with his hands, recalls Renate Abelon. Joe now takes over Bruno's inheritance at the request of his widow.
To read the complete article, see:
Late Bruno's 70,000 books: Germany's largest private library discovered (https://worldnationnews.com/late-brunos-70000-books-germanys-largest-private-library-discovered/)
To watch the video, see:
From the basement to the roof: a house full of books (https://www1.wdr.de/fernsehen/lokalzeit/muensterland/videos/video-vom-keller-bis-zum-dach-ein-haus-voller-buecher-100.html)
On a Digital Dollar
The U.S. is gingerly considering whether to adopt a digital version of its currency, one better suited for today's increasingly cashless world, ushering in what could be one of the dollar's most fundamental transformations.
In that scenario, the U.S. would not only mint the coins and print paper bills but also issue digital cash, or a central bank digital currency (CBDC), that would be stored in apps or "digital wallets" on our smartphones.
We could then use them to pay for things, just like we do with Venmo or Apple Pay, and no physical money would change hands.
It's a vision of a cashless future that other countries are already embracing. China, for example, has unveiled the digital yuan on a trial basis. India this week said it would create a digital rupee.
Now the U.S. is weighing whether it wants to get into the game.
To read the complete article, see:
The U.S. is considering a radical rethinking of the dollar for today's digital world (https://www.npr.org/2022/02/06/1072406109/digital-dollar-federal-reserve-apple-pay-venmo-cbdc)
To read an earlier E-Sylum article, see:
LOOSE CHANGE: JUNE 13, 2021: Fed Explores Digital Dollars (https://www.coinbooks.org/v24/esylum_v24n24a31.html)