Visit our NBS Sponsors
About Us
The Numismatic Bibliomania Society is a non-profit association devoted to the study and enjoyment of numismatic literature. For more information please see our web site at coinbooks.org
Subscriptions
Those wishing to become new E-Sylum subscribers (or wishing to Unsubscribe) can go to the following web page link
Membership
There is a membership application available on the web site Membership Application
To join, print the application and return it with your check to the address printed on the application. Print/Digital membership is $40 to addresses in the U.S., and $60 elsewhere. A digital-only membership is available for $25. For those without web access, write to:
Charles Heck, Treasurer
Numismatic Bibliomania Society
P. O. Box 2058,
Bluffton, SC
29910-2058
Asylum
For Asylum mailing address changes and other membership questions, contact Chuck at this email address: treasurer@coinbooks.org
Submissions
To submit items for publication in The E-Sylum, write to the Editor at this address: whomren@gmail.com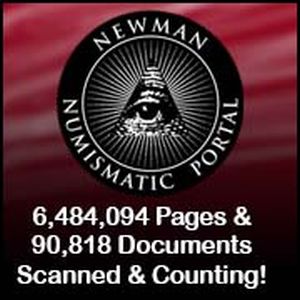 BUY THE BOOK BEFORE THE COIN
Sale Calendar
Kolbe & Fanning February 25, 2023
Watch here for updates!
Content presented in The E-Sylum is not necessarily researched or independently fact-checked, and views expressed do not necessarily represent those of the Numismatic Bibliomania Society.
New subscribers this week include: Eric Vickers. Welcome aboard!
Thank you for reading The E-Sylum. If you enjoy it, please send me the email addresses of friends you think may enjoy it as well and I'll send them a subscription. Contact me at whomren@gmail.com anytime regarding your subscription, or questions, comments or suggestions about our content.
This week we open with numismatic literature sale highlights, the loss of a centenarian numismatist, updates from the Newman Numismatic Portal, a U.S. Colored Troops medal, and more.
Other topics this week include the Bessie Coleman quarter launch, the ANA Summer Seminar and founder George Heath, mintmarks, coin bags, James Allaire Millholland, fixed price and auction previews, a hidden coin image, a Nobel Prize medal, and Otis Kaye's coin collection.
To learn more about Attinelli's Numisgraphics, Washington medals, the Robbins company, Steve Ivy, Jeff Garrett, Augustine Shurtleff, Robert Lovett Jr., and a 160-year-old mystery, the Murdoch Mysteries, the Pact of Malice medal, Church Money, White the Hatter, Egyptian Hair Coloring, Adelaide Assay Office gold ingots, ligatures, control marks, and points secrets, read on. Have a great week, everyone!
Wayne Homren
Editor, The E-Sylum


Highlights from February 25 Sale
On Saturday, February 25, Kolbe & Fanning Numismatic Booksellers will be holding our next auction of rare and out-of-print numismatic literature. The sale features a wide variety of desirable works on coins, medals, and paper money from all times and places, plus a special selection of items from the archives of the illustrious French engraver Augustin Dupré, whose works include the famous Libertas Americana medal, the new decimal coinage following the French Revolution, the Diplomatic Medal, and the Comitia Americana medals for Nathanael Greene, John Paul Jones and Daniel Morgan.
Some highlights of the sale include:
Lot 67: the 1896 catalogue of the collection of Roman and Byzantine gold coins formed by Hyman Montagu, with 41 fine plates
Lot 203: Frans van Mieris's magnificent 1732–1735 three-volume folio compendium of Dutch historical medals
Lot 127: the very rare 1810 auction catalogue of the collection of Jules-François de Cotte, the French Director of Medals from 1763 to 1803, from the library of Richard Margolis
Lot 250: William Short's original 1791 letter to Augustin Dupré, published in Loubat, exhorting him to complete his work on the long-delayed Diplomatic Medal
Lot 265: an original printing of Emmanuel Joseph Attinelli's Numisgraphics, the first substantial numismatic bibliography published in the United States
Lot 321: a handsomely bound set of Crévecoeur's 1787 account of the nascent United States, with a description of the coinage and an engraving of the Libertas Americana medal
Lot 341: Tom Elder's 1929 catalogue of the Dr. George Alfred Lawrence collection with all 22 photographic plates, handsomely bound by Alan Grace
Lot 435: an enormous assemblage of some 4000 high-quality photographic prints of United States large cents, the work of photographer William C. Noyes
Lot 448: the legendary 1886 catalogue of the Dr. Edward Maris collection, with six photographically printed plates, enormously important and rare
Lot 478: a virtually unknown 1793 printing of the Acts Passed at the First Session of the Second Congress, including the Act Establishing a Mint.
Register early to bid online
Bids may be placed via post, email, fax or phone, as well as online. Kolbe & Fanning use Auction Mobility as our third-party online bidding platform. Auction Mobility is an app-based platform allowing users the ability to participate in the sale through phones, tablets and computers. To register for the sale, bidders must go to bid.numislit.com and sign up. Once you have set up an account, you may browse lots, place advance bids, or participate in the live sale online. Those wishing to participate on their devices can download the Kolbe & Fanning app through the Apple or Google Play Store. The catalogue has also been posted on Biddr and NumisBids.
The printed catalogue has been mailed to all active customers on our mailing list. As international mail speeds have been inconsistent, we encourage our foreign clients to consult the electronic catalogue in case their printed catalogue does not arrive promptly. A PDF of the printed catalogue has been posted to our main website at numislit.com for those who prefer that format. Bids placed via post, email, fax or phone must be received by February 24, the day before the sale, in order for them to be processed. Advance absentee bids may also be placed at any time online at bid.numislit.com. Live internet bidding will be available during the sale itself through the same platform.
Kolbe & Fanning Numismatic Booksellers LLC is a licensed and bonded auction firm in the State of Ohio, and our sales are conducted by licensed auctioneers. For more information, please see the Kolbe & Fanning website at numislit.com or email David Fanning at df@numislit.com. To register for the sale, go to bid.numislit.com. We look forward to your participation.
To read the Catalogue PDF, see:
https://www.numislit.com/images/upload/kolbefanningsale166.pdf
To read the earlier E-Sylum articles, see:
KOLBE & FANNING AUCTION SALE 166 ANNOUNCED (https://www.coinbooks.org/v26/esylum_v26n06a02.html)
KOLBE & FANNING AUCTION SALE 166 HIGHLIGHTS (https://www.coinbooks.org/v26/esylum_v26n07a02.html)
Ken Berger writes:
Catharine R. Fean was born in Philadelphia on November 29, 1922. Her father was a mail carrier, Albin J. Fean, and her mother was also named Catharine R. (1898-1989). She received a B.A. from Immaculata in 1944 and an M.A, from San Diego State University in 1976.
Kay was certified as a meteorologist in 1945 and served on active duty in the U. S. Navy from 1944 to 1954. She retired from the Navy Reserves with the rank of Captain. She then worked with the United States Weather Bureau from 1955 to 1958 and with the Scripps Institute of Oceanography 1958 to 1978. She continued working as a consulting meteorologist 1978 to 1981.
She developed an interest in collecting coins in 1955. With her husband posted to Japan 1962 to 1965, she developed an interest in Japanese coinage. In the 1970's, she was a frequent exhibitor at shows in Southern California and often received best-of-show awards. She joined the ANA in 1961 and converted to life member LM 626. She was certified as an ANA judge in 1976. In recent years I judged an exhibit she had on Wildman coins.
As Catharine R. Fean, she was co-chairman for the San Diego Numismatic Society banquet committee in 1960 and an exhibitor in 1961. She was publicity chairman for the San Diego County Interclub Numismatic Council Coinarama in 1961.
Kay married Stuart T. Edgerton on September 1, 1961, and their marriage ended with his death on February 15, 1978. Her second marriage was to John E. Lenker on January 26, 1980, and lasted until his death on April 14, 1993.
It might take a century to compile a list of her service to coin clubs. She has organized exhibits, managed publicity and been a program speaker. Here is an attempt, probably incomplete, to list offices she has held.
American Numismatic Association (ANA), board member 1995-2003, general chairman for the ANA convention in San Diego in 1983.
California Exonumist Society, president 1991-92, show chairman 1991-92, secretary 2008.
California State Numismatic Association (CSNA), show general chairman 1972-1975, 2002- 2004, bourse chair 1989-99, treasurer in 1990-2013. In 2001 she became Assistant Editor South of the Tehachapis for Calcoin News and served until the publication merged in 2003. She then worked for The California Numismatist until 2006.
Convention of International Numismatics (C.O.I.N.), secretary.
International Primitive Money Society, secretary/treasurer.
Numismatic Association of Southern California (NASC), board 1988-89, recording secretary 1990-1995, treasurer 1996-2008.
Numismatic Literary Guild, treasurer and co-treasurer 1985 to 2012.
Redlands Coin Club, recording secretary 1981, secretary/treasurer 1993 to 1995.
San Diego County Inter Club Numismatic Council, president 1972, 1981, editor 1973, secretary 1977, show general chairman 1972-74. treasurer 1986, bourse chair 1991-2011.
San Diego Numismatic Society, secretary for twenty years 1982-1997, president for six years.
Kay was named a Krause Publications Numismatic Ambassador in 1987. She was honored for her service with an ANA Outstanding District Delegate Award in 1992 and a Glenn Smedley Memorial Award in 2003. As mentioned earlier, she received the NLG Clemy Award in 2011. In 2022 she was honored with the Elvira Clain Stefanelli Memorial Award for Achievement in Numismatics.
To read earlier E-Sylum articles, see:
ALAN HERBERT 1926-2013 (https://www.coinbooks.org/esylum_v16n04a06.html)
HAPPY 100TH BIRTHDAY, KAY LENKER! (https://www.coinbooks.org/v25/esylum_v25n49a20.html)
NOTES FROM E-SYLUM READERS: DECEMBER 18, 2022 : Coinarama's Edgerton and Lenker Best of Show Awards (https://www.coinbooks.org/v25/esylum_v25n51a08.html)
George Washington Tributes
William S. Baker (1825-1897) was a believer in the American hero George Washington and wrote three works that cataloged Washington memorials in the forms of engravings, medallic tributes, and character sketches. In Character Portraits of Washington Baker wrote The character of Washington is a national possession…All Americans should study and venerate it. Among numismatists, Baker's Medallic Portraits of Washington (1885) is the best known and served as the standard collector's guide for nearly a century. In recent years, the Washington medal series has been thoroughly reworked in Neil Musante's masterpiece Medallic Washington (Spink, 2016).
Image: c. 1851 Declaration of Independence medal by C. C. Wright, Baker-53, GW-181 (ex. Historical Society of Pennsylvania, Stack's Bowers November 2019, lot 20147, realized $45,600).
Link to William S. Baker works on Newman Portal:
https://nnp.wustl.edu/library/booksbyauthor/195
To read the complete catalogue, see:
Trophies from The Robbins Company (https://archive.org/details/trophiesfromrobb00robb/page/n23/mode/2up)
To read the earlier E-Sylum articles, see:
THE ROBBINS COMPANY DIES SALVAGED (https://www.coinbooks.org/v26/esylum_v26n03a13.html)
HISTORY OF THE ROBBINS COMPANY (https://www.coinbooks.org/v26/esylum_v26n03a14.html)
1928 Robbins Company Catalog (https://www.coinbooks.org/v26/esylum_v26n04a08.html)
David travels to the Long Beach Expo where he interviews Sam Lopresto, Ted Uhl, Ray Anthony, John Helleva, William Rosenblum, Ed Hipps, Steve Ivy, Gary Snover, and Ira Mish.
To watch the complete video, see:
https://nnp.wustl.edu/library/book/584162
Greg Bennick: It's funny you mentioned the 100 Greatest. I actually bought the fifth edition last night, and the reason was yesterday, in anticipation of the interview, I was reading the copy I've had for years and years and I was looking at it, I was like oh, the 1913 Liberty nickel, I gotta ask him about the 1913 Liberty nickel. And then in the first edition, it says only the location of only four of these is known. I'm like, it's probably time for me to get an updated edition, so I bought the fifth last night. I was going to ask about valuations because there's so many different factors I assume that go into valuation. Meaning if someone came to me in five minutes with an 1804 dollar and said, What's it worth? Is it worth $50,000? I'd say well it's worth a lot more than $50,000. But how do I know that? Meaning, I know that because people have paid that, I know that because there's a collective agreement that it is worth more, but what are the other factors that go into valuations? And then what about the lesser coins, meaning some random Standing Liberty Quarter that isn't a key date? How are valuations defined for an entire realm of numismatics? It just boggles the mind to think about.
Jeff Garrett: Yeah, valuation is a mind-boggling experience. And it's actually becoming even harder now because years ago, earlier in my career, the coin business was kind of dominated by investors. So, investors would buy coins back in the seventies and eighties, and they really didn't care what a coin looked like. Well, they didn't know the difference. So they were being sold coins or what they were told to buy, but they really weren't students of numismatics. Now currently, the coin market is really dominated by coin collectors. I mean that's who the real consumers are now. That's evidenced by…like even last night, there was a 1958 penny sold for $1.1 million, which is mind boggling. And so, if I had to give you the short answer, valuation is based on supply and demand like everything, and what the collectors demand now are coins that are attractive. So it's really hard to put in like a price guide. A better example would be like an 1894-O Silver dollar in MS-63. Well, the coin could be worth $1,500, or it might be worth $3,500, but it depends on what it looks like, really. If it's deeply toned or if it's like radiant luster or beautifully toned, there's a lot of factors that go into valuations of a coin. For Red Book and if I talk to other guys, the guys that do Red Book and the other things that do price guides. So, catalog values are the theoretical average coin for the grade.
So, it's a coin that's totally like right in the middle, not high end, not low end because you could find extremes on almost every coin that you see where one would be selling. But valuations now are a lot to do, you know, the supply and demand factor comes in really heavily when these people go to battle for these set registry competitions. So, I never thought in my career I would see, like last night also Stuart Blay's collection of Lincoln Pennies is what I'm referring to. A 1919 penny sold for $400,000, which if you'd asked me 20 years ago, would a 1919 penny be worth $400,000? I would've said, well gas must be $500 a gallon by then or something crazy. But it is what it is, you know, people compete because they want to have the finest known and they want to have the finest known set and it's probably more set registry driven that's making that happen. And that set registry competition is one of the things that almost distorts the values because people will pay far more than a coin's worth just because they want to be number one in the set registry. So that's a big factor. But in general, when I'm doing pricing, I have to price for Red Book, everything from colonials to double eagles at the back of the book. And that is one advantage that I have that probably other previous editors, like even Ken Bressett, he's a brilliant guy, but I buy and sell millions of dollars worth of coins a year. And I have an intuitive idea of what a coin's worth just by my handling of coins. So my job is to know what a coin's worth, and that's what most highly skilled professionals have to do. You have to be able to understand, within five or 10%, what a coin is probably worth.
Greg Bennick: So before we set off a frenzy, like the era of Max Mehl, looking for the 1913 liberty nickel on having the entire country frantically about looking for this coin, let's point out to viewers that it wasn't just a 1958 penny that sold. And not just a 1919 penny that sold because the coins that sold last night, sure, 1958 Double Die, three known, if I'm not mistaken.
Jeff Garrett: Two known, I thought, but could be three.
Greg Bennick: Yeah, so could be three. And then the 1919 Penny in MS-69, graded beautiful, perfect.
Jeff Garrett: A fantasy grade.
Greg Bennick: Yes…fantasy graded. These are exceptional, just unbelievable coins and yet still, it's like you said, it's just hard to place value,. I didn't happen to have the $1.1 million in my pocket. I'm an error guy, right? I'm on the board at CONECA and mint errors are basically my life. And yet still, I never would've anticipated that the 1958 penny would've sold for that. Like you said, supply and demand and it's really hard to pin down. If the coin is gorgeous, then it's simply worth more. But it's really good to know that the guidebook, like you said, is a baseline for the average coin. That's really good to know. Because then people can interpret coins as art and then price them accordingly when they see them.
Jeff Garrett: Yeah, it's funny you just mentioned the coins as art. So, for a long long time people are saying really great coins are underpriced compared to great paintings. You know, there's been paintings bringing a hundred million for quite a while. You know, 50 million is like, you know, there'll be a painting selling for $30, $40 million. I've never even heard of the artist now. And I read about that stuff pretty often and coins have finally kind of been coming into that realm where the greatest of the great are bringing really unbelievable prices. And one of the reasons for that, is we have what I call the age of the billionaires coin collectors. And right now I know four or five of them for sure multi-billionaires that have decided coin collecting is their thing. And they've spent $200, $300, $400 million on their coin collections, which is a staggering amount. And when those guys go to battle for a coin, it's like lights out.
I was just doing the Red Book final prices a couple weeks ago and I noticed a 1794 half dollar sold 2 years ago for what I thought was a staggering price of $850,000 or maybe 880,000, I think what it was. MS-64 plus finest known of course. And when that happened a couple years ago, I thought, wow, Wow how much money for a bust half dollar? It's crazy. And it sold a couple weeks ago in this last sale for $1.8 million. So, it sold for a million dollars more two years later. And probably because it's the finest known and it's a trophy coin essentially. And the billionaires have done battle and a lot of these headlines we're seeing as a result of that phenomena. The multi-billionaires that have decided coin collecting, it's like the Dan O'Dowd, the Tyrant collector. Someone did an interview and he kind of jokingly said that a lot of my fellow billionaires have yachts, but I get seasick, so I decided to collect coins. So, it's kinda funny that's where he is putting his money, but it has a giant impact on the coin market.
Greg Bennick: Oh, I'm sure it does. Absolutely. Well, let's talk just for a second about grading. I mean, you're known as a grader. How did grading first become important to you and when did you realize you had these skills and what were the skills that made you a great grader early on?
Jeff Garrett: And it's funny, grading has been an evolving process because what coins graded 30 years ago, you know, like a glacier, now it's a little bit different. So, it is actually a moving target you have to keep up with to understand it. I've always known that grading was really key to being a successful coin dealer. I actually teach Advanced Coin Grading for the summer seminar at ANA now in the summer. So I teach that and we get a lot of young people who are interested in being professional coin dealers. You know, it's kind of hard to describe. It's kinda like people will show me a coin and I'll tell them a grade and they say well, how do you know? And I say, well if you show a diamond to an expert diamond guy, I couldn't tell the difference, but they can tell you if it's a real diamond or not by probably just glancing at it. And grading is a very nuanced thing and it's something that you just have to do by experience. And I tell people that you gotta start somewhere. I tell people to start with Morgan dollars: if you can learn how to grade Morgan dollars, you can maybe extrapolate that to other series because they're big coins. You can see them and you can see the things that come into it, but grading is very complex. I mean these days it's not about just seeing detail. You gotta be able to understand if it's artificially toned or if it's got things you don't see happen.
But I think in general, grading is just something you have to do by experience. And one of the things I teach my class, I tell people what you can do is go to an auction. Even if you're not gonna buy anything, look at auction lots, study them very carefully. The coin's already been graded by the grading services once, so it gives you one point of reference. Then when the auction results are over, go back and try to figure why did one bring like twice the catalog price and one brought half the catalog price. Then you can maybe see that actually by looking at them. So, for me, I learned by experience and I don't know, I guess some people have an eye for it. And I've seen times where I've had employees over the years where I've tried to teach them and it goes into one ear and out the other, and some people just can't grasp it. So I'll call it a skill and some people have it and some people don't. That's probably the best way to describe it, I guess.
Greg Bennick: What was it like being one of the early graders at PCGS? I mean, you were there at the very beginning. What was that experience like? Because that was transformative.
Jeff Garrett: Yeah, it was a lot of fun to be there. When they first started, they didn't have full-time graders. You'd come out and grade for a week. I lived in Kentucky at the time, and I would go to California for a week. We'd live in an apartment. It was kind of like a dorm lifestyle and I enjoyed it. It was fun to do. And I probably didn't fully appreciate how transformative it was gonna be when I was doing it. You know, we were like, Wow, this is neat to do. And the great thing about being a professional coin grader in the grading company, is that you get to see so many coins. So you would get to see everything; I mean the greatest. And so, it was really very educational from that point. And that point of perspective that had probably helped my career later on after having done that 30 some odd years ago, that I was able to see a lot of coins. I knew of what the grading services expected. And it'd be funny, like these first-generation coins, I was grading them there, I was probably one that created some of those coins. And now they are priced as their own collectible now, people want those rattlers they call it and stuff like that.
So it was fun in the beginning and then I eventually had to make a decision, do I want to live in California and do it full-time? So that was the positive I learned about it. But the negative was, I personally don't have the mentality or the mental state to sit in front of a light and grade coins all day long, every day. And I want to be on the phone, like doing a deal or going to a coin show. I don't have the attention span to sit uninterrupted for eight hours a day grading coins. So, it's not for everybody, it's something you have to be able to do and have the right focus in being able to do it. So, I could do it very effectively, but I didn't enjoy it. And then at some point I decided that really wasn't going to be the lifestyle I wanted to pursue. So, I stayed with being a professional coin dealer. But it was fun to be there in the beginning and also seeing all the great characters, David Hall and all the other people who were around there. So eventually it'll end up being like you were kind of like with the legends of numismatics and it was fun to be around when that was going on.
Greg Bennick: Yeah, I would think that grading coins would be really fun at first. And I have a friend who's a grader and I think it'd be really fun at first. I think after seeing my 35,000th MS 64 walking liberty half, I think maybe the fun would diminish slightly.
Jeff Garrett: Try grading MS 69 and Ms 70 Silver Eagles all day long for two weeks and see how you like that. Yeah, long as they're putting great coins in front of me, it could probably get my attention, but at some point it gets kind of dull. But it is interesting though because you do see a lot especially in these professional companies, they've got people trying to trick them every day, all day with this or that, artificial coins and stuff, so definitely have to be on their toes. So, I admire what they do, it's a tough job.
Greg Bennick: Absolutely, I can't imagine the focus and the attention and the skill and the encyclopedic knowledge of coins it would take to do that work, so yeah, it'd be pretty amazing. Now for those who don't remember and I'm old enough to remember myself, but describe what happened when PCGS came around and when slabs and grading came around and how that shifted grading. You touched on it, but I know I talked to my dad, for example, my dad started collecting 1949, 1950, and he describes going into a coin shop, you'd have a conversation with the dealer: I think it's this….I think it's uncirculated….really?...I think it's XF and then you just have a conversation, you come to an agreement that was the grade and you were good. So just describe - because I think it's a hugely important moment in numismatic history - the shift that happened when all of a sudden we began slabbing coins.
Jeff Garrett: Yeah, before that there were a lot of guys that would, like the classic line, a lot of them would say, I don't grade coins, I price them So this is what I want for it, you decide what you think about grades…that kind of mentality. And that was really a big part of how people did things. A coin had its implied value, but then of course that led to a lot of fraud or it made it easy for a person to sell an over graded coin or grossly over graded coins or counterfeits even. So, if it hadn't been for third party grading, the coin business would've stayed small. It would've been a much smaller business. And it's funny, it's even an evolving thing now. Like the world and ancient market is just now kind of embracing what we call third party grading. Even like ancient coins or maybe the last holdouts, but a lot of those people say. Oh, I want to hold the coin. And they don't like the grades they assigned to it and all these things, but it really was transformative. In fact, what I mentioned earlier about investors, there were a lot of investors back in the seventies and eighties, and at first, coins, I don't know if you look at the price guides, but 1989 a few years after the grading started, prices skyrocketed. I mean proof 3 cent nickels in 1989, I think we're $2,000, now you can buy them for $400 in gem condition.
So, 35 years later they've gone down by a lot. So, what it did is it basically commoditized coins where like I want to buy 200 MS-65 Morgans, and I know exactly what they are because they have been certified as MS-65. So, people like investors are like Wow, we'll have them in the Wall Street…they're going be in the Wall Street Journal before you know it. It's like we'll have a column for stock prices, we'll have a column for coin prices.: But of course, coins are so much more nuanced than that and that all fell apart. And prices crashed and by the early nineties, there was like a crash in the coin business. They'd realized that wasn't gonna happen. But it really did transform things, and then in those days there were still a lot of fresh collections that were coming out. So, it was exciting what they would grade and grading services, seeing all the new coins. I mean, it was so different in those days, everything was coming in for the first time, you know. Now literally, if the grading companies get a group of vintage coins, they're probably coins that have already been graded once or twice and people are just trying to get a higher grade in resubmissions or what you call it. So, the days of getting fresh coins at the grading services, they've dwindled to a trickle compared to what it was in the very beginning. So it made a big difference. And then even the grading companies now, like Mark Salzberg, I've heard it in a little talk he did recently about how they evolved, how they looked at coins like that in those days, we like, Oh, we thought a gem had to look like that. But we realized a lot of them, maybe if we do a comparative study, we might grade or we're getting too strict and so it's like a glacier: it has evolved over time.
About the Interviewer
Greg Bennick (www.gregbennick.com) is a keynote speaker and long time coin collector with a focus on major mint error coins. Have ideas for other interviewees? Contact him anytime on the web or via instagram @minterrors.
To watch the complete interview on NNP, see:
Jeff Garrett, Interviewed by Greg Bennick (https://nnp.wustl.edu/library/book/622304)
To read the earlier E-Sylum article, see:
JEFF GARRETT INTERVIEW, PART ONE (https://www.coinbooks.org/v26/esylum_v26n07a13.html)
This article is an appeal for help. It is being written with the hope of enlisting the aid of other Civil War historians in solving the mystery which surrounds a medal that was made in 1863 for soldiers in the 8th Regiment, U.S. Colored Troops. My research suggests that this is the first medal in American history to memorialize men of color, and specifically men of color serving in the United States military. The only other medal struck during the Civil War which acknowledges African American soldiers was the Butler Medal of Honor which was made in 1864. Both of these medals were privately minted and never sanctioned by the Federal Government.
This medal includes the inscriptions HONOR IS THE REWARD OF LOYALTY on the obverse and LIBERTY AND UNION on the reverse. It should give one pause to consider that these lofty ideals were being associated at this time in history with African American soldiers. The U.S. Colored Troops had just been established on May 22, 1863, following President Lincoln's issuance of the Emancipation Proclamation, on January 1, 1863. At this time, even in the North, there was widespread belief in the fundamental inferiority of African Americans and there existed great skepticism as to whether they possessed the competency required to perform the duties of soldiers in the United States Army. It is worth noting that prior to the military medals discussed in this article, the only medallic works made explicitly for Black men were identification badges.
These slave hire or freed man's badges, as they are known today, served the purpose of making it easier for persons in authority to better identify, regulate, monitor, and control the movement and activities of Black men within the slave holding social hierarchy of the South. This is why the importance of the language and the intent behind this medal as well as General Butler's medal cannot be overstated. Black men were for the first time in American history being honored in medallic art. Moreover, both of these medals serve to commemorate a singular, though short-lived window of time in African American history in which hope and the promise of a brighter future seemed possible.
I have been working for over a year to learn more about the history of this medal, and unfortunately, I know little more about it now than I did when I began my research. The only thing I can say with reasonable certainty is that it was made by Robert Lovett Jr., a die sinker living in Philadelphia during the same period of time that the 8th Regiment, United States Colored Troops were in basic training at Camp William Penn which was located just on the outskirts of the city. I attribute this work to Robert Lovett Jr., because he used the same HONOR IS THE REWARD OF LOYALTY obverse on several other medals including an 1861 soldiers identification disc, the M&S-15A.
What still remains to be discovered is who may have sponsored or commissioned the medal, and when and how they were awarded to, or purchased by the soldiers themselves. Was it a white officer responsible for leading the Black troops who conceived of this medal, or possibly a member of the Supervisory Committee, a Philadelphia-based organization which promoted the recruitment of African American soldiers? Could a wealthy abolitionist have been behind the medal or was it Robert Lovett Jr. himself who saw it as a potentially lucrative business opportunity? Whoever designed this medal had the foresight to leave a blank space after the abbreviation CO. This allowed for the letters designating all ten Companies in the Regiment to be individually hand stamped as needed, thereby maximizing the usefulness of a single die.
There is one additional interesting piece to this story which is that just two years prior to making this medal for the U. S. Colored Troops, Lovett made the infamous Confederate cent. After fashioning a coin supporting the Confederate cause, and pressing about a dozen examples, he realized the significant danger he faced of being charged with treason by the Federal Government, and wisely concealed any knowledge of his handiwork until many years after the war. However, it is interesting to consider that had his cent begun circulating in the South in 1861, it could have been in the pockets of Confederate soldiers who were fighting to preserve the institution of slavery and against whom the 8th Regiment, U.S. Colored Troops, some of whom may have been wearing his medal, were doing battle.
It is important to keep in mind that medals are symbols that they have the potential to wield significant power. They have the capacity to take large, complex issues and distill them down to a size that can be held in the palm of your hand, or as in this case, be worn around your neck. It is not difficult to imagine how a medal such as this could have empowered and helped in the transformation of a former enslaved person into a United States soldier trained to fight and willing to die to free his people.
It is my hope that readers can appreciate the significance of this medal and possibly bring their expertise to bear in helping reveal more of its story. My intention, with your help, is to establish its rightful place in African American history.
I look forward to hearing your thoughts and any new information you can provide concerning this important medal.
Matthew J. Robinson
XONUMAN@YAHOO.COM
Matthew adds:
To read an 1864 article about the gallantry of colored troops at Petersburg, see:
Gallantry of Colored Troops in Assault on Petersburg (https://www.newspapers.com/clip/118963041/gallantry-of-colored-troops-in-assault-o/)
To read an 1864 article about General Meade presenting official medals, see:
General Meade Presents Medals of Honor (https://www.newspapers.com/clip/118960461/general-meade-presents-medals-of-honor/)
To read the complete Wikipedia article, see:
List of African-American newspapers in Pennsylvania (https://en.wikipedia.org/wiki/List_of_African-American_newspapers_in_Pennsylvania)
Query: Warren Harding Inaugural Medal
Website visitor Krzysztof writes:
To read earlier E-Sylum articles, see:
MEDAL & TOKEN MAKER SCHWAAB OF MILWAUKEE (https://www.coinbooks.org/esylum_v17n13a17.html)
MORE ON THE SCHWAAB COMPANY OF MILWAUKEE (https://www.coinbooks.org/esylum_v17n15a22.html)
NEW BOOK: SCHWAAB STAMP & SEAL OBSOLETE DIES (https://www.coinbooks.org/v25/esylum_v25n41a03.html)
Murdoch Mysteries Coins
Alan Roy writes:
On Saturday, February 18, 2023, several members of the Chicago Coin Club attended the formal unveiling ceremony of the Bessie Coleman reverse in the series of American Women quarter dollars. The U.S. Mint shared the dias with the DuSable Black History and Education Center staff in Chicago's Hyde Park neighborhood and the public was welcomed. The DuSable museum is a Smithsonian associate organization.
As described in the Mint's promotional literature, Bessie Coleman was an aviator, advocate, and pioneer who flew to great heights as the first African American and the first Native American woman pilot, as well as the first African American to earn an international pilot's license.
Michelle Krefski Thompson, Program Management Specialist with the U.S. Mint, gave an overview of the multi year American Women Quarters program - and emphasized the unique artistry and inspirational stories that accompany each issue. Thompson credited designer Chris Costello's innovative design and collaboration with Bessie Coleman's family to perfectly capture the spirit of the tragic young flier. Thompson pointed out the unique nature of the portrait, a combination from known images as well as creative inspiration gleaned from the family - the final image not based on an existing pose.
Thompson also explained to the crowd the story of the quarter's obverse rendition of George Washington and its long-overdue appearance from sculptor Laura Gardin Frazier's 1932 National design contest submission.
A special treat for the audience was given by Bessie Coleman's great niece, Gigi Coleman, who gave a wonderful performance as Bessie herself. She walked the audience through the aviator's life, from birth into a poor sharecropping family in Texas to migration to Chicago in the 1910's where she worked as a beautician - Bessie Coleman was fortunate to have mentors and influences in her Chicago years, including young African American veterans returning from WWI France who opened Bessie's eyes to the larger world and the possibilities of imagination and effort - despite the naysayers who would tell her the idea of a young African American girl flying an airplane was an impossibility. It would take travel to Paris, where her international pilot's license was granted on June 15, 1921, as permanently memorialized on the new coin. Bessie Coleman would tragically be killed in a Jacksonville, Florida exhibition trick flight in 1926, her mother remarking, she died doing what she loved.
The afternoon ended with a gift of the mint, a new quarter dollar coin from either the Philadelphia or Denver mints in a special 2023 insert card.
Special thanks to the U.S. Mint and to Chicago's DuSable Black History and Education Center for providing a meaningful, enjoyable and most inspirational afternoon.
For more information, see:
Bessie Coleman Quarter (https://www.usmint.gov/coins/coin-medal-programs/american-women-quarters/bessie-coleman)
Apply for an American Numismatic Association SUMMER SEMINAR scholarship! Application deadlines have been extended to February 28. Summer Seminar, June 17-22 & June 24-29, offers collectors of all ages and interests a varied selection of weeklong courses designed for discovery or continued study from instructors who are recognized leaders in their fields. Enjoy seminars and lectures, special events, great food, and optional tours. Full and partial scholarships are available. Visit money.org/summer-seminar for more information.
Summer Seminar is a once-a-year opportunity for numismatic learning and camaraderie that offers students a varied selection of weeklong courses designed for discovery or continued study. For many students, Summer Seminar is a life-changing event; it has catapulted the careers of several of the nation's most respected collectors, authors and dealers.
Classes are designed to suit every collector's interests and include courses such as: Grading U.S. Coins, Detecting Counterfeit and Altered Coins, ancient Greek and Roman coinage, Early American Copper Coinage, Colonial Americana, Morgan Dollars, World Numismatics, and much more.
Students gather in small groups, allowing everyone to be an active participant. You'll learn from instructors who are recognized leaders in their fields, and from the collective experiences of fellow students, who range in age from teenagers to seniors.
Students may select from a variety of tuition and lodging options to meet their needs, preferences and budget. Activities include seminars and lectures, special events, great food, receptions and banquets, and optional tours.
To read the complete course catalog, see:
2023 Summer Seminar Catalog (https://6180285.fs1.hubspotusercontent-na1.net/hubfs/6180285/
Summer%20Seminar%202023/2023%20Summer%20Seminar%20Catalog.pdf)
Coin collectors across the U.S. who belong to the American Numismatic Association (ANA) may already be familiar with the role that Dr. George F. Heath has played in the history of coin collecting in America. What they may not be as familiar with are his background as a well-known physician and medical pioneer in Monroe as well as its four-time mayor (1890, 1896, 1897 and 1906).
Heath was born in Warsaw, New York, on Sept. 20, 1850. He married Lucy May Rayhill from St. Clair County, Illinois, on Dec. 25, 1876. The couple had three children – Donald born in 1886, Helen and Charles (born in 1888 and died shortly after birth).
Heath graduated with honors from the University of Michigan Medical School in 1881. He became one of the few new graduates to be appointed a resident physician at the U-M Hospitals. After working for several years in Ann Arbor, Heath moved to Monroe and set up his medical practice on East Front Street in Monroe in 1884. The family settled into their new life in Monroe, and Heath began to lead an active civic life – leading to his first election as mayor of Monroe in 1890.
This photo shows the marker for Dr. George Francis Heath erected by the Monroe County Historical Society and located in front of his doctor's office, which was at 312 E. Front St. in Monroe. Born in Warsaw, N.Y., and educated at the University of Michigan Medical School, Heath moved to Monroe in 1884 and served as the first president of the Monroe County Medical Society. In addition to starting the American Numismatic Society, Heath was a four-time mayor of Monroe.
Lucy's health began to decline shortly thereafter, and she died on July 15, 1895, at age 39. It is this tragedy that may have led Heath to pursue in earnest his interest in numismatics – the study of coins – which he had launched in 1888 when he printed, published and distributed a four-page leaflet, called the Numismatist, in which he listed his coin needs, advertised duplicates for sale, and discussed numismatic topics.
His posing of the question, What is the matter with having an American Numismatic Association? led to the founding of the ANA. On Oct. 7 and 8, 1891, five men – Heath, William G. Jerrems, David Harlowe, J.A. Heckelman and John Brydon – met with 61 charter members in Chicago to begin the ANA. Heath then proposed the idea of a numismatic convention, where members could connect and network with other numismatists. The first convention was held in 1891, then annually until 1895, and then in 1901 and 1904. After the 1907 convention in Columbus, Ohio, it was decided to hold annual conventions thereafter.
A monument erected in 1925 by the American Numismatic Association to honor its founder marks Dr. Heath's grave in Woodland Cemetery. The ANA raised $652 to place the memorial stone and engraving there.
This is the historical marker honoring Dr. George Francis Heath of Monroe as the founder of the American Numismatic Association in 1891. The marker is located on Jerome Street in Woodland Cemetery and was erected by the ANA in 1925.
To read the complete article, see:
Monroe County History: Dr. George Heath of Monroe founded American Numismatic Association (https://www.monroenews.com/story/news/history/2023/02/19/monroe-history-george-heath-founded-american-numismatic-association/69914985007/)
Mintmark. A single letter, several letters, monogram or symbol indicating the mint where a coin or medal was made. Location of a mintmark, like that of the artist's signature, is often inconspicuous, but most often found in the lower portion of the design. Some larger items, like medals, have mintmarks on the edge. For coins, the original intent of mintmarking was to indicate responsibility, to identify the maker, infrequently along with the mintmaster's mark, in case the coin was inferior. For numismatists, mintmarks are of extreme importance for attribution. While most mints are called by the name of the city where they are located, it must be remembered it is the plant or mint (or formerly, the workshop) that makes the coins or medals. With some exceptions – like the Zecca Mint in Rome – mints do not have names; they are known by this city name.
Both national mints and private mints have mintmarks. Usually national mintmarks are derived from the city name; private mintmarks are usually some abbreviated form of their company name. These are expressed as initials, monograms, ligatures (two letters blended together) or symbols. A letter and a symbol are common. In fact, one out of five mintmarks are symbols. These range from a single dot, as the Perth Mint in Australia employed, to complex symbols (and always made into a punch).
Infrequently, one mint has made dies (with their own mintmark intact) but the coins actually struck at another mint (dies made at the Paris Mint have been struck in Philadelphia for Dominican Republic coins in 1897, for instance). Maria Theresa thalers all bear the SF mintmark – which stands for the Guenzburg Mint (of the Holy Roman Empire) – yet the same coin has been struck at the mints of: Brussels, London, Birmingham, Paris, Bombay, Florence, Vienna, Venice, Prague, Milan, Rome, and Leningrad.
History of mintmarks. The earliest Greek coins often bore the names of cities; while these were not mintmarks they did indicate where the coins were struck. The first mintmark was placed on a silver didrachm (based on a Greek denomination) struck in Rome in 269 bc. Later some Roman coins bore control marks, indicating the mint official – a forerunner of mintmaster's mark – or other data, that were often difficult to separate from mintmarks.
During the middle ages the general need for a mintmark obviously arose when two or more moneyers or mints were striking the same coin. Mintmarks identified the source should the coin be found inferior, and to indicate responsibility of the errant maker. Coins struck prior to the introduction of the screw press (invented 1506, in general use by 1662) were made individually by moneyers; their hammered coinage could easily be debased. When several moneyers used the same design for a coin but struck in different cities they needed to be identified.
Later, with numerous mints within a country – Spain once had forty mints at one time – mintmarks are a necessity. With so many operating simultaneous, letters are used up and moneyers frequently turned other punches – symbols, Greek letters, monograms, or such – as a mintmark. A reform of mintmarking occurred in France in 1540 by King Frances I who decreed the principal mint, as the Paris Mint, use the letter A. All subsidiary mints were assigned mintmarks continuing through the alphabet.
A charming instance of mintmarking was the placement of a dot below the letter in a legend or inscription as the mintmark. French numismatists called this points secrets, to indicate the mintmark. For the creation of decorations struck at Italy's Zecca mint they placed a crown above their Z mintmark.
In modern times subsidiary mints, branch mints, always have mintmarks irrespective of whether the main mint has one or not (as the Philadelphia Mint did not use a mintmark from 1792 until 1980 with a brief stint on nickels 1942-45).
Marks of private medallists. Private French medallists also gave special attention to their marks. They established a custom of placing their initials and a symbol within a frame or panel. The shape of the frame was significant. Medallic items of precious metal were placed in a diamond shape, of base metal within a triangle, and plaques or plaquettes were placed in a square frame. As an example for silver medals the firm of Janvier-Duval would be a small wreath between J and D within a diamond; they substituted a torch for the wreath within a triangle for bronze medals.
Knowledge of this custom carried over to America when Frenchman Henri Weil cut the dies for the firm in New York City, Deitsch Brothers, for which he obtained a pantograph engraver (from that Janvier-Duval firm). He placed a D (for Deitsch) within a frame to create the diamond-D mintmark for medals produced by this firm 1907-10 (but abolished the practice when he acquired the firm of Medallic Art Company in 1910, preferring, instead, to spell out the name on the edge).
Identifying mintmarks. Mintmarks often appear small on the coin or medal. Recognizing them is sometimes difficult due to the state of the die, or the condition of the piece. In one instance a die engraving error made a Gn of an intended Cn for the mint at Culiacan, Mexico. Mintmarks need to be identified separate from engraver's initials, mintmaster's marks, differents, privy marks and other lettering.
Identifying and attributing mintmarks is an important task of the numismatic cataloger. Often reference is necessary to numismatic references for correct mintmark identification. Catalogs of coins of the world always list mints and mintmarks. Two excellent sources for modern mintmarks are: Krause and Mishler, World Coins, and Coin World Almanac.
Mintmark anomalies. Since most mintmarks are applied to dies (working dies, master dies, or hubs) with a punch, the placement of the punch is critical. If it is out of alignment this will, of course, be evident in all pieces struck from that die. Thus there are many mintmark anomalies resulting from erroneous placement of mintmark punches, including: too high, too low, too far to one side, too deep, too shallow, also sideways and inverted. There are also double mintmarks, often called repunched, one punch superimposed over another, or even more dramatic one intended for a different mint (or a wrong letter punch); the second was intended to correct the erroneous first.
Missing mintmarks can be the result of any of several events. They can be purposefully omitted (as in United States 1965-67 to thwart coin hoarding), or it can be a mechanical striking anomaly as a filled die. Fraudulent removal of a mintmark (on an existing coin), or replacing with another, as a counterfeit mintmark, has occurred to create a more valuable variety to deceive collectors.
To read the complete entry on the Newman Numismatic Portal, see:
Mintmark (https://nnp.wustl.edu/library/dictionarydetail/516324)
During the period of 2003 to 2006, I worked for a rare coin dealer who was affiliated with a bullions dealer I will call Minneapolis Gold and Silver (MGS). I could report extensively on the bullion business but I will limit my comments to discussion of coin bags.
The bullion side did not deal with the general public. The owner did not want to do business with anyone he had not known for thirty years. One of the clients drove around to smaller local dealers to buy up 90% silver coins and other bullion products. Another client was a hotel buyer and convicted felon who had served prison time for racketeering. Our boss was happy to buy his bullion.
These clients and others would bring in junk silver in canvas coin bags. The company had one major customer in the telemarketing business. MGS would take silver out of the used bags and repackage it in new bags marked with the name of our client. The used bags were thrown in a large cardboard box in the garage. Sellers could take used bags to go out and buy more silver.
I had permission to go through the box and pick out any I wanted to form a collection. I was initially interested in bags marked for the U. S. Mint (Mint Bags) but expanded into other areas. I now have two boxes with about 100 different bags.
Most new Coin bags are very similar and made of white canvas that turns to light gray. They have a cloth tape near the top that is used to tie the top shut. The generic bags have no printing.
Mint bags are printed with the name of the mint, the denomination of the coins and often the year. Usually, the date is just the year. I have some with the full date applied with an inked date stamp. Examples have one year overprinted in black with a new year.
I created a couple of sub-sets of coin bags. I have a date set, a mint set, a denomination set and a color set. Here is a piece of trivia you won't find anywhere else. What colors were used on mint bags? I have cents in red, nickels in blue and brown, dimes in green, quarters in orange and purple, and Golden Dollars in brown.
Bags also come printed with the names of Federal Reserve Banks. I assembled a complete set for each of the twelve Federal Reserve districts. I have two more with the names of Federal Reserve Bank branch offices.
Some bags come imprinted with the name of a local bank. There must be hundreds of different ones. I did not select all the different ones I saw.
Bags also come with the names of coin dealers. I worked for another firm that ordered bags while I was there. Again, there are probably hundreds. I only saved a few that had some significance for me. I don't have examples from the companies I worked for.
There are many other examples for cloth bags. I have seen bags marked for transportation tokens and for casino tokens. There are small sized bags. I have modern bags for $50 in Westward Journey Nickels, $25 in Quarters and $100 in Kennedy halves. The bag most frequently seen on eBay was sold to the public with state quarters and ATB™ quarters.
I never found a bag for Morgan Dollars or U. S. Gold. Those would have more value for collectors.
I worked for another dealer who accumulated a lot of face value coins as we bought collections. These were thrown into plastic pails until we had enough to take to the bank. We did our banking at a commercial bank that had a coin counting machine. It was my job to feed coins into the machine.
The operation frequently had to stop to replace a full bag with an empty bag. These were tough clear plastic bags. I never had the opportunity to set aside a used one. David Lange showed there was an interest in coin boards. There is an opportunity for someone to take on coin bags in the same way. Perhaps there is an opportunity to make a market for them.
In our correspondence, David Lange gave me the name of another collector who has a thousand bags. I suspect there are other collections out there.
Bags stored in a dry vault can survive a hundred years. Bags sitting in water can rot. A rotten bag dropped on the floor can split open. We discarded bags that were ripped or too weak to be reused. I suppose someone could try to collect poorest known examples.
Dealers often repurpose bags and write a new label with a black magic marker. That graffiti might add to the historical value of the bag.
Not long ago the Mint sold off their stock including unused remainders. For my collection, I prefer bags used in commerce. The investor market for bags in high states of preservation is slow to develop.
There are hundreds of offerings on eBay for bags similar to what I accumulated. I would describe anything dated in the past fifty years to be common. Bags from 1964 and earlier are uncommon. Bags for Morgan Dollars and gold are scarce. I don't recall ever seeing a bag from Carson City. Those would probably qualify as rare.
It is possible there were bags used that have no surviving example. It is also possible they have no surviving record.
At one time I thought I would try to develop a grading system for bags. I thought I would use Bag State grading or BS Grading and numbers from 1 to 70. Thus, an ideal perfect bag would be BS-70.
As I developed the concept, I thought I should make it more personal. I could form a third-party grading company for coin bags. My thought was to call it Peter C. Smith Grading or PCSG. I never registered that as a trademark, so anyone is free to use the name.
Creating a catalog of coin bags would be a great challenge that only a fool would attempt. [Yes, I am considering it] I am not aware of any archive that has records of coin bags. Perhaps a start would be to apply for a grant from Newman EPNNES to go to the American Numismatic Society and catalog their collection.
Is there enough interest to start a specialty club for collectors of coin bags? I am thinking of calling it the Old Bags Collectors Club. Anyone have a better suggestion?
Since starting this article, I actually started making a listing of coin bags from the U. S. Mint and federal reserve banks. This list already has more than 200 items. Watch for future reports on my progress.
I remember when the Treasury had thousands of bags of unissued dollars in their vaults. How were those bags marked? Does anyone still have an original bag of coins in the original bag?
To read the earlier E-Sylum article, see:
COLLECTING AND CATALOGING U.S. MINT BAGS (https://www.coinbooks.org/v26/esylum_v26n07a30.html)
Leather (hide), and cloth bags have been used for gold storage for at least four centuries. Originally hand made and stitched along edges of deer or other available animal hide, the bags served a very specific purpose: to hold an article of very great density, particularly gold, in a manner that would not tear open and spill the contents if dropped. While cloth was an automatic resource, it was not as practical. Thin cloth splits open easily with weighty contents. Coarse weave cloth (canvas and sail cloth) can lose the contents of fine gold dust easily, working its way out through the stitch spaces. Likewise, poor stitching can also cause a quick break in the bag, causing loss of valuable gold contents. For these reasons and more, animal hide was deemed the best material.
Captain Kidd and his Gold Bags
The gold dust bag goes hand in hand with the history of treasure boxes through history. The earliest mention located on gold dust in bags comes from America itself and the story of Captain William Kidd. Kidd was hired in 1696 as a truthful and honest sailing man by private parties in America and England in cooperation with English authorities to stop piracy at sea and prosecute them. He sailed from England in April, 1696 for New York. Instead of an immediate voyage across the Atlantic, he sailed around the Cape of Good Hope, was gone about three years at sea as he got off course and began plundering ships. It is not known fully if he was plundering pirates, or simply became one himself. Nonetheless, he returned to New York at Long Island and proceeded to Gardiner's Bay and Gardiner's Island, where he buried treasure, and left a note with Gardiner himself of the exact location, before leaving to bury other treasure elsewhere, entrusting Mr. Gardiner with his secret, and making the life of the latter the pledge of his fidelity. Kidd burned his ship after a time and released his crew. He went to Boston in 1699 thinking no one knew of his plunders, but was wrong, and was immediately arrested by the order of Governor Bellamont. Bellamont's men soon sought out the various treasures, found Gardiner, and as soon as assured that Kidd was in confinement, Gardiner then divulged the location of the treasure. The papers of the Gardiner family show that the contents of the box were bags of gold dust, bags of gold bars,... ... Kidd was sent to England, tried and condemned.... He was executed May 9, 1701.
Little did Captain Cook know that centuries later his bags of gold dust would make it into one of my stories.....
One hundred thirty years later, gold stored in gold bags remained the standard. The Georgia Gold Rush leaves us little to study in regards to gold bags, as the newspapers have not been digitized yet. Gold bags are mentioned in passing in regional news of the 1837-1838 period, but no specific content was located.
California Gold Rush
By the time of the California Gold Rush, finding news of gold bags before 1850 is difficult because every able-bodied man was off to the goldfields, and newspapers were few and far between. Indeed, the Gold Rush was a mad rush of people from around the world on a first come, first served basis. Supplies were bought at the departing points, and that is where news of the first gold bags for the California Gold Rush appear.
One of the first, if not the first, to advertise for California outfits was the Oak Hall store in Boston. His ads appear in the fall of 1848, offering gold bags and everything imaginable, including rubber life preservers. Here you can find everything wanted, from a Pick Axe to a Capt. Sutter Long mining Waistcoat. These advertisements must have been a hit as Oak Hall ran them in newspapers all up the coast to Maine through 1849. His gold bags were advertised at $0.50 to $1.00 each.
Meanwhile, out in California, one of the first appearances of the use of the gold bag term was in reference to a steamer from San Francisco to Panama on Dec. 4, 1849, discussing miners with well filled gold bags, and passengers with a trunk full of the gold of California. Another very early reference was in reference to a miner placing a gold bag on a monte table in a gaming establishment known as the Humboldt in Sacramento in August, 1850. If enterprising miners did not have their gold bags bought in the East, or purchased from instant dockside supply businesses, they made their own.
New York merchants soon joined the fracas. Merchant D. Hodgman advertised to California Emigrants the sale of gold bags and everything else in May, 1850. California merchants certainly followed soon after, but much history is lost due to the exodus of working men to the goldfields. By the mid 1850s, advertisements appeared all throughout the California gold regions for mining supplies, inclusive of gold bags. In San Francisco, Wm. G. Badger was a prolific advertiser for buckskin gold bags carrying 400 dozen. His ads appeared all over California. By the time of the SS Central America in 1857, gold bags were available everywhere.
The Gold Bags of the SS Central America
The gold bags of the SS Central America show a wide variety of manufacturing styles, sizes and types. All of the gold bags were recovered from the purser's safe, though several others were seen in various forms of degradation, buried beneath sediment and other artifacts preventing the access of oxygen and thus parts of the original leather remained unconsumed by Mama Nature. These bags generally contained coins and jewelry. No part of any of them were recoverable, and are simply known by photographic record on the ocean floor. The leather gold bags varied in size, hide thickness, stitch patterns and bag ties. There was no standard, but simply what any manufacturer could come up with. Home made gold bags are also among those preserved. These are identifiable from hand stitching, often with string or leather instead of fine sewing by early machine. Cloth bags also held gold, but usually, if not always, held coin. Gold dust would flow through the cloth interstices, rendering cloth bags inappropriate for gold storage.
Gold Bags of other Gold Rushes
Gold bags made of hide were also used for other gold rushes from the Australian Gold Rush of the 1850s-1860s to the Pikes Peak Gold Rush of c1859-1860 to the Alaska-Yukon Gold Rush of the c1898-1905 period.
History Adds a New Term to Gold Bag – Gold Poke
Miners today think of gold bags as gold pokes. But where and when did this term originate? A thorough search of this terminology around the world from the earliest of times for digitized newspapers that easily goes back to the Appalachian gold rushes of the 1830s to the present time renders a bit of a surprising result, and also the need to investigate specific word usage through time.
The very first newspaper written reference to a gold poke is from the Alaska Yukon Gold Rush, and is not found until after 1900. The term appears to be in regular use by late 1901. In mid 1901 the term appears in relation to gold robbery as well as delivery of gold to the Vancouver assay office. In 1902 the term began appearing in poetry.
The term poke itself has changed in meaning through time. Many words in the English language become subject to cultural changes, slang expressions of current or times past, and changes of symbolism, among other oddities. Poke is one such word. In Webster's 1840 Dictionary of the English Language, one of the meanings for poke is pocket. In this regard I began a search through my records and newspaper records of the Georgia gold rush since the timing of both the publication of the meaning and the gold rush are coincident. This was indeed a great idea. But the newspapers are few and far between, mostly all on microfilm, particularly the newspapers of the 1830s in Georgia. The word was not found in relation to gold, but other researchers may dig deeper to seek success.
The word pocket fits the Poke perfectly. Why did it take another 60 years before the term was applied to a gold bag? We may never know. But now you know that a gold poke is a gold pocket, which makes complete sense. Today the term is ubiquitous.
To read the complete SSCA II catalog, see:
https://online.pubhtml5.com/esfe/wtez/#p=1
To read the earlier E-Sylum articles, see:
SSCA ARTIFACTS AUCTION PART II CATALOG (https://www.coinbooks.org/v26/esylum_v26n07a09.html)
COLLECTING AND CATALOGING U.S. MINT BAGS (https://www.coinbooks.org/v26/esylum_v26n07a30.html)
From time to time here at the ANS Library we still get books and other numismatic items from the library of Gordon Frost, a warmly remembered friend of the Society who passed away over 10 years ago. Frost was a devoted collector of numismatic literature, and when he died in 2011, his basement library in Queens was overflowing with it. Thanks to Frost's wife, Rosalie, and the persistent efforts of ANS fellows Normand Pepin and Scott Miller, we have been the recipient of all kinds of interesting items from Frost's collection over the years.
Recently, I was looking through some of the odds and ends that Scott had brought in, and a couple of old newspapers in particular caught my eye. Though they were published nearly 30 years apart, both carry at least a portion of the same column—basically a list and description of varieties of US cents beginning with the first in 1793. The Mohawk Standard of Delta, N.Y. (April 1886) ran it under the title, History of U.S. Cents. The Luzerne Union of Wilkes-Barre, Pennsylvania (August 24, 1859), stuck with the original title: About Cents.
In both cases the column is signed A. S., and, if you're like me, you might see those initials and the year 1859 and think, Augustus Sage. But you would be wrong. As discussed a few years ago in the E-Sylum, the writer was Augustine Shurtleff (1826–1901), a Massachusetts physician who helped found the Boston Numismatic Society in 1860. He was a collector of at least some Greek and Roman pieces, as well as American tokens, medals, and coins—these being among the coins in his bequest to the Museum of Fine Arts in Boston. In 1863, nearly 40 years before he died, some of his collection was sold by W. Elliot Woodward.
ANS member and large cent enthusiast Jim Neiswinter considers Shurtleff's article—which first appeared on the March 1, 1859, issue of the Boston Evening Transcript—to be the first published variety study of Large Cents. In fact, Jim thought so much of it as a landmark that he named his second book after it: About Cents II.
When the article appeared in the Mohawk Standard it was serialized. The copy we received from the Frost library is number two in the series, covering the years of 1795–1799. It is also just the second number of the Mohawk Standard, so the first installment of About Cents must have appeared in its debut issue. A comparison of the text of the article in the two different publications shows that the later one was not an exact reprint. In the 1859 version, for example, Shurtleff listed five well-marked varieties for the year 1795. By 1886, the number had become four. I don't know if Shurtleff had anything to do with updating the column when it appeared 27 years after its debut, but I do know that the Mohawk Standard still lacked a chronological follow-up, since it posted the following notice: We have a description of the U.S. Cents down to 1858. If someone will send us a description from that date down to the present, we shall be grateful.
As it turns out, the library already had a couple of issues of the Mohawk Standard prior to receiving the Frost copy. Published in Delta, New York, in the interest of collectors, the publication contains numismatic content written by a collector from that town, Dr. Charles Edward Fraser, one of whose articles was a rundown of cents similar to Shurtleff's. His discussion of the 1806 cent gives a glimpse into his own collection. He said the finest he ever saw had been offered by the Chapman brothers for $125 and that the next finest specimen is in my own collection. That one, he said, was found while tearing down a building at Delta in 1868, and forms the nucleus of my present cabinet of coins.
Fraser also wrote about his collection of Conder Tokens for both the Mohawk Standard and the Numismatist. In 1879, he did the catalog for the sale of some of J. E. Barratt's collection, but he may have stepped outside of his comfort zone when it came to the Roman portion of the collection. The American Journal of Numismatics saw the prices realized for coins he had touted in that category and concluded, his knowledge of the value of ancient coins seems to have been somewhat limited.
To read the complete article, see:
https://numismatics.org/pocketchange/cents/ (https://numismatics.org/pocketchange/cents/)
To read the earlier E-Sylum article, see:
QUERY: COIN BOOKS WITH AN ENCASED COIN OR MEDAL (https://www.coinbooks.org/esylum_v13n30a09.html)
Over 170 years of active trading in the numismatic hobby has dispersed most all collections built in the early days of American numismatics. But last summer, a once in a lifetime opportunity presented itself: an amazing collection of U.S. coins built wholly in the 19th century and unseen by numismatists until last year. To use the term fresh to the market would be a gross understatement.
As numismatists, we at Stack's Bowers Galleries are often interested in the history of a collection, especially how it evolved into the finished product that graces the pages of our auction catalogs. Sometimes that history is rich, such as with the famed Garrett and Eliasberg collections, carrying so much associated information behind them that entire books have been written about these American cabinets.
The cabinet of James Allaire Millholland (JAM), who lived from 1842 to 1911, on the other hand, is today witnessed only by the coins themselves and a small handwritten ledger he kept as an inventory of the collection. The story we can weave is based solely on the evidence of the coins and the man, and how they intersect is unknown, as no records exist of his individual acquisitions or how he embarked on his numismatic journey. His numismatic path seemingly has left no wake, and he does not appear to have been a member of major numismatic organizations of the day, such as the American Numismatic Association and the American Numismatic Society. We do know that the coins descended in the family of Millholland's 16th and final child, James Millholland (JM), and were kept reverentially within the family—they were regarded more emotionally than monetarily, a most tangible link to a father (JAM) who passed away before he (JM) was even seven years old.
The quality of the coins is a testament to the care with which the coins were held within the family for well over a century past James Allaire Millholland's passing in 1911.
According to his grandchildren, the coins were for a long time kept out of sight by their father in their custom cabinet in an alcove behind the furnace in the family home and were later moved to the far back of their father's closet, before finally being moved to a safe deposit box under their care. As you peruse the listings of the collection, you will immediately notice the fine cabinet toning, sometimes quite vivid and electric, that enhances so many of the coins. We would like to think that the heat thrown off by the nearby furnace sparked and accelerated these wonderful tones on the coins sitting on paper inserts in neat little rows on trays in the wooden cabinet built by the crafty JAM himself. And being tucked away rather than constantly handled preserved the uniformly high quality of the collection, especially among the Proof coins which are prevalent starting with the issues of the 1860s and are almost exclusively graded in the Proof-64 to Proof-67 range. There are also many very original and beautiful circulated and Mint State coins in the earlier issues. As a further testament to its originality and high quality, the collection as a whole received a greater than 40% CAC acceptance rate among CAC-eligible items, and taken alone, the Proofs received CAC approval at a rate of more than 55%!
The road taken by the collection to these pages has been a long one. We know from the evidence of the coins themselves that the collection was built in the 19th century, as the last coins in the cabinet and recorded by JAM were in 1894. Though there is no evidence or family lore as to why he stopped collecting 17 years before his death in 1911, his grandchildren surmise that the extended illness which led to his first wife's death in 1896 might have been an influence.
His grandchildren, caring for the coins for many decades, tracked the trajectory of Stack's and then Stack's Bowers Galleries as the firm made numismatic headlines. But it wasn't until the summer of 2022—fully 111 years after their grandfather's passing—that they brought the coins to us. Working with Andrew Bowers, the family made an appointment for an evaluation. Blurry yet tantalizing photos of the trays were sent in advance. Hard to interpret, the photos showed trays full of coins that easily could have represented two extremes—they were either trays of well circulated coins or Gems, we couldn't be sure. So, the excitement of discovery was left to the day when the coins crossed the threshold of our New York City flagship gallery at 470 Park Avenue.
When the cabinet was first opened in our conference room, everyone's jaws dropped. The coins were neither uniformly circulated nor uniformly Gems but were a wonderful mixture of the two. Though the key issues—delicacies like a 1793 Chain cent, 1794 dollar, or 1851 dollar— were not present, Mint State and Gem Proof coins were abundant, and the century's worth of toning across so many of the coins was absolutely mesmerizing. With the assistance of Avi Zalkin and Cecilia Coughlin, our two summer interns, the coins were inventoried and left with us in the amazing wooden cabinet. After some deliberation within the family, they decided it was time to part with the coins and allow current generations of collectors to enjoy their grandfather's numismatic legacy, retaining JAM's cabinet and ledger as mementoes.
Andrew and I delved into the collection. In the absence of acquisition records, our forensic thinking caps were on as we tried to figure out the collection's methodology. Consisting of half cents through silver dollars and covering the first century of the U.S. Mint's output, the collection usually includes just one coin per date and as such is clearly an effort of the 19th century before Augustus Heaton's 1893 monograph Treatise on Coinage of the United States Branch Mints (often referred to colloquially as Mintmarks) opened the door wide to collecting coins by date and mintmark rather than just by date. Though at times the collection contains more than one example of a date, these usually represent the multiple date/type variants that can occur within a given year, like with the 1834 half dollars. As such, the issues of the Philadelphia Mint are dominant, with the New Orleans or San Francisco mints seldom represented, and the Carson City Mint represented by a solitary coin, a superb Gem 1878-CC dime. Did he get this remarkable Carson City coin from a dealer or from a friend who may have traveled out west and brought this coin back as a souvenir?
We imagine that the collection was built by two methods: from circulation and by purchases from coin dealers. Though not presented in this catalog, there were about 100 pieces in the cabinet that are of modest value, chiefly well used copper half cents and large cents and silver Liberty Seated issues that could have been plucked from loose change or an old family accumulation. More poignantly, JAM's ledger inventorying his coin collection lists a number of dealers from whom he must have purchased many of the most significant coins: familiar 19th century names like Scott and Co. of New York and Philadelphia dealers J.W. Haseltine, A.M. Smith, Mason & Co., and S.H. & H. Chapman. Less familiar or perhaps unheralded dealers include R.W. Mercer of Cincinnati, M.F. Blacy(?) of New York City, and F.R. Bavis(?) of Philadelphia, the latter two names difficult to decipher in Millholland's handwritten ledger.
Fully one-third (180 of about 540) of the coins in this auction are 19th century Proofs, with some years represented by complete Proof sets. Did JAM purchase complete Proof sets from these dealers, or just happen to buy Proof singles that were of high quality in an era where the condition of a coin would have been secondary to filling the hole for that date? And though not listed among the dealers in his ledger, was the U.S. Mint in Philadelphia perhaps a direct source for some of the Proofs in his collection?
Following this introduction is a brief but pithy biography of James Allaire Millholland provided by his grandchildren, which will give you a better feel for the man responsible for the collection that is presented here. Unable to attend in person a meeting at Stack's Bowers Galleries in New York to discuss the auction, one of his octogenarian grandchildren wrote I so much wish I had been at [my sister's] side to hear you all talk of the coins and open our eyes for a tiny peek into the vast and fascinating world of numismatics. This whole adventure has brought up – again! – the wonderful explosion of questions a little knowledge ignites.
This undertaking feels a bit as if we are getting to honor a grandfather we never had the chance to know. Though we are not family, Andrew and I and all of us at Stack's Bowers Galleries feel like honorary members of the Millholland clan, as we too have been enthralled by this adventure and are excited to present this fascinating cabinet to collectors in the 21st century.
I could blather on for many more pages talking about individual coins, but I will instead allow my colleague Jeff Ambio's masterful cataloging and the images do the talking for each piece. I encourage you to peruse the listings of the collection presented in three places in this Official Auction of the Whitman Baltimore Spring Expo: our Rarities Night (lots 3001-3056), Live (lots 4001-4229) and Internet (lots 9329-9581) sessions. There are truly coins for collectors of all stripes, whether you are looking for an inexpensive souvenir of a not-yet-famous collection or for a five-figure condition rarity destined for a top registry set. Once dispersed, we imagine these 540 or so coins will not often reappear in the numismatic market, cherished by their new owners as a connection to an unheralded 19th century collector and as remarkably high-quality survivors of their respective issues.
Vicken Yegparian
Vice President of Numismatics
To view or bid on the Millholland coins, see:
Spring 2023 Auction - Session 3 - Rarities Night featuring the James Allaire Millholland Collection - Lots 3001-3313 (https://auctions.stacksbowers.com/auctions/3-118LV5/spring-2023-auction-session-3-rarities-night-featuring-the-james-allaire-millholland-collection-lots-3001-3313)
Spring 2023 Auction - Session 4 - The James Allaire Millholland Collection - Lots 4001-4229 (https://auctions.stacksbowers.com/auctions/3-118PCY/spring-2023-auction-session-4-the-james-allaire-millholland-collection-lots-4001-4229)
Spring 2023 Auction - Session 11 - Internet Only - The James Allaire Millholland Collection - Lots 9329-9581 (https://auctions.stacksbowers.com/auctions/3-11BRNZ/spring-2023-auction-session-11-internet-only-the-james-allaire-millholland-collection-lots-9329-9581)
Born to a heritage of railroad and marine innovation, James Allaire Millholland actively participated in the industrial explosion of the nineteenth century in western Maryland. His career flourished in railroads, first in building ever more efficient locomotives and then as a railroad executive.
His father, James Millholland (1812-1875), was one of the foremost railway master mechanics in the country. In 1829, as an apprentice to a prominent machinist in the B & O Railroad's shops in Reading, Pennsylvania, he helped build (supposedly of spare parts) the first light steam locomotive, the Tom Thumb, to a design of Peter Cooper's. (In the competition between this little engine and a horse pulled car, a belt slipping from a pulley resulted in victory for the horse-powered car.) Millholland, Sr. went on to design innovative locomotives, reconfigure designs, and experiment with ways to improve their propulsion.
James Allaire Millholland (JAM) continued in his father's footsteps. Born in Reading in 1842, he received his early education in local schools. At 17 he was apprenticed in the shops of the Pennsylvania and Reading Railroad where he did experimental work and gained practical experience, including running freight and passenger engines. When he was 24, his father relocated the family to the hills of western Maryland. Mount Savage was uniquely located among the ore-bearing strata of the Appalachians, as well as serving as a gateway to the West. It teemed with industrial activity - coal, iron ore, and clay mining; foundries; brick refractories; and machine shops constructing locomotives. Fresh from traveling to the Paris International Exposition in 1867 where he studied the vast number of displays of European technological developments, JAM set out to improve the machinery department of the Cumberland and Pennsylvania Railroad. Within a month he became a master mechanic of that railroad and then an officer of the Cumberland and Pennsylvania Railroad, the Union Mining Company, and the Consolidated Coal Company. After ten years, he out-maneuvered hot competition with other young railroad lines and acquired the upstart George's Creek and Cumberland Railroad, born of two mining companies. Becoming director and president of GC&C RR, he expanded it to extend through the Cumberland Narrows; it ran a variety of rolling stock, from coal hoppers to passenger cars, including an open-sided observation car. As interconnecting routes made it easy to connect from Cumberland to Philadelphia and New York, JAM traveled regularly to both cities where he maintained offices.
JAM and his first wife, Virginia Randolph Keim Millholland (1846-1896), a descendant of the Randolphs of Virginia, had 12 children, several of whom became mechanical and civil engineers. Their substantial house on Washington Street in Cumberland is still standing. His first wife died at 49, and two years later in New York, he married Harriett Woodward Blunt, known as Woodie to family and friends, a woman 24 years his junior from an old Montgomery County (Maryland) family. Together they had four children. The social columns of area newspapers tell of the family's parties and open houses, excursions, and visits to relatives, as well as their travels to a large rambling summer house, Glenora, on 120 acres of rolling fields, orchards, barns and stables on Valley Road two miles outside Cumberland. The dinner table there had 12 leaves and accommodated well over a dozen people. Guest book entries of extended stays from relatives and friends suggest a welcoming household of warmth and conviviality.
James A. Millholland and his wife in their 1905 Stanley Model G Light two passenger runabout – one of 11 built!
JAM wrote letters to Woodie when he was on his frequent business trips. Entertainingly worded and affectionately thoughtful, they describe city events, his experiences, even purchases — a vase for the yellow guest room. Well-made, often beautiful, objects fascinated him - good machine tools (for which his shops were noted), the mechanism of a shotgun newly delivered from England, cameras, automobiles, and numerous gadgets. He admired the craftsmanship and beauty of Asian artifacts, intricately carved ivory figures, balls one inside another, and Chinese porcelains. Intriguing and unusual objects were kept in a heavy, carved black four-sided, glass-doored cabinet of curiosities. As a woodworker, he made the coin cabinet with 20 trays divided into compartments for each coin, a drop leaf corner table, and a large, heavy tool chest elaborately fitted with a series of sliding shelves. His library reflects his inquiring mind, innate curiosity, and wide enthusiasms - natural history, agriculture, gardening, animal husbandry. In it could be found Shakespeare, The Decameron, Pepys' Diary, Emerson essays, humor, contemporary fiction, and history plus a collection of Lincolniana. The book plate in each volume records the exact date of its acquisition and often on the last page the date he completed reading it. Meticulous notebooks and numerous lists show the organization and the specificity of his thinking.
When James Allaire Millholland died, though retired for four years, he was still an active director of the First National Bank of Cumberland which honored his more than 25 years of service, a vice president and treasurer of Accurate Machinery Company of Cumberland, president of the Chinese Trading Company of Philadelphia, and trustee of a hospital and a school. These associations speak to his energetic capacities and mental resources. His obituary praises his innate refinement…[and] highly cultured and polished mind. His associates remembered his lively and well-informed conversation, his indefati.gable energy, wise judgment in business, and his genial vivacity in speech and manner.
Coda: Four years before JAM died he sold his railroad to the Western Maryland Railway Company which was soon purchased by a son of Jay Gould, known as one of the robber barons. The lives of these two Millhollands, father and son, roughly bracket the nineteenth century and trace an important era in American railroad history and its role in the industrial revolution: from an early locomotive on eight miles of track to eventual absorption of smaller local lines into larger and larger systems; regional amalgamated into nationwide; independently owned and operated burgeoning —sometimes by hook and by crook — into large complex corporately-managed entities.
To view or bid on the Millholland coins, see:
Spring 2023 Auction - Session 3 - Rarities Night featuring the James Allaire Millholland Collection - Lots 3001-3313 (https://auctions.stacksbowers.com/auctions/3-118LV5/spring-2023-auction-session-3-rarities-night-featuring-the-james-allaire-millholland-collection-lots-3001-3313)
Spring 2023 Auction - Session 4 - The James Allaire Millholland Collection - Lots 4001-4229 (https://auctions.stacksbowers.com/auctions/3-118PCY/spring-2023-auction-session-4-the-james-allaire-millholland-collection-lots-4001-4229)
Spring 2023 Auction - Session 11 - Internet Only - The James Allaire Millholland Collection - Lots 9329-9581 (https://auctions.stacksbowers.com/auctions/3-11BRNZ/spring-2023-auction-session-11-internet-only-the-james-allaire-millholland-collection-lots-9329-9581)
102328 | GERMANY & the ENTENTE. Pact of Malice cast bronze Medal. Dated 1915. "Der Bund der Tücke"—on Germany's fight against the "union of deceit" (82mm, 144.00 g, 12h). By K. Goetz in München. DER BVND DER TVECKE (the bond of malice), winged fantastic beast standing right, with numerous allegorical, elongated, serpentine/hydra-like heads: cock (for France), lion (for Belgium and England), bear (for Russia), Snake (for Serbia), and dragon (for Japan); below, figure, nude but for Bersagliere hat, seated with back to viewer, suckling from the beast's teats (an allegory for Italy, as Romulus/Remus suckling the she wolf); MCMXV below / Facing bust of God, holding scythe and resting hand upon and globe; flames of Hell below; across central field in three lines, SCHLAGT IHN TOT! / DAS WELTGERIGHT / FRAGT EVCH NACH DEN / GRVENDEN NICHT! ("Strike him dead! Doomsday asks you not on what grounds" –Heinrich von Kleist). Edge: K•GoeTz. Kienast 160; Klose 8.8; Art of Devastation –; Choice Mint State. Lighter brown surfaces, with great textured relief and highlights; a subtle casting flaw as made on the right of the reverse is noted merely for completeness. Compare to a similar piece, though seemingly not as attractive, graded NGC MS-65 Brown, that realized a total of $1,920 in Heritage auction 61296, lot 22069. $1,465.
Similar to many of Goetz's World War I-era medals, this particular piece—issued in a much larger format than is generally encountered—portrays Germany against seemingly the rest of the world. Here, Goetz sees Germany's then-enemies as this fantastic beast amalgamated from the various allegories associated with them. Meanwhile, on the reverse, the stark aspect of the war, and seemingly the divine right for the Germans, is displayed by the representation of God, holding a scythe and the globe—an indication of His power to smite the enemy and His terrestrial rule. The quote from Heinrich von Kleist merely reinforces that aspect that much more, in the sentiment to "...strike him dead! Doomsday asks you not on what grounds." A haunting and extremely powerful work from the ever-ambitious Goetz.
To read the complete item description, see:
102328 | GERMANY & the ENTENTE. Pact of Malice cast bronze Medal. (https://www.numismagram.com/product-page/102328)
102215 | UNITED STATES & SPAIN. Christopher Columbus gilt bronze Medal. Issued 1892 for the 400th anniversary of the Columbian discovery of America (40mm, 31.24 g, 12h). By E. Noney. DESCUBRIDOR DEL NUEVO MUNDO / MCDXCII, draped bust left / REINANDO ALFONSO XIII / ESPAÑA, in six lines: IV CENTENARIO / DEL / DESCUBRIMIENTO / DE AMÉRICA / XII OCTUBRE / MDCCCXCII. Edge: Plain. Eglit 433 var. (silver); Rulau B15 var. (same). Choice Mint State. Brassy-yellow surfaces, with rich, mirrored brilliance. Already a very rare and seldom seen Columbian medal, this type is seemingly unpublished in gilt bronze. $295.
During the lead-up to the quadricentennial of Columbus's initial contact with the New World, numerous medals were designed and struck, both in the United States—in conjunction with the 1893 Columbian Exposition in Chicago—and abroad, sometimes for this event or for similar others. In the case here, it was for the celebration back in Spain, for whom Columbus sailed.
To read the complete item description, see:
102215 | UNITED STATES & SPAIN. Christopher Columbus gilt bronze Medal. (https://www.numismagram.com/product-page/102215)
102310 | UNITED STATES. San Francisco, California. Panama-Pacific International Exposition silvered bronze award Medal. Issued 1915. Presented at the expo for the "silver" award (70mm, 132.15 g, 12h). By J. Flanagan. Nude male and female (personifications of the Atlantic and Pacific Oceans or eastern and western hemispheres) greeting one another as the sun rises over the Panama Canal in the background; DIVINE DISIVNCTA IVNXIT HOMO (the divine difference unites mankind) / PANAMA–PACIFIC INTERNATIONAL EXPOSITION SAN-FRANCISCO / MCMXV, façade of the Tower of Jewels within wreath of palm fronds; MEDAL OF AWARD in garnished cartouche below. Edge: A few scattered marks, otherwise plain. Baxter 114; Marqusee 151. About Uncirculated. Silvering mostly intact, with some slight rub and darker hues on the higher points. $375.
Designed by the famous American sculptor John Flanagan (best known in U.S. numismatics as the designer of the Washington quarter), the Panama-Pacific medal was issued as an award for many products and exhibits on display at the expo. Just 2,000 of these were struck and issued in bronze by the U.S. mint, and are now often encountered with spotting, scuffs, and other blemishes. Fewer were silvered as this one, meant to serve as the "silver" prize at the expo. The elegant design features personifications of the two oceans meeting, with the Panama Canal being at their middle. The expo itself was styled as a celebration of the completion of the canal (its first use was just six months before the opening of the expo), but in a wider sense, the fair gave the world a chance to see the recovery of host city San Francisco following the devastation of the 1906 earthquake.
To read the complete item description, see:
102310 | UNITED STATES. Panama-Pacific Int'l Expo silvered bronze Award Medal. (https://www.numismagram.com/product-page/102310)
102262 | UNITED STATES & SWEDEN. 300th Anniversary of the Founding of New Sweden along the Delaware River silver Medal. Issued 1937 (56mm, 73.68 g, 12h). By Sv. Nilsson; struck by Sporrong & Co. CALMARE NYCKEL, ship (Kalmar Nyckel) under sail left upon the waters; below, two inward facing dolphins / + IN • MEMORIAM • NOVÆ • SVECIÆ • A • D • MDCXXXVIII • CONDITÆ • POST • TRIA • SÆCVLA • REVOCATAM, highly detailed and decorative map of New Sweden along the Delaware River, with trees, stags, colonists, Native Americans, forts, and a ship; crowned cartouche inscribed NOVA SVECIA to lower right. Edge: SPORRONG. Cf. Rulau Q4 (for the bronze issue). Choice Mint State. Deep pewter-gray surfaces, with a slightly antiqued nature. An extremely interesting colonial American commemorative, with numerous locations referenced, such as Philadelphia, Ft. Nassau, North Wasa, Lapland, Ft. Christina, Ft. Casimir, and Ft. Elfsborg. Very rare in silver, with this being just the third such example observed by this cataloger. $895.
Established during the Thirty Years' War, the colony of New Sweden along the Delaware River lasted for nearly two decades and served as a Scandinavian outpost in colonial America. Encompassing what is now modern-day Southeast Pennsylvania, Southwest New Jersey, and Northern Delaware, numerous locales convey this Swedish history, such as Fort Christina, Fort Casimir, and Swedesboro.
To read the complete item description, see:
102262 | UNITED STATES & SWEDEN. 300th Ann'y of New Sweden silver Medal. (https://www.numismagram.com/product-page/102262)
World Currency Sale 39 Session 1
Live bidding on
Thursday, February 23, 2023 at 10:00 AM PST
World Currency Sale 39 Session 2 (Timed)
Bidding ends on
Sunday, February 26, 2023 at 3:00 PM PST
World Banknote Auctions has now launched World Currency Sale 39 at www.worldbanknoteauctions.com. World Currency Sale 39 takes place on February 23, 2023, with live bidding that day at 1 PM Eastern / 10 AM Pacific. Please note that World Currency Sale 39 is divided in two parts, each selling on a different day. The first live session with 573 lots takes place on February 23rd at 10 AM PST. The second session with 636 lots closes on February 26th at 3 PM PST (special bidding rules apply for the timed sale, please see our website for details). Our bidding platform can be accessed directly by going to bid.worldbanknoteauctions.com or through our mobile apps.
World Banknote Auctions will host sales with live internet bidding multiple times each month. Bidding for all items starts at just $10 and there is a buyer's premium of just 15% (with a minimum of $10 per lot), 25% less than the industry average. Shipping rates are flat for most items, with shipping within the United States for just $15 and overseas shipping at $30.
Lot 28: Bahamas 5 Pounds
Bahamas ND (1953) P-16c PMG Gem UNC 65 EPQ 5 Pounds
Wonderful Gem Uncirculated example from the Bahamas, seen here with the third signature combination but still with the A/1 prefix, which should give an indication just how few of this denomination were printed. This note represented a fairly large sum of money at the time of issue (it was the highest denomination in circulation at the time) so not only would this type have seen limited use for day-to-day transactions, it also meant that few contemporary collectors could afford to put one of these away when it was new. Vibrant colors, strong originality and above average examples are noteworthy aspects of this example, and there is nothing negative worth mentioning. An important opportunity for the Caribbean specialist not to be missed.
To read the complete lot description, see:
Bahamas ND (1953) P-16c PMG Gem UNC 65 EPQ 5 Pounds (https://bid.worldbanknoteauctions.com/lots/view/4-8SSNQ3/bahamas-nd-1953-p-16c-pmg-gem-unc-65-epq-5-pounds)
Lot 45: Belgium 1000 Francs
Belgium 1919 P-80 PMG About UNC 55 1000 Francs
A classic and extremely scarce type from Belgium that was first introduced in slightly modified form back in 1869. This is one of the last dates of the series (March 31st, 1919 is the last date reported) but it is seen here in absolutely fantastic condition for the type. A large format note printed on fairly thin and fragile paper, it is seldom seen above Fine. To find it in AU is nearly impossible until we saw this piece, which is fresh, has good color, is free of problems and displays beautifully. Stacquet - Van der Rest signature combination, 1,817,000 printed, and a major Belgian rarity not to be missed.
To read the complete lot description, see:
Belgium 1919 P-80 PMG About UNC 55 1000 Francs (https://bid.worldbanknoteauctions.com/lots/view/4-8SSNR1/belgium-1919-p-80-pmg-about-unc-55-1000-francs)
Lot 102: Bank of Nova Scotia 100 Dollars
Canada, Bank of Nova Scotia 2.1.1929 Ch. 550-28-40 PMG Choice Fine 15 100 Dollars
Rare Bank of Nova Scotia 1929 $100
The Bank of Nova Scotia was founded in the early 1830s by a group of businessmen in Halifax. Initially quite small, over time it grew to become one of the largest and most important of the Eastern provincial banks. It continues to exist today and is one of the more important global banking organizations.
While it issued banknotes early on in its existence, it wasn't until the later years of the 19th century that the bank's output reached a considerable level. As most Canadian Chartered notes they were printed in a large format, and the design of the 1929 $100 offered here traces its roots back to an 1899 issue, with later dates printed of the same design. The 1929 date is the final date of this issue, with five total dates known (two of which can be found in institutional collections only) and it has typed signatures of J.A. McLeod and S.J. Moore.
The Canadian Note Registry, Volume 1 gives an overview of the known examples of this rare high denomination. Ten notes are listed, of which one is in the National Currency Collection in Ottawa and another has not been seen since a 1958 CNA sale.
To read the complete lot description, see:
Canada, Bank of Nova Scotia 2.1.1929 Ch. 550-28-40 PMG Choice Fine 15 100 Dollars (https://bid.worldbanknoteauctions.com/lots/view/4-8SSNU7/canada-bank-of-nova-scotia-211929-ch-550-28-40-pmg-choice-fine-15-100-dollars)
Lot 126: China, People's Republic 50 Yuan
China, People's Republic 1949 P-829b PMG Gem UNC 65 EPQ 50 Yuan
Gem Uncirculated notes from the first series of the People's Republic of China banknotes are highly sought after by advanced collectors. Original Gems are rare due to low print quality and heavy circulation, making this example even more exceptional. The note is as fresh and vibrant as it was when printed, with original paper and impressive eye-appeal. Despite a few finer pieces, it is rare to find notes at this grade or higher for sale, making this an important opportunity for Chinese specialists.
To read the complete lot description, see:
China, People's Republic 1949 P-829b PMG Gem UNC 65 EPQ 50 Yuan (https://bid.worldbanknoteauctions.com/lots/view/4-8SSNVJ/china-peoples-republic-1949-p-829b-pmg-gem-unc-65-epq-50-yuan)
Lot 161: Cyprus 5 Pounds
Cyprus 1.3.1960 P-36a PMG About UNC 53 5 Pounds
Iconic 1960 5 Pounds from Cyprus
A scarce type in better grades, this is the highest denomination from a fairly short-lived Cypriot series with the portrait of Queen Elizabeth, which circulated prior to the country achieving its independence from Great Britain. What makes this particular example particularly rare is that it is an example with the very last date of issue, dated mere months before the country became independent in August of 1960.
Even though 250,000 notes with this date were printed, it is believed that none were issued for circulation and virtually the entire print run was destroyed. A small group (ten pieces perhaps) was put aside by the commissioner of currency (Christakis Stephani) as a memento. Needless the say, any example of this extremely rare date is seldom encountered, and it is one of the key pieces in a 20th century Cypriot collection.
To read the complete lot description, see:
Cyprus 1.3.1960 P-36a PMG About UNC 53 5 Pounds (https://bid.worldbanknoteauctions.com/lots/view/4-8SSNXH/cyprus-131960-p-36a-pmg-about-unc-53-5-pounds)
Lot 216: Finland 1000 Markkaa
Finland 1918 P-41 PMG Choice UNC 64 EPQ 1000 Markkaa
A fantastic high denomination type from Finland, seen here in original choice uncirculated condition. The paper is original and the eye-appeal is remarkable, with vivid colors and crisp details. Not often encountered in higher grades, this is the first example we have offered of this type, and it would make for a welcome addition to a collection of high denomination types from Europe. Except for some trivial handling that is only revealed upon close inspection this note faces up like a Gem.
To read the complete lot description, see:
Finland 1918 P-41 PMG Choice UNC 64 EPQ 1000 Markkaa (https://bid.worldbanknoteauctions.com/lots/view/4-8SSO0J/finland-1918-p-41-pmg-choice-unc-64-epq-1000-markkaa)
Lot 292: Iraq 1 Dinar
Iraq 1931 (ND 1941) P-15 PMG Choice Very Fine 35 1 Dinar
E/7 prefix. An iconic India print 1 Dinar, presented here in pleasing circulated condition, free of problems. Similar in design to the regular issues by Bradbury & Wilkinson & Co, it was printed by the Nasik Security Printing Press in India during World War II, when European shipping routes were disrupted. Although the design was copied from the original plates in England, it has a distinct appearance due to different printing methods. India print notes for Iraq are limited to lower denominations, with this 1 Dinar being the highest denomination printed in India during the War. The supply of higher denominations was sufficient for Iraq's everyday commerce during the War, making all denominations scarce. The 1/2 Dinar is a major rarity, and the 1/4 Dinar and 1 Dinar are scarce in problem-free circulated grades. This particular note is one of the finest we have seen and entirely problem-free, making it a valuable addition to any advanced Iraqi collection
To read the complete lot description, see:
Iraq 1931 (ND 1941) P-15 PMG Choice Very Fine 35 1 Dinar (https://bid.worldbanknoteauctions.com/lots/view/4-8SSO4R/iraq-1931-nd-1941-p-15-pmg-choice-very-fine-35-1-dinar)
Lot 342: Lebanon 1 Livre
Lebanon 1945 P-48 PMG Gem UNC 66 EPQ 1 Livre
The single finest example of this important type from Lebanon. Printed in the French style with lovely pastel colors, it should not come as a surprise that the eye-appeal of this example is excellent. Despite it being a relatively low denomination, it is very scarce in the best of grades, and any uncirculated example is a rarity. With this particular example sitting alone at the top of the population report we expect spirited bidding from Middle Eastern and French Colonial collectors alike.
To read the complete lot description, see:
Lebanon 1945 P-48 PMG Gem UNC 66 EPQ 1 Livre (https://bid.worldbanknoteauctions.com/lots/view/4-8SSO7J/lebanon-1945-p-48-pmg-gem-unc-66-epq-1-livre)
Lot 515: Sweden 10,000 Kronor
Sweden 1958 P-49 PMG About UNC 53 EPQ 10,000 Kronor
The circulating Swedish currency in the 1950s consisted of banknotes ranging from 5 Kronor to 1,000 Kronor, plus a limited number of 10,000 Kronor banknotes, mostly reserved for interbank and unusually high value transactions. Its enormous face value was made evident by the large size of the note, which also meant that most were folded mere seconds after being put in circulation. While this particular example does show some folds it has retained its full originality, and the eye-appeal is excellent. The folds barely go through the main design elements, and the overall eye-appeal is exceptional. By far the nicest example of this type we have handled and a welcome addition to any advanced Scandinavian collection.
To read the complete lot description, see:
Sweden 1958 P-49 PMG About UNC 53 EPQ 10,000 Kronor (https://bid.worldbanknoteauctions.com/lots/view/4-8SSOH7/sweden-1958-p-49-pmg-about-unc-53-epq-10-000-kronor)
Lot 569: Western Samoa Five Pounds
Western Samoa 10.12.1958 P-9Ac PMG Very Fine 20 5 Pounds
A fantastic rarity from Western Samoa and one of the key notes for the entire Pacific Island region. The 5 Pound from Western Samoa, in its various iterations, has always been considered a classic rarity in world banknotes. Seldom offered for sale in any grade, the only example of this type that is sometimes encountered is Pick-12, which is this design overprinted "Bank of Western Samoa" in red. When we say "sometimes encountered" that's a comment to be applied loosely, as we can exactly count two sales at public auction in the past decade.
This is one of the later dates of this design, which was first introduced back in the early 1920s, and was printed by Bradbury, Wilkinson & Co in Great Britain. Samoa was under New Zealand rule starting in 1914, but even with the administration located relatively close by, the Polynesian islands that make up the nation are in a far flung corner of the world. Needless to say, 5 Pounds was a tremendous sum of money at the time, and the issuance of this type was extremely limited
To read the complete lot description, see:
Western Samoa 10.12.1958 P-9Ac PMG Very Fine 20 5 Pounds (https://bid.worldbanknoteauctions.com/lots/view/4-8SSOK7/western-samoa-10121958-p-9ac-pmg-very-fine-20-5-pounds)
Lot 52: Iron Chest to Store the Monies of the Colony of Connecticut
May, 1771-Dated Colonial Period, Manuscript Document True Copy Period Receipt, Colony of Connecticut, ... that the monies of the colony in the custody of the treasurer be kept therein..., (Colonial Currency), Choice Extremely Fine.
Handwritten Receipt on the Colony of Connecticut for its Treasury, dated May 1771, written in bold rich brown ink on fine quality period laid paper measuring 7.5 x 5. This unique period Colonial Currency Treasury related Document reads, in part:
At a General Assembly of the Governor and company of the Colony of Connecticut holden at Hartford on the second Thursday of May, 1771. Resolved by this Assembly that the treasurer of this Colony be and he is hereby directed to purchase an iron chest of a suitable size at the cost and for the use of this colony and that the monies of the colony in the custody of the treasurer be kept therein. - A true copy of record examined by George Wyllys Secretary.
The reverse side shows cost and shipping information, reading: John Lawrence Treasurer to Thomas Hopkins. 1771 October to 1 Iron Chest (with measurements), carting on board ye vessell, to my commissaries. Hartford 24th October 1771 Received of Treasurer Lawrence Eleven Pounds Sixteen Shillings and Seven Pence Half Penny Lawful Money in Full of the Above Account. -- (Signed) Thomas Hopkins. Paid Captain William Bull for ye freight from new York and paid Mr. Ebenezer Barnard for carting from waterside. -- No. 585 Act of Assembly to Purchase and Iron Chest May 1771 Audited May 1772 for Trumbull (Gov.(ernor) Jonathan Trumbull)
It also shows the money that will be used to pay in York Money (New York Currency). A remarkable document recording the very money chest to the used by the Treasurer of the Colonial of Connecticut to store and protect its currency!
Minor wear from age and use. Overall clean with some folds from docketing.
To read the complete lot description, see:
Iron Chest to Store the Monies of the Colony of Connecticut for the Treasury Manuscript Payment Receip (https://www.earlyamerican.com/Auctions/ClientPages/lots.item.php?auction=2&lot=52)
Lot 55: Dutch Church of Upper Canajohary One Penny Note
New York, February 4, 1793, Church-Money Note, Reformed Dutch Church of Upper Canajohary, One Penny, Small Change Private Issue Note, Signed Jacob Maskell, PMG graded Very Fine-25.
A choice Reformed Dutch Church of Upper Canajohary One Penny note, rarely encountered, lacking in most all Colonial Currency paper money collections. Fully Signed Jacob Maskell, this Church-Money note is boldly printed and attractive. This note appears finer in quality to the (2008) 5th Edition Eric Newman The Early Paper Money of America One Penny, shown illustrated on page 308, yet not valued in any grade due to its rarity. Printed by C.R. and G. Webster, Albany its design has extensive typeset text with ornamental border designs on both sides. Boldly signed Jacob Maskell as Treasurer. Holder notes repaired (no repair is seen by this cataloger), likely the PMG grader was confused with tone seen along the right quarter. We have previously sold a similar note on this issue in our EAHA Auction of November 10, 2007 Lot 767, a Two Pence graded About EF, which sold for $1,062.
To read the complete lot description, see:
1793 New York Dutch Church of Upper Canajohary One Penny Private Issued Note PMG graded Very Fine-25 (https://www.earlyamerican.com/Auctions/ClientPages/lots.item.php?auction=2&lot=55)
Lot 171: Buhl One Cent Encased Postage Stamp
EP-8, HB-67, S-38, Reed-BU01, One Cent, F. BUHL & CO., Dealer In Hats & Furs, Detroit, Choice Extremely Fine.
Rated as Rarity-8 (5 to 10 known) according to Fred Reed. A very lovely high quality example of this scarce merchant type. The 1 blue Benjamin Franklin 1861 U.S. Postage issue stamp is fresh and bright, nice and bold in its original color, very well centered with just a small nip out of the paper left of ONE. The mica is clear and unbroken with some faint hairlines from circulation. The natural chestnut-brown case is clean and choice, displaying sharp distinct legends highlighted by traces of luster. One of the nicest examples of this popular merchant we have offered. Previous examples we sold include our EAHA Auction of August 27, 2005 Ex: Dr. Gratz Collection Lot 831, graded Choice EF which sold at $5,605; this currently offered EP-8 was previously sold in our EAHA Auction of October 24, 2014 as Lot 503, where is brought $4,130 nearly a decade ago. More recently, Encased Postage Stamp rarities have been bringing new record results at auction. This example should be noticed.
To read the complete lot description, see:
Rarity-8 F. BUHL & CO. Dealer In Hats & Furs, Detroit One Cent with Five to Ten Known According to Fred Reed (https://www.earlyamerican.com/Auctions/ClientPages/lots.item.php?auction=2&lot=171)
Lot 174: White The Hatter One Cent Encased Postage Stamp br/> EP-30, HB-234, S-178, Reed-WH01. One Cent, WHITE THE HATTER, New York, "Under Barnum's Museum." Rarity-7 (11 to 15 known), with Original Silvering, Choice About Uncirculated.
Rarity-7 (11 to 15 known) according to Fred Reed. This White the Hatter is a highly popular merchant rarity and is a Key merchant type towards completing a complete 34 Encased Postage Stamp merchant Set. This high quality example has a Civil War 1861 U.S. Postage issue deep bright blue Benjamin Franklin stamp that is well centered yet tilted at an angle when inserted into its case, as made. The crystal clear mica displays the stamp very well. The reverse case legends remain exceedingly sharp, completely defect-free, highlighted with significant traces of original silvering attractively surrounding the central legends.
There were only two examples of EP-30 in the John J. Ford Collection Auction of June 2004, where both were graded Choice Extremely Fine and they sold for $3,738 and $3,450 respectively. A more pleasing example that EAHA offered was in our August 2005 Dr. Gratz Collection which was graded Choice Very Fine and brought $3,245. Here is an opportunity to acquire a bold looking topnotch example of the White The Hatter merchant type with silvery highlights.
To read the complete lot description, see:
Splendid One Cent White The Hatter New York a Rarity-7 (https://www.earlyamerican.com/Auctions/ClientPages/lots.item.php?auction=2&lot=174)
Lot 220: Anti-Slavery Hard Times Token
1838-Dated, Anti-Slavery Hard Times Token, Am I Not A Woman And A Sister Copper, Rulau 81, HT-81, Low-54, W-11-720a with a Sharp 1838, Lustrous About Uncirculated.
This historic Black History Anti-Slavery Token measures about 1 in diameter (23.3 mm). Its design is styled after Josiah Wedgewood's very popular Am I Not a Man and a Brother Anti-Slavery theme plaque, being a design which also appeared on some British tokens issued around 1795. This important Black History related token sought to bring attention to the plight of Slaves. In this instance focused particularly on the Black Women who were being held in bondage in many of the American Southern States.
The Obverse features a Black Woman Slave who is down upon one knee, her arms shackled, and is pleading for humanity. The reverse has Liberty 1838 within a wreath at center with the words: United States Of America surrounding. One of the sharpest and well centered examples we have offered. Some faint hairlines seen, possibly lightly cleaned long ago, the surfaces appearing near full lustrous red and far sharper in detail than most Anti-Slavery Hard Times tokens. This example has virtual fully struck sharp wire outer rims. Its red luster is brighter at the peripheries and even over the rest of its surfaces both face and back. The sharpness of the hair detail, chain shackles and 1838 date provide exceptional eye appeal.
Thousands of Josiah Wedgwood's 'Am I Not a Man and a Brother' Jasperware Cameos were incorporated into brooches, bracelets, earrings and hair ornaments, allowing the wearer to indicate sympathy with the Abolitionist cause. The 'kneeling slave' image was also rendered on a variety of other artefacts and was considered a very suitable subject for young girls to embroider on their samplers.
Only three years after the Anti-Slavery Society had agreed to change its agenda, the 1833 Anti-Slavery Act abolished Slavery within the British colonies. Although a period of apprenticeship was imposed on former Slaves before they could obtain freedom, a determined effort by the Abolitionists led, in 1838, to the early termination of this system.
A national Women's Petition on behalf of the apprentices addressed to the newly crowned Queen Victoria had carried the signatures of 7,000,000 women, a number described as 'unprecedented in the annals of petitioning'.
'Am I not a woman and a sister' reads the legend arching over the female figure of Justice as she reaches towards a kneeling black slave woman, who holds her chained hands up in supplication. In the 1830s this powerful emblem was used on printed matter and on artifacts associated with women-only, or 'ladies', Anti-Slavery associations. It very consciously echoed the motto, 'Am I Not a Man and a Brother', adopted in 1787 by the founders of the Society for the Abolition of the Slave Trade.
To read the complete lot description, see:
1838 Anti-Slavery Am I Not A Woman And A Sister Type (https://www.earlyamerican.com/Auctions/ClientPages/lots.item.php?auction=2&lot=220)
Lot 304: John Adams Indian Peace Medal
1797-Dated, John Adams Indian Peace Medal, Smallest & Rarest Size, 51.1 mm, Second Reverse Type, Struck at the United States Mint in Red-Bronze, Julian IP-1, NGC certified Mint State-64 Brown.
Julian IP-1. This historic John Adams Indian Peace medal has a beautiful natural reddish-brown color with hard satiny surfaces and fully sharp striking details. The original dies for this issue were cut by sculptors Moritz Furst and John Reich, though neither die was signed by them, the obverse is believed to be the only die made by Furst that he did not sign. This current example was struck by the United States Mint after 1878, using the replacement reverse die that is believed to have been made about that same time. It can be distinguished by the closer proximity of the pipe to the P of PEACE. A beautiful example of the Julian reference Indian Peace Medal #1, having very choice eye appeal and housed in its white NGC certification holder, ready to display.
To read the complete lot description, see:
Choice Certified John Adams Indian Peace Medal Julian IP-1 (https://www.earlyamerican.com/Auctions/ClientPages/lots.item.php?auction=2&lot=304)
Lot 312: Important 1779 Benjamin Franklin Metal Nini Plaque
"1779"-Dated Revolutionary War Period, Benjamin Franklin Portrait, High-Relief Plaque in Cast Brass Metal, 160 mm, Uniface, by Jean-Baptiste Nini, Signed in text Nini Twice, Exceedingly Rare 6.29 (160 mm) diameter, France, Choice About Uncirculated.
An exceedingly rare Bronze Plaque made by Jean-Baptiste Nini (Italian, Urbino 1717-1786 Chaumont-sur-Loire), Revolutionary War 1779 dated, measuring a large 6.29 (160 mm) diameter, with its original hanger attached at top reverse, as made in France in tribute to the popular American statesmen Benjamin Franklin. A somewhat similar design made in white stoneware and smaller in size is housed at the American Wing of the Metropolitan Museum (The Met) on 5th Avenue in New York City, gifted there in 1901.
There are multiple differences to the current example, as the date on this Bronze is in large Roman numerals, not a small 1779 and here, Nini's personal hallmark crest design is located under the bust of Franklin at right with his name in text within the metal below, plus a second faintly visible NINI also incuse in the metal below Franklin's bust at left. Other than some light friction rub to the highpoints, this Plaque would grade Choice Mint. It is sharp in detail with no bumps or bruises, having high sharp rims and outer surround. The color is a lovely natural rich chestnut-brown with all details and its text appearing sharp and distinct. We have only located one somewhat similar, yet different example in Bronze, smaller measuring 5.8 (149 mm), which does not have Nini's name on it anywhere, neither below the bust or near his hallmark design at left, and its rim designs are very different, than as on this currently offered Franklin Plaque.
Our consignor states this example came out of Europe. We wish to thank numismatic expert Alan Weinberg for his assistance in attribution, stating that he had never before encountered a similar example. Certainly, this a significant type most likely lacking in every collection, and vastly rarer than the standard Terra Cotta types. An important Nini type and an opportunity for Benjamin Franklin specialists.
To read the complete lot description, see:
Important 1779 Benjamin Franklin Metal Nini Plaque (https://www.earlyamerican.com/Auctions/ClientPages/lots.item.php?auction=2&lot=312)
ARCHIVES INTERNATIONAL AUCTIONS OFFERS HISTORIC U.S., CHINESE & WORLD BANKNOTE COLLECTION ON FEBRUARY 28, 2023.
The auction will be held by Archives International Auctions at their offices in River Edge, N.J.
The February 28, 2023, Auction by Archives International Auctions consists of 679 lots of rare and desirable U.S., Chinese & World Banknotes, Scripophily, Historic Financial Ephemera, and Security Printing Ephemera. The auction is highlighted by 92 lots of rare and desirable Chinese banknotes. Also included are over 230 Worldwide banknotes; Over 40 lot of historic U.S. Colonial fiscal documents, Obsolete Banknote, Depression Scrip and MPC; Historic and Security Printing Ephemera is well represented with 46 lots which are followed by 36 lots of U.S. Federal Bonds, Fiscal Documents, Checks, Drafts & Exchanges and American Bank Note Numismatic and Philatelic cards and related material. The auction concludes with 220 lots of U.S. and World Scripophily covering literally every major collecting area with numerous rarities and desirable pieces offered.
We are privileged to offer another exciting auction filled with numerous rare and desirable banknotes, historic ephemera and bonds and shares that are rarely seen at auction and include many examples we have never had the pleasure to offer previously, as well as many of the top graded notes for those issues, stated Dr. Robert Schwartz, President of Archives International Auctions. Included in our 83rd auction are hundreds of items that will appeal to every level of collector and dealer.
The auction begins with World Banknotes, from countries Afghanistan to Zambia, highlighted by 92 lots of Chinese banknotes and bonds, with all from an old-time collection being offered for the first time at auction. Some of the many Chinese banknote highlights include a spectacular International Banking Corporation, 1918, $100, Shanghai Branch Issue Proof rarity; a nearly complete specimen set of the 1920, Commercial Bank of China, Dollar Issues including color varieties of the $5 to $100 Denominations as well as a 1 Tael specimen, with 3 of the notes being the highest graded in the PMG census; Canada is highlighted by a Canada, New Castle District Loan Co., 1836, "Top Pop" $4, Issued Obsolete Banknote, this being the 2nd one ever offered at auction; Costa Rica is represented by 2 high denomination issued rarities, a 50 and 100 Colones, 1940 and 1942 issues, P-193 and P-194; Guatemala is highlighted by a Banco Colombiano, 1900, 1 Peso, high grade example, rarely seen this nice; a pair of Republic of Ireland, ca.1860s $10, highest graded Fenian Brotherhood banknotes engraved by Continental Bank Note Company are included; an amazing Banque Centrale Du Mali, ca.1970-84 high grade 10,000 Francs example is offered and is expected to attract considerable attention; a 1938, Netherlands Indies, Javasche Bank, 50 Gulden is offered and rarely seen in this high of grade for the issue; Also included are hundreds of rare and desirable banknotes with many interesting lots from an old-time dealer's stock as well as numerous items from old estate collections and consignments.
The U.S. Banknote, Fiscal Document and Historic Ephemera section begins with a 1760, New Jersey and Pennsylvania Yearly Committee Meeting Minutes Abstract mentioning the Freeing of Slaves and is an extremely early example the exhibits how Slavery was an issue, even 100 years before the Civil War began. Revolutionary war Fiscal documents and Continental Currency are included followed by 26 lots of U.S. Obsolete currency and early Advertising notes highlighted by a ca.1860s ad note from Varieties Theatre, New Orleans to see the play Under the Gaslight. A ca.1850s Advertising Note from P.M. Statzell, Philadelphia, is one of many interesting and rarely see, obsolete advertising notes from that era offered in the auction. An interesting New Orleans, Lawsuit exhibit from 1838 to 1841 that includes 19 pages threaded by string with extensive notes is included in the auction. Each page represents the serving of a lawsuit to the person being sued and was sent by mail to that person in Natchez, Mississippi from New Orlean, Louisiana, all being stampless covers, mainly with blue New Orleans, circular dated handstamps.
An interesting group of New York and Washington political letters and documents are offered and includes a signed letter by Hillary Rodham Clinton dated 2007; 3 letters signed by Governor Edmund Muskie from 1958; and 1810 Military appointment by New York Governor Daniel D. Tompkins, who was also Vice President under James Madison; and many other interesting political related letters and autographs. A previously unlisted U.S. Government, 1895, $100, 4% Loan, Specimen Bond issued for England is included in the auction and this is possibly the first time it has been seen and deserves further research. Historic autographs on Bonds and Shares include an 1882, Standard Oil Trust stock certificate, signed by J.D. Rockefeller as well as 2 of his well know colleagues and partners; an 1880, MK&T stock certificate signed by the Robber Baron, Jay Gould; an 1869, Narragansett Steamship Co., bond that is signed by Civil War General Ambrose Burnside as president;, an 1882, Maysville and Big Sandy Stock certificate is signed by Civil War General John Echols as well as many other documents signed by historic and notable figures.
Some of the many scripophily highlights in the auction include issued and specimen stocks and bonds from numerous well-known banking, finance and tech companies such as an Apple, 1996
Specimen coupon bond rarity; a 2005, Lehman Brothers Holdings as well as a related company, Shearson Lehman Hutton Holdings, Inc. bond, for $20 Million Dollars; the International Securities Exchange ISE specimen and now part of NASDAQ; a Berkshire Hathaway Class B Specimen Stock Certificate; a historic and very early, 1818, Bank of the United States of America, Issued and uncancelled stock certificate and many other historic finance related companies. Other well-known and modern rarities include a Dot Com era, Walt Disney Company GO.com Specimen stock certificate; a politically incorrect ca.1960s, Atlanta Braves specimen stock certificate; a wonderful American Museum of Natural History Planetarium Authority Specimen Bond from 1934, with this being the last available of 2 discovered in the ABN archives in 2002; and, many other well-known and iconic companies such as eBay, Atari, Yahoo, HP and many more too numerous to mention.
World scripophily includes bonds and shares from Australia, Belgium, Canada, Chile, Mexico, Panama, France, the U.K., and many more countries. U.S. scripophily is highlighted by Mining, Railroads, Shipping, State & City, and other interesting and desirable topics. Previews will be limited and by appointment only and we will be observing strict safety precautions including the wearing of masks and observing social distancing to protect our team as well as our guests. We will do our best to accommodate anyone who desires additional information and photographs. For questions, please call 201-944-4800 or email info@archivesinternational.com.
The online catalog for the Tuesday, February 28th, 2023 auction is on Archives International Auctions' website and can be viewed via the Archives International live bidding platform. It can also be viewed as an Auction 83 Virtual Catalog or downloadable Auction 83.pdf, both formats with Live Links on the website. To pre-register for Live Internet Bidding, log on to the Archives International Auctions website, at www.ArchivesInternational.com.
Archives International is now working on their late Winter and Spring 2023 auctions and are seeking quality consignments for future auctions or outright purchase including U.S. and worldwide banknotes, coins, stocks, bonds, stamps, postal history, historic ephemera, and autographs. To sell or consign one piece or an entire collection, please call AIA at (201) 944- 4800; or email them at info@archivesinternational.com. You can also view AIA's weekly eBay Auctions at their eBay ID ArchivesOnline.
You may also write to Archives International Auctions, at 1060 Main Street, River Edge, NJ 07661, U.S.A. To learn more about Archives International Auctions and the auctions planned for February 28 th , 2023 auction, log on to www.ArchivesInternational.com.
Our Greek and Roman offerings are anchored by the Patrick Zabel collection, alongside several exceptional consignments, many of which were acquired by the consignors 20 years ago or more. In the Greek section take note of small but beautiful groups of Punic-related issues, Larissa, Sicily, Athens (plus imitative issues), and others.
The Roman section includes a diverse offering of Roman Republican coinage, along with Roman Imperial pieces chosen for their rarity, fine style, and exceptional condition. We have had the opportunity to choose the finest pieces from several carefully assembled collections, and they are on offer here.
To browse Davissons Auction 42, see:
https://davcoin.com/sale/Printed%20Auction%2042?utm_source=esylum&utm_medium=email&utm_campaign=a42_1
To read the earlier E-Sylum article, see:
DAVISSONS AUCTION 42 PREVIEW (https://www.coinbooks.org/v26/esylum_v26n07a20.html)
Eleven Special Collections at Künker's Spring Auction Sales
As many as eleven special collections will be sold by Künker from 16 to 24 March 2023, including ancient and modern gold coins from the Wolf Collection, denarii of the Roman Republic from the Bauss Collection, Salzburg coins and medals from the Schedel Collection, bracteates from the Fleige Collection, Mainz coins from the Memmesheimer and Beaury Collections, and many more.
Eleven extensive special collections will be sold by the Osnabrück auction house Künker in its Spring Auction Sales from 16 to 24 March 2023. The selection ranges from ancient coins to German patterns of the 20th century.
The auction week starts with auction 382. It contains ancient issues, including numerous Greek works of art with provenances that go far back, as well as denarii of the Roman Republic from the Bauss Collection. This is followed by auction 383 with the Wolf Collection of excellent gold coins from ancient times to the 19th century; the focal point is on Roman aurei and solidi as well as on rare issues from Bavaria and Saxony, Great Britain and Italy, including many multiple gold coins. Auction 384 offers the Schedel Collection of coins from the city of Salzburg; here too collectors will find a wealth of spectacular multiple-ducat and multiple-taler issues, which were once used as diplomatic gifts. Next is catalog 385 with the Bader Collection of coins, medals and orders on the subjects of Absolutism, Enlightenment and the French Revolution. Catalog 386 combines several special collections. It starts with the Peter Fleige Collection of exquisite bracteates. This is followed by the Memmesheimer and Beaury Collections of coins and medals from Mainz. The general catalog covers further collections such as the special collection Cygnus in Nummis (swans in numismatics), the Schuckmann Collection of coins and medals of Napoleon and his time, as well as a special collection on Brunswick and Lüneburg. Lovers of US coinage will find a small collection of Morgan Dollars, before the Coenen Collection with numerous patters will be on offer in the section of German coins issued after 1871. Thus, you can once again expect a colorful and exciting auction week, which clearly shows how much trust collectors place in the Künker auction house.
Catalog 382: Coins from the Ancient World
Are you excited about Greek coins of excellent quality and outstanding provenance? In this case, you should not miss out on auction 382 on Thursday, 16 March! It offers a wealth of Greek coins whose provenances date back to the first half of the 20th century. Here are just some of the great names that were among the previous owners of these coins: Sir Arthur Evans, Robert Jameson, Richard Cyrill Lockett, Hyman Montagu, Henri de Nanteuil, Theodor Prowe and Sir Hermann Weber.
There are also many rarities among the denarii of the Roman Republic and the imperatorial period, most of which come from the Fritzotto Bauss Collection.
There is something for everyone in the section of Roman coins from the Roman Imperial Period. The offer ranges from unassuming bronze coins estimated at a few euros to the rare aurei of Commodus, Septimius Severus and even Postumus.
No. 27: Caulonia (Bruttium). Stater, 525-500. From the Dr. Rousset Collection, Bourgey auction (1908), No. 40 and the Barrachin Collection, Florange / Ciani auction (1924), No. 158 as well as Hess auction 254 (1983), No. 50. Extremely fine. Estimate: 8,000 euros
No. 108: Delphoi. Trihemiobol, middle of the 4th century BC. From the H. Nanteuil Collection (1925), No. 883. Probably the piece of the highest quality of this rare issue. Extremely fine. Estimate: 30,000 euros
No. 118: Corinth. Stater, 555-515. Very rare. Very fine +. Estimate: 10,000 euros
No. 283: Roman Republic. Faustus Cornelius Sulla. Denarius, 56. From the Fritzotto Bauss Collection. Very rare. About extremely fine / Extremely fine. Estimate: 1,250 euros
No. 284: Roman Republic. Faustus Cornelius Sulla. Denarius, 56. From the Ernst Justus Haeberlin Collection, Cahn / Hess auction (1933), No. 2200, and the Dr. August Voirol Collection, Münzen und Medaillen AG auction 38 (1968), No. 198. Very rare. Very fine +. Estimate: 2,000 euros
No. 405: Domitianus, 81-96. Aureus, 82/83. Very rare, especially in this quality. Extremely fine to FDC. Estimate: 40,000 euros
No. 520: Postumus, 260-268. Aureus, 263/4, Cologne. Very rare. Very fine to extremely fine. Estimate: 50,000 euros
No. 522: Regalianus, 260. Antoninianus, Carnuntum. Very rare. Traces of overstriking, very fine + / very fine. Estimate: 7,500 euros
Catalog 383: The Roger Wolf Collection – Classica et Patria
Catalog 383 contains a collection of a kind that one only gets to see on rare occasions. The lawyer, banker and entrepreneur Roger Wolf (1949-2022) loved gold coins, and he had a well though-out concept for his collection. Although he lived abroad, his family was originally from Germany, Saxony to be precise. After the Second World War, they fled to Munich, where young Roger Wolf grew up. Therefore, we can find extensive runs of Bavarian and Saxon coins in his collection, including many impressive multiple gold coins.
Roger Wolf's true passion was the Roman Imperial Period. He wanted to own one gold coin each of perfect quality from every emperor. After some time, the collector realized that he would have to wait too long before potential pieces for his collection might come on the market. Therefore, he diversified his collecting interests: first to include coins from ancient Greece, then coins from Great Britain and Italy.
But no matter what coin he bought, he always focused on two aspects. We do not need to talk about the grade of his pieces – every item is of outstanding quality. In addition, Roger Wolf attached great importance to an excellent provenance right from the beginning. He loved to be able to trace back the existence of his pieces on the coin market as far as possible. Therefore, connoisseurs will not only discover excellent rarities in this collection but excellent rarities with impressive provenances that reach far back.
To emphasize this fact, Künker included the picture of the respective piece's first appearance in the coin trade in this catalog – if possible. This enables collectors to easily check the provenance of the coin even if they do not own an extensive library.
No. 2025: Panticapaeum (Scythia). Stater, 380-370. Hoover 17 (this specimen). MacDonald 31 (this specimen). From Leu auction 50 (1990), No. 80. Very rare. Very fine +. Estimate: 30,000 euros
No. 2110: Uranius Antoninus, 253-254. Aureus, Emesa. Calicó 3397 (this specimen). RPC 1945.2 (this specimen). First photographed in 1937 by Henry Seyrig. Extremely rare. Extremely fine. Estimate: 40,000 euros
No. 2121: Julian of Pannonia, 284-285. Aureus, Siscia. Calicó 4416 (this specimen). From NFA auction XIV (1984), No. 542. Extremely rare. Extremely fine. Estimate: 50,000 euros
No. 2209: Great Britain. George IV, 1820-1830. 2 pounds 1823, London. Only 150 specimens minted. Extremely fine, Proof. NGC PF 60. Estimate: 25,000 euros
No. 2223: Sardinia. Victor Amadeus III, 1773-1796. Carlino da 5 doppie 1786, Turin. Very rare. Extremely fine. NGC AU 53. Estimate: 15,000 euros
No. 2321: Bavaria. Maximilian II, 1848-1864. Ducat 1855, later issue to commemorate the yield of Goldkronach. Divo / p. 36 (this specimen). Extremely rare. Extremely fine to FDC. Estimate: 40,000 euros
No. 2363: Saxony. Frederick Augustus I, 1694-1733. 4 ducats 1696, Dresden. Extremely rare. Extremely fine to FDC. NGC MS 63. Estimate: 50,000 euros
Catalog 384: Coins, Medals and Tokens of Salzburg – The Professor Dr. Franz Schedel Collection
Together with Mages GmbH, the Künker auction house will offer what is probably one of the most important collections of Salzburg coins and medals that have come onto the market in recent years. It was compiled by the surgeon Professor Dr. Franz Schedel, who had a lasting influence on the medical care of many people in the Munich and Passau area. Under his leadership, the small hospital in Passau became the Klinikum Passau, which is now the most important specialized hospital in Lower Bavaria. In 1960, Prof. Schedel also founded his family-led sanatorium, one of the largest oncological rehabilitation facilities in Bavaria. In order to unwind from his demanding work, Prof. Schedel collected coins and medals of the Archbishopric of Salzburg, whose history and coinage he studied throughout his life.
Therefore, the Schedel Collection was assembled with great knowledge and abundant resources. It is a unique ensemble that combines an impressive number of multiple gold and silver coins of the kind that the rich Salzburg bishops had produced for diplomatic purposes and to be used as gifts. However, like any truly great collection, the Schedel Collection contains not only high-priced coins but also small, inconspicuous pfennigs, which were used by ordinary citizens on a daily basis. Therefore, estimates range from 75 euros to 75,000 euros. In other words: everyone, really everyone, who is interested in Salzburg should take a close look at this extensive collection. The accompanying catalog with the biographies of all bishops of Salzburg will certainly become a new standard work.
No. 2522: Salzburg. Matthäus Lang von Wellenburg, 1519-1540. 4 ducats 1522. Very rare. NGC MS63. Extremely fine to FDC. Estimate: 30,000 euros
No. 2667: Salzburg. Wolf Dietrich von Raitenau, 1587-1612. 10 ducats 1594, tower issue (Turmprägung). From Helbing auction 60 (1930), No. 853. Very rare. Extremely fine. Estimate: 30,000 euros
No. 2671: Salzburg. Wolf Dietrich von Raitenau, 1587-1612. 10 ducats 1587. Extremely rare. NGC AU58. Extremely fine. Estimate: 40,000 euros
No. 2807: Salzburg. Paris von Lodron, 1619-1653. Sixfold reichstalerklippe, 1628, commemorating the inauguration of the cathedral. From Partin auction 33 (1991), No. 1234a. Very rare. Very fine. Estimate: 15,000 euros
No. 2854: Salzburg. Guidobald von Thun und Hohenstein, 1654-1668. 15 ducats 1654, commemorating the erection of the salvator sculpture on the pediment of the cathedral's façade in 1654. Purchased in 1984 from Partin Bank, Bad Mergentheim. Extremely rare. 2 x incised face value XV on the reverse. Extremely fine. Estimate: 50,000 euros
To order a catalog contact Künker, Nobbenburger Straße 4a, 49076 Osnabrück; phone: +49 541 / 962020; fax: +49 541 / 9620222; or via e-mail: service@kuenker.de. You can access the auction catalogs online at www.kuenker.de. If you want to submit your bid from your computer at home, please remember to register for this service in good time.
1688 Achbishop Sancroft and the Seven Bishops Medal
Archbishop William Sancroft (1617-1693) and the Seven Bishops, 1688, struck silver medal by George Bower, bust of Sancroft right, wearing a cap and clerically robed, GVIL. SANCROFT ARCHIEPISC CANTVAR 1688, rev. medallic portraits and the names of the Bishop of London and the six other imprisoned bishops, edge: SI FRACTUS ILLABATUR ORBIS IMPAUIDOS FERIENT RUIN Æ, 50mm (Eimer 288a; MI i 622/37). Good very fine, rare.
The Bishops depicted on the medal's reverse are Henry Compton [London] shown in the centre, and from the top right clockwise, Francis Turner [Ely], Thomas Ken [Bath], John Trelawney [Bristol], Thomas White [Peterborough], John Lake [Chichester] and William Lloyd [St Asaph].
To read the complete item description, see:
Achbishop Sancroft and the Seven Bishops, 1688. (https://www.sovr.co.uk/products/achbishop-sancroft-and-the-seven-bishops-1688-hm29250)
1784 George III Gold Guinea
George III (1760-1820), gold Guinea, 1784, fourth laureate head right, GEORGIVS .III. DEI.GRATIA, rev. crowned quartered shield of arms, date either side of crown, upper crown band with extra peaked arc each side of fleur de lis, M.B.FE. ET. H. REX. F.D. B.ET. L. D. S. R. I. A. T ET. E., weight 8.40g (Schneider -; Bull EGC 705; MCE 388; Farey 1230; S.3728). Toned with some light surface marks, has been slabbed and graded by NGC as AU58, scarce variety.
NGC Certification 2130716-032.
The Latin legends translate to on obverse "George III by the Grace of God" continuing on the reverse in abbreviated Latin which if in shown in full reads "Magnae Britanniae Franciae et Hiberniae Rex Fidei Defensor Brun et Lunebergen-sis Dux, Sacri Romani Imperii Archi-Thesaurius et Elector" and translates as "King of Great Britain, France and Ireland, Defender of the Faith, Duke of Brunswick and Luneberg, High Treasurer and Elector of the Holy Roman Empire."
To read the complete item description, see:
George III 1784 Guinea fourth head, AU58, rose type shield reverse (https://www.sovr.co.uk/products/george-iii-1784-guinea-fourth-head-au58-rose-type-shield-reverse-gm28156)
1859 Mexico 1/4 Real
Type: Mexico
Date: 1859-Mo LR 1/4 Real KM-368
Service: NGC
Grade: MS62
Description: Certification Number: 310380-010
To read the complete item description, see:
https://www.northeastcoin.com/servlet/v?itemKey=zi29_1000279566
Off-center Guatemala Peso
1879-1889 (ND) Guatemala Peso Struck 25% Off Center NGC AU55 $2,950
An incredibly cool piece and apparently quite rare, according to our research. We feel the 25% designation is a little conservative, as it looks more off center than that.
To read the complete item description, see:
https://www.northeastcoin.com/featuredCoinDetail.jsp?FtrdCoinId=784
Egyptian Hair Coloring Advertising Note
New York, 1869. $100 Denomination Advertising note, black print with red seal, George Washington in middle, exotic scene on upper left with Sphinx palm trees and camel caravan, large red seal at right, attractive and scarce advertising note that promises "No Sediment, No Stains, No Poisons." S/N 15968, Fine-VF condition with close cut margins on left side.
To read the complete lot description, see:
Egyptian Hair Coloring, 1869, Obsolete U.S. Banknote Look-a-like Advertising Note. (https://auction.archivesinternational.com/Egyptian-Hair-Coloring-1869-Obsolete-U-S-Banknote-Look-a-like-Advertising-Note_i47878455)
Great Britain Experimental Banknote Specimen
Great Britain. Experimental banknote Specimen/Proof, 6.5 x 3.5 inches. One side features the colorful portrait of a man with allegorical women that appears to be litho printed; The other side has the portrait of an allegorical warrior woman with winged helmet and appears to be intaglio printed in gray-black, possibly depicting Britannia, AU condition. No printer imprint but possibly Bradbury or Waterlow.
To read the complete lot description, see:
Security Printer Experimental Banknote Specimen/Proof Trial, ca.1920-40 (https://auction.archivesinternational.com/Security-Printer-Experimental-Banknote-Specimen-Proof-Trial-ca-1920-40_i47878516)
ECUADOR – Recent Unofficial Issues
The issues listed below have recently been released. This is apparently a new commercial series. As shown below the obverse (tails) is the same for all of the issues. There are two versions; the 38 mm. silver color and the 26 mm. bi-metallic issue. Seemingly the complete series will be the exotic animals of Ecuador and based on the ten different that I have been able to secure they are being issued in alphabetical order.
The 26 mm. version is bi-metallic (zinc alloy & brass) and weighs about 7.8 grams. They come in a plain plastic bag but they appear to be first-strikes untouched by human hands. They are apparently from a private mint with reported mintage of 200 pieces for each animal.
The 38 mm. version weighs approximately 30 grams. They appear to be proof and come encapsulated. They are said to be copper but apparently plated so they appear to be silver. I have not seen any mintage figures for them.
I am assuming that the series could continue for some time as there are many exotic animals in Ecuador. Based on the scanty information that I have each of them was limited to 200 struck and I think the majority were pre-sold to some kind of subscriber base so I doubt if many will appear in the open market but time will tell.
None of these are listed in any of the Krause/Mishler publications as they appeared after the latest edition that I have.
Shown above is the common reverse with the 26mm
1000 SUCRES 2022 ECX710a. AGUILA HARPIA (Harpy Eagle). Bi-metallic, 26 mm.
1000 SUCRES 2022 ECX710b AGUILA HARPIA (Harpy Eagle). Design as previous but 38 mm.
1000 SUCRES 2022 ECX710e. ALBATROS DE GALAPAGOS (Galapagos Albatross). Bi-metallic, 26 mm.
1000 SUCRES 2022 ECX710f. ALBATROS DE GALAPAGOS (Galapagos Albatross). Said to be copper but distinctly silver color, 38 mm.
1000 SUCRES 2022 ECX710c. ARMADILLO GIGANTE (Giant Armadillo). Bi-metallic, 26 mm
1000 SUCRES 2022 ECX710d. ARMADILLO GIGANTE (Giant Armadillo).. Said to be copper but distinctly silver color, 38 mm. BU$43
1000 SUCRES 2022 ECX710g. COLIBRI PICOESPADA (Hummingbird). Bi-metallic, 26 mm.
1000 SUCRES 2022 ECX710h. COLIBRI PICOESPADA (Hummingbird). Design as previous. Said to be copper but distinctly silver color, 38 mm.
For the following I am not listing any of the 38 mm. as I have not seen them yet.
1000 SUCRES 2022 ECX710?. CONDOR ANDINO (Andean Condor). Bi-metallic, 26 mm.
1000 SUCRES 2022 ECX710? DELFIN ROSADO (Pink Dolphin) Bi-metallic, 26 mm.
1000 SUCRES 2022 ECX710? JAGUAR Bi-metallic, 26 mm.
1000 SUCRES 2022 ECX710? JAMBATO DE TRES CRUCES (Three Crosses Jambato). Bi-metallic, 26 mm.
1000 SUCRES 2022 ECX710? LOBO FINO DE GALAPAGOS (Galapagos Fur Seal). Bi-metallic, 26 mm
Dale adds:
For years, coins have featured a number of hidden images, much to the delight of those who love to search for them.
In good news for collectors, another surprise is on the way. The experts at Britannia CoiCompany, who buy and sell collectible coins, have spotted a hidden image in the new range of King Charles III coins being released to the UK.
On first glance, it is easy to miss the hidden design. But the pros believe 'you'll never un-see' the latest detail once it has been pointed out to you.
Look closely and you might be able to spot what appears to be a bird whispering into the King's ear - a move which could imply he is listening to the plight of nature.
Jon White, Director of Britannia Coin Company, said: "Once you've seen the bird on King Charles's ear, you'll zero-in on it every time you see one of his coins and I suspect you'll never un-see it.
"I have no idea if Martin Jennings, the artist, intended to include this hidden image. If he did, I think it's clever and fitting acknowledgement of His Majesty's passion for wildlife and that he's listening to the plights our natural world faces.
"These new coins already have collectors talking, thanks to the King's choice to be shown without a crown. Supposedly, he wanted to keep the design simple and without extra embellishment. Lots of these Charles III coins are already in circulation but they'll become more common as more are released, meaning everyone will get the chance to spot the secret bird detail for themselves."
To read the complete article, see:
Experts spot hidden image in new King Charles coins that you 'can't un-see' (https://www.mirror.co.uk/news/royals/experts-spot-hidden-image-new-29201053)
For over 10 years, I have attended the NYINC show every January without fail, with the lone exception of 2021, as there was no convention that year due to COVID-19. By attending this show, one really gets a sense for the strength of the numismatic market that year—how active buyers are, how dealers are faring, what material is hot and actively trading, and what inventory is sluggish and slow to move.
So how did this year's show fare? In short, the sense I got from dealers and buyers alike was that it was an all-around positive and successful convention, and more specifically, that the numismatic market remains strong, and in-person attendance is bouncing back. To be sure, the show was more bustling this year compared to the 2022 convention, at least from a visual assessment of the bourse floor on the days I was there (Friday, January 13 and Saturday, January 14) and the material on view at dealers' booths as well as in the auction rooms was plentiful and diverse, with offerings for many different budgets. A common thread was that finding enough coins of a certain caliber to present to buyers (at least at fixed prices) has remained difficult for dealers, owing to fewer large collections of high-quality material coming into the marketplace, but this has been the case for at least a few years now, and many buyers are well aware that certain types in particularly spectacular condition (rare or otherwise) are almost always destined for auctions first, although many hidden gems can still be found amongst dealer stock.
Two conversations in particular really stuck with me while speaking with fellow numismatic devotees. The first was with Caleb Noel, current Editor-in-Chief of The Numismatist published by the American Numismatic Association. While admiring a token recently struck by the ANA (and designed by ANS Life Fellow Alex Shagin), Caleb explained to me the current setup of their in-house minting operations, including their screw press, their process for obtaining new dies, and other interesting details. This really got my mind churning, as I've wanted to do something similar at the American Numismatic Society for some time now, and thanks for Caleb, I now have much more information to explore if a similar small-scale striking operation is something that we can make a reality at the ANS as well, as I believe this would be particularly instructive (and entertaining) for guests and visitors.
Obverse and reverse of the American Numismatic Association Money Museum's Medal In America token.
The second conversation was with Katie Bishop, owner of Principles GI Coffee House in the Gowanus neighborhood of Brooklyn. Katie became an ANS member at last year's NYINC show, and in that time, she not only dove deeper into the world of numismatics but opened the aforementioned coffee shop. As proprietor of a Brooklyn coffee shop myself, I was more than happy to talk at length (and also commiserate) about the journey that is small business ownership. But what really fascinated me was Katie's idea and implementation of both copper and silver merchant tokens advertising Principles GI Coffee House, which can also be redeemed for actual goods. These tokens were just one of several ideas Katie had come up with to bridge the seemingly disparate worlds of numismatics and coffee, and I can't wait to see what else she implements down the road.
Obverse and reverse of merchant tokens in copper and silver issued for Principles GI Coffee House. Images courtesy of Katie Bishop via Instagram (@principlesbk).
To read the complete article, see:
Highlights from the 2023 New York International Numismatic Convention (https://numismatics.org/pocketchange/nyinc23/)
[Maeterlinck, Mauritius]
Gold diploma and Nobel Prize in Literature medal.
December 10, 1911 .
Gold medal and hand-painted diploma, celebrating the Nobel Prize for Literature awarded to Maerterlinck in 1911.
The only Belgian Nobel Prize for Literature.
Maeterlinck is the second French-speaking writer to have been awarded the Nobel Prize for Literature, after Sully-Prudhomme in 1901. The only Belgian writer to have received the prize, he is one of sixteen French-speaking writers awarded the Nobel Prize, including Anatole France (1921), André Gide (1947), Albert Camus (1957), Jean-Paul Sartre (1964, who refused the prize), Jean-Marie Le Clézio (2008), Patrick Modiano (2014) and, last year, Annie Ernaux. In 1911, he was preferred by the Swedish jury to other candidates with prestigious names, such as Henry James (!), George Bernard Shaw, Thomas Hardy, Anatole France and Pierre Loti (R. Grutman, p. 7). Coincidentally, 1911 is also the year Marie Curie received her Nobel Prize for the discovery of radium.
Gold medal (206.98 gr, diameter 65 mm). Small bumps.
Medal designed by Swedish sculptor Erik Lindberg:
on the obverse profile of Alfred Nobel with his dates of birth and death, dated 1902;
on the reverse a poet seated under a laurel, writing under the gaze of the Muse, with the motto taken from the Aeneid "Inventas vitam iuvat excoluisse per artes" ("by inventing the arts, we embellish our life", Virgil, Aeneid , VI 663), and in a cartouche the name of the laureate and the year of obtaining the prize.
Painted and bound diploma (390 x 290 mm). Under midnight blue morocco shirt with mosaic decoration of red, ocher, yellow, green and brown morocco in a gilt frame, on the upper cover: scrolls, vegetable crown and royal crowns surrounding the initials "MM"; on the lower cover: volute and small rosettes surrounding a lyre with laurel branch ( G. Hedberg, Kungl. Hofeboke, Stockholm). On the inside, vellum with large decoration painted by Olle Hjortzberg: interlacing of branches and foliage on a starry sky background where birds with red and blue plumage nest, with the Swedish coat of arms and the motto of the Swedish Academy ("Snille och smack"); in the centre, a calligraphic text in brown and ocher ink, in Swedish, awarding the literature prize to Maeterlinck, with the autograph signatures of two academicians: the historian Harald Gabriel Hjärne and the writer Carl David af Wirsén, permanent secretary of the Swedish Academy (see below for the transcript).
The text inscribed in the central cartouches indicates that the Academy chose Maurice Maeterlinck at its meeting of November 27, 1911 because of the great diversity of his work, and particularly for his dramatic creations which are distinguished by a wealth of imagination and a poetics of the ideal, provoking deep emotion in the reader through an aura of mystery.
To read the complete lot description, see:
Gold diploma and Nobel Prize in Literature medal. (https://www.sothebys.com/en/buy/auction/2023/livres-et-manuscrits/medaille-en-or-et-diplome-de-prix-nobel-1911?locale=en)
OTIS KAYE'S COIN COLLECTION
Undated (1930) "Otis Kaye's Coin Collection" Painting. By Otis Kaye (1885-1974). Oil on Panel.
Approximately 9.5 inches x 6.5 inches. Professionally re-framed in a modern wood frame reminiscent of the middle to late 19th century styles. This is the only difference in the piece between our offerings of this impressive little work in our (Stack's) May 2008 sale, and our March 2020 sale of the D. Brent Pogue Collection. We are pleased to offer it once again in the present sale, described as in our previous presentations with minor edits:
Indeed, D. Brent Pogue took advantage of the opportunity to acquire this lovely painting in our 2008 sale, where he paid $74,750 in recognition of its beauty, rarity and artistic significance. While such works are not often seen in the realm of numismatic auctions, the particular subject matter and sentiments behind Kaye's artistic expressions make this an ideal accompaniment to another advanced collection.
Provenance: From our (Stack's) Minot Collection sale, May 2008, lot 3139, where it realized $74,750; D. Brent Pogue; our sale of the D. Brent Pogue Collection, Part VII, March 2020 Auction, lot 7419.
To read the complete article, see:
Undated (1930) "Otis Kaye's Coin Collection" Painting. By Otis Kaye (1885-1974). Oil on Panel. (https://auctions.stacksbowers.com/lots/view/3-118MPI/undated-1930-otis-kayes-coin-collection-painting-by-otis-kaye-1885-1974-oil-on-panel)
To read the earlier E-Sylum article, see:
OTIS KAYE (1885-1974) (https://www.coinbooks.org/v25/esylum_v25n35a22.html)
Adelaide Assay Office Gold Ingot
Adelaide Assay Office gold ingots are among the earliest of Australian numismatic items.
While the Government Assay Office of South Australia filled the need to process an influx of gold, this treatment proved impractical due to the varying weight and fineness of these ingots, coupled with a general lack of circulating standard currency.
Many challenges accompanied the Australian Gold Rush of the 1850s for both miners and the communities they would return to. After months away, droves of individuals would return to their respective towns, Adelaide included, with ample gold in tow.
A necessity to process this gold was immediately apparent, and, under the Bullion Act of the Province, the Government Assay Office of South Australia was authorized.
The Assay Office issued gold ingots, which were to be used to back bank notes circulated by local banks.
To read the complete article, see:
Adelaide Assay Office gold ingot sells for $540,000 (https://www.coinworld.com/news/world-coins/adelaide-assay-office-gold-ingot-sells-for-540-000)
Sicily Naxos Coin Repatriated to Italy
Manhattan District Attorney Alvin L. Bragg, Jr., today announced the repatriation of 14 antiquities collectively valued at nearly $2.5 million to Italy. Recovered during multiple on-going criminal investigations, the antiquities had been stolen by several high-profile antiquities traffickers and smugglers that are being investigated by this Office. The objects mark Italy's latest ceremony with the District Attorney's Office, which has returned 214 stolen Italian antiquities, collectively valued at approximately $35 million, in the past seven months alone.
Among the pieces being returned today include:
The Sicily Naxos Coin. Minted circa 430 B.C.E in the Greek colony of Naxos, on Sicily, this silver coin features the bearded Dionysus on one side and his squatting drinking partner, Silenus, on the reverse. The Sicily Naxos Coin first surfaced on the international art market in 2013, when a known trafficker offered the coin for sale with no provenance whatsoever. Prior to its appearance at a London-based auction house, a co-conspirator of the trafficker supplied false provenance for the coin. The Sicily Naxos Coin is currently valued at $500,000 and was among a group of coins seized at JFK airport as it was being smuggled into New York pursuant to an ongoing joint investigation between this Office, HSI, and Italy. At least one individual has been arrested in the course of this investigation with more to follow.
To read the complete article, see:
D.A. Bragg Returns 14 Stolen Antiquities to Italy (https://www.manhattanda.org/d-a-bragg-returns-14-stolen-antiquities-to-italy/)
The Codex Sassoon
One day, about 1,100 years ago, a scribe in present-day Israel or Syria sat down to begin work on a book. Copied out on roughly 400 large parchment sheets, it contained the complete text of the Hebrew Bible, written in square letters similar to those of the Torah scrolls in any synagogue today.
After changing hands a few times, it ended up in a synagogue in northeast Syria, which was destroyed around the 13th or 14th century. Then it disappeared for nearly 600 years.
Since resurfacing in 1929, the Bible has been in private collections. But one afternoon last week, there it was sitting in a cradle at Sotheby's in Manhattan, where Sharon Liberman Mintz, the auction house's senior Judaica consultant, was turning its rippled pages with a mixture of familiarity and awe.
The Codex Sassoon, as it's known, is being billed by Sotheby's as the earliest example of a nearly complete codex containing all 24 books of the Hebrew Bible. (It is missing about five leaves, including the first 10 chapters of Genesis.) Set to be auctioned in May, the book carries an estimate of $30 million to $50 million, which could make it the most expensive book or historical document ever sold.
To read the complete article, see:
Oldest Nearly Complete Hebrew Bible Heads to Auction (https://www.nytimes.com/2023/02/15/arts/hebrew-bible-auction-sothebys.html)
To read the Sotheby's description, see:
The Remarkable History of Codex Sassoon (https://www.sothebys.com/en/articles/sassoon-codex-oldest-most-complete-hebrew-bible?locale=en)
128 Victoria Cross Hero Signatures
A Northamptonshire man is selling an autograph book complete with 128 Victoria Cross war hero signatures. The 67-year-old autograph book belonged to Jack Masters, who was toastmaster at the Victoria Cross Centenary Celebrations in Hyde Park, London, in June 1956.
The event was attended by Queen Elizabeth II and Prince Philip - and Jack was granted special permission by Her Majesty to obtain the veteran's signatures. When the attendees came down to dinner, they were asked to sign a book for The Queen and Jack placed his autograph book next to hers.
He then cheekily stood by the table and asked all 128 Victoria Cross war heroes to sign his book too to obtain his own private Royal Collection. Jack's collection of signatures has now been described as one of the "most extraordinary militaria finds" ever uncovered by auction experts.
To read the complete articles, see:
Incredible book with 128 Victoria Cross war heroes' signatures sat in Northamptonshire drawer for 30 years (https://www.northantslive.news/news/northamptonshire-news/incredible-book-128-victoria-cross-8141499)
Victoria Cross autograph book sells for £4,500 at auction (https://www.bbc.com/news/uk-england-northamptonshire-64635480)
FBI Sued Over Civil War Gold Hunt
The court-ordered release of a trove of government photos, videos, maps and other documents involving the FBI's secretive search for Civil War-era gold has a treasure hunter more convinced than ever of a coverup — and just as determined to prove it.
Dennis Parada waged a legal battle to force the FBI to turn over records of its excavation in Dents Run, Pennsylvania, where local lore says an 1863 shipment of Union gold disappeared on its way to the U.S. Mint in Philadelphia. The FBI, which went to Dents Run after sophisticated testing suggested tons of gold might be buried there, has long insisted the dig came up empty.
Parada and his advisers, who have spent countless hours poring over the newly released government records, believe otherwise. They accuse the FBI of distorting key evidence and improperly withholding records in an apparent effort to conceal the recovery of a historic, extremely valuable gold cache. The FBI defends its handling of the materials.
To read the complete article, see:
A metal detectorist is suing the FBI, claiming he alerted them to 7 tons of Civil War-era gold and they took it away in a secret overnight dig (https://fortune.com/2023/02/18/fbi-civil-war-gold-dents-run-pennsylvania-lawsuit-dennis-parada-finders-keepers-detectorist/)