Visit our NBS Sponsors
About Us
The Numismatic Bibliomania Society is a non-profit association devoted to the study and enjoyment of numismatic literature. For more information please see our web site at coinbooks.org
Subscriptions
Those wishing to become new E-Sylum subscribers (or wishing to Unsubscribe) can go to the following web page link
Membership
There is a membership application available on the web site Membership Application
To join, print the application and return it with your check to the address printed on the application. Print/Digital membership is $40 to addresses in the U.S., and $60 elsewhere. A digital-only membership is available for $25. For those without web access, write to:
Charles Heck, Treasurer
Numismatic Bibliomania Society
P. O. Box 2058,
Bluffton, SC
29910-2058
Asylum
For Asylum mailing address changes and other membership questions, contact Chuck at this email address: treasurer@coinbooks.org
Submissions
To submit items for publication in The E-Sylum, write to the Editor at this address: whomren@gmail.com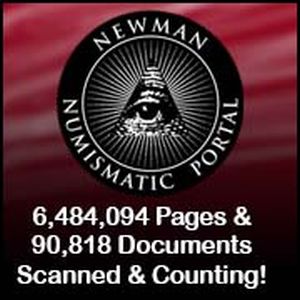 BUY THE BOOK BEFORE THE COIN
Sale Calendar
Watch here for updates!
Content presented in The E-Sylum is not necessarily researched or independently fact-checked, and views expressed do not necessarily represent those of the Numismatic Bibliomania Society.
New subscribers this week include: Roberto Ganganelli. Welcome aboard!
Thank you for reading The E-Sylum. If you enjoy it, please send me the email addresses of friends you think may enjoy it as well and I'll send them a subscription. Contact me at whomren@gmail.com anytime regarding your subscription, or questions, comments or suggestions about our content.
This week we open with a deluxe edition offering, five new books, the loss of a good friend and author, updates from the Newman Numismatic Portal, the ANA, and more.
Other topics this week include error coins, the McMaster Museum Collection, the Osborne Coinage company, manillas and the Benin Bronzes, fixed price offerings, the EID MAR denarius, baby gods on coins, the Hoxne Treasure, the 1860 Japanese visit to the U.S. Mint, King Charles' new banknotes, and the Tufts Coin Club.
To learn more about Henry Voigt, Ron Guth, Fred Holabird, the CoinHub, Hundis scrip notes, the NNP Symposium, ANA Money Talks, the Girl on the Quarter, modeling, the Graf Zeppelin, 'faux-engraved' counters, Patterson Du Bois, Maundy money, David Lisot Hulking out, and the secret of magnetic moolah, read on. Have a great week, everyone!
Wayne Homren
Editor, The E-Sylum


Deluxe Edition of Karl Moulton's Book on Henry Voigt
Kolbe & Fanning are distributing the deluxe edition of the late Karl Moulton's book on Henry Voigt, the chief coiner of the first United States Mint at Philadelphia. While this deluxe edition of Moulton's 2007 book was planned from the beginning, it was never distributed until now.
Bound in full processed white leather, the deluxe edition is printed on large paper (quarto format rather than the octavo format of the regular edition). They are gilt-stamped on the front cover, which is decorated with color roundels depicting the 1792 half disme, and come with a variety of colors of marbled endpapers.
We are happy to be finally getting these special editions into the hands of collectors, and at the very reasonable price of $100. Quantities are limited, so order today!
For more information, or to order, see:
HENRY VOIGT AND OTHERS INVOLVED WITH AMERICA'S EARLY COINAGE. (https://www.numislit.com/pages/books/6943/karl-moulton/henry-voigt-and-others-involved-with-america-s-early-coinage)
To read the earlier E-Sylum article, see:
MOULTON HENRY VOIGHT BOOK NOW AVAILABLE (https://www.coinbooks.org/esylum_v10n29a02.html)
REVIEW: HENRY VOIGT AND OTHERS INVOLVED WITH AMERICA'S EARLY COINAGE (https://www.coinbooks.org/esylum_v10n49a06.html)
Looking for an engaging and informative pocket guide to the world of U.S. coin errors? Look no further than The CoinHub by Blake Alma, the coin pundit behind the social media page CoinHub, with over 1.5 million followers.
In this comprehensive book, Blake provides readers with a closer look at the history, value, and beauty of rare and unique coin errors, highlighting the many ways in which they can be flawed. From blank planchets to double dies and more, The CoinHub offers detailed descriptions and stunning photographs of some of the most famous and sought-after examples of coin errors.
But The CoinHub is more than just a book about coin errors. With an accessible writing style and a wealth of knowledge, Blake provides a valuable resource for anyone interested in the fascinating world of numismatics. Whether you are an experienced collector or simply have an interest in coins, The CoinHub will deepen your understanding of the complexity and value of error coins.
The CoinHub is a must-read for anyone interested in the fascinating world of coin collecting. With stunning photographs, detailed descriptions, and a vibrant community of like-minded individuals, The CoinHub is the ultimate resource for collectors and enthusiasts alike. So why wait? Add The CoinHub to your coin collection today!
Publisher : CoinHub Media (March 30, 2023)
Language : English
Paperback : 95 pages
ISBN-13 : 979-8218165062
Item Weight : 7 ounces
Dimensions : 6 x 0.22 x 9 inches
To read the complete article, see:
The CoinHub: An Ultimate Guide to Coin Errors (https://www.amazon.com/dp/B0C1238FGV)
For more information, or to order, see:
BLAKE ALMA'S COINHUB (https://www.coinbooks.org/v26/esylum_v26n06a17.html)
Chris Poissant writes:
COINS IN THE MCMASTER MUSEUM OF ART: THE GREEK AND ROMAN COLLECTIONS
Text by Spencer Pope, Introduction by Carol Podedworny.
$35
Ancient Greek and Roman coinage represents the intersection of politics, economics, and art; no other medium in the ancient world more closely reflects the decisions of administrations, the expectations of civic bodies, and detailed craftspersonship. Coins are among the most ubiquitous artifacts from Classical antiquity and despite their small size, are among the most instructive for dating, discerning portraiture, and reconstructing political control.
The Bruce Brace Coin Collection of the McMaster Museum of Art tells the marvelous story of coinage around the world from antiquity to the present day. The Greek and Roman collection includes examples that mark critical moments and important developments in ancient coinage, from its origins in Western Asia in the seventh century BCE to the Greek Peninsula and Aegean Islands to Sicily and Italy. This catalogue is intended to share the narrative of ancient coinage and to facilitate the study of ancient coins among students and enthusiasts alike.
Purchase this publication via McMaster University's Campus Store.
McMaster Museum of Art (December 2022)
128 pp
col. ill.
8.9 x 10.9 inches
in softcover
ISBN: 9781926632216
For more information, or to order, see:
COINS IN THE MCMASTER MUSEUM OF ART: THE GREEK AND ROMAN COLLECTIONS (https://museum.mcmaster.ca/publications-post/coins-in-the-mcmaster-museum-of-art-the-greek-and-roman-collections/)
To read the earlier E-Sylum article, see:
ANCIENT COIN COLLECTIONS IN CANADA (https://www.coinbooks.org/v26/esylum_v26n14a18.html)
Long-time Ontario numismatist Lorne Barnes has released what he has billed as the most up-to-date reference on Ontario trade tokens.
Barnes' 808-page reference book Trade Tokens of Ontario, released this February, uses the iconic numbering system created by late numismatist Fred Bowman, of Lachine, Qué. Bowman, the first recipient of the J. Douglas Ferguson Award – today considered the highest distinction in Canadian numismatics – developed the numbering system for the second edition of his book Trade Tokens of Ontario in 1972.
A coloured version of the Bowman reference was needed, and after discussions with several interested parties, I decided to start work on the project, Barnes told CCN this March. This 2022 reference would not have been possible without the effort of the late Fred Bowman, who introduced a numbering system still used by collectors today. There was no need to introduce a new layout and numbering system when collectors are using a system that already works.
Barnes added it's fitting that this compilation using Bowman's style and numbering system has been published on the 50th anniversary of the Bowman's second edition.
The undertaking of this reference has been a very time-consuming endeavour for all the individuals who helped to make this update a gratifying experience.
To read the complete article, see:
Ontario trade token book receives long-awaited update (https://canadiancoinnews.com/ontario-trade-token-book-receives-long-awaited-update/)
The "North American Printers Promotional Sheets & Test Notes" from 2020 is sold out and I've released an updated version for 2023. A LOT of new finds in two years! Here are some of the statistics:
280 pages, spiral bound book with 70# white laser glossy paper cover to allow laying book on flat surface. (198 pages last issue) That's 41% more pages!
All 179 ABNC test, advertising, color sample, promotional, salesman's sample notes, with 372 varieties. (151/251 last issue)
All notes from 26 known printer firms producing test notes that were predecessors or were acquired by ABNC from 1850 forward.
129 known printer firms producing test notes in all North America from 1820 forward. (6 new firms added)
Total notes attributed 951, with 1,713 varieties. (655/1071 last issue)
All COLOR NOTE IMAGES, totaling 1,338. (1014 last issue)
The book is available on Ebay and Delcampe for $45 + $4.50 shipping for domestic orders or $42.50 +$4.50 shipping at my web site here (Third item down on the list):
http://currency_den.tripod.com/testnotes/order.html .
Feel free to contact me with any questions at currencyden@yahoo.com
To read the earlier E-Sylum article, see:
NEW BOOK: PROMOTIONAL SHEET & TEST NOTES (https://www.coinbooks.org/v23/esylum_v23n15a07.html)
Catalog of Hundis Used in India
This is the first book ever to exclusively focus on Hundis, which were a form of scrip used in India for quite a long time.
While collecting and studying Hundis, it becomes very clear that Indian bankers were using a variety of innovative financial and credit instruments to facilitate trade and the movement of large sums of money across the subcontinent in a most secure and efficient manner, hundreds of years before the Western banking system using Hundis.
A4 Size. 520 Color Pages. Printed on Art Paper.
Price: US$50 + Shipping from India US$20
You can download sample pages of "Catalog of Hundis Used in India" at https://dl.orangedox.com/Bv9DZrZQ8zIHVUg1qF
The book can be purchased by sending an email to bohoraa@yahoo.com
Howard A. Daniel III passed away at the age of 81 on April 5. 2023 after battling advanced melanoma cancer for 6 months. Howard was born in New York City and was the eldest of seven children produced by Howard A. Daniel, Jr. and Anita Lawler. He is survived by his wife of fifty years, Phung Daniel, and four younger siblings, his two sisters, Joan Ellis and Anne Moble, and two brothers, Michael Lawler and James Miolla.
Howard served in the United States Army, enlisting in 1957 and retiring in 1981 achieving the rank of Master Sergeant. He was recalled to active duty in 1991 in support of the Desert Storm campaign and later retired in the same year. Howard's service included assignments in France, Okinawa, Japan, Germany and Viet Nam where he met and married his wife.
Howard was a very successful and knowledgeable collector, researcher and writer having published six books on the currencies of Cambodia, Lao, Vietnam and the whole of French Indochina. His books are part of the standard references for Southeast Asia. In the 90s he also wrote a popular regular column for World Coin News, and later many articles for which he earned a number of awards.
Howard was a frequent speaker at the annual International Paper Money Show in Memphis, TN on topics related to the various currencies of Southeast Asia and China.
In past 25 years, Howard and Phung made yearly trips to Vietnam to visit family. During those trips, Howard travelled throughout Vietnam, Lao, Cambodia and Thailand meeting collectors, researchers and currency dealers while doing research for his books. He befriended many of those he met and was revered for his knowledge and dedication to numismatics. His most recent research dealt with the currencies of Burma and Malaya.
He became a Life Member of the American Numismatic Association in the 1972, awarded the ANA Glenn Smedley Memorial Award in 2008 and was later earned a 50-year member in the same organization. He was also a member of Numismatics International and was a Life Member of the International Bank Note Society (IBNS), and served on the Executive Board as First Vice President, Director at Large and Chair of the Young Numismatists Committee. He was inducted into the IBNS Hall of Fame in 2017. He was also awarded the Numismatic Ambassador Award by Numismatic News in 2004.
Howard was generous with his time and happily shared his knowledge, especially to the young people who would come to his table at various numismatic events. He would make up little bags of coins, notes and other coin-like items and give them away with the instruction to do the research and learn about what they had.
Howard was a good, honest and kind man who will be greatly missed not only by those of us who knew him well, but by the numismatic community at large.
Rest in peace, my friend.
2023 Newman Grant Application Deadline Nears
Newman Grant applications for the year 2023 are due by April 15. As previously noted in the E-Sylum, grants are awarded by the Eric P. Newman Numismatic Education Society for original research in numismatics and are intended to defray the direct costs of research such as travel, photography, graphics arts services, and database access fees. Applications may be found on the Newman Numismatic Portal at https://nnp.wustl.edu/library/archivedetail/530553?Year=2023 and should be submitted to NNPCurator@wustl.edu. Awards for 2023 will be announced on May 25, coincident with the late Eric P. Newman's birthday
To read the earlier E-Sylum article, see:
2023 NEWMAN GRANT PROGRAM ANNOUNCED (https://www.coinbooks.org/v26/esylum_v26n06a08.html)
Reports on Arnold Saslow, Gavin Manton, American Numismatic Society, Atocha coins, auctions
To watch the complete video, see:
https://nnp.wustl.edu/library/book/584199
Greg Bennick: Hi everybody, my name is Greg Bennick, I'm with the Newman Numismatic Portal, and I'm here today with Ron Guth of the Numismatic Detective Agency. You can find out more at numismaticdetectives.com. Ron has been active in the coin hobby for fifty-five years as a collector, researcher, auctioneer, professional dealer. He's the author of a number of coin books, including Coin Collecting for Dummies, The 100 Greatest U.S. Coins, which he wrote with Jeff Garrett and also The Encyclopedia of United States Gold Coins, which he also worked on with Jeff. In 1999, he created Coin Facts, which is now PCGS Coin Facts. And in 2014, he was named American Numismatic Association Numismatist of the Year. Ron, did I miss anything important in that introduction?
Ron Guth: I guess the one that I'm most proud of is I was named one of the top ten most influential people when Coin World did their survey in 2021, so I was really proud of that one.
Greg Bennick: That's pretty fantastic. Do you know what they base that on, by any chance? Just out of curiosity, was it just overall breadth of knowledge and that sort of thing?
Ron Guth: I was talking to one of the representatives from Coin World yesterday because they have a new survey coming out this year. And I asked them what is the criteria for the people that get in there? And he said, basically you're voted on by your peers. So, I'm honored to have been selected for that. And I made it last year - the top 100 - they haven't had a top ten again. And I'm not sure that they will or whatever, but yeah, it's basically a vote by your peers.
Greg Bennick: Fantastic, very cool. Well congratulations. That's quite excellent. So tell me, let's talk about the through line of your career. Did you get started as a collector?
Ron Guth: Yeah, I started as a collector when I was a kid and my buddies I used to go fishing with all the time. One day they came over with a tackle box and I've told the story multiple times, but they opened up the tackle box and instead of lures and weights and hooks and sinkers and each of the compartments there were Indian head pennies, buffalo nickels, silver coins and I was just hooked. I mean that was it. And I said where did you get these coins? And they said we would go to the bank with a couple of dollars and just go through rolls of coins and pick out the good stuff and I started doing that. That's how I started my career and just kept gathering stuff up. And as a teenager, I would take the silver to a local coin shop and I mean I was making a really good amount of money for a teenager back when minimum wage was about a $1.50 or $1.60 an hour. So I was hooked at that point, and then I just became a collector. My career path at that time was a lab tech in a hospital, but I ended up getting hired by a coin dealer in Tampa, Florida, Bill Calderazzo at Florida Coin Exchange. And that was the start of my professional career. Started a coin shop in 1977, 1978, went through the gold and silver boom, moved to Indiana, opened up a shop there, and then moved sideways to Kentucky, where I worked with Jeff Garrett. We started Mid-American Rare Coin Auctions, did that until 1988, sold my interest in that, went back to school and then just became an independent coin dealer ever since. And then of course, you've already told the story about Coin Facts starting in '99 so I've been a little busy over the years.
Greg Bennick: Now these guys who showed up with the tackle box and they had coins in there, were they using the coins somehow as weights for fishing? Or did they just happen to have coins in the tackle box along with all their fishing tackle and what that was.
Ron Guth: Yeah, it was just a coincidence, they weren't drilling holes in the coins and using them as sinkers. They actually are coin collectors even still, and in fact, they were twins, Kim and Carl Bildt and I'm in touch with Carl all the time. And so I would say that he is my oldest friend in the coin industry, but they became coin collectors in their own right.
Greg Bennick: I love stories like this about how people's paths in life started by accident, per se. I mean, what if they had had anything, a candy in their fishing tackle box that day? Who knows where you would be today?
Ron Guth: I might have opened up a candy store instead of a coin store.
Greg Bennick: Well, it's funny, when I was in sixth grade, I actually make my living as a keynote speaker. I started out as a performer, started out as a juggler, a juggling street performer and whatnot. And I got my start because I'd signed up for a coin collecting mini course that I actually petitioned my school to add to a list of mini courses they were holding after school. And when I went to sign up for the coin collecting course that I'd found a coin dealer to teach, I'd paid the guy to come into my middle school in sixth grade to teach it, the school's secretary accidentally signed me up for a juggling course instead of a coin collecting course. I went to this juggling course, I'm like, this is stupid, I can't stand this. And I walked in and the second I saw somebody juggling, I said that's what I want to do for the rest of my life. And that led to juggling, which led to performing, led to speaking, led to my career now. And I ended up taking both the coin collecting and the juggling class. Point being, who knows where we're going to end up by the paths we take in life and the so-called mistakes that happened to us along the way. Pretty awesome about the fishing tackle box. I've not heard anyone with a similar story to yours. I think that's pretty cool.
Ron Guth: Well, I like your story as well. I mean there are all these forks in the road as we lead our life and you just never know where it will take you. We have all these rabbit holes that we go down. And fortunately for me, I've been able to make a career out of this hobby that most people can only enjoy. But it's been just a great experience and I've made so many good friends this way. And like I said, I still know the Bildt twins, and it's just wonderful after 55 years that we can still tell stories like that about the tackle box or the juggling or whatever the story. Everybody has a story.
Greg Bennick: Amazing. Now just out of curiosity, as a collector, what sort of things did you collect and really focus or hone in on? Were there any particular series or types of coins or anything that you enjoyed most?
Ron Guth: I think starting out, we all worked on a Lincoln had pennies because those were coins that you could actually find in circulation and take a set to about a 95% completion level. A friend of mine that used to go to the bank with me was able to ultimately find every penny that he needed; an 09 SVDB, a 1914 D and 1931S, so I was never so lucky. But that was the sort of thing that you could do as a kid back then. So we focused on Indian head pennies, Lincoln Pennies, Mercury dimes, Standing Liberty quarters, you know, these are all coins that you could have pulled out of circulation and put together a fairly meaningful collection. When I was about 18, my collection was stolen. And so at that point, I said I still want to collect coins, but I need to focus. You know, I had a mishmash of everything, more of an accumulation than a collection per se, but I said I started going through the Red Book and looking at all the different series and picking out something that would be doable, affordable for an 18 year old and still be a really fun thing to collect. And so I focused on half cents and I began collecting those by variety. I met Roger Cohen, who authored the book in 1971 and in 1981. I knew Jim McGuiggan really well. In fact, one of my earliest contacts with half cents was at something that they call a half stone happening where big collectors got together and they would compare their collections and this was amazing. And so I slept on Jim's floor when he was living up in Michigan. And again, great memories, great experiences, but the half cents became my primary focus.
About the Interviewer
Greg Bennick (www.gregbennick.com) is a keynote speaker and long time coin collector with a focus on major mint error coins. Have ideas for other interviewees? Contact him anytime on the web or via instagram @minterrors.
To watch the complete video, see:
Ron Guth Interview (https://nnp.wustl.edu/library/book/625159)
To read the complete transcript, see:
RON GUTH Interviewed for the Newman Numismatic Portal (https://nnp.wustl.edu/library/book/625160)
The next NNP Symposium is happening later this month, April 27-29. The full schedule is available on our website now - take a look!
All of the presentations will be available to watch live and in-person at the Central States Convention in Schaumburg, or you can livestream them like normal! You'll still be able to ask questions and interact over Zoom just like past Symposia. If you do plan to tune in virtually, you need to register.
We have a few special presentations this year that we're excited to highlight.
THE HARRY W. BASS, JR. COLLECTION
by Greg Rohan
Greg Rohan, President of Heritage Auctions, speaks on the Texas collector Harry W. Bass, Jr. and his numismatic endeavors. Bass collected widely, with specialties in U.S. gold, pattern pieces, and numismatic literature. A World War II veteran, Bass was active in oil and real estate and worked within the hobby to promote scholarship within American numismatics. He was influential in the computerization of the American Numismatic Society collection, one of the earliest such efforts in the formative days of the Internet. The Bass collection continues to draw headlines today, with the recent offering of the Bass reference sets by Heritage Auctions.
2:30 Central / 3:30 Eastern on Thursday, April 27
U.S. MINT COIN DESIGNS AND THE CITIZENS COINAGE ADVISORY COMMITTEE
by Lawrence S. Brown Jr., MD
Dr. Lawrence Brown was appointed to the Citizens Coin Advisory Committee (CCAC) by the Treasury Secretary in 2019 and was appointed in 2022 and reappointed in 2023 by the Treasury Secretary to serve as CCAC Chairperson. A lifelong coin collector since the age of 12, Dr. Brown is a physician specializing in Addiction Medicine and Public Health. Brown will speak on his experiences as CCAC Chairperson and the role of the public, the numismatic community, and the CCAC in guiding the design of American coinage.
1:00 Central / 2:00 Eastern on Friday, April 28
CRYPTO, CRIMINALS, AND THE FUTURE OF MONEY
with Q&A with Rob Rodriguez & James Passin
Beginning in Fall 2021, each NNP Symposium has included a 20-30 minute feature video on an important collection, followed by a Q&A with someone associated with it. This NNP Symposium's feature video will instead focus on cryptocurrency - what it is, how it works, and what its impact has been. Feel free to view past feature videos here.
2:30 Central / 3:30 Eastern on Friday, April 28
To read the full schedule, see:
SCHEDULE (https://nnpsymposium.org/schedule?mc_cid=48c7176d23&mc_eid=90750fdec9)
To register, see:
NNP Symposium Spring 2023 (https://www.eventbrite.com/e/nnp-symposium-spring-2023-registration-523961361537)
Money Talks Speakers Wanted for Pittsburgh World's Fair of Money®
American Numismatic Association (ANA) members are encouraged to share their ideas and research with fellow hobbyists by delivering a Money Talks presentation at the 2023 World's Fair of Money in Pittsburgh, Aug. 8-12 at the David L. Lawrence Convention Center.
Those interested in giving a Money Talks presentation should submit an online proposal at money.org/numismatic-events/money-talks. Proposals are due no later than Friday, April 14. The talks will take place Thursday Aug. 10 and Friday Aug. 11.
The informative 30- to 45-minute Money Talks are presented by some of the hobby's most noted authorities and allow collectors to share their expertise with the numismatic community. Presentations from previous shows include "Siege Notes: The Currency of War," "Strategies to Dispose of Your Collection" and "Curious Currency of the World."
Money Talks presentations should be accompanied with digital images. Contact Paula Knepper, the ANA's eLearning program coordinator, at (719) 482-9852 for additional information.
Proposals can be submitted online or emailed to pknepper@money.org.
Kavan Ratnatunga writes:
Jon Radel writes:
Bob Van Arsdell writes:
Pete Smith writes:
More on SPQR
Jim Contursi writes:
To read the complete articles, see:
QUERY: THE FADING OF DIGITAL IMAGES (https://www.coinbooks.org/v26/esylum_v26n14a17.html)
NOTES FROM E-SYLUM READERS: APRIL 2, 2023 : Ancient Roman Coin Slabs (https://www.coinbooks.org/v26/esylum_v26n14a15.html)
GERRY FORTIN BUSINESS MODEL CHANGES (https://www.coinbooks.org/v26/esylum_v26n14a28.html)
LOOSE CHANGE: APRIL 2, 2023 : Newly Discovered Vermeer Works (https://www.coinbooks.org/v26/esylum_v26n14a35.html)
LOOSE CHANGE: APRIL 2, 2023 : A New Van Gogh Biopic (https://www.coinbooks.org/v26/esylum_v26n14a35.html)
More on Die Radius or 'Basin'
Roger Burdette writes:
To read earlier E-Sylum articles, see:
NEW BOOK: FROM MINE TO MINT (https://www.coinbooks.org/esylum_v16n12a04.html)
BOOK REVIEW: FROM MINE TO MINT (https://www.coinbooks.org/esylum_v16n17a06.html)
COMPUTERS AND CALCULATING COIN RADIUS (https://www.coinbooks.org/v26/esylum_v26n14a16.html)
Semiquicentennial Coin and Medal Prospects Dim
Mike Costanzo writes:
Mike adds:
To read the earlier E-Sylum article, see:
LOOSE CHANGE: APRIL 2, 2023 : U.S. Semiquincentennial Commission Rebooted (https://www.coinbooks.org/v26/esylum_v26n14a35.html)
International Phaleristics Association Membership Free
Greg Burns writes:
To read the earlier E-Sylum article, see:
INTERNATIONAL PHALERISTICS ASSOCIATION (https://www.coinbooks.org/v26/esylum_v26n14a07.html)
Dubriel Signature
Tony Terranova writes:
To read the earlier E-Sylum article, see:
BOOK COVER: 'IS IT REAL' BY DUBREUIL (https://www.coinbooks.org/v26/esylum_v26n14a14.html)
Another Photo from Back in the Day
Dan Hamelberg writes:
To read the earlier E-Sylum article, see:
MORE ON 1950-1951 PROOF SET PACKAGING (https://www.coinbooks.org/v26/esylum_v26n14a13.html)
The Girl on the Quarter

Shortly after the coin went into circulation questions arose as to the identity of MacNeil's model soon identified as Miss Doris Doscher. Described as an accomplished twenty-two-year-old standing 5' 4 1/2 tall, she was credited with having lectured, written scenarios, trained as a Red Cross nurse and even acted in an educational film titled, The Sculptor and His Art. Karl Bitter had used her ideal measurements 36 x 25 x 39 when modeling his Pulitzer Memorial Fountain for the front of the Plaza Hotel. At the time of his death two years earlier he had created only a small figure and as had occurred once before the sad task of finishing the statue fell to Isidore Konti.
All of her information was factual except for her age, thirty-four and marital status. Record indicate Julia Doris Reiman was born in January 1882 and because she had married Albert Doscher in 1902, she was not a single lady. Additional film work included appearances in two silent features one titled Birth of a Race intended as a response to film maker D. W. Griffith's blatantly racist yet highly successful Birth of a Nation. In the film's opening moments Doris played her one and only scene as Eve in the Garden of Eden. A ten-minute portion of the movie can be seen in a YouTube video, its grainy footage raising the obvious question had the producers stumbled upon a technique called type casting? The film was neither a commercial nor a critical success and quickly faded from public consciousness.
The story of MacNeil's models gets even more interesting - there were two, the second being Irene MacDowell. Doscher died in 1970 with deserved acknowledgment of her place in numismatic history. When MacDowell passed away in 1973, it was learned she also claimed to have filled that role.
According to the 1900 census she was born in 1881, the adopted daughter of William W. Weitling a senior partner in the American Hard Rubber Company, successor to the firm founded by Poppenhusen. He also served alongside MacNeil on the Institute's Board of Control. Early in life Irene got into acting and married another thespian George I. MacDowell. Both left the stage and since his father-in-law owned large tracts of farmland in upstate New York, George took over running the family's fruit tree enterprise. Following the move the couple passed summers in College Point, and it was probably in 1916 that MacNeil asked Irene to model.
According to a story published three months before her death she had spent ten days on the job, but also that she had been the model for the figure of Victory in Albany's Soldiers and Sailors Memorial. In the obituaries of both women their acting careers were noted and that their husbands had been MacNeil's tennis partners, a sport at which Hermon excelled. Between 1915 and 1917 his name appeared in newspaper articles reporting success in various tournaments, but not that of Messr's Doscher or MacDowell.
One model or two from its earliest days MacNeil's Quarter attracted very favorable attention and was soon numbered among the most beautiful coins ever minted. He also had the unique experience enjoyed by few artists, knowing his creation would be available to millions, appreciated as a work of art by many, but regarded as pocket change by most.
To read earlier E-Sylum articles, see:
DORIS DOSCHER, QUARTER MODEL (https://www.coinbooks.org/esylum_v06n23a20.html)
NEW BOOK: HERMON ATKINS MACNEIL (https://www.coinbooks.org/v25/esylum_v25n43a02.html)
More on the Numisma Reprints
Chriss Hoffman writes:
FROSSARD, ED., Irvington, NY
REPRINTED CLASSICAL PERIODICAL
In 1983 I reprinted 100 copies of this classical periodical from my set. They were plastic spiral bound with tan card covers and sent to Cal Wilson to sell, which he did at $128.
Considerably after Wilson left the numismatic literature business, he sent the unsold copies to Money Tree, with my permission to Money Tree to sell. Money Tree had two shipments of the left over unsold copies and apparently bound them both in brown cloth and the second group in green leatherette that is offered below and were originally sold for $100.
To read the earlier E-Sylum articles, see:
NOTES FROM E-SYLUM READERS: JANUARY 1, 2023 : John Igo, Numisma Reprint Information Sought (https://www.coinbooks.org/v26/esylum_v26n01a07.html)
NOTES FROM E-SYLUM READERS: JANUARY 15, 2023 : Another Numisma (https://www.coinbooks.org/v26/esylum_v26n03a12.html)
NOTES FROM E-SYLUM READERS: FEBRUARY 12, 2023 : More Numisma Reprints (https://www.coinbooks.org/v26/esylum_v26n07a15.html)
Michael Merrill writes:
My Own Savings Book
This educational coin board was issued by Home Federal Savings and Loan, an ethnic S & L founded in Chicago in 1896, when original bank member did business atop a pool table in the rear of Knaizl tavern. This 8 page, thick cardboard book mixes delightful, humorous color illustrations, promotes early childhood savings, simple math relationships between coin values of pennies through -quarters, gives specifics on coin metals:copper-nickel-silver, and promotes regimen to fill every slot, empty book at bank to open a savings deposit account, suggests repeating process.
Illustrations by Thomas Morrison, Jr. and poetic verse by Genevieve Burke. Copyright 1941.
To read the earlier E-Sylum articles, see:
THE DEFEND AMERICA COIN SAVINGS BOOK (https://www.coinbooks.org/v25/esylum_v25n16a31.html)
COIN SAVINGS BOOKS FOR CHILDREN (https://www.coinbooks.org/v25/esylum_v25n17a08.html)
The Belgian company Royal United Mint from the municipality of Westerlo in the Antwerp province, has acquired the oldest private mint in the United States, Osborne Coinage.
Royal United Mint is part of the Belgian holding company Groep Heylen, and is also the parent company of the Royal Dutch Mint and Mauquoy Token Company from Westerlo – the largest producer of metal coins and tokens in Europe.
"With this acquisition, we are setting foot in the United States," Royal United Mint told Belga News Agency. "We are the world leader in the coin and token market. Andre McCaster, who has been in charge of Osborne Coinage for two years, will continue the management."
Osborne Coinage is an American company, located in Cincinnati (Ohio), and is the oldest private mint in the United States. For the past 75 years, the company has been owned by the Stegman family.
"Through Osborne Coinage, small and medium-sized customers in the US can be better served," said the Belgian company. "For example, Osborne makes payment tokens in base metals or collector tokens in precious metals for collectors and central banks."
Osborne Coinage already made tokens for the campaigns of US Presidents Abraham Lincoln, Ulysses S. Grant and Franklin D. Roosevelt. During World War II, Osborne Coinage made food tokens out of fibre to save on the use of metal, which was then mainly used for warfare.
A New Era for Osborne Coinage
Osborne Coinage, the oldest private mint in America, is pleased to announce a partnership with Belgium-based Royal United Mint. Andre McCaster, the current president, becomes CEO and joint shareholder in this venture.
Pictured L to R - Vincent Van Hecke (CEO Royal United Mint), Jeffrey Stegman (CEO Osborne Coinage), and Andre McCaster (President Osborne Coinage)
Osborne Coinage, the oldest private mint in the United States has had many historical milestones in its 188 years of doing business, including minting campaign medallions for Abraham Lincoln, creating scrip for lumber mills and coal mines in the early 1900s and manufacturing billions of fiber ration tokens during World War II. After WWII, the company's focus shifted to commercial applications like subway and toll tokens, the production of tokens for subways and toll roads, casino tokens, promotional business coins, commemoratives, awards, and collectible numismatics. The Stegman family has owned the business for 75 years.
Another Milestone
Effective April 3, 2023, Osborne Coinage Company reached another milestone by becoming part of the Royal United Mint, joining notable companies The Royal Dutch Mint and Mauquoy Token Company.
Shared minting knowledge and expertise of three mints This partnership facilitates knowledge sharing, an expansion of the product range, as well as efficiency gains in production, sales, and logistics.
Andre McCaster, is now the CEO. McCaster has been with Osborne for 27 years and worked his way up the ladder from production operator to production control manager, Vice President of Manufacturing, and most recently, President. He has several degrees, including an MBA from the University of Cincinnati.
Our goal has always been to be a true leader in the minting industry by providing quality, unique, and timely products/services throughout the world. By forming this partnership with the Royal United Mint, we will be able to increase our capacity, product offerings and better serve our domestic and international customers, said Andre McCaster, President of Osborne Coinage.
To read the complete articles, see:
Belgian company takes over oldest private mint in the US (https://www.brusselstimes.com/belgium/444512/belgian-company-takes-over-us-oldest-private-mint)
A New Era for Osborne Coinage (https://customcoins.osbornecoin.com/news/osborne-coinage-partners-with-royal-united-mint)
To read the earlier E-Sylum articles, see:
OSBORNE MINT (https://www.coinbooks.org/esylum_v06n42a14.html)
THE OSBORNE COINAGE COMPANY (https://www.coinbooks.org/esylum_v06n43a04.html)
THE OSBORNE COINAGE COMPANY OF CINCINNATI, OH (https://www.coinbooks.org/esylum_v14n31a05.html)
VIDEO HIGHLIGHTS CINCINNATI'S OSBORNE COINAGE (https://www.coinbooks.org/esylum_v15n09a14.html)
Modeling. Preparing the three-dimension relief of a new coin or medal design in some permanent form, usually of hard substance as plaster of Paris. The artist or modeler may first work in a more pliable substance – as clay, plastecine or wax – then cast this in plaster. Or the modeler may work in plaster alone. The coin or medal design is modeled oversize, from three to nine times or more the size of the intended piece. The final model must be a somewhat permanent substance to pass along to the mint or medalmaker: plaster is ideal for this.
After the artist is satisfied his model is complete and perfect it is submitted to the mint or medalmaker. Once the design and relief is approved, they will process it by making an even more substantial copy in harder material: copper by electroforming or epoxy by casting. This pattern, then, will be mounted on a die-engraving pantograph to reduce and cut a die to the required size. Virtually no definition of detail is lost in this process. Medal makers say: If the design is in the model, it is in the medal.
General Modeling Considerations
Modelers, whether preparing a clay or plaster model, can work in the positive or negative. The relief design is formed by adding to the positive, or carving in the negative. The modeler can go back and forth from positive to negative at will (since it changes with each casting) by repeated plaster casting. Clay can be added to a plaster model to build up relief at any stage of this modeling, or the plaster can be carved away (also creating relief in the negative model), to form the design. Plaster of Paris is ideal since it can be easily formed, cast, modified and touched up at any time.
Lighting is very important to a modeler, working is best done near a northern window. Since the relief will be viewed as reflected light and shadows, the modeler will often tilt his model or change a light source to view his relief. (Light from the top of the model – as if it were sunlight –is most useful, particularly if the model bears a human portrait.)
At all stages the modeler must keep in mind special requirements for coin and medal modeling: (1) the interspacial relationships of all elements,( 2) no undercuts (absolutely prohibited if the item is to be diestruck),(3) a bevel on all relief (so the ultimate die can retract from the struck piece), (4) the height of the relief, (5) the state of the surface of the media, 6) elimination of possible congruent mass with the design on the opposite side, 7) do not model a crevice deeper than its width, and 8) the creation of as artistic a design as possible appealing to the greatest number of viewers with varying artistic sensibilities. The task is certainly a challenge.
It is useful if the modeler is familiar with the techniques that will be used to make a die from his model. The sculptor should not model a crevice, for example, that a tracing point cannot enter; this is the reason not to form a crevice that is deeper than its width. The artist should study the mechanics of the reduction process (see entry pantograph) and observe this machine in action if possible.
The work order or commission the modeler receives should spell out the height of relief (particularly for the type of press for striking), if the item will have proof surface or the type of finish, and this accompanied by the approved drawing of the design (if the modeler was not the original designer).
How coin and medal modeling is done.
Once a sketch of a proposed coin or medal design is approved, the next step is to prepare this in a three-dimensional bas-relief form. The preparation is much like that of a sculptor molding a statue by adding clay a little at a time to form the model. Unlike sculpture in-the-round, however, an armature or core support is not necessary. Instead the relief design is created on a smooth flat surface or platform, called a background plate (or one that is slightly dished or domed, called a basin).
The modeler then works in his chosen media – clay, plastecine, paraffin, wax. Or the modeler can carve the relief in plaster of Paris.
Background plate. The base for the background plate, usually wood, must be quite sturdy and be four or five inches larger than the intended model. It does not have to be round, even if the modeler is preparing a round model. The two models, for obverse and reverse, should be the same diameter. But the size of the model is not that critical (since it will be mechanically reduced) but ideally should be a size that will fit the pantograph. (But even that is not necessary, should the artist want to work in extreme oversize – an intermediate reduction can be made – and even though this is extra cost, it is sometimes required for coin models.) After all is said, the model and the background plate should be a size the artist is comfortable with.
There is one exception to this, for models to be prepared for a series where the size must be uniform for all items in the series. Then standard background plates are prepared and furnished to the modeler. One master background plate is prepared and plaster casts are made of this and furnished to the modeler for each side. The modeler then prepares his designs on these standard background plates knowing they will be uniform with all others, irrespective of the number he creates, or other artists create.
Size of model. To produce a ½-inch diameter coin – the ideal pattern for a single reduction would be 1 ½ to 4 inches (three to eight times the intended die size). This, obviously, is impractical, so coin models are prepared from, say six to nine inches; medal models are larger, ten to eighteen inches. The reason this does not have to be a very prescribed size is because the die-engraving pantograph can cut a die to a very exact size by a prescribed ratio from a model of virtually any size, say, below eighteen inches. (See pantograph for more on this ratio.)
Border. If a border is required for the design this is usually prepared first. By the use of a template and a pivot in the center of the design (for a round model) the template is guided along a field of clay around the pivot, pushing ahead the removed clay and leaving behind a perfect trail of clay to the configuration of the design in the template. Or, the border can be modeled if necessary (or a combination of both). Once the artist has a desirable border the modeler will often cast this completed border in plaster to form a plaster background plate and build his design upon this plaster form. By doing this he does not have to worry about deforming a clay border while preparing the relief inside the border.
Device. The device is the next to be modeled. It is here where the modeler must build up the design in modulated relief, forming the rises and falls of the surface, what will be the surface of the relief in the end product, the coin or medal. He can make the three-dimensional design by molding a large mass of material, or he can build it by repeated adding of little bits of clay (or the media he is working in). These little bits are called pellets. The modeler then works the surface of this with fingers, a wire tool or a boaster to shape the surface and give it the necessary contour and detail.
Often he will modify the relief from the original design sketch as his mind constantly appraises the relief he is forming with his fingers and tools. The sketch is an overall plan, forming the relief is the execution. Changing the surface is quite easy because the media is so pliable. It can be moved, altered, raised, lowered, shaped, textured, smoothed, detailed, whatever comes to his mind. It is here where experience and knowledge of bas-relief is the model maker's best guide.
Adding detail and ornamentation. The character of the surface is most important. As the artist adds the detail in the clay or other media, he sees in his mind how this will look to the viewer of the final coin or medal. He sharpens up the detail (keeping in mind the ratio of reduction – very tiny detail will disappear with great reduction). At this point he may also add ornamentation to add charm to the total work. Usually this movement of surface clay is done with the wire tool, a steady hand and a very perceptive eye.
Lettering. Generally the last to be completed on the model is the lettering. The artist may model each letter and figure, he can form relief lettering by adding letters made of clay to the positive pattern. Or he may use a template, carved in plaster, to form the letters to be placed into position, or, preformed letters may be used (least advisable because they probably lack harmony with the rest of the design, see form letters). Or the artist may carve the letters in reverse on the negative plaster.
Positioning each letter is an indication of the experience of the modeler. An imaginary base line must be maintained, and the letters must not be tilted. The size and shape of the letters, their typestyle, must be harmonious with the design and with each other. The spacing between the letters (normally called letterspacing) is critical. This interletter spatial relationship must be pleasing to the viewer with no obvious gaps between letters (as less space between OC than between MN for example).
Lettering is the most difficult to model. Even seasoned sculptors, who can design and prepare models of high quality, falter with the lettering. Infrequently admitting this shortcoming they ask others for help. This can be a fellow sculptor or the factory artist where the struck pieces will be made. An example is the Roche Jaune National Park Centennial Keystone Medal of 1972. Frank Hagel prepared the models, Joseph Di Lorenzo did the lettering.
Final touchup. The artist refines his design at every step of modeling. But for a final touchup he has one last opportunity to perfect his design. Modeling imperfections (should there be any) are lessened when the pattern is reduced, but these can easily be corrected in the clay or plaster at this stage. Hairlines, perhaps, are deepened. A sharpness is added to the eyes. Folds in clothing is softened. Texture is replicated where necessary. In all, the final touchup is the artist's last occasion to add charm and sharpness of detail to his model.
A final plaster cast is made. This includes a flange around the model of one to two inches (necessary to fasten the model to the pantograph). After the plaster is thoroughly dried it is then submitted to the mint or medalmaker.
1) How to be produced – struck or cast?
2) Height of relief?
3) Model size vs. Coin/Medal size?
4) Degree bevel required with no undercuts?
5) Kind of border?
6) Texture on any surface?
7) If struck, will congruent mass be a problem?
8) How wide a flange on final model?
9) Reduce tiny tall projections (champs levée)?
10) Eliminate deep crevices, must be wider than their depth.
To read the complete entry on the Newman Numismatic Portal, see:
Modeling (https://nnp.wustl.edu/library/dictionarydetail/516345)
When I worked for a coin dealer, we often bought current coins with no premium value that came included with collections. We called these spendies and dropped them into a plastic pail. When a few pails had accumulated, it was my job to take them to our bank.
We did business with a commercial bank that had a coin counting machine. I poured coins into a hopper and the machine sorted them, counted them and dropped them into clear plastic bags. Usually, one of the bags would get full and the machine stopped so the bag could be replaced. I think there were two bags for each denomination in the machine and a bank clerk would take out the full bags and replace them with new empty bags.
The machine had bags for the current small sized dollars. Larger Eisenhower dollars were rejected and dropped into a box inside the door of the machine. I learned to ask the clerk to check for these because these were not included in the tally. The Eisenhower dollars were an annoyance for the bank because they just accumulated and did not circulate.
The full bags were picked up by an armed security service that processed large volumes of coins for their customers. These operate independently from the Federal Reserve System. A banker friend indicated that their service provider was a secret operating at an undisclosed location. The plastic coin bags held the same capacity as the older cloth bags.
Cents, 5000 pieces @ $50
Nickels, 4000 pieces @ $200
Dimes, 10,000 pieces @ $1000
Quarters, 4000 pieces @ $1000
Halves, 2000 pieces @ $1000
The bags did not need to be full and the quantity would be written on the bag. I was amused to note that the bags were marked for pennies and not cents.
Bags may be ordered from banking service companies in quantities at less than $1 per bag. The bags have an adhesive strip to seal the bag. Unlike the reusable cloth bags, these bags are cut when opened and are not reusable.
I am aware of these brand-named bags:
CoinLOK coin bags, 13 x 25 inches
Eco.S.T.A.T., single handle bag, 12 x 21 inches.
Fort Knox, single handle coin bag. 13 x 22 inches.
Fork Knox, dual handle coin bag, 14 x 23.5 inches.
Muscle Pak© bank deposit coin bag, 12 x 20 inches.
Surecoin, single handle coin bag. 12.5 x 19.75 inches.
My interest is in large bags similar to the old cloth bags. Since they are not reusable, the modern plastic coin bags serve a different purpose than the vintage cloth bags. There are many kinds of smaller plastic bags that can be sealed during transport for banking deposits.
The traditional cloth bags printed with the name of the U. S. Mint were sewn shut and used to ship new coins from the Mint. Thus, the concept of an unsearched Mint sewn bag.
Way back in the Twentieth Century, large quantities of coins were taken out of parking meters and collected from fare boxes on busses. These would be sent to the Federal Reserve Banks and might be placed in cloth bags imprinted with the name of the various Federal Reserve Banks. These bags of mixed used coins would be shipped to customers.
Thousands of local banks had their names printed on cloth bags that could be used to provide coins for customers and for customers to send coins in for deposits. I have also seen bags printed with the names of transit companies and casinos.
Many coin dealers had their names printed on cloth bags. Our company used imprinted cloth bags to ship 90% silver coins, wheat cents, bulk world coins or anything similar. We also used plastic zip-lock bags and other strong plastic bags for shipments.
All the printed cloth bags are collectable. Are the plastic bags collectible? Well, I currently have two in my collection but I suspect that is unusual.
Here in the big city, fare boxes and parking meters have card readers. Coins may be becoming obsolete. Perhaps some future numismatic historian will find this article and appreciate that I documented the current usage of plastic coin bags.
To read the earlier E-Sylum articles, see:
NEWMAN PORTAL ADDS U.S. MINT COIN BAG GUIDE (https://www.coinbooks.org/v26/esylum_v26n13a15.html)
MODERN BALLISTIC COIN BAGS (https://www.coinbooks.org/v26/esylum_v26n14a21.html)
The Benin Bronzes — some roughly 3,000 stunning bronze artworks sculpted by African metalsmiths between the 16th and 19th centuries — were crafted from metal mined from Germany's Rhineland region, a new study finds.
Researchers had long suspected that the masterfully crafted sculptures — created by the Edo people of the Kingdom of Benin, now part of modern-day Nigeria — were made from melted-down brass rings used as a currency during the trans-Atlantic slave trade, but confirmation proved elusive.
Now, scientists have used these metal rings, called manillas, recovered from five centuries-old Atlantic shipwrecks to trace the artworks' provenance, confirming that their metal came from repurposed bracelets that had been originally used to purchase enslaved people. By tracing the manillas' metal, the researchers found the majority had been mined from western Germany. They published their findings April 5 in the journal PLOS One.
"The Benin Bronzes are the most famous ancient works of art in all West Africa," study first author Tobias Skowronek, a researcher of engineering and materials science at Technical University Georg Agricola in Germany, said in a statement. "Finally, we can prove the totally unexpected: the brass used for the Benin masterpieces, long thought to come from Britain or Flanders [Belgium], was mined in western Germany. The Rhineland manillas were then shipped more than 6,300 kilometers [3,900 miles] to Benin. This is the first time a scientific link has been made."
Manillas, which get their name from the Spanish word for handcuffs or hand rings, served as a currency for European enslavers — namely the British, Portuguese, Spanish, Danish, Dutch and French — who sailed to Africa to trade millions of these rings for gold, ivory and slaves.
The manillas — highly valued in Africa, with different types traded among different peoples — were later made into the sculptures. Then, in 1897, British forces invaded Benin as part of a punitive military expedition, turning Benin's royal court to rubble. The British seized the Benin Bronzes before selling them to museums across Europe and the U.S.
To trace the rings' murky origins, the researchers conducted chemical analyses on 67 manillas found across five Atlantic wrecks stretching from the English Channel to Cape Cod, Massachusetts, and in land-based dig sites in Ghana, Sierra Leone and Sweden.
By comparing the elements found inside the manillas, along with their ratios of lead isotopes (variants of lead with different numbers of neutrons in their nuclei), to those inside the Benin Bronzes, the scientists found that both were similar to ores located in Germany's Rhineland region.
The scientists noted that their findings match closely with the evidence from historical sources. For instance, a 1548 contract between a German merchant family and the Portuguese king details the specific requirements for the production of two types of manillas — each for a different region in Africa where one specific manilla type was more highly valued — carefully stipulating their weight, quality levels and shapes.
To read the complete article, see:
Benin Bronzes were crafted of metal from a completely unexpected place (https://www.msn.com/en-us/news/world/benin-bronzes-were-crafted-of-metal-from-a-completely-unexpected-place/ar-AA19B8pc)
To read the earlier E-Sylum articles, see:
BOOK REVIEW: THE MANILLA MONEY OF WEST AFRICA (https://www.coinbooks.org/v21/esylum_v21n18a08.html)
NEW BOOK: WEST AFRICAN MANILLA CURRENCY (https://www.coinbooks.org/v24/esylum_v24n19a04.html)
It really was closer to fifty-five years ago. I grew up in a house full of history. By the time I was 15, I wanted to collect. So off to Humboldt State, where I'd sell rocks, bottles and silver dollars on the weekends to pay for school. During this time, on the way to and from Humboldt, I'd stop in Old Sacramento where I met Wendall Hammon, Ron Lerch, Ken Prag and a few other notables. While I was the youngest, Wendall had gotten a great start. He came from a mining family – the big gold dredges near Oroville. His friends Bob Greenwood and John Howell In San Francisco were very experienced Americana dealers, and we all became friends. Wendall had a way with words, and when he visited Virginia City where he owned property, he'd get on his marketing hat and uncovered huge Comstock collections. Then I met Ed Kalin in Verdi, who also was great at getting good material.
This group ended up with safes full of documents, and I couldn't resist. I decided to start a Comstock collection, then a Nevada and California town collection, not knowing Bob (Greenwood) had done the same thing. What fun! Once I started finding duplicates, I started selling documents, along with the usual rocks, old bottles, and silver dollars at flea markets in 1976 to supplement my whopping $800/month salary as a geologist for Cities Service Minerals Corp…The extra money allowed Robin and I to buy our first house – you remember yours, don't you? Ours cost $50,500. ($300/mo)
Fast forward. Over the next few years I delved deeply into all aspects of mining from production to finance at the advanced mining and finance seminars. Have a parallel business, we were taught, in case of metals failure. But it was a new world, because Nixon had just repealed the Gold Reserve Act, and no one knew what would happen as gold left its unsteady perch of $35/ounce.
Meanwhile, Wendall started the Sacramento Book and Paper Show. All of us attended and sold. I'd put up over a hundred notebooks of billheads, all arranged by town or category. I doubt anyone had done this before me. It was a huge success. At the Great Western Show in Pomona, they'd line up three to five deep to get to the notebooks… and the bottles… and the mining artifacts.
My mining career took off. We made an official start to the Americana business in 1983, when I hired Eva Leiker, my first employee, a very special lady. We put out two catalogs. We opened a gallery on Wells Avenue. I ran the Gold Bar mine in Bullfrog while others ran the Americana shop in Reno. It stayed that way for years. Then we landed the Mel Fisher Atocha treasure artifact deal, which I arranged to be held at Caesar's Palace in Las Vegas in 1987. And then… and then… and then… it became 2023.
Part of the and then… was another very fun part of my life: mountain running. I couldn't play city league basketball or baseball anymore because I was always gone. So I started running trails around the Bullfrog district at night (too da…ed hot in the day). Then I met this crazy bunch of guys that introduced me to trail running in the Sierra Nevada. See ya! I was hit by the bug for the next 2 decades. Nobody saw me at trade shows unless I could go out for an hour or two run every day. Uwe, our chief photographer, is one of the guys. He is still one of my very best friends. Running 100-110 miles/week on mountain trails is pure heaven. You see territory few ever see. It's even better when you are a geologist and naturalist. Wow!! Then I conned Robin into it, so we got to share the joy!
So now we're back to 2023. The fantastic SS Central America auctions. We (our team at HWAC) all love hearing the great comments from around the world about the auction and catalogs. We didn't realize it at first, but we sold to collectors in twelve different countries.
So thank you collectors for this wonderful ride. It's not over and will get even more exciting. Just wait…. You'll see!
For more information, see:
https://www.holabirdamericana.com/
The American Numismatic Association (ANA) is pleased to announce that Christian Strayhorn will soon join the Association's team as its new Education Director.
Born and raised in North Carolina, Strayhorn has 17 years of experience in the education sector with community colleges, and public, private, charter and international schools (El Salvador, Brazil and China). She began her career as a history teacher and school administrator after receiving a Bachelor of Arts, History from North Carolina State University, graduating Summa Cum Laude. She later went on to receive a Masters of Arts, History from the University of Nebraska-Kearney. She has been honored with numerous fellowships – including a Transatlantic Outreach Program (TOP) fellowship to Germany and a National Endowment for the Humanities (NEH) at UC Berkeley – and has earned Certificates in Global Education Entrepreneurship from UPENN and in School Management and Leadership from Harvard Business School.
Strayhorn's recent focus has been on redesigning learning experiences and creating programs that are engaging, entertaining, interactive and informative. She has authored historical fiction and non-fiction books, research articles, been a guest blogger, a TEDx speaker, and an international speaker and presenter.
I'm a tireless advocate for life-long learning, says Strayhorn. The ability to bring my experiences with history and education to the world of numismatics feels like a beautiful culmination of my career journey. I am eager to jump in and continue the amazing and inspiring work of the ANA.
Strayhorn assumes the role of ANA Education Director on March 29. She will be responsible for implementing an online education program while elevating and improving upon existing programs. Strayhorn takes the reins from Rodney Gillis, who retired after serving the ANA for nearly 17 years. The newly expanded Education Director role will oversee educational content development and programs for a new eLearning platform, and collaborate with national numismatic experts for teaching in the Association's eLearning Academy, technical seminars and the acclaimed Summer Seminar. A major focus will be implementing a new Learning Management System.
We're thrilled to welcome Christian to our numismatic community, says ANA Executive Director Kim Kiick. This newly expanded leadership role is critical to the ANA's mission, and I believe Christian is that person who can help expand our educational initiatives for the next generation of collectors.
For more information, see:
https://www.money.org/
102158 | GERMANY. Dr. Hugo Eckener/LZ 127 silver Medal. Issued 1930. Commemorating the First South American Flight of the Airship LZ 127 Graf Zeppelin (36mm, 24.76 g, 12h). By O. Glöckler in Berlin. DEM GENIALEN DEUTSCHEN LUFTSCHIFF-FÜHRER / HUGO ECKENER, bust left / FRIEDRICHSHAFEN • SEVILLA • PERNAMBUCO • RIO DE JANEIRO • LAKEHURST, airship downward left over the flightpath from Europe to South America; ERSTE / SÜDAMERIKA / AEQUATORFAHRT / »GRAF ZEPPELIN« in four lines across field. Edge: 835 PR. MÜNZE. BERLIN. Hans Kaiser 542; Button 263. PCGS SP-65. Highly brilliant and prooflike, with a light frosting to the devices and a charming mirrored nature to the fields; some subtle toning augments the eye appeal of the reverse. An attractive aviation type; surpassed in the PCGS census by just one example. $465.
Zeppelin was a German general and aircraft manufacturer, who later founded the airship company Luftschiffbau Zeppelin. Following Zeppelin's death in 1917, Dr. Hugo Eckener became the head of this company and oversaw post-war fundraising to expand upon its production, even serving as commander for the LZ 127 on numerous occasions. When this airship first entered use, it was the first commercial passenger transatlantic flight service in the world, eventually making 590 flights over nearly a decade. In 1940, she was scrapped for metal for the German efforts in World War II.
To read the complete lot description, see:
102158 | GERMANY. Dr. Hugo Eckener/LZ 127 silver Medal. (https://www.numismagram.com/product-page/102158)
102311 | GREAT BRITAIN. William III & Mary II silver faux-engraved Jeton or Gaming Counter. Issued circa 1690—1710, or slightly later. Series 5: Sovereigns of England: Half length (25mm, 2.30 g, 5h). By the school of Simon van der Passe. GVLIELMUS D G MAG BRITANNIÆ FRANCE ET HIB REX FID, jugate busts of William & Mary right / Crowned coat-of-arms within Collar of the Garter; rose to left, thistle to right; all within elaborate border. Mitchener –. Choice Extremely Fine. Very lightly toned, with excellent intricate artistry. A fairly rare later type from a popular series. $495.
Gambling and games of chance have served as a form of entertainment and excitement during much of recorded history in one way or another, and many of these games necessitate some form of accounting during play. In early modern Europe, jetons were commonly employed for these purposes and allowed for skilled engravers to promote their artistry. One such engraver was Simon van der Passe, born in Utrecht circa 1585.
Van der Passe worked in England from 1616–1621/2, having founded a school after being exempted from the royal monopoly given previously to Nicholas Hilliard. This exemption allowed for the "graving and imprinting medailles" and small portraits of the king, and van der Passe utilized his technique for the production of numerous series of jetons or gaming counters, initially employing portraits of the Stuarts, James I and later Charles I with his wife, Henrietta Maria. Though Simon would return to Holland in 1621/2, his London-based school continued under the management of his brother, William. Subsequent issues of these jetons would feature Gustav Adolph and his wife, Maria Eleonora, the sovereigns of England, 'classical portraits' of historical and biblical figures, 'street cries,' and the Commonwealth.
Of even greater interest and debate among numismatists over the past century has been the method of manufacture of these jetons. Their appearance at first glance would lead one to believe that they have been individually engraved owing to their incuse design. It is thought that, in fact, these ornate counters were skillfully cast and polished in order to generate this 'faux-engraved' effect.
To read the complete lot description, see:
102311 | GREAT BRITAIN. England. William III & Mary II silver Jeton. (https://www.numismagram.com/product-page/102311)
102364 | GREAT BRITAIN. "Good Night, Good Morning" cast bronze Medal. Issued 1990 (115mm, 12h). By P. J. Ellis for the British Art Medal Society. Plate of breakfast, with two eggs, two strips of bacon, and a sausage, all in the form of a smiling face / Crescent moon with closed eye, along with knitted sock and glove. Edge: Plain. BAMS 18. Essentially as made. Brown surfaces, with intense, tactile relief. From an extremely limited issuance of just 16 pieces cast. $465.
An incredibly massive and impressively whimsical piece, this specimen is ultra-modern and avant-garde, while also feeling sculpted as a nod to the renaissance. About Ellis and this piece, the British Art Medal Society notes that "...his medal was inspired by the 'raw, crass humour' of comics and the 'dumb wackiness' of animated cartoons. On one side, a face-pulling breakfast grins at the sunshine, whilst on the other the spookier world of the dark is manifested in woolly gloves and socks."
To read the complete lot description, see:
102364 | GREAT BRITAIN. "Good Night, Good Morning" cast bronze Medal. (https://www.numismagram.com/product-page/102364)
102357 | SOUTH AFRICA & GREAT BRITAIN. Exhibition silver Award Medal. Engraved and awarded to Richard Harris & sons in 1885 at the South African Exhibition held in Port Elizabeth (48mm, 55.24 g, 12h). By A. Fischer & Co. in Port Elizabeth. FORWARD, EVER FORWARD, Hope, resting hand upon anchor, standing right and leading settlers toward the Temple of Learning in background to left / SOUTH AFRICAN EXHIBITION / PORT ELIZABETH MDCCCLXXXV, four cherubim within wreath, lifting up rectangular frame engraved "RD HARRIS & SONS / LEICESTER / HOSIERY FROM / CAPE WOOL" in four lines. Edge: Plain. Choice Mint State. Extremely brilliant and very attractively toned. $345.
Despite being based in Leicester in the East Midlands of England, the Richard Harris & Sons Hosiery factory won this South African award medal for their entry in Port Elizabeth. Specifically, their hosiery utilized a local product in the form of cape wool.
To read the complete lot description, see:
102357 | SOUTH AFRICA & GREAT BRITAIN. Exhibition silver Award Medal. (https://www.numismagram.com/product-page/102357)
The Scott Douglas Collection of Canadian Medals and Tokens
Geoffrey Bell Auctions Ltd. is excited to be offering the Scott Douglas Collection of Canadian medals and tokens in our Toronto Coin Expo 2023 Spring Sale this May. The collection, sure to attract a lot of enthusiastic bidders, will kick off session two of the auction. Scott's name has been synonymous with Canadian medals and tokens for decades, thanks to his exhaustive research on the subject, and now the fruits of his labours are available to the public.
For more than 30 years, Scott Douglas has specialized in tirelessly researching and collecting Canadian tokens and medals and has unselfishly shared his knowledge with interested parties. He's served as president or on the executive of many Canadian and American numismatic organizations, receiving many awards and honours, including becoming Grand Knight of the Saint Eligius Brotherhood of Numismatists of Canada and in 2018 receiving the highest prize in Canadian numismatics, the J. Douglas Ferguson Foundation Award.
Some highlights of the more than 200 lots in this collection include an 1852 Quebec Bank One Penny Token, an incredible condition rarity with brilliant, almost fully red surfaces. Both sides are flashy and fully struck and its mate, an 1852 Quebec Bank Half Penny Token, plain edge, about 80% brilliant copper-orange with areas of steel colour in the fields and remnants of a partial print on the obverse. Almost never seen this nice.
Lot 700 is Lr. 666 — McGill University Henry Chapman medal, copper. The Chapman medal for Classical Literature and Languages is the first in the McGill medal subseries, funded by Montreal merchant Henry Chapman in 1857 (Sandham, 1872).
Canadian history abounds with this sale, as shown with Lr. 1451 — Pleasure Trip on the St. Lawrence - Steamer Longueuil. 1882. Examples of this scarce souvenir medal are also known in silver, bronze, lead, and tin. The white metal representative in the Joffre Collection realized $390 in April 2022, and this piece is every bit its equal.
Lr. 1540 — Alfred Sandham's Medallic History of Montreal is an extremely rare medal, only the second this cataloguer has seen. These have been highly sought-after by collectors since the late 19th century.
Significant named medals include Lr. 1856 — Queen's University, copper. Awarded to J.H. Pilkey for medicine in 1922, Dr. Pilkey would go on to serve as a surgeon at Kingston General Hospital.
Our Toronto Coin Expo Spring Sale takes place May 4th and 5th at the Toronto Reference Library, 789 Yonge Street, with lot viewing from 9:30am to 4:30pm and the auction starting at 6pm, Eastern time. Bidding is available in-person, online, by phone, and by mail.
For more information, see:
http://www.gbellauctions.com/
Demetrios I Poliorketes Tetradrachm

The 'White Rose' Collection | Kingdom of Macedon, Demetrios I Poliorketes, (306-283BC) AR Tetradrachm, Salamis, c.300-295BC, Nike, blowing trumpet and holding stylis, standing left on prow of galley left rev. Poseidon Pelagaios standing left, preparing to throw trident, monograms flanking, 11h, 17.09g, (Newell, 18 (unlisted dies); HGC 3, 1012a) detailed and imposing strikes, lustrous with light cabinet toning, some softening to higher points but otherwise good very fine, rare
To read the complete item description, see:
THE 'WHITE ROSE' COLLECTION | KINGDOM OF MACEDON, DEMETRIOS I POLIORKETES, (306-283BC) AR TETRA... (https://live.spink.com/lots/view/4-9E59G7/the-white-rose-collection-kingdom-of-macedon-demetrios-i-poliorketes-306-283bc-ar-tetra)
John the Baptist Countermark on British Halfpenny

British Halfpenny
Countermarked twice with a Head punch. The two heads are stamped at an angle to each other.
According to Rulau, this countermark is the head of "John the Baptist". John the Baptist was a prophet known in Christianity as the forerunner of Jesus. John preached about God's Final Judgment and baptized repentant followers in preparation for it. Jesus was among the recipients of his rite of baptism. John the Baptist and Jesus were second cousins.
This countermark exactly matches the same countermark found on a 1794 Talbot, Allum, & Lee token that is plated in the Rulau Standard Catalog of US Tokens catalog (the TA&L token was in the Bob Vlack collection). Reference: Rulau E NY 886A (page 51, 4th edition).
Note: This lot contains only the countermarked British Halfpenny.
To read the complete lot description, see:
British Halfpenny, Counterstamp "(Two Heads)" (Seen on 1794 Talbot, Allum & Lee) (https://www.ebay.com/itm/134518013040)
1837 No Stars Dime

1837 10C No Stars, Large Date, MS65 PCGS. CAC. PCGS Population: (31/8 and 2/1+). NGC Census: (29/25 and 0/3+). CDN: $4,400 Whsle. Bid for NGC/PCGS MS65. Mintage 682,500. (Registry values: N4719)
To read the complete lot description, see:
1837 10C No Stars, Large Date, MS65 PCGS. CAC. PCGS Population: (31/8 and 2/1+). NGC Census: (29/25 and 0/3+). CDN: $... (https://coins.ha.com/itm/seated-dimes/1837-10c-no-stars-large-date-ms65-pcgs-cac-pcgs-population-31-8-and-2-1-ngc-census-29-25-and-0-3-cdn-/a/60314-51233.s)
1970 CBS Sales Medal

CBS 14K Gold Medal
Brand: Unbranded
Type: Medal
Metal Purity: 14k
Color: Gold
Pendant/Locket Type: Medal
Base Metal: Yellow Gold
Style: Medal
Material: Metal
Metal: Yellow Gold
Country Of Origin: United States
To read the complete lot description, see:
CBS 14K Gold Medal (https://www.liveauctioneers.com/item/150075027_cbs-14k-gold-medal)
Nick Carter Movie Advertising Note

To read the complete lot description, see:
Early Unknown Obsolete Banknotes Rare? (https://www.ebay.com/itm/125856834023)
One of the elite coins from the prestigious Hunt Collection, a coin considered the most historically important of all ancient coins, will find a new home when it is sold in Heritage Auctions' CSNS World Coins Platinum and Signature® Auction May 3-5. The Marcus Junius Brutus, Assassin of Caesar and Imperator (44-42 BC), with L. Plaetorius Cestianus, as Magistrate. AR denarius (19mm, 3.72 gm, 12h). NGC XF 5/5 - 4/5, Fine Style (estimate: $450,000+) is the only certified example ever to come to auction that has received a Fine Style designation from NGC.
"The significance of this coin is impossible to overstate," says Cris Bierrenbach, Executive Vice President of International Numismatics at Heritage Auctions. "It is the only Roman coin to mention a specific date and the only Roman coin to openly celebrate an act of murder.
"In addition, this magnificent coin has been a part of some of the most significant coin collections of the last century, including those of Peter Weller, Nelson Bunker Hunt and Sy Weintraub, which plays a significant part in the surging interest and demand."
In addition to the absence of a date and the reference to murder, it also is one of the very few specific coins to be mentioned by a classical author. In his account of the Roman civil wars of 49-31 BC, the Roman historian Dio Cassius wrote, "Brutus stamped upon the coins which were being minted his own likeness and a cap and two daggers, indicating by this and by the inscription that he and Cassius had liberated the fatherland." The EID MAR type was selected in a 2008 vote by top numismatists as No. 1 of the "100 Greatest Ancient Coins."
To read the complete lot description, see:
Hunt Specimen and Cahn Plate Coin Eid Mar Denarius (https://coins.ha.com/itm/ancients/roman-republic/ancients-marcus-junius-brutus-assassin-of-caesar-and-imperator-44-42-bc-with-l-plaetorius-cestianus-as-magistra/a/3107-30051.s)
To read the earlier E-Sylum article, see:
IDES OF MARCH COIN RETURNED TO GREECE (https://www.coinbooks.org/v26/esylum_v26n13a27.html)
Infanthood is one of the few universal conditions that every adult has once experienced, which they—other than subconsciously—cannot explicitly recall. Within this known ignorance, there is a fascinating projection of humanity onto the divine, in terms of religious sentiment and human psychology. If the gods look and act like people, with their unique personalities and eccentricities, then, according to some ancient accounts, they must also share in infancy and childhood. Across the ancient Mediterranean, there were a number of anthropomorphic divinities who appeared on coins and on other visual media in the form of very young humans as their conventional iconography. Other gods manifested in this way in only certain instances, usually engaging a particular type of myth comparable to comic book origin stories, either portraying scenes from a divine childhood or, in some cases, a pre-apotheosis mortal childhood.
The exploits of child-gods often exhibited the realms of their authorities; visual representations provide a snapshot of these stories. Such evocative narratives and images demonstrate various ancient conceptions of the divine and what issuing authorities sought to evoke with such figures on their coinages. To survey these ideas, let us turn to three examples, reviewing infant representations of the gods known as Zeus, Herakles, and Eros in Greek, or in Latin as Jupiter, Hercules, and Cupid.
Zeus-Jupiter

Figure 1. Antoninianus of Valerian, Gallienus, Lugdunum, 255 CE. Obverse: VALERIANVS CAES. Bust of Valerian II, radiate, draped, facing r. Reverse: IOVI CRESENTI. Infant Jupiter on a goat, facing r. (ANS 1957.172.1208).
A baby is observable on the reverse of the above antoninianus minted in the middle of the third century CE (Fig. 1). He wears a bunched garment, rides a goat side-saddle, and enthusiastically raises his outstretched right arm at the elbow. In other instances of this type, the figure seems to grasp one of the goat's horns to steady himself. In this specimen, he may be holding something in front of his chest, but this is otherwise unclear. He glances playfully behind his livestock steed. The goat strides atop a simple groundline, her head raised and horns upright. If the image did not make it clear to the viewer as to who is being represented, the text of the Latin inscription, IOVI CRESCENTI, settles that fact, celebrating to the growing Jupiter. The goat-rider is none other than the infant Jupiter, the king of the gods.
In myth, Jupiter's infancy was an escape from a fraught scenario. Hesiod's Theogony (c. 8th c. BCE), a title that could also be rendered in English as The Birth of the Gods, is one of the earliest written accounts of this myth. Here, the god Saturn (Kronos in Greek) defeated his own father and, thereafter, was justifiably paranoid that his own children would in turn similarly overthrow him (Hes. Th. 453–481). As each of his successive children were born, Saturn ate them whole. To prevent the loss of her sixth and youngest child, Saturn's wife fed him a stone wrapped in swaddling clothes in lieu of the child and hid the baby—the infant Jupiter—where he could grow to the point of being able to overthrow his father and to induce him to vomit up his now fully grown divine brothers and sisters. Variations of the god's rearing emerge across the span of the millennium between Hesiod and when these coins were designed. Among the most popular narratives associated with the suckling Jupiter in the wilderness or on a faraway island includes his being raised and nursed by a she-goat or a nymph with a she-goat attendant, both variously called Amalthea, who we see depicted here as the proud goat with her ward.
The obverse of this coin features the radiate Valerian II, the son of the Roman emperor Gallienus, co-ruler with Valerian I. Valerian II was briefly elevated to Caesar, or junior emperor in this period, as a young teenager in 256 CE. Nicholas M. McQ. Holmes in the Numismatic Chronicle, Vol. 177 (2017) noted that the reverse type is unparalleled in any other coin series and argued that the youthful Valerian II is being identified explicitly here with the myth of the king of the gods with this image as another emerging young leader, in order to invoke hopes for him to have such a successful future rulership in adulthood. Holmes suggests further that the image and myth tied Valerian back to a cult of Jupiter and Amalthea unique to his family's hometown of Falerii in Etruria (Holmes, p. 153). Unlike the immortal Jupiter, however, Valerian II died in 258 CE, well before his age of maturity.
Herakles-Hercules
While Zeus (or Jupiter) is always described as a god born to gods, one of his sons, Herakles, or Hercules for the Romans, is typically presented in myth as having been born human and later elevated to divine status after a series of extraordinary heroic (if not always moral) acts. This presentation of Herakles as a demigod who achieves divinity accounts more easily for representations of his childhood. Mortal adults start off initially as mortal babies, unlike the occasional divinity who springs fully formed from a god-parent's head, like Athena (Minerva) did from Zeus's head, or emerges, gracefully, from a foamy sea, like Aphrodite (Venus). Herakles was the product of the union of Zeus and a mortal woman named Alkmene. Zeus' wife Hera, the queen of the gods, unsurprisingly, is usually described as unhappy with this fact, even with Herakles' ironic, or euphemistic, name, meaning Hera's glory.
Figure 2. Electrum diobol, Thebes, 4th c. BCE. Obverse: Dionysus head. Reverse: Herakles as infant strangling serpents (ANS 1967.152.253).
The infant Herakles is shown on the reverse of the above electrum coin from Thebes, minted in the fourth century BCE (Fig. 2), with similar types found on other Theban silver staters. A pervasive narrative across the ancient Mediterranean describes a divine-hero conquering a serpentine monster, often representing darkness, chaos, and evil simultaneously. Notable among these stories are Apollo slaying Python and Zeus slaying Typhon. One story that riffs on this narrative type is associated with the infant Herakles encountering two malicious snakes and strangling them with his clenched babyfists. Some sources present these snakes as having been intentionally sent in wrath by Hera, angered at the product of her husband's extramarital dalliances.
To read the complete article, see:
Wee Deities on Coins (https://numismatics.org/pocketchange/wee/)
When Eric Lawes set off for a field in Hoxne village, Suffolk on November 16, 1992, it wasn't on a treasure hunt. The metal detector he'd received as a retirement gift was meant to find a hammer lost on the farmland. But the detector picked up a strong signal in the earth, leading Lawes to start digging, and it quickly became apparent that he had indeed found treasure.
After bringing up only a few shovelfuls of silver spoons and gold coins, Lawes quickly retreated and called the police and the local archaeological society. The very next day, as covertly as possible, the archaeologists excavated a chunk of earth with the treasure still contained within. This way, they could remove the objects under laboratory conditions, which would help determine the age and storage method of the cache. By the time everything had been removed from the dirt, the archaeologists had nearly 60 pounds of gold and silver objects, including 15,234 Roman coins, dozens of silver spoons and 200 gold objects.
Lawes received £1.75 million from the British government for finding the gold and leaving it intact, which he split with the farmer on whose land the hoard was uncovered (he also eventually found the hammer, which later went on exhibit). As for archaeologists, they had their own reward: of the 40 treasure hoards discovered in Britain, the Hoxne Hoard was the largest and latest ever found in Britain, says Rachel Wilkinson. The project curator for Romano-British collections at the British Museum, where the artifacts reside, Wilkinson says the unique way this hoard was excavated, compared to how most are retrieved by farmers plowing their field, makes it invaluable.
In the 25 years since the unearthing of the Hoxne hoard, researchers have used the objects to learn more about one of Britain's most turbulent periods: the island's separation from the Roman Empire in 410 A.D.
The end of the fourth century A.D. was an unsettled time for the Roman Empire. The territory stretched across the entirety of the Mediterranean world, including all of the land that would come to be Italy, Spain, Greece and France and large chunks of North Africa, Turkey and Britain. Under Emperor Theodosius, Christianity became the sole religion of the empire, while all other belief systems became illegal, a dramatic change after centuries of polytheism. And while parts of the Empire continued to thrive, the Western Roman Empire was deteriorating. Gothic warriors won battles and killed leaders like Emperor Valens, and in 410 the Visigoths (nomadic Germanic peoples) sacked Rome. Meanwhile, Roman subjects in Britain were left to fend for themselves against raiders from Scotland and Ireland, having lost the support of Roman soldiers even before the separation from the Empire.
The years from the later fourth century to 450, the period including the British hoarding peak, witnessed numerous invasions into the [mainland Europe] Empire by Germanic and Hunnic groups often followed by largescale devastation and disruption, writes Roman archaeologist Peter Guest, the author of The Late Roman Gold and Silver coins from the Hoxne Treasure.
To read the complete article, see:
SEARCH FOR THE LOST HAMMER LEADS TO THE LARGEST ROMAN TREASURE EVER FOUND IN BRITAIN (https://www.thearchaeologist.org/blog/search-for-the-lost-hammer-leads-to-the-largest-roman-treasure-ever-found-in-britain)
Visit of the Japanese to the Philadelphia Mint, June 13th, 1860. A 19th century illustration from Frank Leslie's Illustrated Newspaper.
In 1860 Japan's Shogunate officially sent 80 samurais to the United States to establish a diplomatic and economic relationship with the White House. Their primary mission was to ratify the Treaty of Amity and Commerce Between the United States and Japan. Signed in 1858, the treaty enabled Japan to trade further with more foreign countries, which the government had long restricted to the Netherlands and China for nearly 250 years. The 1858 treaty made Japan incorporate into international relationships both politically and economically.
The Japanese envoy had another mission in the U.S.; to survey the Mint and American monetary system. They stopped at the U.S. Mint in Philadelphia after the ratification exchange in Washington D.C., before they visited New York.
Japan had been troubled by an outflow of gold since Japan had agreed upon the Kanagawa Treaty six years earlier, in 1854. This treaty initiated an economic and mutually beneficial relationship with the U.S., allowing Americans to reside on Japanese soil and engage in economic activities temporarily.
Another problem was the money Japan had circulated in its market. The monetary system was based on three kinds of coins — gold, silver, and copper. Each type of coin had a different method of denomination, which made things more complicated, mainly when they traded with other countries.
Under an agreement with the U.S General Consul Townsend Harris in 1858, Japan had consented to a 1-dollar silver coin (Mexican silver, which was used for domestic and international money at trades), which equaled three 1-bu Japanese silver coins in exchange, with which Japan was not satisfied. That was because Japan's monetary system was based on three separate trimetallic systems: gold, silver, and copper. In measuring a 20-dollar U.S. gold coin, for example, against the value of Japanese silver bu-coins, one dollar nearly came to the value of one bu silver coin.
Harris insisted that foreign currency be circulated in Japan, but Japan was hesitant about having foreign money in its market. Consequently, with a compromise, the two parties concluded that the exchange rate of one Mexican silver coin be three Japanese bu silver coins, based on the condition that the exact weight equals the same value.
Put another way, according to a research paper titled On the Monetary Unification in Japan, published in 2019, while the ratio of gold to silver in terms of values in Japan was 1:4.6380, the ratio in the U.S. was 1:15.3778. This alchemy tripled the value of Mexican coins when they were traded in Japan.
Using this system, one could cash in on the Japanese monetary exchange system by moving Mexican coins through Japan, allowing foreigners to increase their money's value quickly, and moving Japanese gold out of the country and into the world.
One of the most insightful Japanese envoys was Kozukenosuke Oguri, who acted as an inspector/censor and overseer of Japan's diplomacy. At the Mint in Philadelphia, he demanded clarification regarding the amount of gold and silver used in both Japanese and American coins at the Mint to determine the real values of cash from each country.
One American, an author and educator, Patterson Du Bois depicted the event in a book, The Great Japanese Embassy of 1860 as the following:
Oguri produced a sort of steelyard of ivory with which he proceeded to test our weights against his own. The censor also brought forth an abacus or counting machine consisting of fifteen rows of wooden buttons sliding by five on parallel wires. Quite in accord with these crude and antiquated methods was the demand that the gold cobang (about as big as the palm of the hand) should be assayed not by a sample cut from it, but by consuming the entire piece. Three cobangs were thus tested and to satisfy the strangers, also a United States gold dollar. Notwithstanding the cumbrous method of using an entire piece the results were exceedingly satisfactory.
Later Oguri and his men thanked the officers of the Mint for their courteous attention, expressing satisfaction with the results, and promising to lay the whole matter before his government so that a system of exchange could be arranged between the two countries, said Du Bois.
To read the complete article, see:
Japanese envoy's first visit to U.S. Mint in 1860 (https://www.dvidshub.net/news/440992/japanese-envoys-first-visit-us-mint-1860)
To read the complete paper on the Newman Portal, see:
The great Japanese embassy of 1860 (https://nnp.wustl.edu/library/book/625873)
On Good Friday David Pickup wrote:
King Charles and Camilla, the Queen Consort, waved to crowds as they left the Maundy service at York Minster a short time ago.
The royal couple were in the city for the annual service which takes place at a different cathedral across the country every year.
Today, King Charles gave 148 people the special Maundy coins.
Large crowds welcomed the royal couple, with a small anti-monarchy protest taking place nearby.
The King and Queen Consort spoke to people in the crowd before leaving.
How old is the Maundy money tradition?
The Maundy service taking place at York Minster today actually dates back to 600AD.
Meanwhile, the specially minted coins - like the ones pictured above from the reign of Queen Elizabeth II - have kept much the same form since 1670, according to the official website of the Royal Family.
The first recorded Royal distribution was in 1210 at Knaresborough in North Yorkshire by King John.
For many years, the money was only distributed at cathedrals in London, but Queen Elizabeth II started the tradition of holding the service at venues around the country.
During her 70-year reign, the late-Queen presented Maundy Money at every Anglican cathedral in England.
What's it like to receive Maundy money?
Today, 74 men and 74 women are receiving Maundy money from King Charles in a ceremony at York Minster whose origins date back many centuries.
But what is that like to receive Maundy money from the monarch?
Four years ago, Jean Dale was presented with Maundy money by Queen Elizabeth II for her community and church work.
When the letter arrived on her doormat with "Buckingham Palace" written on the envelope, she jokes that she thought she had "been knighted".
"I was absolutely shattered when I received it. It was a lovely thought," she told BBC Radio York.
During the ceremony, Ms Dale, from Naburn, was told she could only thank the monarch.
However, she says the main issue she had was trying to work out what to wear for the changeable April weather, as well as buying a hat for the day.
To read the complete articles, see:
As it happened: King in York for Maundy service (https://www.bbc.com/news/live/uk-england-york-north-yorkshire-65179450)
Royal Maundy Service 2023 (https://www.royal.uk/royal-maundy-service-2023)
A rare coin issued in Kilkenny over two hundred years ago is set to be auctioned on May 3, 2023, by US-based coin auctioneer, Heritage Auctions.
The starting price for the coin is $4,000, but it is expected to fetch a higher price, given that other examples of this coin have commanded prices of close to $20,000.
The coin, an Eight Reales piece from the reign of Charles IV, dated 1804, is sometimes referred to as a piece of eight or a Spanish dollar.
The coin bears a countermark with the symbol "PAYABLE. AT. CASTLE. COMER. COLLIERY" marked around the symbols s/5 d/5 in a garlanded oval shape.
The practice of counterstamping foreign coins began in England around 1797, authorized by the Treasury, stamped by the Royal Mint, and issued by the Bank of England.
It was done in the context of a run on the reserves of the Bank, with "hysterical demand" coming from farmers who sold their cattle and presented their country banknotes for conversion into cash. Cash payments were suspended by the Bank.
In 1797, to address the shortage of silver currency, the Mint was instructed to countermark foreign silver coin reserves held by the Bank of England with a punch of the King's head. It was intended that they would be circulated at a value of four shillings and nine pence.
The Kilkenny colliery counterstamp was applied at the beginning of the 1800s by Anne, Countess of Ormonde, patron of Castlecomer, where she leased the operation of the local coal mines to entrepreneurs.
The counterstamped dollar could be exchanged for coal in the amount of five shillings and five pence. Kilkenny traders would accept these in exchange for their goods, knowing that they could pay the colliery for coal with them.
To read the complete article, see:
Rare Kilkenny coin to fetch huge sum at auction (https://www.kilkennypeople.ie/news/castlecomer/1080079/rare-kilkenny-coin-to-fetch-huge-sum-at-auction.html)
To read the complete lot description, see:
Ireland: Kilkenny - Castlecomer Colliery Counterstamped 5 Shillings and 5 Pence Token ND (c. 1804-1806) XF40 NGC, (https://coins.ha.com/itm/ireland/ireland-kilkenny-castlecomer-colliery-counterstamped-5-shillings-and-5-pence-token-nd-c-1804-1806-xf40-ngc-/a/3107-30154.s)
New banknotes featuring the image of King Charles are being printed in their millions but will not enter circulation until the middle of next year.
The BBC was given exclusive access to the highly-secure site where notes are being produced for the Bank of England.
The King's portrait will be the only change to existing designs of £5, £10, £20 and £50 notes, and new notes will replace damaged or worn older ones.
However, machines such as self-service tills need to recognise the new image.
That process requires a relatively long build-up, and is why the notes will only be issued in mid-2024 - many months after 50p pieces featuring the King's image were put in use, according to the Bank of England's chief cashier.
Sarah John, whose role means her signature is on the banknotes, said: "There is a lot to do to ensure that machines used up and down the country can accept the banknotes.
"They all need to be adapted to recognise the new design, with software updates, and that takes months and months.
"Otherwise, we will be putting a banknote out there that people simply would not be able to use."
The reverse side of current polymer Bank of England banknotes, which in ascending order feature Sir Winston Churchill, Jane Austen, JMW Turner and Alan Turing, will be unchanged.
Where better to test the appetite for embracing the new Charles banknotes than at The King's Head, in Chipping Ongar. The pub has a rich history of its own, named as such because King James II is said to have stayed at a coaching inn on the site during his reign.
Deputy manager Carol Mason said very few customers paid for their drinks with cash now, and they were often from the older generations.
"I started here in 2015 and we noticed the biggest change during Covid when people didn't want to be touching cash," she said.
"They just started using their phones more, their watches more, their credit cards. They just found them easier to use, and they have stuck with it. People have got used to that way of life."
To read the complete article, see:
King Charles banknotes printed - but not ready yet (https://www.bbc.com/news/business-65113330)
Today's topic is money.
It buys us goods and services, but there is a little, scientific secret that the bills in your wallet hold.
So what is the secret?
That paper money is magnetic!
You need a powerful magnet, like a rare earth magnet. It is also called a neodymium magnet.
That strong magnet shows that paper money contains something magnetic.
If you remember in the past, we did an experiment in the past showing how your cereal may be magnetic. Well, the same is true with money that "don't jingle jingle, but folds."
The ink is where we find the metal!
There are green ink and color-changing inks on our currency, and some of the inks contain iron.
That is the secret to moolah being magnetic.
To read the complete article, see:
Hey Ray: Magnetic money (https://www.cbsnews.com/pittsburgh/news/hey-ray-magnetic-money/)
To read the complete article, see:
The chemistry of US currency – Magnetic ink Sharing chemistry with the community (https://uwaterloo.ca/chem13-news-magazine/october-2013/activities/chemistry-us-currency-magnetic-ink-sharing-chemistry)
To read the earlier E-Sylum article, see:
FOLLOW-UP: EXPLODING TWENTIES (https://www.coinbooks.org/esylum_v07n11a20.html)
Ben Alsop, curator of the Citi Money Gallery at the British Museum, and Mieka Harris, education manager for the gallery, offer a snapshot of this rich history - with the help of five objects from the gallery's collection.
This coin made from electrum - a natural alloy of gold and silver found in riverbeds - is one of the earliest examples of coins, and the beginnings of the Western tradition of coinage that is still going strong.
It was minted in Lydia, in modern day western Turkey, in the 7th Century BC, making it more than 2,500 years old.
These coins, featuring a lion's head, were of a consistent weight and purity. As a result, they held a value that allowed them to be used in cross-border trade - replacing the idea of two commodities effectively being swapped between traders.
The tiny coin was of significant value, so was used in high-level trade, as gifts between rulers, and as payment to mercenary soldiers.
The vast majority of the population would never see one, and continued to trade without coins - as had been the case for cities and empires for more than 2,000 years. Bartering, for example, still ran in parallel with trading using coins.
Throughout history, coins have looked very different to the money we recognise today.
This hollow-handled spade money was used in China in the early 6th Century BC, when the country was made up of a number of separate states
In order to inspire confidence among the merchant classes to use this abstract concept of bronze money, it was shaped as an agricultural tool - an item recognised by these people, rather than an alien, round coin.
Coins shaped as knives were also produced in China around 200 years later, as this was a shape recognised by those involved in warfare.
Weight was much more important that shape in terms of value.
Although its use was more widespread than the Lydian coins, the use of coins as currency did not filter down to the population at large until Roman times.
When the British Isles were gripped by civil war in the 17th Century, there was huge instability and a lack of small denomination currency.
Small traders and other establishments stepped in when the central authority was unable to provide this coinage, by issuing their own tokens.
This 17th Century token was issued, according to the inscription, by John Ewing, who traded near St George's Church in Southwark.
He was a tobacconist, hence the image of a monkey smoking a pipe. Customers could use this token in his store, but other local traders may have accepted it, too.
This private production of money was in many ways a forerunner to local currencies seen today such as the Brixton Pound and the Bristol Pound, as well as cryptocurrencies or digital currency such as Bitcoin.
However, these tokens were not used for long. A Royal proclamation, following the restoration of the English monarchy in 1660, clamped down on their production.
To read the complete article, see:
Money making: A brief history of currency from the British Museum (https://www.bbc.com/news/business-36047863)
Students compare coins at a meeting of the Tufts Coin Club Collective at Tufts University in Medford on Feb. 15, 2023.
Coin books filled with pennies from all the states were spread across the table. Next to them, the Red Book — a.k.a. the coin bible, or the definitive, annually updated price guide for US coins — sat open, ready to be read. By 8:05 p.m., devoted and novice coin collectors alike enthusiastically came in ready to learn about the world of numismatics. Soon, members would arrive at the February meeting, ready to sort through $25 worth of pennies, looking for something new to add to their collection.
There is something weirdly soothing about it, and there's also a chance of finding something exciting, said Tufts sophomore Sam Lippman about the coin sorting. It's also fun when we find a random currency like Canadian or British.
Tufts Coin Club Collective became an official university student club in January, but it had been in the works since fall 2021, when Matthew Johnson enrolled. An avid collector since age 8, the computer science major and Sudbury native was eager to share his love of numismatics with fellow students. During freshman orientation, Johnson met fellow student Douglas Lilly, a fellow lifelong coin collector who grew up in the neighboring town of Weston. The pair discovered a shared appreciation of gardening, yard sales, and, above all, coin collecting, and from there it seemed like a match made in coin heaven.
A typical Tufts Coin Club Collective meeting consists of members sorting through coins and giving presentations on the history and practice of numismatics, and guest speakers, like avid collectors and coin shop owners. The club also hopes to take trips to coin shows in the Boston area, such as the Devens MA Coin Show, which are a vital way for collectors to purchase affordable coins and learn more about the history of coins.
Despite Americans paying for purchases with cash only about 20 percent of the time, with those under the age of 45 the least likely to fork over bills and coins, club members like Tufts sophomore Spencer Miller still believe in the appeal of hard currency.
I like the idea of not going fully electronic payments and keeping cash and coins as part of our financial lives, Miller said. While he usually buys his coins online, he still looks for quarters that were minted pre-1965 in his change when he makes a cash purchase. I'll never lose that, he added.
The so-called cashless generation, Gen Z has shown a noteworthy interest in this hobby. According to a survey by the UK-based coin makers Royal Mint, Gen Z collectors are the most likely demographic to start collecting coins, with 43 percent owning a collection and many seeing it as an investment that might bring them a profit later on. The American Numismatic Association, a nonprofit educational organization headquartered in Colorado Springs, Colorado, has 1,207 active members between the ages of 5 and 18.
Johnson, who serves as the Tufts Coin Club Collective's president, believes there are few clubs like his on college campuses. Tufts sophomore Rowan Chetner, the club's outreach director, says her goal is to diversify the coin community and spread word around Tufts of the creation of the club.
As you can see, there are a lot of men here. I want to make sure that non-men also feel welcome to join the club, Chetner said at the Feb. 15 meeting.
Chetner was not a coin collector prior to joining the club more than a year ago. She met Johnson their freshmen year and decided to try it out. Upon attending her first meeting, Chetner found the experience to be both relaxing and fulfilling.
Doing something that is good for your mental wellbeing is very important, she said, adding that the club can be a really fun and safe environment.
Social media also plays a big role for others to learn about the hobby. Christian Hartch, a 22-year-old economics major at Princeton University, has a YouTube channel (@TreasureTownCoins) with over 124,000 subscribers and 17,643,000 views across his videos at the time of reporting. Hartch started the channel at age 17, and now does weekly livestream auctions, educational videos, and unboxing hauls.
Hartch draws in hundreds of thousands of viewers, ages 13-65, in any given week. His main goal is to grow the coin collecting hobby by providing education in an entertaining fashion.
To read the complete article, see:
Cash use is way down, so why have members of Gen Z embraced coin collecting? (https://www.bostonglobe.com/2023/03/31/lifestyle/make-way-new-generation-coin-collectors/)