Visit our NBS Sponsors
About Us
The Numismatic Bibliomania Society is a non-profit association devoted to the study and enjoyment of numismatic literature. For more information please see our web site at coinbooks.org
Subscriptions
Those wishing to become new E-Sylum subscribers (or wishing to Unsubscribe) can go to the following web page link
Membership
There is a membership application available on the web site Membership Application
To join, print the application and return it with your check to the address printed on the application. Print/Digital membership is $40 to addresses in the U.S., and $60 elsewhere. A digital-only membership is available for $25. For those without web access, write to:
Charles Heck, Treasurer
Numismatic Bibliomania Society
P. O. Box 2058,
Bluffton, SC
29910-2058
Asylum
For Asylum mailing address changes and other membership questions, contact Chuck at this email address: treasurer@coinbooks.org
Submissions
To submit items for publication in The E-Sylum, write to the Editor at this address: whomren@gmail.com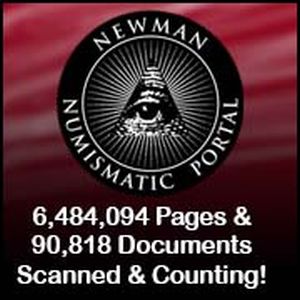 BUY THE BOOK BEFORE THE COIN
Sale Calendar
Watch here for updates!
Content presented in The E-Sylum is not necessarily researched or independently fact-checked, and views expressed do not necessarily represent those of the Numismatic Bibliomania Society.
New subscribers this week include: Ryan Baum of Davis, CA. Welcome aboard!
Thank you for reading The E-Sylum. If you enjoy it, please send me the email addresses of friends you think may enjoy it as well and I'll send them a subscription. Contact me at whomren@gmail.com anytime regarding your subscription, or questions, comments or suggestions about our content.
This week we open with the NBS Charity Auction, one new book, a beautiful deluxe edition, one book review, updates from the Newman Numismatic Portal, and more.
Other topics this week include notgeld, David Lisot, Howard Daniel, the Baldwin Vaquero design, modulated relief, the ANA Summer Seminar and National Coin Week lectures, Yap stone money, auction previews, error coins, new banknote designs, and Heritage Auctions.
To learn more about Canada's Ships, Colonies, and Commerce tokens, the Numismatic Wayback Machine, Henry Voigt, C. Wyllys Betts, Bruce Banner, Ron Guth, the Golden Gate coin, a rare mated pair of errors, scorched banknotes, and the Case of the Stolen Dimes, read on. Have a great week, everyone!
Wayne Homren
Editor, The E-Sylum


NBS 2023 Charity Auction
It's not too early to start planning for the NBS book sale at this year's ANA convention, and David Fanning has again graciously agreed to collect lots and catalog the sale. Literature donations may be sent to David at Kolbe & Fanning, 141 W. Johnstown Rd., Gahanna, OH 43230. Please contact David before sending material, so that he can ensure a stimulating mix of literature at varying price points.
Donations should be received by June 30. This event always contains something of interest for just about everyone, and, thanks to the active participation of contributors and bidders, the proceeds typically cover a substantial portion of the club's operating expenses.
For more information on NBS, see:
https://www.coinbooks.org/
Nathaniel Butler writes:
Notgeld: German Series Notes, 1918-1922 is the first catalog written primarily in English on the topic of German Serienscheine (Series Notes).
These Notgeld (German for Emergency Money), many of which are now over 100 years old, would combine visually striking imagery with the rich local histories, folklore, historical figures, architecture, scenery, politics and humor to capture the attention of collectors throughout the world.
Building off of the indispensable work of German collectors and researchers like Dr. Arnold Keller, Kai Lindman, Manfred Mehl, Hans L. Grabowski, Reinhard Tieste, Manfred Müller and many others, this book aims to provide an updated resource for experienced and beginner collectors alike.
Featured Inside:
Over 5,500 full color images, including many never before published until now.
Clear descriptions and updated pricing in US$.
Newly discovered issues and varieties.
Notes from more than 1,500 issuing authorities, compiled into a single comprehensive volume.
Product Details:
Hardcover
Full Color
424 Pages
Over 5,500 Images
First Edition (March 31, 2023)
ISBN: 979-8-9870629-0-6
Language: English
Dimensions: 8 ¹¹/16" x 11 ¼" x 1 5/16", or 22cm x 28.6cm x 3.3cm
For more information, or to order, see:
Notgeld: German Series Notes, 1918 - 1922 (https://notgeldbook.com/products/notgeld-german-series-notes-1918-1922)
Eagle Poised on a Bank of Clouds: The United States Silver Dollars of 1795-1798
The new Standard Work on the series. With historical background and contemporary context, comprehensive discussion of each die marriage, enlarged high-resolution images of each die state, the first attempt at a true Condition Census, and tips on putting together a decent collection of these inherently expensive coins by focusing on nuances of strike, die wear, and variations in depth of design hubbing from one variety to the next.
Available in a sewn hardcover binding in blue cloth, with dust jacket, for $145 postpaid. Also produced in a limited edition of 10 copies hand-bound by the Harcourt Bindery, Boston, in green half morocco, marbled boards, spine decorated in gilt with five raised bands. Only five copies remain available, at $750 postpaid.
To read the earlier E-Sylum article, see:
NEW BOOK: EAGLE POISED ON A BANK OF CLOUDS (https://www.coinbooks.org/v26/esylum_v26n06a03.html)
My Dad used to say that "comparisons are always odious." Good advice when talking about people in your life, but it's a maxim that doesn't apply to the numismatist. Comparisons hone and refine differences--especially tiny ones--between coins and their historical milieu. Some modern educational theories place "comparison" within the realm of higher thinking.
It can be especially fruitful to compare coins from different countries when there are many numismatic similarities.
The book "Imperial Designs: Canadian Ships, Colonies, and Commerce Tokens" by Christopher Faulkner is a 429+ page book published by Spink with precise and luscious design, two qualities rarely seen together in book-making. I find this important to note in a venue sponsored by the Numismatic Bibliomania Society. It opens a new vista into Canadian and United States numismatics as it brings into our careful focus the Breton 997 token--famous for its obverse of the sailing ship. I should say, "sailing shipS."
On the tokens I've first observed all the ships looked the same, and maybe they were, based on my limited sample of coins. But the ships differ! It may be how the flag is flying, a cut-know, the spiritsail or the foresail, or the looping of the hanging lines. (I will leave readers to look up and learn more about these terms.) In learning about these coins one also develops expertise about ships, and the author includes a neat table-line-drawing of the ships in miniature that helps the reader identify the coins. The ships were majestic. By the 1850s they were approaching 1,000 tons and by 1864 there was one launched that weighed over 33,000 tons.
Faulkner appreciates Canadian history as well as these coins through a poetic lens, and this description rivals Sheldon's reminiscence about those Old Cents in Penny-Whimsy. Here is what Faulkner has to say:
For me it was interesting to see the parallel development of numismatics in Canada and the United States in the study of the coins and tokens displaying the most individual varieties. Breton Token Type 997 has 46 varieties, reminding me of the Early American Cents of 1794, and of the many varieties of other early coins and tokens in North America, such as the many varieties of early colonial coins; the New Jersey coppers, for some reason, come to mind as I am typing this.
There is an honorable lineage of numismatists in Canada studying these tokens, with the following names constituting a particular Hall of Fame: Jeremiah Gibbs, Howland Woods, W.A.D. Lee, Carrol Holmes, Lorne Wilson, as well as those who established major collections.
Many of the 997 tokens appear to be available in highly collectible condition, and by this I mean upper 2-figures and lower 3-figures. There is a feast to be had and an afterglow that will result from careful study. Those who study early American coins will find their numismatic skill-set extremely applicable to these tokens; this is similarly so in a reciprocal fashion for Canadian specialists. Wouldn't it be neat to have a folder for collecting these coins? Perhaps someone at Whitman, Dansco, or another company will consider this.
Faulkner even provides us with a song sung at the opening of the East Country Dock in Rotherhithe on March 21, 1811 (Faulkner, 2019, p. 21). One imagines the feasting and libations accompanying these verses!
Enjoy the book, create a new focus for your hobby.
To read the earlier E-Sylum article, see:
NEW BOOK: SHIPS, COLONIES & COMMERCE TOKENS (https://www.coinbooks.org/v22/esylum_v22n19a03.html)
Old Bag Lovers Unite
The inaugural issue of the Journal of the Old Bag Collectors Club was published by Pete Smith on April 15. According to the Journal, the club is focused on coin storage bags imprinted with the name of the U.S. Mint, Federal Reserve, commercial banks, and coin dealers. Included in this issue is a notice of a rare Carson City bag appearing in an upcoming Heritage auction. The study of coin bags is a natural evolution for similar collector groups that have pursued coin boards, sample slabs, and related items for some time.
Image: Carson City bag, likely related to the GSA offering, from an upcoming Heritage Auctions offering.
Link to Journal of the Old Bag Collectors Club on Newman Portal:
https://nnp.wustl.edu/library/publisherdetail/549372
Link to upcoming Heritage Auctions offering of a Carson City bag:
https://coins.ha.com/itm/morgan-dollars/silver-and-related-dollars/carson-city-mint-canvas-bag-for-silver-dollars-pcgs-7080-/a/1359-4695.s
To watch the complete video, see:
https://nnp.wustl.edu/library/book/584201
To read earlier E-Sylum articles, see:
DAVID LISOT (1953-2022) (https://www.coinbooks.org/v25/esylum_v25n43a08.html)
MORE ON DAVID LISOT (https://www.coinbooks.org/v25/esylum_v25n44a07.html)
The Wayback Machine (http://web.archive.org/) is an archive of the World Wide Web, launched by Internet Archive in 1996. It allows users to go back in time and view old versions of web pages in addition to copies of web pages that no longer exist. It is by no means exhaustive, but, with a current size of 806 billion archived pages, it is unique and indispensable. Originally, the Wayback Machine was the only function of Internet Archive. Later, Internet Archive added scanning, digitization, and other services.
The power of the tool is immediately obvious. The media often reports on content that was removed from websites, and such verifications are made using the Wayback Machine. Related law is evolving, but Wayback Machine screenshots have been allowed as evidence in some courts. For sites that have been removed from the web, the Wayback Machine may represent the only copy that exists, and certainly the only one publicly accessible.
In 2018 Newman Portal began providing annual funding to the Wayback Machine to archive up to 0.5 terabytes of online numismatic data. The current collection size is 2.0 terabytes, representing 26 million web pages. This data is all ingested into the Wayback Machine and becomes publicly viewable; in addition, Internet Archive has a dedicated NNP page (https://archive-it.org/collections/9633) where the material scanned under our sponsorship is searchable on its own. Funding Internet Archive for this work allows us to specify sites that might not otherwise be included in the Wayback Machine.
Wayne Homren curates the list of numismatic websites archived by Internet Archive on our behalf, and currently has 800 sites identified. We are particularly interested in sites that are not actively maintained and may disappear in the near future. Dick Johnson's databank (medalartists.com), which catalogs 40,000 works by over 4,000 artists, is one such example. Sites maintained by single researchers or proprietors are more susceptible to obsolescence than large company sites (ie. Heritage Auctions, although even Stack's Bowers lost important data during an IT migration). Site owners include auction houses, individual dealers, collector clubs, institutional mints, and researchers. We further crawl social media sites, including numismatic groups on Facebook, Instagram, and YouTube. The E-Sylum blog, on a weekly basis, highlights a specific numismatic website, and this site is typically added to our crawl list if not already present.
Most of our crawls are configured to run on a quarterly basis. We do not capture all of the intermediate changes due to space and cost considerations. Further, for the portion of the Wayback Machine sponsored by us (26 million pages), we do not currently incorporate this data into the NNP search engine. There are two main considerations, first, NNP needs to successfully migrate to [a new platform named] Hyku before considering an addition of data that is more than five times larger than the current size of NNP. Second, there would be incremental Amazon Web Services (AWS) costs to host the additional data. This is not yet estimated but would be substantial. There may be ways to incorporate the Wayback Machine search results into NNP without ingesting all of the Wayback Machine data, but this is a post-Hyku migration exercise.
In April 2022, the American Numismatic Society accidentally deleted content from their website, which we located using the Wayback Machine. Andrew Reinhard, publications director, noted you are a lifesaver. Thanks to all involved in this amazing resource. The preservation of today's numismatic websites will have similar impact going forward, in ways that we might not yet understand. Although we have not yet integrated all of the Wayback Machine capability into NNP itself, this represents an important investment for the future.
Howard A. Daniel III passed away at the age of 81 on April 5, 2023 after battling advanced melanoma cancer for 6 months. Howard was born in New York City and was the eldest of seven children produced by Howard A. Daniel, Jr. and Anita Lawler. He is survived by his wife of fifty years, Phung Daniel, and four younger siblings, his two sisters, Joan Ellis and Anne Moble, and two brothers, Michael Lawler and James Miolla.
Howard served in the United States Army, enlisting in 1957 and retiring in 1981 achieving the rank of Master Sergeant. He was recalled to active duty in 1991 and retired in the same year in support of the Desert Storm campaign. Howard's service included assignments in France, Okinawa, Japan, Germany and Viet Nam where he met and married his wife.
Howard earned an Associate of Arts diploma at the University of the State of New York in 1975. He was a very successful and knowledgeable collector, researcher and writer having published six books on the currencies of Cambodia, Lao, Vietnam and the whole of French Indochina. His books are part of the standard references for Southeast Asia. In the 90s he also wrote a popular regular column for World Coin News, and later many articles for which he earned a number of awards.
Howard was a frequent speaker at the annual International Paper Money Show in Memphis, TN on topics related to the various currencies of Southeast Asia and China.
In past 25 years, Howard and Phung made yearly trips to Vietnam to visit family. During those trips, Howard travelled throughout Vietnam, Lao, Cambodia and Thailand meeting collectors, researchers and currency dealers while doing research for his books. He befriended many of those he met and was revered for his knowledge and dedication to numismatics. His most recent research dealt with the currencies of Burma and Malaya.
He became a Life Member of the American Numismatic Association in the 1972, awarded the ANA Presidential Award in 2002, the ANA Glenn Smedley Memorial Award in 2008 and was later earned a 50-year member award of the same organization. He was also a member of Numismatics International and was a Life Member of the International Bank Note Society (IBNS). Served on the Executive Board as First Vice President, Director at Large and Chair of the Young Numismatists Committee. He was inducted into the IBNS Hall of Fame in 2017. He also was awarded the Numismatic Ambassador Award by Numismatic News in 2004.
Howard was generous with his time and happily shared his knowledge, especially to the young people who would come to his table at various numismatic events. He would make up little bags of coins, notes and other coin-like items and give them away with the instruction to do the research and learn about what they had.
Howard was a good, honest and kind man who will be greatly missed not only by those of us who knew him well, but by the numismatic community at large.
Frank Robinson writes:
American Numismatic Biographies author Pete Smith writes:
To read the complete obituary, see:
HOWARD DANIEL OBITUARY (https://www.legacy.com/us/obituaries/name/howard-daniel-obituary?id=51624730)
To read the earlier E-Sylum article, see:
HOWARD A DANIEL III (1941-2023) (https://www.coinbooks.org/v26/esylum_v26n15a08.html)
Jim Haas writes:
Ted Puls writes:
To read the earlier E-Sylum article, see:
MY OWN SAVINGS BOOK (https://www.coinbooks.org/v26/esylum_v26n15a16.html)
More on Henry Voigt
Bill Eckberg writes:
To read Elias Boudinot's report, see:
A Century of Lawmaking for a New Nation: U.S. Congressional Documents and Debates, 1774 - 1875 (https://memory.loc.gov/cgi-bin/ampage?collId=llsp&fileName=009/llsp009.db&Page=352)
To read the earlier E-Sylum articles, see:
REVIEW: HENRY VOIGT AND OTHERS INVOLVED WITH AMERICA'S EARLY COINAGE (https://www.coinbooks.org/esylum_v10n49a06.html)
DELUXE EDITION OF MOULTON'S HENRY VOIGT BOOK (https://www.coinbooks.org/v26/esylum_v26n15a02.html)
More on Semiquicentennial Coin and Medal Prospects

Wayne Pearson writes:
To read the earlier E-Sylum article, see:
Semiquicentennial Coin and Medal Prospects Dim (https://www.coinbooks.org/v26/esylum_v26n15a15.html)
The Spiral-Bound Numisma Reprint
An E-Sylum reader writes:
To read the earlier E-Sylum article, see:
NOTES FROM E-SYLUM READERS: APRIL 9, 2023 : More on the Numisma Reprints (https://www.coinbooks.org/v26/esylum_v26n15a15.html)
Bruce Banner Hulking Up
Last week while discussing this weird-looking screenshot, I described it as:
Chip Howell writes:
To read the earlier E-Sylum article, see:
VIDEO: 1987 NEW YORK INTERNATIONAL (https://www.coinbooks.org/v26/esylum_v26n15a10.html)
More on Osborne Coinage
Alan Luedeking writes:
To read the earlier E-Sylum article, see:
OSBORNE COINAGE SOLD TO BELGIAN COMPANY (https://www.coinbooks.org/v26/esylum_v26n15a17.html)
More on African Manillas

To read the earlier E-Sylum article, see:
STUDY: BENIN BRONZES MADE FROM MANILLAS (https://www.coinbooks.org/v26/esylum_v26n15a20.html)
In the Issue #2 July 2003 of the fixed price list Numismatic Perspective issued by American Numismatic Galleries, LLC, the lead article, titled The Inspiration of the Baldwin Vaquero $10 of 1850, the author (at the time of publication, Q. David Bowers was associated with American Numismatic Galleries, LLC) asserts that the inspiration for Albert Kuner's design of the coin's obverse originated from a print titled "Californians Throwing the Lasso" credited to Wm. Smyth, which was first contained in F.W. Beechey's book Narrative of a Voyage to the Pacific and Beering's Strait to Cooperate with the Polar Expeditions... published in 1831 by Colburn and Bentley in London. In this article, the author states that the print "while famous in the 19th century, is but little known today".
Near contemporaneously (to the best of my recollection), there was another article (perhaps an auction catalog description or advertisement) that took a detailed look at the print and made a comparison to the coin's obverse and concluded that there was on the order of (I'm paraphrasing here) "30 points of congruence" between the print and the coin (noting the number of loops in the horse's tack, number of buttons on the vaquero's clothing, etc.). Since that time, this association has become well accepted in the numismatic community with at least a couple of auction catalog descriptions noting the association (The Old West and Franklin Collections - August 2006, and more recently Heritage Auction April 2014, CNS Chicago).
My questions:
Was Q. David Bowers the author of the article noted above, if not he, then who?
Was that article the first to point out the relationship between Kuner's obverse design for the Vaquero and the spirited sketch of a Californian lassoing a bull, taken from life by Mr. Smyth, in which the method, as well as the costume of the natives is admirably delineated.? If not, then who authored the first and where is it?
Is there a story behind who, when, where and how the association was first realized (somewhat of a Eureka moment)?
Is the use of the word describing the print as "famous" justified and on what basis (other than its appearance in a number of other 19th and early 20th century publications such as Alexander Forbes' California: A History of Upper and Lower California from Their First Discovery to the Present Time…, London 1839) can it be described thusly?
Where is the article mentioning "30 points of congruence"?
Any answers to those questions, or any related information on the Smyth-Kuner association, is most appreciated and my apologies to anyone to whom these questions have already been posed if I have not allowed sufficient time to respond before enlisting the aid of the wider numismatic community.
To read the complete Heritage lot description, see:
1850 $10 Baldwin Ten Dollar MS61 PCGS. K-3, R.6.... (https://coins.ha.com/itm/territorial-gold/1850-10-baldwin-ten-dollar-ms61-pcgs-k-3-r6/a/1204-5436.s)
Modulated Relief. The rise and fall of three-dimension sculptural surface; the total surface planes and curvatures forming a coin or medal design. Modulated relief is created during the step of modeling a design. It is formed by adding material, or carving it away, the function of modeling. The purpose of the model – irrespective of its media, clay, wax, plaster, wood, whatever, or its size – is to convey a surface to a manufacturer who will render this surface, usually by reduction, into a die or mold which to reproduce the coin or medal.
Containing the undulating relief that forms the design, devices and lettering, modulated relief is the surface of the model or pattern, its three-dimensionality gives the object its configuration and shape. It is the warp and wave of the design, or to permit a further alliteration, it is a configuration of contours. This is the bas-relief design that is reproduced by pantographic reduction or copied by hand engraving or forming the pattern to be replicated in some manner to create the end product or object.
(The author began using this term in 1974 and has continued to do so in his writings ever since. The term so aptly describes the exact meaning indicated. It can be applied to model, pattern, die – the struck or cast piece – that is instantly recognizable by any viewer or reader.)
To read the complete entry on the Newman Numismatic Portal, see:
Modulated Relief (https://nnp.wustl.edu/library/dictionarydetail/516348)
Don't believe everything you may read about C. Wyllys Betts. In the June 2000 issue of The Numismatist, an inexperienced researcher wrote this about Betts. The two-faced Janus might be a good choice to represent Charles Wyllys Betts who began his numismatic career as a scoundrel and ended as a scholar. Today a more experienced researcher might be more forgiving of his youthful indiscretions.
Charles Wyllys Betts was born at Newburg on the Hudson, New York, on August 13, 1845. His father was Judge Frederick Joel Betts (1802-1879). His mother was Mary Ward Scoville (1812-1868). Judge Betts moved the family to New Haven, Connecticut, in 1855 so his sons could be educated at Yale.
Mary Ward Scoville had a common ancestor about five generations back with James Mitchell Lawson Scovill and William Henry Scovill, who started the company that became Scovill Manufacturing, makers of transportation tokens and coin blanks for the U.S. Mint. However, the connection is too distant to be worth including here.
Charles was taken out of school with health issues and was home-schooled. He took up coin collecting for recreation and searched for old coins that might be found around New Haven. In 1860 he began to experiment with die engraving and primitive methods for striking coins.
His 1860 sale of duplicates made him a coin dealer and he produced crude storecards with his name. In 1862 he received a set of letter punches and better engraving tools. Many of his productions were unique. His early interest in numismatics ended when he entered Yale College in 1863.
An auction was catalogued by Woodward and sold by George Leavitt on May 17, 1864, with the title Collection of C. Wyllys Betts, of New Haven, To be sold at Public auction as Addenda to the Collection of W. Elliott Woodward. The title was followed with Note. – Very many of the pieces here offered, are struck from excessively rare dies, recently engraved, all of which are destroyed, and every piece being the best in existence. It is the sincere wish of the owner that they meet with satisfaction, This was then followed with the title Fabrications, Struck Copies, &c. and then a listing of 22 pieces. The catalog identified that these were fabrications, recently made, from the collection of Betts. There was no intention to defraud the buyers.
In his house organ, Numisma for November 1877, Eduard Frossard announced the discovery of an important colonial coin shown to him by Captain William Defendorf on September 19, 1877. He described it as: Obverse. Earl's crown, PETER MINVIT, Reverse, Triangular shield with slightly curving border, and beaver in field of rippling waters, NOVVM BELGIVM 1623; border serrated, size 18. Frossard did extensive research and declared it to be a genuine piece for New Netherlands. He acknowledged the possibility our theory must be accredited as correct, unless, indeed, the very spirit of cunning and deceit assisted by the utmost mechanical skill presided at its birth in a modern attelier de faussaire! Frossard did not mention that this piece was number 8 from the 1864 Betts sale.
J. W. Scott was quick to point out the truth in the December 1877 issue of his Coin Collectors Journal. He wrote, A young gentleman, finding time hang heavily on his hands, amused himself by engraving dies in imitation of rare coins; afterward he branched out and designed some altogether fictitious … Scott and other critics took the opportunity to mock Frossard for being duped by an obvious and easily identified fabrication. (The entire article is amusing and worthy of reading.)
In the March 1877 issue of Numisma, Frossard admitted that he had been in error. The same documents Frossard used to authenticate the piece had been used to inspire its fabrication. He included a letter from the creator but did not name him.
An excerpt from the Numisma article was included in The Numismatist article mentioned previously.
C. Wyllys Betts admitted production of such fantasy pieces between the ages of fifteen and eighteen. They were done more for his amusement than from any intent to profit from his deception.
Betts dies that had not been destroyed prior to the 1864 auction, were later given to Yale College. They have since disappeared, possibly during the May 29, 1965, unsolved theft from the Yale library.
The American Numismatic Society in New York has a number of the Betts dies including those for the Novum Belgium piece. These were donated by Frederick C. C. Boyd.
This story, with copies of the relevant documents, was told by Don Taxay in his 1963 book, Counterfeit Mis-Struck and Unofficial U. S. Coins on pages 139 through 147. As this is still covered under the original copyright, it will not be found on the Newman Numismatic Portal. Readers would be required to pick up the actual physical object and turn through the pages.
The story started with Betts but became the story of the commentary and bickering among the prominent dealers of their time, Frossard, Mason, Scott and Woodward.
If the Betts story ended there, his fabrications would probably be ignored as the amusements of an idle teenager. What he did in the last twenty years of his life is still topical and relevant in 2023. Perhaps that story will be in The E-Sylum next week.
Greg Bennick: Very cool. So how did you start down the path of being a researcher and a writer? How did that come about?
Ron Guth: I guess it came about when I started the auction company with Jeff Garrett in 1983 ish. Then, of course I became a cataloger and a photographer. Back then, there was no digital photography. So I actually took a course at Transylvania University to the really odd name in Lexington, Kentucky and I learned how to do photography. And I actually did the processing in our bathtub at home, which of course drove my wife crazy because I had pictures of coins all over the bathroom, but that's what you did. So I became a writer and then years later, I went to California, which is where I am now and I started working with Dana Linett at Early American History auctions. I started out as a numismatic cataloger for him, but then I got into historical documents, so basically, I became a writer. You know, people can describe things as basically just looking at a coin and saying what are the positives or the negatives? Of course, you try to play at the positives, but it's basically just putting into words what you see with your eyes.
Greg Bennick: That makes a lot of sense, it really does. I'm just amazed at just the path and how one thing leads to another, leads to another, leads to another. So, in terms of the books that you've written now, is there any one in particular that you're most excited about? I know that The 100 Greatest US Coins is almost an institution in and of itself, but Jeff told the story, or at least hinted at the fact that The Encyclopedia of US Gold was quite an experience to create. Can you tell me a little bit about that?
Ron Guth: Sure. Writing books is a very interesting process. The first book I wrote was Coin Collecting for Dummies, and I had never written a book before, but the editors at, the Dummies people, I think it was John Wiley at the time, they hunt for experts in different fields and they contact them and ask them, can you write a sample chapter? You know, try along the style. They have a bit of a humorous style and they ask you to develop a table of contents. So, I did that and they said, Okay, we want you to write this book. I said, Well okay, what do I do? What do you need? Well, they want me to take their table of contents that I developed and I mean, literally break it down into subsections, sections, paragraphs. I mean, it was a really detailed outline and it forces you when you write a book to follow a set process. And when you have an outline, it's not a linear process where you start at point A and end up at point Z. You can jump around once you have an outline, and you can go to chapter seven and write about that, or you can go back to chapter three.
So, learning how to write a book or being taught how to write a book by the Dummies people was probably the most important development in my writing career because then I learned what it takes to actually write a book. When I worked with Jeff on the 100 Greatest books, that was basically his idea. And we just picked a group of coins, more than a hundred, and then sent it to the PNG and they all voted. It was a popularity contest per se, and they decided which were going to be the one hundred greatest coins and then we wrote the stories about each one of them. Same thing with the one hundred greatest women that I wrote later on. In this case, I asked the women and Numismatics organization to select the top 100 out of the many hundreds that there were. The Encyclopedia of U.S. Gold Coins was a huge project because basically every U.S. gold coin, including major varieties. And that took a tremendous amount of research because we have to look at rarity of the coins, what conditions are available to collectors and then pricing. It was also tied into the Smithsonian because they had this fabulous collection of coins, including many coins that are not available anywhere else. So that was a really wonderful project, really time consuming. I think it took us about six months or longer just to do the writing for that book.
Greg Bennick: Did you find that you and Jeff had different strengths, for example, like pricing seems to be his forte. Did you have different strengths that lended well to you working together on that?
Ron Guth: Yeah, we complement each other really well. I don't know why it is, but I would read the part that he's written and then the part that I wrote and they're almost interchangeable. The styles of writing are incredibly alike, and I'll read the book and I'll say did I write that or did Jeff write that? You know? It's really interesting. Jeff's forte is pricing, of course, he's an incredible dealer and he's handled a lot of really great rare coins. So, he has that sort of man on the street knowledge. My forte is in the research. I can look up whatever data you need and put it into a narrative. So, we complement each other really well in that regard.
Greg Bennick: Great. Now, in terms of the 100 Greatest Women, that book, what led you to want to write that? Meaning it's of course, so important, I couldn't believe that I don't have it in my library. I actually bought it last night, which tends to be a thread in these interviews, meaning I didn't have the latest edition of 100 Greatest U.S. Coins. And right before my interview with Jeff Garrett, I thought I really should have the latest edition. So last night I bought the 100 Greatest Women on Coins. What led you to want to write that? Meaning that women are so largely unrepresented oftentimes in the coin hobby. And I love the title of the book and what it's about. Can you tell me the why behind the book?
Ron Guth: Sure. I went and worked on a master's degree, I think I got it in 2015, which is right before I started writing the book. And my favorite areas in the master's program were black history and women's history, you know, the struggle for women's rights to vote and that sort of thing. I had a wonderful teacher. It was an online course, and normally when you have an online course, you sign up and there's 15 other people in the class. And so, you have this cohort that you go along with. In this instance, I signed up for the course and the first day I met the professor, I said, Where's everybody else in the course? Only one person had signed up for it and I said, Well I'll leave it up to you professor. If you want to teach me one-on-one, that would be great, but if you don't, I totally understand it. She said no, let's do it. And what that meant was that in cases where I would normally be responding to someone else in my cohort, I was actually one-on-one with a teacher every day and I learned so much from her and it was just such an incredible course that I was just fascinated by the history of women in America. And then I started thinking about women on coins. And you're right, women are underrepresented in our hobby, but it turns out that they're not underrepresented on coins. I thought I might find 50 women on coins, maybe 75 or 100. It turned out when I surveyed everything, and this includes ancient coins up to modern, I got over 700 women. And I would think if I did the survey today, it'd probably be closer to 800 or even more. So that really blew my mind that there were that many different women on coins. And then I thought, well why don't I follow the concept of the one hundred greatest coins and do the one hundred greatest women? So that's how that evolved.
Greg Bennick: That's fantastic. Amazing. So, let's talk about Coin Facts. How did that all come about and what was it like creating it?
Ron Guth: Coin Facts was basically I wanted to take the information that I had about U.S. coins and make it available on the Internet, I called it the Internet Encyclopedia of U.S. Coins. I wanted to put technical data in. I wanted to put images of every coin because back then, the information that you could get would be the Red Book and there were other specialized books and that sort of thing. But there wasn't a place where you could take an entire library and dump it into one format that people could use. So, I developed Coin Facts, and that was a really wonderful, fun project. You know, today we have the Newman Numismatic Portal, which basically has destroyed the value of my library, unfortunately. But what that means is that I have access to all this information that twenty-five, or thirty years ago, you had to spend a lot of money to build a library. Today you don't. The information is readily available and free and it's wonderful. And so that's what I started doing in 1999 and then that grew. And PCGS Collector's Universe purchased it in 2004 and then they rolled it out further and now it's PCGS Coin Facts which is one of the great intangible values in their company.
Greg Bennick: And just so we don't get protest emails from Charles Davis and other purveyors of numismatic literature, I'm going to throw in my vote. And I'm sure you'd agree. That even though much of our library material can be found online, there's still something to be said for holding a book in your hands, sitting under a lamp on the couch and reading the book. I absolutely support that.
Ron Guth: You can't see it here, but I am surrounded by books. A lot of them are piled on the floor here, but when I do my research every day, there are certain go-to books that I have to have the physical book. I use the Newman Numismatic Portal all the time. But you're right, there are certain books that you have to have and have to keep.
Greg Bennick: And there's also things, of course, that aren't on the NNP that you're not going to find anywhere. I mean, the other room is filled with things related to the error hobby and ephemera and this person's badges from an A&A meeting in 1969 and all this weird stuff that I've collected that I think that those things are really great to hold in hand and any book as well, so that's fun to think about. So, the Numismatic Detective Agency, I'm just fascinated by the name and the mission and what you do in terms of exploring the provenance on high end coins. But can you tell us about that and then the other services you provide and how that all came about?
Ron Guth: Sure. The Numismatic Detective Agency came about because it's what I do. I am constantly looking for old provenance, you know, matching coins from today back to old auction catalogs, you know, comparing images and matching images. So, it's really detective work. I'm trying to find coins from fifty or one hundred years ago and reattaching them to the coins today. Coin Facts started as an image library. If you can't have the physical coin, the next best thing is an image. And fortunately, today especially, the digital images are so good that you can actually match them up with images from 100 years ago. In fact, some of the photography from the early 1900's and late 1800's even is better than the photography that was done in say the 1940's and 1950's. So, the detecting part of it is much easier today because of these great images we have. I have a huge database of 60 or 70,000 images of the top ten coins of everything. I do patterns, colonials, varieties, you name it. I'm always taking the image and I call it like pin the tail on the donkey because I can take whatever data it is, a grade and attach it to a coin, a provenance, and attach it to a coin, so I'm basically pinning tails to this coin all the time. And it is a lifelong project because I've been working on it for many years and I still see no light at the end of the tunnel, but it's an extremely enjoyable process.
About the Interviewer
Greg Bennick (www.gregbennick.com) is a keynote speaker and long time coin collector with a focus on major mint error coins. Have ideas for other interviewees? Contact him anytime on the web or via instagram @minterrors.
To watch the complete video, see:
Ron Guth Interview (https://nnp.wustl.edu/library/book/625159)
To read the complete transcript, see:
RON GUTH Interviewed for the Newman Numismatic Portal (https://nnp.wustl.edu/library/book/625160)
To read the earlier E-Sylum articles, see:
RON GUTH INTERVIEW, PART ONE (https://www.coinbooks.org/v26/esylum_v26n15a11.html)
The Professional Numismatists Guild (www.PNGdealers.org) is giving two scholarships this year instead of one so that two young numismatists can attend the American Numismatic Association's 2023 Summer Seminar in Colorado Springs, Colorado.
In recognition of the recent passing of long-time PNG member John N. Rowe III, another member-dealer who wants to remain anonymous has graciously funded a scholarship in John's name. So, we are awarding ANA Summer Seminar scholarships to two YNs this year, explained PNG Executive Director Robert Brueggeman.
The 2023 winners of the annual essay competition are Eva Pate, 18, of San Antonio, Texas, and Hunter Hicks, 19, of Falls Church, Virginia. Pate is a sophomore at the University of Texas at San Antonio majoring in Business. Hicks is a freshman at Stanford University majoring in Economics and Environmental Engineering.
A former member of the Falls Church Historical Commission Board, Hicks enjoys sharing the delight of numismatics. He began collecting nine years ago at the age of ten when he saw a stack of 1943 zinc-coated steel cents at an antique store, and the connection to the past quickly drew him in to the hobby. He explains he tries to collect in ways that match how coins would have once been appreciated, such as filling up a 1916 cash register.
Hicks wrote in his essay: With coins being such an important part of who I am, I see myself as somewhat of an ambassador of the hobby. Most of my friends have never met someone who collects coins and what I can tell them about the hobby will likely be their first and lasting impression of it.
Most adults I talk about the hobby with know it exists, but often haven't thought about it in 30+ years. Therefore, whenever I converse about it, whether when buying an inherited collection or just to explain why I love it, I want to make sure I am expressing the excitement and integrity of the hobby, he explained.
Pate began collecting two years ago in 2021 when a friend took her to a local coin show.
My first-ever coins, however, were actually Mexican coins my grandfather gave me. He had dos pesos, 8 reales, 50 centavos de Cuauhtémoc, and other Mexican silver he accumulated from his time in Mexico. Some of the coins he passed down were actually fake or cleaned, so I learned how to spot problem coins really early on. Because of this, I find It imperative that the numismatic world -- specifically grading companies -- keep up with the technology being used to 'Doctor' coins in order to prevent their entry into the market/holders, she stated.
After being introduced to numismatics my senior year in high school I immediately became hooked. In a short amount of time, I had accumulated a wide arrangement of medals, coins, bars, and anything else that piqued my interest. I've had exponential growth in a short amount of time, and I hope to keep expanding my knowledge while making great memories and friends along the way, she stated in her essay.
Pate enjoys collecting toned Lincoln cents and is putting together a collection she calls Shades of Cool.
I've become passionate about 'gatekeeping' and protecting the numismatic community from people who want to scam collectors or harm coins. I hope to one day participate in numismatic research and contribute to solutions that can detect problem coins before they are put in holders, said Pate.
The PNG scholarships will cover airfare, tuition for one of the two 2023 Summer Seminar sessions, meals, and five nights of dormitory accommodations on the campus of Colorado College, the site of the ANA headquarters, said Brueggeman.
The two separate ANA Summer Seminar six-day sessions will be held from Saturday, June 17, to Thursday, June 22, and from Saturday, June 24, to Thursday, June 29, 2023. Participants ranging from teenagers to seniors take class instruction on specific coin and paper money collecting topics or the hobby's technical and business aspects. Additional information about the ANA Summer Seminar can be found on the ANA website at www.money.org/summer-seminar/register.
The PNG is a nonprofit organization composed of many of the top rare coin and paper money dealers in the United States and four other countries. PNG member- dealers must adhere to a strict Code of Ethics in the buying and selling of numismatic merchandise. For additional information about PNG or the young numismatists scholarship program, visit online at www.PNGdealers.org or call (951) 587-8300.
National Coin Week was established to encourage the enjoyable hobby of coin collecting through fun activities, contests, quizzes, educational content and more. This year's 100th annual event will take place April 16-22 and feature free, live educational webinars focused on the theme "Our Money, Our Heritage, Our America." All courses start at 5 p.m. MT.
Redefining National Identity: Medals in the United States | April 17
Presented by Dr. Jesse Kraft, the Resolute Americana Assistant and Curator of American Numismatics at the American Numismatic Society, where his duties include coins, tokens, medals and paper currencies from all of the Western Hemisphere.
In celebrating the U.S. Centennial, organizations issued medals that helped solidify new concepts of American independence. This trend gained momentum through the turn of the century and into the Colonial Revival period, culminating with the bicentennial of George Washington's birth in 1932. Many ideas Americans now have about national identity were formed in this latter period.
John Lewis: Commemorating an Icon | April 18
Presented by Jim Licaretz, who served two stints as Medallic Sculptor at the U.S. Mint, and served as a faculty member at the Fleisher Art Memorial, Philadelphia, Otis School of Art and Design, Los Angeles, and the Academy of Art College, San Francisco. His works are in numerous private collections, as well as the British Museum, The Royal Coin Cabinet, the American Numismatic Society, and the Smithsonian Institute.
John Lewis (1940-2020) was a Civil Rights icon. Licaretz discusses how he created a series of medals honoring Lewis using a sculpture in the round portrait that he modeled in clay. He modified the sculpture and made a series of reliefs by manipulating the scan data in 3-D modeling programs. The final results were then printed with a liquid resin printer, and molded and cast in bonded bronze.
Histories of America in Your Pocket | April 19
Presented by Jeanne Stevens-Sollman, a decorated medallist who recently completed two 4-year terms on the Citizens Coinage Advisory Committee. Her accolades include the J. Sanford Saltus Award from the ANS, the Award for Excellence in Medallic Sculpture from the ANA, and the American Medal of the Year from AMSA.
Touching on recent U.S. Mint programs such as American Innovation dollars, America the Beautiful quarters, Code Talker medals, and American Women quarters, Stevens-Sollman covers the rich history behind coins and medals, recognizing that U.S. coinage programs often fill the gap of sharing our country's history.
Coining America: The Role of the CCAC in Recommending Themes and Designs for U.S. Coins & Medals | April 20
Presented by Dr. Harcourt Fuller, a Professor of African and African Diaspora History at Georgia State University in Atlanta, who formerly held the position of Research Assistant in the Department of Coins and Medals at the British Museum in London. Dr. Fuller holds a Ph.D. in International History and an MSc (with Merit) in History of International Relations from the London School of Economics.
A discussion of the history and role played by the Citizens Coinage Advisory Committee (CCAC) in advising the Secretary of the Treasury on themes and designs of U.S. coins and medals. Dr. Fuller was appointed to the CCAC in 2021 on the recommendation of the Speaker of the House of Representatives. He will also discuss how he became a numismatist, some of his favorite coins, and how coins and medals play an important role in highlighting the diversity of our rich national history and cultures.
Venerate the Plough | April 21
Presented by Neil Musante, the editor of The MCA Advisory, the magazine of the Medal Collectors of America. He is the author of The Medallic Work of John Adams Bolen and the two volume Medallic Washington.
The program presents a survey of some of the earliest medals struck in or for America and how they reflected our values, customs, traditions, beliefs and institutions. Emphasis is given to those medals actually struck in America although several English and French medals are also considered.
Visit https://info.money.org/ncw-webinars-2023 for additional information and to register for any or all of the free National Coin Week webinars. Space is limited. The webinars will be recorded and available for later viewing. For more information on National Coin Week and how to get involved, visit NationalCoinWeek.org.
Extremely Rare and Large Currency Disc, Yap Islands, Caroline Islands
rai
Stone (probably calcite)
Diameter (widest) 26in (66cm)
Provenance
Dr. John Henry Felix, Honolulu, presented to him by the Yap government for his more than thirty years of service in Micronesia as Head of the Red Cross
American Private Collection
Exhibited
Red Cross Headquarters, Honolulu, Hawai'i
According to Barbara Wavell, "Yap is known throughout the world for its giant stone money. Sometimes taller than the height of a man, this money is the largest and, many say, the most unusual form of money in the world. It consists of stone wheels of crystallized calcite shaped like millstones that are mined in Palau, 250 miles from Yap, and originally transported across the ocean on rafts attached to outrigger canoes. Many Yapese were killed in storms and accidents during transport, and, therefore, stone money was relatively rare, as well as somewhat restricted in size. These stone wheels, called rai, could be as small as seven inches across but were mined in larger and larger sizes once European traders...supplied iron tools for mining and began to transport the stone wheels on sailing ships." (Wavel, Barbara, Arts and Crafts of Micronesia, Bess Press, 2010, pp. 77-78)
To read the complete lot description, see:
Extremely Rare and Large Currency Disc, Yap Islands, Caroline Islands (https://www.bonhams.com/auction/28365/lot/6/extremely-rare-and-large-currency-disc-yap-islands-caroline-islands/)
Two great companies are joining forces, using their combined 75 years of exceptional experience to present to you an auction of some of the Finest Known Treasure and Numismatic rarities! This one-day special auction presents an excellent sample of rarities in various treasure classes: SS Central America; SS Republic; Private Territorial gold coins; treasured Morgan dollars; ancient coins and more.
Both of our companies specialize in treasures. Everyone is fascinated by treasure – whether it is a gold coin found in your own backyard; in a clay pot full of mint state ancient coins; artifacts and coins from the ocean floor, or in a long-held private collection. It's all treasure!
Now we can bring these treasures to you directly at auction. Finest Known, LLC has specialized in numismatics for decades and is the leader in sales of SS Central America material since about 2002, having sold nearly every gold ingot from the Ship of Gold – some of them sold many times over! They are known the world over for their professionalism and education of rare numismatics. The backgrounds and experience of our two companies fit hand in glove and work together to bring you very special items at auction. What everyone witnessed with the SS Central America artifact auctions now comes into play for this select group of treasure and numismatic items.
SS Central America Treasures
The items up for auction from the 1857 SSCA are nothing short of astounding. In the numismatics portion, are several important pieces: a striking 1857-S $20 with deep golden red patina known as the Golden Gate coin. This coin is so stunning in appearance, reminiscent of the fabled sunsets at the Golden Gate, that SSCA Chief Scientist Bob Evans refused to conserve the coin and remove the fabulous coloration. It is one of a small handful of coins that were left alone because of their beautiful appearance.
Other SS Central America treasures include very rare coins of numerous denominations found in various passenger coin piles out in debris fields on the ocean floor, as well as key items from the Gold Room, inclusive of a 13 troy ounce Kellogg & Humbert gold ingot.
SS Republic
The SS Republic treasure of 1865 offers several of the fine $20 gold coins and several of the half dollars. Certainly one of the key pieces is a counterstamped half dollar with TN and 1861 separately stamped into the obverse and reverse. This coin tells the story of the difficult and conflicting politics of the people of Tennessee in 1861 at the onset of the Civil War. As the last state to enter the Confederacy, Tennesseans were strong, outspoken people about their politics during those first months of the Civil War, which is emphasized by this unique half dollar.
Gold Rush Rarities
Very rare, low mintage US gold coins, particularly US type 1 $20 gold coins from 1850 to 1860. A spectacular rarity is a Baldwin 1851 $10 in mint state, one of only a very few known. The collection is supplemented by other rarities including one of the very rare 1911-D low denomination gold coins.
Ancient Treasures
Every collector and every kid gets thrilled thinking about ancient coins. They are a true treasure, and the information and history behind them is another treasure trove. We have a great variety of nearly 100 different silver and gold coins of the ancient period.
Modern Treasures
Modern treasures include many of the 2000 millennium specialty US gold coins in Mint State and Proof 70, the highest grade possible - coins that grade a true perfect.
To bid, see:
https://holabirdamericana.liveauctiongroup.com/Treasure-Trove-of-Rarities-Coin-Shipwreck-Treasure-Auction-April-2023_as89662?t=HFK1
Alexander oversaw a massive minting program that included a series of beautiful silver drachmai. This particular drachm stuck by Alexander (shown below) is a stunning example of classical Greek numismatic artistry.
Pherai, Alexander tyrant. c. 369-358 BCE. AR Drachm, 5.87g (18mm, 10h). E? – ???? – ?S Laureate head of Ennodia r., wearing pendant earring and pearl necklace / ???? – ???? – ?? Lion's head r., with open jaws. Image: Shanna Schmidt Numismatics. Image: CNG.
It is possible to trace this particular coin practically back to when it was excavated. It was first mentioned in 1879 by the noted Greek archeologist, numismatist, and philologist Athanasios Rhousopoulos in a short study he published in the German Archeological Institute's journal, Athenische Mitteilungen. The coin was first owned by Ioannis Photiades Pasha. As the Ottoman ambassador to Athens in the 1860s and governor of Crete from 1879 to 1885 (among various other international diplomatic postings), Photiades used his wealth and position to amass a truly spectacular collection of ancient Greek, Roman, and Byzantine coins. He focused exclusively on coins from the area covering the states stretching from Thessaly to the Cyclades. The Pasha collection was sold in a landmark auction held in Paris by M. Delestre and H. Hoffman May 19-24, 1890, five years after Pasha had passed away.
Rhousopoulos purchased this coin as lot 171 of the Hoffman auction. As the same coin he wrote about in 1879, it is obvious that he had a connection to the drachma. Rhousopoulos would hold on to the drachma until his death in 1898 when his estate consigned the collection to Dr. Jacob Hirsch for sale in 1905. Despite it not being advertised which collection Hirsch was selling, he did state that it was a highly important collection of Greek coins from the estate of a well-known archaeologist and it was widely understood whose coins they were (Walker, 599).
As lot 1446 in the 1905 Hirsch XIII auction, this coin was estimated to sell for 950 German Marks. Prior to World War I, $1 was worth roughly 4.2 marks. So, this drachma was slated to sell for roughly $226, or $6,770 adjusted for inflation.
Twenty-four years later in 1929, this coin resurfaced again as lot 238 in the July 2nd Ars Classica auction. This sale contained the collection of Captain E.G.S. Churchill of Northwick Park as well as those of two unnamed collectors. There is unfortunately no distinction made between the three collections in the 1929 catalogue. The coin was attributed by Ars Classica four years later in their July 1933 auction catalogue to the collection of the Swiss numismatist and noted expert on Thessalian numismatics, Dr. Friedrich Imhoof Blumer.
The coin would come to public auction 49 years later, in the Leu sale of April 1982. While it was given an estimate of 5,000 Swiss Francs, the coin hammered for 11,500 Francs. Adjusted for inflation, this would be 19,282 Francs or $20,478. It was here that the un-named BCD collector acquired the coin. As one of the greatest modern collectors of Greek coins, it is unsurprising that BCD would put together a group of Thessalian coins including this Alexander of Pherae drachma.
Numismatika Ars Classica 124, 2021, lot 134, page 79.
To read the complete article, see:
A Silver Drachm of Alexander of Pherae (https://coinweek.com/ancient-coins/a-silver-drachm-of-alexander-of-pherae/)
Archaeologists found 2,000-year-old Roman coins on the Swedish deserted island of Gotska Sandön.
Previously, ancient Roman coins were discovered on the Swedish island of Gotland. Finding similar ancient items on the deserted island of Gotska Sandön, on the other hand, is unusual. Because of its location, it is a unique discovery.
The coins stem from the time of Emperor Trajan, who ruled the Roman Empire in the years 98-117, and Antoninus Pius, who ruled between 138 and 161.
The discovery was made by a team of experts from Södertörn University and the Gotland Museum.
Archaeologists, to this day, have not been able to identify the historical role of the island within the Baltic region's different historical eras. The island has been inhabited since the Stone Ages, as seal bones, slaughter remains from cows, and a battle glove was previously excavated.
In a statement, Johan Rönnby, professor of marine archeology at Soderon University, which runs the excavations in collaboration with the Gotland Museum, stated that These are exciting finds that raise several questions.
Archaeologists are now debating whether the discoveries are shipwreck remains strewn across the beach. A large number of hearths and fireplace remains have been discovered along the island's coast. Another theory is that the coins are somehow related to these activities.
To read the complete articles, see:
Archeologists discover 2000-year-old Roman coins on the deserted Swedish island of Gotska Sandön (https://arkeonews.net/archeologists-discover-2000-year-old-roman-coins-on-the-deserted-swedish-island-of-gotska-sandon/)
Mystery of Roman coins discovered on shipwreck island has archaeologists baffled (https://www.livescience.com/archaeology/romans/mystery-of-roman-coins-discovered-on-shipwreck-island-has-archaeologists-baffled)
A Late Roman coin was discovered at the fortress Kale Shirokovo in Ruse, Deyan Dragoev, curator in the Archaeology department at the Ruse Regional Historical Museum told BTA.
The coin was from the period of Roman emperor Constans II. It was minted in 651 AD and is made of bronze. It is one of the latest ancient coins discovered in monern Northern Bulgaria during archaeological research, explained Dragoev.
He will present the results of the archaeological survey of Kale Shirokovo conducted last year at the Ruse EcoMuseum on Thursday evening. The Late Roman and Medieval fortress is located on a naturally protected rock between the rivers of Baniski and Cherni Lom.
Dragoev noted that thanks to its powerful fortification system, the fortress, built in the middle of the 5th century, managed to survive the Avaro-Slav invasions of the end of the 6th century, becoming one of the three attested fortresses in the valley of the Ruse Lom River with records leading up to the first half of the VII century.
During the medieval era, the fortified territory was expanded.
"Karel Skorpil suggested that in the ruins of Kale Shirokovo, one should look for the city of Agranzinos, mentioned in the 12th century by the Arab geographer Muhammad al-Idrisi. Other scientists identify the fortress with the medieval Bulgarian city of Krastovets," explained the archaeologist.
To read the complete article, see:
Late Roman Coin Discovered in the Kale Shirokovo Fortress in Northern Bulgaria (https://www.bta.bg/en/news/culture/440646-late-roman-coin-discovered-in-the-kale-shirokovo-fortress-in-northern-bulgaria)
Two amateur history enthusiasts have been accused of trying to sell ancient coins from a Viking hoard to representatives of a mystery American buyer who were in fact undercover police officers.
Roger Pilling, 74, of Rossendale, Lancashire, and Craig Best, 46, of Bishop Auckland, County Durham, are facing a jury trial at Durham crown court.
They have denied a joint charge of conspiring to convert criminal property, namely the Anglo-Saxon coins, for money. They also deny separate charges of possessing criminal property.
Matthew Donkin, opening the case for the prosecution, said the two men had known that the culturally important coins from the reign of Alfred the Great came from a Viking hoard. The court was told the value of one particularly rare coin had been estimated at £70,000 while the combined value of the coins, 44 in total, was about £766,000.
Donkin said the prosecution did not allege that the two men were the original finders of the coins. But someone discovered them, he said. They are extremely rare, ancient coins and they have been dug up or unearthed by someone who chose not to declare them.
The rightful owner of the coins, he said, was the crown.
The two men were arrested after an undercover police operation, the court heard. They had thought that a man, Hugh, was a broker and Max was a coin expert when they had in fact been police. The prosecution alleged Best took three coins to a meeting in a Durham hotel bar.
Donkin said the conspiracy to sell the coins began in 2018, when Best had contacted a US radiology professor at the University of Michigan, Ronald Bude, who was also a collector and lecturer on coins.
Bude's first assessment of the coins had been that they were fake and he said he was consulting an expert at the Fitzwilliam Museum in Cambridge.
The Fitzwilliam expert had recognised the coins as genuine and included a King Alfred two-emperors type silver penny. Donkin said: Prior to 2015, only two coins of that type had been discovered. News of the discovery had then spread through the community of coins professionals.
Donkin said the jury would hear evidence from Dr Gareth Williams, a curator of early medieval coins at the British Museum. He would say that the coins dated from AD874 to AD879 and had been issued in Wessex and Mercia. The majority of the coins are of a comparatively rare type known as cross or lozenge, said Donkin. Two of them are the extremely rare two-emperor type.
The trial continues.
To read the complete article, see:
Two men accused of trying to sell rare Anglo-Saxon coins to undercover police (https://www.theguardian.com/uk-news/2023/apr/11/two-men-accused-trying-sell-rare-anglo-saxon-coins-viking-hoard-undercover-police)
Best was in possession of three coins from the hoard which he took to the meeting to be validated by the 'expert' prior to the supposed sale to the fictitious US collector.
A short time later police raided Pilling's home in Rossendale, Lancashire, arresting him and recovering a further 41 coins believed to be from the same undeclared hoard as those in Best's possession at the Durham meeting.
On day three of the trial, the jury heard from Prof Bude, via a live link from Michigan, in the USA.
He said he came into contact with Best by Facebook prior to attending a symposium on ancient coins at the Fitzwilliam Museum, in Cambridge, in October 2018.
The court heard that Best went on to meet Prof Bude during his stay at the Cambridge conference and subsequently sold him some Northumbrian sceats, small coins, for which he was paid £3,059.
To read the earlier E-Sylum article, see:
Collector accused of £766,000 coins sale plot denies being greedy (https://www.bbc.com/news/uk-england-65250287)
US expert tells trial he thought Viking hoard coins on offer were fake (https://www.thenorthernecho.co.uk/news/23454354.us-expert-tells-trial-thought-viking-hoard-coins-offer-fake/)
ARCHAEOLOGISTS EXCAVATING IN THE POLISH CITY OF WROCLAW HAVE DISCOVERED GOLD COINS DATING FROM THE 18TH CENTURY.
The discovery was made in the historical Przedmiescie Mikolajskie district, located west of the medieval city centre. During the 12th and 13th century, this part of the city was the former location of the villages of Nabitin and Stapin.
According to the excavation team, in the years 1768-1783, the area was developed for the Ravelin bastion fortifications by the Prussians, where archaeologists found mass graves related to the annexation of the city during the War of the Austrian Succession by the Prussians.
The War of the Austrian Succession (known in German as the Österreichischer Erbfolgekrieg) was a European conflict that occurred predominantly in Central Europe, the Austrian Netherlands, Italy, the Atlantic, and the Mediterranean.
Habsburg Empress, Maria Theresa, ceded most of the territory in the Treaty of Breslau in 1742 to Prussia. According to the treaty's terms, Maria Theresa surrendered the majority of the Silesian duchies to Prussia, with the exception of the Duchy of Teschen, the Troppau and Krnov districts situated south of the Opava river, and the southern region of the Duchy of Nysa, which were designated as the province of Austrian Silesia.
Excavations of the graves revealed gold coins, including: a gold ducat of the Republic of the United Provinces of the Netherlands from 1748, a gold ducat from 1750 of Francis I Stephen of Lorraine, and a 1750 half a gold sovereign of his wife Maria Theresa Habsburg.
All three coins have been given to the City Museum in Wroclaw for exhibition to the public.
To read the complete article, see:
EXCAVATION LEADS TO DISCOVERY OF GOLD COINS (https://www.heritagedaily.com/2023/04/excavation-leads-to-discovery-of-gold-coins/146925)
Numismatic News reader Greg Bennick has discovered a mated pair of uncirculated 1867 Shield nickels under-described in auction as a lesser error type. The error pair includes planchets intended for both a copper-nickel alloy 3-cent and a Shield nickel 5-cent piece, but neither the original grading service nor auction house mentioned that a 3-cent planchet was involved. This error combination involving the planchets of two different denominations elevated the coin to a far rarer error type than if it was a mated pair of like planchets. Mated pairs are rare on United States coinage but nowhere near that of this multi-denominational mated pair.
Even more unusual – not only were the two pieces struck together, but the 3-cent piece had been struck previously by Shield nickel dies rather than 3-cent dies! Upon entering the press a second time, it landed on top of a Shield nickel planchet and was struck again, imparting a Full Mirror Brockage into the Shield nickel from the first strike. The coin virtually covered the 5-cent planchet on the second strike. The difference was so slight that it was virtually undetectable, but it was enough that it almost completely hid the fact that a smaller planchet was involved.
Bennick purchased the set in Heritage Auctions' Misfits Collection of U.S. Error Coinage, Part 2 as lot #93096 for $10,800 (including buyers' premium) on Dec. 21, 2022. He said, I saw the coins were described too simply by Heritage and were in third-party grading holders with labels that didn't accurately match the coins... The first coin was clearly double struck as it had left a perfect Brockage impression within the Shield nickel planchet when they were mated them together.
A Brockage is the result of a planchet and a struck coin being in the coining chamber at the same time. The two items may overlap each other, rest on top of each other or be of different sizes when struck. Because this brockage represents a first impression of the coin into a planchet with no distortion, it is referred to as a Mirror Brockage or because it covers the entire design it could be called a Full Mirror Brockage.
Bennick said, I thought it odd that everyone had missed describing the upper coin as double struck, which it had to have been to create a brockage on the lower coin. I also noticed that the two coins seemed to fit into one another more easily than they would if the planchets were the same denomination. The second coin had a bit of peripheral design remaining even though the first coin had been fully indented into it. I own and have studied many mated pairs, though nothing of this magnitude, and I thought if the third-party grading service had missed the double strike, that possibly they might have missed more about the pair as well.
Bennick speculates that the 3-cent planchet was likely a leftover in a bin that was used previously to transport 3-cent planchets to a press for striking 3-cent pieces. For some reason, this planchet got stuck in the tote bin which was later filled with 5-cent planchets and delivered to a press striking 5-cent coins. The coin was then delivered to a press striking Shield nickels, struck and kicked back into the press and struck again while laying on top of another 5-cent planchet. This transport method is in fact the most common way for Off Metal and Wrong Planchet errors to occur.
Based on the irregularities Bennick saw in the description and on the pair, he hoped there was more to the coins than was inscribed on the original holders and took a chance, winning the pair with a bid of $10,800 (including the buyer's premium). Upon closer inspection of the coins, he determined that the upper coin that appeared to be struck on a smaller planchet was in fact the weight of a 3-cent copper-nickel piece. This was later confirmed by Numismatic Guarantee Company (NGC) of Sarasota, Fla., who slabbed the coins in new holders, with one coin having been struck on a 3-cent nickel planchet and the second struck on a Shield 5-cent planchet. NGC graded each coin MS-64 and made note that a 3CN, for three-cent nickel, planchet was involved.
Mark Lighterman, vice president of Combined Organizations of Numismatic Errors Collectors of America (CONECA), who has been collecting errors since the 1970s and owns the largest collection of United States Off Metal and Wrong Planchet errors, said that, while he owns three examples of Shield nickels struck on 3-cent planchets, he has never heard of one involving a mated pair, suggesting that the set is unique.
Recently retired error coin dealer and former Professional Coin Grading Service attributer for error coins, Fred Weinberg of Encino, Calif., indicated to Bennick that he had never heard of any such set, not even in the legendary Conway Bolt collection that Weinberg himself had sold in the early 1970s.
Bennick has been a collector of major mint errors for over 40 years since the age of 10. He said he is thrilled with the discovery, calling the set impossibly rare and hopes news of the find will draw more new error collectors into the hobby.
There are still treasures to be found, he said, and it all starts with excitement and education about errors, and then close and careful study of as many coins as possible.
To read the complete article, see:
Unique Mated Pair Shield Nickel Discovered (https://www.numismaticnews.net/us-coins/unique-mated-pair-shield-nickel-discovered)
A 2022 Sally Ride American Women quarter that was mistakenly struck on a Jefferson nickel planchet has been certified by Numismatic Guaranty Company (NGC). Graded Mint Error MS-67, it is being offered by GreatCollections on April 30.
Wrong planchet errors are dramatic because they often involve the truncation of a coin's design. The smaller nickel planchet affected the words LIBERTY on the obverse as well as QUARTER DOLLAR and DR. SALLY RIDE on the reverse.
Modern technology and quality control procedures have limited the number of mint errors that find their way into circulation, so a coin like this generates excitement in the numismatic community. Bidding for the coin had already reached $6,000 more than three weeks before the sale.
To read the complete article, see:
Sally Ride Error Coin Certified by NGC (https://www.numismaticnews.net/us-coins/sally-ride-error-coin-certified-by-ngc)
The Bank of Japan unveiled samples of new high-security banknotes that it will start issuing around the first half of fiscal 2024 to the media on April 14.
The new notes went on display at the Currency Museum in Tokyo's Chuo Ward the same day, and will also be displayed at the Bank of Japan Otaru Museum in Japan's northernmost prefecture of Hokkaido from April 28.
It is the first time since 2004 that Japan has redesigned its banknotes. The face of the new 10,000-yen note bears an image of industrialist Shibusawa Eiichi (1840-1931), the "father of capitalism in Japan." The 5,000-yen note features female education pioneer Tsuda Umeko (1864-1929), while 1,000-yen notes have Kitasato Shibasaburo (1853-1931), who helped lay the foundations of modern medicine in Japan.
A sample of the new 10,000-yen banknote, top, is seen next to the current one at the head office of the Bank of Japan in Tokyo's Chuo Ward on April 14, 2023.
The back of the 10,000-yen note depicts the Tokyo Station Marunouchi Building, the 5,000-yen note Japanese wisteria flowers, and the 1,000-yen note the artwork "Under the Wave off Kanagawa" from the "Thirty-six Views of Mount Fuji" by Japanese ukiyo-e artist Katsushika Hokusai (1760-1849).
The new notes incorporate the latest anti-counterfeiting technology, including 3D holograms whose appearance changes depending on the angle from which they are viewed, microprinting, luminescent ink and high-definition watermarks. They also implement universal design features such as tactile marks to make it easier to distinguish between each of the notes.
To read the complete article, see:
Japan unveils new high-security banknotes to be issued from FY2024 (https://mainichi.jp/english/articles/20230415/p2a/00m/0na/005000c)
One hundred and eighty 50,000-won bills ($38.50) scorched by the Gangneung fire were replaced by the central bank.
According to a local media outlet Thursday, the owner of a vacation house, which was burned by a wildfire that broke out in the coastal city in Gangwon on Tuesday, found a stack of charred 50,000-wons after the blaze was extinguished.
He took the 9 million won to the Bank of Korea's Gangneung office and requested an exchange.
A damaged banknote can be replaced if more than three-fourths of the note remains intact. If two-fifths of the note remains whole, half the amount of the bill is refunded.
Dented or rusty coins can be replaced with new ones, but not if their authenticity cannot be confirmed.
A measurement device with 400 grids is used to assess the damage in a banknote, said a spokesperson for Bank of Korea Gangenung.
If the size is shrunk by a fire or stretched by water, the damage proportion is determined based on the distorted size, the spokesperson added.
To read the complete article, see:
Bank of Korea replaces 9 million won worth of scorched bank notes after wildfire (https://koreajoongangdaily.joins.com/2023/04/14/national/socialAffairs/Gangneung-fire-wildfire-50000-won/20230414132855968.html)
The chair of British banknote printer De La Rue has resigned after months of attempts to oust him and criticism of the company's leadership by one of its largest shareholders.
De La Rue, which can trace its history back more than 200 years, is responsible for printing about a third of all banknotes in circulation worldwide including the new Charles III design being produced for the Bank of England.
Loosemore's resignation comes after a difficult few months for the London-listed company, which issued its third profit warning in 12 months on Wednesday after it revealed demand for banknotes was at its lowest in 20 years.
De La Rue has blamed the knock to its order books on falling demand for paper money, as consumers opt for card and contactless payments. Its share price has lost half of its value since the start of 2023, and has tumbled by almost two-thirds since last April.
To read the complete articles, see:
Banknote printer De La Rue's chair quits after turnaround plans criticised (https://www.theguardian.com/business/2023/apr/14/banknote-printer-de-la-rues-chair-kevin-loosemore-resigns-criticism-activist-investor)
Banknote printer De La Rue's chairman steps down (https://www.reuters.com/business/banknote-printer-de-la-rues-chairman-steps-down-2023-04-14/)
About two-thirds of all U.S. residents who file federal income taxes typically get a refund. Unfortunately, this year I am among the other third who owe the Internal Revenue Service money.
So I tried something I've never done before and few people do: I wanted to pay my tax bill in cash – that is, with real paper currency.
The IRS does not publish data on the methods people use to pay their taxes, but several IRS employees I spoke with told me almost no one pays the IRS in cash.
I had cash at home, but not enough. I went to the bank and made sure I got exact change in crisp new bills to make the transaction as easy as possible.
I made it to the IRS building, went through airport-style screening and checked in on time. The receptionist was polite and again told me all the ways to pay without cash. After I declined, he asked me to take a seat in the waiting area filled with people clutching paperwork. As I walked away, the receptionist did a facepalm while shaking his head, which was not a positive sign.
After a 30-minute wait, another polite IRS worker came out and told me they could not accept cash that day because no courier was scheduled. Current IRS rules require that a courier take all cash immediately to the bank because they said holding cash was not safe. This is surprising given the federal office building was swarming with armed guards and required screening to enter.
I came back a week later when another cash payer was showing up. This time I had more success. It took 30 minutes, but after completing a multipart carbon form by hand, I got a receipt that said my taxes were paid.
To read the complete article, see:
I tried to pay my taxes in cash – here's what happened, and why the IRS should make it easier to do so (https://theconversation.com/i-tried-to-pay-my-taxes-in-cash-heres-what-happened-and-why-the-irs-should-make-it-easier-to-do-so-203282)
Objects with a bit of history have an obvious attraction in a high-tech world. The current cultural tumult, with its boom in fake images, endless arguments over everything and now the debut of imperious A.I. chatbots, increases the appeal of things that can't be plugged in.
At the same time, advances in technology mean it is ever easier to buy expensive things online. Bids at auctions routinely reach tens, even hundreds, of thousands of dollars.
One thing people are eagerly seeking with the new technology is old technology. Cormac McCarthy's typewriter, which he used to write a shelf of important novels, went for a quarter-million dollars. An Apple 1 computer fetched nearly twice that. A first-generation iPhone, still sealed in its box, sold for $21,000 in December and triple that in February.
Blend these factors — a desire for escape from our virtual lives; bidding as fast as pushing a button; and the promotion of new collecting fields like outdated technology devices — and you have Heritage Auctions in Dallas.
Heritage is a whirlwind of activity, of passion, of hype, constantly trying new ways of enticing people to own something beautiful and useless. Ninety-one million Americans, according to U.S. Census Bureau surveys, are having trouble paying household bills. Everyone else is a potential bidder.
There was a point in time when art and collectibles were dominated by old white men, said Josh Benesh, Heritage's chief strategy officer. I think that has been democratized. And the categories of material for sale have been democratized a lot.
Twenty years ago, Heritage had four categories: coins, comics, movie posters and sports. Now it has more than 50, which generated revenue of $1.4 billion last year. Everything, at least in theory, is collectible.
We don't question the value or legitimacy of a particular subject matter relative to outmoded norms, Mr. Benesh said. We're not here to tell you what's worthwhile. The marketplace will tell you. The bidders — Heritage has 1.6 million — will tell you.
The Heritage offices look like a cross between an Amazon warehouse and a very wide-ranging museum, with a dash of Hoarders thrown in.
In mid-2020, the privately held company moved to a 160,000-square-foot building by Dallas-Fort Worth International Airport, doubling the size of its former headquarters. Hundreds of specialists, most of them collectors themselves, prepare hundreds of thousands of items for bids here — researching, photographing, writing catalog copy.
Stuff overwhelms desks; objects are piled to the ceilings in storage rooms; racks are full of items that have been bought and must be shipped.
A recent Heritage auction featured a 1948 Joe DiMaggio jersey. What made it special was the black armband attached to the left sleeve, a tribute to Babe Ruth after his death on Aug. 16 of that year. The Yankees' two greatest stars were thus linked for a few weeks.
The jersey was being sold by a collector, and there was no direct connection to DiMaggio. So Heritage sent photographs of it to Resolution Photomatching in Seattle.
Resolution found a contemporary picture that showed DiMaggio apparently wearing the shirt, although without the mourning band. The tiny imperfections in the flannel were the same. The jersey sold for $564,000.
To read the complete article, see:
Yes, People Will Pay $27,500 for an Old 'Rocky' Tape. Here's Why. (https://www.nytimes.com/2023/04/13/technology/heritage-auctions-vintage-videocassettes.html)
National Geographic and BBC Studios' Documentary Unit announced the greenlight of LOST GOLD, a three-part limited series that traces the rise and fall of maverick scientist and explorer Tommy Thompson — from his life-changing discovery of the wreck of the S.S. Central America to the turmoil that led to his prison sentence.
In 1989, Tommy Thompson stunned the world by recovering three tons of gold and historically priceless artifacts. Despite this staggering achievement, Tommy would be caught in a maelstrom of litigation, deception and personal turmoil for the next three decades as he tried to hold onto his find. Facing serious allegations, accused of defrauding his 161 investors, he went from ship deck to courtroom to prison cell. How — and why — did Tommy's extraordinary success unravel?
With exclusive access to an extensive video archive from the original expeditions, and produced with Gary Kinder, author of The New York Times bestseller about Tommy's expedition, Ship of Gold in the Deep Blue Sea, this series will tell the inside story of one man's mission to achieve the impossible. And it will unpick the tangled story of what happened afterward.
LOST GOLD sifts through 600 hours of archive footage and thousands of slides, prints, photos and newspaper clippings on the original exploration mission — the majority of which have never been seen before. In addition, Nat Geo and BBC Studios have access to original footage and images, including archives from the court-ordered mission to recover the remaining gold from the site.
Every so often, you come across a story so captivating that you feel compelled to get to the heart of it, said Tom McDonald, executive vice president of Global Factual/Unscripted, National Geographic. LOST GOLD encompasses all that we are passionate about at Nat Geo: exploration, adventure, discovery, and at its core, truth-telling. We cannot think of a better partner than BBC Studios to execute this series with.
From treasures on the bottom of the Atlantic Ocean to one of the longest manhunts in the history of the U.S. Marshal Service and the prisons and courts of Ohio, this remarkable saga will be woven from intimate interviews with the key players, a wealth of unseen archive material, and dramatic recreations of key moments.
To read the complete article, see:
National Geographic and BBC Studios Announce Limited Series 'Lost Gold' (https://www.disneyplusinformer.com/national-geographic-and-bbc-studios-announce-limited-series-lost-gold/)
To read earlier E-Sylum articles, see:
MANLEY-MARSHALL MOVIE SPECULATION: THE S.S. CENTRAL AMERICA STORY? (https://www.coinbooks.org/esylum_v10n29a13.html)
MORE ON THE SHIP OF GOLD FILM (https://www.coinbooks.org/esylum_v15n49a10.html)
The Legacy of Jewish Coinage
Brushing aside negative portrayals of the ancient rebels, the Zionists made an ideological connection to them because they had bequeathed an important legacy. During their brief independence (five years in the First Revolt and three in the Second Revolt), the rebels revived and repurposed key political concepts from the earlier periods of Jewish sovereignty, reinforcing these concepts and keeping their memory alive for a people about to enter a long period of forced exile.
Among these concepts, all recorded on the rebel coins, are the name of the sovereign Jewish state (Israel), the title of a secular political leader (nasi), the use of the Hebrew language to the exclusion of other languages, and even the goal of political independence (herut, freedom).
After the Romans quashed the revolts, Jews kept the coins. Finds occasionally surface in places like old Cairo. Maimonides and Nahmanides wrote about these Shekels of Israel, the Renaissance rabbi Azariah dei Rossi studied them. Their ideas entered the Jewish cultural bloodstream, aided by a medieval Hebrew paraphrase of Josephus's work, called Sefer Josippon, which emphasized national resistance.
The Jewish rebels struck coins in silver and bronze, both to replace the Roman coins in circulation and to spread political messages. The inscriptions Shekel of Israel, Jerusalem the Holy, Shimon the Prince, Year 2 of the Independence of Israel, Year 4 of the Redemption of Zion are the equivalent of ancient tweets, real-time slogans from the revolts.
These ancient tweets are virtually the only surviving writing from the rebels.
Anyone who has been to Israel has seen the pictorial symbols on these revolt coins – national symbols like a palm tree and citron fruit or lulav and etrog, reminders of the Temple like its musical instruments and the high priest's staff. The modern State of Israel adopted them for today's coins.
To read the complete article, see:
The debt to the Jewish rebels against Rome - opinion (https://www.jpost.com/opinion/article-739061)
To read earlier E-Sylum articles, see:
BOOK PREVIEW: GUIDE TO BIBLICAL COINS 6TH ED. (https://www.coinbooks.org/v24/esylum_v24n47a04.html)
HALF-SHEKEL FROM THE GREAT REVOLT DISCOVERED (https://www.coinbooks.org/v25/esylum_v25n51a23.html)
Collecto Digitizes Coin Collections
To read the complete article, see:
Collecto – the Easy Way to Digitize Coin Collections (https://coinsweekly.com/collecto-the-easy-way-to-digitize-coin-collections/)
To read about their Qatar Museums Coin Project, see:
The Museum of Islamic Art Coin Project (https://yearsofculture.qa/posts/the-museum-of-islamic-art-coin-project)
To visit the firm's website see:
https://www.collecto.art/
Cape Cod Area Philatelic Group
Stamp collectors have a love of history, a love of learning and an eye for a good investment.
In fact, on Cape Cod, the last remaining stamp club — Cape Cod Area Philatelic Group — would like to help anyone with an old stamp or stamp collection figure out what they have.
Philatelic means the members are not simply stamp collectors but are interested also in the postal history, geography or art connected with it, and their collections can cover a wide range of topics, club member David DuBois, who lives in Falmouth, said.
I learned geography, world capitals, the early British colonies, Bono, former president of the Cape group and current secretary, said at his home in Yarmouth Port surrounded by stamp albums.
People who like to put things in order, are attracted to stamp collecting, Bono said.
To read the complete article, see:
Wondering what to do with a stamp or stamp collection? On Cape Cod there are a few options (https://www.capecodtimes.com/story/lifestyle/features/2023/04/12/stamp-collections-reflect-love-history-learning-orderliness/70061446007/)
Man Throws $100 bills Out Car Window
A man threw piles of cash out of his car window onto Oregon's I-5 freeway on Tuesday night, with several lucky bystanders stopping their vehicles to grab the money.
Police responded to a report of money being thrown out of a vehicle around 7 p.m. on Tuesday on the freeway near Eugene, Oregon.
Police identified McCarthy as the man throwing the money. He later told troopers that he distributed about $200,000 in total, per ABC News affiliate KEZI 9.
Police said they warned McCarthy to stop throwing the money because it was dangerous for people to be running on the I-5 in the dark. They said he took the advice.
McCarthy ultimately wasn't charged with a crime or cited, but Andrews said officers considered it because of the danger it caused on the road, per KEZI 9.
But while several bystanders benefited from the stunt on Tuesday, his family said they've been left penniless.
To read the complete articles, see:
A man threw stacks of $100 bills from his car window in a wild show of generosity. His family says he drained their bank accounts, leaving them broke. (https://www.yahoo.com/news/man-threw-stacks-100-bills-103715649.html)
An Oregon man 'gifted' money to strangers by dropping $200,000 in cash out his car window (https://www.cnn.com/2023/04/15/us/oregon-cash-blessing-highway-trnd/index.html)
Police are investigating after someone broke into a trailer containing hundreds of thousands of dollars worth of dimes in Philadelphia.
The discovery was made around 6 a.m. Thursday in a Walmart parking lot.
Police said an estimated two million dimes, worth $200,000, were stolen.
A total of $750,000 worth of dimes were in the truck, police said.
Dimes were found scattered from the parking lot to a nearby road.
Our sister station WPVI has learned the truck driver picked up the dimes from the Philadelphia Mint on Wednesday but then went home to get some sleep before a long drive to Florida.
"This is common practice - to pick up a load going to Florida and go home for the night, get to sleep, and get on the road in the morning," Capt. Jack Ryan of Northeast Detectives said.
The truck driver parked the big rig in the Walmart parking lot. When he came back Thursday morning he found the trailer door was open.
"They were trying to cross-load the dimes into other things. There are dimes all over the parking lot," Ryan said.
Police said cargo thefts have been an ongoing issue, both in the Northeast and in South Philadelphia, with all kinds of goods stolen.
There are cameras in the parking lot and investigators are working on a suspect description.
One bystander wondered what the thieves will do with all of those coins.
"I feel like if they try to go to the bank and cash it in, they're going to get caught," Jasmine Waters said. "They'll be like, 'Well, where did you get all of these dimes from?'"
To read the complete article, see:
Estimated 2M dimes stolen from truck in Philadelphia after left in parking lot overnight (https://abc7.com/philadelphia-crime-stolen-dimes-from-truck-how-much-is-1-million/13123302/)
To read other articles, see:
Police investigate after $100,000 in dimes stolen from truck (https://local12.com/news/nation-world/100000-in-dimes-stolen-from-truck-us-united-states-mint-coins-dime-economy-police-cops-investigation-philadelphia-trucker-driver-crime-scene-cincinnati-ohio)
Philadelphia police investigating after trailer containing $750K in dimes broken into at Walmart parking lot (https://www.foxnews.com/us/philadelphia-police-investigating-trailer-containing-750k-dimes-broken-walmart-parking-lot)
Thieves stole $100,000 in dimes off a truck in a Walmart parking lot (https://boingboing.net/2023/04/13/thieves-stole-100000-in-dimes-off-a-truck-in-a-walmart-parking-lot.html)
fvaqu