Visit our NBS Sponsors
About Us
The Numismatic Bibliomania Society is a non-profit association devoted to the study and enjoyment of numismatic literature. For more information please see our web site at coinbooks.org
Subscriptions
Those wishing to become new E-Sylum subscribers (or wishing to Unsubscribe) can go to the following web page link
Membership
There is a membership application available on the web site Membership Application
To join, print the application and return it with your check to the address printed on the application. Print/Digital membership is $40 to addresses in the U.S., and $60 elsewhere. A digital-only membership is available for $25. For those without web access, write to:
Charles Heck, Treasurer
Numismatic Bibliomania Society
P. O. Box 2058,
Bluffton, SC
29910-2058
Asylum
For Asylum mailing address changes and other membership questions, contact Chuck at this email address: treasurer@coinbooks.org
Submissions
To submit items for publication in The E-Sylum, write to the Editor at this address: whomren@gmail.com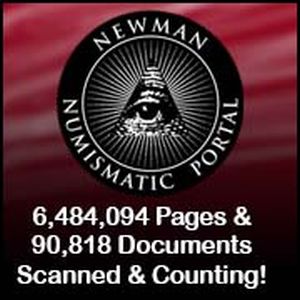 BUY THE BOOK BEFORE THE COIN
Sale Calendar
Watch here for updates!
Content presented in The E-Sylum is not necessarily researched or independently fact-checked, and views expressed do not necessarily represent those of the Numismatic Bibliomania Society.
New subscribers this week include: Bill Anderson. Welcome aboard!
Thank you for reading The E-Sylum. If you enjoy it, please send me the email addresses of friends you think may enjoy it as well and I'll send them a subscription. Contact me at whomren@gmail.com anytime regarding your subscription, or questions, comments or suggestions about our content.
This week we open with a library purchase, four new books, two obituaries, updates from the Newman Numismatic Portal, and more.
Other topics this week include proof nickels, cardboard coins, an original Confederate cent, the 1848 Mint Report, Dave Noble, Oscar Schilke, Blake Alma, the Walton 1913 Liberty Head nickel, the PNG and NLG awards, physical bitcoins, iron ingot currency, the George I 'Dump' Farthing, and the Toronto Airport gold heist.
To learn more about the Alpha Bank collection, coins and banknotes of the eurozone, Norm Peters, Daniel Groux, and the Great Canadian Maple Syrup Heist, read on. Have a great week, everyone!
Wayne Homren
Editor, The E-Sylum


As a man true to his word, Scott E. Douglas, FONA, FRCNA, FCNRS, & The Grand Knight of the St Eligius Brotherhood of Numismatists of Canada, packed up and tied down 41 boxes of books (mostly of the standard banker's box size) containing some 2,484 items for delivery on Mon. Apr. 10 to complete Richard Stockley Books' purchase of the initial part of his numismatic library that he made available for sale just prior to the RCNA Convention last July. This was about twice as much material as he originally estimated because, upon reflection he decided to include umpteen boxes of auction catalogues that he's accumulated for research purposes over the past few decades of his active numismatic life.
Thankfully, the long trip (some 2175 km or about 1352 miles) door to door from his home in Acton, Ontario to that of Howard R. Engel in Winnipeg (which is, incidentally, just a stone's throw from the Winnipeg Mint) was thankfully uneventful. He missed the ice storm that plagued Eastern Ontario and Quebec and the Colorado low pressure system that dumped 15-25 cm. of snow on Winnipeg less than a week earlier. Upon arriving just past noon on Mon. Apr. 10, in very short order we unloaded the boxes onto the low deck facing the newly constructed climate-controlled book storage shed.
Howard took most of the rest of the day carting the boxes inside, but not before checking out their tantalizing contents. Highlights include something for just about everyone in the hobby, no matter what level, from beginner to advanced, and consisting of literature on just about every type of numismatic material, whether coins, medals, tokens, paper money and exonumia, including numismatic literature as a collectible in and of itself.
Dannreuther's United States Proof Coins Volume II: Nickel Released
United States Proof Coins Volume II: Nickel, the eagerly anticipated second in a series of four important reference books on U.S. proof coins authored by acclaimed numismatic researcher John W. Dannreuther, is now available.
The 374-page book with hundreds of full-color illustrations covers the proof varieties of Three Cent, Shield, Liberty Head (V), and Indian Head (Buffalo) nickels. High resolution photographs show every variety with either a full obverse and reverse image or micro close-up photographs of the date positions for the obverse dies as well as diagnostic characteristics of the reverse dies when paired with the same obverse.
The book's foreword, written by Bernus (Bernie) Turner, states: The world of collecting United States proof coinage has expanded with the publications authored by John Dannreuther, as these volumes contain new research and previously unpublished data on United States proof coins This latest publication expands that body of information to include nickel proof coins. I, for one, sincerely hope that many collectors start participating and share in this new enjoyable, exciting field of collecting proof coins not only by date, but also by the die varieties of the nickel coin series.
Hardbound copies of United States Proof Coins Volume II: Nickel are available for $125 each. Postpaid. Orders can be placed online at www.orcararities.com or by email at orcararities@gmail.com. A limited edition of 150 numbered leather bound books is planned for this summer. The nickel proof coins book follows the 2018 publication of Dannreuther's two-part gold proof reference work in 2018. Those who bought the two-part leather bound gold books will be able to have the same limited-edition book number inscribed on their nickel book if they order before June 30.
The next volume in the proof coin reference books by Dannreuther will focus on U.S. silver proofs from 1794 to 1922 and will be published in late 2024 or early 2025. The last volume will cover copper proof coins.
John W. Dannreuther was a co-founder of Professional Coin Grading Service and an honored inductee in the PCGS CoinFacts Coin Dealer Hall of Fame. He was named the 2007 Numismatist of the Year by the American Numismatic Association, and in 2022 he received the highest honor given by the Numismatic Literary Guild, the Clemy Award.
For more information, or to order, see:
https://www.orcararities.com/
To read the earlier E-Sylum articles, see:
NEW BOOK: U.S. PROOF COINS VOL IV: GOLD (https://www.coinbooks.org/v21/esylum_v21n07a02.html)
BOOK REVIEW: UNITED STATES PROOF COINS, VOLUME IV (https://www.coinbooks.org/v21/esylum_v21n41a06.html)
Exhibition catalogue. In English (also available in Greek). Soft cover, 29 cm, 276 pp., ill. ISBN: 978-618-5072-50-6.
To celebrate the 50th anniversary of the creation of its world-famous Numismatic Collection, Alpha Bank organized the major retrospective exhibition "THE OTHER SIDE OF THE COIN" at Goulandres Museum. The book presents 150 most rare coins from this collection, today one of the most important of its kind.
Title: THE OTHER SIDE OF THE COIN
Author: D. Tsangaris (ed,)
Binding: Paperback
ISBN 10: 6185072505
ISBN 13: 9786185072506
Publisher: Alpha Bank
Place of Publication: Athens
Date Published: 2023
For more information, or to order, see:
https://www.paypal.com/paypalme/DemetriusSiatras/87.50
THE OTHER SIDE OF THE COIN: Persons - Images - Moments (https://www.biblio.com/book/other-side-coin-d-tsangaris-ed/d/526197814)
Euro Catalogue for coins and banknotes 2023 English
Comprehensive presentation of all coins, banknotes, and official circulation coin sets since the introduction of the euro.
Summary of all European 2-euro commemorative coins
Detailed compilation of euro banknotes.
Short historical overview of the introduction of the euro.
With colourful illustrations and many technical details (e.g. year of issue, mintage, material, weight, diameter / size, value in euro)
Scope: 868 pages
The EURO-catalogue by LEUCHTTURM contains a comprehensive presentation of all coins, banknotes, and official circulation coin sets since the introduction of the euro in each country. Additionally, the book offers detailed information about circulation coins, a summary of all 2-euro commemorative coins as well as the identification of transnational European issues. The catalogue appears annually on the 1st of December as a new issue including all coins and updated mintage for earlier issues known by the copy deadline. Colour illustrations that facilitate piece searches, its up-to-dateness, as well as a low price make the work an essential reference book for every collector of euro-coins.
Euro Catalogue for coins and banknotes 2023 English
$39.50
ISBN: 4004117624889
For more information, or to order, see:
Euro Catalogue for coins and banknotes 2023 English (https://renniks.com/shop/euro-catalogue-for-coins-and-banknotes-2023-english/)
Brückner describes the methods of payment in different countries. He predicts that Sweden and Finland could become cashless in a few years.
Anything paid for with bills or coins remains anonymous. Germany and Austria are the few European countries where the majority of citizens still pay with cash. But that is about to change, an alliance has set itself the goal.
Opponents of cash include the UN, the EU, governments of various countries and promoters of a one-world society such as the Bill and Melinda Gates Foundation or the Clinton Foundation. There are also banks, financial service providers such as Mastercard, Apple (Apple Pay), Amazon (Amazon Pay) and PayPal, but also large corporations such as Coca-Cola and Unilever. The abolition of cash would bring great benefits to all of them. A billion-dollar business awaits you through fees and the evaluation of customer data.
With the abolition of cash, people become transparent citizens and are subjected to total control. As Michael Brückner shows with frightening examples, we can be controlled and controlled "from above". There is no more privacy. And no protection against arbitrary government and official measures. When no one can store capital in the form of cash anymore, authorities also gain extensive control over our assets. In addition, the door is wide open to expropriation.
Against this background, Michael Brückner takes a look at the cashless future.
He demonstrates what is to come using a fictitious cashless society.
Orwellian surveillance becomes a concrete threat scenario.
Brückner's insights into the digital future make it undoubtedly clear: we must do everything we can to prevent the abolition of cash. He shows what citizens could do against cash abolition and how their assets can be protected against a cash ban.
208 pages, black and white illustrations,
format 12.3 x 18.7 cm,
hardcover,
Rothenburg 2023.
Price: 19.99 euros.
ISBN: 978-3-86445-919-1
To read the complete article, see:
Brückner: Angriff auf unser Bargeld (https://www.geldscheine-online.com/post/br%C3%BCckner-angriff-auf-unser-bargeld)
For more information, or to order, see:
Angriff auf unser Bargeld: Warum ein Bargeldverbot vorbereitet wird, wer davon profitiert und wie Sie Ihr Vermögen davor schützen (https://www.amazon.de/Angriff-auf-unser-Bargeld-Bargeldverbot/dp/3864459192/ref=sr_1_2)
CARDBOARD COINS OF GREAT BRITAIN 1947-1990
Now available on-line at the Newman Numismatic Portal the fully revised book on British Cardboard coins by Thomas Engelen. These cardboard coins were used in Great Britain to help children to learn the many different coins in circulation including their value. Cardboard was used as an inexpensive material to teach children on Farthings, Pennies, Sixpences, Shillings, Florins and Crowns to name a few. Included in the book are also the school banknotes, mostly of 10 Shillings and 1 pound denomination. Also included are toy games in which these cardboard coins were used with the oldest play set dated 1905.
Profusely illustrated, many of the items listed are pictured for easy recognition and identification.
A summary of cardboard coins used in former British overseas territories are listed as well, including for Australia, East- and West Africa, India and New Zealand to name a few.
A list on Rarity and Prices completes the work.
We hope the readers of The E-Sylum will enjoy finding their own cardboard coins, and perhaps start collecting these nice paranumismatic items as well !
To read the book on the Newman Portal, see:
Cardboard Coins of Great Britain 1847-1980 (https://nnp.wustl.edu/library/book/625107)
Norman G. Peters 1940-2023
It saddens me to report the passing of Norm Peters of Lancaster, NY on April 5. He is survived by three sons. A private, family service was held.
Norm was an avid numismatist, collecting all manner of exonumia and coins. He loved studying about the history of pieces and those who issued them. Colonial coins were among his favorites. Norm relished sharing his knowledge, and I was one of many collectors who benefited from knowing him. I was particularly impressed with his research on Ben Rathbun, issuer of Buffalo area obsolete currency. Norm also published an extensive study on Pan-American Expo tokens. He was a member of many organizations, the ANA, BNA, CWTS, NTCA, EAC, among others.
Personally, I will best remember Norm as the jovial, ever-smiling and compassionate friend he was. RIP, my longtime friend.
To read the online obituary, see:
Norman G. Peters (https://www.amigone.com/obituaries/Norman-G-Peters?obId=27674873)
David "Dave" Dudley Noble of Rockwall, Texas passed away in his home on the morning of April 15, 2023, at the age of 67 years old. If you talked to Dave longer than 5 minutes, likely he would have referred to you as "Bud" and told you his entire life story. I'm sure we won't be able to bring the tale nearly as much color or with nearly as much humor as Dave, a natural born storyteller, would have, but herein lies our attempt (as Dave would say: "Believe it! Achieve it!").
Well Bud, Dave was born on November 25, 1955, in Iowa City, Iowa to Dr. Dudley and Norinne (Fenner) Noble. As Dave would say, he was just a "dumb guy" from Iowa who grew up swimming, fishing, and hunting (deer, pheasant, butterflies, mushrooms, you name it) and fondly looked back on the times he had with his parents, younger brother Jeff, and youngest sister Julie.
He also grew up relic digging, which spurred a lifelong interest in history and admiration for veterans / the armed forces; this "dumb guy" from Iowa became an encyclopedia of knowledge and could recite you every single detail of all the battles and collectibles in US history, whether you wanted to hear about it or not.
And can you believe it Bud, Dave graduated from West High School in 1974 and went on to become a swimmer for the Hawkeyes, becoming the third generation in his family to be an athlete at the University of Iowa, following after his father (football) and grandfather (track) before him. After graduating college and hanging up his speedo, he utilized his almanac brain to start his career off in the trading of rare coins and paper money, becoming an expert and even writing/helping to write 5 books on the subject matter.
In 1980, he moved down to Dallas to work at Steve Ivy Rare Coins, where he ended up meeting his wife Leslie, whom he stayed married to for 37 years until his passing.
Craving stability for his dream of building a family, he decided to change his path and pursued a career in real estate. I tell you what Bud, he was good at it. He brought the same detail-oriented nature over to the industry, and throughout his 28-year-long career, he developed 49 office and industrial buildings in excess of 8.5 million square feet and earned a Lifetime Achievement Award at Trammell Crow Company, where he spent the vast majority of his career.
Allen Mincho writes:
Dustin Johnston writes:
From the description of the 1861 Original Confederate Cent:
To read the Heritage catalog on the Newman Portal, see:
https://nnp.wustl.edu/library/auctionlots?AucCoId=8&AuctionId=27&page=8
To read the complete obituary, see:
David Noble 1955 - 2023 (https://obits.dallasnews.com/us/obituaries/dallasmorningnews/name/david-noble-obituary?id=51708727)
Mint Director Cannot Acquire the Mint Report
During a recent tour of the Wayne Homren library, Wayne shared an original copy of a January 25, 1849 letter from Mint Director Robert M. Patterson to Representative Charles Brown (D-PA). Patterson wrote
Newman Portal previously scanned a draft of this letter in the National Archives. In this version, Patterson added a second request, which has been struck out: Let me also ask you another favor, to send me any bills that may be printed. This likely referred to bills related to the Mint, but Patterson apparently felt the second ask was too much.
Patterson's request is remarkable – even while leading a large, distributed operation producing millions of coins per year, he was not able to get a printed copy of his own report without working his personal contacts in Congress. Patterson's connection to a Pennsylvania congressman is not surprising, as he was born in Philadelphia, earned his M.D. at the University of Pennsylvania in 1808, and later joined the Penn faculty.
Link to draft of Robert Patterson January 25, 1849 letter to Rep. Charles Brown on NNP:
https://archive.org/details/Rg104Entry1Box28year1849/page/n25/mode/2up?view=theater
Link to U.S. Mint Reports on Newman Portal:
https://nnp.wustl.edu/library/publisherdetail/51
Dave Bowers shares about great coin collectors Speaker(s): Q. David Bowers.
To watch the complete video, see:
Famous Coin Collectors and Their Collections
Regarding the first ChatGPT-generated summary of Joel Orosz's Asylum articles, Bob Leonard writes:
I was interested to read about Joel Orosz and his experiences using ChatGPT to summarize his series of articles on Bushnell and the Flandin catalog. This puts Joel on the leading edge of technology and innovation. This was not always true.
Around 2015, I was working with Joel and Len Augsburger on another project. I produced a composite photograph illustrating our level of computer literacy.
The guy in the red shirt is Len Augsburger working on his modern laptop. The guy in the blue shirt is Pete Smith working on an eight-year-old desktop computer. The guy in the white shirt is Dr. Joel J. Orosa Ph.D. writing with a quill pen.
It would appear that with Len's help, Joel has progressed well beyond my ability to write at a 10th grade level. Perhaps the two of them can now teach me how to use AI to write a weekly feature on numismatic biography.
For more information on flash powder photography, see:
Flash Powder (https://www.photoactive.co.uk/flash-powder/)
To read the earlier E-Sylum articles, see:
I WAS A TEENAGE PROMPT ENGINEER (https://www.coinbooks.org/v26/esylum_v26n17a06.html)
BUSHNELL'S COMPENDIUM CATALOG, PART ONE (https://www.coinbooks.org/v26/esylum_v26n17a07.html)
GROUX: FROM COURTIER TO KITCHEN HAND
The article is about the life of Edouard Daniel Jacques Groux, who was born in 1807 in the Free and Hanseatic City of Hamburg. He was well-educated and learned the trade of pastry chef from his father after his family fell from favor with the Emperor. Groux inherited a cabinet of around five thousand coins and medals from General Jan Pieter van Suchtelen and purchased a second cabinet of 2,800 coins and medals in 1839. Groux attempted to monetize his collection in Marseille but failed. In 1841, the American Consul in Marseille advised Groux to take his collection to the United States and sell it to the government, but he entered a market with many eager sellers and only one unmotivated buyer.
GROUX: COMING TO AMERICA
The article talks about D.E. Groux, a numismatist who opened a museum in Boston in 1864 after his failed museum in Marseilles. He tried to sell his collection to Harvard College but was declined. Later, he attempted to sell his collection to the National Institute in Washington, D.C. but was rejected. He then tried to sell some of his coins to Charles Francis Adams, a notable coin collector, and also asked for a loan to redeem his pawned pieces. Adams made a series of loans, but Groux did not repay the loans by the agreed time, leaving Adams in possession of many of his coins and medals.
GROUX: EPHEMERAL HOPE
Daniel Groux, a collector of coins and medals, had a stroke of luck when he was paid to catalogue the numismatic collection of the Maryland Historical Society in 1851. He also made a bid to sell his collection to the US government, but despite receiving support from Senators Gwin and Soulé, he was unsuccessful. Groux attempted to sell his collection to Barnum's American Museum and even tried to sell it through a nationwide lottery, but both efforts were fruitless. Groux was then forced to turn to public auction and sold his coins and medals in a sale in February 1856.
GROUX: MESS ON THE POTOMAC
Daniel Groux was a numismatist who was humiliated in court and failed to sell his collection. He moved to Washington D.C., hoping to work as a curator at the Smithsonian, but was informed by the institution's first Secretary that he would not be employed in any position. Groux was also a convicted bigamist after his son pressed charges against him in Boston. He borrowed a large sum of money from Phoebe Tayloe, of Washington, D.C., with his collection serving as collateral. He later convinced her to attempt to recover coins he had lost to Charles Francis Adams a dozen years before. After failing to recover them, Groux moved to Philadelphia and was entangled with the law there. He was jailed but released on bail supplied by a gentleman of the city. This gentleman sought reimbursement by acquiring the two parts of Groux's collection, which were pledged to secure the loan from Tayloe. Groux had assured him that both collections were worth far more than the amount he had paid for them.
GROUX: JACKAL IN WINTER
The article discusses the life and career of Daniel Groux, a French adventurer who became known in the numismatic world for his dubious sales schemes and the disappointing sales of his collections. After a disastrous auction in 1861, Groux disappeared from the public eye until he wrote a letter to President Lincoln in 1863, asking for employment. Groux died in 1871, and his remaining collection was sold in 1874 to pay off a debt owed to Phoebe Tayloe. Despite the hype surrounding the sale, the collection was not particularly valuable, and the sale realized only a small amount of money. Overall, Groux's career in numismatics was marked by failures and disappointment.
GROUX: BROADSIDE SALE
In February 1856, Bangs, Brothers & Co held an auction of rare coins, medals and medallions in New York City, which were described in a broadside format. Charles Ira Bushnell trimmed and attached the top left half of this broadside to his Flandin's Catalogue book. Groux, the consignor, was in financial difficulty and forced to sell some of his collection. The collection was packed into 12 glazed cases with no numbered lots, and a note at the bottom of the broadside stated that the contents of the cases couldn't be divided. Bushnell recorded the prices realized, and Bowers' American Numismatics Before the Civil War provides two candidates for the purchaser of the Roman Pontiffs Medallions.
GROUX: BUSHNELL REVIEW
The article discusses a review by Charles Ira Bushnell of Groux's auction of ancient coins and medallions that took place on February 16, 1856. Bushnell's review was published the day after the auction in the New-York Daily Times. The article provides a detailed summary of Bushnell's criticisms of the auction, including descriptions of the lots sold and their respective prices, as well as his overall assessment of the collection. Bushnell was unsparing in his criticism, finding many of the pieces to be either illegible or misdescribed.
GROUX: COLOPHON
The text discusses Daniel E. Groux's numismatic career and his sale of coins and medals in February 1856. Despite Americans undervaluing his collection, the sale raised $285.85 1/2, the highest he had ever realized at auction. However, Groux was criticized for misleading descriptions, overvaluing pieces, and even counterfeiting to execute his schemes. While he believed in the educational and monetary value of his collection, his enthusiasm was not widely shared among collectors."
To read the earlier E-Sylum article, see:
BUSHNELL'S COMPENDIUM CATALOG, PART ONE (https://www.coinbooks.org/v26/esylum_v26n17a07.html)
RETIREE Cheryl Myers has revealed that a coin her family kept secure for years sold for $3.17million in 2013.
The now 71-year-old, who lives in Winchester Virginia, got the rare nickel from her parents, who created a collection for her and their son, Ryan Givens.
The coin was originally obtained from Cheryl's uncle and North Carolina collector George O. Walton, who had purchased a 1913 Liberty Head piece in 1945 for $3,750.
After George passed away in 1962 in a tragic car crash, the coin was left in Walton's estate and retrieved by Cheryl's mom Melva and dad Robert.
One of the coins in the collection was the 1913 nickel, which was first deemed fake between 1962 and 1963 by coin experts in New York shortly after George passed – but later reversed.
My mother obtained the nickel from the estate, placed it in an envelope, marked it fake, and put it in her closet, Cheryl told The U.S. Sun.
And despite them being told it was fake, it was kept secure for years.
When Ryan and Cheryl both found out it could be real, they say were surprised but humble about it.
And even so, the 1913 Liberty coin sold for a whopping $3.17million in a Heritage Auction in 2013.
The authenticity of Cheryl's coin only become known after the American Numismatic Association (ANA) and Donn Pearlman, who works in public relations, planned a publicity stunt to track down the only remaining 1913 Liberty coin known to exist and promote it.
At the time, four had been discovered but the final piece was missing.
The ANA and auction house Stack's Bowers both put out a reward for the coin.
Along with Pearlman and ANA, Beth Deisher, editor of the numismatic magazine Coin World at the time, was also trying to figure out where the missing 1913 Liberty piece was.
Deisher said she was familiar with Walton because his collection was quite valuable.
She decided to contact Stack's and asked about Walton's collection that they appraised.
One of those was the 1913 Liberty Head piece that Stack's deemed fake 40 years ago.
While Deisher didn't know for sure that it could be genuine, she contacted Ryan, who had possession of it.
When she first received pictures of the coin, her immediate reaction was "oh my gosh" as she believed there was a "strong possibility" that the 1913 piece could be genuine.
The difficulty was then to convince Ryan to go to an ANA coin show in Baltimore, Maryland, to have it further examined.
Deisher told Ryan, who was meant to work that day: "Would you take off a day and lose a day's pay for a million dollars?
That was enough to convince him to drive all the way to Baltimore from Roanoke, Virginia, and pick up his sister in North Carolina along the way.
When the nickel was taken to Baltimore, it was initially looked at by some experts who felt pretty sure they were not looking at a fake anymore," Cheryl said.
Later the same day, it was examined along with the other four nickels and deemed genuine after 41 years.
To read the complete article, see:
LUCKY DAY I was 'surprised' to sell a rare nickel for $3.17milllion – it helped me pay for a house and my daughter's student debt (https://www.the-sun.com/money/7913459/rare-nickel-debt-house-sold/)
To read the earlier E-Sylum article, see:
DONN PEARLMAN ON THE WALTON NICKEL RE-DISCOVERY (https://www.coinbooks.org/esylum_v19n04a10.html)
NEW YORK TIMES ARTICLE HIGHLIGHTS WALTON 1913 LIBERTY NICKEL (https://www.coinbooks.org/esylum_v16n16a17.html)
WALTON 1913 LIBERTY NICKEL SOLD (https://www.coinbooks.org/v21/esylum_v21n25a27.html)
A young Ohio entrepreneur is turning a hobby into a successful online business. Blake Alma's passion for coin collecting has spawned Coin Hub, a booming business that's getting noticed all over the country, especially on social media.
Alma, 22, got inspired to collect coins when he was 9-years-old. It happened in a most unlikely place: Sunday church. Alma sang in the children's choir and he would sit next to an older gentleman in the front row.
His name was Tom Estes, Alma said. He opened up his Bible. and I saw he was using a one dollar bill known as a silver certificate. I thought it was neat and a month later, he said, 'I want you to have this, but you have to promise you're going to keep it until you're really old like me.' And there it is now. I still have it, and that's what got me into coins.
He pointed to the bill which is framed behind his desk.
Alma said he realized he could turn his hobby into a business during the COVID crisis.
When COVID happened, everyone was looking for something to do, Alma said. I saw an opportunity to make videos about coin errors and how people can just get coins from the bank and look for errors that could be worth more than face value.
He takes online orders and sells coin protectors, magnifying eyepieces, and other things used by collectors and he's just published a book, The Coin Hub: An Ultimate Guide to Coin Errors.
Alma and his brother, Jakob, fulfill orders out of the home Alma's renting in Lebanon.
His brother, Caleb, helps with TikTok live streams. Some videos get more than a million views, scoring Alma a plaque from TikTok and some sponsorship deals.
I think the future of coins rests in the hands of social media, Alma said. I think things are changing. It's not your boring closed auction house anymore. It's not limited to dusty old books. It's now all on the internet where you get to be a part with other coin collectors and see what they're doing and you get to share your experiences all online.
To read the complete article, see:
CoinHub founder cashing in on hobby (https://spectrumnews1.com/oh/dayton/news/2023/04/07/coin-hub-founder-cashing-in-on-hobby)
To read the earlier E-Sylum article, see:
BLAKE ALMA'S COINHUB (https://www.coinbooks.org/v26/esylum_v26n06a17.html)
NEW BOOK: COINHUB GUIDE TO COIN ERRORS (https://www.coinbooks.org/v26/esylum_v26n15a03.html)
KKK Token Book Printing Confirmed
Rex Stark writes:
To read the earlier E-Sylum article, see:
QUERY: KU KLUX KLAN TOKENS 2ND ED, 1ST PRINTING (https://www.coinbooks.org/v26/esylum_v26n17a12.html)
Robert Gilmor Jr. and Rhonda Guess
Jim Haas writes:
1859 Francis Nalder Mitchell Ad
Jim Haas adds:
Circa 1857 Royal Hawaiian Agricultural Society Medal, Julian AM-24, Medcalf 2RM-5, Harkness HI-30. MS66 Brown NGC. Bronze, 149.4 grams, 64 mm. The obverse has a wreath enclosing the Royal Hawaiian crown and various symbols and implements of Hawaiian agriculture including cotton, sugar, a plow, two ships, and the sun and rays on the ocean horizon, with ROYAL HAWAIIAN AGRICULTURAL SOCIETY / ESTABLISHED A.D. 1850 around, and is signed by Mitchell. The reverse has a wreath enclosing a blank space with the legend PREMIUM FOR THE BEST EXHIBITED. This pristine walnut-brown medal is unawarded. Listed on page 152 of the second (1991) edition of Hawaiian Money Standard Catalog by Donald Medcalf and Ronald Russell. Julian reports that these medals were ordered in 1854, and struck through 1857. They are doubtless extremely rare. This boldly defined representative has lovely mahogany-brown surfaces with no spots or other imperfections.
Francis Nalder Mitchell was a distinguished middle-19th century medalist, engraver, and die sinker who worked in Boston in the 1840s to the 1850s. He was born in Edinburgh, Scotland in 1810, and died in Scotland in 1865, having returned there a few years earlier. Among medals attributed to Mitchell are 18 different entries in the Julian reference. Mitchell engraved the award medals for the Massachusetts Charitable Mechanic Association (AM-34 through AM-41). He was selected for a die sinking award in 1850 and received the medal that he had designed.
To read the earlier E-Sylum article, see:
ALAN V, WEINBERG PART II SELECTIONS (https://www.coinbooks.org/v22/esylum_v22n30a24.html)
Token and Medal Information Sought
Paul Horner writes:
New King, New Coins?
David Pickup writes:
On Doctoring, er, Conserving Coins
Jeffrey Zarit of Wylie, Texas writes:
Darla Jackson

The United States Mint (Mint) announces the appointment of Darla Jackson to a four-year term as the member of the Citizens Coinage Advisory Committee (CCAC) Specially Qualified in Sculpture or Medallic Arts. She replaces Robin Salmon, who has served on the CCAC since 2018.
A sculptor residing in Philadelphia, Ms. Jackson received a BFA in Sculpture from Moore College of Art in 2003. After receiving a John S. and James L. Knight Arts Challenge Grant in both 2011 and 2013, she founded the Philadelphia Sculpture Gym, a membership based community sculpture studio.
Her work has been shown in numerous exhibitions locally, at the Philadelphia Art Alliance; Seraphin Gallery; the Pennsylvanian Academy of the Fine Arts; the Woodmere Art Museum, and at a Wind Challenge exhibition at the Fleisher Art Memorial. Exhibitions nationwide at museums and galleries include the Norman Rockwell Museum in Stockbridge, Massachusetts; Thinkspace Gallery in Culver City, California; the Delaware Center for Contemporary Arts in Wilmington, Delaware, and Parlor Gallery in Asbury Park, New Jersey. Her work has been shown internationally in Belgium and Germany, and she has lectured about her work at venues including the Barnes Foundation and the Wagner Free Institute of Science.
Jackson is an Assistant Professor of Sculpture at the Pennsylvania Academy of the Fine Arts, and teaches Sculpture workshops across the country. She is also an elected Sculptor member of the National Sculpture Society, and serves on its Honors and Awards Committee. In 2021, she joined the board of Philadelphia Sculptors.
Kellen Hoard

The United States Mint (Mint) announces the appointment of Kellen Hoard to a four-year term as a member of the Citizens Coinage Advisory Committee (CCAC) representing the general public. He replaces Samuel Gill, who has served on the CCAC since 2018.
Kellen is a student in the Elliott School of International Affairs at George Washington University. He has been a numismatist since he was nine years old, and in the years since has authored over a dozen numismatic articles in a wide variety of publications, spoken at events to hundreds of numismatists from around the world, worked as an intern at the Newman Numismatic Portal, and served as a member of the Board for the Pacific Northwest Numismatic Association. He is a member of the American Numismatic Association, American Numismatic Society, Numismatic Bibliomania Society, Pacific Northwest Numismatic Association, and several other numismatic organizations. For his work in numismatics, he was selected as the 2021 American Numismatic Association Young Numismatist of the Year.
Outside of numismatics, Kellen has extensive experience in politics, civics, student journalism, and public policy. For his work in these fields, he has received various recognitions including: Emerging Leader (Harvard Institute of Politics); Courage in Student Journalism Award (Kent State University and the Student Press Law Center); Bryan Cameron Impact Scholar (Bryan Cameron Education Foundation: National Superior Award in Press Law and Ethics (Journalism Education Association and the National Student Press Association); and Outstanding Student Advocate of the Year (Washington State PTA).
About the CCAC
The CCAC was established by an Act of Congress in 2003. It advises the Secretary of the Treasury on theme or design proposals relating to circulating coinage, bullion coinage, Congressional Gold Medals, and other medals produced by the United States Mint. The CCAC also makes commemorative coin recommendations to the Secretary and advises on the events, persons, or places to be commemorated, as well as on the mintage levels and proposed designs.
The CCAC is subject to the authority of the Secretary of the Treasury. The United States Mint is responsible for providing necessary and appropriate administrative support, technical services, and advice.
The CCAC submits annual reports to Congress and the Secretary of the Treasury, describing its activities and providing recommendations.
For more information, see:
https://www.darlajacksonsculpture.com/
Darla Jackson (https://www.linkedin.com/in/darlajacksonsculpture/)
NEWMAN PORTAL WELCOMES KELLEN HOARD (https://www.coinbooks.org/v25/esylum_v25n24a05.html)
The Professional Numismatists Guild (www.PNGdealers.org) has honored Robert Brueggeman, the organization's soon-to-retire Executive Director, with its 2023 Harvey G. Stack Lifetime Achievement Award. The prestigious award is presented to someone who has shown extraordinary devotion to numismatics and significantly contributed to the hobby or profession.
Bob has been PNG's Executive Director since 1995. Under his guidance and leadership over the past 28 years, the PNG has helped support the industry, its member dealers, and the general public. The PNG has also been helpful in providing scholarships to young numismatists to help advance the professional side of the business and continue the legacy of the Professional Numismatists Guild, said PNG Board member James Sego who co-chaired the Lifetime Achievement Award selection with PNG Board member John Brush.
Business executive and lifelong numismatist John Feigenbaum will succeed Brueggeman as the next PNG Executive Director this summer.
We wish Bob continued success in his endeavors and John much success as he takes over the helm of the PNG, stated Sego.
The Lifetime Achievement Award is named in honor of the late Harvey G. Stack, a long-time PNG member who served as the organization's President from 1989 to 1991.
Each year, the PNG recognizes outstanding achievements in the hobby and the profession by honoring deserving recipients with important awards. This year's winners were announced on April 26, 2023 at the PNG Day banquet held in conjunction with the Central States Numismatic Society convention in the Chicago suburb of Schaumburg, Illinois.
These are the other awards and recognitions announced at the banquet.
Lee Blakelock, a crime analyst with the Intelligence Unit of the Northumbria, England Police Department was named the recipient of the Sol Kaplan Award for his efforts and contributions in combatting crimes against the numismatic community. He has worked for eight years investigating the Roma Group, a gang of thieves who used sleight-of-hand distractions to steal from many coin, antique and jewelry stores, and coin shows in Europe, the United States, Canada, Singapore, and Australia. The information Blakelock gathered resulted in several arrests.
Authors and numismatic researchers Peter Huntoon and Andrew Shiva received the Robert Friedberg Award for their important reference book, Encyclopedia of U.S. National Bank Notes.
Cindy Wibker, who recently joined the Central States Numismatic Society convention team after 30 successful years as Convention Coordinator for Florida United Numismatists, received the Significant Contribution Award for her exceptional dedication and beneficial contributions to the hobby and profession.
The late David W. Lange, the long-time Research Director for Numismatic Guaranty Company who passed away in January, was posthumously named the recipient of PNG's 2023 Art Kagin Ambassador Award. This award is presented in recognition of distinguished service as an advocate of numismatic goodwill and is named after Arthur Kagin, a 1955 co-founder of the Professional Numismatists Guild who served as PNG President from 1963 to 1964.
Two PNG members were recognized for 50 years of membership: Ronald Gillio and Harry Jones.
Five dealers were recognized for 25 years of PNG membership: Howard Cook, Marc Crane, Gregory Krill, Robert Levinson, and John Schuch.
The Professional Numismatists Guild is a nonprofit trade association composed of the country's top rare coin and paper money dealers who must adhere to a strict Code of Ethics (www.PNGdealers.org/code-of-ethics) in the buying and selling of numismatic merchandise.
To read the earlier E-Sylum article, see:
NEW BOOK: ENCYCLOPEDIA OF U. S. NATIONAL BANK NOTES (https://www.coinbooks.org/v25/esylum_v25n28a03.html)
Much has occurred over the past eight months in the background of the NLG. This message is to officially announce the opening of the 2023 NLG Awards submission period. The Board has made some minor updates to the awards this year.
We sadly lost our previous Awards Coordinator, David W. Lange in January and we thought it appropriate, due to David's outstanding reputation as a researcher and numismatic scholar, to rename the Book of the Year Award to the David W. Lange Memorial Book of the Year Award.
We also have created the David Lisot Memorial Video Award by combining the two previous video categories. David was a mainstay at major coin shows and events, documenting them and conducting interviews for many years. His footage is an essential part of numismatic history.
Importantly, Life Member John Albanese of CAC and CACG has stepped up to serve as the new Awards Coordinator. The submission deadline for entries is Monday, June 12, 2023. Submissions can be sent to:
Attention: NLG
CAC
1420 State Highway 206
Suite 110
Bedminster, NJ 07921
We are excited to announce The NLG Awards Luncheon will be Thursday, August 10th in Room 401 at the David L. Lawrence Convention Center, taking place during the American Numismatic Association World's Fair of Money in Pittsburgh, Pennsylvania. We strongly encourage all members who will be at the WFOM to attend the awards lunch. Last year's event was wonderful, with many numismatic luminaries in attendance. It was well attended but there is always room for more! Please send an RSVP email to info@nlgonline.com.
This is also the official dues notice for 2023. If you have not already paid your 2023 dues and to remain an active member please remit $15 for annual dues via check to:
NLG
c/o Maurice Rosen
PO Box 38
Plainview, NY 11803
Dues can also be sent via Paypal to info@nlgonline.com. Please include your full name in the comments.
Your membership contribution is essential to the ongoing function of the NLG, and they are deeply appreciated by the NLG Board. We hope to see many of you in Pittsburgh!
For more information on NLG and Writer's Competition rules and categories, see:
https://www.nlgonline.org/
Molded Border. A border with many elements, of curves, arcs, angles and planes in one single design that continues around the entire circumference at the edge of a round coin or medal. Molded borders are made with a template and used with clay, wax or plasteline and are almost always made oversize; thus they are ideal for use on oversize patterns that are later pantographically reduced to cut the necessary die.
A molded border is like any border in that it provides a frame for the design, forcing the viewers gaze inward to observe the device and lettering. In addition a molded border is ideal for large medals particularly in that it aids human beings to pick up and hold the piece with their fingers. The multiple elements of the border are, in effect, grip ridges where finger ridges (as in a fingerprint) lock and hold tight on the border ridges. The larger the medal, the more elements of these ridges should be designed into the border.
Designing the molded border. After the design has been sketched on paper, the artist will get a feeling for the best way to frame his design. This will influence his choice of design elements for this frame – to actually shape the object's border. A simple design might require a simple border, say, a plain band. A more complex design will require a border of multiple elements, using a step border (with each level lower than the previous starting at the top rim).
Thus the artist can design the border using as many artistic principles as he wishes. These include harmony, rhythm, symmetry, balance, proportion, dominance, contrast, subordination, variety and repetition. The artist chooses one or more of these with respect to the central design.
Also to add interest the artist may include an element or two which may supplement the border, as a chain for a naval medal, a cable for an engineering medal, or foliage for a horticultural medal. These must be modeled separately just inside the molded border as they cannot be formed with the template. All this adds charm to the total piece.
How molded borders are made. The sketch of the design might include a side sketch of the cross section view of the border elements. When this is approved, the artist begins his modeling. He will secure a large round board, perhaps two feet in diameter. In the exact center will be a hole with a six to eight-inch rod attached to the board. An arm will be mounted on top of the rod, which will swing around the entire circle on the rod. A template will be made in metal the exact shape of the border design in cross section and this will be attached to the end of the arm.
A large roll of clay, wax or plasteline will be laid just inside the edge of the board. After it is pressed down so it adheres securely to the board the arm with the template is lowered into the roll of the modeling material. When the arm is rotated the template forms the design in the soft modeling material.
By rotating the template it will leave a trail of perfectly shaped border. The unwanted material will be pushed ahead of the template and the modeler removes this. By use of his fingers, and moving the template around the center rod several times he will form a perfect multiple-element step border in proper size and shape in quick time.
He can then remove the template, arm and rod (plug the center hole), then add molding material to the base board – forming his background plate. At this point he has a choice of casting a new background plate with just the border in plaster, or he can continue modeling on this form.
There are excellent reasons to cast the border at this time. He can make two casts, one for each side of the coin or medal, this guarantees the border on both sides will be identical (the art principle of repetition). Also casting just the border design in plaster makes it somewhat permanent (and lessens the chance of distorting the soft material border when reaching over it to model something inside).
He can then model the rest of the design, including the device, the lettering and such on this plaster background plate. It might take only an hour or two to do this to make the perfect multiple-element border. See modeling, plaster casting.
To read the complete entry on the Newman Numismatic Portal, see:
Molded Border (https://nnp.wustl.edu/library/dictionarydetail/516351)
I have written a lot of biographical sketches and developed some favorites among the subjects. One of those is Charles McCormick Reeve. Perhaps that is because of his connections to Minneapolis.
Reeve first came to my attention as I was doing pedigree research on U. S. large cents. The Elder sale of November 5, 1937, was titled, The General McC. Reeve Collection and Others. Who, I wondered, was McC. Reeve. Once I learned the name, I remembered it.
The catalog had this description: SPLENDID COLLECTION OF U. S. CENTS. The Property of Brigadier General C. MCC. Reeve of Minnesota. Lot 683 was a 1794 Cent, Hays 8, a piece that interested me.
I had not realized that Charles McCormick Reeve and Charles Wyllys Betts were on the same 1870 Yale expedition until doing research last week. There are other similarities between the two and some differences.
Charles Wyllys Betts was born in Newburg, New York, on August 13, 1845. Charles McCormick Reeve was born Danville, New York, on August 7, 1847.
Both men came from prominent and successful families. Betts was the son of a judge. Reeve was the son of a general.
Betts graduated from Yale College in 1867. Reeve graduated from Yale College in 1870.
Reeve was a leader of the Yale Glee Club. Betts sang in the Trinity Church choir.
Both received law degrees and practiced as lawyers.
Betts was active in New York society and belonged to such clubs as the Union Club, the Country Club and the high prestige Knickerbocker Club. Those clubs did not exist in Minneapolis. Reeve was the founding president of the Apollo Club, a choral music society. He was also active in fraternal organizations, The Masons and Oddfellows.
Betts was a member of the American Numismatic Society in New York City. The Northwest Coin Club was not established in Minneapolis until 1933 when Reeve was 86. His name does not appear on my membership records.
Betts bought land on the shore of Lake Agawan on Long Island in an area that was developed into prime real estate. Reeve bought a 250 acre farm on the south shore of Lake Harriett. His investment paid off as the property was developed into choice neighborhood lots. He donated land for a park around the lake. I have run around the park and through his farm many times.
Betts wrote about his experiences in The Yale College Expedition of 1870. Reeve wrote How We Went and What We Saw: A Flying Trip Through Egypt, Syria and the Aegean Islands (1891). I haven't figured out how they flew, years before the Wright Brothers.
Betts died at age 41. Reeve lived nearly to the age of 100. He became the oldest living graduate of Yale and possibly the oldest living veteran of the Spanish American War. He is buried at Lakewood Cemetery on property on the north side of Lake Harriet across from the original Reeve farm. I have visited the gravesites of William Lanphere, Elias Rasmussen and A. M. Smith at that cemetery.
Betts donated parts of his collection to Yale in his home town of New Haven and parts to the American Numismatic Society in New York. Reeve gave parts of his collection to Rollins College in his winter home in Winter Park, Florida, and parts to the Minnesota Historical Society in St. Paul.
Some years ago, I was a volunteer at the Minnesota History Center. I worked on an inventory of their coin collections. Accession notes indicated that some Philippines coins were donated by Charles McCormick Reeve. I immediately recognized the name but they had no information on who Reeve was. I wrote an article explaining Reeve's heroic leadership during the Spanish American War, his service in the Philippines following the war and his important contributions to Minneapolis.
This illustrates something that museums should know but some fail to keep good records. A bunch of coins donated to a museum may be no different from another bunch of coins. However, if you know who owned them, then the coins may illustrate a story. I was able to provide biographies of a couple of other donors including a former director of the museum.
I have also done research at the Brown County Museum in my hometown. They have a dozen Indian War medals but no accession records. There is no indication of the Defenders who earned those medals.
It should be obvious that I have an interest in pedigree research and the collectors who owned coins. I apply that interest to my collections. For example, I have written pedigrees for 190 different 1792 half dismes. I bought the piece with the most charming pedigree and the one pedigree that can be traced back the longest time.
A more complete biography of Reeve is on the Newman Numismatic Portal for those who choose to read it. I will need to revise it to correct at least two errors I discovered.
Ron Guth: I started specializing in German coins in 1988. I sort of got into that accidentally, but I really like the German coin series. It's a huge, vast series that covers centuries. The designs are incredible, the denominations are incredible. But my favorite is the Bavarian thalers from 1753 to about 1800. They have the portrait of the king on the front and on the back, they have Madonna and child, the Madonna child of the patron…she's a patroness of Bavaria. And so they're beautiful coins and they're silver dollar size. The thaler, of course, is the early ancestor of the dollar. I started collecting those. At the time they were like $50 a piece, and they're not much more today. They are $100 to $150. But if they were U.S. coins from the 1700's or even the 1800's, they would be thousands of dollars a piece. So, I started to put a date set of those together, and once I accumulated that I said, I wonder if there are many different varieties? So, I started looking for as many different varieties as I could. I ended up getting over three hundred different varieties and some interesting ones. They were marriages of reverses from one year to another; really interesting finds there. I never wrote a book about them. I wish I had. I ended up selling the collection intact. I wish I had that back. My only other favorite coin that I really like is the 1894 German New Guinea coins. They have the bird of paradise on the front and they made a five mark, which is again the size of a silver dollar and is just probably the most beautiful coin in the world. It is just absolutely gorgeous. The bird of paradise fills the whole front of the coin and to me is just beautiful. And in high grade they're really rare, valuable, and I think they're very collectible and just beautiful.
Greg Bennick: Is there a definitive reference on German thalers? I've got a book in the other room and I can't remember who wrote it that I think might be a reference. I don't know if it's definitive or not, but did somebody write the book on them?
Ron Guth: There was a collector, John Davenport, who wrote a series of books about crowns of the world. And so fortunately or unfortunately, Germany was one of the biggest producers of crown sized coins, so they fill many of the volumes there. Krouse Mishler purchased the rights to the Davenport books, so when you go to the standard catalogs of world coins, you'll see a reference to a Davenport number along with KM number. But there are no general books about German thalers, so it's unfortunately the German series has not been researched as well as the U.S. series has.
Greg Bennick: I'm fascinated by the specificity of German thalers of this date to this date in your area of interest. I, for example, collect condor tokens and condor token errors, but I'll only collect a condor token error if I can get a non-error version of the same to match them up. So if there was a condor token error that was on a unique piece, I probably wouldn't be interested because I don't have the match of the non-error version. And one of these days I need to interview a psychologist and just figure out what's wrong with all of our brains. (both laugh) Like why are we doing this? Why the specificity? Why does that interest me? Why does this interest you? It's just really interesting.
Ron Guth: Yeah, the collecting bug is very interesting. You know, why do people collect beer cans? Why do people collect matchbooks? You know, you can pick anything and people get all excited about it. And I'm like you, I don't know what it is, why did I get bitten by the collecting bug? I'm glad I did. People look at me like what are you doing? Or how can you make money buying a coin from one guy and selling it to another? They just don't get it. Or why do you want to get three hundred different Bavarian thalers? People who don't have the collecting bug don't understand it, but those who do have the collecting bug enjoy it, whether it's beer cans or coins.
Greg Bennick: It's so true. My father wrote a a book on his collection of railroad tokens called A Compendium of Railroad and Railroad Related Metals and Tokens and I thought that he was out of his mind. But then I realized that I have literally the same mind, like genetically the same mind. So we've all, in the collecting world, have these little idiosyncratic fascination points. And I think that's the beauty of this, whether it's railroad related medals and tokens or German thalers or error coins, whatever it might be. I think that the collecting mind is fascinating, I'm just constantly amazed by it. So, I'm glad you told us about the German coins.
Ron Guth: Yeah. It is wonderful because no matter what you collect, there are infinite ways to collect it. Like when we were kids, we put together the Whitman albums and filling the holes and trying to get completion. And today, now it's a flight to quality. You can collect whatever you want. Jeff Garrett just wrote a great article about The Box of 20, which a PCGS box contains 20 coins. An NGC box contains 20 coins. So, basically you fill it with whatever you want and you can take coins out, replace them with a new one, you know, improve the quality, improve the value, whatever you want to do. And that's the nice thing about collecting is there is no strict rule that says you have to do it this way, you can do it whichever way you want.
Greg Bennick: Great. So last question for you. Tell us about your stint as PCGS president. It was between, I think, 2005 and 2008. Do I have that right?
Ron Guth: Yeah. I mentioned earlier that I sold Coin Facts to PCGS in 2004 and I became the research director at that time, you know, basically maintaining Coin Facts for them. Well, the opportunity arose in 2005 to take over the presidency of PCGS which is the coin grading arm of Collector's Universe. So I jumped into that, and that was probably one of the highlights of my career because I got to work side by side with David Hall, and I got definitely a commanding view of the entire coin market. I knew who all the players were, how they operated. I learned the ins and outs of coin grading, how the business is run, why its important, consumer protection, you know, all the different aspects of the coin grading. So I did that for three years. And then 2008 we decided to really pump PCGS Coin Facts up. And so I shifted over to the Coin Facts side of it, and Don Willis took over as PCGS U.S. president, and the rest is history.
Greg Bennick: That's pretty amazing. I'm so glad that A. I've gotten a chance to talk to you today. B, that you've offered so many different avenues for us to explore and think about in the coin hobby, both the collector side and the collector mind as we talked about. And as a researcher, because people I hope will take away from this that they can explore and examine coins from a researcher's perspective, even considering writing books on topics. And you gave a good example, for example, of German thalers and how there's no necessarily definitive work, and maybe somebody could fill that empty space. And then just the also structural side of the coin hobby, the fact that there are clubs and organizations that people could get involved with, become the president of, and contribute that way to the hobby. All that's really fascinating. So I think those are the questions that I've prepared and that I had for you. So thank you so much for your time. Did we miss anything critical or anything important that you wanted to add on before we go?
Ron Guth: No, I think you came up with some great questions. Thank you for having me on. And keep up the good work, I've enjoyed your interview with Jeff Garrett so far and keep it up. As I told you before the interview, I think the preservation of this information is great because we're not going to be around here forever and we need to get into the brains of important people in the industry and find out their stories because everybody has a story and every story is different. So please keep up the good work.
Greg Bennick: I appreciate that very much. All right, we'll stay on for a couple of minutes. But everybody, I'll sign off and say, if you're interested in more interviews, please check out the Newman Numismatic Portal. I'm Greg Bennick, I'll be conducting more interviews and you can check them all out there. Thanks so much, Ron. I appreciate it very much.
Ron Guth: You're welcome. Thank you.
About the Interviewer
Greg Bennick (www.gregbennick.com) is a keynote speaker and long time coin collector with a focus on major mint error coins. Have ideas for other interviewees? Contact him anytime on the web or via instagram @minterrors.
To watch the complete video, see:
Ron Guth Interview (https://nnp.wustl.edu/library/book/625159)
To read the complete transcript, see:
RON GUTH Interviewed for the Newman Numismatic Portal (https://nnp.wustl.edu/library/book/625160)
To read the earlier E-Sylum articles, see:
RON GUTH INTERVIEW, PART ONE (https://www.coinbooks.org/v26/esylum_v26n15a11.html)
RON GUTH INTERVIEW, PART TWO (https://www.coinbooks.org/v26/esylum_v26n16a15.html)
RON GUTH INTERVIEW, PART THREE (https://www.coinbooks.org/v26/esylum_v26n17a16.html)
Stack's Bowers Galleries is excited to announce their attendance at the Bitcoin 2023 Conference, taking place May 18-20 in Miami Beach, Florida. The Miami Bitcoin Conference is the world's largest event dedicated to the Bitcoin cryptocurrency, with over 25,000 attendees expected to participate this year. The conference will be held at the Miami Beach Convention Center located at 1901 Convention Center Drive, Miami Beach, FL 33139.
Stack's Bowers Galleries has emerged as the leader in physical cryptocurrency auctions; since their first offering in November 2021 the firm has sold nearly $3 million in this category. At the 2023 Conference in Miami, Stack's Bowers Galleries looks forward to engaging with Bitcoin enthusiasts about the firm's physical crypto auctions and introducing this community to more traditional numismatics, including rare coins and paper money.
Representing Stack's Bowers Galleries in Miami will be James McCartney, Director of Consignments and Physical Cryptocurrency, and Wayne Berkley, Vice President of Client Services. Conference attendees will be able preview auction highlights at the firm's kiosk and register to bid in upcoming auctions, including their June 2023 Showcase Auction.
The June sale will be highlighted by important Bitcoin rarities including a silver 2013 Casascius Gold Rim 1 Bitcoin and a silver 2013 Lealana Gold B 1 Bitcoin, both graded Proof-69 Deep Cameo by PCGS. The June auction also features significant rarities among traditional numismatics including a legendary 1879 Four-Dollar Gold Stella graded Proof-61 by PCGS and a captivating (1907) Saint-Gaudens High Relief Double Eagle graded MS-65 by PCGS.
Stack's Bowers Galleries will be accepting pre-approved auction consignments at the conference, including collections of physical cryptocurrency and traditional rare coins. To arrange a meeting with Stack's Bowers Galleries at the Bitcoin 2023 Conference or for general questions about the firm's physical cryptocurrency auctions, email Consign@StacksBowers.com or call (800) 566-2580.
Belize, 1990. $1, P-51, Issued Banknote, Light green and peach on m/c underprint, Portrait of Queen Elizabeth II at right, S/N AA936096 Printer: TDLR, PMG graded Superb Gem Uncirculated 67 EPQ.
To read the complete lot description, see:
Central Bank of Belize, 1990, Issued Banknote (https://auction.archivesinternational.com/Central-Bank-of-Belize-1990-Issued-Banknote_i48607002)
Ville D'Amiens, France...., 1914. 2 Francs, P-NL, issued banknote, low s/n 00326, local bon scrip issue, VG to Fine. (From the Allen Berk Collection)
To read the complete lot description, see:
Chambre de Commerce d'Amiens. 1914 Issue Emergency Scrip Note. (https://auction.archivesinternational.com/Chambre-de-Commerce-d-Amiens-1914-Issue-Emergency-Scrip-Note_i48607030)
Greece. Lot of 7 different notes, Includes 1922 Emergency Issues; 5 Drachmai, P-58 (from P-54); 10 Drachmai, P-59 (from P-46); 25 Drachmai, P-P60 (from P-44,47 or 51); 100 Drachmai, P-61 (from P-48, 53, 55); and 1926 Emergency Issues, 100 Drachmai, P-76 (P-76?); Neon Issue, 50 Drachmai, P-80 (from P-66); and, 100 Drachmai, P-81. VG to VF condition. Scarce Emergency issue group. (7)
To read the complete lot description, see:
National Bank of Greece, 1922 and 1926 Emergency Issue Lot of 7 different notes. (https://auction.archivesinternational.com/National-Bank-of-Greece-1922-and-1926-Emergency-Issue-Lot-of-7-different-notes_i48607078)
1864. Indian Princess / Union Forever, Fuld 49/343a, Copper, R1. Die ascribed to Charles D. Horter. Horter issued a floor of CWT that circulated mainly in the New York City area. Horter tokens are small and light weight, but well-struck. Horter's shop was across the street from Emil Sigel's and their is proof that dies were shared between them. VF-Ch.VF condition.
To read the complete lot description, see:
Indian Princess / Union Forever, 1864, Civil War Token (https://auction.archivesinternational.com/Indian-Princess-Union-Forever-1864-Civil-War-Token_i48607247)
1863. B. Kittredge & Co. Dealers in Military Goods, Guns, Pistols and Sporting Apparatus, Fuld 165CN-2A, R3.
Civil War tokens were minted by private parties from 1861 until 1864 when congress banned the minting of private coins to be used as currency. These tokens were minted as Patriotic tokens, Store Card tokens, and Sutler tokens. Patriotic tokens depicted patriotic emblems and sayings. Store Card tokens had information about a store on one side or both sides if the business was successful enough. Sutler tokens are very similar to store cards except they were circulated by sutlers. Sutlers were merchants that followed an army, selling them goods. VF condition
To read the complete lot description, see:
Cincinnati, OH. B. Kittredge & Co., 1863, Civil War Store Card (https://auction.archivesinternational.com/Cincinnati-OH-B-Kittredge-Co-1863-Civil-War-Store-Card_i48607320)
A rare stash of 1,000-year-old ironwork, which sat for 40 years in a family's basement in Norway, is now seeing the light of day after a woman discovered the hoard during some spring cleaning.
The hoard consists of 32 iron ingots that look like small spatulas and date back to the Viking Age (A.D. 793 to 1066) or high Middle Ages (1066 to 1350). The rods are identical and weigh about 1.8 ounces (50 grams) each, prompting archeologists to think they may have been used as a form of currency and that someone probably buried them with the intention of coming back for the treasure later.
"We call it a cache find because it is clear that someone has [buried it] to hide it," Kjetil Loftsgarden(opens in new tab), an archeologist and associate professor at the University of Oslo and the Museum of Cultural History in Oslo, told NRK News(opens in new tab). Each ingot is pierced with a hole on one end, which suggests the ingots could have been tied together in a bunch, experts added.
While similar ironwork already exists in the museum's collections, this discovery is rare because construction projects often destroy or damage buried treasures, Loftsgarden said. In this case, Grete Margot Sørum, who came across the treasure trove while clearing out her parents' basement in Valdres, central Norway, told NRK News that she remembers her father finding the stash while he dug a well by the house in the 1980s. "But then he put them away in a corner," Sørum said.
The last time someone unearthed a hoard of iron ingots in Valdres was 100 years ago, according to NRK News.
From the late Viking Age until the high Middle Ages, independent farmers in southern Norway produced iron on a massive scale, according to a 2019 study by Loftsgarden, published in Fornvännen, the Journal of Swedish Antiquarian Research(opens in new tab). The region was so productive that there was a surplus of iron, which traders sold to elites in the more populated coastal regions of Norway.
Sørum's father unearthed the ingots from a site located along the Bergen Royal Road, known as Kongevegen, which served as a trade route between Oslo and Bergen 1,000 years ago. The area around the site was dotted with charcoal pits, which were indispensable to iron production for smelting during the Viking and Middle Ages, Loftsgarden wrote in the study.
Sørum notified the Valdres Folkemuseum in Fagernes, which then forwarded the iron collection to the Cultural Heritage section of the Innlandet county municipality. The iron hoard is now stored at the Cultural History Museum in Oslo, where archeologists will study and catalog the artifacts.
To read the complete article, see:
Rare, 1,000-year-old Viking Age iron hoard found in basement in Norway (https://www.livescience.com/archaeology/vikings/rare-1000-year-old-viking-age-iron-hoard-found-in-basement-in-norway)
The gold coin is a forceful assertion of power despite being only three-quarters of an inch in diameter and a sixth of an ounce in weight. Struck around A.D. 800 in Constantinople, the Byzantine empress Irene appears on both sides wearing a crown topped with a cross and holding a crucifer in one hand and an orb and cross in the other.
A few years earlier, a similar image of Irene appeared on a gold coin whose other face showed her son and co-regent Constantine VI. But in 797, Irene had her son seized, blinded, and imprisoned in order to become the empire's sole ruler, said Teresa Shawcross, an associate professor of history and Hellenic studies at Princeton.
The small hole on one edge of the later coin suggests another thread of Byzantine history. Constantine's father, Leo IV, who married Irene in 768 and died in 780, opposed the veneration of icons in Christian worship, but Irene strongly supported the practice and helped firmly embed it into Orthodox Christianity, Shawcross said. The hole may have been made by a believer who wore the coin on a necklace and kissed the image of Irene as an icon.
With the coin that dates to around 800, Irene is making a very clear statement: I am the empress, said Grace Chung '23, a student of Shawcross who is using the coin in her thesis research. It's a very strong image of power, authority, and Christian rule.
The solidi — gold coins introduced by the Roman emperor Constantine in the 4th century and used for the next 600 years — are two of more than 20,000 Byzantine coins in Princeton's numismatic collection, the world's largest trove of Byzantine coins.
The small hole on one edge of the later coin suggests another thread of Byzantine history. Constantine's father, Leo IV, who married Irene in 768 and died in 780, opposed the veneration of icons in Christian worship, but Irene strongly supported the practice and helped firmly embed it into Orthodox Christianity, Shawcross said. The hole may have been made by a believer who wore the coin on a necklace and kissed the image of Irene as an icon.
With the coin that dates to around 800, Irene is making a very clear statement: I am the empress, said Grace Chung '23, a student of Shawcross who is using the coin in her thesis research. It's a very strong image of power, authority, and Christian rule.
The solidi — gold coins introduced by the Roman emperor Constantine in the 4th century and used for the next 600 years — are two of more than 20,000 Byzantine coins in Princeton's numismatic collection, the world's largest trove of Byzantine coins.
To read the complete article, see:
Houses the World's Largest Trove of Byzantine Coins (https://paw.princeton.edu/article/princeton-houses-worlds-largest-trove-byzantine-coins)
Ed Hohertz writes:
As part of the re-opening of the Museum of Islamic Art (MIA) following extensive renovations, Qatar Museums and Years of Culture are delighted to launch the Coin Project - an innovative way to experience one of the largest and most impressive coin collections in the world.
The Museum of Islamic Art (MIA) houses one of the most comprehensive collections of Islamic art in the world, with masterpieces from three continents spanning 1,400 years of history, including metalwork, ceramics, jewellery, woodwork, textiles, coins and glass.
While an important challenge for any museum is how to curate and display the works within their collection, MIA's Coin Project is set to defy space, time and geography to make the coin collection accessible to the public all around the world.
This ambitious project was delivered by COLLECTO, an expert creator of digital art experiences based in Germany. The company developed a state of the art production process for Qatar Museums. It combines highest image quality, unparalleled production speed and fully integrated data management.
The specially created digital interface is fully interactive, showing different layers of visualisation, organising the coins by weight, material, age and more.
The extraordinary scope of the project even enables users to flip the coins front and back, so that no detail is overlooked. Diverse audiences including schools and students, researchers and collectors (or simply the digital curious!) can explore and learn about the origin of each coin.
To read the complete article, see:
The Museum of Islamic Art Coin Project (https://yearsofculture.qa/posts/the-museum-of-islamic-art-coin-project)
To explore the collection, see:
https://coins.collecto.art/
To read the earlier E-Sylum article, see:
LOOSE CHANGE: APRIL 16, 2023 : Collecto Digitizes Coin Collections (https://www.coinbooks.org/v26/esylum_v26n16a33.html)
A rare gold coin from the reign of Charles I could fetch up to £2,500 after being discovered in a pile of loose change. The 400-year-old coin was found by the owner at the back of a dressing table drawer at her late aunt's home in Tunbridge Wells, Kent.
The historic gold Unite (20 shillings) piece could potentially had been hidden away for decades along with around 200 old coins and bank notes left over from foreign holidays. It is now going under the hammer at Hansons Royal Tunbridge Wells on May 23, where it is set to fetch between £1,500 and £2,500.
Antiques valuer Robin Fletcher said he was astonished when he realised it was a "historical gem" while assessing the coin collection. He said: The vendor found the coin at the back of a dressing table drawer when she was sorting thought her late aunt's effects.
Both the vendor and her husband assumed it must be fake so took little notice of it and tossed it into a box of mixed 20th century coins. As always, I carefully sifted through the coins to see if there was anything of value and was shocked when I saw a glint of gold.
As I was told it was a fake I didn't do a close inspection until I got it back to the office. I then realised I'd struck gold.
"I phoned the seller to let her know. She was surprised and delighted to hear the valuation. It was amazing to pluck out a 400-year-old Charles I gold coin from a mish-mash of mainly low value coins."
He continued: "Charles I (1600-1649) was King of England, Scotland, and Ireland from March 27, 1625 until his execution in 1649. We will never know how this historical gem ended up languishing in a dressing table drawer for, probably for decades.
To read the complete article, see:
Rare Charles I gold coin found amid loose change could fetch £2,500 (https://www.birminghammail.co.uk/news/midlands-news/rare-charles-gold-coin-found-26782676)
The coin presented below is a dump farthing that was minted during the reign of George I of Great Britain. This particular coin was produced in 1717, just three years into George I's reign.
At the time, the British monetary system was undergoing change, with new coinage being introduced to replace older, worn out coins. The dump farthing was one of the new denominations introduced during this time, and it was unique in that it was a much larger and thicker coin than other farthings of the period.
The term dump refers to the method of production used for these coins. Rather than being struck with dies like other coins, dump farthings were made by casting molten metal into pre-formed molds. This allowed for a much faster production process, but it also meant that the quality of the coins was somewhat lower than other coins of the period in that they were not as 'sharp' as the struck coin.
The obverse of the coin features a bust of King George I facing left, with the inscription GEORGIVS REX surrounding the image. The reverse of the coin shows a seated figure of Britannia holding a shield and trident, with the inscription BRITANNIA below.
Despite their larger size, dump farthings were not a popular denomination and were quickly replaced by smaller, more standard-sized, struck farthings. As a result, they are relatively rare and highly sought after by collectors today.
This particular coin is a fascinating piece of British numismatic history, reflecting the changes and developments in the manufacture of British coinage during the early 18th century. It also provides a glimpse into the production techniques and methods used to produce coins during this period.
To read the complete article, see:
George I (1714-27), 'Dump' Farthing (https://www.baldwin.co.uk/news/the-tiny-coin-with-a-big-story-the-george-i-1717-dump-farthing/)
Twenty members of Congress, foreign ambassadors and others lunched on April 27 at the U.S. Capitol, in part to celebrate 75 years of the U.S.-Israel relationship and partly to launch a bipartisan congressional effort for the U.S. Mint to strike a coin commemorating Israel's fourth prime minister, who grew up in Milwaukee.
Bobby Rechnitz, a real estate developer, is chairing the initiative, which would require the support of two-thirds of both the House of Representatives and Senate. Ezra Friedlander, CEO of the Friedlander Group, also played an important role.
Rechnitz previously lobbied for Iron Dome funding and pushed for a congressional gold medal for former Israeli Prime Minister Shimon Peres in 2014 to honor his 90th birthday.
There could be no better time than the present—with the United States and Israel somewhat divided right now—for a unifying project, like honoring Meir, Rechnitz told JNS ahead of the event. Especially when we're talking about an American-Israeli woman, who became a prime minister of Israel and one of the first female leaders in the world, he said.
Meir's family (she was born Golda Mabovitch) left Ukraine for Milwaukee when she was 8 years old. In 1921, she and her husband, Morris Meyerson (she shortened her surname after moving to Israel), immigrated to British Mandatory Palestine, later serving as a delegate to the Zionist Organization and working as chief liaison to the British government during World War II.
She signed Israel's Declaration of Independence in 1948 and was elected to the Knesset, before serving as labor minister, foreign affairs minister, and finally, as prime minister from 1969 to 1974.
On Feb. 10, Reps. Debbie Wasserman Schultz (D-Fla.) and Andrew Garbarino (R-N.Y.) introduced H.R. 987, the Prime Minister Golda Meir Commemorative Coin Act, which now has 39 co-sponsors.
The legislation calls on the U.S. Mint to create up to 50,000 gold $5 coins, up to 400,000 silver $1 coins and up to 750,000 half-dollar coins honoring Meir.
To read the complete article, see:
Congress members hold DC launch event for Golda Meir commemorative coin project (https://www.jns.org/congress-members-hold-dc-launch-event-for-golda-meir-commemorative-coin-project/)
The American Numismatic Association's (ANA) World's Fair of Money® (WorldsFairOfMoney.com) is being hosted at the David L. Lawrence Convention Center in Pittsburgh, PA, August 8-12. The show brings coin collectors together from all over the world, featuring hundreds of dealers, auctions, displays of rare treasures, educational opportunities and more.
To commemorate this year's show, medallic artist Jamie Franki has designed a medal with the theme "The City of Bridges." Situated at the confluence of the Allegheny, Monongahela, and Ohio Rivers, Pittsburgh's unique geographic location earned it the distinction of having more bridges than any other city in the world – 446 to be exact.
The obverse of the World's Fair of Money medal features a stylized rendering of Pittsburgh's iconic Andy Warhol Bridge as a backdrop to a flock of birds in flight. Symbolizing our freedom to convene together in a group, the flock breathes life into and adds additional depth and movement to the static and geometric depiction of the bridge. The reverse features a "circle of bridges" motif containing the AMERICAN NUMISMATIC ASSOCIATION and the customary information about the convention and event dates. The names of Pittsburgh's three rivers are included as an important educational element.
Medals are available to purchase in bronze, 1.5" with black and gold drape for $22.50, 2.75" medal for $70; or as a two-medal set, 1.5" bronze medal and 1.5" silver medal, for $155. To order a medal visit money.org/wfm/convention-medal. For large quantity orders, call (800) 514-2646. Collectible pre-orders are not available for pickup at the show. Collectibles will be mailed after Aug. 30, 2023.
An emeritus associate professor of illustration at the University of North Carolina at Charlotte, Franki has enjoyed a long consultative relationship with the ANA, for whom he has designed and sculpted several World's Fair of Money and National Money Show® medals. He says that each time he collaborates on a piece, he strives "to research and develop a beautiful keepsake about the convention host city as a handheld history lesson."
Franki got his start in numismatic art as a designer in the United States Mint's Artistic Infusion Program. In 2005, his American Bison nickel reverse design was selected for a six-month minting. This nickel garnered a COTY (Coin of the Year Award) as the Most Popular World Coin of 2005. In January of 2006, his Jefferson 1800 nickel obverse design began its long-term run gracing America's new and historic forward-facing circulation coin.
For more information, or to order, see:
https://money.org/wfm/convention-medal
Noel Ngwenya, 44, from Chivi District of Masvingo Province spends his working days in downtown Bulawayo, the country's second largest city, with a loudhailer advertising a unique service.
He collects torn or soiled foreign currency notes that have been rejected by supermarkets and other traders - mostly US dollars or South African rand, which are both legal tender in Zimbabwe.
Mr Ngwenya pays his clients 50% of the value of whichever note they bring - so they get $1 for a torn $2 note or 100 rand for a torn 200 rand note.
Zimbabwe's rate of inflation has been falling since August 2022 when it hit a staggering 285%. However, in March this year it was still running at 87.6%, forcing Zimbabweans to find creative ways to survive.
The informal economy, massive bank charges and distrust of the banking sector mean Zimbabweans prefer to deal in cash or mobile money.
Mr Ngwenya describes himself as an agent for middlemen who have contacts in the US, South Africa or local banks, where they exchange the torn or soiled cash for good notes. They provide him with an operating float each time they pick up the torn notes and pay him a commission.
A married father-of-five, Mr Ngwenya supplements his unpredictable trade by selling fruit and roasted corn on the side. "Things used to be good but these days business is slow," he says. "Sometimes you can be lucky and have someone bring you a torn $100, some days you have to make do with the $1 and $2 notes."
To read the complete article, see:
Buying banknotes to survive Zimbabwe's sky-high inflation (https://www.bbc.com/news/business-65336539)
Introducing the King Charles III Coronation Britannia Pound Banknote: A Commemorative Collector's Masterpiece Celebrating a Historic Moment
Tuesday, April 25, 2023, Rijswijk, The Netherlands
After meticulous planning and development, the Coronation King Charles III Britannia Pound souvenir banknotes are set to become the latest addition to the esteemed series of the Britannia Pound. OneBanknote is proud to unveil this limited-edition commemorative banknote honoring the historic coronation of King Charles III.
The Britannia Pound banknotes feature an intricate design depicting King Charles III. The notes contain state-of-the-art security features, including UV inks, serial numbers, micro text, holographic foil, and banknote engraving. King Charles III will be presented with the distinguished serial number UKRC 000001 44KC.
The historic coronation of King Charles III marks the beginning of a new era, and this limited-edition banknote serves as a fitting tribute to the occasion. This release will be the first collector's banknote to feature King Charles III, making it a highly sought-after piece for collectors and enthusiasts. It should be noted that this banknote is not legal tender but is instead a commemorative release intended for collectors.
Michel Jacobs, CEO of OneBanknote, expressed enthusiasm about the release: This special banknote has been crafted in a limited edition and is a proud addition to the series, which includes the previously issued 'The Platinum Jubilee of Queen Elizabeth II.'
Bob adds:
As far as archaeological discoveries go, finding a mummified hand of a tiny baby clutching at a late medieval coin is already Indiana Jones territory. But in 2005, a team opened up a pot at an abandoned cemetery in Nyarlorinc, Hungary, and found just that. Also, the hand was green, pushing the whole find well onto Indiana Jones 4 turf.
"During data collection in a Late Medieval osteological series of Nyárlorinc-Hangár út, we have come across very small, green colored remains of a perinate individual that seemed to be partially mummified," the team wrote of the find years later.
"Preservation of these minute remains was so good that we decided to invite a specialist of other scientific fields to conduct a series of multidisciplinary investigations on the bones in order to come to a common conclusion concerning these rare findings unparalleled in the bio-archeological record."
In other strange and unexplained details of the case, a coin found alongside the remains was in circulation between 1858 and 1862. Or in other words: "The pot burial took place at least 150 years after the cemetery has been abandoned."
The main mystery to be explored, however, was what had caused the preservation seen in the body, particularly of the soft tissue of the hand. Natural mummification is rare. Though it happens through a number of methods, it usually takes place in dryer and/or colder conditions than those found at the cemetery. Furthermore, other bodies placed nearby in the cemetery decayed as normal, despite being in the same basic conditions.
Using chemical analysis on the bodies, the team found the answer: the infant's body was crammed full of copper, especially, as you'd expect, in the hand clutching at the copper coin. In fact, the copper found in the body was 497 times higher than levels found in other mummies.
The antimicrobial properties of the copper coin kept the hand, and other parts of the body that the copper had contaminated, from being broken down by microbes. The team believes it is the first solely copper-driven mummification case ever reported. They add that with other burials taking place with copper placed near bodies, "hopefully, more cases are to appear in the future".
To read the complete article, see:
Scientists Opened Up A Jar In A Cemetery And Found A Mummified Green Hand Clutching A Copper Coin (https://www.iflscience.com/scientists-opened-up-a-jar-in-a-cemetery-and-found-a-mummified-green-hand-clutching-a-copper-coin-67001)
Croatian Coin Captures the Cravat
The Croatian National Bank has released its first numismatic or collector coin denominated in euros since the country adopted the single currency in January of this year. The uniquely-shaped coin is in tribute to the humble necktie, which began its existence as an integral part of Croatian culture and has had a rich and fascinating history.
The coins are produced by the Mint of Croatia at their facilities in Sveta Nedelja, on behalf of the National Bank of Croatia. Designed by Nikola Vudrag, the concept includes a two-piece strike with the gold necktie itself designed and struck separately to the outer round silver coin with a specific cut-out to accommodate the necktie. The reverse side depicts Croatian soldiers who fought under the French flag in the Thirty Years' War during the 17th century. Around their necks is a scarf, better known today as a cravat, which immediately attracted the attention of the French. The scarf caught the attention of young King Louis XIV, who started wearing the cravat, and speaks volumes about its acceptance. As with the king, all the French quickly embraced it and wore scarves around their necks à la create, meaning, in the Croatian way. The inscription À LA CROATE is included as part of the design and an homage to this iconic fashion and cultural item. Below the primary design is the text REPUBLIKA HRVATSKA 6 EURO 2023. The obverse side depicts the tie as it is worn today with a gentleman's jacket and a button-down shirt. The text which is shown on the tie itself in a diagonal direction, reads REPUBLIKA HRVATSKA 100 EURO 2023.
To read the complete article, see:
Croatia: First euro gold and silver coin celebrates the iconic necktie with unique shape (https://news.coinupdate.com/croatia-first-euro-gold-and-silver-coin-celebrates-the-iconic-necktie-with-unique-shape/)
Bloody Currency at Harvard Protest
Harvard students and organizers staged a protest and die-in at the Harvard Art Museums Thursday to condemn the University's connections to Arthur M. Sackler and his family, whom they charge with enabling and profiting from the opioid crisis.
In an emailed statement Thursday, Harvard spokesperson Jason A. Newton confirmed the school is reviewing a proposal to dename the two buildings, which was submitted last fall by members of the Harvard College Overdose Prevention and Education Students to the Faculty of Arts and Sciences Process for Denaming Spaces, Programs, or other Entities.
The university has established a process for considering de-naming spaces, programs, or other entities. A proposal to de-name the Arthur M. Sackler Museum and the Arthur M. Sackler Building has been submitted and is currently under review, Newton wrote.
To read the complete article, see:
Student Activists Call on University to Dename Sackler Buildings at Harvard Art Museums 'Die-In' (https://www.thecrimson.com/article/2023/4/21/sackler-denaming-protest/)
Comic Book Hoarder's House
Vintage comic books and figurines fill an abandoned house discovered by urban explorer Devin Dark, who suspects the '80s and '90s merchandise is worth millions.
You walk in and immediately you can see everything stockpiled right in front, Dark, who hails from Chicago, told SWNS. It's just overwhelming. You just stand there looking at everything, not knowing what to do.
At all times throughout the entire house, there were two feet of toys on the floor going right up to my knees, he explained. I was shocked. It's not like these are things that are junk.
Dark claims the owner of the two-story house was a toy store manager who died 15 years ago after an illness.
There were 'Star Wars' figures, Superman, Spider-Man, anything that comes to your mind when it comes to comic book superheroes or collectibles. The place had it all, he recalled. There were too many [items] to estimate. It would be overwhelming to even guess a number at that point, there's just so much left behind.
I really wouldn't know how much it's worth. There's a possibility of millions of dollars left behind, he shared, noting that it clearly wasn't about the money for the previous resident.
To read the complete article, see:
Comic book hoarder's house buried in vintage collectibles 'worth millions' (https://nypost.com/2023/04/21/comic-book-hoarders-house-buried-in-vintage-collectibles-worth-millions/)
Toronto Airport Gold Heist
Police are investigating a massive gold heist at Toronto Pearson International Airport, a location often used to ship gold mined in the province of Ontario.
Canadian officials say more than C$20m ($15m, £12m) of gold and valuables were stolen on Monday 17 April.
An aircraft container carrying the goods arrived at the airport in the evening and was transported to a cargo holding facility.
Police believe that is where the heist took place.
The theft could mark one of the bigger heists in Canadian history, a list that includes the 2011 and 2012 Great Canadian Maple Syrup Heist when 3,000 tonnes of syrup valued at $18.7m were stolen from a storage facility in Quebec.
To read the complete article, see:
Toronto airport gold heist: Police say C$20m of valuables stolen (https://www.bbc.com/news/world-us-canada-65328968)
To read the earlier E-Sylum article, see:
NOTES FROM E-SYLUM READERS: APRIL 23, 2023 : On the Philadelphia Dime Heist (https://www.coinbooks.org/v26/esylum_v26n17a10.html)
The Commonwealth of Virginia traces its roots to the perennial quest for gold. England's King James I chartered what would become the Virginia Company in 1606 in a colonizing pursuit of gold, spices and land. While land was abundant, there were no discoveries of spices or gold.
Renewed buzz about prospects for Virginia gold was prompted by a future U.S. president, Thomas Jefferson, publicizing in 1782 the discovery of a 1.8-kilogram gold-bearing rock on the north side of the Rappahannock River. But the precious metal was not found in abundance within the borders of Virginia until the early 19th century.
Gold mining in Virginia peaked as the third-largest producing state in the country yielded hundreds of commercial caches north of the James River in the 225-kilometer-long Pyrite Belt. Much of the gold from the state was shipped to the U.S. Mint in Philadelphia, helping to wean the young nation off foreign coinage and private tokens as legal tender. The Virginia boom went bust from 1848 when the California gold rush compelled serious speculators to go west.
Nowadays, there are limited opportunities in Virginia to experience gold fever. Fauquier County's Gold Mining Camp Museum, at Monroe Park in Goldvein, allows visitors to try their luck at a sluice after purchasing bags of gems. The park is also home to artifacts found at one of the 19 mines that operated within an eight-kilometer radius.
At Lake Anna State Park in Spotsylvania County, rangers escort visitors to a semi-clandestine spot adjacent to the old Goodwin gold mine to work a pan in a pond and see what washes up.
Those lucky enough to spot specks of gold will, however, leave empty-handed. All discoveries in the Virginia state park must remain on the premises.
Nineteenth century miners' trash is his treasure, piled high in Goochland County at the site of a mine with extensive mercury contamination that closed down in 1936. Back then, gold was worth around $35 an ounce (28.35 grams). These days it is about $2,000 an ounce.
"Anything under an ounce per ton on an average to them wasn't worth running and processing. They knew they were losing 50 to 60 percent of their gold in their tailings already. They could only process 20 tons in 24 hours," Busch, owner of Big Dawg Resources, explains, standing aside a hill of soil. "Any stone that was underground that they removed that was under an ounce per ton to them was garbage."
Busch is going through those piles of stones again with machinery he says can extract as much as $800 worth of gold a minute. He is also cleaning up the mercury contamination and filling in any pits and shafts that still may be hazardous.
"There's the potential for there to be a second gold mining boom to an extent" here, even though Virginia does not have large deposits, according to Busch. "For a small mining operation, there are a lot of veins out there that have been found over the years that could be highly profitable."
To read the complete article, see:
Virginia Again Takes a Shine to Gold (https://www.voanews.com/a/virginia-again-takes-a-shine-to-gold/7068777.html)
Millions of Americans have tried their luck at gold panning. In 1852, the peak production year of the Gold Rush, $81 million worth of gold was discovered in California alone, coming to about $3.2 billion in today's dollars. And still, two centuries later, prospectors search for gold in public areas across the American West.
Once you see your first flake of gold pop out of the pan, it hooks you, says Andy Brooks, president of the Central Valley Prospectors gold panning club based in Fresno, California. After decades of prospecting, he still finds joy in the hunt.
Many prospectors, like Brooks, enjoy the hobby of gold panning for more than just the possibility of striking it rich. Searching for gold has a vibrant past, attracting history buffs and adventurers alike. We are like family, says Brooks. It's an interesting fraternity.
To read the complete article, see:
Five Places Where You Can Still Find Gold in the United States (https://www.smithsonianmag.com/travel/five-places-where-you-can-still-find-gold-in-the-united-states-180982063/)
To read the earlier E-Sylum article, see:
FLOODS MAKE CALIFORNIA'S GOLD SEEKERS GIDDY (https://www.coinbooks.org/v26/esylum_v26n17a31.html)