Visit our NBS Sponsors
About Us
The Numismatic Bibliomania Society is a non-profit association devoted to the study and enjoyment of numismatic literature. For more information please see our web site at coinbooks.org
Subscriptions
Those wishing to become new E-Sylum subscribers (or wishing to Unsubscribe) can go to the following web page link
Membership
There is a membership application available on the web site Membership Application
To join, print the application and return it with your check to the address printed on the application. Print/Digital membership is $40 to addresses in the U.S., and $60 elsewhere. A digital-only membership is available for $25. For those without web access, write to:
Charles Heck, Treasurer
Numismatic Bibliomania Society
P. O. Box 2058,
Bluffton, SC
29910-2058
Asylum
For Asylum mailing address changes and other membership questions, contact Chuck at this email address: treasurer@coinbooks.org
Submissions
To submit items for publication in The E-Sylum, write to the Editor at this address: whomren@gmail.com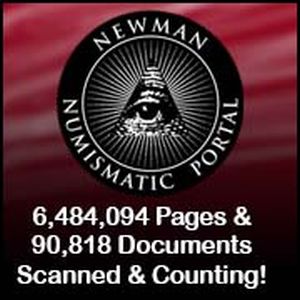 BUY THE BOOK BEFORE THE COIN
Sale Calendar
Kolbe & Fanning sale on May 16, 2023
Content presented in The E-Sylum is not necessarily researched or independently fact-checked, and views expressed do not necessarily represent those of the Numismatic Bibliomania Society.
New subscribers this week include: Dan Duncan. Welcome aboard!
Thank you for reading The E-Sylum. If you enjoy it, please send me the email addresses of friends you think may enjoy it as well and I'll send them a subscription. Contact me at whomren@gmail.com anytime regarding your subscription, or questions, comments or suggestions about our content.
Random opening joke: I auditioned for the role of Hamlet, but it was not to be.
This week we open with a numismatic literature sale, two new books, two obits, updates from the Newman Numismatic Portal, notes from readers, and more.
Other topics this week include the Bar Coppers, gold, digital images, Rinaldo Wilson, Harry Einstein, John Dannreuther, Annie Oakley, money and bookkeeping, fixed price and auction offerings, coin hoards, Trade Dollars, Coronation coins, and special serial numbers.
To learn more about the Rebel Emperors of Britannia, Indian banknotes, National Bank Notes, Winslow Howard, withdrawing coins from circulation, coal company scrip, molecular memory, the Serbian Assassin medal, the revolutionary "Bolita" peso, and reverse ATMs, read on. Have a great week, everyone!
Wayne Homren
Editor, The E-Sylum


Kolbe & Fanning Numismatic Booksellers have announced our latest Buy or Bid Sale, which begins now and will close on Tuesday, May 16, 2023. With hundreds of new additions, the sale focuses on modestly priced books, giving collectors an opportunity to add to their libraries at minimal cost.
The sale includes over 1400 works on ancient, medieval and modern coins, as well as general works, periodicals and sale catalogues. Buy prices have been kept low to promote sales. To further encourage participation, the firm is offering free domestic shipping to bidders spending at least $300; there is also no packing and processing fee for this sale. Again, please read the Terms of Sale before participating.
As the name of the sale suggests, customers may bid on items they wish to acquire or buy them outright at the published price. The Terms of Sale will give full instructions on how to participate: please read it carefully.
There is no printed catalogue. The PDF catalogue is available now for downloading from the Kolbe & Fanning website at numislit.com. Please send all bids to orders@numislit.com or use the bid sheet included at the end of the PDF catalogue.
To read the complete catalog, see:
https://www.numislit.com/images/upload/kolbefanningbob21.pdf
The Rebel Emperors of Britannia, Carausius and Allectus
Sam Moorhead and Graham Barker
One of the most exciting periods of Britain's history under the Romans remains largely unknown today. Yet, at the end of third century AD, two men successively ruled the island, together with parts of the Continental coast, as emperors of Britannia for a period of ten years. They minted their own coins, initiated Britain's first truly integrated defence system and successfully repelled an invasion from the mighty Roman empire. This is the story of Carausius and Allectus – the rebel emperors of Britannia.
They were major thorns in the side of Rome and posed a huge threat to the authority of Diocletian and Maximian. It took ten years, after Carausius first rebelled, for the Roman empire to mount a second invasion and this time it was successful. Britain rejoined the 'Eternal Light of Rome' and the victory was accompanied by tremendous celebrations.
There was an attempt to wipe the names of Carausius and Allectus from history but enough evidence remains to piece together this extraordinary episode in the annals of Britain. The rebel emperors were recorded in a few later histories and found fame again in the 18th century. Carausius, in particular, was celebrated as a great naval hero who stood up to the might of Rome.
Contemporary sources in the third century AD damned them as criminals and pirates. This book aims to set the record straight and details the remarkable achievements of Carausius and Allectus, the rebel emperors of Britannia.
240 x 152mm
244 pages
Hardback, with colour illustrations throughout
ISBN: 9781912667918
For more information, or to order, see:
The Rebel Emperors of Britannia, Carausius and Allectus | Sam Moorhead and Graham Barker (https://spinkbooks.com/products/the-rebel-emperors-of-britannia-carausius-and-allectus-sam-moorhead-and-graham-barker)
Indian Banknotes 2023
British India Portuguese India French India Republic India 1861-2022
By Sainath Reddappa
FIRST EDITION
Hard Back
650 Pages
Full Color Illustrations
Content
Preface
Acknowledgment
Pricing
Catalogue Layout
Catalogue Numbering System
Introduction
British India Bank Notes
Portuguese India Banknotes
French India Banknotes
Republic India Bank Notes
Gulf Notes
HAJ Notes
Bibliography
Important resources
For more information, or to order, see:
For more information, or to order, see: (http://indianbanknotes.in/product/indian-banknotes-2023-british-india-portuguese-india-french-india-republic-india-1861-2022-1st-edition-by-sainath-reddappa/)
Southern California volcano layout, a layout unique to the first title used by this bank, from an issue of 2.670 sheets of 10-10-10-20s of which this is the first reported.
The Society of Paper Money Collectors has just posted four huge EXCEL data sets that you can download and manipulate. They provide a big picture overview of the note-issuing national banks and the national bank notes that those banks issued
The data presented is primarily transcribed from Comptroller of the Currency annual reports and contemporary records maintained by the Comptroller of the Currency's staff that are now housed in Record Group 101 at the National Archives in College Park, Maryland. The accuracy and completeness of these data, particularly such things as the summary corporate histories in spreadsheet 1, is dependent upon reports having been received by the Comptroller's office and the fidelity with which the information was recorded. This information is known to be incomplete, especially information pertaining to predecessor and successor territory/state banks and mergers involving territory/state banks. Consequently, the information provided here should be viewed as a starting point as you research a particular bank.
In cases where specific data such as organization or opening dates are missing, the compilers of these spreadsheets were unable to recover that information from the available records. The reason is that critical records such as organization reports are missing or in the case of opening dates, the information wasn't recorded.
The sources for the names of the bank presidents and cashiers presented in spreadsheet 2 are listed in the spreadsheet. Most are from the Comptroller of the Currency annual reports. Consult the SPMC Bank and Bankers data base when you delve into a particular bank because that resource often contains the full names of the presidents and cashiers as well as other officers in the bank and even biographical profiles of these men.
Everyone makes transcription mistakes and typos—everyone: the clerks in the Comptroller's office who recorded the data, the typesetters who prepared the Comptroller annual reports, the clerks who sent plate orders to the printers, the siderographers who laid-in the bank information on the printing plates, the compliers of these spreadsheets. We have made serious strides in cleaning up such problems and continue to do so.
1 - Key Bank Data (1863-1935, all charters 1-14348)
Organization date if available
Charter date
Opening date (1901-1909)
Closing date with fate if before 1936
Last outstanding taxable circulation
Summary corporate history
2 - Bank presidents, cashiers, total resources, circulations by year (1863-1935)
3 - National bank notes issued by bank title (1863-1935)
Exact title found on issued notes
Series/type/sheet combination/beginning and ending serial numbers
Title change dates:
Supplemental title information
4 - Characteristics of the Bureau of Engraving and Printing certified proofs (Series of 1875, 1882, 1902, some Original)
Smithsonian Scan number
Bank
Series
Type
Sheet combination
Plate letters
Treasury signatures
Certification date (1876-1929)
Plate date
Sorting aids (columns 0 through W)
To access the data, see:
National Bank & National Bank Note Summary Data (https://www.spmc.org/nb-nbn-summary-data)
Bill McAllister, a Washington Post national reporter in the 1980s and 1990s who wrote a long-running column on coins and stamps, died May 1 at a hospital in Fairfax County. He was 81 and a resident of Fairfax City.
The cause was pneumonia and complications from covid, said his son William H. Billy McAllister IV.
Mr. McAllister, widely known as Buddy, joined The Post in 1975 with an assignment to rove Virginia for stories. He later served eight years overseeing statewide news coverage before moving to the national staff as a general-assignment reporter.
Besides writing about political and policy developments across many federal agencies, he cultivated a journalistic specialty focused on the Postal Service and had a column about stamps and coins published in the Weekend section.
After retirement from The Post in 1999, he wrote for Linn's Stamp News, a publication for stamp collectors.
William Howard McAllister III was born in Durham, N.C., on Nov. 6, 1941. His father, a banker, went overseas as a Navy signalman during World War II. In those wartime years, Buddy was raised by his mother and aunts, one of whom later gifted him a small mimeograph machine on which he published a neighborhood newspaper for a penny.
In his teens, he became a regular freelancer for several newspapers in his home county and was paid 10 cents a column inch. He received a bachelor's degree in political science in 1964 from the University of North Carolina at Chapel Hill, where he also completed a master's degree in journalism in 1966.
To read the complete article, see:
Bill McAllister, Post reporter who wrote on stamps and coins, dies at 81 (https://www.washingtonpost.com/obituaries/2023/05/03/bill-mcallister-washington-post-reporter-stamps-dead/)
Jeff Garrett writes:
Tim H. LaPointe
Chicago 1947 - Chicago 2023
Timothy Harold LaPointe passed away on April 27, 2023. No, the H is not for Hustle, as fitting as it may have been! A wise man: he knew how to maneuver among his comrades. "Know the rules so you can play the game," he taught. An athlete, a soldier, a leader, and a provider, Tim is himself a rarity. As intense as he was at times, Tim was the first to make light of a bad situation when he saw that those he cared for were truly worried. Though an abundance of power was displayed when fighting for what he believed was right, Tim's loyalty and love were the truest displays of his strength. Tim is not to be missed, but appreciated, because he made sure to leave a lasting impression all over this world.
Tim's friends and family have been honored to know this extraordinary man. His legacy lives on through his wife, Beth; two sons, Jason (Erica) and Kyle; and granddaughter, Payten.
Julian Leidman writes:
Via Tim's son Kyle, Jeff adds this career timeline:
To read the complete article, see:
TIM LAPOINTE OBITUARY (https://www.legacy.com/us/obituaries/toledoblade/name/tim-lapointe-obituary?id=51802710)
Newman Notes on the Bar Coppers
A recent addition to the Newman Portal is the Eric P. Newman research file on Bar Coppers. Of unknown origin, these pieces were first noticed in 1785 and reported in the New-Jersey Gazette. Included in this file is a paper presented by Harry W. Colborn to the Western Pennsylvania Numismatic Society in 1993, a lengthy list of differences between authentic pieces and 19th century Bolen copies, and detailed notes on forged examples. Newman further collected photographs of false pieces and compiled early auction appearances of Bar Coppers.
Images: (1785) Bar Copper, NGC MS65 BN, ex. Newman IV (Heritage Auctions, May 16, 2014), lot 30383, realized $64,625.
Link to Newman files on Bar Coppers:
https://nnp.wustl.edu/library/archivedetail/543562
Learn how gold has been important. Speaker(s): R.E. McMaster, Jr..
To watch the complete video, see:
Perspective on Ancient & Modern Money & Gold (https://nnp.wustl.edu/library/book/560404)
WINSLOW HOWARD SALE
The article provides information on the life of Winslow J. Howard, a prominent numismatist. He was born in New Hampshire and began his career with Tiffany & Co. in New York City. Howard became interested in collecting coins about 1850 and lobbied for the regular production of proof coinage in the U.S. in 1855. He was an active collector and bidder in auctions in the 1850s, including the 1855 Pierre Flandin sale and the John W. Kline auction. In 1857, Howard corrected a mistake in a newspaper article about the "old red cent."
ECSTASY OF EARLY 1858
The text provides a historical account of Winslow J. Howard, an American numismatist, who was among the first people to print a "wanted to buy" list for old coppers. In 1858, Howard made significant intellectual contributions to John Hickox's research-based monograph on American coinage and was visited by Dr. Montroville Wilson Dickeson, who examined his collection to write his landmark American Numismatical Manual. Howard sold some of his coins to George N. Dana of Boston, including the Non Dependens Status engraved copper, which he believed to be unique and one of the pattern pieces engraved and designed by Paul Revere. The other featured coin was the Washington half dollar of 1792, which Howard found even more fascinating. Charles B. Norton published a feature on these two coins, along with engravings and descriptions of the coins, in his Norton's Literary Letter No. 2 in 1857.
AGONY OF 1858
In 1858, Winslow Howard was diagnosed with consumption (tuberculosis) and moved to New Mexico for a drier climate. He spent the next four decades moving from town to town in the Western US, opening jewelry shops and collecting a variety of precious objects. He married Abbie Stratton in 1865, but their long-distance relationship and Howard's tuberculosis caused tension and eventually led to divorce in 1881. Howard also developed an interest in collecting plants and insects, which he displayed in his shops and sent to interested scientists. Many of his specimens were new to science, but he received little credit for his discoveries.
ITINERANT COLLECTOR
Winslow Howard was a well-known coin hobbyist in the second half of the 19th century, who lived in New Hampshire and New York. After moving to the mountain West, Howard became one of the few numismatists in the region. He found ways to keep his hand in the numismatic game by displaying rare coins from his collection, hanging out his shingle as an assayer, and opening a shop in Denver. In 1882, he moved to Silver City and experienced a resurgence of his numismatic interest. In 1884 and 1886, Howard consigned his numismatic collections for auction. The American Journal of Numismatics reviewed the sales, and Howard's collections contained rare and choice specimens of coins and medals of Mexico and Spanish American countries.
LONG-LOST HOWARD SALE
The text discusses the Winslow Howard sale of coins and medals that occurred in 1856. The sale was not a free-standing auction sale catalog and was sold as a tag-on to a catalog of books. The dearth of information about the collection and the fact that it was sold as an addenda made the sale obscure. The only evidence of the sale's existence was recorded by Charles Ira Bushnell in 1859, where he recorded sales of coins and medals at public auctions in New York City. Q. David Bowers noted the obscurity surrounding the Winslow Howard sale in 1998. Attinelli offers possibilities to consider and notes two entries cataloged by Leavitt Delisser & Co. The text then discusses the next step of identifying the book sale catalog that included the addenda. McKay's American Book Auction Catalogues 1714-1934 does not provide any answers.
HOWARD SALE, LOST AND FOUND
The article discusses the history of the Howard addenda, which is a collection of coins that were sold at a Leavitt Delisser & Co. trade sale of books in New York City on May 17, 1856. The article provides information on the history of Leavitt Delisser & Co., the advertisement for the trade sale, and the cataloger of the Winslow Howard sale. It explains why the identification of the Howard sale was elusive for a long time and provides insight into the auction process during the 19th century.
HOWARD SALE OF MAY 17, 1856
The text describes the May 17, 1856 auction of coins and medals by Leavitt, Delisser & Co., with particular focus on the addenda that describes lots 196-247. The author compares the original addenda to the columns clipped from it and pasted into a compendium catalog by a collector named Charles Ira Bushnell. Bushnell made several annotations, including grading and rarity judgments, that differ from the catalog. The author provides examples of this with lot 196, a Washington Before Boston medal, and lots 198 and 204, a Gobrecht dollar and a 1791 Washington Cent. The author also notes that Bushnell cut the original addenda to size to match his catalog and discarded useful information from the original in the process.
HOWARD SALE: ORIGINAL ADDENDA AND ATTINELLI REPRINT
The text discusses the Howard sale of coins and medals, held in 1856. The untrimmed original addenda and a priced unnamed reprint of it, both in the Library of the ANS, provide useful insights about the sale. The untrimmed addenda reveals that there were four additional unnumbered lots of coins offered, one printed on the addenda itself and three manuscript lots added in pencil. The total realization of the three unnumbered manuscript lots, 64 cents, when added to the total return of the addendum's 52 numbered lots, $37.97, yield a total realization of $38.61 for the entire addenda. It is noted that the proceeds of the 195 lots of books that preceded the sale of Howard's coins were possibly included in the mix, either added to the $38.61 realized by the numismatic lots or posted instead of the numismatic realization. The Howard addenda was a hurried emission from a bookseller, not a coin dealer, and was therefore ephemeral to numismatists from the time of its issue. At some point before the publication of Numisgraphics in 1876, someone decided to reprint some of the rarities of the American series, including the Howard addendum, with nominal numbers in excess of the mid-1870s demand.
BUYERS AT THE HOWARD SALE
The Winslow Howard auction of 1856 was dominated by "Cash" buyers, who paid invoices on a cash- and-carry basis, while only seven named individuals bought the remaining 14 lots, including "Wilson" or "Willis," "Hayes" or "Hays," and "Oliver." The identity of "Wilson" or "Willis" and "Hayes" or "Hays" remains unknown, while "Oliver" is believed to be James Oliver, a founder of the American Numismatic Society. The buyers of the three manuscript lots in the ANS addenda are "Fish" or "Fisk," "Curtis," and yet another "Cash." It is also noted that no one was a named buyer in all three sales (Flandin, Groux, and Howard addenda).
AFTER-SALE REPORT
The article discusses the auction of Winslow J. Howard's coin collection, which was held in May 1856. The article reports on a clipping from the New-York Dispatch which was printed two weeks after the sale. The summary begins factually but quickly turns promotional, written by Howard himself. The article criticizes Howard's sales report as a bit over the top, as the prices realized in the auction were middling and not enormous. The article concludes with Howard's philosophical rumination on the cultural value of coin collecting.
To read the earlier E-Sylum articles, see:
BUSHNELL'S COMPENDIUM CATALOG, PART ONE (https://www.coinbooks.org/v26/esylum_v26n17a07.html)
BUSHNELL'S COMPENDIUM CATALOG, PART TWO (https://www.coinbooks.org/v26/esylum_v26n18a13.html)
I have tens of thousands of moderate (300 dpi) to high-resolution (1600 dpi) digital images of U.S. currency, Bureau of Engraving and Printing certified proofs, scanned National Archives documents, scanned historic photos, even family photos, both black and white and color. The vast majority of these are saved as JPEG images but in other popular formats as well. They are stored on the hard drives of my high-end HP Envy laptops and towers, in Western Digital external mass storage devices, on removable disks, etc. Many of these images are embedded in PowerPoint presentations, in WORD documents, etc.
It is irrefutable that all of these images are fading with time. If this problem is not specific to me, then the issue is absolutely huge. Digitization of archival material has become an institutional mainstay. The personnel at the Newman Portal recently reported that they have surpassed capturing 5 million images. At the rate my images are deteriorating, they will be useless within half a century.
Most of my photo archive has been assembled since 1990 and my PowerPoint documents and WORD files since 2000. Fading is progressive and is very obvious within 10 years.
When I need to use older scans, it is necessary to load the image into a photo processor and significantly kick up the contrast. This salvages much of the image but loss of resolution is inevitable and the subtle shades are lost. You only get to do this a couple of times before the scan is ruined. When I recycle a PowerPoint presentation that is a decade old, it is necessary to pull out every image to enhance it as best as possible and reload it.
I have raised this topic with a few purveyors and users of this technology. Reactions are surprising. The knee jerk usually is vehement denial. Next comes tech-savvy rhetoric implying that this is impossible with digital storage, that I am somehow an incompetent consumer of this technology who doesn't know secret handshakes to prevent loss, or worse. Hmm, sounds like good ol' 2020s American political discourse!
What I desire is a dispassionate discussion. Before leaping in, it would help greatly if you would look at your oldest digital images to see how they are faring.
All of you who are into archival work already have been plagued by photographs, microfilm, sound recording, photocopies, etc., that have faded with time.
Could it be that I am serving as the canary in the cage in this digital coal mine?
This issue deserves serious dialogue by serious people. If real, it is big.
To read the earlier E-Sylum articles, see:
QUERY: THE FADING OF DIGITAL IMAGES (https://www.coinbooks.org/v26/esylum_v26n14a17.html)
APRIL FOOLS 2023 (https://www.coinbooks.org/v26/esylum_v26n15a14.html)
Last week Paul Horner asked:
I started researching the Calhoun medals reference, and from the start, I became suspicious that these medals were a bit of "yellow journalism" by the Washington Globe and never existed, but I couldn't prove that. Now though, I think I found some evidence. The first article is from the Star and Banner, Gettysburg, PA May 14, 1833, and the second is from the Charleston Mercury, June 3, 1833.
Regarding the Gobrecht "large eagle with expanded wings", perhaps this was not a metallic token but the annual publication. The Philadelphia publication was "The Atlantic Souvenir" and I think it was referred to as "The Token" as well - like the Boston one.
Here is the Atlantic Souvenir from 1827 with a "large eagle with expanded wings." Maybe this is what was meant?
Paul Horner writes:
For more information, see:
The Token and Atlantic Souvenir (https://en.wikipedia.org/wiki/The_Token_and_Atlantic_Souvenir) The Atlantic Souvenir (https://exhibits.library.sc.edu/literary-annuals/the-atlantic-souvenir/)
To read the complete article, see:
NOTES FROM E-SYLUM READERS: APRIL 30, 2023 : Token and Medal Information Sought (https://www.coinbooks.org/v26/esylum_v26n18a16.html)
In the last E-Sylum, David Pickup, under the heading "New King, New Coins?" stated: "The cost of removing vast quantities of coins from circulation and minting their replacements would be staggering. The only example I can think of in modern times was the recall of Commonwealth coins after the Restoration. I suppose you can understand it as those coins would not have been thought quite nice!"
Here are a few updates:
The recall of the pre-Euro coins from many countries that joined the European Union was done out of necessity. The coins were waffled and then sold to smelters for melting and repurposing.
In June 2003, the U.S. began waffling coins that were quietly being removed from the distribution system. This included Eisenhower dollars, Susan B. Anthony Dollars, the new series of Presidential dollars, Sacagawea dollars, State quarters, Kennedy half dollars, 5-cent Jefferson and 10-cent Roosevelt pieces. They all have one thing in common - the melt value exceeded the face value.
The popular round £1 coin of Great Britain was replaced starting on October 16, 2017 with a new 12-sided version. It was not the result of changing its metallic content, size or weight due to its high melt value. It had nothing to do with changing from the British Pound to the Euro dollar...but for a different and very unusual reason.
If you are just going to replace one size and shape of a coin with another size and shape of the same denomination, why bother? The reason had to do with the ease of counterfeiting the One Pound coin and being able to spend them without difficulty. This is borne out by the admission of the British Royal Mint that 1.45 million of the £1 coins that were returned to the Mint during the recall were counterfeit. The British Mint said fakes could not be readily distinguished from the genuine coin, which is why a new coin was introduced.
In case the logic of replacing the coin escapes you, the Government has admitted defeat in tracking down and bringing criminals responsible for the counterfeiting and the distribution. Instead, they bowed to the success of criminals by withdrawing the round £1 coin.
While the reason for replacing the British coin is somewhat unusual, the process of accumulating and destroying the old coins is also unusual in all its simplicity when you compare it to the recall of pre-Euro coins. The Euro countries accumulated the pre-Euro coins at banks and other money handlers across Europe, then waffled the, to demonetize them before shipping them to smelters. In contrast, the U.S. Mint waffled the silver coins themselves in-house before shipping them to smelters. Instead of being accumulated in various locations and waffled before being shipped to a smelter, the £1 coins were shipped directly by the banks in Great Britain, without being waffled, to the Royal Mint in Llantrisant, Wales. They were then melted in-house at the Mint and the metal used to help create some of the replacement £1 12-sided coins.
A little known program was instituted in 2004 in Canada following the introduction of multi-ply plated steel (MPPS) coins. Its objective was to cull older-composition coins from circulation and replace them with coins of the new multi-ply plated steel specifications. If the method of cancelling the legal status of coins by waffling worked previously in the U.S. and Europe, why not use it in Canada?
The Royal Canadian Mint contracted with Brink's to accumulate the old coins under a project called "Alloy Recovery Program" (ARP) where they segregated the old coins when they sorted, counted and rolled coins coming in from banks and commercial customers, waffled them and waited for instructions from the Mint to which smelter they should be shipped (the Mint obtained bids from smelters for these waffled coins).
The Mint also made a deal to segregate pre-MPPS coins with Coinstar (I believe in the Province of Quebec only) to turn over any found in their counting machines and turn them over to Brinks for waffling.
Canada's recall of the older pure nickel coins is still ongoing, thanks to the Royal Canadian Mint's ongoing contract with Brinks, although Coinstar is no longer accumulating the older coins due to the cost of seperating versus what the Mint is willing to pay Coinstar.
If you want any more details, you will have to wait for my new 800-page letter-size (3-ring punched) book on the workings of the Royal Canadian Mint. I hope to announce the availability of this Covid-project by year-end.
To read the earlier E-Sylum article, see:
NOTES FROM E-SYLUM READERS: APRIL 30, 2023 : New King, New Coins? (https://www.coinbooks.org/v26/esylum_v26n18a16.html)
On the the George I 'Dump' Farthing

To read the earlier E-Sylum article, see:
THE GEORGE I 'DUMP' FARTHING (https://www.coinbooks.org/v26/esylum_v26n18a29.html)
More on Golda Meir
Ken Berger writes:
Former ANA Executive Director and former Director of the Bureau of Engraving and Printing Bob Leuver writes:
To read the earlier E-Sylum article, see:
GOLDA MEIR COMMEMORATIVE COIN PROJECT (https://www.coinbooks.org/v26/esylum_v26n18a30.html)
Cruciform Scepter

Peter Jones writes:
To read the earlier E-Sylum article, see:
PRINCETON'S BYZANTINE COIN COLLECTION (https://www.coinbooks.org/v26/esylum_v26n18a26.html)
On Using ChatGPT
Martin Purdy writes:
To read the earlier E-Sylum article, see:
READER COMMENTS ON CHATGPT (https://www.coinbooks.org/v26/esylum_v26n18a12.html)
More on Norm Peters
Michael Sanders writes:
To read the earlier E-Sylum article, see:
NORMAN G. PETERS (1940-2023) (https://www.coinbooks.org/v26/esylum_v26n18a08.html)
Hailey Ola Coal Company Scrip Notes

Dave writes:
To read the complete lot descriptions, see:
1900's 5 Cents Indian Territory Oklahoma Hailey-Ola Coal Co. Obsolete Unc. (https://www.ebay.com/itm/283456237922)
1900's 25 Cent Obsolete Indian Territory Oklahoma Hailey-Ola Coal & Mining Co. (https://www.ebay.com/itm/284329391084)
1900's $1 Indian Territory Oklahoma Hailey-Ola Coal Co. Obsolete Uncirculated (https://www.ebay.com/itm/283456240921)
Query: Weimar White Liberty Seated Dollar Book Signature
Adrián González-Salinas writes:
Royal Canadian Numismatic Association heading to Halifax
Serge Pelletier writes:
For more information, see:
https://www.rcna.ca/2023/
Numismatic books come with all kinds of endorsements and recommendations.
Some are printed on a What Readers Are Saying page in the front. For example, the Cherrypickers' Guide to Rare Die Varieties has endorsements from Mark Borckardt, Jeff Garrett, Dr. Richard Doty, and other well-known numismatists. Len Augsburger, president of the Liberty Seated Collectors Club, says, With this single volume, the eagle-eyed collector will be prepared to identify valuable coins that many others have missed.
Another part of a book that frequently contains praise is the foreword. In the foreword to the third edition of the Guide Book of Barber Silver Coins, John Frost, president of the Barber Coin Collectors Society, says this about the book's author: Q. David Bowers introduces a new generation of collectors to Charles Barber, and fuels their passion for his important and wonderful coins.
There's another kind of endorsement, of sorts, that comes from a perhaps unexpected source: the Roman Catholic Church, whose official approval is known as Imprimatur.
Under the Code of Canon Law, canon 827, the Church recommends that books dealing with sacred scripture, theology, canon law, ecclesiastical history, and religious or moral disciplines, as well as writings which especially concern religion or good morals, be sent to the local Catholic authority for judgment before publication.
Imprimatur allows a book to be used as instructional text in elementary, middle, and higher-level schools, and to be exhibited, sold, and distributed in churches and oratories.
In the formal process of Imprimatur, a book manuscript is first reviewed by a censor liborum, typically a priest, who's authorized to certify it with Nihil Obstat. Translated as Nothing Hinders, this is the Church's official declaration that the manuscript is unobjectionable on moral grounds and has no doctrinal errors.
Barring any objections from the censor liborum, or following any corrections, the manuscript is considered by the local bishop. It's within his authority to grant it Imprimatur, the Church's formal approval for publication.
During the editorial process for Kenneth Bressett's most recent book, Bible Lore and the Eternal Flame, we submitted his manuscript to the permanent-deacon chief of staff at the Diocese of Colorado Springs, Douglas Flinn. He became our main guide through the process. The manuscript was assigned for review to The Rev'd Lawrence C. Brennan, who earned his S.Th.D from the Pontifical University of St. Thomas Aquinas, Rome, and at the time was director of diaconal formation for the Diocese.
I am very impressed with the sweep of the history that [Mr. Bressett] presents, Fr. Brennan wrote after his review of the manuscript. He recommended a few small edits (for example, Bishop Jerome of Dalmatia . . . is more commonly known as St. Jerome). His careful reading of the text was evident. On page 66, he observed, it is stated that Constantine established Christianity as the state religion of the Empire. Constantine ended the persecution of Christianity in 313, but the establishment of Christianity as the state religion is attributed to Theodosius I in 391.
Overall, he wrote, I find nothing in the manuscript that is offensive to faith or doctrine.
After minor corrections to the text, and with Fr. Brennan's declaration of Nihil Obstat, the Church's Imprimatur was granted by The Most Rev'd James R. Golka, Bishop of Colorado Springs.
Following Church guidelines, we printed the Imprimatur on the reverse side of the book's title page.
After nearly 100 years of creating numismatic books, folders, and albums, you'd think Whitman Publishing would have seen and done everything under the sun. But it wasn't until Bible Lore and the Eternal Flame that we sought an official Imprimatur from the Roman Catholic Church.
As far as I'm aware, this was the first time a Whitman Publishing book has earned this distinction. Of course, most of our books have no reason to be reviewed for Imprimatur, but still, it was a nice affirmation! And a feather in the cap of Ken Bressett, for writing an excellent manuscript deserving of the Church's confidence.
To read the complete article, see:
Notes Published—Imprimatur: A special kind of approval (https://news.coinupdate.com/notes-published-imprimatur-a-special-kind-of-approval/)
To read the earlier E-Sylum article, see:
NEW BOOK: BIBLE LORE AND THE ETERNAL FLAME (https://www.coinbooks.org/v25/esylum_v25n05a03.html)
Molecular Memory. The surface metal of a struck piece has a tendency to return minutely to its original configuration before it was struck; also called creep or drift. It is imperceptible to the human eye, but can be observed under magnification. This striking problem is cured, somewhat, by a longer extrusion dwell in the press cycle to prevent the metal from springing back while the die is still in the most extended position. Also, of course, it is eliminated by repeated impressions as in multiple striking.
To read the complete entry on the Newman Numismatic Portal, see:
Molecular Memory (https://nnp.wustl.edu/library/dictionarydetail/516352)
I received an email from Dennis Tucker on Tuesday, May 2, asking about R. A. Wilson. Tucker inquired about a book with a red cover that has similarities to other books with red covers. Tucker wrote:
This is a collection of items I found. If I had known where this was going when I started, I might have saved it for a feature article in The Asylum.
Rinaldo Alexander Wilson was born at Rochester, New York, on November 23, 1888. His father was James Wilson and mother was named Balfour. I did not find them in the 1900 Census.
Wilson became interested in coins in 1907 while employed at The Sovereign Bank of Canada.
Rinaldo Wilson was a distance runner and a pedestrian, the popular term for people who walk long distances. In 1908 it was announced that Wilson planned to walk from the Flatiron building in New York to Takoma, Washington, a distance of 3400 miles in 90 days, beginning on February 20. Newspapers reported on his departure but none reported completion.
In 1909 he participated in the Tacoma marathon as one of eight runners. When the third place winner finished, the remaining runners, including Wilson, withdrew from the race.
In January 1910, Wilson planned to walk from Tacoma to New York, leaving on January 31. Apparently, he was unable to secure financial backing and abandoned the trip.
Later, in June 1910, he announced that he would run from Butte to New York, a distance of 2500 miles, in 60 days. He planned to run at night. Again, there were no reports of completions.
In 1913, it was announced that Wilson would join Peter Terway and Victor Morman in a race through every principal town in the United States. This was expected to take two years. Terway and Morman appeared at other events during that period suggesting that the distance event never happened.
It appears that Wilson was much better at promoting events than he was in getting sponsors and completing the events.
He was married to Ellie Berthanna Sathen (1891-1977) on March 4, 1916. They had four children. His marriage license gave his profession as salesman.
He served as a private in the Marines during the First World War. He was stationed at Quantico, Virginia, and posted overseas in France.
In the 1920 census, his profession was listed as toy manufacturing.
In 1920 it was announced that Wilson would attempt to run from Seattle to New York, beginning on May 10. On his run he would wear his Marine uniform and promote the Corps. Again. no follow-up reports. I doubt if he completed any of the events mentioned.
The 1922 birth record for his daughter lists his address at 8129 S. Figueroa and occupation at Powerplus Oil.
In the 1930 Census, his profession was listed as candy salesman.
In a 1962 recollection, Wilson mentioned that he was annoyed with advertising for the 1913 Nickel and felt that a book was needed that had accurate information. He soon began publishing a series of coin books with various similar titles.
In 1930, the American Catalog was published. His publishing company was American Numismatic Company, located at Box 11655, Wagner Station, Los Angeles 17, California.
In 1932, American Coin Book was published by American Publishing Company at 3959 West Sixth Street, Los Angeles 3. California. Some editions show a longer title, American Coin Book and Standard Retail Premium List of All United States Coins. The twenty-fifth edition was published in 1957.
In August 1934, The Numismatist announced the membership application of R. A. Wilson with address as P. O. Box H, Hyde Park, Los Angeles, California. His collecting interests were Half Cents and Civil War Tokens. In September he was confirmed as member 4546.
In 1934 he released The Federal Catalog of all United States Coins.
A 1935 ad in the May issue of The Numismatist had a picture of a book with the title The American Catalog and Standard Premium List of All United States Coins. Alongside was the written description of The American Coin Catalog of all United States Coins. Wilson was not mentioned in the ad.
In 1936 he reported that he was teaching a class on coin collecting.
In 1938, Wilson sponsored Joseph Oberwise for membership in the ANA. Oberwise ran ads in Wilson's American Catalog. Wilson. In turn, placed ads on the back of Oberwise coin boards. David Lange devoted page 178 of Coin Collecting Boards of the 1930s & 1940s to a discussion of Wilson.
Lange discussed the proliferation of premium books like those published by Wilson. Widely distributed to persons who knew nothing of actual rarities and values, these books were considered a blight by most reputable dealers and collectors.
The 1938 edition of American Catalog of All United States Coins had an illustration of the 1918-S 8 over 7 quarter before this was generally published elsewhere. Wilson kept up with changes.
In the 1940 Census, his profession was listed as catalogue publisher.
At the 1940 ANA convention, R. A, Wilson was recognized for sponsoring the most new members as a lay member, (not an officer) He was unable to attend, having suffered an automobile accident.
In 1946, Roland C. Atwood issued National Check and Premium List of All U. S. Transportation Tokens. This was published by the American Numismatic Company of Los Angeles.
In 1951, R. A. Wilson, Sr. donated a copy of American Catalog to the A.N.A. It was described as a 104-page book that is well illustrated and with several special features.
In 1957, The Numismatist described one of the books:
The title page of some books stated that Wilson was the president of the Collectors' Exchange Bank in Los Angeles. They issued wooden nickels dated 1946, 1947, 1948, 1949 and possibly others.
Wilson was an active member of the A.N.A. and in California organizations. He made presentations to clubs and conducted radio interviews. In his time he was consulted on questions of authenticity.
In 1962, Rinaldo retired and passed the business on to a new generation. Publication was taken over by James S. Wilson and the American Publishing Company at 3959 West Sixth Street, Los Angles. James was the second son of Rinaldo.
In 1962, Coin World stated,
American Standard Book of all United States Coins was issued with a cover date of 1964. It was edited by R. A. Wilson and J. S. Wilson. James Sethen Wilson (1918-1964) was the son who served in WWII and Korea, rising to the rank of major. His death in 1964 may have brought the end to the business.
Rinaldo Wilson died in Los Angeles on October 23, 1978. His obituary in the Los Angeles Times was very brief and mentioned three surviving children, 14 grandchildren and 9 great-grand- children. He is buried at Inglewood Park Cemetery.
List of Wilson titles mentioned somewhere:
American Catalog – Short form of title #2.
American Catalog and Standard Premium List of all United States Coins – Cover Title.
American Coin Book – Short form of title #4.
American Coin Book and Standard Premium list of All United States Coins.- Cover Title.
American Coin Book and Standard Retail Premium list of All United States Coins – Title page of #14
American Standard Book of all U. S. Coins – Cover Title.
American Standard Book of all United States Coins – Title page of #8.
American Standard Coin Book – Cover Title.
Catalog of American Rare Coins – Cover Title. (1937).
The American Catalog – Short form of title #11.
The American Catalog and Standard Premium List of all United States Coins - Cover Title
The American Catalog of all United States Coins – Title page of #11.
The American Coin Book – Short form of title #14.
The American Coin Book Standard Premium List of all U.S. Coins – Cover Title
The American Coin Catalog of All United States Coins – Advertised, not seen.
The American Standard Catalog of all United States Coins – Title page of #2.
The American Standard United States Coin Book – Title page of #4.
The Federal Catalogue of all United States Coins (1934) – Not seen.
Wilson's American Rare Coin Catalog – Title page of #20 (1935)
Wilson's Catalog of American Rare Coins – Cover Title.
We stand on the shoulders of giants. Raymond and Yeoman may have done it better, but Wilson did it first. I believe Wilson's contributions over thirty years are under-appreciated by current numismatists.
This article was compiled over a period of three days without access to any of the books. I suspect a longer study with the books would clarify sources and what material was included and repackaged across the various titles and editions.
Recently I was leafing through an old Numismatist from the 1940s, looking for something or other, when a name leapt off the page at me: Parkyakarkus. It appeared in an advertisement of numismatic wants placed by American Numismatic Association member 7174, who was looking for some rare $5 and $10 gold pieces. I knew this name. It was the moniker used by old-time comedian and character actor Harry Einstein (1904–1958), father of actor and filmmaker Albert Brooks—known for movies like Taxi Driver, Broadcast News, and Drive—and Bob Einstein—remembered for his Super Dave Osbourne character and for playing Marty Funkhouser on the show Curb Your Enthusiasm. Could this possibly be the same guy? Well, considering the likelihood of there being two Parkyakarkuses, and given the Beverly Hills address in the advertisement, the answer, inevitably, was yes.
This will come as no surprise to anyone paying attention to the world of US coin collecting in 1986. That year Bowers and Merena auctioned off the Harry Einstein collection, an event covered widely in the numismatic press and also in the New York Times (May 4, 1986)—though in that paper top billing went to an 1804 dollar (the Garrett specimen), which was in the same sale but was unrelated to Einstein.
Harry Einstein started out in radio, basing his loveable Parkyakarkus character on the Greek immigrants he encountered in his father's antique store in Boston. He was a regular on Eddie Cantor's show in the 1930s and later appeared in some movies. In the 1940s he got his own radio show on NBC, Meet Me at Parky's, which only increased his fame. According to the Numismatist (Sept. 1948, p. 618), when the kids in the Los Angeles Junior Coin Club found out Parkyakarkus had sponsored their group, enthusiasm rose to new heights.
Einstein was a serious coin collector. Dave Bowers noted in the promotional materials for the sale that his collection had those two essential ingredients that are so highly desired in numismatics: quality and rarity. He promised that the catalog would contain some of the greatest American rarities to cross the auction block in our time. The collection included nearly complete sets of gold $1 and $3 dollar pieces, a gem proof 1879 $4 Stella, multiple high relief double eagles, and various other prized gold pieces, as well as large and small cents, shield and liberty nickels, and silver and gold commemoratives. It also included the rarities he had been seeking back in 1945: the 1920-S, 1930-S, and 1907 rolled edge with periods eagles, and the 1909-O and 1929 half eagles.
Einstein, an ANS member from 1945 to 1949, built his collection with the help of his good friend, Professional Numismatics Guild founder Abe Kosoff. Kossoff remembered Einstein as being well-read and a keen student of current affairs and a savvy collector. In his Coin World column (Jan. 13, 1982, p. 40), Kosoff reminisced about the time a dealer confronted Einstein, asking why he didn't bid in his sale. I wasn't sure it was an auction sale, Einstein told the seller, because I saw the same coins in one catalog of yours after another. Either they were not rare or they were not sold, or both, he said. So I didn't care to bid.
Parkyakarkus is the kind of name that really sticks in your head. Another unforgettable thing about Einstein is the manner of his death. In 1958 he was performing alongside other show biz giants like Danny Thomas, George Burns, and Dean Martin at a Friar's Club event honoring television legends Lucille Ball and Desi Arnaz. Laughter filled the hall as one comic after another took turns at the microphone. Suddenly, Einstein, who had a history of heart trouble, collapsed, slumping against a horrified Milton Berle, who began screaming for a doctor, his cries only eliciting more guffaws from the audience, who thought the whole thing was a joke. Eventually, they got Einstein backstage, where doctors in attendance scrambled to restart his heart, improvising with whatever was at hand, cutting open his chest with a pocketknife and employing live electrical wires. But it was all in vain. Einstein had died at 54. His collection then went into a bank vault, where it sat for 40 years before reappearing in the Bowers and Merena sale of 1986.
To read the complete article, see:
Parkyakarkus (https://numismatics.org/pocketchange/parkyakarkus/)
The Central States Numismatic Society (www.CSNS.org) presented its annual Q. David Bowers Award this year to prolific numismatic researcher, acclaimed author, and well-known dealer John Dannreuther. The prestigious award was presented at the CSNS annual convention in the Chicago suburb of Schaumburg, Illinois on April 29, 2023.
Born in Mississippi, Dannreuther is President of John Dannreuther Rare Coins (JDRC) in North Hollywood, California and was a co-founder of the Professional Coin Grading Service.
Important reference books he authored or co-authored include The Official Guide to Coin Grading and Counterfeit Detection; Proof Gold Coinage of the United States; Early U. S. Gold Coin Varieties, a Study of Die States, 1795-1834; and United States Proof Coins, Volume IV: Gold.
Among the previous honors he has received, Dannreuther was named the 2007 Numismatist of the Year by the American Numismatic Association, and in 2022 he received the Clemy Award, the highest honor bestowed by the Numismatic Literary Guild.
When I proposed the creation of the Q. David Bowers Award in 2019, I thought it was important that Central States also recognize the contributions made by the numismatic professionals of our hobby, explained CSNS President Mitch Ernest. We like to think of this as a Lifetime Achievement Award. John Dannreuther epitomizes who we want our award to recognize and what it stands for.
Named after prominent dealer and esteemed numismatic author Q. David Bowers, recipients of the Bowers Award are chosen by the Central States Numismatic Society Convention Committee led by Convention Manager Larry Shepherd.
Ernst also presented CSNS 2023 Medal of Merit Awards to David Heinrich of Ohio and Bill Brandimore of Michigan.
For additional information about the Central States Numismatic Society and its annual conventions visit www.CSNS.org.
The expansion of money was made easier as it became more virtual with the arrival of the concept of negative numbers and double-entry bookkeeping:
"The fall of the Roman Empire saw a drastic reduction in trading activities, markets, and even the size of cities, with the population of Rome declining from as many as a million in the 2nd century AD, to about 30,000 by AD 550. The power vacuum was filled by the Christian and Islamic religious authorities who, instead of stamping out coins to pay soldiers, preferred to hoard precious metals in churches and monasteries, often melting it down as decoration for sacred symbols.
"One result of this transformation -- versions of which occurred also in China and India -- was that money became increasingly virtual. Like the Sumerian shekel, it was an abstract score-keeping device more than something you could weigh in your hand. And once again, the birthplace of this next monetary revolution was in Mesopotamia -- with the difference that this time it was led by Islamic money lenders. As today, Islamic finance did not allow usury, but did permit profit-sharing, or charging a range of fees. The system relied heavily on credit instruments, including the promissory notes known as sakk, or 'cheques'. The fact that such transactions were backed only by a signature meant that in business a person's reputation or credibility (from the Latin credere for believe or trust) was all-important.
"As seen in the previous chapter, the invention of money was closely tied to the invention of numbers. It is therefore unsurprising that this developing credit system coincided with the mathematical discovery of negative numbers (a concept which will be familiar to anyone who has overextended their credit card). The first explanation of how to work with both negative numbers, and the number zero was given in the 7th century by the Indian mathematician Brahmagupta, whose book The Opening of the Universe was written entirely in verse. He called positive numbers 'fortunes' and negative numbers 'debts', which made the connection with money clear. Zero was the unique number whose negative is itself (he didn't invent the concept, but he did show how to use it in equations). Translations of his book spread these concepts through the Islamic world, where the number zero was incorporated in the Arabic number system. From there, word spread to Europe through the Moorish conquest of Spain.
"The use of the Arabic number system was popularized by the Italian mathematician Leonardo Fibonacci (1170-1250), who learned the Arabic system as a child while growing up in Bugia (now in Algeria). In his 1202 book Liber Abaci (Book of Calculation) he showed how calculations such as division or multiplication were far easier using Arabic numbers than they were with the Roman system. Many of the examples involved financial activities such as money-changing, the calculation of interest, book-keeping, and so on, and the book soon found an audience with merchants.
To read the complete article, see:
MONEY AND BOOKKEEPING -- 5/3/23 (https://www.delanceyplace.com/view-archives.php?4855)
102405 | UNITED STATES. Lincoln/Grant/McKinley gilt copper Medal. Issued 1900 for the Republican convention (44mm, 25.38 g, 6h). LINCOLN GRANT McKINLEY, jugate busts left of Lincoln, Grant, and McKinley / PHILADELPHIA / NATIONAL / REPUBLICAN / CONVENTION / JUNE 19th 1900 in five lines; scrolled border with each Republican presidential nominee since the party's founding in 1856 (Frémont) through its most recent in 1896 (McKinley); the noted inverted doubling gives an enticing and most unusual ghosting effect. Edge: Plain. King 446. Choice Mint State. Extremely brilliant and vibrant, with evidence of nearly 180º double striking on the reverse. A very rare offering in gilt, and even that much more so in such an elevated state of preservation and with such a dramatic striking error upon the reverse. $865.
The 1900 presidential election saw a re-match of 1896, with the Republican William McKinley pitted against the Democrat William Jennings Bryan. Before the general election, however, was the Republican Party nominating convention, which was held in Philadelphia in June. McKinley, the sitting president, was renominated by acclamation, with New York's governor, Theodore Roosevelt, nominated as his vice president. This medal, celebrating the re-nominated McKinley, features his bust along with two other previous stars of the Republican party—Abraham Lincoln, the party's first winner (and two-time winner, at that) of the presidency, and Ulysses S. Grant, the party's first candidate to serve a full two terms, as Lincoln was assassinated very early in his second term. In a twist of fate, McKinley would also win a second term later in 1900, but, like Lincoln, would also fall to an assassin's bullet early in that second term, being succeeded by Roosevelt.
To read the complete lot description, see:
102405 | UNITED STATES. Lincoln/Grant/McKinley gilt copper Medal. (https://www.numismagram.com/product-page/102405)
102374 | GERMANY & EUROPE. The Russian Ambassador receives the Serbian Assassin cast bronze Medal. Dated 1914. "Serajewo/Der Funke des Weltbrandes"—on the spark of the global conflagration (57mm, 57.08 g, 12h). By K. Goetz in München. DER RVSS GESANDTE VON HARTWIG EMPFÄNGT SERB MÖRDER, Russian ambassador Hartwig standing left, receiving Serbian assassins and presenting them with a bag of money / DER FVNKE DES WELT-BRANDES, assassin advancing on a road to Sarajevo, holding bomb behind back. Edge: Plain. Kienast 132; Klose 1.1; Art of Devastation p. 81, fig. 5. Choice Mint State. Deep brown surfaces, with a slightly matte nature. An important and scarce issue recounting the events leading up to what would cause the first of the two great world wars. $595.
Starting merely as a local issue between Austrian-dominated Serbia and the Russian Empire (who wished to have greater influence in the Balkans), World War I escalated upon the assassination of the Austro-Hungarian crown prince, Franz Ferdinand, along with his wife Sophie in the streets of Sarajevo in 1914. Conducted by Serbians who were members of the Black Hand, this caused Austria to punish Serbia, with Russia then coming to the aid of Serbia. In turn, Germany's decades-old alliance with Austria brought her into the conflict against Russia, with France and Great Britain (owing to their own alliance with Russia) in against Germany and Austria. Through numerous alliances, this Balkan issue quickly spiraled into the largest conflict then seen by the world.
To read the complete lot description, see:
102374 | GERMANY & EUROPE. Beginning of WWI cast bronze Medal. (https://www.numismagram.com/product-page/102374)
102431 | FRANCE. Marseille. Savon "Le Chat" aluminum Advertising Token of "20 Units." Issued circa 1925 (42mm, 9.87 g, 10h). SAVON LE CHAT / C FERRIER MARSEILLE, facing head of cat within circular and octagonal border / Ste DU JETON PRIME PARIS 1910-1925 / 20 UNITÉS, diademed bust of Cyrnos left. Edge: Some marks as made, otherwise plain. Mint State. Slate gray surfaces with enchanting brilliance and a slight pullaway nature to the color. A fairly scarce and interesting advertising jeton from post-WWI France. $145.
Ferrier was a soap maker who founded his company in Marseille in 1853, with his "Le Chat" brand being a popular detergent for washing clothes. By the turn of the century, the company started producing smaller bars of soap intended for personal hygiene. In 1909, they added a washing powder to their line of products. The company is still in operation today, popular for its manufacturing of a natural, biodegradable formula for cleaning hands.
This token served as an advertising piece for the company, with the added benefit of being used as a form of money during the economic instability in the middle-war years.
To read the complete lot description, see:
102431 | FRANCE. Marseille. Savon "Le Chat" aluminum Token of "20 Unités." (https://www.numismagram.com/product-page/102431)
102379 | GERMANY. Heidelberg. Dog Lovers' Association gilt bronze Award Medal. Issued circa 1930 (45mm, 32.79 g, 12h). VEREIN DER HUNDEFREUNDE FÜR HEIDELBERG UND UMGEGEND E. V. within collar, head of dog right with oak and laurel wreath / EHRENPREIS within garlanded laurel wreath. Edge: Plain. Mint State. Charming yellow surfaces. Includes box of issue. $195.
To read the complete lot description, see:
102379 | GERMANY. Heidelberg. Dog Lovers' Association gilt bronze Award Medal. (https://www.numismagram.com/product-page/102379)
E-Auction 46 closes in just under two weeks, on May 17th!
It opens with an interesting array of collectible gold (Lots 1-39), then a nice variety of Ancient Greek coinage (Lots 40-74).
A select Roman Provincial group (Lots 75-81) is followed by an interesting offering of beautifully toned Roman Republican denarii (Lots 82-93).
The Roman Imperatorial (Lots 94-99) and Imperial (Lots 100-144) sections include many rare, historic coins with a broad representation of the twelve caesars, then extends into the fourth century and late Empire.
Ancient Rome is followed by the Byzantine Empire with an interesting offering of varied denominations.
Heading into the Medieval era, be sure to take note of the exceptional quality sceats of Anglo-Saxon Britain and the Continent from the Zabel Collection (153-180), some nice hammered pennies of early English Kings (181-188), and a high point — the extremely rare and choice Ecgberht (184).
British Hammered and Milled, British Tokens, US, World, and Large Lots finish out this sale.
For more information, see:
http://www.davcoin.com/
1921 50¢ PCGS Superb Gem Mint State-66. The King of Canadian coins. Ex Parrino & Ex Norweb example. Tied with only 1 other example for Finest known! An Absolute supreme example with mild pink and purple like tones over extensive and strong lustre. PCGS has certified only 2 examples of this extremely rare piece in Mint State-66, the population report shows 3 but only 2 pieces remain in PCGS MS-66 holders. A highly attractive and beautiful example to add to the best of collections! The auctioneer believes that it is extremely unlikely that any similar or better example will ever be found this nice or offered for sale, making this an unique opportunity to acquire this amazing Canadian classic rarity. Basically, this could possibly be your unique chance to purchase this elusive treasure. Worth a premium bid. This coin presents an important opportunity for Registry Set collectors. From the Tangen Collection.
To read the complete lot description, see:
1921 50¢ PCGS Superb Gem Mint State-66. The King of Canadian coins. Ex Parrino & Ex Norweb example. Tied with only 1 other exam (https://auctions.canadiancoinsandpapermoney.com/auction/217/the-extravaganza-sale-major-sale/session/418/lot/259)
The Canadian Bank of Commerce; 1867 $1 CH75-10-02a #39459, Legacy Currency Grading Very Good-10. Minor restorations. Nice eye appeal and good margins on this very early issued note.
To read the complete lot description, see:
The Canadian Bank of Commerce; 1867 $1 CH75-10-02a #39459, Legacy Currency Grading Very Good-10. Minor restorations. Nice eye (https://auctions.canadiancoinsandpapermoney.com/auction/217/the-extravaganza-sale-major-sale/session/432/lot/440)
The Canadian Bank of Commerce; 1917 $5 #B819726 CH-75-16-04-06a, Legacy Currency Grading Gem Uncirculated-65PPQ. This is a bright and pristine issue with great eye appeal.
To read the complete lot description, see:
The Canadian Bank of Commerce; 1917 $5 #B819726 CH-75-16-04-06a, Legacy Currency Grading Gem Uncirculated-65PPQ. This is a br (https://auctions.canadiancoinsandpapermoney.com/auction/217/the-extravaganza-sale-major-sale/session/432/lot/445)
The Canadian Bank of Commerce; 1917 $20 #058087 CH-75-16-04-20, General manager in Lower case italics. Legacy Currency Grading Choice Very Fine-30. Seldom offered in any grades. Very scarce variety. 5 KNOWN EXAMPLES
To read the complete lot description, see:
The Canadian Bank of Commerce; 1917 $20 #058087 CH-75-16-04-20, General manager in Lower case italics. Legacy Currency Grading (https://auctions.canadiancoinsandpapermoney.com/auction/217/the-extravaganza-sale-major-sale/session/432/lot/447)
Trade Tokens; Pokemouche N.B., In Goods Store Cards 1 Cent issue. Considered to be quite rare for issue. The fact that these are Tokens printed on a light paper/card type material made them increasingly fragile to the elements and many were destroyed. Surviving pieces are impossible to number however, the presence in any sales or Auctions in the last 10-15 yrs is next to none.
To read the complete lot description, see:
Trade Tokens; Pokemouche N.B., In Goods Store Cards 1 Cent issue. Considered to be quite rare for issue. The fact that these (https://auctions.canadiancoinsandpapermoney.com/auction/217/the-extravaganza-sale-major-sale/session/433/lot/665)
LC-16A1, Breton 562 - Molsons Reeded edge, Thick - ICCS EF40, a nice chocolate brown problem free example with very sharp details.
To read the complete lot description, see:
LC-16A1, Breton 562 - Molsons Reeded edge, Thick - ICCS EF40, a nice chocolate brown problem free example with very sharp detai (https://auctions.canadiancoinsandpapermoney.com/auction/217/the-extravaganza-sale-major-sale/session/433/lot/696)
MT-7, Breton 568 - 1862 Weir & Larminie Encased 10 Cent Token. A magnificient piece from the unique Canadian series of encased stamp tokens by the famous Weir & Larminie bankers and specie brokers from Montreal. Among the nicest around. CCCS AU-50.
To read the complete lot description, see:
MT-7, Breton 568 - 1862 Weir & Larminie Encased 10 Cent Token. A magnificient piece from the unique Canadian series of encase (https://auctions.canadiancoinsandpapermoney.com/auction/217/the-extravaganza-sale-major-sale/session/433/lot/738)
Henri IV le Grand Medal

France - Henri IV le Grand (the Great), with Marie de Medici by Guillaume Dupre. Bronze medal, 1605 (later restrike)
(signed: G. Dupre.F.1605 // G.Dupre.F.).
Obverse: Henric IIII r chris maria augvsta Busts of Henri, facing slightly right, and Marie, facing right, both in full regalia.
Reverse: PROPAGO IMPERII Henri facing right to Marie, joining hands with child allegory between them, a dove coming down from the heavens with crown in beak.
Bronze, 100 mm, weight 469 gram,
UNC, Attractive toning.
To read the complete lot description, see:
France. Henri IV (1589-1610). Medal 1605 (later restrike) (https://www.catawiki.com/en/l/69843407)
1807 Half Eagle

1807 $5 NGC MS64 (Capped, Bust Left)
A supremely desirable type with sleek mint luster and lemon yellow gold coloration. Quite flawless for the grade and the eye appeal is off the charts!
To read the complete lot description, see:
1807 $5 NGC MS64 (Capped, Bust Left) (https://www.davidlawrence.com/rare-coin/2483470)
1861 CSA Montgomery $100

Military Endorsement "Capt. T(homas) G. Williams Capt & CS" T3 $100 1861 PF-2 Cr. 3 PMG Choice Uncirculated 63.
Bearing serial no. 813, this note was part of a second shipment of 1,000 $50-$100 two subject sheets that was spirited out of New York City, according to some sources, just minutes ahead of federal authorities who were determined to intercept this shipment before it left by sea. On April 25th, federal officers raided the New York plants of both ABNCo and National Bank Note Co. putting a permanent end to further production and shipments of fiscal instruments for the Confederacy by either company (although the New Orleans branch of the ABNCo continued to produce notes into early 1862 under the name of the Southern Bank Note Company). The back has an endorsement that this note was paid out by Capt. T[homas] G. Williams Capt[ain] C[ommissary] S[ubsistence] on May 20, 1861 in Lynchburg, VA. The note is virtually as nice as the day it was issued, with great colors, bright paper, and well printed design elements including vignettes of America at left and a train at a busy station at center. While this was a super-rush job, National Bank Note found the time to make subtle modifications to the vignette of America to "de-federalize" its appearance. PMG mentions faint evidence of previous mounting on the back. A worthy addition to any Confederate collection.
To read the complete lot description, see:
Military Endorsement "Capt. T(homas) G. Williams Capt & CS" T3 $100 1861 PF-2 Cr. 3 PMG Choice Uncirculated 63.. ... (https://currency.ha.com/itm/confederate-notes/1861-issues/military-endorsement-capt-t-homas-g-williams-capt-and-cs-t3-100-1861-pf-2-cr-3-pmg-choice-uncirculated-63/a/3592-21006.s)
1913 Revolutionary "Bolita" Peso

Chihuahua. Revolutionary "Bolita" Peso 1913 AU58 PCGS, KM610, GB-78. "1 through PESO" variety. An exceedingly scarce and thoroughly iconic Hidalgo del Parral type. This praiseworthy example is encouragingly well-detailed despite its somewhat crude origins. The metallic silver patina, with a few darker notes scattered about, has a wonderful icy sheen resting atop. Just a touch of friction from a short stint in circulation is evident, but despite this, remains among the absolute finest, bested only by four Mint State specimens between both grading services.
To read the complete lot description, see:
Mexico: Chihuahua. Revolutionary "Bolita" Peso 1913 AU58 PCGS,... (https://coins.ha.com/itm/mexico/chihuahua/mexico-chihuahua-revolutionary-bolita-peso-1913-au58-pcgs-/a/61310-24330.s)
Salvador Dali Tribe of Simeon Medal

Salvador Dali Homage to Israel Tribe of Simeon Silver Art Medal. Issued for the 25th Anniversary of the State of Israel. Designed by Salvador Dali. Struck by the Medallic Art Co. Part of a 12 medal set representing all twelve tribes of Israel. Serial number 1981. Approx. Net Weight: 79.2 grams
To read the complete lot description, see:
SALVADOR DALI HOMAGE TO ISRAEL TRIBE OF SIMEON SILVER ART MEDAL (https://www.bradfordsauction.com/auction-lot/salvador-dali-homage-to-israel-tribe-of-simeon-si_D3B4BAB987)
George Ohr Token

George Ohr token Biloxi, MS ceramic 1.25"dia
To read the complete lot description, see:
Lot 145: George Ohr token (https://www.invaluable.com/auction-lot/George-Ohr-token-145-c-D224C54A2D)
To read the earlier E-Sylum article, see:
GEORGE OHR'S PROVOCATIVE CLAY TOKENS (https://www.coinbooks.org/v24/esylum_v24n50a23.html)
Archaeologists in Livorno, Italy, are putting together the pieces of a great mystery that began with a stunning find.
While hiking in a cleared area of a Tuscan forest northeast of Livorno, a member of the Livorno Paleontological Archaeological Group spotted a few glimmering coins in the dirt in November 2021. Upon closer inspection and excavation, researchers determined that the find included 175 silver Roman denarii coins. Nearly all were in good condition, making this one of the few hoards of ancient coins found intact, according to the group.
But the discovery prompted a number of questions: Whose treasure was it? Who were they hiding it from? And why didn't they come back for it?
The archaeological group, along with the archaeologist official for the provinces of Pisa and Livorno, Dr. Lorella Alderighi, has spent more than a year measuring, weighing and documenting the coins, according to a news release posted on its Facebook page. Now, the researchers think they have some answers.
This treasure is about a person's life, the savings of a soldier's life and his hopes for building his farm, Alderighi said via email. However, it also tells a sad story: (T)he owner of the coins died before he could make his dreams come true using his savings. The coins tell his story.
The hoard will soon be on display in an exhibition at the Museum of Natural History of the Mediterranean in Livorno from May 5 to July 2, Alderighi said.
The owner of the hoard buried it in a terra-cotta pot, which served as a sort of piggy bank. The earliest coins in the stash dated to 157 or 156 BC, and the latest up to 83 or 82 BC, according to the archaeological group's release.
During that time, 175 denarii would have been a soldier's salary for about a year and a half, Alderighi said. Now, the treasure has a value of around 20,000 to 25,000 euros, she added.
To read the complete article, see:
Buried treasure, including nearly 200 Roman coins, found in Italy (https://edition.cnn.com/2023/05/01/world/roman-coins-buried-treasure-italy-scn/index.html)
Perhaps in a hurry or perhaps planning ahead, someone buried a treasure trove but never returned. A metal detectorist in Romania just found it 1,700 years later.
The metal detectorist stumbled upon the buried treasure while searching in Dolj county, according to an April 25 news release from Cosmin Vasile, president of the Dolj County Council.
The hidden stash contained 1,168 silver coins from ancient Roman times, the release said. Photos show the piles of tarnished, blue-green discs. One cleaned coin, silvery and shiny, gleams against the surrounding pile. The coin has a central figure holding something in each hand and a ring of text around the edge.
The Roman coins like those found in Dolj were commonly used in ancient Dacia, Radu Dumitrescu, an expert with the Oltenia Museum, told the Romanian news outlet Gazeta de Sud. The coins are at least 1,700 years old and were likely buried amid the devastating conflicts in third century Dacia, he said.
Experts will work on determining the value of the coins as they are cleaned. Afterward, the finds will be preserved at the Oltenia Museum, the release said.
Dolj county is about 150 west of Bucharest and along the Romania-Bulgaria border.
To read the complete article, see:
Someone buried treasure 1,700 years ago and vanished. Metal detectorist just found it (https://www.miamiherald.com/news/nation-world/world/article274927746.html)
Several years ago, police in England conducted a dramatic sting operation to recover 44 missing ninth-century coins. Now, two men, Roger Pilling and Craig Best, have been sentenced to more than five years in prison for conspiring to sell them.
Two of these coins are particularly unusual: Each depicts both Alfred the Great, the king of Wessex, and Ceolwulf II, the king of Mercia. While Ceolwulf is usually considered a minor historical figure, the coins suggest that his role could have been far more significant.
The coins literally enable us to rewrite history, says Gareth Williams, the curator of early medieval coins at the British Museum, per the Guardian's Mark Brown.
History has long portrayed Alfred the Great as a heroic leader who successfully fought off Viking invasions. In contrast, Ceolwulf has gone down in history as a puppet ruler beholden to the Vikings.
These coins, however, depict both kings, showing beyond any possible doubt that there was a political and economic alliance, says Wiliams in a statement from the Durham Constabulary. Together the two kings carried out a major reform of the coinage, introducing high-quality silver coins, with the 'two emperors' design symbolizing this alliance.
The coins are part of a larger treasure that two metal detectorists uncovered in Herefordshire, England, in 2015. The find qualified as treasure under the 1996 Treasure Act, which established protocols for when treasure hunters are required to report their discoveries.
The men, however, did not report the treasure. In 2019, both were given jail time. The treasure belongs to the nation, Judge Nicholas Cartwright said at the sentencing, per Steven Morris of the Guardian. The benefit to the nation is [that] these items can be seen and admired by others.
To read the complete articles, see:
These Ninth-Century Coins Change Our Understanding of Alfred the Great (https://www.smithsonianmag.com/smart-news/coins-alfred-the-great-ninth-century-180982103/)
Two men guilty of conspiring to sell history-changing Anglo-Saxon coins (https://www.theguardian.com/uk-news/2023/apr/27/two-men-guilty-of-trying-to-sell-history-changing-anglo-saxon-coins-illegally)
To read the earlier E-Sylum article, see:
VIKING COIN HOARD SEIZED (https://www.coinbooks.org/v24/esylum_v24n34a23.html)
ANGLO-SAXON HOARD COIN STING (https://www.coinbooks.org/v26/esylum_v26n16a23.html)
A Rare 'Oakley' 1854 Penny Coin
Annie Oakley's act included the shooting of coins thrown into the air which were then stamped 'OAKLEY' and handed out to members of the audience. For a related half-penny see Christie's London, Fine Modern Sporting Guns and Vintage Firearms including Annie Oakley's Winchester, 24 March 1993, lot 128
Annie Oakley (1860-1926) was born Phoebe Ann Moses in Darke County, Ohio. She was born into a poor family and much of her early life was spent 'shooting for pot'. Her first gun was a Parker 16-gauge supplied with a hundred brass shells. Annie gradually achieved local fame for the cleanness of her kills and she excelled in local turkey shoots, her reputation leading eventually to the match against the man who was destined to be her husband. Frank Butler was one of a number of itinerant sharpshooters who travelled the United States, and the match took place in Ohio in 1881. The bet was $100, a sizeable sum at the time, and Frank was astonished by the appearance against him of a 'little slim girl in short dresses'. Annie won 23 to 21 and a romance developed between the two which was to last a lifetime. They married and Frank Butler became Annie's manager, their early married life being spent as travelling performers. It was at this time, in 1884, that Annie appeared before Sitting Bull, victor of the Battle of Little Big Horn, who was, in Annie's words, 'about as much taken by my shooting stunts as anyone else ever has been...he raved about me and would not be comforted.' Sitting Bull insisted upon adopting her and he named her 'Little Sure Shot' in tribute to her marvellous shooting abilities.
Her skills took her to performances with the Sells Brothers Circus and finally to the show that won her her greatest acclaim - Buffalo Bill's Wild West Show. At the time, a female exhibition shooter must have been a remarkable sight in such a 'rough-and-tumble' world. Annie would open the shows, 'tripping in, waving, bowing and blowing kisses'. Standing out in her feminine but practical clothes, the diminutive Annie would break clays and glass balls in any number of combinations and with any type of firearm. She would fire pistols from each hand, fire rifles lying prone across chairs or held above her head; she shot from every conceivable position in a manner that, reported the Fall River (Mass.) Evening News, 'causes the men to marvel and the women to assume airs of contented superiority.' At one time she shattered a record 4,772 out of 5,000 glass balls and one of her favourite tricks was to fire a rifle backwards over her shoulder whilst sighting in a mirror. She was so good that some thought the glass balls filled with an explosive that would detonate when she fired.
In 1887, the Wild West Show sailed for London and Queen Victoria's Jubilee. Here she opened at Earl's Court, the show generating tremendous public enthusiasm with the English. Special performances were commanded by Prime Minister Gladstone, by Edward, Prince of Wales, and finally by Queen Victoria herself who, asking to meet Annie, called her 'a very, very clever little girl.' She also met Charles Lancaster from whom she ordered the first of a number of guns, including 12 and 20-bores.
Annie was soon known as 'the wonder of both continents...the greatest rifle and wing shot in the world' and in 1899 in the year of the Paris Universal Exposition, she appeared before the French President and assembled grandees. The Show moved on, for a three year tour of Europe, calling at Dresden, Venice, Rome, Vienna, Barcelona and Munich, where Annie saved Prince Luitpold of Bavaria from an enraged bronco called 'Dynamite' knocking him to the ground inches from disaster. A second tour of Europe opened in 1891 during which Annie shot the ashes off a cigarette placed in Crown Prince Wilhelm's (later Kaiser Wilhelm II) mouth, thereby, as some later said, missing her chance to prevent the First World War.
The later years of Annie's life were marked by a true stardom and the peace that comes from the final realization of one's goals in life. She was able to perform as an actress, to build herself a new home in Maryland and to escape some of the rigours of the travelling life; her life, however, was still full of shooting and gentle tuition. She died 3 November 1926, a remarkable and universally loved woman.
To read the complete lot description, see:
A Rare 'Oakley' 1854 Penny Coin (https://www.bonhams.com/auction/28726/lot/208/a-rare-oakley-1854-penny-coin/)
To read the complete press release, see:
Rare Coin Shot by Annie Oakley at Bonhams Arms and Armour Sale in Knightsbridge (https://www.bonhams.com/press_release/36452/)
1861-O $20 Liberty Head Gold Piece

All of the 1861 coins minted in Charlotte, Dahlonega and New Orleans are of keen and intense interest by Civil War and Confederate collectors.
Louisiana joined the Confederacy on Feb. 4, 1861. Five days earlier, the State had seized the US Mint in New Orleans.
The story is important and complex (see History of the New Orleans Mint by Doug Winters). Bowers (US Gold Coins, 1982) states that the US Government struck 5,000 pieces before the State seized the Mint, the State struck 9,750 coins, and the Confederacy struck 2,991 coins for the total of 17,741.
Officially, that means 16.7% of the 1861-O $20 gold coins are "Confederate money."
Mint Director Snowden went on the warpath, recommending to Treasury Secretary Samuel P. Chase that the Government remove the 1861-O gold coins from circulation and render them not lawful legal tender. The President and Secretary Chase chose to ignore Kint Director Snowden, and the 1861-O remained legal tender, even though 12,741 coins were struck illegally, which also means they did not have the usual assay checks. A study of the fineness of 1861-O $20 gold coins is thus of great interest.
1865 US $20, SS Republic Treasure

In 1861, at the outbreak of the Civil War, she was stuck in port at New Orleans. Confederates took control of the ship for use as a blockade runner as the CSS Tennessee. But Union forces, after capturing New Orleans, took the ship and put it to use as the USS Tennessee. During the Battle of Mobile Bay, the Tennessee was used to attack Ft. Morgan.
The ship was damaged in a hurricane in 1864 and pulled out of military service. When it was sold at auction in 1865, it was renamed the SS Republic.
The Republic left New York on October 18, 1865, bound for New Orleans. According to her captain, she was carrying passengers and a cargo of $400,000 in coins, mostly in gold $10 and $20 pieces, intended for use as hard currency after the Civil War.
Five days in, the ship encountered a hurricane off the coast of Georgia. Leaking in the hull extinguished the fire in the boiler, and the ship stalled, taking on water faster than her crew and passengers could bail her. At 4 pm on October 25, 1865, she sank.
The passengers and crew escaped in four lifeboats and a makeshift raft. Most of the passengers and crew survived, although several were lost on the raft before they could be rescued. All the coins were lost. Until 2003...
In August 2003, the wreck was located by Odyssey Marine Exploration, Inc. about 100 miles southeast of Savannah, Georgia, in about 1,700 feet of water. A salvage effort recovered about one-third of the rare 19th-century gold and silver coins carried aboard, worth an estimated $75 million!
1859-O Counterstamped "TN" Seated Liberty Half Dollar

With the Civil War over, New Orleans was beginning to prosper. This coin, dated 1859, may have had a portion of its life originating in Tennessee in 1861.
At the onset of the Civil War, Tennessee was approximately 70% Unionist. But after the attack at Fort Sumpter, the political tide changed, such that when the state voted on secession in July, the secessionists barely won the vote, and Tennessee became the last state to enter the Confederacy. The state had loud political factions, and this coin emphasizes that fact, as a Tennessee loyalist clearly stamped TN, 1861 on this coin during these difficult first six months of 1861. This is a unique and fascinating coin!
One of the most important developments to come out of the Coinage Act of 1873 was the creation of a United States Trade Dollar silver coin. John Jay Knox, who was the Deputy Comptroller of the Currency, had proposed the idea of a new silver coin for use in Asia. He held discussions with Louis Garnett, who had been both the San Francisco Mint's Assayer and Treasurer. Garnett did not actually want a new legal tender silver coin. What he originally suggested was a disk made of silver or a stamped silver ingot, at a uniform weight and fineness. He wanted to call it a silver union, as opposed to it becoming yet another silver coin. These disks or ingots would be standardized and without any change or modification. The idea was to initially compete with the Mexican 8 Reales silver coin, which was the current preferred coin by Chinese merchants, and to later supplant it as the preferred medium of exchange in China and Japan.
Chinese and Asian merchants had, for decades, accepted the Mexican 8 Reales coin as the coin of choice. These merchants despised any changes to the design or weight and fineness, as they wouldn't be certain that the change was authorized by the Mexican government or if they were looking at a counterfeit copy. But due to the new reign of Emperor Maximilian, a portrait of the new Emperor was now added and the 8 Reales coin was modified from the old design. These Asian merchants now were rejecting the Mexican 8 Reales silver coins all across the Orient. This provided a great opportunity for a new coin to become the primary coin to circulate in Asia.
During 1872 the U.S. Mint, under the direction of Chief Engraver William Barber, struck numerous pattern coins in anticipation of passage of this coinage bill and the need for a commercial dollar or trade dollar coin. Prior to the legislation being signed into law, the denomination was changed from Commercial Dollar to Trade Dollar
Bailey, Banks, and Biddle, the jewelers and silversmiths headquartered in Philadelphia at that time were also asked to create some possible designs as well. But the Mint and the Secretary of the Treasury preferred the designs that Barber had created.
The Coinage Act of 1873 became law on February 12, 1873 but it was not until July of that year that the actual striking of a Trade Dollar coin commenced. Coins were struck at the Philadelphia, Carson City and San Francisco mints during that inaugural year.
The Mint kept the number of strikings low, in order to determine how well received these coins would be in China. When the first shipment of this new coin arrived in China, official tests and complete assays were conducted by the Chinese government. The results were that this new coin was exactly as described and the Chinese Government issued an official proclamation that the coin is legal tender.
In 1877, the American consul in Hong Kong provided a report to our Secretary of the Treasury on the reception for the U.S. Trade Dollar. The two leading banks that traded with foreign countries—the Oriental Bank and the Hong Kong Shanghai Banking Corporation stated:
Mintages grew and more and more coins were being exported to Asia. But by 1874, some Trade Dollars began appearing in American commerce. By 1875, due to the value differences between the United States and China, a number of Trade Dollars were re-imported back to the United States.
Enterprising individuals would buy them at the actual silver value which was now under face value. Unscrupulous employers would buy them at under face and pay some of their employees with one or more Trade Dollars in their pay envelopes.
The experiment worked well as long as these coins were exported, and the price of silver remained stable. As more coins came back to the United States, the value dropped further. Some businesses accepted Trade Dollars so as not to offend their good customers, but they found that they could not deposit these coins at face value in their banks. The Mint stopped producing Trade Dollars for exportation to Asia by 1879 and thereafter only Proof Trade Dollars were struck for collectors.
It wasn't until the Coinage Act of 1965, which restricted the use of .900 fine silver in American dimes, quarters and half dollars that Trade Dollars were again monetized as legal tender silver coins.
To read the complete article, see:
United States Trade Dollars: Born of Need, Died from Greed (https://www.greysheet.com/news/story/united-states-trade-dollars-born-of-need-died-from-greed)
The life and legacy of the late cultural icon Edith Ke'kuhikuhiipu'uoneonaali'iokohala Kenao Kanaka?ole was celebrated Saturday on the Big Island with a mural, a U.S. quarter and lots of shared memories of dancing, culture, relationships and connections.
The celebration was held at the University of Hawai'i at Hilo, where the Honomu native, known lovingly as Aunty Edith, taught from 1974 to 1979. She created courses and seminars on Hawaiian language, ethnobotany, Polynesian history geneology and Hawaiian chant and mythology.
Kanaka?ole died nearly 44 years ago, at age 65 on Oct. 3, 1979, but she is still beloved for bringing Hawaiian culture, not only as an educator but also as a kumu hula and composer, to the masses.
Now, Kanaka?ole also will be forever part of U.S. history with her very own coin created by the United States Mint, which designs and issues five quarters per year to honor American women whose achievements, triumphs and legacies reflect the strength and resilience of the nation.
The coin shows Aunty Edith with her hair and lei po?o (head lei) morphing into the elements of a Hawaiian landscape, symbolizing her life's work of preserving the natural land and traditional Hawaiian culture. The commemorative quarter also bears an inscription in ?olelo Hawai?i, e ho mai ka ?ike or granting the wisdom. The phrase comes from a well-known oli (chant) Kanaka?ole composed that asks for knowledge to be bestowed upon the chanter.
At the celebration, there was a welcoming oli and speeches from representatives from the local and state government, as well as the university, and ho?okupu, or gifts or offerings.
There also was the unveiling of a large mural of Aunty Edith that was created by artist Kamea Hadar. He collaborated the design with Kuha?o Zane, Kanaka?ole?s grandson and creative director at Sig Zane Designs. The mural is on the Hall named after Edith Kanaka?ole at UH Hilo.
Following the presentations, a large crowd of attendees walked around the Edith Kanaka?ole Hall to see several displays in surrounding classrooms with people talking stories, sharing culture and memories, dancing, music and food. There were rooms where Edith's voice and videos were looped.
Also in attendance were local fans, such as Steven Stein, a local coin collector and part of the Big Island Coin Club that has been in existence for 50 years. He said it was wonderful news to hear Aunty Edith was chosen to be on the coin.
It's about time, he said. She's an instrumental person of Hawaiian descent.
To read the complete article, see:
Aunty Edith's life celebrated with mural, U.S. quarter and shared stories at UH Hilo (https://bigislandnow.com/2023/05/07/aunty-ediths-life-celebrated-with-mural-u-s-quarter-and-shared-stories-at-uh-hilo/)
On 6 May 2023, the coronation of His Majesty King Charles III will take place at Westminster Abbey. In honour of this significant celebration, we are delighted to announce that we will be releasing a coronation coin collection that bears The King's first official crowned coinage portrait. Featuring curated historic sets and beautifully crafted coins available across a number of denominations, including a UK 50p coin, £5 coin, The Sovereign, and a limited number of fine gold and silver coins struck in a variety of sizes, the collection features one of three exclusive reverse designs.
The designer behind the reverse of the UK 50p coin in the collection is Natasha Jenkins, a product designer at The Royal Mint.
Natasha Jenkins has worked for The Royal Mint for nearly seven years, and this is the third time The Royal Mint Advisory Committee has selected one of her designs for use on a UK coin. Her other designs chosen for inclusion appear on the Remembrance Day 2020 £5 coin and Commonwealth Games 2022 UK 50p coin.
When my manager, Lee R. Jones, gave me a call to say that I had won the 50p design for the coronation, I was very shocked – I really couldn't believe it! When I enter any competitions for The Royal Mint, I never actually think I will win. I'm always extremely grateful to have had the opportunity to take part! I was just as shocked this time round as I was when I first won a competition in 2020.
It's an honour to have a coin that represents such an iconic time in our British history. In the future I will be able to look back and show my children this coin that I designed for King Charles III's coronation and feel proud.
To read the complete article, see:
Meet the Maker: Natasha Jenkins (https://www.royalmint.com/shop/monarch/charles-iii/coronation/meet-the-maker-natasha-jenkins/)
A heraldic designer who has a prolific portfolio when it comes to creating designs for coins and medals, Timothy Noad has designed the reverse of the £5 'crown' in the collection. No stranger to creating celebratory, royal designs, his designs were previously selected for medals commemorating Her Late Majesty Queen Elizabeth II's Golden, Diamond and Platinum Jubilees, as well as three designs, in 2002, 2005 and 2022, for rare changes to the reverse of The Sovereign.
Royal commissions are always special, this one in particular because it relates to the new king and his coronation, perhaps the most important occasion of all. Royal symbols appear on a lot of British coins, so it is always an exciting challenge to find new ways of representing them.
I was delighted and very honoured to be chosen. I know how important crown coins celebrating royal occasions are for all kinds of collectors. For most of us, this will be the first coronation we will ever see. As I created many designs for coins and medals during the reign of Queen Elizabeth II, it is thrilling to have my design used for this highly significant occasion in the reign of the new King Charles III.
I remember being given a Silver Jubilee Crown when I was at primary school in 1977 and this led to an interest in collecting coins, including The Queen's Coronation Crown coin of 1953. I had no idea that I would be creating the next one!
I have worked as a heraldic artist at HM College of Arms for 36 years so often portray royal symbols and regalia in my work. Personally, I am fascinated by royal history and pageantry. There is also a local connection. The goldsmith who made the Crown Jewels for Charles II was Sir Robert Vyner, who lived here in Ickenham on the edge of London, where I have also lived for my whole life.
To read the complete article, see:
Meet the Maker: Timothy Noad (https://www.royalmint.com/shop/monarch/charles-iii/coronation/meet-the-maker-timothy-noad/)
As with all such projects that involve the members of the Royal Family, I look forward to my work being seen and appreciated at the highest levels of society.
I felt a degree of satisfaction and pride, mixed with a certain amount of trepidation in that it was a very detailed design that would require a good deal of very careful work in the modelling stage.
As is the case with many of the coins that I have designed for royal occasions, I looked to the past for my inspiration. In this instance, I looked at the style of decoration prevalent during the reign of Charles I.
Thankfully, over the years, I have amassed a quite large library of books that feature heraldry and decorative design through the ages. I have also worked in the antique trade as a restorer for many years, so I have a fairly wide knowledge of the subject.
The process I use during the design stage is in itself one of iteration. I begin by sketching out my initial design on tracing paper, then by a process of overlaying more sheets of tracing I can manipulate and rearrange the content until I am satisfied with the finished result. At this point I transfer the finished image to card for presentation.
To read the complete article, see:
Meet the Maker: John Bergdahl (https://www.royalmint.com/shop/monarch/charles-iii/coronation/meet-the-maker-john-bergdahl/)
The tradition of producing coronation medals has been in place for centuries. Historically, gold, silver and bronze medals have been struck to commemorate the coronation of a monarch's coronation, which are then given to members of the Royal Family as well as selected members of the household, members of state and public servants.
To commemorate the coronation of His Majesty King Charles III, we have struck a coronation medal that is exclusively available to purchase from The Royal Mint Experience. Edwina Ellis, who has designed several coins for The Royal Mint over the years, including a set of four Bridge £1 coins, created the winning design for the medal.
I think a good part of the United Kingdom and the Commonwealth feel connected to the monarchy, as it did not change for most of their lifetimes. Although any connections felt towards royalty are one-sided for most of us, perhaps they are real enough? I'm older than King Charles III and, just like him, I am still working. I remember when the last king died, my mother explained to me why the Australian Broadcasting Corporation were playing solemn music all day. I feel quite connected to this subject matter!
I tried to think of as many different aspects of the coronation as I could, but I kept coming back to the royal regalia. It bristles with symbolism, history and meaning, and St Edward's Crown is its centrepiece.
I started with a visit to Westminster Abbey, photographing and drawing for inspiration. I then pored over books on the regalia. Looking back at the last coronation ceremony of Queen Elizabeth II in film, stills and the order of service was revelatory, too. But anything, however moot, must be graphic, fit the space, and tell a story – or it's out.
I found the St Edward's Crown to be the most compelling object to represent the coronation of King Charles III. It is only ever used for the actual act of the coronation and is never touched by anyone who isn't the reigning monarch, the Archbishop of Canterbury or the Crown Jeweller.
Discovering that Westminster Abbey also bristles with symbolism, history and meaning, and its façade offset the crown's symmetry was a tricky part of the design to get right. The fan vaulted interior, the choir screen and the coronation chair all fell by the wayside through the process, so that the St Edward's Crown could be the focus of the final design.
The main challenge was getting the St Edward's Crown to work just right with the setting. Fitting and juxtaposing the crown and the location of Westminster Abbey was a long journey that I hope is hidden. A good finished design has to look a little spontaneous: nobody needs to know how long I wrestled with specific details!
To read the complete articles, see:
Meet the Maker: Edwina Elli (https://www.royalmint.com/shop/monarch/charles-iii/coronation/meet-the-maker-edwina-ellis/) https://twitter.com/RoyalMintUK/status/1649397578419535872
David adds:
To read the overall article, see:
The Coronation of His Majesty King Charles III UK Coin Collection (https://www.royalmint.com/shop/monarch/charles-iii/coronation/register/)
Catch! A coronation medallion fit for a king.
At the coronation following the Restoration commemorative medallions were distributed to the congregation. The diarist Samuel Pepys recorded that medals [were] flung up and down by my Lord Cornwallis of silver, but [Pepys] could not get any. Another witness, Elias Ashmole, noted medals, flung abroad… medals both of silver and gold… as a princely Donation or Largesse…
Bust of Charles II crowned in royal ermine robes, wearing collar and George of the Garter. On the obverse Charles II in royal robes, holding the sceptre, is seated on a throne; Peace, hovering over him, places the crown upon his head. The inscription reads EVERSO . MISSVS . SVCCVRRERE . SECLO . XXIII . APR . 1661. Inscription translation: Sent to support a fallen age, 23 April, 1661.
Illustration by kind permission of Charles Riley, Coins & Medals
www.charlesriley.co.uk
Bank of Taiwan is to auction banknotes with special serial numbers starting on May 18, the central bank said on Thursday.
People tend to favor banknotes with certain serial numbers, particularly those with numbers that are homophones of Mandarin words related to prosperity or wealth. Some people are willing to pay large sums for them, as has been seen at 21 similar auctions held by the central bank over the past 10 years.
Among the most coveted notes are those with serial numbers containing one or more eights, such as 888 or 168, because the number eight is a homophone for prosperity in Mandarin, while one and six, when individually enunciated, mean all the way.
Serial numbers featuring consecutive numbers, such as 123456, are also considered collectibles.
A total of 4,395 banknotes with 121 sets of numbers are to be auctioned, each with two English letters at the beginning and end.
The central bank said that the state-owned Bank of Taiwan, the country's largest lender, is to conduct the auction online starting at 10am on May 18 and conclude at 10am on May 23.
The central bank said the auctions had made NT$69.56 million (US$2.3 million) for the government since the first auction in October 2012.
To read the complete article, see:
Bank to auction 'special' banknotes (https://www.taipeitimes.com/News/taiwan/archives/2023/05/07/2003799322)
Traditionally, ATMs spit out cash to bank customers who insert their debit or credit card. But in a twist, a reverse concept — receiving a prepaid card from an ATM in exchange for cash — is rapidly growing in popularity.
Cash has been in decline for a while. In 2019, currency was used in 26% of consumer payments, a sharp decline from 40% in 2012, according to the Atlanta Fed. And the COVID-19 pandemic further encouraged a nationwide push away from physical currency, in part because of sanitary concerns and convenience.
The shift is fodder for the rise of the reverse ATM.
Jim Mohs, associate professor at the University of New Haven, told the Washington Examiner that the growth in popularity for this new breed of ATMs is relatively fresh. Still, he noted that despite only first learning about their existence recently, he has seen two of them while out and about in Connecticut over the past month or so. One was at a retail location, and the other was in a restaurant.
Quite frankly, it's a new phenomenon. Usually, the banks have the ATMs, you're taking out of your account, or you're taking money as an advance on a credit card or something, or you're depositing checks, or you're doing whatever your normal banking activities are, Mohs said. But the reverse is now becoming a reality at retail stores and restaurants across the country.
With these new ATMs, users deposit the cash they have on them, which is then placed on plastic cards that they receive and can be used to spend. The idea comes as cash-only stores and merchants are quickly becoming replaced with cashless and card-only locales.
Reverse ATMs might be costly to purchase and maintain for businesses and venues such as hotels, casinos, amusement parks, and sports stadiums, where they are growing in popularity. Yet an increasing number of businesses are starting to see that the benefits outweigh the negatives, such as user fees at some of the machines.
Naushervan Beg, a partner and business development executive at Wavetec, which sells reverse ATMs, told Axios that reverse ATMs are becoming a competitive business space.
Cash carries a lot of friction, right? Beg said. Many venues are willing to pay for the machines because, for them, the bigger pain point is taking the cash.
To read the complete articles, see:
It's not easy being green: Reverse ATMs are on the rise amid declining cash use (https://www.washingtonexaminer.com/policy/economy/reverse-atms-rise-declining-cash-use)
Infection Fears Could Give a Boost to a 'Reverse ATM' That Takes in Cash, Dispenses Cards (https://www.digitaltransactions.net/infection-fears-could-give-a-boost-to-a-reverse-atm-that-takes-in-cash-dispenses-cards/)
Charles III on Canadian Coins
Canada's $20 banknote and coins will be getting a new look featuring King Charles III, the federal government announced amid celebrations marking the King's coronation.
Following the historic coronation on Saturday, the Bank of Canada said its next design process will replace Queen Elizabeth II's portrait with King Charles' on the $20 bill. Additionally, the Royal Canadian Mint will redesign Canadian coins to feature an effigy of the King, keeping up with the century-old tradition of having the reigning monarch appear on Canadian coins.
No details were given regarding when the redesign process would take place, but the federal government says Canadians should expect to see the design of the new coin effigy in the coming months. Meanwhile, updates to the $20 bill will likely take a few years.
To read the complete article, see:
King Charles III will be the new face of Canada's $20 bill, coins (https://www.ctvnews.ca/mobile/canada/king-charles-iii-will-be-the-new-face-of-canada-s-20-bill-coins-1.6388071)
Sunday Times Article on Richard Beale
The Sandhurst graduate, one of the world's rarest coins, and a £3m 'fraud' A detectorist and former soldier who made £10m from setting up his own auction house is accused of falsely selling a coin from 44BC.
Richard Beale's company sold the Eid Mar coin for a record-breaking £3.24 million and the Sicily Naxos silver coin for £240,000 at the same auction in October 2020.
On a bleak, windy morning in December 2006, Sandhurst graduates prepared to formally completed their military training. Among the new officers who passed out was a quiet, scholarly young man called Richard Beale who spent his time off searching for treasure with a metal detector.
Almost 20 years later, Beale, 38, is the owner of one of the world's foremost auction houses for rare and collectable coins, with net assets of more than £10 million. He is also due in New York criminal court tomorrow accused of the fraudulent sale of one of the world's rarest and most valuable ancient coins.
To read the complete article (subscription required), see:
The Sandhurst graduate, one of the word's rarest coins, and a £3m 'fraud' (https://www.thetimes.co.uk/article/the-sandhurst-graduate-one-of-the-worlds-rarest-coins-and-a-3m-fraud-2sj76kw22)
To read the earlier E-Sylum articles, see:
RICHARD BEALE OF ROMA NUMISMATICS ARRESTED (https://www.coinbooks.org/v26/esylum_v26n11a16.html)
IAPN STATEMENT ON FALSE PROVENANCES (https://www.coinbooks.org/v26/esylum_v26n12a13.html)
IDES OF MARCH COIN RETURNED TO GREECE (https://www.coinbooks.org/v26/esylum_v26n13a27.html)
Apple AirTags Foil Armored Car Robbery
Two men got away with more than $1 million Tuesday morning from a Brink's truck parked outside a Homewood grocery store, authorities said.
What they didn't know was a location tracking device was inside bundles of cash, which led police right to them, federal authorities said.
Devonte Davis and Darrell Singleton, who were both charged with armed robbery, appeared before a magistrate judge in federal court Wednesday, where they were held pending detention hearings next week, federal authorities said.
The armed robbery happened on the 3100 block of West 183rd Street in Homewood about 9:25 a.m. Tuesday, authorities said. The two suspects allegedly attacked a guard and lugged several containers filled with about $1.1 million from the armored truck, according to the federal complaint.
One of the plastic bins they took had an Apple AirTag location tracking device capable of live transmitting its location and about an hour later police tracked them to the 12400 block of South Justine Street in Calumet Park, authorities said. Officers found hundreds of thousands of dollars, the tracking device, two guns, several Brink's items, including a deposit slip, and clothing matching the description of what the suspects were wearing, according to the complaint.
To read the complete article, see:
Tracking device leads feds to two suspects in heist of more than $1 million from Brink's truck (https://www.yahoo.com/news/tracking-device-leads-feds-two-194500790.html)
California Gold Rush 2.0
In the aftermath of an unusually wet winter, Californians are bracing not only for flooded fields and raging rapids, but also for a potential treasure hunt that experts are dubbing Gold Rush 2.0.
It's one of those 100-years events, Mark Dayton, a Sacramento Valley metal detector expert, told The Hill.
With one atmospheric river after another this past winter, snowpack on the Golden State's mountain peaks piled up to unprecedented heights. But as that snow gushes down the hillsides, the fast and furious flow is shuttling other materials along with it.
What happens is the material is being ripped literally right off the walls of the creeks as they reshape themselves, he added.
By material, Dayton means gold. And he said he anticipates a lot of it this year
To read the complete article, see:
California readies for treasure hunt as floods wash up 'Gold Rush 2.0' (https://thehill.com/policy/equilibrium-sustainability/3990790-california-readies-for-treasure-hunt-as-floods-wash-up-gold-rush-2-0/)
Remembering the Old Man of the Mountain
In the annals of natural rock formations resembling human faces, New Hampshire's Old Man of the Mountain was an unrivaled specimen.
Viewed from exactly the right spot on the ground below, the massive stack of granite ledges coalesced into the spitting image of a wizened man's profile, from sloped forehead to jutting chin, an unlikely bit of magic treasured by generations of New Englanders.
And yet. Beloved as he was, the Old Man, may he rest in peace, was a pile of rocks — until the wee hours of May 3, 2003, when the five slabs unceremoniously collapsed, victims of the same slow-moving geologic forces that had sculpted the human likeness in the first place. So why, 20 years later, is the stone face still mourned in New Hampshire like a fallen president, the subject of songs and poems, a Statehouse proclamation and a virtual remembrance event that drew hundreds of viewers on Wednesday?
It's a very predictable question, and one we are still struggling to answer, said Brian Fowler, a geologist who helps run the Old Man of the Mountain Legacy Fund, created after the collapse to nurture the memory of the lost tourist attraction. I think it was a timeless and very reassuring kind of symbol, and people thought it was never going to fall.
To read the complete article, see:
Why the Fuss Over a Rock Formation That Fell? Don't Tell New Hampshire That. (https://www.nytimes.com/2023/05/05/us/nh-old-man-mountain-rocks-collapse.html)
The family of an interested coin collector was stunned to discover more than 1,000 valuable coins hidden around the house after his death.
The secret collection is made up of over 1000 pieces of history and is expected to fetch close to £18,000 at auction.
The businessman from Luton, Bedfordshire has spent 50 years amassing a rare collection, but his family has no idea how many collections he has hidden.
His routine packing quickly turns into a treasure hunt for his widow and daughter when they discover coins in shoeboxes, dressers and desk drawers.
The collection includes a £1902 Edward VII gold coin worth £700, a half crown of William IV 1834 worth £120 and a crown of George III 1819 worth £160. The William III tiara is worth £150.
I found most of the coins a few months ago but in the weeks that followed, I found more, said the widow, who asked not to be named.
I keep finding more every time I clean out another part of the house.
They are in drawers and cabinets or wrapped in other things. Most of them are in the closet but I found many other things locked in my husband's old desk.
I didn't know he had that many and to be honest, I think he forgot about some of them.
To read the complete articles, see:
We discovered secret collection of 1,000 rare coins in our house – now we're selling them for almost £18k (https://ustimespost.com/we-discovered-secret-collection-of-1000-rare-coins-in-our-house-now-were-selling-them-for-almost-18k/)
COINING IT IN We discovered secret collection of 1,000 rare coins in our house – now we're selling them for almost £18k (https://www.thesun.co.uk/money/22264549/secret-collection-of-1000-rare-coins/)