Visit our NBS Sponsors
About Us
The Numismatic Bibliomania Society is a non-profit association devoted to the study and enjoyment of numismatic literature. For more information please see our web site at coinbooks.org
Subscriptions
Those wishing to become new E-Sylum subscribers (or wishing to Unsubscribe) can go to the following web page link
Membership
There is a membership application available on the web site Membership Application
To join, print the application and return it with your check to the address printed on the application. Print/Digital membership is $40 to addresses in the U.S., and $60 elsewhere. A digital-only membership is available for $25. For those without web access, write to:
Charles Heck, Treasurer
Numismatic Bibliomania Society
P. O. Box 2058,
Bluffton, SC
29910-2058
Asylum
For Asylum mailing address changes and other membership questions, contact Chuck at this email address: treasurer@coinbooks.org
Submissions
To submit items for publication in The E-Sylum, write to the Editor at this address: whomren@gmail.com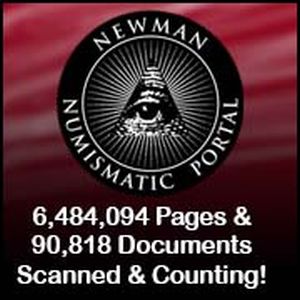 BUY THE BOOK BEFORE THE COIN
Content presented in The E-Sylum is not necessarily researched or independently fact-checked, and views expressed do not necessarily represent those of the Numismatic Bibliomania Society.
New subscribers this week include: Tom Hockenhull and Mike Walsh. Welcome aboard! We now have 7,616 subscribers.
Thank you for reading The E-Sylum. If you enjoy it, please send me the email addresses of friends you think may enjoy it as well and I'll send them a subscription. Contact me at whomren@gmail.com anytime regarding your subscription, or questions, comments or suggestions about our content.
This week we open with final highlights of next week's Kolbe & Fanning numismatic literature sale, four new books, a review, three obituaries, updates from the Newman Numismatic Portal, and more.
Other topics this week include the Continental Dollar, inflation money, U.S. coin patterns, Goetz medals, the American Journal of Numismatics, counterfeit detectors, fixed price and auction highlights, goats on ancient coins and paintings on banknotes.
To learn more about Canadian tokens, Australian coins and paper money, the Oriental Numismatic Society, John Jay Knox, Albert Frey, Ralph Dickieson, Dale Seppa, John Mussell, Art Morowitz, frozen dates, the first printing of the ANS constitution, the Small Note Law Conspiracy, the Battle of Fair Oaks medal, and finding an original mint roll of bust half dollars, read on. Have a great week, everyone!
Wayne Homren
Editor, The E-Sylum


Kolbe & Fanning Numismatic Booksellers wish to remind everyone that our Sale 168 will be held on Saturday, September 23, 2023. Featuring highlights from the Richard Cooper and Wayne Homren Libraries, plus additional rare and out-of-print works on ancient, world and U.S. numismatics, the sale has much to offer. The Wayne Homren Library focuses on U.S. numismatics, and includes his extensive collection of numismatic ephemera. The Richard Cooper Library is among the finest ever formed on Canadian coins, medals and tokens, and includes important manuscripts and correspondence from Robert W. McLachlan.
Some highlights of the sale include:
Lot 5: a handsomely bound complete set of Jean Babelon's 1924–1936 Catalogue de la Collection de Luynes, one of the classic collections of ancient Greek coins
Lot 200: R.W. McLachlan's List of Canadian Nineteenth Century Tokens, an unpublished manuscript by Canada's greatest numismatist, one of thirty-four lots of McLachlan manuscripts offered as part of the Richard Cooper Library
Lot 229: the first manuscript catalogue of the collection of the Numismatic and Antiquarian Society of Montreal, compiled between 1867 and 1878
Lot 235: an extraordinary numismatic scrapbook assembled by early Canadian numismatist Alfred Sandham between 1869 and 1895
Lot 237: Alfred Sandham's personal, heavily annotated revision copy of his foundational 1869 Coins, Tokens and Medals of the Dominion of Canada, one of nineteen copies of this publication in the Cooper Library, each of which is distinctive in one way or another
Lot 273: twenty-four complete volumes and twelve partial volumes of the American Journal of Numismatics, all in the original state, being the best copies present in the Homren Hoard of original AJN issues discovered by Wayne Homren in 1997
Lot 313: S. Hudson Chapman's personal copy of his 1926 United States Cents of the Year 1794, with the actual photographs from which the collotype plates for the book were originally prepared in 1923
Lot 348: a handsomely bound set of Ed Frossard's enormously important Numisma (1877–1891), complete with all supplements
Lot 409: a complete set of Mehl's Numismatic Monthly, finely bound in matching red half morocco in five volumes, each with its own custom-made slipcase
Lot 507: two binders of material relating to counterfeiting and counterfeit detection, including some rare publications, part of the extensive collection of numismatic ephemera formed by Wayne Homren and featured in this auction.
Register early to bid online
Bids may be placed via post, email, phone, as well as online. Kolbe & Fanning use Auction Mobility as our third-party online bidding platform. Auction Mobility is an app-based platform allowing users the ability to participate in the sale through phones, tablets and computers. To register for the sale, bidders must go to bid.numislit.com and sign up. Once you have set up an account, you may browse lots, place advance bids, or participate in the live sale online. Those wishing to participate on their devices can download the Kolbe & Fanning app through the Apple or Google Play Store. The sale has also been listed on Biddr and NumisBids in the near future.
The printed catalogue has been mailed to all active customers on our mailing list. As international mail speeds have been inconsistent, we encourage our foreign clients to consult the electronic catalogue in case their printed catalogue does not arrive promptly. A PDF of the printed catalogue has been posted to our main website at numislit.com for those who prefer that format. Bids placed via post, email, fax or phone must be received by September 22, the day before the sale, in order for them to be processed. Advance absentee bids may also be placed at any time online at bid.numislit.com. Live internet bidding will be available during the sale itself through the same platform.
Kolbe & Fanning Numismatic Booksellers LLC is a licensed and bonded auction firm in the State of Ohio, and our sales are conducted by licensed auctioneers. For more information, please see the Kolbe & Fanning website at numislit.com or email David Fanning at df@numislit.com. To register for the sale, go to bid.numislit.com. We look forward to your participation.
To read the Catalogue PDF, see:
https://indd.adobe.com/view/c452ee0d-6dbd-4ca2-bf71-99c2a6441317
To read the earlier E-Sylum articles, see:
KOLBE & FANNING SEPTEMBER 2023 SALE ANNOUNCED (https://www.coinbooks.org/v26/esylum_v26n36a03.html)
MARK COLLET AND THE 1851 ROPER SALE (https://www.coinbooks.org/v26/esylum_v26n36a18.html)
NUMISMATIC AMERICANA: DREAMERS, COLLECTORS, AND THIEVES (https://www.coinbooks.org/v26/esylum_v26n36a19.html)
NUMISMATIC CORRESPONDENCE: STUFF OF HISTORY (https://www.coinbooks.org/v26/esylum_v26n37a20.html)
THIAN CONFEDERATE NOTE ALBUM (https://www.coinbooks.org/v26/esylum_v26n37a21.html)
KOLBE & FANNING SEPTEMBER 2023 SALE HIGHLIGHTS (https://www.coinbooks.org/v26/esylum_v26n37a04.html)
To celebrate the seventy-fifth anniversary of the first minting of the Franklin half dollar, Whitman Publishing announces an updated new edition of A Guide Book of Franklin and Kennedy Half Dollars. The 248-page fourth edition, by professional numismatist Rick Tomaska, is available online (including at www.Whitman.com) and from booksellers and hobby shops nationwide.
Franklin (1948–1963) and Kennedy (1964 to date) half dollars are two of the most popular series in modern U.S. coinage. Whether you're a collector spending $50 a month or an investor with a budget of $50,000, there are challenges and rewards to enjoy with these historic coins, says author Rick Tomaska.
In addition to sharing behind-the-scenes knowledge of the retail and auction markets, Tomaska gives the history of the coins' designs, production, and other technical and cultural aspects. He explores transitions in Mint craftsmanship and reveals why Franklin and Kennedy half dollars represent the end of an era. He studies the coins date by date with commentary on exceptional and highly toned specimens, describes how Proof coins are made and graded, and teaches about Cameo and Deep Cameo contrast, Full Bell Lines, certified coin populations, and other factors important to value and rarity. Collectible die varieties, tips for smart buying, and hundreds of full-color photographs round out the contents.
The fourth edition includes new research on 1964 Specimen Kennedy half dollars, information on the NGC Rick Tomaska Signature Series designation, new coin photographs, and more. Values in multiple grades have been updated for each coin. Auction data and recent retail sale records are also given.
Tomaska covers the 1964–2014 fiftieth-anniversary gold and silver Kennedy half dollars, and features illustrated appendices on Exceptional Cameo Contrast and remarkable error and misstruck Franklin and Kennedy halves. An illustrated chapter on Proof Liberty Walking half dollars, which Tomaska describes as true classics born during the wonderful Renaissance era in American coin design, explores these precursors to the Proofs of the Franklin series.
Rick Tomaska, a longtime contributor to the Guide Book of United States Coins (the hobby's popular Red Book), is recognized as an authority on American coinage. He started his business, R & I Coins, in 1981, and has since written several books focusing on modern cameo and brilliant Proof coinage and Franklin half dollars. In 2014 he was a founding member of Rare Collectibles TV. With more than forty years of experience, Tomaska enjoys sharing his knowledge and says, I finally feel comfortable saying that I've made my mark on the numismatic community.
Numismatic historian Q. David Bowers, writing in the foreword, says, By reading this book you can become an expert on these widely collected coins.
# # #
A Guide Book of Franklin and Kennedy Half Dollars, 4th edition
By Rick Tomaska; foreword by Q. David Bowers
ISBN 794850502
Softcover, 6 x 9 inches, full color; 248 pages; retail $24.95 U.S.
URL: https://whitman.com/a-guide-book-of-franklin-kennedy-half-dollars-4th-edition/
Renniks Australian Coin & Banknote Values 32nd Edition
Australia's leading numismatic guide.
This comprehensive guide to Australian Coin & Banknote Values contains over 4,500 unique images and countless thousands of valuations. This book is a must for all collectors, whether you are just a beginning or an advanced collector. The latest information is compiled using weighted averages to assist pricing accuracy. Quality reproduction of photos makes it easy to identify items. Covered are copper, silver, gold, nickel, and all coins and notes used in Australia from 1800 to the present. Subjects include Pre-Decimal and Decimal currency and privately issued banknotes, war issues, and privately issued tokens. Also included are the latest Royal Australian Mint, Perth Mint & Australia Post Numismatic Covers.
WEIGHT: 1 kg
DIMENSIONS: 24.5 × 17.5 × 2.5 cm
EDITOR: Michael Pitt
PUBLISHER: Renniks
PUBLICATION DATE: October 2023
SIZE: 245 x 170 x 20mm
PAGES: 360
ILLUSTRATIONS: 4500 colour images
For more information, or to order, see:
Renniks Australian Coin & Banknote Values 32nd Edition, Hardcover (https://renniks.com/shop/renniks-australian-coin-banknote-values-32nd-ed-hardcover/)
Renniks Australian Coin & Banknote Values 32nd Ed. Softcover (https://renniks.com/shop/renniks-australian-coin-banknote-values-32nd-ed-softcover/)
The Continental Dollar
How the American Revolution Was Financed with Paper Money
Farley Grubb
An illuminating history of America's original credit market.
The Continental Dollar is a revelatory history of how the fledgling United States paid for its first war. Farley Grubb upends the common telling of this story, in which the United States printed cross-colony money, called Continentals, to serve as an early fiat currency—a currency that is not tied to a commodity like gold, but rather to a legal authority. As Grubb details, the Continental was not a fiat currency, but a zero-coupon bond—a wholly different species of money. As bond payoffs were pushed into the future, the money's value declined, killing the Continentals' viability years before the Revolutionary War would officially end.
Drawing on decades of exhaustive mining of eighteenth-century records, The Continental Dollar is an essential origin story of the early American monetary system, promising to serve as the benchmark for critical work for decades to come.
296 pages | 9 halftones, 20 line drawings, 27 tables | 6 x 9 | © 2023
CLOTH
$65.00
ISBN: 9780226826035
PDF
$64.99
ISBN: 9780226826042
EPUB
$64.99
ISBN: 9780226826042
For more information, or to order, see:
The Continental Dollar (https://press.uchicago.edu/ucp/books/book/chicago/C/bo195976255.html)
Book notes: The Continental dollar, by Farley Grubb (entralbanking.com/central-banks/currency/banknotes/7959701/book-notes-the-continental-dollar-by-farley-grubb)
Inflation 1923. War, money, trauma
The mark keeps falling. It's scary. Today the dollar is over 1000 marks! The Swiss franc at 200! You feel sorry for the people in your soul. You can literally see the misery spreading […], wrote the Swiss student Lilly Staudenmann-Stettler, who lived in Frankfurt, in August 1922. Little did she know that at the end of 1923 one dollar would cost 4.2 trillion marks. The crisis year of hyperinflation is now being looked at 100 years later by the Frankfurt Historical Museum with a special exhibition.
As early as 1914, the money supply had increased significantly as a result of the war-related financial policy of the German Reich and the Reichsbank. However, inflation only became noticeable after the war defeat, when investors and companies lost their capital invested in war bonds. This was also accompanied by a loss of trust in the state, which was a heavy burden for the young Weimar Republic. The strain of peace conditions and demobilization, as well as the care of war victims and survivors, exacerbated the situation. Political murders and the occupation of the Ruhr area by French troops as a result of non-payment of German reparations ultimately led to complete economic collapse. An eventful time for Frankfurt too, which in 1919 was on the border with the French-occupied areas, which also included Höchst, Nied and Griesheim. The increasing food and housing shortages in the following years, the black market and the looting, strikes and riots left a deep impression on the collective memory of the people in Frankfurt.
The exhibition frames the experience of inflation around 1923 with a depiction of historical inflation, the subsequent rise of Hitler and a second inflation, and then leads us into the present via the currency reforms of 1948, 1990 and 2001: What does inflation look like today?
The Bundesbank is a cooperation partner and financial supporter of the exhibition Inflation 1923. War, Money, Trauma, together with the Metzler Bank and the Frankfurter Sparkasse.
For more information, or to order, see:
Inflation 1923. War, money, trauma (https://www.historisches-museum-frankfurt.de/de/ausstellung/inflation)
Inflation 1923 – war, money, trauma (https://www.geldscheine-online.com/post/inflation-1923-krieg-geld-trauma)
An overstruck Parthian chalkous of Pacorus II
Seyed Omid Mohammadi and Seyed Mahdi Alavi
How the privy marks on Aksumite coins might be interpreted
Robert Keck and Wolfgang Hahn
An attempt to attribute coins bearing the legend rama rao
Mohit Kapoor and Purnanand Sanket
Sikh coins: enigmatic silver rupees of Amritsar mint with extra fateh
Gurprit Singh
The 1 rupee coin of King Edward VII
Amol A. Warrick
Forgeries of Ottoman coins produced and/or circulating in Serbia during the First Serbian Insurrection (1804–13)
Charles B. Smith, Jr
The Ottoman Rumi calendar and its use on Turkish coins and banknotes
Michael Robinson
Money on the Silk Road: research at the British Museum
Helen Wang, Joe Cribb, Elizabeth Errington, Vesta Curtis and Robert Bracey
ONS News
Book notice
For more information on the Oriental Numismatic Society, see:
https://www.orientalnumismaticsociety.org/
I'd like to share with you a few thoughts about a book by one of these figures of the past–early 20th-century numismatist Albert R. Frey–that I recently acquired.
Frey was a major figure in the New York City numismatic scene in the early 1900s. Born in 1858, he was active around the turn of the century, publishing books on coins and encased postage stamps. Frey joined the American Numismatic Association (ANA) in December 1900 and was given member number 225. He later adopted the number 12. In 1905, Frey was elected President of the Association. As president, he sought to strengthen the ANA's bona fides, bringing it more up the level of his hometown American Numismatic Society (ANS) (which he joined in 1910). In 1911, he took over editorial duties on The Numismatist.
Frey's writing was sophisticated for its time. From his ouevre, three works stand out to me. In 1901, he collaborated with Little Eddie, the son of firebrand Ed Frossard, to publish The Copper Coins of the United States. In 1914, he published the landmark work The Dated European Coinage Prior to 1501. And in 1917, he published Dictionary of Numismatic Names.
This week, a copy of the 1947 edition of Numismatic Names arrived at my office.
As I understand the work, it began as an article published in the American Journal of Numismatics in 1916 and was expanded upon for the purposes of the book. The 1947 edition was published two decades after Frey's passing and features additional content in the form of a glossary that was contributed by Mark M. Salton.
The publisher of the 1947 edition took me by surprise, for it was Barnes & Noble – today, one of the few big box retailers still around. One doubts that they'd publish a new edition of a niche work like this today. My example was signed in 1948 by Dr. Jose D. Jiménez. As of now, I do not know if Dr. Jiménez was a numismatist of note, but I intend to find out what I can.
What a close reading of the 260+ pages of entries makes clear to me is not only did Frey command a mastery of the subject matter but also that his prose effectively communicates the perspective of one making a serious study of a complex subject.
I'm impressed by the fact that Dictionary of Numismatic Names holds up as a work to be read, and not just as a relic to be collected.
To read the complete article, see:
A Vintage Book and the Legacy of a Numismatic Hall of Famer (https://coinweek.com/a-vintage-book-and-the-legacy-of-a-numismatic-hall-of-famer/)
For many decades the name Dale Seppa has been synonymous with Ecuadorian numismatics. He was the go-to dealer for this complex numismatic specialty. His recent passing leaves a real void. For many years I collaborated and corresponded with Dale. Let this reminiscence be a fitting tribute and final farewell.
I never met Dale Seppa. That might seem like an odd start to a tribute so let me explain. In the 1960s I was a novice collector just developing an interest in Latin American coinage. I quickly discovered Dale's extensive and informative price lists. I got on his mailing list, became a customer and bought all of the many books he co-authored. In the course of business, I would sometimes pose a question about some item and was impressed that I always got a thoughtful response. Thus began our correspondence.
At some point he stated some specific research interests of his and sought input from those who might be able to contribute useful information. Dale had a knack of posing a research goal in so enticing a fashion as to motivate you to join the effort. I soon learned that he had a lengthy rolodex of knowledgeable numismatists that he could call upon. Although I only made a small contribution of data to this particular project, I learned a lot from the experience especially the exposure to the inputs of the best numismatic minds in this field.
When personal computers came along and E-mail became the norm, our correspondence mushroomed. Dale seemed to have an endless number of interesting and challenging numismatic questions to pose. I learned much from the resulting dialog. Over the ensuing years, we discussed many numismatic topics and sometimes non numismatic matters too. We opined about current affairs, the state of the world, economic trends and eventually even personal interests and activities. He had become more than a numismatic pen pal. He had become a friend.
In the past year I sensed that he was becoming more conscious of his mortality. He would sometimes quip about the next plane of existence. I discouraged such talk. Just several months before his death, he sent me an extensive group of computer files containing images of nineteenth century Ecuadorean ministerial documents. I was extremely pleased to have this rich research material and honored that he felt I would organize and preserve it and ultimately put it to good use. I avoided contemplating the potentially ominous implication of his action. Not long afterward he sent me several books, autographed to him, written by an author we both admired. Again, I was pleased to have the books and again I didn't read the tea leaves.
The last project we collaborated on involved some modern replicas of very rare coinage associated with the final days of the Quito Mint. Dale was trying to find a reliable source of these replicas and to assess their origin and numismatic merits. I analyzed a number of these items and sent Dale detailed reports about them which I know he appreciated. His last E-mail to me, sent just a week before his passing, was to encourage me to publish an article on this subject. I will write that article and, when published, dedicate to Dale's memory.
So, it wasn't necessary to have met Dale in person. Our longstanding correspondence fed a quest for knowledge and nurtured a friendship that enriched the spirit. It ought to remind us that numismatics is more than hyperventilating about the latest shattering of price records or dissecting the latest marketing strategy but can, and should, be a pleasant pastime that fosters learning and camaraderie. I was fortunate to have enjoyed that pleasant pastime.
I will miss Dale. I am saddened that his name no longer appears in my Inbox. I regret the end of a fruitful avenue of numismatic learning. Still, the sorrow is overshadowed by the reality that knowing Dale made me a smarter collector and helped me hone some numismatic skills. For that I will always be grateful. Rest in peace, my friend.
To read some earlier E-Sylum articles, see:
ECUADOR – RECENT UNOFFICIAL ISSUES (https://www.coinbooks.org/v26/esylum_v26n08a26.html)
NEW BOOK: ECUADORIAN COINS (https://www.coinbooks.org/v21/esylum_v21n49a03.html)
NEW BOOK: STANDARD CATALOG OF ECUADORIAN COINS (https://www.coinbooks.org/v23/esylum_v23n43a05.html)
TOKEN Publishing Ltd has been around for 40 years now, and at the helm throughout those four decades has been John Mussell, Managing Editor first of COIN & MEDAL NEWS (from 1983–89) then of two separate magazines (COIN NEWS and MEDAL NEWS) from 1989 onwards. In addition to the magazines, we have also published a plethora of books over the years, from the annual YEARBOOKS to numerous one-off titles, all of which he has been keen to oversee. Whilst he has been steering the ship, as it were, there have, of course, been numerous others helping him out, not least his wife Carol who joined Token in 1990 and son Philip who joined in 1996, both now Directors of the company alongside him.
In recent years, John has—quite naturally—taken more of a back seat (after all, we held a retirement party for him some 16 years ago on his 65th birthday) and he has now decided that, as he's just turned 81 and isn't in the best of health (which is why he's not been at a fair recently, his absence at the recent York Coin Fair was noted by many, thanks to all of you who sent your good wishes) it would be best to bow out on a high. So it is that this month he formally announces his retirement (properly this time) and has decided to take even more of a back seat than he has been already.
Now, you may ask whether this will change anything in the magazine, and the answer is no, or at least it shouldn't do; as mentioned, John has been overseeing things more in recent years rather than taking an active role, and large chunks of the magazine have had less input from him. He's always liked to keep a hand in and check things over (although in recent months his health has meant he's not really been able to do that very much) but a great deal of the editorial content is done by others. The News & Views has been written by Carol for a number of years now and as for this Comment, well many of you, particularly those who go to the coin fairs, already know that the words and sentiments written here actually come more frequently from the pen of Phil rather than the desk of John, it has been that way for a while as John has sought to slowly hand things over to his team.
With Carol (his wife, of course) still very much in post, me still doing all the shows (and this column) and Louise (my wife) involved in the scheduling and the actual editing (the literal crossing of ts and dotting of is, as well as coming to shows with me), John is confident that his family business remains in good hands. And, as most of the fantastic Token Team have been with us for many years (Klara, Senior Graphic Designer has been with us for 16 years; Sera in Accounts has been here eight years; Lisa, our Art Editor, 20 years; Jayne, the Advertising Manager, joined seven years ago; Karen, our Office Administrator and first port of call for many of you, has been with us for eight years, and Alyson the Subscriptions and Sales Manager has been here for 18 years) we can confidently say that it really is business as usual despite John stepping back.
There is little I can say about John's career here, anything said in this column will just come across as far too gushing and sentimental (you can read about that career in the April issue of this magazine—our 40th anniversary special which details all the ups and downs) but I think it's fair to say that he has played an important part in the hobby these past 40 years, and that the effect that his tireless championing of coin collecting has had cannot be understated. Others, I know, will gush, will tell him how important he has been to them over the years, whether they are collectors or dealers, and that's fine—all I can do here is relay my most heartfelt thanks for all he has done, both for the hobby at large and for us here at Token, and say that it has been an honour and a privilege working beside him for the past 27 years. I will also promise him, from the bottom of my heart, that Carol, myself, Lou and the rest of the team will take very good care of Token Publishing Ltd going into the future. It's his legacy and we won't let him down.
To read the complete article, see:
Volume 60, Number 9, September 2023 (https://www.tokenpublishing.com/issue/605)
Pablo writes:
Alan writes:
Arthur Morowitz, a key figure in the early days of the home video industry, died Sept. 11 at the age of 80.
Morowitz, of Short Hills, N.J., is best known as the founder of the Video Shack chain of video rental stores, which he launched in 1979 just as consumers were beginning to catch on to the novelty of renting their favorite movies on video cassette.
At the time, the studios were fighting retailers over the right to rent movies, which they wanted to sell directly to consumers. The studios ultimately lost in court, and the video rental business flourished, prompting Morowitz and other early retailers to band together as the Video Software Dealers Association, or VSDA, of which he was a founding board member.
Arthur was a pioneer of our industry back when video rental stores were in their infancy and learning how to serve content to the consumer for home enjoyment, said Mark Fisher, president and CEO of OTT.X, the trade group for streamers that is a direct descendant of the VSDA.
If he were starting out today, I could see him leading the streaming revolution with that same objective and same spirit, Fisher said.
Morowitz later founded the WWF Coliseum Video label.
To read the complete article, see:
Arthur Morowitz, Home Video Industry Pioneer, Dies at 80 (https://www.mediaplaynews.com/arthur-morowitz-home-video-industry-pioneer-dies-at-80/)
U.S. Pattern Photo Sets on Newman Portal
Saul Teichman continues to build the U.S. pattern photo sets on Newman Portal and has developed extensive census data on the most important patterns in the U.S. series. The Ultra High Relief St. Gaudens twenty (Judd-1907 to Judd-1909) represents the most artistic work in the entire U.S. coin and medal series, and the Teichman file on this coin enumerates two examples of the Judd-1907 (edge lettered with stars in between letters), twelve of the Judd-1908 (plain edge), and five of the Judd-1909 (edge lettered with stars in between words). Especially noteworthy is Augustus Saint-Guadens' personal piece, currently in the Tyrant collection, with ASG etched on the edge.
Images: Judd-1909 $20, edge marked ASG, images courtesy of Heritage Auctions
Link to Judd pattern sets on Newman Portal:
https://nnp.wustl.edu/library/archivedetail/548148
Link to Judd-1907 to Judd-1909 Photo File:
https://nnp.wustl.edu/library/book/628881
Every numismatist needs a library and especially so when collecting the copper coins of early America. Learn from one of the brightest minds in the coin hobby how to assemble all the books you will need to expand your coin knowledge. In this lecture you will learn:
why building a numismatic library is important
how it can help you make money
concept of core and peripheral books
books necessary for any coin collector no matter what they collect
specialty books for copper collectors
importance of Penny Whimsy by Dr. Sheldon
which auction catalogs are important to building a great collection
Speaker(s): John Kraljevich.
To watch the complete video, see:
https://nnp.wustl.edu/library/book/560164
Bargello Museum Medal Catalog Sought
Leon Saryan writes:
On Frozen Dates
Ken Spindler of San Diego writes:
To read the earlier E-Sylum article, see:
VOCABULARY TERM: OBSESSIVE DATE (https://www.coinbooks.org/v26/esylum_v26n36a15.html)
NOTES FROM E-SYLUM READERS: SEPTEMBER 10, 2023 : Frozen Dates (https://www.coinbooks.org/v26/esylum_v26n37a14.html)
Certifying Grade vs Genuineness
Yosef Sa'ar of Elat on the Red Sea writes:
To read the earlier E-Sylum article, see:
GRADING SERVICE LAUNCHED: COLLECTIBLE MARKET QUALIFIED (https://www.coinbooks.org/v26/esylum_v26n37a16.html)
On Catalog Numbering Systems
Michael Zachary writes:
To read the earlier E-Sylum article, see:
VOCABULARY TERM: NUMBERING SYSTEM (https://www.coinbooks.org/v26/esylum_v26n35a12.html)
Calotype Images in Numismatics?

In 1839, Louis-Jacques-Mandé Daguerre, a Frenchman, invented a process for capturing images on silvered copper plate. He made an impression; his name is a singular stand-out in the annals of early photography. But he was not a lone pioneer. Considerably less well known—in his native UK especially—is William Henry Fox Talbot, a contemporary whose calotype process ushered in the age of positive-negative photography, an innovation that was arguably more influential than even the daguerreotype.
David Fanning writes:
George Kolbe writes:
To read the complete article, see:
The Daguerreotype's Famous. Why Not the Calotype? (https://daily.jstor.org/the-daguerreotypes-famous-why-not-the-calotype/)
To read watch complete video, see:
Boom America - Tangible Assets - Dale Krueger (https://vimeo.com/853455332/82e6f53c07)
To read watch complete video, see:
Boom America - Tangible Assets - TIPtech Art Gallery (https://vimeo.com/852421625/763a0fed98)
To read the earlier E-Sylum article, see:
KARL GOETZ MEDALS ON BOOM AMERICA (https://www.coinbooks.org/v26/esylum_v26n37a31.html)
Obverse. The side of a numismatic item bearing the principal design or device; the side opposite the reverse. A number of design and technical factors determine which side of a two- sided numismatic or medallic item is the obverse, these are listed below.
Design Factors Determining Obverse (1) Most often the obverse is the side bearing a portrait; in countries with a monarch, the featured ruler's head or bust appears on the obverse.
(2) On United States coins the obverse is the side bearing the date irrespective of any other devices; U.S. statues state arbitrarily the definition of the obverse is the side bearing the date. (Some commemorative coins do not adhere to this requirement, however.)
(3) In some art medals which may not have a single principal device the obverse is determined as the side with the greatest relief (and reverse, the least relief); or should a medal be domed on one side and flat or concave on the other, the obverse is the domed side, as if it would lie flat on the one and would rock if laid on the domed side.
(4) In nonrepresentational art without device or obvious important side, the obverse is either side the artist so states.
(5) For military decorations writer John Horsley Mayo states there is a precise rule: the obverse depicts a chief incident of the war; the allegorical representation is the pictorial equivalent of a verbal inscription, and so its properly the reverse of the medal. The obverse is always the side intended to be shown when worn.
Technical Factors Determining Obverse
(6) In ancient times the obverse was the PILE or anvil position (lower position when struck). This has some validity even today, as art medals with high relief are struck with the die of greatest cavity in the lower position in a press; thus this is the obverse.
(7) Medallic items which must be trimmed after striking (not those struck in a coining press, nor those turned or trimmed on a lathe), but those struck with open face dies, the obverse is created with a rim and the reverse has none. This is for the trimming tool to line up for the center and the edge is trimmed – the reverse has no register. The shearing of the trimming tool leaves a smooth edge on the obverse where it enters the metal but leaves a burr where it exits the metal. Designers believe it is better to have this burr on the reverse (and its subsequent removal evidence) rather than on the obverse.
There is somewhat of an unwritten law in numismatics to display or illustrate the obverse above or to the left of the reverse. In Western civilization this is because we read from left to right and the left position is the most important because we notice this first, thus the most important side of the numismatic item is placed to the left to be noticed first. (An exception to this might be a left facing portrait to look toward the reverse design.)
In England, numismatic writer Major Lawrence L. Gordon reports there is a mnemonic device for remembering which side is obverse: nob is slang for head; thus nobverse is a mnemonic for a side with a head, or obverse.
Obverse-Reverse Relationship
Both sides of a numismatic or medallic item should be considered as separate parts of the same work of art; as a two-panel cartoon, or as a diptych. Thus both sides should be designed by the same artist, created at the same time and with one theme or concept for both sides.
The use of a repeated design element on both sides may unify the work and add a touch of charm. These repeated elements include the same or similar borders, a similar size or shaped panel, lettering in the same position or the same type style, any form of design repetition or implication.
Other art techniques in designing the obverse and reverse can unify the two sides. Often this is a repeated element, but this can just as well be a contrasting element, similar symmetry, harmony or other art techniques.
Also concordant designs unify the obverse to the reverse, and many examples of these exist where the reverse is the back of the obverse as if it were sculpture in-the- round. See concordant.
To read the complete entry on the Newman Numismatic Portal, see:
Obverse (https://nnp.wustl.edu/library/dictionarydetail/516416)
Last week Wayne mentioned lot 526 in the upcoming auction of selections from his library. Within that lot is 41) typewritten letter from Wayne Homren to Pete Smith dated March 2, 1993. My immediate reaction is that it was not a typewritten letter. By 1993, both of us were using computers with word processing software. Does that make a difference to anyone?
I have seen a lot of changes in typesetting and printing in the past sixty years. I got through college with a portable Smith Corona manual typewriter. Out in the real world, the industry standard was the IBM Selectric Typewriter with the bouncing ball. It has been fifty years since I saw my first word-processing machine.
That was an IBM Selectric Typewriter with an attached magnetic tape drive. Text could be composed, edited, printed and reproduced with multiple copies. My first desk-top computer was connected to a dot-matrix printer. Paper came folded in a box with holed strips on the edges. Eventually I moved up to ink-jet printers and laser copiers.
Once original letters were unique with the possibility of a carbon copy that could be identified as a copy. Word processing could produce multiple originals and copy quality became so good that it was difficult to tell a copy from an original.
Printing and publishing also went through many improvements. Fifty years ago, I published a book with copy set in lead type. That technology went back to the nineteenth century. Then along came phototypesetting and camera-ready copies.
In 1991 I attended A Day in Iola with Krause Publications. I learned that they sent Numismatic News to their printer as a digital file with no original printed copy required. That technology became available to the general public through email. I don't recall the last time I sent a publisher camera-ready copy. In 1993 I sent my column to The Numismatist on a floppy disk. Thus, I had gone from lead type to digital publication in twenty years.
What does this mean for literature collectors? Is a typewritten original letter worth any more than a letter printed with multiple copies or a photocopy? For a book collector, do you have any interest in knowing how the book was published? Does obsolete technology have any effect on perceived value?
To read the complete transcript, see:
Transcript: Ezra Klein Interviews Tom Hanks (https://www.nytimes.com/2023/07/14/podcasts/ezra-klein-podcast-transcript-tom-hanks.html)
See also:
The Selectric Typewriter (https://www.ibm.com/ibm/history/ibm100/us/en/icons/selectric/breakthroughs/)
Tom Hanks: Actor, typist (https://www.cbsnews.com/news/tom-hanks-uncommon-type/)
To read the earlier E-Sylum article, see:
NUMISMATIC CORRESPONDENCE: STUFF OF HISTORY (https://www.coinbooks.org/v26/esylum_v26n37a20.html)
Greg Bennick How large is your counterstamp collection and how did you acquire so many of them - you had mentioned before 2700 pieces, I think you said.
Bill Groom That's right. Most of them I got at shows, auctions - dealers would set them aside for me, that I made purchases from. One of the things I would do if a dealer showed me a piece on let's say I had a dealer friend sold me a piece for $15. It was a counter stamped large cent. He only wanted $15. So I handed him $75 and said, This coin to me is worth $125 to $150 I'll split the difference with you.
Greg Bennick Amazing.
Bill Groom And then he would come back and sell me more. So I you know, by getting dealers interested in finding them for me, that was a way to get that they would keep coming my way. And some people have seen my articles and contacted me, so. But I would say most of the pieces I got came from shows. I used to be able to come home from shows in the eighties with a dozen, 15, 20, 30 at a time. Like I say, that one bag from Richard Rossa was, I think around 30 or 40 pieces in that bag. But nowadays I go to a big show and if I come home with one or two in my pocket, I'm lucky.
Greg Bennick What are your personal favorite counterstamps and why?
Bill Groom Well, I like certain occupations. Silversmiths. And I have hundreds of silversmith pieces. And those are very identifiable. My favorites tend to be ones that I can get a slam dunk attribution. This I can say with absolute certainty this is the stamp. The stamp that came on this coin was produced by so-and-so. And how do I know that? Well, if I have a spoon with a silversmith hallmark, I try to find a piece of silverware with the same hallmark. I tend to do it with spoons mostly. They seem to be most prevalent silversmith items. And one of the least expensive. And I'd match. I'd find a piece of silverware or spoon in particular that had the matching mark on it as a go along. Or if it's a knife, it's a cutler. I find a knife that has the same stamp on the knife. I can't afford to buy all the guns. But the early firearms I specialize mostly I like civil war and earlier pieces in my collection. When I say there's 2700, probably 90% or more or are pre-Civil War. Now the guns. I can't afford to buy those. All those expensive guns - some of them are $100,000 for a gun - but I can afford the counterstamp. So, I get a picture of the mark on the stamp on the gun as kind of a go along. I have photos of that in my database.
Greg Bennick It's fascinating that you brought this up because I was going to mention and ask about the ways that people collect counterstamps. My counterstamp collection consists of a grand total of two pieces. A counterstamp by JL Polhemus, who was a druggist during the Gold Rush era from Sacramento, California. And I'm fascinated by the idea that maybe I would find a bottle, an empty bottle of a tincture that he produced or something related to his store. And I never thought about that until you were just mentioning connecting a counterstamped coin with a firearm, perhaps that was stamped by the same person who stamped the coin. It's a really fascinating way to collect. Do you think that there's a lot of people who collect that way with that historical approach to collecting counterstamps?
Bill Groom For sure. Another one that I particularly like is the early photographers. I look for ambrotypes, daguerrotypes, these early tintype photographs. They're in little frames and people probably see them in antique shops. Some of those frames are stamped. So I've been matching up finding coins with the same stamp and then buying a photograph stamped by that same photographer. It's kind of interesting. You look at the coin, you see the stamp and you look at the photograph. We're looking at the guy who stamped this coin.
Greg Bennick One of my favorite aspects of coin collecting is when a coin tells a story above and beyond just what the coin is. I collect error coins. So every error in terms of major error coins certainly has some story behind it, even if the story is just the manufacture of that coin. And in terms of a counterstamp, a large cent, for example, might not tell the story of its manufacture, but with a counterstamp on it, it certainly does in a way tell the story of why that coin exists with that counterstamp. So I'm fascinated by the idea of connecting the history of that counterstamp with the actual history of the person who made it. I love that idea.
Bill Groom Well, it's more it's even more than that, Greg, when you think about it, because many of the articles that I've written have back stories, and that's what I find fascinating. A gunsmith who committed suicide. He was depressed. He used a gun. He died by his own hand with the items that he made - great guns. A guy named Ramsdell. I just wrote an article on him last year. He made top notch guns. He just did away with himself. Gunslingers who were on the frontier moving out from the Midwest. I have been able to get so many discovery pieces like that. Its like Christmas keeps happening over and over again. It's like you open these packages but all of a sudden and they almost explode in your face and you just find so much information on them.
Greg Bennick That's fantastic. Now, tell me, did you personally know Russ Rulau and you mentioned Greg before, and listeners might have caught that. My name is Greg and you mentioned a Greg, but Greg or Gregory Brunk, did you personally know Russ Rulau and Greg Brunk?
Bill Groom Yes, I did. And I never met them in person. What happened was I started writing to them when I found their books about counterstamps and I guess they both credited me with providing information for their books and I am among the many contributors. And I wrote letters to them and they replied. I made a trip to Wisconsin to visit a friend and I tried looking up Russ Rulau. He was up there in years and I think it was not long before, not long after that he passed away. But I couldn't get hold of him. As for Greg Brunk, he kind of went underground for some years. His books are very successful. We used to talk on the phone. Greg couldn't talk very long. He suffered from as asthmatic condition and allergies. In his later years, he was legally blind. And it was so sad because he had eight manuscripts. It just breaks my heart when I think about it. I was having health issues, too, We wanted to make a trip. But I never did go up there. And Greg didn't seem too enthusiastic about me visiting for whatever reasons, I'm not sure. But we would talk often on the phone and he actually was able to do some emails but sometimes they were garbled. He couldn't see that well and he would have a black screen with white print so he could see better. But it was it was just so sad. We had some great conversations. And Greg and I actually we both have a background in criminal justice, me being a probation officer again, and he taught criminal justice at the college level and he had a doctorate, of course. And so we had a lot in common. We did a lot of online and informal friendship. And Greg was always enthusiastic to the end about the counterstamps.
Greg Bennick And for listeners who are curious about the titles that we're discussing, Gregory Brunk's book is Merchant and Privately Countermarked Coins: Advertising on the World's Smallest Billboards. That was put out by World Exonumia Press. And then Russ Rulao's book is The Standard Catalog of United States Tokens: 1700 to 1900. That was put out by Krause Publications. And both of these are highly, highly recommended. I bought both of these before I owned a counterstamp and I found them and continue to find both books fascinating so I highly recommend both. They're sort of the definitive works on counterstamps wouldn't you agree?
Bill Groom Oh for sure. But I would caution readers that there were a lot of erroneous listings and on both catalogs. They were dependent upon numerous contributors. And one of the problems that Greg related to me in our conversations was that there were people who were actually hounding him to some degree, wanting to get certain pieces listed and such and such. I think there were times that either Greg or Russ relented and did list as such and such, but later on found out that was incorrect. And there are still pieces that were never corrected that were listed and published. So collectors need to be aware of that and do their own research. And that's where I hope the Newman Portal will help future collectors more and provide more resources to actually attribute and update listings on some counterstamps.
About the Interviewer
Greg Bennick (www.gregbennick.com) is a keynote speaker and long time coin collector with a focus on major mint error coins. Have ideas for other interviewees? Contact him anytime on the web or via instagram @minterrors.
To watch the complete video, see:
Bill Groom on Counterstamps (https://archive.org/details/billgroominterview)
To read the complete transcript, see:
Bill Groom Interview (Transcript) (https://nnp.wustl.edu/library/book/630877)
To read the earlier E-Sylum article, see:
VIDEO: BILL GROOM ON COUNTERSTAMPS (https://www.coinbooks.org/v26/esylum_v26n35a05.html)
BILL GROOM INTERVIEW, PART ONE (https://www.coinbooks.org/v26/esylum_v26n36a17.html)
BILL GROOM INTERVIEW, PART TWO (https://www.coinbooks.org/v26/esylum_v26n37a19.html)
[American Numismatic Society] American Numismatic & Archæological Society; Boston Numismatic Society; American Numismatic Society. AMERICAN JOURNAL OF NUMISMATICS. Twenty-four complete volumes, being Volumes 1, 3, 4, 11, 12, 13, 14, 15, 16, 19, 20, 21, 22, 26, 29, 30, 32, 40, 42, 43, 44, 47, 49 and 52 (New York and Boston, 1866–1918). Additional issues from twelve incomplete volumes also present: Volume 2, Nos. 3–12; Volume 5, Nos. 1 and 3; Volume 7, Nos. 2–4; Volume 10, Nos. 3–4; Volume 33, Nos. 1–2 and 4; Volume 34, Nos. 2–3; Volume 35, Nos. 1 and 4; Volume 38, No. 4; Volume 41, Nos. 1, 3 and 4; Volume 45, Nos. 2–4; Volume 46, Nos. 2–4; and Volume 53, Parts II and III. Varying 4to sizes, all in the original printed paper covers. A few copies with worn or stained covers, but generally fine and often pristine copies.
A remarkable offering of original issues of the American Journal of Numismatics, nearly all of them unusually well-preserved and in original state. These are Wayne Homren's personal copies selected from the hoard of back issues discovered by him in late 1997. The hoard was the remnants of those issues obtained from the American Numismatic Society by the Johnson Reprint Company when they produced their reproduction of the AJN. Homren retained one copy of each issue present in the hoard, selling the rest of them through the Money Tree (the firm's principals, Myron Xenos and Ken Lowe, tell the story in Out on a Limb No. 21 (January 1998).
Even today, the AJN remains an indispensable source of numismatic information and lore. Many of America's greatest contributions to numismatic scholarship first appeared in its pages. Crosby's classic works on large cents, parts of his Early Coins of America, Frey's Dictionary of Numismatic Names, Edgar Adams's extensive work on California pioneer gold coins and, later on, the scholarly, still indispensable studies on ancient Greek coins by Newell, Baldwin Brett, and others are but a small sampling.
For American researchers, the Journal is interesting for the reminiscences and other fascinating tidbits of information to be found in the earlier volumes, much of which is little known today except among the few fortunate to possess a set of this remarkable storehouse of knowledge. Later volumes include a number of more intensive articles on American subjects, including Adams on private and territorial gold and Miller and Ryder on state coppers (though not all of these are present in this lot).
Although condition varies slightly, many of the issues here present are in a nearly new state of preservation very rarely seen on the market. The Levick plate (Volume 3, No. 12) is the second version and does not have a Rockwood embossed stamp. "The history of the Journal, if it could be given in detail, would be a history of American numismatics." — Volume 41, 1907, page 105. Clain-Stefanelli 350. Grierson 16. Kolbe 810. Sigler 74. Ex Wayne Homren Library.
To read the complete lot description, see:
The Best of the Homren Hoard (https://bid.numislit.com/lots/view/1-7XX2V7/the-best-of-the-homren-hoard)
The highlight of this issue is the offering of the "HOMREN HOARD" of issues of the AMERICAN JOURNAL OF NUMISMATICS, a hoard that had been ignored, overlooked, and/or forgotten for half a century. We are thrilled to tell you the tale. We are also honored to be the exclusive distributors of these issues. [See page 22]
AMERICAN JOURNAL OF NUMISMATICS BACK-ISSUE HOARD DISCOVERED
[NOTE: On Monday December 8, 1997, this news release was sent to the numismatic media and also was sent out over the INTERNET]
The Money Tree, numismatic booksellers of Rocky River. OH have announced an extraordinary discovery of an old publisher's backstock of the AMERICAN JOURNAL OF NUMISMATICS (AJN). Published initially bv the American Numismatic and Archaeological Society in 1866, the journal continued under various editorships until 1924. Many important articles on U.S. and worldwide numismatic subjects were initially published within its covers. Complete sets are rare and highly sought, commanding up to $10,000 in auctions.
The present hoard was apparently stored in a warehouse for half a century. It was recently purchased by Wayne K. Homren of Pittsburgh. PA. Mr. Homren is currently serving as Vice-President of the Numismatic Bibliomania Society (NBS). "I've been hoping to build a set of AJN's for years, but It's been hard to locate many of the issues. They just weren't out there. 1 was astounded to learn of the existence of the publisher's backstock 'hoard' in October, and moved immediately to purchase it. My wife and I travelled on Thanksgiving weekend to pick it up."
The hoard consisted entirely of original, unbound issues. There are many complete volumes although only about half of the journal's 53 volumes are represented. In addition, there are a number of individual issues for assorted years spanning the entire 1866-1924 period.
"I love numismatic literature, but I only need one copy of each." Mr. Homren said. The remainder of the hoard has been consigned to The Money Tree for sale. "This is truly a remarkable find - I'm still a bit overwhelmed by its size and scope." said Ken Lowe, a partner in The Money Tree. "It is like finding an original mint roll of bust half dollars - it's unheard of these days."
And now for the inside story....
Thanksgiving weekend, Sunday night, November 30, 1997. My phone rang. The Caller ID indicated a call from Wayne Homren. Neat. For the uninitiated. Wayne is the Vice-President of the Numismatic Bibliomania Society, the longtime owner of Rebellion Numismatics, and perhaps more than anyone is responsible for the renaissance in numismatic organizations in Western Pennsylvania, although he is far too modest ever to acknowledge this. He was a tireless worker at the 1989 A.N.A. convention in Pittsburgh, has held numerous offices in the Western Pennsylvania Numismatic Society. PAN. and is a major reason why the PAN show has grown large so over the last several years. Additionally, Wayne, or Mr. Pennsylvania Numismatics, as I have tagged him, has an absolutely wonderful numismatic library.
Also, in our last issue, we noted that Wayne was engaged. We are pleased to note that Myron. Daryl, and I attended Wayne and Dee's wedding in Pittsburgh July 5. 1997. A sunny day. A magnificent celebration. The wedding was held at an historic and majestic church. Dee was as lovely a bride as has ever been. And as for Wayne ... in the words of John Burns, "The boy cleans up real good." The reception was limited to the population of the known world. Good food, a wonderful hall, and great company. At the reception, we were seated at a table with Pat McBride and his friend Dawn, and Glenn and Jean Mooney. I have long been familiar with Mr. Mooney and his important numismatic writings and research, but had never gotten to meet him. Mr. Mooney was among the prominent group of post-war Pittsburgh numismatists including Howard Gibbs, Ray Byrne, and Sidney Eastwood. Suffice it to say, I spent virtually the entire reception in splendid conversation with Mr. and Mrs. Mooney. What a thrill! Such warm, engaging, wonderful, and generous people. I can clearly see his legacy and his influence in the large number of the active, excellent younger numismatists in western Pennsylvania.
Wayne's regular calls usually consist of his having some important news, his giving me some information about numismatic literature, his requesting for information about numismatic literature, his sharing with me various treasures he has discovered and obtained [Wayne's numismatic sources are so deep and extensive, I secretly refer to him as "Deep Book"], and some good old rambling conversation that enriches both of us and the phone company.
Anyway, as Wayne began his side of the conversation he stammered slightly, seeming a little distracted. He began, "You'll never guess what I have." This is the exact phrase I used several years ago when I called Armand Champa to tell him that I had the longtime missing 5th copy of Thian's REGISTER... in my hands. It was then that Wayne told me of his having bought this hoard of AJN's. He also mentioned that he was in physical possession of the issues and that they were spread out in piles in his dining room. [At the October PAN show, Wayne and Dee invited Myron & Daryl, David & Sherry Sklow, and me to their lovely and large new home.] As wonderful as Dee is, I cannot imagine that she was particularly thrilled at having all of these AJN's on the large dining room table and all over the new carpet.
Over the course of a few discussions held in the next few days, we negotiated a mutually satisfactory "deal". Wayne offered to draft a news release. He said it take him a day or two to get it to us. With virtually no tweaking, Wayne's draft turned out to be the actual news release. However in the interim, I made some phone calls to our friends around the country to share news of the find. A news release is really only an announcement. One call tell if the news touches anyone by the actual response it generates. Before Wayne's release had been faxed to us two days later, I had already gotten a slew of phone calls at the office and at home. What was extraordinary about this was that many of the calls came from people whom I had not phoned, from people the people I had phoned had not even phoned. Apparently the news spread kind of like a phone-tree or a chain letter. We got calls from friends, "I'll take one of everything you have." [This is not a joke, we already have 2 firm orders for one-of-everything, and that's without their even knowing the pricing.] We got calls from strangers: from Texas, from Chicago, from Ireland, New Zealand, California (northern and southern), Boston, and from 2 libraries — one public, one university. Small problem, not only had we not decided what to price them at, we hadn't even seen them yet.
Wayne had assured us that these issues had not been touched since 1947. But one of the basic laws of numismatic literature is that numismatic literature attracts water: the rarer the book — the more water it attracts. So Myron & I arranged a quick one-day trip (Sunday, December 8, 1997) to drive to Pittsburgh, close the deal, pack the AJN's in the car, and drive back to Cleveland.
A brief but necessary digression. For our new readers: [Our regular readers already are all-too-aware of this.] Myron and I could get lost in a closet. When we travel we don't miss cities, we miss states. If we had been Christopher Columbus, we would not have advised him to sail west, we would told him to sail ... straight up, or in circles. Amazingly, we arrived in Pittsburgh early as we did not get lost. As for the ride home [Russell Logan, you may want to sit down at this point] we got back on the PA turnpike and were making great time ... going east. Except Cleveland is west, unless we had planned to circumnavigate the PA Turnpike. Simple solution, we got off at the next exit [Myron, was it the Rhode Island exit?] to turn around. Simple. Myron asked me which was the entrance ramp back on, I pointed left. We drove left. Myron hit the brakes. In a moment of clear inspiration, Myron decided to drive back up the entrance ramp in reverse to get a view of the overhead sign. Amazing, or in retrospect maybe not, had Myron not done this, we would have again continued on our merry way east. A small matter of driving over a median got us to the correct entrance ramp. And we were on our way homeward.
Back to the story, we got to Wayne's house and took a gander at the hundreds upon hundreds upon hundreds ad infinitum of issues. Virtually all of these issues were original and unopened. That is, its component sections had never been trimmed at the edges or silt open with a paper knife. Thus the untrimmed edges slightly overlapped the covers. Also one could not open the pages all the way because the pages (folded in the printing process) had not been sliced open at the top. Yes, these were as advertised, absolutely untouched.
Some of the covers had some minor chipping at the periphery. Remember, in earlier days, printers bound their books or periodicals with flimsy paper covers recognizing that most collectors would send their books to their respective bookbinders who would remove any original covers before rebinding them. Subsequently, these books would be finely bound, generally in leather. For years, periodicals continued to be issued with flimsy covers. However, many of today's collectors want their older periodicals with the original covers. Further, in many cases much valuable information was printed on the covers. Thus, that these covers were only trivially chipped and slightly soiled, if at all, is of special note.
The contents were generally untouched, never opened. I want to use the word "Pristine" but Myron won't let me because a page here or there may have some dustiness, or a corner fold. BUT! I can say that I have seen no copies superior to those here. I spent some hours over a period of several years with the famous, original, unbound set which Armand Champa bought from Dave Bowers and which Armand subsequently had bound [Bowers & Merena, CHAMPA II, lot 1012, illustrated on color plate 21 by Alan Grace. This set was described, and accurately so, as "virtually unimprovable". The "Homren Hoard" does not contain a complete set of AJN's. However, the Homren volumes and individual issues are in fact at least the equal of those in the Champa set.
I spent the better part of 10 years assembling the best set of the first 4 volumes of the AJN, largely because these volumes each consisted of 12 issues, and of volumes 3 & 4 containing the 3 photographic plates that are both historic and valuable: the U.S. Mint Building, the famous "Levick" plate of large cents, and the "Hall" plate of type coins. The "Homren Hoard" had many copies of these important, rare (or at least decidedly-eluslve) plates. Let's just say that the best of my issues and or plates is inferior to the worst or more accurately, "least best" of the "Homren Hoard".
We cannot overemphasize how special these issues are. We have handled and seen many AJN's during our time in business and before. We have never seen anything to match these. The copies which usually appear in the marketplace generally have had at least several owners, have been moved, opened, dropped, bent, folded, underlined, damaged, poorly trimmed, and been subject to a variety of blblio-crlmes and misdemeanors. The "Homren" issues were not only untouched for 50 years, prior to that they had also been in storage at the ANS. Each of the photographic plates is virtually perfect [I'm sorry, Myron, the plates are pristine.] The surface emulsion is perfect; no folds, no bends, no stains, no chips, no breaks in the "luster".
I am aware that, sadly, that many collectors do not collect 19th century numismatic auction catalogues. Thus, many collectors did not actively seek catalogues from the spectacular Wylie Hoard nearly 2 decades ago.
However, I cannot put this any more straightforward. Each and every collector of numismatic literature should have copies of the AJN from the "Homren Hoard" in his or her library. Many are rare in any condition. All are rare in such high condition. They are invaluable sources of numismatic information — first-hand accounts by the legendary figures from the earliest days of American numismatics. This is truly a special, and probably unique opportunity.
For those who lamented that they either did not buy important and high quality numismatic literature years ago, or that they weren't alive 50 years ago to buy these things — this is your opportunity to go back in time and obtain fine, important, rare, and untouched examples of Numismatica Americana.
TRUTH IN ADVERTISING. We have not picked over the hoard. With the exception of Wayne's putting aside one of everything (and only one) for himself [He's probably entitled, don't you think?], and one other set as described in the next paragraph, nothing else has been bought or taken out or "cherried". Myron and I have not bought, been given, or taken anything. A Money Tree precept, "You're either a dealer or a collector." We have contracted with Wayne that we will only buy if anything is left at the end. It is entirely possible that Myron and I may not be able to buy anything from the Homren Hoard: we would not at all be surprised to see this Hoard sell out. Again, as noted, NOTHING HAS BEEN PRESOLD OR SORTED OUT. The hoard has not been picked. We did contact George Kolbe about his buying volume 53 part 2 (a scarce volume devoted entirely to ancient coinage), but he passed on the opportunity.
THE ONE EXCEPTION: we have taken one of everything including some items of which only one copy existed [and are not offered in this fixed price list.]. That one-of-every thing will be offered in our 30th mail bid sale in late winter 1998.
The prices we are charging for the AJN reflect what individual volumes and issues bring in the marketplace when offered and their excellent condition.
Listed below are the various complete volumes which were present in the "Homren Hoard" [not to be confused with the Leroy Hoard who is back-up running back to Robert Smith - a former student of mine, an extraordinarily and non-stereotypically intelligent and well-spoken young man - for the Minnesota Vikings].
Remy Bourne and I had lamented this past summer that with the Katens' apparent retirement [You can't count them out. Frank had announced his retirement for the first time in 1989], and with the "Wylie Hoard" long having been disseminated that we had probably seen the last of the hoards of 19th century literature. In the words of that great American, Gomer Pyle, "Surprise, surprise, surprise!"
No matter how you cut it, Wayne uncovered a gem, and bought it.
To read the complete lot description, see:
The Best of the Homren Hoard (https://bid.numislit.com/lots/view/1-7XX2V7/the-best-of-the-homren-hoard)
Homren, Wayne [compiler]. BINDERS 26–26B: COUNTERFEITING. Two binders, including the following:
1) Bank Note Reporters and Counterfeit Detectors 1826–1866: A Biography compiled by William H. Dillistin (1943);
2) three issues of Sibbet's Western Review and Counterfeit Detector (November 1840, December 1840, and September 1841) with subscription form;
3) an incomplete copy of the rare Kennedy Bank Note Detector, Pittsburgh c. 1856;
4) Bicknell's Counterfeit Detector and Bank Note List by Matthew T. Miller (October 1, 1839);
5) Eastman's Treatise on Counterfeit, Altered and Spurious Bank Notes, with Unerring Rules for the Detection of Frauds in the Same together with a History of Ancient Money, Continental Currency, Banks, Banking, Bank of England, and Other Valuable Information as to Money, with Hints to Business Success by H.G. Eastman (3rd edition, 1859);
6) the December 1878 and July 1882 editions of John S. Dye's Government Counterfeit Detector;
7) letter from M.E. Farr of the Detroit Shipbuilding Company to Frank E. Kirby regarding Heath's Counterfeit Detector;
8) paper money plates removed from Heath Counterfeit Detectors;
9) Imlay & Bicknell's Coins of the World (1857);
10) Coin Chart Manual: Supplementary to the National Bank Note & Commercial Reporter published by Feld & Lare;
11) The National Counterfeit Detector (June 1930);
12) Scott & Co.'s Coin Chart Manual;
13) July 1878 Scott & Co. edition of The Coin Chart Manual, Supplementary to Thompsons' Bank Note and Commercial Reporter;
14) Supplement to Thompson's Bank Note Reporter with 613 facsimiles of world coins;
15) Supplement to Thompson's Bank Note Reporter with 750 facsimiles of world coins;
16) Thompson's Bank Note and Commercial Reporter edited by J. Thompson (June 17, 1865);
17) Underwood's Counterfeit Detector Vol. II, No. 3 (March 1879);
18) No Pictures, Please! by Harry Edward Neal;
19) Stamping Out the Private Mint by Thaddeus S. Dayton;
20) How To Know Good Money; 21) A.M. Chase & Co.'s How Crooks Make Millions;
22) Central Bank of the Philippines's Know the Counterfeit;
23) Langdon, Hawes & Co.'s The Delineated Coin Chart Supplementary to the Cincinnati Safety Fund and Bank Note Reporter;
24) Robert Wray, Jr.'s Wray's Coin Chart Manual Supplementary to the "National Bank Note and Commercial Reporter" (1859);
25) subscription form for Imlay & Bicknell's Bank Note Reporter;
26) Exploring Money (Summer 1994);
27) A Brief History of the Bureau of Engraving and Printing (1955);
28) Bureau of Engraving and Printing's BEP History;
29) Report of the Secretary of the Treasury from the First Division National Currency Bureau by S.M. Clark (1864);
30) three editions of Know Your Money;
31) an assortment of modern ephemera from the Bureau of Printing and Engraving.
Materials vary in condition from good to fine, with most modern items being fine. A fascinating assortment of material, including a number of 19th-century counterfeit detectors and Coin Chart Manuals. While both bank note reporters and counterfeit detectors have grown more popular as collectables and as areas of study in recent years, there is still much to learn about them. They are bibliographically complex and it would seem that otherwise identical publications were frequently distributed under different titles and imprints. Present here are a number of items that would ordinarily be offered in separate lots, but we have tried to maintain Wayne Homren's ephemera binders in their original arrangement, making exceptions only on occasion. Ex Wayne Homren Library.
To read the complete lot description, see:
Counterfeiting, with Some Rare Publications (https://bid.numislit.com/lots/view/1-7XX38B/counterfeiting-with-some-rare-publications)
1858 ANS Constitution and By-Laws
Lot 271: American Numismatic Society. CONSTITUTION AND BY-LAWS OF THE AMERICAN NUMISMATIC SOCIETY. ADOPTED APRIL 6TH, 1858. New York: A.J. Townsend, Printer, 1858. 24mo [12.5 by 8 cm], original printed salmon paper covers. 8 pages. Fine. The extremely rare first printing of the ANS constitution, the earliest publication issued by the Society. According to Adelson's The American Numismatic Society, 1858–1958, this first printing of the Constitution of the longest surviving numismatic society in the United States was adopted at the April 6, 1858 meeting of the Society.
He goes on to relate that the "Constitution which had been adopted so quickly at the first regular meeting was duly published with the list of officers and members of the standing committees, but no sooner was this done than proposals were made to revise that document and the By-Laws. At the fifth meeting on July 13, 1858, some modifications were suggested in the wording of the first article of the Constitution which would have removed the emphasis that had been placed on American coinage and medallic productions... At the meeting of September 14, 1858... the new Constitution was adopted."
Indeed, this first printing includes the phrase, "its objects shall be the collection and preservation of the coins and medals struck in this country, with an investigation into their history..." This is the first publication listed by Belden in his Medals and Publications of the American Numismatic Society with an Historical Sketch (1915). The only copy of this rarity sold in the modern era that we recall was in the Armand Champa Library (Davis/Bowers Sale I, lot 34), where the bidders failed to adequately appreciate it—it sold under estimate. Ex Wayne Homren Library.
To read the complete lot description, see:
The First American Numismatic Society Publication (https://bid.numislit.com/lots/view/1-7XX2V3/the-first-american-numismatic-society-publication)
Carothers, Fractional Money

An interesting copy of the scarce original edition of this important reference, derived from the author's 1916 Princeton doctoral dissertation. Seven decades after publication, it remains a storehouse of useful and important numismatic information on U.S. coins and fractional currency. Pete Smith has written that "Much of the original edition was destroyed in a warehouse fire."
This copy was given by Q. David Bowers to John J. Ford, Jr., and is inscribed as such. It is perhaps even more notable for having an intact (if somewhat worn) dust-jacket, which is very rarely encountered. Clain-Stefanelli 13465. Grierson 221: "L'un intérêt et d'une valeur exceptionnels." Sigler 441. Voted as one of the Numismatic Bibliomania Society's "One Hundred Greatest Items of United States Numismatic Literature." Ex Money Tree Sale 24, lot 519; ex Wayne Homren Library.
To read the complete lot description, see:
With the Very Rare Dust Jacket (https://bid.numislit.com/lots/view/1-7XX2WP/with-the-very-rare-dust-jacket)
Chapman Cents of the Year 1794

Lot 313: Chapman, S. Hudson. THE UNITED STATES CENTS OF THE YEAR 1794. Second edition, first printing. Philadelphia, 1926. 4to, original blue cloth, gilt; front cover and spine lettered in gilt. 29, (3) pages; 4 collotype plates. Mourning card of Mrs. S. Hudson Chapman, 1128 Spruce Street, laid in, on which has been written, "To replace obsolete 1923 edition of Hudson's Cents of 1794." Very minor wear to binding, else fine. [with] Chapman, S.H. FOUR PHOTOGRAPHIC PLATES DEPICTING 1794 LARGE CENTS. Four 8 by 10.5 inch photographic plates, being the original photographs from which the collotype plates of Chapman's book were prepared. Plates depict 1794 cents on a black background; annotated by hand in pencil. Marginal chips and folds, most not affecting images; one plate with fold affecting two images; marginal tape repairs to one plate, not touching images; S.H. Chapman's ink stamp on verso of Plate 3. Very good. A highly important copy of the revised second edition of this work, from the library of the author, accompanied by the calling card (with black border denoting mourning) of Mrs. S. Hudson Chapman, and—most importantly—the original photographic plates taken for (both editions of) the book. These are clearly the photographs from which the collotype plates in the published volumes were prepared. They are similar to other Chapman photographs, bear his stamp, and are annotated by him in pencil.
To read the complete lot description, see:
With the Original Photographs from which the Plates Were Prepared (https://bid.numislit.com/lots/view/1-7XX2XH/with-the-original-photographs-from-which-the-plates-were-prepared)
Clapp's Large Cents of the Years 1798-1799
Lot 316: Clapp, George H. THE UNITED STATES CENTS OF THE YEARS 1798–1799. Sewickley, 1931. 4to [31 by 24 cm], original black and blue cloth, gilt. 64 pages; 2 fine photographic plates. Signed inscription from the author to Caroline M. Opperman on front flyleaf. Modern photograph of Clapp laid in. Slight wear to spine; near fine. A remarkable presentation copy, with an inscription reading: "To Caroline M. Opperman, whose careful writing and editing greatly helped the production of this book. (signed) Geo. H Clapp." No. 9 of only 126 copies bound in cloth, of an entire edition of 135. A classic work, the photographic plates of which are the finest of any large cent reference.
To read the complete lot description, see:
A Signed Presentation Copy (https://bid.numislit.com/lots/view/1-7XX2XN/a-signed-presentation-copy)
Small Note Law Conspiracy Trial

Lot 506: Homren, Wayne [compiler]. BINDER 25: U.S. OBSOLETE CURRENCY. Includes the following: 1) advertisement of Stack's sale of the American Bank Note Company Archives (September 12–15, 1990); 2) The Trial of David P. Hazen, Esq., Absalom Morris, Daniel T. Lawson, and David F. Davis, in the Court of Quarter Sessions of Allegheny County, Penna., on Charges of Conspiracy Arising from Their Instituting Suits for Violations of the 48th and 49th Sections of the Act of April 16, 1850, Commonly Called the Small Note Law reported by J. Heron Foster (1854); [see the lot description for more]
Includes a number of specialized publications, with the 1854 legal proceedings regarding the case pertaining to the Small Bill Law being rare and little-known. Ex Wayne Homren Library.
To read the complete lot description, see:
U.S. Obsolete Currency (https://bid.numislit.com/lots/view/1-7XX389/us-obsolete-currency)
In the first decades of its existence, the American Numismatic Association's annual convention was not quite the affair it is today. Attendance was sparse, confined to a small group of dedicated collectors. A bourse, today regarded as a standard, even defining feature of a coin show, was absent from the first convention in 1891 and was not included for more than 30 years.
In the late 19th and early 20th centuries, there was some dissension in the ANA's ranks about the role of dealers in the organization. Many felt that the ANA – and its convention – should be devoted to the science and practice of numismatics and building community among American collectors and that dealing at the convention corrupted this purpose and opened the Association up to accusations of favoritism or crass commercialism. Others pointed out that many collectors wanted access to dealer stock at the shows and were not solely dedicated to the pursuit of numismatic knowledge and aesthetic appreciation of coins.
At the 1911 convention, a debate about the merits of allowing dealers on the ANA Board revealed an uneasiness among the leadership about dealers having sway. At the 1920 convention, Moritz Wormser, then the Chairman of the Board of Governors, shared that he had received criticism characterizing the ANA as a dealers' organization. He said, We are here to buy coins, but sales should not be made in the exhibition room, and in that connection I think the practice which we had heretofore of holding auction sales at conventions and advertising them as a part of the program should be discontinued… no particular man's sales should be advertised, because our organization should be the ANA organization and should not smack of commercialism, so that when anybody accuses the ANA of commercialism we can show him absolutely clean hands.
Exhibits were apparently being used to advertise dealer stock, a practice with which many members took issue. Rules existed prohibiting this, but violations were common enough that Elmer Sears, a retired dealer, sardonically addressed the convention in 1921 advocating for a clear division between exhibits and coins for sale. A heated debate about whether attendees should be allowed to buy and sell coins followed.
The conceptual distinction between collector and dealer was the subject of articles and debates in this period, with some writers pointing out that most collectors have some commercial – in some instances, near mercenary – instincts and would be more than willing to part with coins from their collections if there was a profit to be made.
Into the 1920s, any form of dealing or commercial activity at the convention remained contentious, apt to draw cold stares, to borrow from Q. David Bowers' 125th anniversary history of the ANA (a valuable resource in writing this blog). Despite this acrimony, 1922 saw the first bourse at an ANA convention. Hosted at the Great Northern Hotel in New York City, a large room was set aside in which dealers could ply their trade, inaugurating bourses as a regular feature of the ANA convention.
Bourses expanded through the 20th century. Per a recent CoinWeek article by David Alexander, By the later 1940s, ANA had awakened to the bourse as a major source of income for the national organization… Though many other activities take place at the ANA' World's Fair of Money, the bourse is undeniably a central feature of the convention.
To read the complete article, see:
DID YOU KNOW THAT THE ANA'S CONVENTION FIRST INCLUDED A BOURSE IN 1922? (https://stacksbowers.com/did-you-know-that-the-anas-convention-first-included-a-bourse-in-1922/)
102278 | GERMANY & the ARCTIC CIRCLE. Polar Flight of the LZ 127 Graf Zeppelin silver Medal. Issued 1931. Commemorating the northern voyage of the airship from 24 to 31 July (35mm, 18.52 g, 12h). By O. Oertel in Berlin. Dr HUGO ECKENER LUFTSCHIFF-FÜHRER, bust of Eckener left // FAHRT I. D. ARKTIS 1931, airship flying right, with the place names of various place names referenced: North Pole, Arctic Ocean, Laptev Sea, New Siberian Islands, Siberia, Russla, Novaya Zemlya, Franz Josef Land, Barents Sea, Arkhangelsk, and Spitzberg (Svalbard). Edge: SILBER 990. Hans Kaiser 576; Button 279; Joos a.697. PCGS SP-63. Subtle matte nature to the devices, with great brilliance in the fields, along with some alluring toning that deepens nearer the peripheries. A very rare and seldom encountered Zeppelin medal with a cartographic crossover appeal. Even when encountered, a type that is often seen with cleaning and/or other defects. $985.
Zeppelin was a German general and aircraft manufacturer, who later founded the airship company Luftschiffbau Zeppelin. Following Zeppelin's death in 1917, Dr. Hugo Eckener became the head of this company and oversaw post-war fundraising to expand upon its production, even serving as commander for the LZ 127 on numerous occasions. When this airship first entered use, it was the first commercial passenger transatlantic flight service in the world, eventually making 590 flights over nearly a decade. In 1940, she was scrapped for metal for the German efforts in World War II.
One of the airship's many monumental flights included a polar trip north in which the vessel, manned by Eckener, rendezvoused with the icebreaker steamship, Malygin, with which it exchanged souvenir mail. Along with this postal courier mission, it also fielded a multinational team of scientists who were able to map Franz Josef Land for the first time, measure Earth's magnetic field, and collect meteorological data.
To read the complete item description, see:
102278 | GERMANY & the ARCTIC CIRCLE. Polar Flight of the LZ 127 Silver Medal. (https://www.numismagram.com/product-page/102278)
102491 | GREAT BRITAIN. England. George I silver faux-engraved Jeton or Gaming Counter. Issued circa 1720, or slightly later. Series 5: Sovereigns of England: Half length (25mm, 2.24 g, 6h). By the school of Simon van der Passe. GEORGIVS I D G M BR FR ET HIB REX FIDEI DEFENSOR, ermine-mantled bust facing slightly right, wearing collar chain // Crowned coat-of-arms within Collar of the Garter; all within elaborate border. Cf. Mitchener pp. 1675-1678. Choice About Uncirculated. Very lightly toned, with excellent intricate artistry. A very rare later type from a popular series. $395.
Gambling and games of chance have served as a form of entertainment and excitement during much of recorded history in one way or another, and many of these games necessitate some form of accounting during play. In early modern Europe, jetons were commonly employed for these purposes and allowed for skilled engravers to promote their artistry. One such engraver was Simon van der Passe, born in Utrecht circa 1585.
Van der Passe worked in England from 1616–1621/2, having founded a school after being exempted from the royal monopoly given previously to Nicholas Hilliard. This exemption allowed for the "graving and imprinting medailles" and small portraits of the king, and van der Passe utilized his technique for the production of numerous series of jetons or gaming counters, initially employing portraits of the Stuarts, James I and later Charles I with his wife, Henrietta Maria. Though Simon would return to Holland in 1621/2, his London-based school continued under the management of his brother, William. Subsequent issues of these jetons would feature Gustav Adolph and his wife, Maria Eleonora, the sovereigns of England, 'classical portraits' of historical and biblical figures, 'street cries,' and the Commonwealth.
Of even greater interest and debate among numismatists over the past century has been the method of manufacture of these jetons. Their appearance at first glance would lead one to believe that they have been individually engraved owing to their incuse design. It is thought that, in fact, these ornate counters were skillfully cast (or struck) and polished through the niello process in order to generate this 'faux-engraved' effect.
To read the complete item description, see:
102491 | GREAT BRITAIN. England. George I silver faux-engraved Jeton. (https://www.numismagram.com/product-page/102491)
102404 | UNITED STATES & GERMANY. Colonial America and Preußen (Prussia) silver Medal. Issued 1763. The Treaty of Hubertusburg and the end of the Seven Years' War (French and Indian War in America) (44mm, 21.82 g, 12h). By J. L. Oexlein. IAM REDIRE AVDET (now she dares to return...), Germania standing facing, head right, holding scepter and grain ear; mountains and plowman in background; in two lines in exergue, GERMANIA / PACATA (...with Germany being at peace) // NVNCIA PACIS (the messenger of Peace), view of the Hubertusburg Palace; above, Fama (Rumor) flying right, blowing in one trumpet and holding another; D 15 FEBR MDCCLXIII in exergue. Edge: Plain. Betts 446; Pax in Nummis 595; Olding 931; Henckel 1658. PCGS AU-58. Extremely lustrous and vibrant, with some cobalt and seafoam green hues around the devices. Compare to an NGC AU-58 that realized a total of $504 in Heritage's March 2023 World Medals and Tokens Showcase Auction #61312, lot 22180 (and for which its current owner now wants at least $756). $545.
Sometimes referred to as 'World War Zero,' given its scale overall number of belligerent powers, the Seven Years' War began primarily with Austria's desire to recover Silesia from the Kingdom of Prussia. Since Great Britain had been aiming to increase her colonial possessions in the New World at the expense of France, the strife in the American theater began to merge with that in Europe, resulting in a legitimate global conflict, with every major European power taking the side of either Great Britain/Prussia or France/Austria. In addition to North America and Europe, skirmishes also played out in Central America, the western coast of Africa, India, and the Philippines. Ultimately, a peace was achieved through the Treaty of Paris, formally ending all conflicts save for the Silesian question; the Treaty of Hubertusburg, signed five days later, ended the issue between Prussia and Austria, formally ending the war.
Hubertusburg Palace was begun in 1721 at the behest of August II 'the Strong,' the Elector of Sachsen (Saxony) and King of Poland, and completed just three years later in 1724. The naming for the new palace emanated from the fact that August commissioned its construction on 3 November during the feast of St. Hubertus. What was originally a baroque castle—one of the largest in Europe at the time—was rebuilt in the decades following August's death by his son and successor, August III—this time in rococo fashion. Used a great deal as a hunting lodge, the palace was left virtually unoccupied at the outbreak of the Seven Years' War in 1756. Upon the conclusion of the war in that theater, a peace treaty was ratified there, though furniture from nearby venues needed to be retrieved in order to furnish the mostly empty palace, as it had been wholly plundered during the war. Shortly thereafter, its use as a leisure residence was over, as it served as a military hospital during the Napoleonic Wars and a penitentiary during the second half of the 19th century.
To read the complete item description, see:
102404 | UNITED STATES & GERMANY. French & Indian War silver Medal. (https://www.numismagram.com/product-page/102404)
102528 | UNITED STATES & FRANCE. General Naglee/Battle of Fair Oaks copper Medal. Dated 1862, though issued circa 1862-1879. Commemorating the gallantry of the Civil War general (59mm, 91.46 g, 12h). By L. Merley at the Paris mint. FAIR OAKS, Merley, holding up a saber and urging on soldiers, on horse that is being felled from under him; in background to right, cannon firing, with explosion taking place overhead; 31 MAY 1862 in exergue // THE PENINSULA * CHICKAHOMINY * THE CAROLINAS, TO / GEN. H. M. NAGLEE / A TOKEN / OF ADMIRATION / AND RESPECT / FOR HIS / GALLANT SERVICES in seven lines. Edge: «bee» CUIVRE. Gem Mint State. Rich chocolate brown surfaces, with alluring brilliance. A fairly scarce Civil War medal, especially when encountered so enchanting and problem-free. $495.
Born in Pennsylvania, Henry Morris Naglee came westward in 1846 for the Mexican-American War, making a name for himself in the South Bay in Northern California. Following his discharge from the war, he entered into a career in banking, while also briefly studying viticulture in Europe in 1858. He re-entered the military at the outbreak of the U.S. Civil War, and was involved in the Peninsula Campaign where, as a brigadier general, he distinguished himself at the Battle of Fair Oaks, 31 May–June 1, 1862—a battle at which he received four bullet wounds and had his horse shot out from underneath him. This event is portrayed on the obverse of this medal. Upon recovery, he continued his command, participating in the relief of Washington, D.C. The next year, he was mustered out of the army, returning to San Jose and continuing with his careers in banking and, owing to his study of viticulture, brandy making. There, he had a large tract of land just east of downtown where he cultivated Riesling and Charbono grapes (both used in his brandy making), which ultimately helped garner him the nickname, the "Father of California's brandy industry."
To read the complete item description, see:
102528 | UNITED STATES & FRANCE. Gen. Naglee/Battle of Fair Oaks copper Medal. (https://www.numismagram.com/product-page/102528)
1076122 | ROMAN IMPERIAL. Nero. (Emperor, 54-68 AD). Struck 54-68 AD. AV Aureus. NGC Ch. XF (Choice Extremely Fine) Strike 5/5 Surface 4/5. Rome. 17.2mm. 7.41gm. IMP NERO CAESAR AVGVSTVS. Head of Nero, laureate, right, with beard / IVPPITER CVSTOS. Jupiter seated left on throne, holding thunderbolt and spear. RIC 52; Calicó 412.
Ex. MDC Auction 4 (15 November 2018) Lot 79.
$22,500
To read the complete item description, see:
https://atlasnumismatics.com/1076122/
1075000 | AUSTRIA. (Undated) c.1777-1846 AV Medallic 10 Ducats. NGC MS61. By Anton Wideman, Vienna. 42mm. 34.85gm. SALVATOR MUNDI. Half-length portrait of Christ with halo, right; signed A.W. below / SUB UMBRA (As before) – ALARU TUARU (Under the shadow of Thy wings.) [ MUNUS/ :R · P:/ VIENNENS ] (Vienna city view). City view of Vienna with St. Stephen's Cathedral, crowned double eagle with sword, scepter and orb in the claws, below three lines of writing in decorated cartouche between two shields. Unlisted in Horsky; Cf. A. Wideman, Unger pl. III, 21 (AR); for engraver cf. Forrer VIII, p. 274.
Extremely rare in gold. Although exact dating is impossible, we believe this piece is an early example due to the die state.
$98,500
To read the complete item description, see:
https://atlasnumismatics.com/1075000/
1075073 | FRANCE. Israel. 1898 AE Medal. PCGS SP65. By Samuel Freidrich Beer. Paris. Edge: (cornucopia) BRONZE. 63.5mm. 111.33gm. Standing allegorical figure pointing to a new dawn and horizon for the Jewish people / Biblical quotation (in stylized Hebrew), a prophecy, from the Book of Ezekiel (Yekhezkel) ["Behold and I take the sons of Israel from among the nations and I have brought them to their land."].
Struck for the Second Zionist Congress in Basel, 1898.
Housed in an oversized holder. Includes original case.
$1,950
To read the complete item description, see:
https://atlasnumismatics.com/1075073/
1075005 | GERMAN STATES. Brunswick-Wolfenbuttel. Ludwig Rudolph. 1732 IAB AR 24 Mariengroschen, 2/3 Thaler. NGC MS64. Zellerfeld. Value within inner circle, date in legend / Wildman with tree in left hand, value at left. KM 812; Dav.-357; Welter 2468.
$1,695
To read the complete item description, see:
https://atlasnumismatics.com/1075005/
1076409 | GREAT BRITAIN. England. Charles I. (1631-32)-(Flower) AV Unite. PCGS MS62. By Nicholas Briot. Briot. Crowned, draped, and armored bust left, wearing ruffled collar; denomination XX behind head / Crowned and garnished coat-of-arms divides a crowned-C and R to either side. KM 171; SCB-2719; Fr.-253; North 2294.
Briot's first milled issue. Superb and exceptional; one of the finest surviving examples of this milled issue.
Includes original collector's envelope. $68,500
To read the complete item description, see:
https://atlasnumismatics.com/1076409/
About The John Jay Knox Crime of 1873 Collection of US Coins
John Jay Knox (1828-1892) was an American banker, author, and politician who served as president of the National Bank of the Republic and helped prepare the Coinage Act of 1873 that officially dropped the silver dollar from U.S. coinage. Knox was appointed Deputy Comptroller of the Currency in 1867 and promoted to Comptroller by President Ulysses S. Grant on April 24, 1872. While in this position, Knox played an important role in the drafting of the Coinage Act of 1873, which eliminated the silver dollar and made the gold dollar the national measure of value. All the pieces in this collection are from John J. Knox, and have remained in the possession of his descendants since his death in 1892. From the invoices and correspondence that accompany the patterns in this collection, it is apparent he had a close relationship with Philadelphia Mint Superintendent Archibald Loudon Snowden.
The consignor purchased all the items in this auction through a mutual friend of Knox's great-great-granddaughter, a direct descendant of Knox. The sterling silver pieces belonged to Caroline E. Knox (Todd), the wife of John Jay Knox. It is her initials that are engraved on these pieces. Caroline Knox was also a concert pianist.
The John Jay Knox collection is widely varied in scope, but is strongest in Patterns and Medals, including a beautiful 1867 assay medal, kept by his descendants since his death in 1892. The U.S. Assay Commission originally tested coinage to ensure proper weight and fineness; this is an example of a medal recognizing their work, and remains in the original case of issue! James Barton Longacre designed this medal, struck in silver, showing delightful toning in shades of rich ocean-blue, sun-gold, rose-red, and powder-blue. Our Cass Christenson made this his "Cool Coin of the Week" for its wonderful pedigree and originality, scarcity, and impressive eye appeal.
Some of the other fascinating lots from this collection include:
1866 5C Rays PR66+ Cameo NGC
1850 Three Cent Silver Struck in Silver, Judd-125 Original, R.4, PR63 NGC
1869 One Cent Struck in Nickel, Judd-666, R.5, PR67 Cameo NGC
1873 Trade Dollar Struck in Silver, Judd-1293, R.4, PR60 NGC
1862-Dated Indian Peace Medal, Abraham Lincoln, Second Reverse, King-520, Julian IP-38, Cunningham-22-020Bz, Uncertified. Bronze, 76 mm. By Salathiel Ellis and Joseph Willson.
1869 U.S. Assay Commission Medal, JK-AC-6a, R.6, Uncertified. Silver, 33 mm. By William Barber.
1881 Rutherford B. Hayes, U.S. Assay Commission Medal, JK-AC-24Aa, R.5, Uncertified. Silver, 33 mm. By George T. Morgan and Charles Barber.
Two Handwritten Letters to John Jay Knox From Philadelphia Mint Superintendent A. Louden Snowden, dated March 1885.
For more information, see:
2023 September 25 The John Jay Knox Crime of 1873 Collection US Coins Showcase Auction #63244 (https://coins.ha.com/c/auction-home.zx?saleNo=63244&ic=breadcrumb-coins-121913-interior)
https://coins.ha.com/c/search-results.zx?N=3183+793+794+791+1577+792+2088+4294935641&ic=hero-usCoins-viewLots-63244-082223
With just over a week to go before our September 26th Auction, we'll be showcasing the very best of the Crowns we have on offer. Mostly from one very well-kept collection accumulated over the last 20 years, the run features numerous standout pieces in remarkable condition. Worthy of particular attention is an iridescent 1700 DVODECIMO of William III, a 1708 Welsh Plumes variety of Anne, a deep prooflike 1821 SECUNDO of George IV, an 1831 Coronation proof issue of William IV, the ever popular 1847 Gothic type Crown of Victoria, an attractively toned 1902 Coronation issue of Edward VII, the rarest of type 1934 Wreath Crown of George V, and lastly the exceptionally rare 1953 matte proof Coronation Crown of Elizabeth II. There are many more that deserve their own time in the spotlight, so please view the full auction available on our website.
Lot 53: MS62 | William III 1700 DVODECIMO silver Crown
One of the most attractive Crowns in the entire collection is this mirror-like 1700 DVODECIMO type of William III, graded by NGC as MS62. For whatever reason, the Crowns of 1700 were on the whole of significantly better quality than any other milled Crowns up to that point. Many, including this one, have extremely nice residual lustre.
Lot 57: Anne 1708 Post-Union silver Crown Welsh Plumes
A highly appealing portrait with a steel grey tone, light surface marks and flecks, almost extremely fine. The plumes reverse indicate that this coin is made from silver sourced from mining companies associated with Wales.
Lot 86: MS62 | George IV 1821 SECUNDO silver Crown
After the death of George III in 1820, Pistrucci prepared the coinage bust of the new King, George IV. The King despised Pistrucci's work for its bloated expression, with numismatic historian Kevin Clancy stating that "its full features implies something of the appetites of the monarch". Despite the King's protests, however, one would argue it was actually flattering compared to the real thing!
Lot 90: PF60 | William IV 1831 silver proof Crown "W.W." incuse
The magnificent silver Proof Crowns of King William IV are the largest portrait coins readily available of him. William Wyon produced them to go towards the complete proof sets dated for the year of his Coronation of which some 120+ sets were produced. There were no doubt extra proof coins to sell singly at the time and the Crown exists in two main varieties, the first that had Wyon's name spelt out in full in raised letters on the truncation as Pistrucci had once done in the reign of George III. It seems this initial pattern was not accepted as the coin to go towards the proof set as the die was altered to read merely W.W. incuse on the truncation as we have herewith for the bulk of the coins that exist today. Some very rare transitional pieces show a trace of the W.WYON with lines ruled over the top to erase it on the struck coins and the W.W. incuse to the left, but most show merely the W.W. incuse.
Lot 118: PF64 | Victoria 1847 UNDECIMO 'Gothic type' silver proof Crown
One of the most spectacular designs for a silver coin in the entire British Milled series, the Proof Gothic Crowns with lettered edge were limited to a mintage of only 8,000 pieces. William Wyon (1795-1851) was the Royal Academy engraver responsible and was at the peak of his career having also designed the equally impressive gold "Una and the Lion" Five Pound pieces dated 1839 also in Roman numerals.
Lot 152: PF65 MATTE | Edward VII 1902 matte proof silver Crown
Struck for the coronation of Edward VII in early 1902, this Crown was the last to feature the iconic George and Dragon design of Benedetto Pistrucci (with the exception of the one issued for the Festival of Britain in 1951). This particular example is darkened on the reverse with otherwise fantastic surfaces. One of the highest graded examples there is.
Lot 163: AU58 | George V 1934 silver 'Wreath' Crown
The so called 'Wreath' Crowns of George V were minted between 1927 and 1936, with the exception of 1935, when the design was replaced by the Silver Jubilee 'Rocking Horse' Crown. This example, designed by the famed George Kruger Gray, features a wreath of roses and thistles joined together by intertwined shamrocks, each representing the nations of England, Scotland, and Ireland. These Crowns proved popular at Christmas, and rarely ever entered circulation. As a result, most examples retain their beauty, and have proved a popular collector's item in recent years.
Lot 185: PF65 MATTE | Elizabeth II 1953 matte proof cupro-nickel Crown
From the advent of photography right up until digital cameras became the norm, the Royal Mint would produce limited quantities of matte proofs for the sole purpose of producing advertisements for their new releases. The issue that mint photographers faced was that brilliant proof coins were too reflective, and couldn't photograph well due to the flash of the old cameras. By producing a handful of matte coins, the mint were able to show off the designs of their coins in far greater detail. Somehow or another, some of these proofs made it out of the mint and into the hands of the public. Since then they've become heavily sought after by collectors.
We once again hope you get time to visit us and view everything on offer, as well as our extensive retail stock. If not in person though, please feel free to visit our website and view the auction digitally at www.sovr.co.uk. Good luck to all those bidding!
To read the earlier E-Sylum article, see:
SOVEREIGN RARITIES AUCTION 10 (https://www.coinbooks.org/v26/esylum_v26n37a23.html)
A very special welcome to our 2023 Fall Expo and Warmup Sale to be conducted in conjunction with the Toronto Coin Expo. This sale features a superb selection of chartered banknotes, copper coins from The Robert Turner collection, Part II of the Glassford Error Collection, a nice PEI collection and last but not least is the finest 1935 $500 on the market. The SickKids Foundation have also consigned a donated world coin collection, with all proceeds from these lots, including our services, being donated directly to their mission.
Our complete auction listings for the warm-up sale on Sept. 26th and Toronto Coin Expo Sale on Sept. 29th can be found on our website at GBellauctions.com. The sale includes a diverse Prince Edward Island Collection featuring the Collection of prominent collector Ralph Dickieson
Ralph Dickieson was born and lived most of his life in New Glasgow, Prince Edward Island. He was a life-long collector of coins, paper money, antiques and collectibles. His early career included working as a manger for Co-op Stores, Sumner and Company, and operating his own general store in New Glasgow, PEI. He later worked as an instructor at the Provincial Vocation School (now Holland College). In 1958, he and some other residents of New Glasgow started a fund raising project having Lobster Dinners in New Glasgow. This quickly grew and eventually became a business known as New Glasgow Lobster Suppers. Ralph was a founding owner and the general manager from 1958 to 1987. He was active in his community, serving as fire chief of the New Glasgow Fire Department. He was very active in the tourism industry on PEI serving as president of the Cavendish Tourism Association and Tourism Industry Association of PEI. He was the recipient of the Lieutenant Governor's Tourism Award for individuals who have made a significant contribution to tourism on PEI.
Ralph focused his coin collecting on coins, tokens, medals and paper money from Prince Edward Island. During his lifetime, he collected one the best collections of PEI paper money, collecting rare specimens of the Bank of Summerside, Union Bank, Merchant's Bank, Bank of Rustico and Bank of Prince Edward Island. His collection included all of the major known coins and tokens which originated in PEI, including the Holey Dollar, Sheaf of Wheat Token, MacAusland Penny, Ships Colonies and Commerce Tokens, and many others. He was active in the PEI Coin Club serving as President at various times. He was a fellow of the Canadian Numismatic Research Society. He enjoyed researching his acquisitions and was a co-author of the book The Currency and Medals of Prince Edward Island.
He did not collect or try to acquire coins or paper money based on their value or rarity. Rather, he wanted to have a complete collection, which told a story of the history of PEI in the 19th and 20th centuries. He enjoyed collecting trade dollars, commercial tokens from the 1960s, '70s and '80s which told a story of business on PEI. His collection of dairy tokens tells the story of the dairy industry on PEI. He was always quick to adapt to new technology and enjoyed buying and selling coins on Ebay in the 1990s and 2000s. Ralph passed away in March of 2016 at the age of 88.
Lot 444
Prince Edward Island Holey Dollar. Prince Edward Island Holey Dollar. The Wickham Specimen that comes from a group of 5 similar pieces identified by Faulkner. He has determined that all five are contemporary merchant counterfeits. They have 10 rays and are on a host cast Spanish American 8 reales coin. This particular piece was first photographed around 1920 and has a spectacular pedigree. After Wickham's ownership, it passed through several auctions eventually ending up with J.D. Ferguson and John McKay-Clements. In the later sale in 1976, it was purchased by Dr. Ken Beers and subsequently by Ralph Dickieson. Faulkner lists this specimen in Group E as E.1. 1803 Charles IV Mexico FT. A Canadian rarity for which we anticipate great demand. Dickieson Collection.
$8,000-$10,000
Bank of Canada $500, 1935. BC-17
. A Superb rarity that hasn't seen the light of day at any auction. Acquired in Halifax at the RCNA, Geoffrey Bell Auctions is proud to represent this historic gem. Sure to garner interest from around the globe, this trophy note exhibits the characteristics of an uncirculated note with simple counting creasing coupled with a hint of circulation. An excellent opportunity to add a solid blue chip item to your investment portfolio or to highlight your collection. PCGS About Uncirculated 53 PPQ. S/N:A00562/C.
$500,000-$600,000
SickKids Foundation Information for Lots 44 through Lot 68
Geoffrey Bell Auctions is honoured to be assisting The Hospital for Sick Children Foundation, with a world coin collection that has been generously donated, where all proceeds from these items will be donated to the foundation.
SickKids treats everything from broken arms and appendicitis to rare brain cancers and congenital heart defects. Every year, some 100,000 patients come to us from across the province, country and even the world for specialized care, while our scientists are making important medical discoveries every day. Our research breakthroughs also have implications in the adult world including expanding knowledge on diseases such as dementia and brain tumours.
For all our triumphs—clinical and research—legacy gifts have been instrumental, helping create our storied Research Institute, where scientists created Pablum, discovered the cystic fibrosis gene, and continue to crack the code of childhood cancers and heart disease. Legacy gifts have enabled SickKids to become a world-class leader for intensive care, organ transplants, and complex heart surgeries. It's because of our donors that we've grown from a community hospital to a global leader in child health.
Please open your hearts and wallets for this great cause.
For more information, or to bid, see:
https://auctions.gbellauctions.com/Toronto-Coin-Expo-Fall-Sale-2023_a59734?m=all
http://www.torontocoinexpo.ca/documents/GB-Auctions-TO-Coin-Expo-Sale29-Sept2023-LR.pdf
http://gbellauctions.com/
MDC Monnaies de collection is excited to auction The French Collection in October 2023. The collection of 540 lots, built over 40 years, includes the most beautiful coins from the French Revolution to the Fifth Republic, with a vast majority of Top Pop. Today, it is not possible to recreate such a collection. We know that many collectors will find in it the special coins they have been looking for. The auction will take place in Monaco at the Hôtel Métropole on the 11th of October 2023, from 1:30 pm to 4 pm (lots 1 to 296) and from 4:15 pm to 7 pm (lots 297 to 540), Nicolas Gimbert, Auctioneer.
To view the complete collection:
https://mdc.mc/auction/vente-aux-encheres-numismatique-12/
Lot 3. France, 6 deniers, 1792, An 4, BB, Strasbourg. Louis XVI King of The French, Gadoury 7, Top Pop, the only example of the type graded by PCGS. PCGS AU53BN (47808966)
Lot 4. France, 12 deniers, 1792, An 4, BB, Strasbourg. LOUIS XVI King of The French, Gadoury 13, Top Pop, NGC MS 64 BN, (6636087-008)
Lot 15. France, Half (Demi) Ecu, 1792, An 4, BB, Strasbourg, LOUIS XVI, King of The French, Gadoury 42, Top Pop, PCGS MS64 (39806816)
Lot 21. France, Convention (1792-1795), Essai of 1 Sol. 1793, An II, A, Paris, Gadoury 19, Top Pop, the only example of this type PCGS has graded, NGC MS 65 (6636089-006)
Lot 27. France, Convention (1792-1795). Écu de 6 livres FRANÇOISE, An II (1794) W, Lille. Gadoury 60, The second highest example graded by PCGS, NGC AU 53 (6636089-010)
Lot 28. France, Convention (1792-1795), Louis d'or of 24 livres, 1793, L'An II, A, Paris. Gadoury 62, The second highest example PCGS has graded. PCGS MS61 (39807018)
To read the earlier E-Sylum articles, see:
MDC OCTOBER 2023 FRENCH COLLECTION (https://www.coinbooks.org/v26/esylum_v26n32a27.html)
MDC OCTOBER 2023 FRENCH COLLECTION 5 FRANCS (https://www.coinbooks.org/v26/esylum_v26n36a23.html)
MDC OCTOBER 2023 FRENCH COLLECTION GOLD (https://www.coinbooks.org/v26/esylum_v26n37a26.html)
GOATS WERE FIRST domesticated as long as 11,000 years ago, probably in the Zagros Mountains of Iran (Daly, 1). The goat (Capra hircus) became a vital and much-loved element of ancient Greek agriculture, providing milk, meat, wool, and skins. Sure-footed goats easily managed the rugged mountainous terrain of Greece, and could thrive on vegetation that other animals found unpalatable or even toxic. So it is not surprising that goats were frequently depicted on ancient Greek coins and adopted as the emblems of certain cities.
A symbol of fertility, the goat was a companion of the god Dionysus and the goddess Artemis. The constellation of Capricorn, one of the 12 signs of the zodiac, was imagined as a creature with the body of a goat and the tail of a fish. Greek mythology even imagined a race of lustful nature spirits, the satyrs[1], who had human bodies with the ears, tails, and hooves of goats.
Possibly the earliest appearance of a goat on a coin is dated to c. 600 – 550 BCE, at the very dawn of coinage.
From an uncertain mint in Ionia (now the western coast of Türkiye), the coin is a very rare electrum hekte or one-sixth stater of 2.75 grams[2]. The animal depicted is a goat – or perhaps its wild relative, the ibex (Capra aegagrus)[3] with its legs folded beneath it and its head turned to look over its back. The abstract design perfectly fits the chunky round coin. A recent cataloguer described it as a beautiful piece of wonderful Archaic style.
To read the complete article, see:
Oh, You Kid: Goats on Ancient Coins (https://coinweek.com/oh-you-kid-goats-on-ancient-coins/)
A jaguar lies beside George Washington. The United States' first president holds a rifle with one hand as he rests the other on the dead Argentine predator.
The backdrop is a U.S. dollar and an Argentine 500-peso note joined like a book, a clear allusion to the rapid depreciation of the local currency, the peso. That has made it difficult for Argentines to make ends meet. The peso has depreciated around 60% compared to the U.S. dollar over the past year. It has occurred in parallel to one of the world's highest inflation rates.
As millions of Argentines express dismay and anger, a group of artists is seeking to show the economic damage the best way they know how, with art. And as they express themselves, the artwork increases the value of the increasingly worthless bills they use as material.
Artist Sergio Díaz and other Argentine artists' Money Art movement uses moderately priced brushes and acrylics to paint banknotes of 10, 20, 100, or 1,000 pesos and then share their work on social media.
The artwork then fetches prices ranging from 40,000 to 70,000 pesos domestically and as much as $300 abroad. Stringent capital controls in Argentina mean that access to the official foreign exchange market is extremely limited, so parallel rates have flourished.
The artists are reclaiming the currency at a time when the bills have often been the target of disdain from Argentina's neighbors. Brazilian soccer fans have torn up peso bills as a mockery to their Argentine rivals. In Paraguay, exchange offices have begun to reject Argentine pesos.
Diaz will exhibit the piece in which Washington is shown with the jaguar, along with others from the series, The Art of Devaluation, in November in Salta, his hometown in northern Argentina.
There is an element of transgression, of vandalism... but my idea is to go beyond that and transform the bills while addressing the issue of inflation that affects us all, explained Diaz.
To read the complete article, see:
Paintings on pesos illustrate Argentina's currency and inflation woes (https://apnews.com/article/argentina-money-art-inflation-bills-69a505d4f72c440a4bdd2e756e2d2d38)
To read the earlier E-Sylum article, see:
ARGENTINE ARTIST PAINTS ON BANK NOTES (https://www.coinbooks.org/v26/esylum_v26n02a29.html)