Visit our NBS Sponsors


About Us
The Numismatic Bibliomania Society is a non-profit association devoted to the study and enjoyment of numismatic literature. For more information please see our web site at coinbooks.org
Subscriptions
Those wishing to become new E-Sylum subscribers (or wishing to Unsubscribe) can go to the following web page link
Membership
There is a membership application available on the web site Membership Application
To join, print the application and return it with your check to the address printed on the application. Print/Digital membership is $40 to addresses in the U.S., and $60 elsewhere. A digital-only membership is available for $25. For those without web access, write to:
Jeff Dickerson, Treasurer
Numismatic Bibliomania Society
P. O. Box 578,
Weatherford, TX 76086

Asylum
For Asylum mailing address changes and other membership questions, contact Jeff at this email address: treasurer@coinbooks.org
Submissions
To submit items for publication in The E-Sylum, write to the Editor at this address: whomren@gmail.com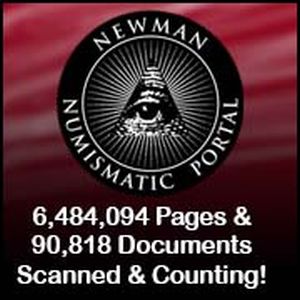 BUY THE BOOK BEFORE THE COIN
Content presented in The E-Sylum is not necessarily researched or independently fact-checked, and views expressed do not necessarily represent those of the Numismatic Bibliomania Society.
New subscribers this week include: Chris Tyrimos of Sovereign Rarities Ltd, courtesy Steve Hill; Jo Flores, and Elon Malis. Welcome aboard! We now have 7,616 subscribers.
Thank you for reading The E-Sylum. If you enjoy it, please send me the email addresses of friends you think may enjoy it as well and I'll send them a subscription. Contact me at whomren@gmail.com anytime regarding your subscription, or questions, comments or suggestions about our content.
This week we open with a new index for The Asylum, a numismatic literature sale, two new books, a book review, updates from the Newman Numismatic Portal, and more.
Other topics this week include banknotes of France, a Waterloo soldier's coins, the meaning of coin images, the Australian Numismatic Society, the New Jersey Numismatic Society, occluded gas, bullion dealer laws, Vera Liu, Bill Groom, Ken Rendell, auction previews, my numismatic diary, and Vietnam's dealers in damaged paper money.
To learn more about coins of the ancient Celts, Charles I Oxford Mint Half-Crowns, the S&S Library, NumiStudy, medals in the Bargello National Museum of Florence, Italy, the curator of The World's Most Valuable private coin collection, the Three Graces, the Diamond Jubilee of Queen Victoria, the consignor of The French Collection, and the Harvard Banjo Club, read on. Have a great week, everyone!
Wayne Homren
Editor, The E-Sylum


The Asylum's 10-year Cumulative Index of Volumes 31–40 (2013–2022) is attached. A big thanks for Len Augsburger for coordinating this effort and to Nicole Fry for compiling this handy index.
Print copies will be mailed to current NBS members. If you are a digital member and would like a printed copy, please email Maria Fanning at maria@numislit.com to purchase a copy for $5. International customers will pay more for mailing costs.
You can order print copies of many back issues from Kolbe & Fanning by emailing maria@numislit.com. Most issues are $5 and some full volumes are in stock.
For issues more than two years old, you may access them via the Newman Numismatic Portal.
NBS Membership Renewal Time!
Please renew your membership in the NBS to continue receiving The Asylum. Go to coinbooks.org to pay by PayPal or download a membership form today. Your current expiration date is printed to the right of your name on your subscription envelope, which should be arriving soon.
To read back issues on the Newman Numismatic Portal, see:
https://nnp.wustl.edu/library/publisherdetail/2101
Lot 5: Akitomo, Akiro. Kocho Genpo ([Copper Coins of the] Guangxu Era) First Study, 2nd Edition, Osaka, 1980, 177 pages, softcover, charts and rubbings throughout. In depth reference on machine struck coins of the Kuang Hsu (Guang Xu) era of Chinese copper coins. Includes some of the machine struck square hole coins and pattern types. The work was informed by Woodward and Krause, with detailed analysis of the calligraphic variations which distinguish minor variations.
Lot 25: Allen, D. F. The Coins of the Ancient Celts Edinburgh University Press, Edinburgh, 1980, 265 pages including 41 plates, hardcover with dust jacket., ex Libris Stephen Huston.
Lot 40: Anokhin, V. A. Monetnoe Delo Bospora , Naukova Dumka, Kiev, 1986, 179 pages, hardcover. Numismatic history and catalogue of the coins of Pantikapaion and Cimmerian Bosporus. The plates are decent, and many more coins are photographed than there are in his later work on Bosporus coinage. There is a rather extensive bibliography including perhaps 100 references in Russian.
Lot 127: Cox, Arthur J. and Thomas Malim. Ferracute the History of an American Enterprise , Bridgeton, 1985, 197 pages, hardcover with dust jacket. Basically a biography of the inventor Oberlin Smith and a history of metal molding and the second industrial revolution. A wealth of information about the era and the evolution of business from the workshop to the factory. Includes a chapter intitled "Ferracute Goes to China" which chronicles the travels of Ferracute engineer Henry A. Janvier's trip to China to set up a coining facility in Chengtu (Chengdu).
Lot 228: Göbl, Robert. Sasanidische Numismatik: Handbücher der mittelasiatischen Numismatik, Band 1 Klinkhardt & Biermann, Braunschweig, 1968, 100 pages, 16 plates, hardcover with dust jacket. Original German language edition of the standard reference on Sasanian coinage. Covers Persia or Iran prior to conversion to Islam (208-651). Very detailed treatments of all aspects of coin design and legends, many photographic plates and illustrations of design variations. A brief historical survey also included.
Lot 306: Kann, Eduard. Illustrated Catalog of Chinese Coins (Gold, Silver, Nickel and Aluminum) , First Edition, Los Angeles, 1954, 476 pages, 224 plates, hardcover with dust jacket. The standard English-language reference for modern coins of China. It have a good representation of Sinkiang coins including the early hammered 1/2 miscal pieces. There are more than 1,200 black and white photos of coins, plus more medals and forgeries. Includes chapters on early silver dollars, Imperial dragon coinage, Republican silver coinage, nickel and aluminum coinage, silver taels, Sinkiang Imperial and Republican coins, Mongolia and Tibet coinage, and Chinese gold coinage, as well as medals, forgeries, fantasies, valuation, mintages, and list of mints.
Lot 402: Millies, H. C. Recherches sur les Monnaies des Indigenes de l'Archipel Indien et de la Peninsule Malaie , Martinus Nijhoff, La Haye, 1871, 180 pages, 26 plates, original softcover printing.
One of the classic works on medieval coinage of Indonesia and Malaysia. It includes Java (with a large group of temple tokens), Sumatra, Chinese colonies on Bangka, Malay Peninsula (Kedah,Oudjong Salang), Johor, Trengganu, Patani, Sanggora, Borneo, Celebes, and others. It has good plates of the little gold coins from Atcheh, a very rare original copy of this classic work.
Lot 449: Op van Velde, Wybrand and David Hartill. Cast Korean Coins and Charms , Authors Online Ltd, Sandy, Bedfordshire, 2013, 397 pages, hardcover, excellent photos and line drawings throughout. The new standard catalogue of Korean coins and charms. Introductory material includes a history and list of kings, a detailed monetary history of the different historical periods, how the coins were made with nice drawings of the process from a 1905 publication, explanation of different styles of calligraphy, numbers and symbols found on coins, and an introduction to how to collect Korean coins. This is followed by a catalogue of coins and charms in the style of Hartill's books on Chinese and Japanese coins. At the end is an explanation of the iconography found on the charms. An excellent book, ex James Farr Collection Library.
To view the lot descriptions or bid, see:
https://www.sarc.auction/Literature-Auction-2_as93427
Charles I Oxford Mint Half-Crowns (1642-1646)
Maurice Bull
£100.00
This publication is the culmination of a lifetime's work collecting, studying, and recording full details of the Half-crown denomination struck at the Oxford Mint, 1642-1646, the largest of all the King's Provincial Mints during the Civil War of England (1642-1649). The Half-crown was the most important denomination required during the Civil War since it was the daily rate of pay for a Royalist cavalier, and useful to pay other ranks accordingly. It is worth pointing out that the Parliamentary cavalier only received two shillings per day.
It is also a record of all the surviving specimens known to the author in 2023 (though no doubt more are certain to come to light in due course). In addition to every example being illustrated, the provenance of each one is also recorded. This has the benefit of showing the numbers of each variety, still extant, and the grades of each one. The coins were struck by the contemporary method of a hammer, and demonstrate the skills of the moneyers working under pressure to convert donations of silverware and bullion into coins to support the Royal cause. As with all Provincial Mints of this period, except possibly Shrewsbury, no records exist of the actual value of coins struck.
That so many varieties of all the Provincial coins still exist today is mainly due to their fascination and desirability with contemporary collectors and recently discovered hoards.
For more information, or to order, see:
Charles I Oxford Mint Half-Crowns (1642-1646) | Maurice Bull (https://spinkbooks.com/products/charles-i-oxford-mint-half-crowns-1642-1646-maurice-bull)
Testimonia Numaria Romana Volume III
Melville Jones, J.R.
£80.00
This work is a sequel to the two volumes of Testimonia Numaria, published by Spink in 1993 and 2007, which presented literary texts and selections from inscriptions and papyri relating to ancient Greek coinage, with translations and commentaries.
It presents in one volume of 698 pages 1052 texts relating to Roman coinage. It is, like its predecessors, a major and permanent work of reference, which will be an essential aid not only for numismatists, but also for ancient historians wanting to learn more about this specialised area of study.
For more information, or to order, see:
Testimonia Numaria Romana Volume III | Melville Jones, J.R. (https://spinkbooks.com/products/testimonia-numaria-romana-melville-jones-j-r)
To read the complete article, see:
France chapter now available (https://banknotenews.com/?p=41148)
Dennis Tucker of Whitman Publishing writes:
Kenneth Rendell, now 80, a life-long collector-dealer in collectibles, has written an immensely interesting account of his life in our field. This book, his ninth, is being released October 3rd, 2023 and can be pre-ordered on Amazon and elsewhere.
When kids find their imaginations soaring about old books and paper, they inevitably daydream about discovering gems and subsequently share their prizes with luminaries, collectors and institutions. In the human imagination, possibilities live. Children have long been drawn into the magic of discovery and some lucky few grow up to spend their lives in the embrace of collecting wanderlust. Kenneth Rendell has lived that life.
While many are drawn, few have both the retentive memory and comparative logic necessary to play at the highest levels. Mr. Rendell has both as well as boundless self-confidence and an engaging style. Taken together, you have the makings of an exceptional dealer who becomes the scholar-expert. His story will quicken the hearts of those who hope to follow his path.
He's fundamentally a mathematician and early on applied his skills to estimate rarity of coins while relying on the established standards for quality. Understanding that coins were unevenly distributed and knowing the total number of specific versions minted, he tried to locate their repositories and found ways to look at them with the goal to buy the best examples. It sounds simple and straightforward, but few others tried that approach in the 1950s and in his teens he earned enough money to set himself up as a professional coin dealer.
Soon after, using his deep intelligence, he began to look for opportunities beyond coins, stamps and books that had known, or probable quantities printed or minted, he then began to look for collectibles whose values were scalable by importance of their content. For that he shifted to manuscript material.
To deal stamps, coins, and books there were three variables; number of copies printed, copies or examples known, their conditions, and special factors such as bookplates or inscriptions. For manuscript material there was a kaleidoscope of other variables, by who and to, its timing, priority and subject as well as its condition. For stamps, coins and books they have long had well-documented histories. They are checkers while manuscripts are chess.
As Mr. Rendell entered the manuscript field in the 1960s, other dealers, collectors, collecting institutions and counterfeiters were joining the fray too. Rising prices appealed to everyone.
His approach about manuscripts evolved into monetizing the significance of content after such documents had a long sleepy period in the market. He, and his research team, sought to contextualize documents and caught the wave of rising interest.
It seems odd today to think that content was ever not deeply plumbed because content seems to have long been the basis for current dealer and auction pricing, but it turns out – serious attention to content primarily dates from the 1960s. Age and names had been emphasized and continue to matter. But going forward, pricing would rocket as content and priority brought many new collectors into the field. Mr. Rendell's fingerprints would be all over the trend. In his chapter 9: Exploding Onto the Public Stage [in the early 1980s] he shares how his firm and the field adjusted.
To read the complete article, see:
Safeguarding History: A life with paper by Kenneth W. Rendell (https://www.rarebookhub.com/articles/3449)
To read the earlier E-Sylum article, see:
NEW BOOK: SAFEGUARDING HISTORY (https://www.coinbooks.org/v26/esylum_v26n31a06.html)
Four superb-quality Franklin and Kennedy silver half dollars featured on the front cover of a new reference book will be offered in a live television auction by Rare Collectibles TV (www.RareCollectiblesTV.com) on September 21, 2023.
The illustrated, 248-page A Guide Book of Franklin and Kennedy Half Dollars Fourth Edition by long-time professional numismatist and award-winning author Rick Tomaska, and with a foreword by the esteemed Q. David Bowers, is now available. Tomaska is a co-founder of Rare Collectibles TV.
Produced by Whitman Publishing, it contains updated pricing information for premium quality and Rick Tomaska Signature Series coins as well as new research, including a chapter about one of the rarest United States coins of the 20th century, the 1964-P Specimen Kennedy half-dollar.
The specimen 1964 Kennedy half, graded NGC SP67+, depicted on the book's cover was recently sold by Rare Collectibles TV to a collector for more than $100,000.
We are delighted to now offer the four other book cover coins as well as about two dozen additional, outstanding rarities in a live television public auction, he declared. It will be conducted on Thursday, September 21, at 5 pm Pacific, 8 pm Eastern, on DIRECTV 222, Dish channels 85 and 224, Shop Zeal 1, YouTube, and at RareCollectiblesTV.com. RCTV is the only place where you can buy my exclusive Tomaska Signed Label Franklin and Kennedy rare and stunning coins.
The reference book's cover coins in the auction are:
1957-D Franklin half dollar NGC MS67 Star Full Bell Lines. On both obverse and reverse, this is simply the most beautiful high-grade 1957-D I have ever seen, said Tomaska. This coin is from a mint set, and most mint set-toned 1957-D's have lackluster dull toning. This specimen exhibits the most beautiful toning for a 1957-D. Both the obverse and reverse are equally stunning! On a scale of 1 to 10, this is as close to a perfect 10 as any 1957-D known! And it is MS67 FBL. There are no MS68s!
1960 Franklin half dollar NGC PF69 Ultra Cameo. This 1960 has one of the biggest cameos ever seen on a proof Franklin half dollar. I believe it has to be one of the earliest strikes, perhaps the first 10 to 20 coins, to have the cameo contrast you see on this coin. And it's a PF69. Most of the known early strike examples have a few hairlines or milk-spots. This specimen is perfect, stated Tomaska.
1967 Special Mint Set Kennedy half dollar, T-70 NGC MS68 Ultra Cameo. This is the finest known specimen, explained Tomaska. Only the earliest examples in the Special Mint Sets (SMS) produced from 1965 to 1967 displayed the level of cameo contrast you see on this coin. SMS coins were not individually handled as were proof coins, but were just dumped into bins. So, for this earliest strike to survive in essentially flawless MS68 is miraculous!
1970-D Kennedy half dollar, NGC MS67. The 1970-D is the lowest mintage silver mint state Kennedy made in the last year Kennedy half dollars with any silver content were struck for circulation. In over 30 years of going through literally tens of thousands of original sets, I have never found a specimen as flawless as this amazing coin. There are no MS68 examples, said Tomaska.
A Guide Book of Franklin and Kennedy Half Dollars Fourth Edition is available from Rare Collectibles TV for $29.
For additional information about the auction, visit www.RareCollectiblesTV.com. For additional information about the book and to purchase a copy, visit https://www.rarecollectiblestv.com/rick-tomaska-s-guide-book-of-franklin-kennedy-half-dollars-4th-edition-soft-cover.html.
To read the earlier E-Sylum article, see:
NEW BOOK: FRANKLIN AND KENNEDY HALF DOLLARS, 4TH ED. (https://www.coinbooks.org/v26/esylum_v26n38a03.html)
Newman Portal and S&S Library, LLC Team to Digitize Literature of Ancient Numismatics
The Newman Numismatic Portal (NNP) and the S&S Library today announce an initiative to digitize over 6,000 volumes from the S&S Library, which is primarily focused on ancient numismatics. We are excited to expand the scope of our content to include world and ancient numismatics, said NNP Project Coordinator Len Augsburger. Shanna Schmidt, a partner in S&S Library, LLC noted The literature of numismatics began with ancient coins, and the appreciation of all numismatics will be enhanced by knowledge of our earliest coins. We are pleased to partner with Newman Portal on the broad scale digitization of the literature related to ancient numismatics.
The S&S Library, housed in Chicago, is jointly owned by Shanna Schmidt Numismatics and a leading, U.S.-based collector in the field of classical and ancient numismatics. The library includes core holdings in all fields of numismatics, with a concentration on literature related to ancient coinage. Library highlights includes E. J. Haeberlin's Aes Grave (1910), Dattari's Monete Imperiali Greche (1901), and the first six volumes of The Numismatist (1888-1893), one of perhaps ten copies in private hands. The S&S Library was recently the subject of a video produced by Newman Portal, available at https://nnp.wustl.edu/library/book/630666.
The Newman Numismatic Portal is sponsored by the Eric P. Newman Numismatic Education Society and administered through Olin Library at Washington University in St Louis. Launched in 2016, the NNP (NewmanPortal.org) provides online access to over 70,000 numismatic documents, comprising over 5 million pages. The collection is especially strong in the areas of U.S. auction sale catalogs, periodicals, and U.S. Mint material from the National Archives. In addition, the NNP serves as the online repository for the Eric P. Newman numismatic research papers and correspondence files.
One of the most sophisticated computer programs for determining and archiving die varieties for early American copper coins is discussed in this seminar. Developed by numismatist and computer programmer Jon Lusk this update on the NumiStudy system is a regular feature at the annual EAC Convention.
Speaker(s): Jon Lusk.
To watch the complete video, see:
https://nnp.wustl.edu/library/book/560165
Here are some pictures from the Waterloo Museum. Only two full skeletons have ever been recovered from the battleground, this one from the site of a recently installed parking lot. He was probably one of Blucher's German states soldiers as he has coins from them in his purse and (ironically) Napoleonic coins too, plus (dispositively) a ball from a French musket in the spot where his right lung used to be. They think the soldier lost the top of his head to a postmortem plow.
Waterloo is a challenge for a car-less tourist to visit from Brussels, but well worth the effort. I found two excellent books in the gift shop: The Waterloo Soldier - An Archaeological Investigation at the Heart of the Conflict, Dominique Bosquet et al., Wallonia Public Services (2017) ISBN 978-2-930711-35-5 (while complete on the post-mortem of the body, no list of the coins in detail) and Gordon Corrigan Waterloo - A New History of the Battle and its Armies, paperback by Atlantic Books (2015) ISBN 9781848879294
Upside Down Hebrew
Regarding a medal pictured last week, Ken Spindler writes:
Christopher Baker of Atlas Numismatics writes:
To see the corrected image at PCGS, see:
https://images.pcgs.com/trueview/47664993
To read the earlier E-Sylum article, see:
ATLAS NUMISMATICS SELECTIONS: SEPTEMBER 17, 2023 (https://www.coinbooks.org/v26/esylum_v26n38a25.html)
On Dale Seppa and John Mussell
Frank Robinson writes:
To read the earlier E-Sylum articles, see:
DALE SEPPA (1940–2023) (https://www.coinbooks.org/v26/esylum_v26n38a09.html)
JOHN MUSSELL (1942-2023) (https://www.coinbooks.org/v26/esylum_v26n38a10.html)
Arthur Morowitz Article

To read the complete article, see:
Arthur Morowitz, Home Video Industry Pioneer, Dies at 80 (https://www.mediaplaynews.com/arthur-morowitz-home-video-industry-pioneer-dies-at-80/)
To read the earlier E-Sylum article, see:
ARTHUR H. MOROWITZ (1943-2023) (https://www.coinbooks.org/v26/esylum_v26n38a11.html)
Medals in the Bargello National Museum
Regarding a catalog of medals in the Bargello National Museum of Florence, Italy, David Fanning writes:
Pollard, J. Graham. MEDAGLIE ITALIANE DEL RINASCIMENTO NEL MUSEO NAZIONALE DEL BARGELLO / ITALIAN RENAISSANCE MEDALS IN THE MUSEO NAZIONALE OF BARGELLO. I: 1400–1530. II AND III: 1513–1640. (Florence): Studio per Edizioni Scelte, (1984–1985). Three volumes, complete. Tall 4to, original matching black cloth and boards, gilt; pictorial jackets. xlvii, (1), 608, (8) + (8), (4), 615–1191, (11) + (10), (4), 1197–1618, (8) pages; well-illustrated throughout; 20 enlarged color plates. Housed in cardboard slipcases. Bilingual.
A handsome production of great importance. Illustrates 885 medals. Modesti 1837.
David Tripp writes:
To read the earlier E-Sylum article, see:
NOTES FROM E-SYLUM READERS: SEPTEMBER 17, 2023 : Bargello Museum Medal Catalog Sought (https://www.coinbooks.org/v26/esylum_v26n38a14.html)
On Green Patina on Ancient Coins
Bill Eckberg writes:
To read the earlier E-Sylum article, see:
PATINA ON ANCIENT BRONZE COINS (https://www.coinbooks.org/v26/esylum_v26n36a26.html)
Anglo-Saxon Abba Coin
Philip Mernick writes:
I enjoyed the overview of goats on ancient coins - surprised how many there are. The idea they're a fertility symbol, and thus carry an appropriate message for coins is certainly plausible.
The goat also appears on an ancient British coin, copied from an image on a Roman denarius. One must begin to suspect the goat might not mean the same thing in different cultures over such a long period of time.
I wrote how semiotic analysis can unravel the story in these kinds of situations. Here's the link:
https://vanarsdellcelticcoinageofbritain.com/articles-numismatic_ccb3/van_arsdell_2020a_ccb3.html
My most recent article in the series explores further how to winnow out the meaning of coin images in complicated situations:
https://vanarsdellcelticcoinageofbritain.com/articles-numismatic_ccb3/van_arsdell_2023a_ccb3.html
For much of numismatic writing, the meaning of ancient coin images has been studied at the Art 101 level of understanding: typology, chronology, and sources of inspiration. Semiotic Theory gives us a tool to move well beyond this.
To read the earlier E-Sylum article, see:
GOATS ON ANCIENT COINS (https://www.coinbooks.org/v26/esylum_v26n38a30.html)
Expert numismatist, Gary E. Lewis, had been in contact with the Australian Numismatic Society's Treasurer & Membership Secretary Rodney Rod T. Sell, FANS, about attending an ANS meeting during Gary's visit to Australia. As luck would have it, Gary was a Guest Presenter for the ANS-Sydney Annual General Meeting, No. 1240, held at 1:30PM on 10th September at the Roseville Club in Roseville, New South Wales, Australia. Gary spoke about his local club, the ANA, and he showed his 2023 S US Morgan and Peace Dollars—First Day of Issue NGC PF 70 Ultra Cameo, and an elongated Lewis & Clark coin.
Following his presentation, Gary presented each ANS member with these two ANA elongated coins (2017 and 2023).
In turn, Rod Sell and ANS Vice-President Frank Chauvier presented Gary with an ANS Proclamation Medal featuring a Great Britain George III 1799 Farthing. ANS had 175 copper-coloured and 50 gold-coloured medals struck for July 2023 distribution. In 2016 ANS issued a 50th Anniversary of Decimal Currency medal. This was followed by a series of Proclamation medals issued twice a year over the years 2017-2027 and all medals have already been struck. Members receive one medal free per year, and then have the opportunity to purchase the other medal at a very low rate of just $10 each.
Members found Gary to be a very nice man, knowledgeable, and a great ambassador. See photo below: left to right - Frank Chauvier, Gary Lewis & Rod Sell. Photo by Grant Chauvier.
Gary served as President of the American Numismatic Association 2003-2005, and he has served the organization in other volunteer ways. This is Gary's copper medal that he issued to celebrate 50 years collecting, and his ANA Presidency.
Gary and Rod discussed the challenges of filling vacancies on the Executive. The ANS has been experiencing more difficulty in recent years as the membership ages. Gary confirmed that even though the ANA is the largest numismatic group in all of North America, and it has over 27,000 collectors as members, as well as member clubs, it too has a tough time in filling leadership spots.
Gary lives in Cape Coral, southwestern Florida, facing the Gulf of Mexico. While growing up in Cedar Rapids, it was during 7th grade that Gary became interested in coins with both his grandmothers and some neighbours as collectors who helped to mentor Gary. As an adult while serving as an Accounting & Finance Officer in the US Air Force, Gary was able to expand his collections with pieces while traveling in service to his country. Gary stays very active in the numismatic hobby since 1955. He participates in over thirty coin shows a year, and also exhibits at local flea markets, and gives appraisals. Gary advises on preserving collections, buying, and selling numismatic pieces, and he provides estate planning for major collections.
For example, he is a Past President of the Cape Coral Coin Club (which ceased to exist in the 1990s), Fort Myers Coin Club, and the American Numismatic Association, which may even be the largest numismatic association in the world. Gary was Chairman of the US Mint 2004 Florida State Quarter Committee in charge of the selection process. In 1999 then Florida Governor John Ellis "Jeb" Bush (appointed Gary to the Chair. Each State issued a coin in the order that they entered the Union for a 10-year period. Although dated 2004, Florida's was released into circulation in late-2003.
The Australian Numismatic Society was very pleased to share fellowship with Gary E. Lewis, and welcomes more international numismatists to its meetings.
For more information on the Australian Numismatic Society, see:
https://www.the-ans.com/
President Pete LaConte called the historic 1,000th meeting of the New Jersey Numismatic Society (NJNS) to order on Monday, September 18, 2023. This year marks the 90th anniversary of our club, which was founded in 1933. Our club logo is a horse and plow, emblematic of the New Jersey State Seal. We have held meetings in a number of locations over the years, including the Upper Montclair Public Library and the Madison Public Library.
At present, we meet on the third Monday of the month at the Library of the Chathams at 7:00 p.m. Our meetings start with business matters and numismatic news, followed by a presentation on a topic of interest. The last part of our gathering is a show-and-tell session.
We have had some distinguished numismatists as members of our Society. Earlier members include F.C.C. Boyd (1886-1958), Jacob N. Spiro (1889-1954), Willard C. Blaisdell (1903-1985), Harold Flartey (1914-2002), Henry Clay Hines (1856-1946), Herbert M. Oechsner (1904-1987), and Herbert A. Silberman (1916-2001). More recent luminaries include David B. Bailey (1946-2018), Chris Connell (1946-2007), David J. Ginsburg (1958-2016), David W. Lange (1958-2023), Steve Middleton (1952-2009), Charles Davis, Michael S. Fey, Scott Miller, Spencer Peck, Harry J. Rescigno, Arno Safran, Ron Thompson, Ray Williams, and many others.
Harry Rescigno deserves particular mention as our longest serving member. Having joined the NJNS in 1978, he has been a member for 45 years – half of the Society's existence! Rescigno came up with the idea to start the Charles F. Nettleship Award for Service to the NJNS. Harry moved to Wilmington, Delaware, several years ago and now is a frequent presenter at the Wilmington Coin Club.
We celebrated this special occasion with a pizza party. Pete LaConte unveiled our 90th anniversary NJNS commemorative medal and our 1,000th meeting pin to mark the event. The medal is 2 inches in diameter and the lapel pin is 1¼ inches in diameter, both struck in antique gold finish. Ray Williams provided a short presentation on the History of the NJNS: 1933 to 1937, and distributed hard copies to those in attendance. Ray collated references to the NJNS found in The Numismatist from the ANA website, starting with the earliest reference back in December 1933. Next, Harry Rescigno reminisced about his early days in the NJNS and Society members who mentored him in numismatics.
Dr. Lawrence S. Brown, Chairperson of the Citizens Coinage Advisory Committee, was a special guest. Brown, a Brooklynite, offered to give a presentation at our October NJNS meeting. He will be speaking about designs on circulating and commemorative coins and how these pieces are minted.
Show-and-tell items included Scott Miller's 1899 portrait plaquette of Rene by Victor D. Brenner, and the Massachusetts Pine Tree Shilling PCGS VF 30 that Bill Liatys bought from John Kraljevich at the 2023 ANA World's Fair of Money in Pittsburgh. Bill's Small Planchet Shilling is a plate coin in Sydney Noe's The Silver Coinage of Massachusetts.
Occluded Gas. Trapped gas bubbles in ingots or castings creating a pocket where no metal exists. If retained in the ingot, occluded gas may remain in the metal through other operations, as rolling, blanking or striking; if so they could cause laminating in blanks or struck pieces. If any metalworking activity reaches the pocket of occluded gas it may exhibit a blister in the surrounding metal. Blanks made from rolled strip that contains pockets of occluded gas would be light weight and not pass a ring test. Obviously struck pieces from these blanks would also be light weight and not ring true. Finished pieces with such condition would be rejected if caught by inspection.
Occluded gas bubbles – which may be air or any other gas – can be removed by vacuum degassing if the metal can be melted or remelted. Should such blisters occur on the hardened metal of any casting or cast piece they would require chasing to smooth out the surface. Such trapped gas is a casting anomaly; it would exhibit porous surface, blowholes or pock marks. It should be avoided in any casting operation. See lamination error.
Occluded Oxides. These are small particles or clumps of oxide (often copper oxide or lead oxide) that occasionally are embedded in coinage ingots. If rolling brings the particles to the surface, the rolling mill operation can cut out part of the strip. Occasionally, particles will appear only after the coin or medal is struck
To read the complete entries on the Newman Numismatic Portal, see:
Occluded Gas (https://nnp.wustl.edu/library/dictionarydetail/516417)
Occluded Oxides (https://nnp.wustl.edu/library/dictionarydetail/517308)
The Minnesota bullion coin dealers act became national news when it was passed in 2014. The law is not currently being enforced but the state Department of Commerce has been slow to mention that.
In 2011, the Minneapolis Star Tribune began a series of articles about Minnesota coin dealers. In consumer fraud reporter Dan Browning's May 8 article, he stated, the metro area is a hub of what has become a multi-billion dollar industry with about 30 Minnesota firms pitching to an estimated half million serious collectors and investors nationwide.
A March 28, 2012, article reported that out of 125 coin salesmen checked, six dozen had convictions for crimes including fraud, forgery, theft and bank robbery. That comes out to about half of coin salesmen with criminal records.
The articles focused on employees of telemarketing firms who took advantage of wealthy and elderly clients. They made little distinction between telemarketers and dealers at coin shops and trade shows.
Minnesota Attorney General Lori Swanson had previously prosecuted coin dealers for fraud. She advocated for stricter regulation of dealers to protect customers from the abuses of the past.
In 2013, the state legislature passed chapter 80G regulating bullion coin dealers. It established definitions for dealers and their representatives. It said that Bullion coin means any coin containing more than one percent by weight of silver, gold, platinum, or other precious metal.
Thus, it applied to war nickels and 1792 silver-center-cents but did not apply to silver rounds, bars or ingots.
The Act took effect on July 1, 2014, requiring registration of dealers and representatives. Dealers were required to post a surety bond and run a background check on owners and representatives. Anyone with a conviction for a financial crime in the previous ten years was barred from registration. A small fee was charged for the license and an additional small fee to pay through the computer. Licenses would require renewal each year.
The Act required a written notice with each transaction describing the quantity and metal content of all coins plus other information. It required delivery within thirty days of the transaction or payment within thirty days of a purchase.
In addition to the written notice mentioned earlier, an invoice was required with the same information as that written notice. This duplication was eliminated in 2016. The Act goes on to fill ten pages.
For a while, I was a licensed dealer representative. We made some changes to comply with the law like adding our license number to our invoice form. Most of the time we ignored the law. If we sold an MS-64 Morgan Dollar in a slab, we did not provide our customer with the weight of the coin and describe the silver content.
My favorite provision of the Act prohibits a dealer to: (6) misrepresent any material aspect of a bullion coin, including its performance, efficacy, nature, investment value, central characteristics, liquidity, earnings potential, or profitability;
In my time as a coin dealer representative, I never had a customer inquire about the efficacy of a coin. In all my time as a numismatist, I never heard that term used to describe a numismatic object.
The Act was clearly intended to regulate telemarketing of bullion products. It also applied to transactions in brick-and-mortar shops and transactions at trade shows. Clauses in the Act had no relationship to business practices for face-to-face transactions. Dealers quickly took action to get the Act repealed or modified.
The law was changed in 2016 and expanded to cover bullion products like silver rounds, bars and ingots. The definition reduced the precious metal content from one percent to any precious metal content. Thus, a state quarter with gold plating became, by law, a bullion product.
The revision charged references from bullion coin dealer to dealer. This was supposed to eliminate the stigma attached to bullion coin dealers. Whatever stigma was attached, was now applied to all dealers.
Between January 2015 and January 2022, the Department of Commerce took enforcement actions against 83 dealers including 49 from out-of-state and Canada. As a result, many out-of-state dealers decided the benefit of doing business is Minnesota was not worth the hassle. This isolated Minnesota customers from the national market and prices that may have been cheaper than local prices.
Violations were charged against 39 Minnesota dealers and of these, seventeen were for failure to register. Eight dealers had their licenses revoked and were banned from doing business in the state. One moved his operation across the St. Croix River to Hudson, Wisconsin. He was charged with fraud in a U.S. District Court in Madison, Wisconsin, was convicted, and sentenced to 4 and a half years in prison. Another learned of impending charges in Minnesota and moved to Florida. He set up a new company there but in 2015 he was sentenced to 150 months in prison. Still another moved to Arizona. He was sentenced to 71 months in prison.
A group of dealers filed suit against the state in 2021 based on a number of issues with the law. The U. S. 8 th Circuit Court of Appeals determined on August 31, 2022, that the law was unconstitutional and that Minnesota Statute Chapter 80G violated the dormant Commerce clause. The specific issue related to sale to Minnesota residents that were transacted outside the State of Minnesota.
The Department of Commerce has taken no additional enforcement action since January 2022. They did not renew licenses for July 1, 2023. There are currently no registered dealers or representatives licensed in the state.
This is not apparent reading the Department of Commerce website. It has not been revised since 2022 and still describes the renewal process.
There is a hearing scheduled for November 27 in District Court. There remains the question if the law can be saved by removing the parts that make it unconstitutional.
I don't believe this has been broadly published in the numismatic media. You can say you read about it first in The E-Sylum.
Kan (Vera) Liu, creator of the innovative and eye-catching displays for the world-famous Tyrant Collection, has joined Classical Numismatic Group LLC as a Marketing and Consignments specialist, according to CNG's Managing Director Michael Gasvoda.
Vera is a true rising star in this industry, Gasvoda said. We are very excited to have someone with as much talent, and as much international experience in the coin market, joining CNG.
"As a coin collector myself, I love my hobby and always want to promote my passion to a broader audience, Ms. Liu said. I'm very happy to be joining CNG, one of the most prestigious coin firms in the world. Through my profession, I will seek to expand CNG's business into new territories with more interactive marketing methods.
A native of Dalian, China, Ms. Liu is a 2011 graduate of Renmin University of China, where she attained an L.L.B. in Diplomacy in the university's School of International Studies. Through an exchange course with UCLA, she also studied Ancient Greek language and art, which kindled her interest in Green coins, which soon spread to all forms of ancient and modern coinage.
Ms. Liu entered the international corporate world after university, first as an Assistant Brand Manager with Unilever in Shanghai, and later as Digital Marketing Manager for Pepsico China, where she created innovative crossover brand marketing strategies.
After immigrating to United States in 2015 and landing in Los Angeles, Vera launched into her numismatic career by founding Maoyan Rare Coins, which focused on representing the rapidly growing number of Chinese collectors, both overseas and in the Unites States, in their dealings with U.S. and European numismatic firms and auction houses. She developed a social media audience of more than 300,000 followers across several platforms, and was interviewed in many mainstream media outlets including Beijing Youth Daily, China Numismatics, and Financial Times. Thousands of new collectors have been introduced to the hobby through her engaging videos and social media postings across many continents.
In 2017, at the behest of Ira & Larry Goldberg Coins and Collectibles, she met California collector Dan O'Dowd, who over many years had built one of the premier coin holdings in the world, including impressive rarities from the dawn of coinage to the present day. O'Dowd desired to present his collection to a broader audience of numismatists and brought Ms. Liu in his as curator. She created a system of innovative displays and marketing materials that enabled the fabulous assemblage of numismatic beauty and rarity to go on tour. Termed The Tyrant Collection, and billed as The World's Most Valuable private coin collection, thematic sections of the holding were soon touring important coin shows all over the United States, most recently at the American Numismatic Association's World's Fair of Money in Pittsburgh, PA. Between 2017 and today, tens of thousands of collectors have personally viewed the dazzling and inspiring collection.
At Classical Numismatic Group LLC, Ms. Liu will considerable talents to bear on developing new approaches to presenting the firm's auctions to audiences worldwide, developing inclusive marketing strategies to bring in and educate new clients, and will represent CNG at coin shows in the United States, Europe and the Pacific Rim.
For more information on Classical Numismatic Group, see:
https://www.cngcoins.com/
Greg Bennick Well, you know what would be fascinating, I'm just thinking of this as an aside almost would be a new edition. I don't know where the rights remain for Gregory Brunk's book, but a new and updated edition with new information would be pretty fascinating. The book itself is quite incredible. So I think that to have it as accurate as possible would be really important. But even as it stands now, it's a wealth of information about the history of individual merchants and why the stamps and where the stamps were made and whatnot. But your caution to readers is very important, and I think that's true across the board. Right? We need to be able to do our own research and be our own numismatic sleuths in a way just to make sure that what we're finding out is as accurate as possible.
Bill Groom Right. One of the things I did in my database I have for each counterstamp about twenty fields of information. And I am hoping that eventually that'll end up on the Newman Numismatic Portal there. One of the fields I call a proof scale. And in other words, this regards attribution. If I have a 0 in that box, it means there's probably no way this piece is ever going to get attributed. If I have a 1, it means, well, this one could probably be attributed, but there are so many people that this could be. We're just at that level. If it's a 2, I've narrowed it down to maybe two good candidates that could have might have stamped that piece. Now, it's not either or, but it is probably one of these two. And if it's a 3, then I have narrowed it down pretty much by - most of the evidence points to the stamp having been produced by one person, and it may not be correct, but the evidence suggests same. And then a 4 would be this is a slam dunk attribution with absolute proof. I've got a, let's say, an invention with stamped by the same fellow a photograph, a gun, a coin, a silver piece of silverware, whatever - the same mark exists elsewhere. And we can nail it down. Say, this is the guy that's a 4.
Greg Bennick What I love about your detective work, about these pieces is that it makes coin collecting, counterstamp collecting an active rather than passive process. Meaning I could certainly go on eBay right now or find an auction house and start buying counterstamps and just fill drawers with them. But I love the active engagement that you have put into this work and the idea that you are not just buying the coin, but then researching the history of it and connecting it to actual history and then trying to authenticate that attribution. Would you say that's the most important aspect of collecting counterstamps, the attribution process?
Bill Groom Well, sure, because that's where all the meaning is that's the meaning of the piece, the history behind it. How can you say that the history is valid if you can't prove that this is the guy? I wrote an article on a slave named Louis Temple. I have two of his counterstamps. L Temple. For years I struggled with being able to say that he was the actual person who stamped these coins because I found two L. Temples. But one of the important things is to have a lot of research material at your hands. One of the books - the early directories that I find most helpful because counterstamping was at its peak in the 1850s was a New England directory from 1856 that covers the New England states. Well, there are two Temples listed in the 1856 directory. One of them was a Levi Temple and he was a blacksmith in a little town in Maine, and the other was Louis Temple, and he was also a blacksmith, but he was in New Bedford, Massachusetts. And my suspicion was that Louis was the fellow who stamped those two coins that I was able to acquire over a period of time. I got I think I got them about five years apart. I was always looking for one thing. When I find one specimen of a counter stamp, I always look for a second. I try to keep in mind that this counterstamp, is on more than one coin. You know, it might have been a business connection or it substantiates the attribution, maybe. But anyway, getting back to the Louis Temple, I found out that he was not just a simple blacksmith, but he produced harpoons for the whaling industry and he was a black man. He escaped slavery, got the found his way in to New England in about 1829, married, opened a blacksmith shop. He had blacksmith skills that he learned while he was a slave. Probably Temple came from the plantation he was on. He was from the Temple Plantation. Well, Louis had heard about talking with whalers, about harpoons that had a toggle head, and he started producing them, showing a harpoon when it got into the whale it would snap a little wooden pin and the end of the spear and would flip 90 degrees. And they could reel the whale in that. Well, his harpoon doubled the whaling rate. So for years I was looking for one of those harpoons to see if he stamped it. And sure enough, there are a couple of harpoons that are stamped and I had to get close up pictures of the stamp and I show in my articles, the close up pictures and how they match. If you look at the letters, a couple of the letters are very distinctive and you can see the points that match in the letters.
Greg Bennick This is incredible. And for anyone listening, if that story just on its own didn't inspire you to read Bill's articles, I'll tell you personally that before we did this interview that Bill sent me some articles and in some email said, Hey, you know, would you like to read some articles? Well, I flew to England last week and then flew back the other day and while on the plane read a dozen or so of your articles, all of them entertaining all of them engaging all of them with a story behind them. I would highly recommend that listeners seek out Bill's articles and just read them and enjoy these historical stories or analysis of different counter stamps. Its just fascinating. I love the harpoon story. I think that's it's quite incredible and really ties into what we were speaking about before, about connecting history with the coin itself. So what advice would you offer to other counterstamp collectors?
Bill Groom Well, I think find as many resources as you can. Authenticate the stamps. I have an online library that I use through Google that I've established. You have that ability to do that online and you can put in links to different directories or early directories. One of the problems is that I found over the years the genealogy websites have cornered the market on these resources because they can make money by giving you access to them. Many years ago when I first got on a computer, I was able to buy some disks with early directories. You can't do that anymore. So get on Google, maybe an open a library, start your own library there with these early directories. There are occupational listings, occupational websites for silversmiths, gunsmiths of all sorts, all cutlers, surgical instrument makers, clock makers, you name it. And there are you can find listings of people. Then what you do if you find a listing, let's say, of a silversmith and you can match a hallmark. There are pictures of the hallmarks on there. So you can build your own library and go to it whenever you see a counterstamp and do your own research. You want to try to find try to focus on stamps that have a name and probably two initials that go with it or a first name or town. This is where I hope the Newman website will offer some of these - possibly build up a library in addition to not just coins, but the focus on resources like early directories and assist collectors in doing making the connections.
Greg Bennick I like that a lot. And I was going to ask about how you envision the Newman Numismatic Portal helping to advance the study of counterstamps not just providing an interview like this, but maybe the resources where other or new collectors can go to learn about the counterstamps that they are finding out in the world.
Bill Groom Right. I was looking online this morning and I've been watching one of the pieces I was watching online. It's a BR&M counterstamp, and it's in a little curated box with an ampersand in it. And so it looks very old. Actually, it looks like it's an old silversmith counter stamp, but it's not. It's from a buddy of mine stamped it in New Jersey a couple of years ago and the guy has a price tag on it, of $499. And I wrote to him and I told him, I said, This is my friend's counter stamp. He lives in New Jersey. He collects counterstamps. I think you might want to reconsider your price on that. And here's some background information on it. Its still up there. I don't know whether he saw it or didn't see it or will do it or not. Who knows? But somebody seeing that might be fooled, thinking, hey, that looks like a silversmith stamp and I'm going to buy. $499 later. The main reason I mention that is…just because something has a high price and looks like it might be good, don't believe it unless you know it is what it is.
Greg Bennick Bill, this is so important and so amazing. And the thing that I'm taking away from this interview is just the idea of do your own research, but not just do your own research because you might get ripped off, do your own research because history is fascinating. Coins are incredible, counterstamps are really interesting. And there's a sort of focal point amongst all those aspects of counterstamps where people can really learn a lot and enjoy the coins more because they're doing their own historical research. I think that's pretty fascinating.
Bill Groom And again, even coins in slabs Greg. NGC has been slabbing counterstamps saying they are such and such. Well, NGC can't prove that. And that Rudolph stamp is one of them. And then they slab those and they've even got some 1861 date suggesting it's a civil war issue. Well, it's not.
Greg Bennick See, this is really important. And people, you know, everyone always says that, you know, education is most important for people. And it and it truly is. And I think that there's a wealth of history to learn. And new collectors shouldn't certainly be discouraged about how much there is to learn, but rather take this interview as inspiration for just maybe learning about one aspect of counterstamps. Like I mentioned myself, I own two….I actually own a third, which is a counterstamp from Great Britain. But the point is, is that I own three and two of them are my current area of focus, meaning that I just decided on one counterstamp and learned what I can about that and I'm learning what I can about that, and I'd recommend that people start there. Just pick one industry, one counterstamp, one name, maybe, and start there and learn what you can learn and then start developing your database of information. As you said, I think that's really great advice.
Bill Groom Some people collect also by occupation but they might collect by the location too. I know with New York, with Civil War tokens, I was very interested in New York Civil War tokens, but I lived in that state most of my life.
Greg Bennick Well, that makes a lot of sense. And I appreciate your time so much today. And you know, you mentioned resources like the National Token Collectors Association and the Civil War Token Society. Are there other places that you might send people, both of those being excellent? I would highly recommend both as well. But are there other places that you'd recommend, other organizations you'd recommend, or would you have people start with those two.
Bill Groom I'd say go to local coin clubs, local shows, talk with dealers or dealers who specialize in exonumia. Steve Hayden is one of the top dealers in exonumia in the country. And you can find him if you go online. Also, I would say there are there are some websites. So one of my favorites is a COIN Community Forum or CCF and my name on there is ExoGuy and somebody could contact me there. I go on there. I've made a couple of thousand postings on there and many of them are about counterstamps. That's a good site to go to . Another one is Coin Talk. That's a good website. So I would highly recommend both of those. And you'll find other people, you know, that collect counterstamps. And I actually I maintain there are three guys that that I contact fairly regularly it's Florida Bob and my buddy Bruce from New Jersey and Guy Michael in Massachusetts and these guys are all top collectors and they have hundreds of specimens of counterstamps in their collections and the reason I just mention those is networking helps because we learn from one another.
Greg Bennick That's fantastic advice and it's certainly been true today. I know that even as we've been speaking, I'm sitting here with Russ Rulao and Gregory Brunk's books in front of me and I'm going to dive into them with new energy after our conversation. I'm very excited that we had a chance to talk today, and I'm very thankful for your time. I'll certainly be posting this interview along with links that people can reference below the interview so that people can start their own process of learning about counterstamps.
Bill Groom Great. And I'm hoping to work with the Newman Numismatic Portal, and I'd love to see something going on there, something that's going to be not just static, but dynamic where it can be built upon data. In other words, with my database on that, it could be expanded and other people would contribute to it. There wouldn't be Bill Groom's database. It would be the, the collector's database.
Greg Bennick That's great. I love that. I love that community spirit. Well, Bill, thank you so much for your time today. I really love that community spirit and the idea that we can all come together and learn from one another. And I look forward to the Newman Numismatic Portal's posting of this interview and also the development of counterstamps as a field for collectors and to have that grow. I'm really excited about that. Thanks so much for your time.
Bill Groom Thank you very much, Greg.
About the Interviewer
Greg Bennick (www.gregbennick.com) is a keynote speaker and long time coin collector with a focus on major mint error coins. Have ideas for other interviewees? Contact him anytime on the web or via instagram @minterrors.
To watch the complete video, see:
Bill Groom on Counterstamps (https://archive.org/details/billgroominterview)
To read the complete transcript, see:
Bill Groom Interview (Transcript) (https://nnp.wustl.edu/library/book/630877)
To read the earlier E-Sylum article, see:
VIDEO: BILL GROOM ON COUNTERSTAMPS (https://www.coinbooks.org/v26/esylum_v26n35a05.html)
BILL GROOM INTERVIEW, PART ONE (https://www.coinbooks.org/v26/esylum_v26n36a17.html)
BILL GROOM INTERVIEW, PART TWO (https://www.coinbooks.org/v26/esylum_v26n37a19.html)
BILL GROOM INTERVIEW, PART THREE (https://www.coinbooks.org/v26/esylum_v26n38a18.html)
The day is almost upon us for Sovereign Rarities Auction 10, starting at 10:30am on Tuesday the 26th of September. This week we'll be highlighting some of our selection of Modern, Islamic, World, and Commemorative Medals. These include an Elizabeth II 2020 and 2022 gold proof 5oz 'Three Graces' and '200th Anniversary of the Death of George III'; a gold Afghani Mohur of Durrani Taimur Shah; a Chinese gold Sycee c.1750 from the Nanking Cargo Hoard, a silver Ingot from the Russo-Chinese Bank; a gold Dutch 1619 Cavalier d'Or from Utrecht; a gold Portuguese 1833 Peça (or 7500 Reis) of Maria II; and lastly, a large silver Diamond Jubilee Medal of Queen Victoria.
Lot 222: Elizabeth II 2020 gold proof 5oz 'Three Graces' PF70 UCAM
The design reflected the cultural zeitgeist of Wyon's era. This was a time of renewed interest in the classical world – the Elgin Marbles had recently been transported from Greece to Britain – and Wyon looked to neoclassical sculptures like Antonio Canova's The Three Graces for inspiration. In Greek mythology, the Three Graces are the daughters of Zeus, the ruler of the gods on Mount Olympus. Classical texts describe them as being able to bestow certain qualities upon mortals: Euphrosyne (mirth), Aglaia (elegance) and Thalia (youth and beauty). Extracting them from their usual artistic setting, Wyon recast them as figures representing England, Scotland and Ireland. Coming soon after the 1801 Act of Union between Great Britain and Ireland, Wyon set out to convey the equality of the two nations.
Lot 223: Elizabeth II 2020 gold proof 5oz '200th Anniversary of the Death of George III' PF70 UCAM
This weighty 2020 5 ounces of Ten Pounds piece was struck in .999 fine gold to commemorate the 200th Anniversary of the Death of King George III on the 29th of January 1820. A striking and rare piece, the reverse design shares an uncanny similarity with the style of Benedetto Pistrucci, the King's favourite engraver, as well as Pistrucci's portrait of the King issued for the Great Recoinage of 1816. Graded by NGC as PF70 Ultra Cameo, and with a First Day of Issue designation, this certainly isn't one to miss out on.
Lot 273: Afghanistan Durrani Taimur Shah gold Mohur
A year before the death of Ahmad Shah Durrani, the Sikhs conquered Multan in 1772. Timur Shah ascended to the throne of the Durrani Empire after his father's death. Due to Sikhs having been in possession of the provinces of Lahore and Multan, these provinces served as a barrier for any attempt by Timur Shah to invade. Timur Shah thereupon tried to recover Multan by diplomacy, which only resulted in his diplomat being executed by Sikh bandits. This aggravation led to the Battle of Rohtas in 1779, around the time this coin was struck.
Lot 296: China Nanking c.1750 Sycee gold Ingot
The "Nanking" wreck subsequently proved to be the VOC Retourschip Geldermalsen. She was built in 1742 for the Zeeland chamber of the VOC, with a tonnage equivalent to 1,155 metric tonnes, one of the largest Dutch Eastindiamen. She foundered on a coral reef in the South China Sea in January 1752. The celebrated Amsterdam auction disposed of over 100,000 pieces of Chinese blue-and-white porcelain and 124 10-Tael gold sycees, eighteen of which were shoe-shaped and 106 of this rectangular shape.
Lot 298: China Russo-Chinese Russo-Asiatic Bank silver Ingot
Under the Treaty of Shimonoseki (1895) that ended the First Sino-Japanese War, the Qing empire had to pay a significant indemnity to Japan. French and Russians were involved in the syndication of Chinese government borrowing to raise the indemnity funds, and soon felt the need for a dedicated institution to handle the corresponding loans. The decision to create the Russo-Chinese Bank was made on the 5th December 1895 at the Russian Embassy in Paris - a joint initiative of Russian finance minister Sergei Witte and French diplomat Auguste Gérard. By the start of the 20th century, the Russo-Chinese bank was the second largest bank in all of mainland China.
Lot 315: Netherlands Utrecht 1619 gold Cavalier d'Or MS60
This gold 1619 Cavalier d'Or of Utrecht in the Netherlands is one of great pieces of numismatic design ever to come out of the Low Countries. By all accounts a rarer date for the issue, the 1619 was only first recorded in the Delmonte guide as a standard strike in his revision of the book in 1978, in which he managed to give a breakdown of mintages for the years 1608-1620. Few of these examples ever come up, with even fewer garnering a mint state designation from NGC or PCGS.
Lot 316: Portugal Maria II 1833 gold Peça or 7500 Reis MS61
Maria's first reign was interrupted by the absolutist uprising led by her uncle, fiancé and regent Miguel, who proclaimed himself King of Portugal on the 23rd June 1828. This lead to the Liberal Wars which lasted until 1834, the year in which Maria was restored to the throne and Miguel exiled to Germany. In 1836 she married Prince Ferdinand of Saxe-Coburg and Gotha, who was proclaimed King Dom Fernando II a year later in accordance with Portuguese law. She faced a series of difficult pregnancies and ultimately died in childbirth in 1853 at the age of 34.
Lot 336: Diamond Jubilee of Queen Victoria 1897 silver Medal MS64
On the 20th June 1897, the sixtieth anniversary of her accession, Victoria wrote in her journal: This eventful day, 1897 has opened, and I pray God to help and protect me as He has hitherto done these sixty long eventful years! I feel sad at the new losses I have sustained, especially the last one of our beloved Liko! God will surely help me on! How well I remember this day sixty years ago when I was called from my bed by dear Mama to receive the news of my accession! This large silver medal commemorating the event was designed by George William de Saulles, incorporating earlier designs by Thomas Brock and William Wyon.
There's still time to bid, so please register on our website at www.sovr.co.uk! As mentioned prior, the live auction commences at 10:30am on Tuesday 26th September. You can view the auction online or in-person at our office at 17-19 Maddox Street, Mayfair, W1S 2QH. Good luck to all those bidding, and we thank you for your participation.
To read the earlier E-Sylum articles, see:
SOVEREIGN RARITIES AUCTION 10 (https://www.coinbooks.org/v26/esylum_v26n37a23.html)
SOVEREIGN RARITIES AUCTION 10 SELECTIONS (https://www.coinbooks.org/v26/esylum_v26n38a27.html)
Lot 43: KROTON, Stater, broad flan type, c.500-480 BC, 25 mm, Tripod, lgnds rt & left/Eagle flying rt, HN Italy 2095; Nice VF, well centered & struck, good metal with mellow tone. Rare! (Much more so than the smaller flan issues with eagle rev)
Lot 89 PERSIS, Vadfradad (Autophradates) II, 2nd cent BC, Tet., Bust r in satrapal headgear, Eagle atop/Fire altar betw King & eagle atop standard, Ahura-Mazda above, Alram 546; Choice VF-EF, only sl crudeness, high relief, good metal with moderate tone; almost unnoticeable test notch on edge.
Lot 103 SYRIA, Antiochos IV, 175-164 BC, Tet, His head r, AB monogram behind/Zeus std l, hldg Victory w/wreath, Ake mint; EF, well centered & struck, minor smoothing mainly in rev field, toned. Superb portrait of outstanding style! RARE
Lot 140 Nerva, Sest, FISCI IVDAICA CALVMNIA SVBLATA, date palm, H-1603; F/AVF, lgnd gone at obv rt, rev lgnd nrly complete; basically smooth dark greenish patina with some earthen hilighting haloing the portrait; much detail on palm. A major Judaic rarity, commemorating ameliorating the injustice of a tax on Jews.
For more information, or to bid, see:
http://www.fsrcoin.com/f.html
https://www.biddr.com/auctions/fsrcoin/browse?a=3815
You can also bid by email by writing to Frank at frank@fsrcoin.com .
MDC Monnaies de collection is excited to auction The French Collection in October 2023. The collection of 540 lots, built over 40 years, includes the most beautiful coins from the French Revolution to the Fifth Republic, with a vast majority of Top Pop. Today, it is not possible to recreate such a collection. We know that many collectors will find in it the special coins they have been looking for. The auction will take place in Monaco at the Hôtel Métropole on the 11th of October 2023, from 1:30 pm to 4 pm (lots 1 to 296) and from 4:15 pm to 7 pm (lots 297 to 540), Nicolas Gimbert, Auctioneer.
To view the complete collection:
https://mdc.mc/auction/vente-aux-encheres-numismatique-12/
Lot 476. Germany, Westphalie, Jérôme Napoléon (1807-1813). 40 franken, Second Empire, 1813 (c.1867), C, Paris, DMP.742, Top Pop, the only coin of the type PCGS has graded, PCGS PR64CAM (39807028)
Lot 481. Spain, Joseph Napoléon, Napoleon's brother (1808-1813). This is the largest coin with a portrait of any Napoleon, 320 réales 1812 RS, M, Madrid. DMP.863, Top Pop, the only coin of the type PCGS has graded, PCGS AU53 (39807033)
Lot 515. Italy, Naples, Joachim Murat (1808-1815). Piastre of 12 carlini 1810, Naples. DMP.997, Top Pop, PCGS MS63 (39807106)
Lot 526. Italy, Parma, Marie-Louise (1815-1847). 5 lire 1815, Milan, DMP. 1013, NGC MS 64 (628604-007)
Lot 530. Montenegro, Siege de Cattaro, Empire (1804-1814), 5 Francs, 1813, DMP.850, Top Pop, the only coin of the type PCGS has graded, PCGS MS62 (39806812)
Lot 539, Netherlands, Louis Napoléon (1806-1810). Essai of 10 stuivers 1809, Utrecht, KM30, PCGS MS64 (40174675)
To read the earlier E-Sylum articles, see:
MDC OCTOBER 2023 FRENCH COLLECTION (https://www.coinbooks.org/v26/esylum_v26n32a27.html)
MDC OCTOBER 2023 FRENCH COLLECTION 5 FRANCS (https://www.coinbooks.org/v26/esylum_v26n36a23.html)
MDC OCTOBER 2023 FRENCH COLLECTION GOLD (https://www.coinbooks.org/v26/esylum_v26n37a26.html)
MDC OCTOBER 2023 FRENCH COLLECTION 1791-1795 (https://www.coinbooks.org/v26/esylum_v26n38a29.html)
In 1984 I was the successful bidder in an auction, buying an 1851A Ceres Head 5 Francs, lot number 234 in this catalog. That purchase inspired me to begin collecting French coins.
I was familiar with collecting by type and used Victor Gadoury's Monnaies Francaises catalog as the reference for my Decimal Type Set.
I met Wade Hinderling, my mentor, in 1988. I told him I wanted to collect a high grade French Decimal Type Set. He took it from there. Wade recommended not including coins minted after about 1940 because they are common.
Wade understands that coins which are high grade and important create notable collections. This collection reflects both his knowledge of French coinage and his expertise as a professional numismatist and would not exist were it not for his painstaking efforts. He selected most of the coins in this catalog.
Every collector has their favorite design and mine is the Ceres Head. I told Wade about my passion for Ceres Head coinage and he fed my passion, finding rare Ceres Head coins in high grade, most notably the 1849 5 Francs in gold (lot #222), Oudine's 1848 Design Competition 5 Francs in silver (lot #214), the set of 1848 Competition 5 Francs in white metal (lot #s 188 - 221), most of the coins in the Ceres Head 5 Francs business strike set (various lot #s) among many others.
When I first saw the Semeuse design it reminded me of the US Liberty Walking half dollar, one of America's most beautiful coins. At the time the circulating silver Semeuse coins from 1898 to 1920 were relatively inexpensive, even in gem condition. My collection includes complete date sets of 50 Centimes, 1 and 2 Francs in addition to a number of important Semeuse silver and gold Essais.
I have often wondered why I was so fortunate that Wade offered me coins he could have sold to other clients, dealers or even consigned to auction? Lucky, lucky me!
1) Wade is the source for 513 of the 521 lots in this catalog and most of the important coins.
2) of the 521 lots, 232 are top pop!
3) 217 of the top pop lots came from Wade!
As Wade was building the Decimal Type Set he added coins from the Revolutionary Period and early 19th century Napoleonic coins from countries Napoleon ruled, thus the collection's name, France & Napoleonides.
I did not realize how important this collection is until Nicolas Gimbert expressed his enthusiasm.
I'm extremely honored that Nicolas and his company, MDC Monnaies de Collection, are presenting my collection in its own catalog. The catalog is a tribute to Wade Hinderling who contributed most of the coins to the collection.
Faustina II Aureus

Faustina II., Gemahlin des Marcus Aurelius, Augusta, 145-175/6 n. Chr. AV-Aureus 147-150 n. Chr. Rom 7.20 g. Vs.: FAVSTINA AVG PII AVG FIL, drapierte Büste n. l., Rs.: CONCORDIA, Taube steht n. r. RIC 503b; Coh. 60; Calicó 2044 Gold, attraktives Exemplar mit hohem Relief
To read the complete lot description, see:
https://koelner-muenzkabinett.auex.de/Auktion/Onlinekatalog
1812/1 Bust Half

Early Half Dollar 1812/1 Small 8 O-102a NGC AU55 $2,100 Popular War of 1812 date. The Overton number is not on the insert. Certification Number: 6522702-001
To read the complete lot description, see:
Early Half Dollar 1812/1 Small 8 O-102a NGC AU55 (https://www.northeastcoin.com/popupcontainer.jsp?include=vi&itemKey=zi13_40000003700)
Apollo-Soyuz Robbins Medal

Tom Stafford's sterling silver Apollo-Soyuz Test Project (ASTP) Robbins medal, approximately 1.25" in diameter, with a raised mission insignia design on the face, and the reverse featuring raised text, "First Joint U.S.—U.S.S.R. Space Flight," and engraved with the launch and entry dates, July 15, 1975, and July 24, 1975. Serial numbered 155 on the edge. Condition is mint state, with slight tarnishing. Includes its original matching plastic case.
Accompanied by a signed letter of authenticity from Stafford, who states that the accompanying Apollo/Soyuz Test Project Robbins Medallion #155 [was] carried by me aboard our spacecraft during the first flight of international cooperation…This Robbins medallion has an engraving of our mission patch that was designed especially for our flight. As the first international flight involving two countries, our flight included rendezvous, docking and undocking with a Soviet Union Soyuz spacecraft carrying two Soviet cosmonauts. Alexei and I exchanged a truly historic handshake in Space. During the ASTP program, NASA's policy allowed astronauts to keep disposable equipment or personal memorabilia from their mission as personal mementos, and I accordingly chose to include this ASTP Robbins medallion among mine. The ASTP Robbins Medallion flown on the mission has remained a treasured part of my personal space collection for over thirty years, ever since NASA presented it back to me in 1975, shortly after my return to Earth.
To read the complete lot description, see:
Apollo-Soyuz Robbins Medallion - From the Personal Collection of Tom Stafford (https://www.rrauction.com/auctions/lot-detail/347873206777287-apollo-soyuz-robbins-medallion-from-the-personal-collection-of-tom-stafford/?cat=0)
Coins and Medals of the Duchy of Lorraine

'Histoire de Lorraine: Volumes I-VII', Nouvelle Édition, 1745-1757, Seven Leather Bound Volumes with Illustrations and Tipped-In Engravings Abbé Antoine Augustin Calmet, O.S.B. (1672-1757) for Antoine Leseure (Probably 1707-1756), Nancy,
The manuscript and posthumously published History of Lorraine dedicated to Stanislaw Leszczynski, King of Poland (1704-1709, 1733-1736) and Duke of Lorraine and Bar (1737-1766). In addition to printed frontispieces, headpieces, initial capitals, and miniature illustrations, including sovereign portraits in profile, featured plates predominantly consisting of: regional and town maps in volume one; medals in volume two; cathedral plans, renderings, and tomb monuments in volume three; and coins in volume five.
To read the complete lot description, see:
'Histoire de Lorraine: Volumes I-VII', Nouvelle Édition, 1745-1757, Seven Leather Bound Volumes with Illustrations and Tipped-In Engravings (https://www.weschlers.com/auction-lot/histoire-de-lorraine-volumes-i-vii-nouvelle-editi_84544F5801)
On Tuesday September 19, 2023 I made my way after work to the Lazy Dog restaurant in Fairfax, VA for the monthly meeting of my Northern Virginia numismatic social group, Nummis Nova. Wayne Herndon was our host. I was the last to arrive this time and took a seat at the end of the table between Lorne LaVertu and Steve Bishop. Tom Kays was positioned at the opposite end, and I'll open with his report.
Tom's Take on the September 2023 Nummis Nova
An even dozen of the Nummis Nova crew assembled at the Lazy Dog Restaurant and Bar in the Fair Oaks Mall in Virginia for another night of numismatic escapades. Arrayed from sinister to dexter: Chris, Dave, Jon, Wayne, Steve, presiding at the head of the table with his nose in a book as always is our prime factotum Wayne, followed by the near invisible Lorne, Jonas, Kellen, Robert, Mike, and capturing the scholarly scene as it unfolded, your cameraman Tom, standing at the foot of the table out of view. This night would bring a literary bonanza of numismatic books, some premiering for the first time anywhere.
Appearing and soon disappearing in quick circulation around the long table could be seen a binder that was not given to be sold at the Important Numismatic Literature Auction of the amazing library of Wayne Homren, taking place this Saturday, September 23rd at noon, by Kolbe & Fanning, Numismatic Booksellers (by the time you read this you've already missed, it unless you paid attention to the E-Sylum). The binder contains local Nummis Nova ephemera such as a menu from the 2021 Nummis Nova Holiday Dinner at Gadsby's Tavern, a historic haunt of none other, than George Washington, himself, a manuscript edition of the Standard Catalog of Annandale, Vienna, and Dulles Coin Show Kids Auction Scrip by Jonas Denenberg (of which probably only a couple copies are extant), Dinner in Camelot ephemera from retired Nummis Nova luminary and author, Joe Esposito (recently seen bow-tied at sea, dining in high style on an Eastward passage of the luxury liner Queen Mary II), and other esoteric papers relating to high watermarks of Nummis Nova achievement.
Books galore included the Cherrypicker's Guide to Rare Die Varieties of the United States Coins (sixth edition, Volume II by Bill Fivaz, et. al.), The Medals Concerning John Law and the Mississippi System by John W. Adams, (ANS Numismatic Notes and Monographs #167), A Simple Souvenir - Coins and Medals of the Olympic Games by Peter G. Van Alfen, Coal Mine Company Obsolete Notes and Scrip by David E. Schenkman (fresh from the printers and soon to be available to the general public), America's Golden Age: Private & Pioneer Gold Coins of the United States 1786 – 1862 by Donald Kagin and David McCarthy, and finally a selection of ribbons and awards for Wayne's membership in various numismatic circles.
Did I mention the few odd coins passed along in popular plastic holders, such as a PCGS Almost Uncirculated (with Green Bean) 1796 Small Eagle Dime (JR-4), a PCGS MS-62, 1805 Dime (4 Berries) [shown by a person who does not collect dimes], a raw, octagonal Harvard Banjo Club token of 1888 (said to be scarcer than either of the two preceding dimes), an NGC (with Green Bean) MS-64+, 1921 High Relief Peace Dollar, and a PCGS VF-35 Ferdinand and Isabella (1474 -1504) Hammered, Half Real of Segovia, Spain with Assayer O above the Roman, double-arched Aqueduct mint mark of the Casa Viejo (not the Royal Mill Mint of Segovia).
Discussion at the foot of the table included which of the 544 lots in the upcoming Kolbe & Fanning Auction might contain the most interesting numismatic ephemera (out of the seventy boxes of material Wayne provided), a unique $1000 Coal Mining Note in Dave's new book (I understand the proceeds of the sale of Coal Mine Company Obsolete Notes and Scrip books will be donated to a museum), Spintria (Spintrae) [not to be illustrated here], arrows in the wrong foot of the eagle on Massachusetts coppers struck during Shays' Rebellion that went onboard the first American-flagged ship to circumnavigate the globe (Columbia Rediviva of Boston under Captain John Kendrick) turning up on the West Coast, and finally, what the definition of Early American Coinage means to each of us. Chat GPT says early American coinage provides a tangible link to the nation's early history and evolution of its coinage system. Depending on which starting year you pick, then in what year did they end? For how long a time was early American coinage made? What do you call the era that came immediately after early American? Ask a high-schooler and early American could mean anything made before 1999, practically pre-historic to them. E-Sylum readers, please join the discussion and help satisfy my numismatic/historic curiosity.
More Photos
Thanks, Tom. Here are a couple photos I took from my end of the table.
LEFT: Clockwise from left: Jonas Denenberg, Kellen Hoard, Robert Hoppensteadt, Tom Kays, Chris Neuzil, Dave Schenkman, Jon Radel, Wayne Herndon.
RIGHT: Clockwise from left: Kellen Hoard, Tom Kays, Chris Neuzil, Dave Schenkman, Jon Radel, Wayne Herndon.
Lorne and Steve are only partly in the shots.
Russian Privitization Voucher
The books were mine, including the copy of Dave's new Coal Mine Scrip book, which he kindly gifted and inscribed to me. The only numisamtic item I brought was this new eBay acquisition - a 1992 Russian privitization voucher, as discussed in an earlier article.
To read the earlier E-Sylum article, see:
1992 RUSSIAN PRIVATIZATION VOUCHERS (https://www.coinbooks.org/v26/esylum_v26n31a31.html)
Banjos and Dimes
Here are some of Dave Schenkman's exhibits.
Dave writes:
Half Real of Ferdinand and Isabella

E-Sylum Email Changes
Non-editing tasks have taken up a lot of my time over the past few weeks. A number of subscribers have reported not receiving their E-Sylum email. What usually happens is that the subscriber's provider puts it in their spam folder, or just drops it entirely after declaring it spam. Reports have come from Yahoo, AOL and Verizon users, although many others are getting their issues normally. Sometimes these things fix themselves after a while when the provider wakes up and realizes we're not spam.
We'll experiment with a new email provider for The E-Sylum. We'll move cautiously, first testing with NBS officers, then encouraging subscribers having problems to try the new mailing list. If all goes well we may ultimately move everyone over from our current provider.
Remember, we always publish The E-Sylum issues on the NBS web archives, and an email reminder is nice but never required. You can find all the issues for this year on your own here:
https://www.coinbooks.org/club_nbs_esylum_v26.html
... and also on http://e-sylum.org/
In addition, we've also started publishing the link the week's full issue on Facebook when it's published:
https://www.facebook.com/groups/1145253708909091/ .
E-Sylum Sponsors

Asylum
Editor Maria Fanning and Bruce Perdue's webmaster work, we're rolling out two new sponsors. Their support is greatly appreciated and helps NBS keep the lights on. Many thanks to Shanna Schmidt Numismatics and RareCoin of Germany. Click on their banners at the top of the issue to check out their website offerings.
Library Sale

As on every weekend, I spent much of Saturday working on The E-Sylum, but it was hard not to get distracted by the sale of my library consignment at Kolbe & Fanning. It went well, with most lots selling and bringing over estimates. Thanks again to David Fanning for his great cataloging and to all the bidders and underbidders who made it a great sale. I'm glad my old friends are finding good homes, and the proceeds will help pay our kids' college expenses. I wore a shirt from our daughter's school that day.
Not all of my material made it into the sale, and we expect to have more on offer next year, perhaps in K&F sale 170. So stay tuned!
The Sounds of Cents
In the don't-take-no-plugged-nickels department, The Writer's Almanac tells me that today is the birthday of bluesman Blind Lemon Jefferson, who busked on the streets of Dallas but had no use for pennies.
For more information, see:
https://en.wikipedia.org/wiki/Blind_Lemon_Jefferson
A man stopped Truong Thi Kim Loan as she was passing by and offered to sell her a mangled VND100,000 ($4) note, a corner of which had been burned off.
Loan, 60, of Ho Chi Minh City, held the bill in her hands, looked at both sides carefully, checked the serial number, and gently inspected the burned corner. She then offered to buy the banknote for VND60,000.
The man agreed and Loan paid up. She put the burned bill in a small bag full of other damaged notes she'd collected that day.
Loan started collecting damaged banknotes over 20 years ago when her father, a former damaged bill collector, grew too old to move around and make collections.
She rides her motorcycle around neighborhoods every day looking for anyone willing to sell their damaged paper money. Apartment complexes with lots of eateries are fertile ground for her, she says, because amid the hustle and bustle of mealtime rushes, owners and cashiers often accept damaged bills without knowing it. Loan also says small eateries often don't store their cash carefully, and a lot of notes get mangled just hanging around tiny frenetic kitchen spaces.
Loan normally collects between VND1-1.5 million in broken bills each week. After collecting enough damaged notes, she heads to the bank and trades them in for new bills at a profit.
Many people don't know that damaged monetary notes are still legal tender. Even though some service providers won't accept them as payment, they can still be traded in at banks for new bills of the same value. Loan capitalizes on the fact that many people are unaware of this, and even many of those who do know still find it more convenient to trade with her at a loss rather than dealing with a bank.
Collectors normally only buy bills no more than 30% damaged. They pay in accordance with the proportion of damage. Some collectors have fixed rates. Loan always pays VND120,000 for a VND200,000 note and VND300,000 for a VND500,000 note. She also never turns down buying small bills.
"A damaged bill collector should never say no to money," she says.
To read the complete article, see:
Damaged money collectors profit on broken bills (https://e.vnexpress.net/news/trend/damaged-money-collectors-profit-on-broken-bills-4653363.html)