Numismatic Bibliomania Society


is the official publication of the Numismatic Bibliomania Society. Over the years many interesting original articles have appeared in its pages. The Asylum is published quarterly and is mailed free to all NBS Members. There are currently a limited number of back issues available!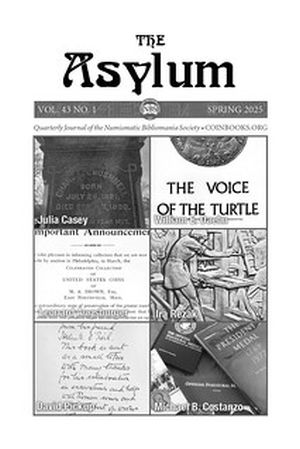 V39N1 Table of Contents
The Asylum Spring 2021
In this issue:
Syd Martin: A Few Notes and Memories By David F. Fanning
The Clain-Stefanelli Festschrift: A Case Study in Biblio-Gestation By Leonard Augsburger
The Largest and Smallest Books In My Library By Ken Bressett
The Evolution of a Small Numismatic Book By William E. Daehn
A Fascinating Armand Champa Inscription By Cole Hendrickson
Woodward's 96th Sale By David Hirt
The Curious Evolution of a Classic Numismatic Reference By Charles Sullivan
Evans and Smith By Pete Smith
Book Review: Coins Minted by the Knights in Malta by John Gatt By William VanOrnum
Click on the link below for free PDF Copy of the Summer Issue V38N2:

Free PDF of Asylum V38N2 Summer 2020
Submission Guidelines
Articles submitted for publication should be of general interest to readers of The Asylum and pertain to numismatic literature, numismatic personalities, or general numismatic research. Publication and editing are at the sole discretion of the editor.
All submissions should be sent to:
Maria Fanning, Editor
The Asylum
141 W. Johnstown Rd
Gahanna, OH 43230
(614) 414-0855
asylum@coinbooks.org
Submission Deadlines
The deadlines for submission are as follows, but may be changed as needed at the editor's discretion.
| | | |
| --- | --- | --- |
| Spring Issue | (No. 1) | February 1st |
| Summer Issue | (No. 2) | May 1st |
| Fall Issue | (No. 3) | August 1st |
| Winter Issue | (No. 4) | November 1st |
Sponsorship Rates and Details
| | | |
| --- | --- | --- |
| Inside Front Cover | $125 | 5.5 inches wide x 8 inches tall |
| Back Cover | $125 | 5.5 inches wide x 8 inches tall |
| Full Page | $120 | 4.5 inches wide x 7.5 inches tall |
| Half Page | $75 | 4.5 inches wide x 3.75 inches tall |
| Quarter Page | $40 | 2.25 inches wide x 3.75 inches tall |
* A 10% discount may be applied for a full-year commitment.
** A 10% discount is available to NBS members and community associations.
Camera-ready copy should be sent to asylum@coinbooks.org or
Maria Fanning, Editor
The Asylum
141 W. Johnstown Rd
Gahanna, OH 43230
(614) 414-0855
Index
You can access The Asylum Index directly on the NNP (Newman Numismatic Portal)
25-Year Index (2007)
5-Year Supplement (2012)
or you can download the files as PDF documents
25 Year Index
5 Year Supplement
You can also visit the Index Page
Back Issue Ordering Information
Back Issues - Kolbe & Fanning Numismatic Booksellers are now managing the distribution of back issues of the award-winning journal The Asylum. Back issues are available in limited numbers. An inventory of what's available can be downloaded at numislit.com/pdfs/AsylumBackIssues.pdf.
Contact Kolbe & Fanning at orders@numislit.com or (614) 414-0855 to order.
Asylum Free Issue
V38N2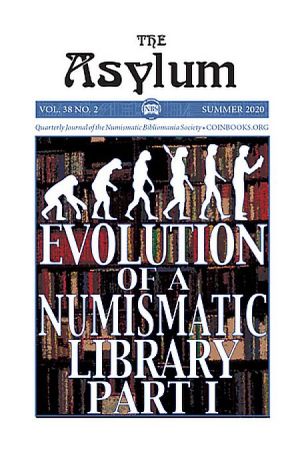 Sponsors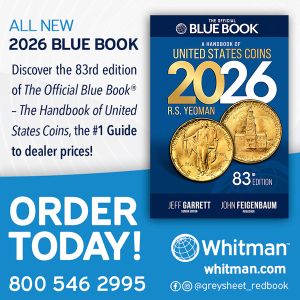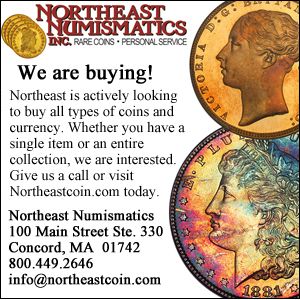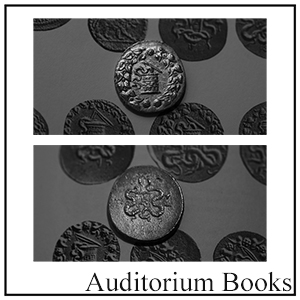 To Become a sponsor of the NBS web site and/or The E-Sylum, contact
Wayne Homren
at whomren @ gmail.com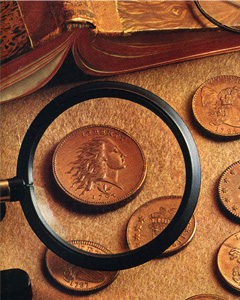 Photo from the cover of Louis Helfenstein Collection of Large Cents (August 14, 1964). Catalog image courtesy of Dan Hamelberg.